If you hang around wine people long enough, you're going to run across the term "wine flight". A wine flight is not, in fact, an airplane full of wine nerds – though I'd be up for that!
A wine flight is a set of different but related servings of wine. Typically a wine flight is served at a bar, restaurant, or tasting room by the glass or as part of a wine tasting. Australians call wine flights "brackets". Common wine flights include different wines from the same producer or similar styles of wine from the same region, but different winemakers. 
Wine flights can help you learn more about wine, including how winegrowing and winemaking affect wine style. Wine flights also help you discover your likes and dislikes when it comes to fermented grape juice. 
Why Is It Called a Wine Flight?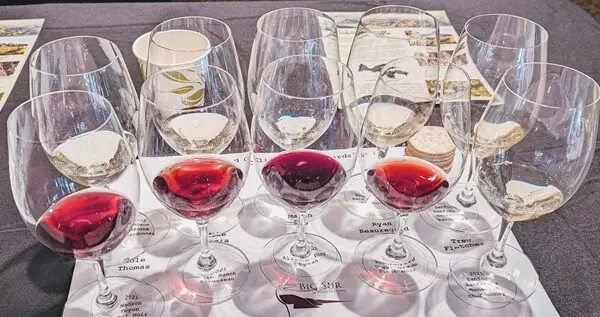 The etymology of wine flight goes back several centuries in English, but only recently came to be associated with an order of samplings or tastings of wine (or beer or other food).
Originally, a "flight" referred to a collection of stairs between levels in a building, so we get "series", which the French adopted to mean a flock of birds with volée, to capture a vertical movement through space.
This expanded to include insects, angels, and even arrows!
It wasn't until the end of the 20th century (the late 1900s) that popular culture picked up the phrase "wine flight" to mean a group of similar objects (in this case wine), moving through the air together, flown in by a server.
Boom!
That's where the term wine flight comes from.
How Does a Wine Flight Work?
A wine flight works by showcasing a selection of wines that are different, yet somehow related.
Typically, this is a minimum of 3 wines up to 8 glasses of wine, but can have over 50 wines presented! The wines are served in small portions, usually 1 to 2 ounces at a time, allowing the wine taster to sip and compare between wines.
Unlike a regular glass of wine, wine flights help wine tasters experience distinctive wines all at one time.
What's the Difference between a Wine Flight and a Wine Tasting?
Wine flights are a type of wine tasting that brings together a selection of wines that share a commonality.
A flight may include wines all made from the same grape, wines from the same producer, or even wines from the same regions, but different grapes and producers.
For example, a popular wine flight is wines of the Loire Valley, France. The Loire's known for distinctive wine styles: whites, reds, rosés, sparkling crémant, and even luscious dessert wines. The historical divergence of wine styles makes a Loire Valley wine flight an eye-opening experience.
How Big Are Wine Flights?
Most wine flights aren't very big. The typical wine flight has 4 to 8 wines. By limiting the size of a wine flight, you can focus on tasting the wines in front of you.
If you have too many wines, it can be challenging to differentiate between the glasses and your taste buds get fatigued.
You may experience palate fatigue more easily if you're tasting higher alcohol wines, like a Lodi Zinfandel, Paso Robles Cabernet Sauvignon, or fortified wines like Ports and Sherries. 
How Much Wine Is in a Flight Tasting?
The typical wine flight will can have as little as 3 oz of wine, to as much as 16 oz of wine. The average tasting pour is between 1 oz and 2 oz. Wine flights have 3 to 8 wines, so then here's what that looks like in ounces:
How Much Wine Is in a Flight? Quick Guide
| Number of Wines in the Flight | How Much Wine You'll Drink (oz) | Reminder 5 oz = 1 glass of wine |
| --- | --- |
| 3 | 3 oz – 6 oz |
| 4 | 4 oz – 8 oz |
| 5 | 5 oz – 10 oz |
| 6 | 6 oz – 12 oz |
| 7 | 7 oz – 14 oz |
| 8 | 8 oz – 16 oz |
| 50 (Just for Fun!) | 50 oz – 100 oz |
Helpful Wine Drinking Tip: Most wine flights at wine tastings, restaurants, and bars are 4 to 5 wines, so a standard wine flight will have 8 to 10 ounces of wine (about 2 glasses of wine).
How Many Drinks Is a Wine Flight? 
How Many Glasses of Wine in a Wine Tasting Flight: Quick Guide
| Number of Wines | Number of Glasses |
| --- | --- |
| 3 | ½ glass to a little over 1 glass |
| 4 | 1 glass to 1 ½ glasses |
| 5 | 1 glass to 2 glasses |
| 6 | A little over 1 glass to a little over 2 glasses |
| 7 | 1 ½ glasses to 3 glasses |
| 8 | A little over 1 ½ glasses to a little over 3 glasses |
| 50 (Just for Fun!) | 10 glasses to 20 glasses – oof! |
A wine flight will typically be the equivalent to 1 ½ to 3 glasses of wine. A standard glass of wine is 5 oz. Each tasting is 1 oz to 2 oz, so this is the breakdown of how many drinks are in a wine flight.
Remember: When you're tasting a wine flight, you're not expected to drink all of the wine! There will be wines you dislike, or maybe you're a designated driver – cheers to that! – whatever the reason may be, it's perfectly okay to spit out wine or decide not to take more than a sip. 
Insider's Experience: Professional wine tasters and wine judges may taste hundreds of wines in a day. They aren't swallowing! Want to know how you train to become a professional wine taster? Check out this fun post that I wrote about my experience during my first day in an advanced winetasting class. 
What Is a Vertical Flight of Wine?
A vertical wine flight, also called a verticle tasting, presents the same type of wine from the same winery over different years. For example, a vertical wine flight may include a 2017, 2018, and 2019 Syrah from the same winery. 
Why Do People Do Vertical Wine Flights?
By tasting the same wine that was made using grapes from the same vineyard and made by the same winemaker, you can identify how the weather changes the nuances of the wine's flavor profile.
Alternatively, if the producer changes winemakers between vintages, you can taste how the winemaker crafts distinctive wines.
How Should You Drink Wine Flights?
Drink wine flights in order from white wine to red wines, and from lightest to fullest-bodied. If you have a Champagne or sparkling wine, taste that first in your wine flight. If you have a fortified wine, like a Sherry or Port, drink that wine last in your flight. 
Helpful Tip: I love hosting tasting flights and always spend time thinking about what order I should taste wines, especially when I'm tasting an unfamiliar wine. So, I put together this helpful, comprehensive post on what order to taste wines. Go check it out!
What Are Champagne Flights?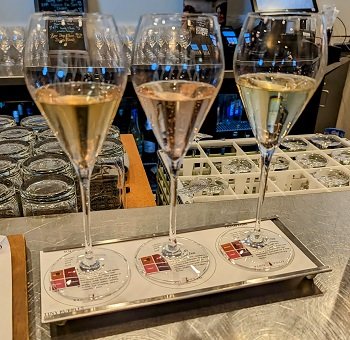 Similar to still wine flights, a Champagne flight is a set of different but related servings of Champagne or sparkling wine.
Typically, you'll see Champagne flights at promotional restaurant events, specialty winebars, and Champagne houses and sparkling producers (wineries).
Most Champagne houses and sparkling wine producers make several different styles of Champagne each year, so a Champagne flight can help you learn about distinctive Champagne styles.
Distinctive sparkling styles can include vintage Champagnes (all of the grapes in the wine come from the same year), non-vintage Champagnes (the grapes in the wine come from different years), rose Champagne (pink Champagne), and Champagnes with different sweetness levels, from wincingly dry to sweet. 
Helpful Tip: Champagne's one of those wines with coded labeling jargon. Check out this useful post to see how much sugar and how sweet your Champagne actually is depending on the bottle label. 
A Champagne flight is an excellent way to learn about bubbles, especially because most of us only open one bottle of sparkling wine at a time, and typically only on those special occasions that call for celebration. 
Side Note: We should all find more occasions to drink Champagne! 
How do I host a wine flight?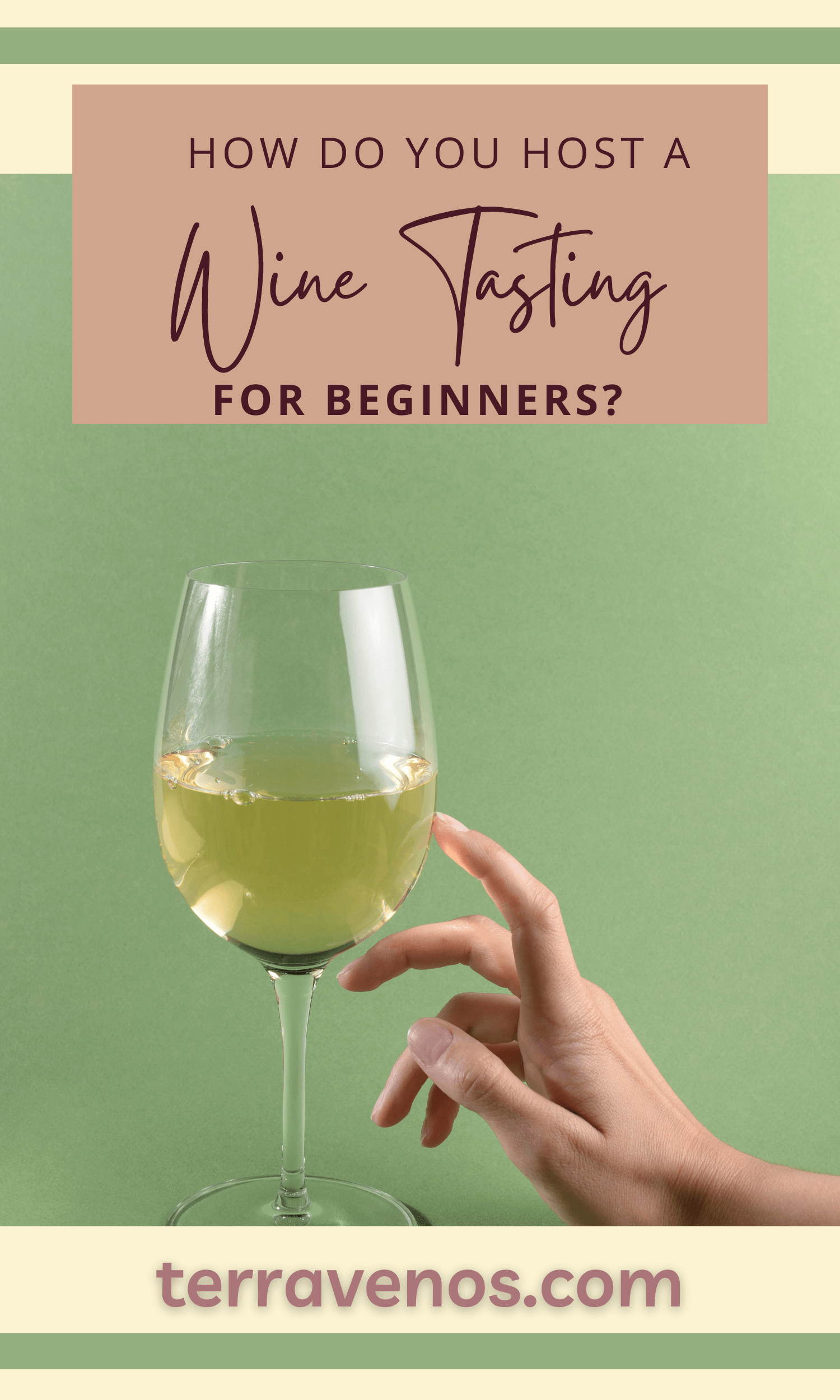 An easy way to host a wine flight is to pick a minimum of 3 and no more than 8 bottles of wine that cover a theme.
Have your guests bring a bottle of wine from that theme to share.  The theme can be wines made from the same grape variety (e.g., everyone brings a Pinot Noir), wines from the same region (e.g., everyone brings a bottle of Chianti), or even wines from the same region and grape, but a different year (e.g., one person brings a 2015 Napa Cab, another person brings a 2016 Napa Cab).
Getting your guests involved in finding the wines for your wine flight is part of the fun!
Helpful Tip: Here's a quick post on how to host a DIY wine tasting event at your home – it covers all of the essentials – logistics and such. Anyone can host a wine flight, so don't be shy about jumping right in!
16 Wine Flight Ideas to Try Tonight!
If you're looking for wine flight ideas, then you're in the right spot! Here are some wine flight options to spark your palate and your curiosity for wine. 
German Riesling vs. Washington Riesling
Sweet Riesling vs. Dry Riesling
Oaked Chardonnay vs. Unoaked Chardonnay (look for stainless steel on the label)
Ruby Port, Tawny Port, and Colheita Port
Fino Sherry, Oloroso Sherry, and Cream Sherry
Paso Robles Cabernet Sauvignon vs. Napa Valley Cabernet Sauvignon
Red Burgundy vs. Oregon Pinot Noir vs. Central Otago Pinot Noir (New Zealand)
Chianti DOC vs. Chianti DOCG vs. California Sangiovese
California Zinfandel vs. Italian Primitivo
Entre Deux Mers White vs. Sancerre vs. New Zealand Sauvignon Blanc
Red Bordeaux vs. Napa Cabernet Sauvignon vs. South African Cabernet Sauvignon
Red Bordeaux wines from different producers that cost the same price
Red Bordeaux wines that have a minimum $10 USD price difference
French Champagne vs. California Sparkling Wine vs. South African Cap Classique
Moscato d'Asti vs. Pink Moscato vs. White Port (all use Muscat grapes)
Final Thoughts – Wine Flight Fun!
Wine flights offer the ideal way to explore wines by sampling several different wines at the same time.
The side-by-side comparison allows you to taste the flavor, structural, and quality differences in your glass. Participate in wine flights whenever you get the chance if you want to kick-start your wine education.
Or, even better, get your friends together and host your own wine flights for a low-stress, wine-infused evening!
Thirsty for More?
One of the ways I started learning about wine was by hosting monthly blind tastings with a group of friends. There are definitely some tips and tricks to pulling this off. Here's a quick overview post on how to host a successful blind wine tasting at home.