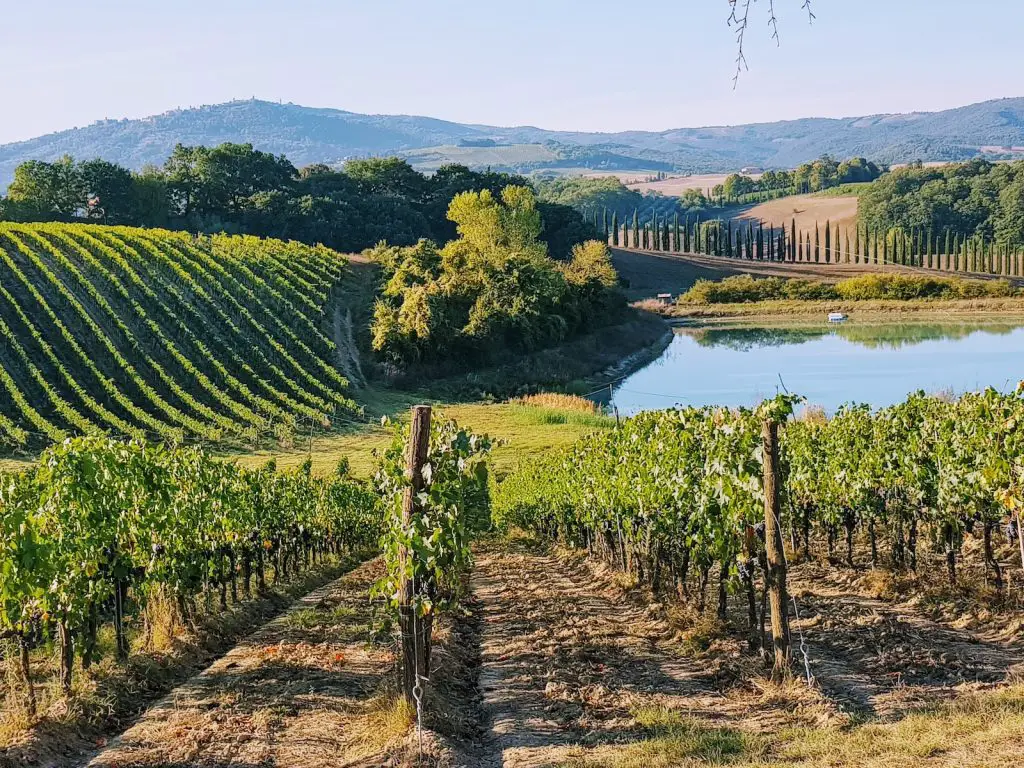 If you're a loyal fan of midweek Spaghetti Night, then you're probably a longtime friend of Chianti, too. Chianti (pronounced key-ahn-tee), has a storied history in Tuscany going back some 800 years.
Chianti wines use a minimum 80% Sangiovese grapes. Inexpensive to mid-level wines have Chianti DOCG labels. Look to Chianti Classico DOCG for better quality.
While you don't need a lengthy history lesson to perk up your pasta pecorino, be sure to check out these 7 fun Chianti facts before grabbing your next bottle of Tuscan sunshine.
Check out the DIY Chianti wine flight and printable shopping list included below. And here's a full guide to Sangiovese wine.
1. The Legend of the Gallo Nero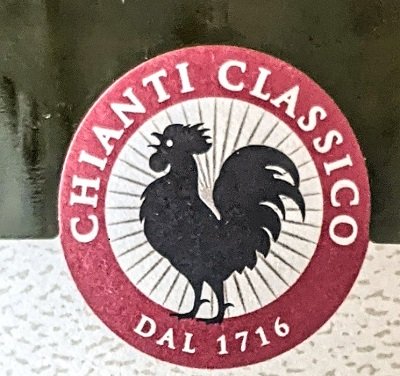 The Gallo Nero, or Black Rooster, is the traditional marketing symbol for Chianti, crowing proudly from the region's bottles.
The rooster originated from a medieval legend over a border dispute between the two city-states of Sienna and Florence.
The cities decided to settle their argument with a race. Each city would select its fastest rider. That horseman would set out on the cock's first crow in the morning and wherever the two riders met would be the official border.
The Sienese selected a white rooster. The Florentines a black rooster of ill temper. 
Several days before the race, the sneaky Florentines shut the rooster in the dark and starved the old bird.
As you can imagine, on the day of the race the black rooster crowed early, impatient for the day to dawn, and the Florentine horseman set out well before his competition. 
The two riders met not far from the border of Sienna, and Florence claimed the vineyard lands of Chianti in the annals of history. 
Today, the gallo nero marks this symbolic, if not slightly underhanded, event on bottles of Chianti wine.
Underneath the grand gallo, you see the year 1716.
In 1716, the Grand Duke of Tuscany, Cosimo III de' Medici, published an edict formally demarcating the boundaries for Chianti's growing region.
The duke's edict was the first legal document in the world to set a winegrowing region. Impressive.
2. The Main Grape Is Sangiovese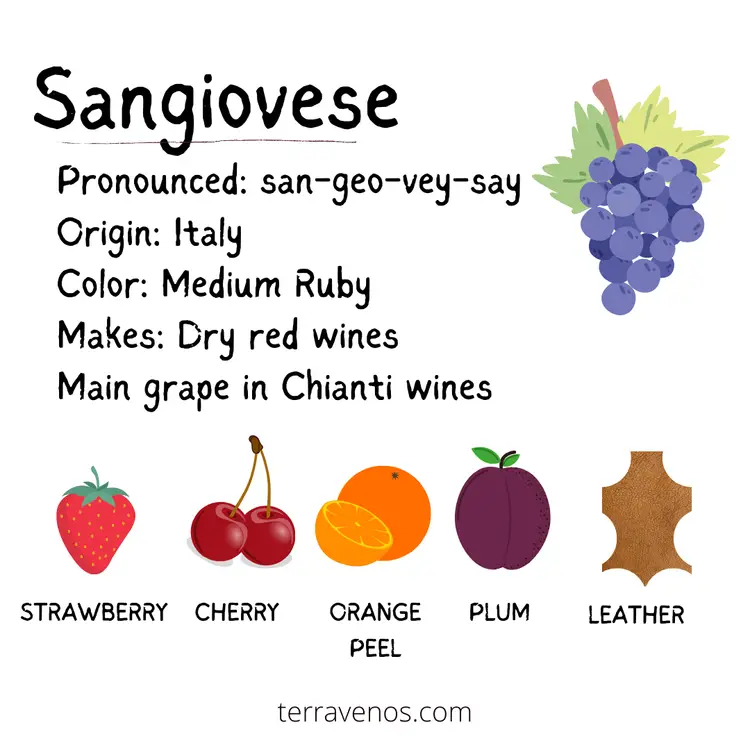 The star of Chianti is the Sangiovese grape. Like Pinot Noir, there are many different Sangiovese clones. Some clones produce more aromatic wines, others give more tannin or color. Most growers will plant a variety of clones to create more complex wines. 
Jargon Alert: A grape clone refers to a small genetic mutation in a vine variety. Growers will watch out for these mutations and propogate them to 1) increase genetic diversity, and 2) increase a wine's complexity. Pinot Noir is highly prone to mutations.
Helpful Tip: Here's a quick side-by-side comparison of the differences between Sangiovese and Chianti.
3. Chianti Tasting Profile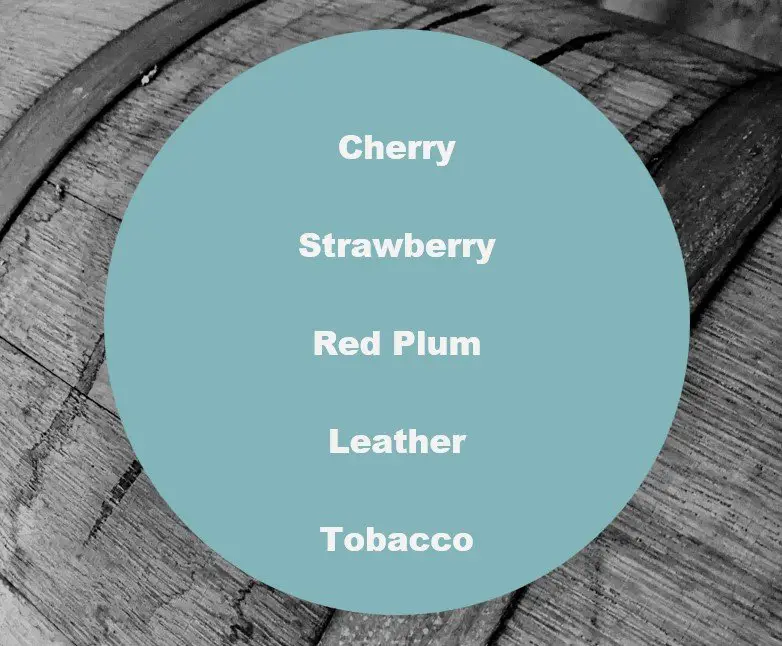 Chianti is red-fruit dominant – red cherry, strawberry, plum – with floral notes and medium plus to high tannins.
It can take on leathery notes with mushroom and meatiness with age. Wines that see oak may develop a smokey tobacco quality.
The wine's naturally medium plus to high acidity makes it a complementary partner for culinary masterpieces using tomato-based sauces, a.k.a. Wednesday Spaghetti Night and abundantly food-friendly in general.
4. Chianti DOCG vs. Chianti Classico DOCG
There are 2 main regions that you'll see on bottles of Chianti: Chianti DOCG (Chianti) and Chianti Classico DOCG (Chianti Classico). 
Jargon Alert: DOCG – or Denominazione di Origine Controllata e Garantita – refers to a region that's been demarcated under Italian wine law and follows production, growing, and winemaking stipulations set out by a local Consorzio. Yes, it's a little cosa nostra, but that's a story for another day…Check out this hopeful post on understanding DOC and DOCG wines.
What Is Chianti DOCG?
General Chianti DOCG covers a large area of land in central Tuscany. Chianti's growing region covers a geographical area surrounding the hilly area of Chianti Classico DOCG (there's no overlap between the two).
The Consorzio expanded the region to allow for bulk producers of inexpensive wines to use the 'Chianti' label. Growers focus on maximizing production, which lowers the overall intensity of the wine. 
Helpful Wine Buying Tip: These bulk Chianti DOCG wines make up a whopping 70% of Tuscany's wine production by volume.
Most of Chianti DOCG wine is destined for discount groceries and box wines, though Chianti isn't all bulk wine and boxes (jump to #6 below). 
Chianti must be a minimum of 70% Sangiovese and can include up to 30% of other varieties.
What's Chianti Classico DOCG?
If you see the term 'Classico' on a bottle of Italian wine, it means that the grapes were grown in the historical region for that particular wine style. In the case of Chianti Classico, it covers a hilly region between the medieval city-states of Sienna and Florence.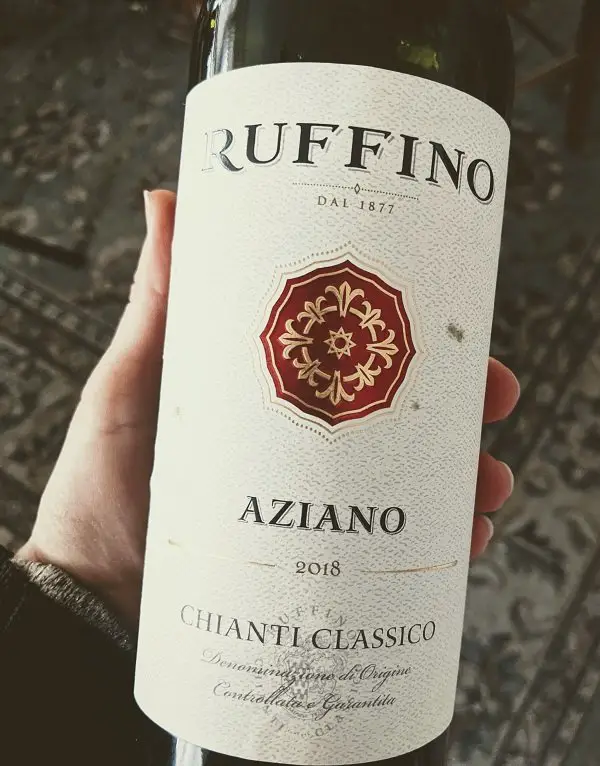 Yields for Chianti Classico are lower, increasing the wine's aroma and flavor intensity.
It will have a minimum of 80% Sangiovese and grows on a special soil, called galestro, that's made of up schist and clay and found in the region's best vineyards.
Jargon Alert: Yield refers to the amount of fruit produced by the vine. There are 2 standard ways to represent this number: hectoliters per hectare or tons per acre.
5. Traditional Style vs. Export Market Style Chianti
Traditional Chianti produces lighter ruby, highly aromatic wines with good acidity. Think tangy sour red cherry and strawberry. These are dry wines with chewy tannins. 
Starting in the late '90s, the export market began favoring heavier extraction with deeper colored wines to appeal to wine critics. 
As a result, Sangiovese growers opted for grape clones that had thicker skins that could produce deeper colored wines, but unfortunately lost some of the aromatics in the process.
Helpful Tip: Love bright, fruity Italian red wines? Go check out Barbera Wines, the northern neighbor of Chianti.
Following another global winemaking trend, producers also began using more oak. The oak masked the fragrant aromatics of traditional Chianti.
Today you'll find two divergent styles of Chianti on the market:
A more restrained Chianti that forefronts red fruit with dominant sour cherry and aromatics true to the region's traditional winemaking heritage, and
A deeper colored Chiantis that are fuller-bodied and jammier, with pronounced oak influence targeting the export market.
You may prefer either one of these styles. No judging.
How can you tell which one is which?
Unfortunately, you can't just by looking at the bottle unless a friendly producer opts to include some tasting notes on the label. Not all producers are inclined to do so.
Otherwise, you'll have to rely on wine reviews or recommendations from your local wine merchant.
6. Not All Chiantis Are the Same: Look for Chianti Subzones
Not all is bandwagon bulk wine for the masses in Chianti DOCG. Within the area, you'll find 7 sub-zones that reflect unique topography and climatic influences. These are higher quality wines than the more general Chianti DOCG.
They have stricter yields and may have additional requirements for the minimum amount of Sangiovese in the blend.
Look for Chianti wines from any of these 7 sub-regions:
Colli Aretini
Colli Fiorentini
Colli Senesi (largest, warmest, fuller bodied)
Colline Pisane
Motalbano
Montespertoli
Rufina (coolest, more restrained, can age)
7. Chianti Is the Only Place that Can Call their Wine Chianti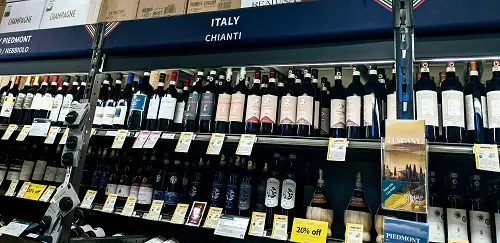 Like Champagne, the name 'Chianti' is fiercely protected. Only the wines grown and vinified in the Chianti region can call themselves Chianti.
But if you enjoy this Italian vino, look for wines from other regions labeled under Sangiovese – the main grape in Chianti.
How to Host Your Own Chianti Tasting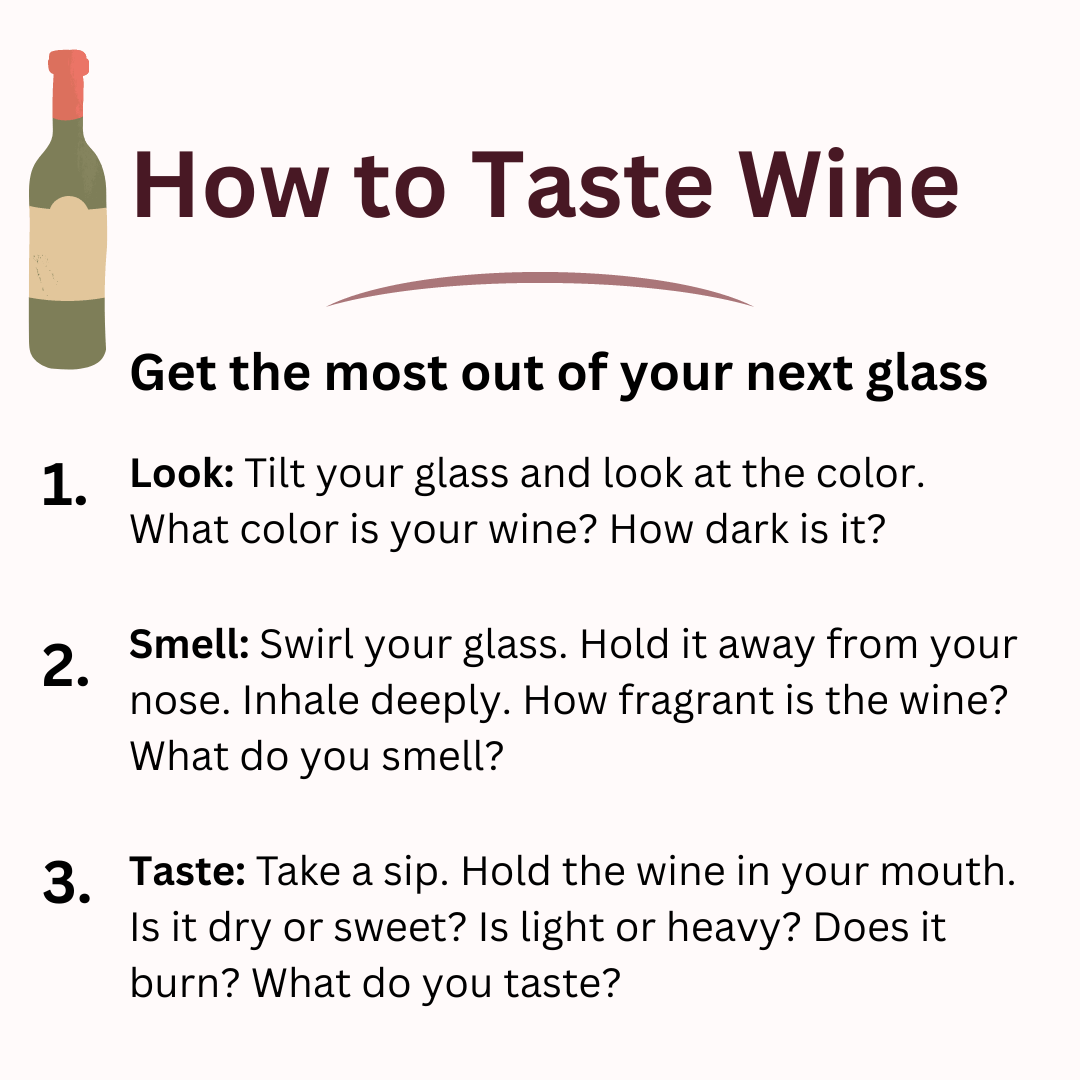 Ready to celebrate Spaghetti Night in full Toscana style?
Here's a handy downloadable Chianti shopping list you can print out and take with you to your local wine emporium to help you find the full spectrum of Chianti.
Pick up the following and taste them in order:
1 Bottle of inexpensive Chianti DOCG
1 Bottle from Chianti Classico DOCG or 1 of the 7 subzones
1 Bottle of Sangiovese
Helpful Tip: Here's a post that goes into how to host your own wine tasting event. I personally think this is one of the best ways to learn about wine.
Thirsty for More?
If you're just getting into Italian wines, may I suggest exploring Friulano wines, a lesser-known white wine that will absolutely enchant you. You'll find it right next to the Chianti in your local wine shop.
Here's a post on Nebbiolo wines, Chianti's northern neighbor, some of the most age-worthy Italian wines.
And if you take a ferry ride, you'll end up in Sicily, go explore the wines of Sicily.