Join me in Bordeaux, across the river from and removed from the fabled chateaux and iconic named growths. Here we find a spit of land nestled between two rivers. Entre deux mers translates to 'between two seas', referring to the region that sits at the confluence of the Dordogne and Garonne rivers as they empty out into the Gironde estuary and on into the Atlantic.
The Entre-Deux-Mers AOC is the second largest appellation in Bordeaux in terms of hectares. The wines can only be white if made under the official appellation designation (AOC). Despite this, most grapes grown in the region are red and destined for red wine. The region makes entry-level Bordeux wines good for budget-conscious wine lovers and those getting started with wine.
Entre-Deux-Mers Traditional Wines
Traditionally, the Entre-Deux-Mers production has consisted mainly of dry white wines, mostly from a blend of Sauvignon Blanc and Sémillon grapes. 
Where Is Entre-Deux-Mers?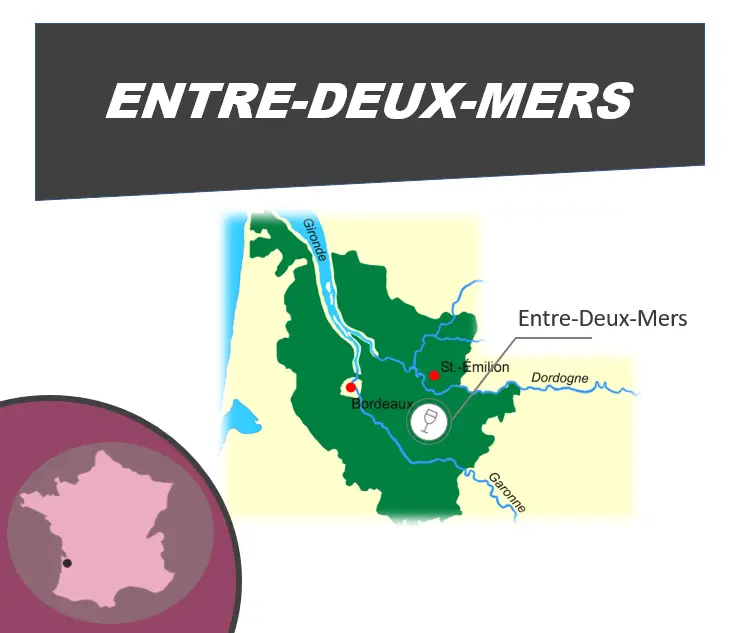 Entre-Deux-Mers has a diverse terroir, with large areas covered by forests, which can protect against storms from the Atlantic Ocean to the west. 
The land used for viticulture varies from gravel and clay to limestone and sand, which means a great variation in the style, quality and price of the wine.
Entre-Deux-Mers, or Marée, is literally between two tidal rivers, which moderate the climate and act as cooling influences.
Rainfall in the region varies, with an average of 950mm a year that can fall throughout the growing season.
Excessive rain at key moments during the season can threaten yields and quality. 
Rain during Flowering: Will lead to poor fruit set and reduce yields
Rain during Harvest: Will lead to bunch rot or diluted flavors
Because of the damp climate, colure, mildew, fruit rot and uneven ripening of the grapes can all be problematic for the viticulteur, or viticulturist.  
Why aren't Entre-deux-Mers wines more famous? After all, they're in Bordeaux…
The vineyard soils are alluvial and quite fertile, which is not ideal for premium production. 
Grapevines are vigorous – if you've ever tried to remove ivy, you know just how much energy vines like to put into leaf and shoot growth. 
In the absence of some stressor – water stress or nutrient stress – the vine prefers to put energy into leaf growth and reduces the energy it puts into the berries (i.e., sugar). Hence a reduction in berry quality. 
Added to this, local growers have consolidated over the past few decades resulting in an average growing plot increasing from 7 hectares in the 1970s to 60 hectares in 2015.
This has led to a more commercial, mass production approach, with wines of lighter intensity and no real aging potential. 
The consolidation was necessary because of downward price pressure selling generic Bordeaux wine.
The only way to survive financially in the winemaking business was to focus on quality, not the fine craftsmanship that comes from boutique wine estates.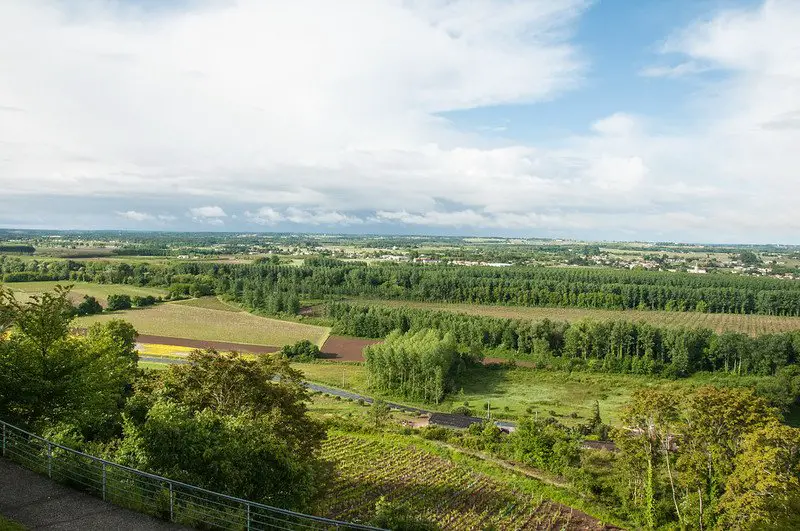 Entre-Deux-Mers Wine Style
The region only has one AOC: Entre-Deux-Mers AOC.
Entre-Deux-Mers AOC requirements: It must be a dry white wine (below 4g/L of sugar) and classically made from Sauvignon Blanc, Semillon and/or Muscadelle. Blending among the varieties is a common practice.
And while whites are by far the most produced here and are under the Entre-Deux-Mers AOC designation, reds, rosés and botrytized sweet-style wines are are also produced under a generic Bordeaux AOC label. 
The region's grapes include Semillon, Sauvignon Blanc and Muscadelle for whites and Merlot, Cabernet Sauvignon, Cabernet Franc, Petit Verdot and some Malbec for reds. 
Sauvignon Blanc is a late budding and early ripening variety, which makes it suitable for the Entre-Deux-Mers AOC, given that there can be heavy rainfall in autumn around harvest time. Semillon is mid-ripening, which again is well-adapted to the Entre-Deux-Mers region, although it is susceptible to botrytis bunch rot.
Helpful Tip: Go check out this post on everything Semillon. (One of my most favorite grapes of all time)
Where do all the red grapes go?
If a grower wants to plant red grapes and make a red wine (e.g., Merlot), this is possible under the general Bordeaux appellation.
Red wine here can only be produced under the AOC of Bordeaux or Bordeaux Superieur, which are the inexpensive bulk wines of Bordeaux that carry lower perceptions of quality.  
If you pick up a bottle of red Bordeaux AOC wine, it may very well have red grapes sourced from Entre-Deux-Mers. The only indication will be if the producer opts to disclose it on the label.
Despite this limitation, Entre-Deux-Mers is predominantly a red wine producing geographical region.
Growers have historically been swayed by business opportunities starting in the mid-20th century following the trending growth of red Bordeaux wines based on Merlot and Cabernet Sauvignon. 
Entre-Deux-Mers: Price of Wines
If you're looking for entry-level Bordeaux, then you'll love Entre-Deux-Mers. The region excels at making friendly and affordable table wines. This is a great place to start if you're just getting into wine or French wine.
The wines are typically good in quality and inexpensive to mid-priced, lacking the prestige of the Left and Right Banks AOCs or with other dry white regions, such as Pessac-Leognan.
Producers of Entre-Deux-Mers wines have several options when it comes to making and marketing their wines, all at different price points:
Entre-Deux-Mers AOC, an appellation for white wines only, selling at $10-$15 USD
Sweet wines from botrytized grapes from Cadillac, Loupiac, and Sainte-Croix-du-Mont. These wines sell at $15 to $20 USD per bottle which is, on average, lower than sweet botrytized wines from Sauternes and partly justified by the higher yields allowed (40-45hl/ha vs. 25hl/ha).
Non-AOC red wines range from $15-$25 USD
While they do not enjoy the intensity and complexity of their Right Bank and Left Bank neighbors, and are mostly simple in style, Entre-Deux-Mers are solid wines worth exploring.
Entre Deux Mers wines are best enjoyed young.