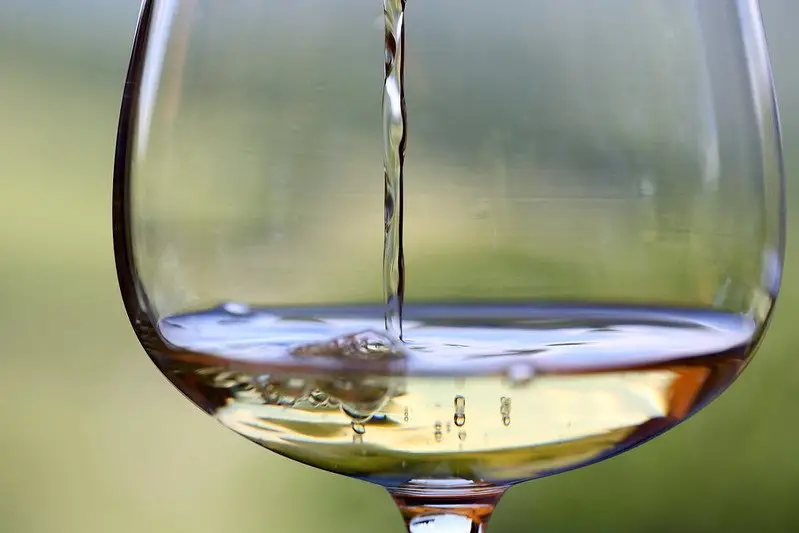 Pronounced: semi-OWN or semi-LAWN
Semillon, a versatile white wine grape, makes single varietals, blends, and prized dessert wines. Growing region influences its flavor and profile, from papaya and peach to lime and grapefruit. Find Semillon wines in Bordeaux, Hunter Valley, Australia, Argentina, and Chile.
Simple. Sexy. Scintillating. Here's what you need to know about Semillon wine.
What's Semillon Wine Like?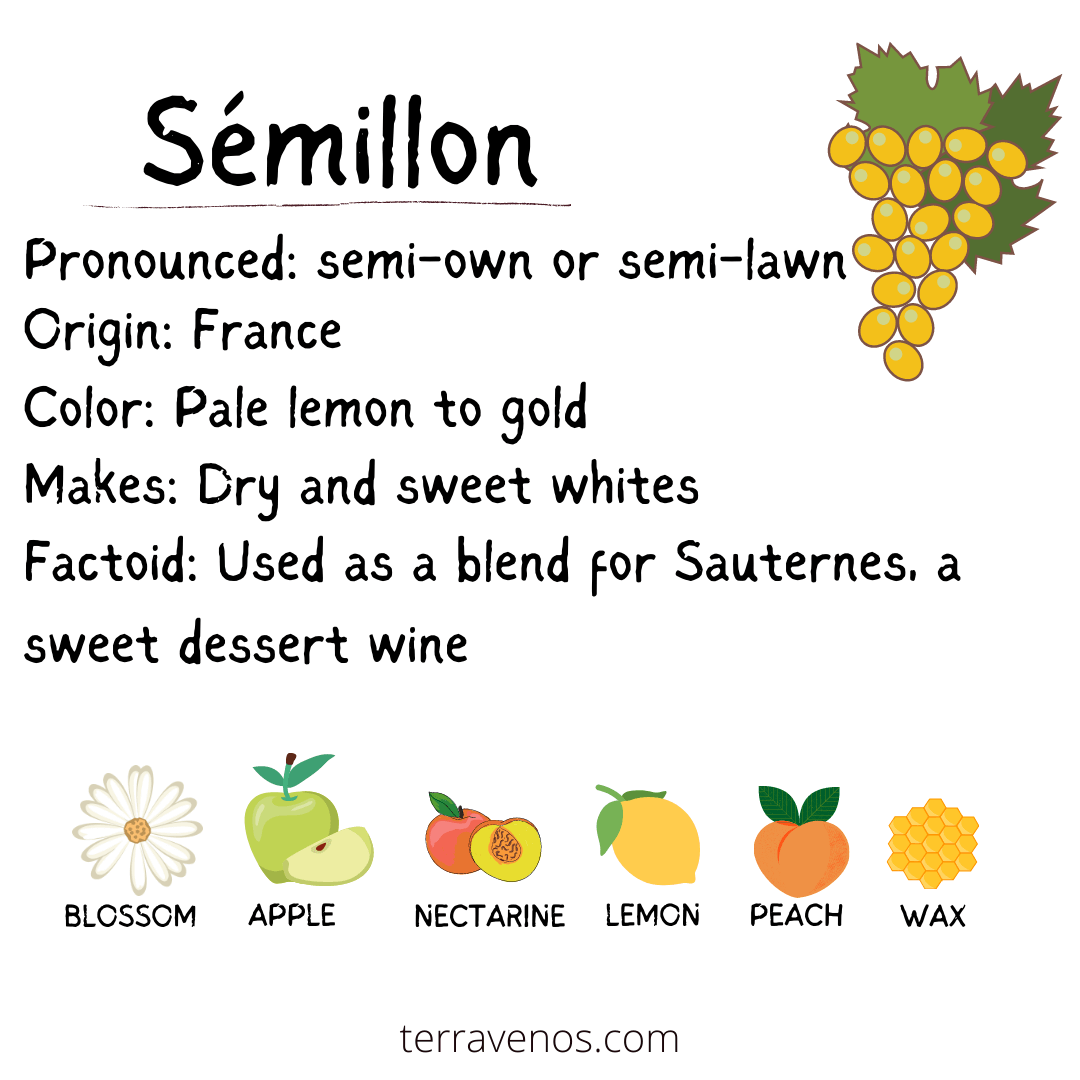 Semillon exhibits a range of sensory characteristics depending on where it's grown. The wine can be made dry to sweet, with high to moderate acidity, and oaked or unoaked. The main influence on Semillon is the growing climate.
Warm Climate Semillon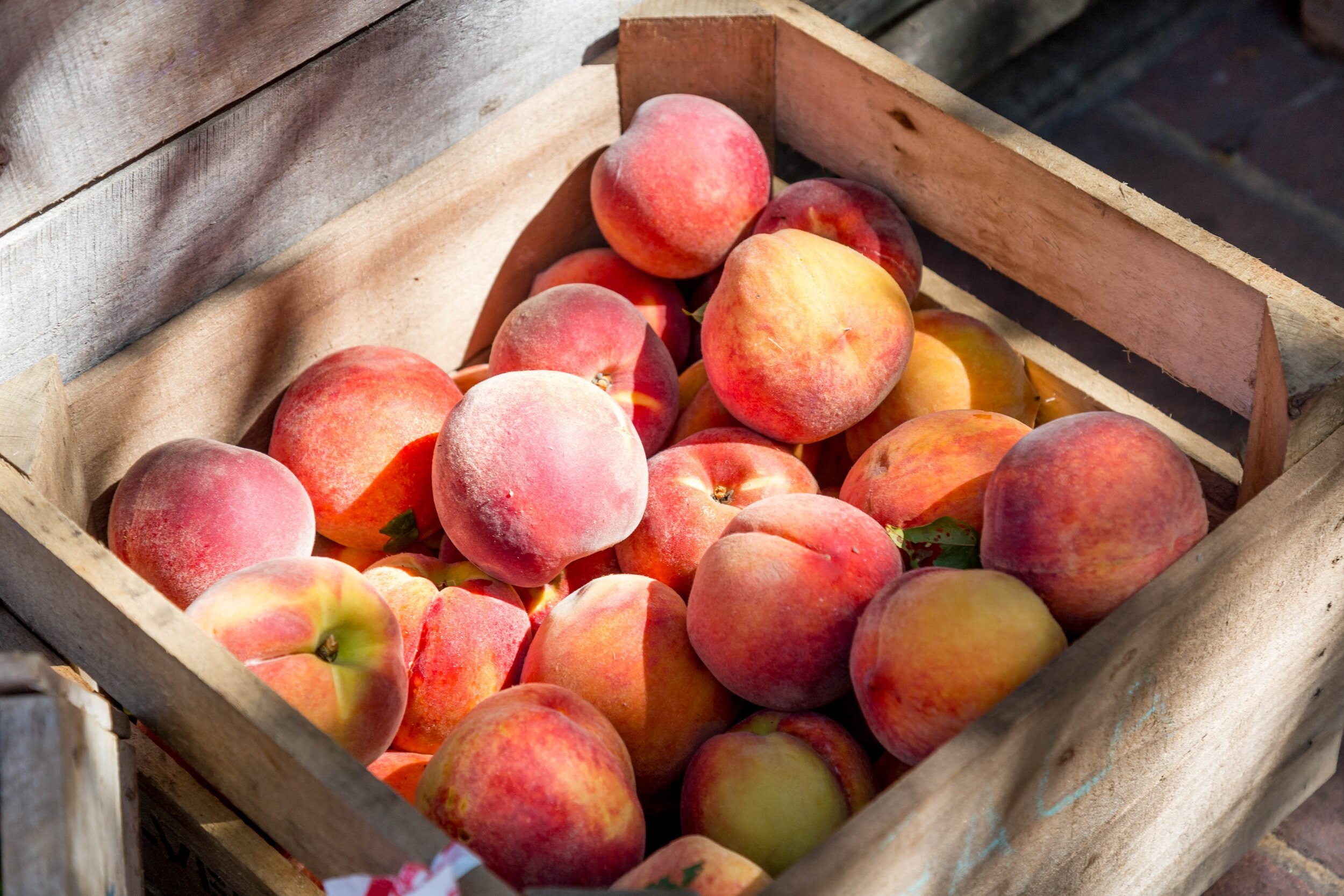 Warm climate Semillons exhibit more tropical notes, including mango, papaya, and peach.
Warm climate Semillon is often oak-aged to produce additional body and buttery notes. Higher alcohol levels (12%-14% ABV) also add body to warm climate Semillon.
If you love oaked Chardonnay, you'll adore the richness and creaminess in a warm climate Semillon.
Semillon grown in warmer climates tend to produce fuller-bodied wines, distinct from their cool climate sisters.
Cool Climate Semillon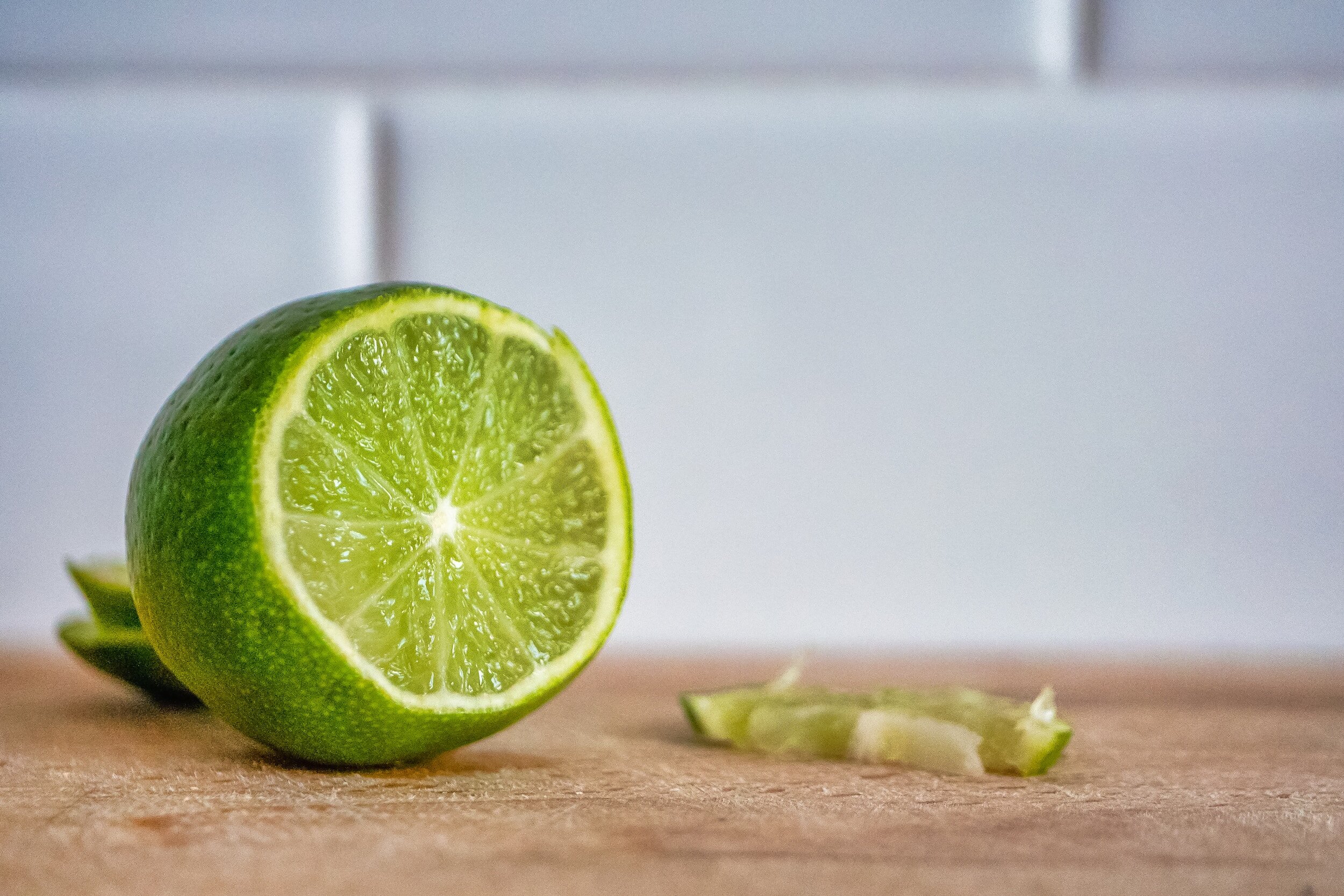 Cool climate Semillon shows freshness, with citrus, lime, and grapefruit. These Semillon wines are harvested earlier with lower alcohol levels (10%-12% ABV) to maintain natural acidity and complement the citrus notes. These wines can also exhibit delicate floral aromas.
Winemakers often skip oak aging to accentuate the natural acidity in cool climate Semillon.
If you love a zesty Sauvignon Blanc you will love cool climate Semillon.
Can Semillon Wines Age?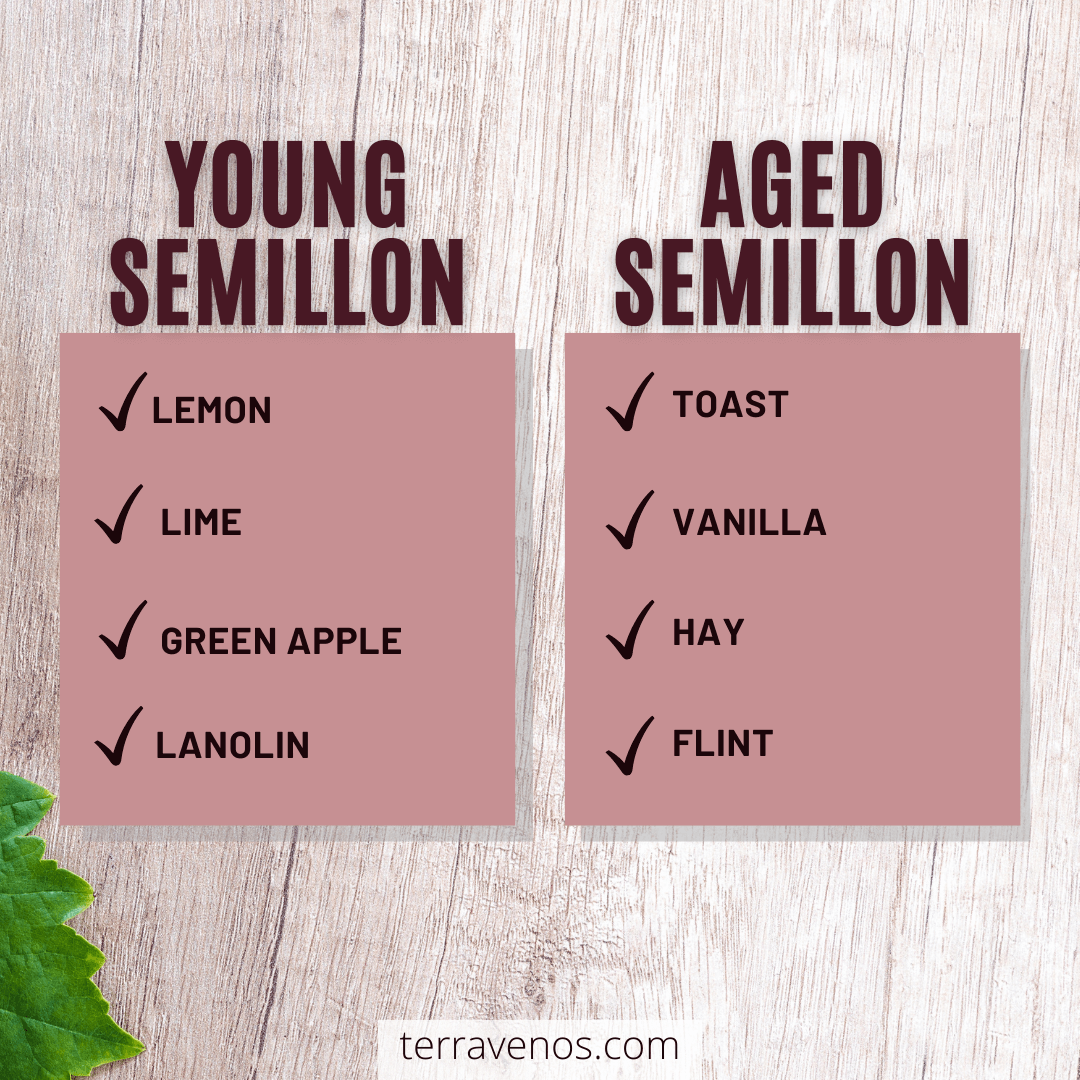 Yes! Semillon has great aging potential. Semillon's high acid level acts as a natural preservative for the wine.
This means that many Semillon wines have true aging potential. Zesty citrus transforms into notes of hay, flint, honey, vanilla, and toast – even with unoaked wines.
What Kinds of Wine Does Semillon Make?
Semillon makes the following wine styles:
Single varietals: Only Semillon grapes are used in a dry white wine
Blends: Semillon is blended with another grape (like Sauvignon Blanc)
Dessert Wines: Prized, luscious dessert wines (like Sauternes)
Semillon displays different characteristics depending on whether it is vinified dry or sweet.
Dry Semillon Wines
Dry wines exhibit the flavor characteristics above, including apple, citrus, stone fruits, floral hints, and beeswax (or lanolin).
Sweet Dessert Semillon Wines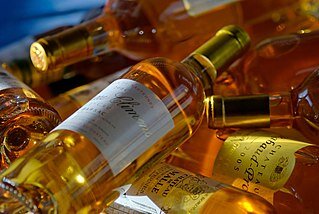 Semillon plays a starring role in some of the world's most famous dessert wines.
Semillon is a thin-skinned grape variety and easily susceptible to noble rot, or botrytis. Sweet Semillons affected by botrytis cinerea develop these honeyed and floral notes.
Semillon vinified into a sweet wine, for example in a Sauternes, accentuates honey notes, lanolin, and floral notes.
In all, Semillon's versatility and range of sensory characteristics make it a unique varietal.
How Do You Serve Semillon Wines?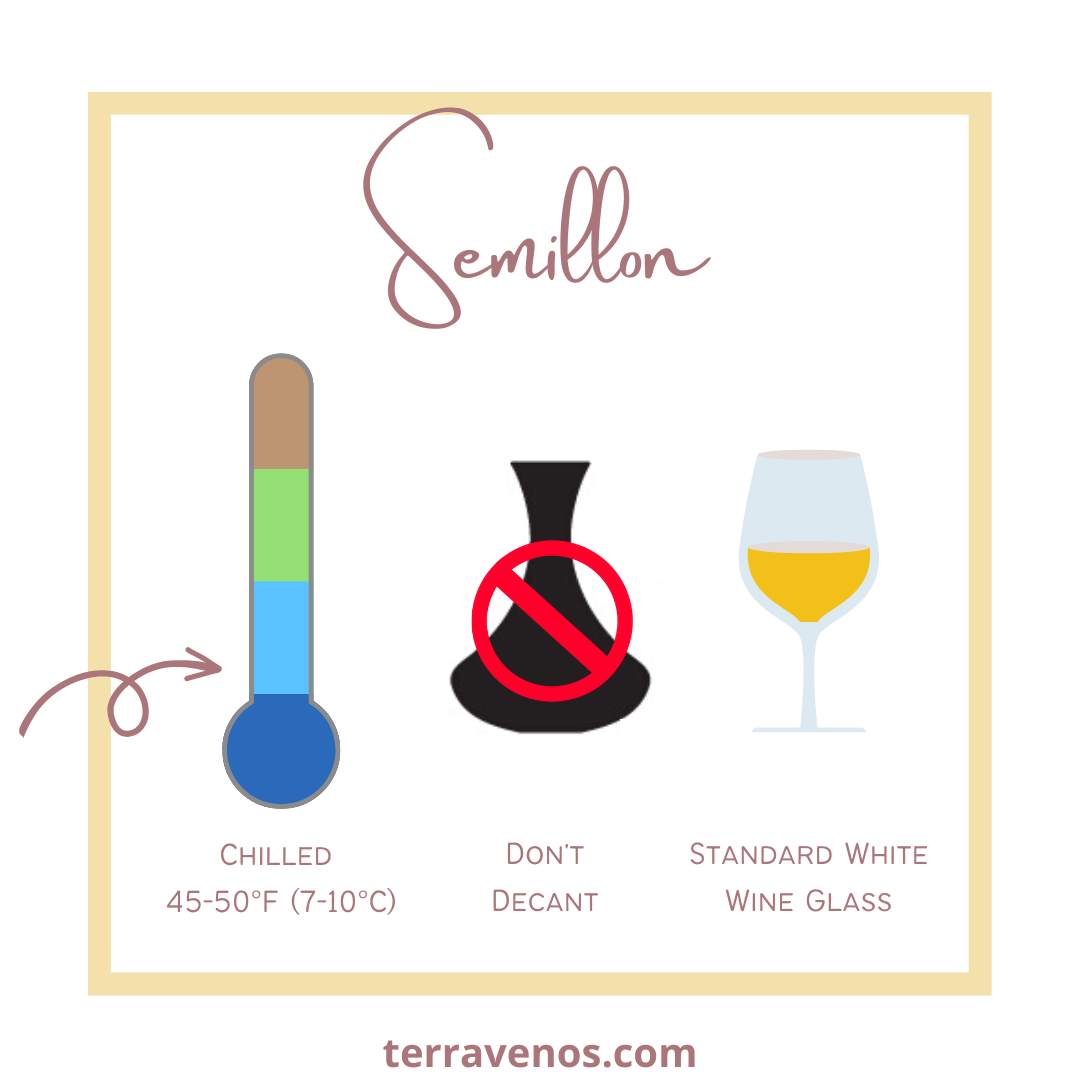 Semillon wine is best served chilled to enhance its flavors and aromas. The recommended serving temperatures are:
Fahrenheit: 45-50°F (7-10°C)
Celsius: 7-10°C
Decanting isn't always necessary for Semillon wines, but it can benefit certain aged or complex varieties. If you choose to decant, around 30 minutes before serving should be sufficient.
For glassware, opt for medium-sized white wine glasses with a narrow rim. This allows the wine's aromas to concentrate, enhancing the tasting experience. Avoid using large, wide-bowled glasses, as they may disperse the delicate aromas.
Semillon Wine Pairing Ideas: Dry and Sweet Styles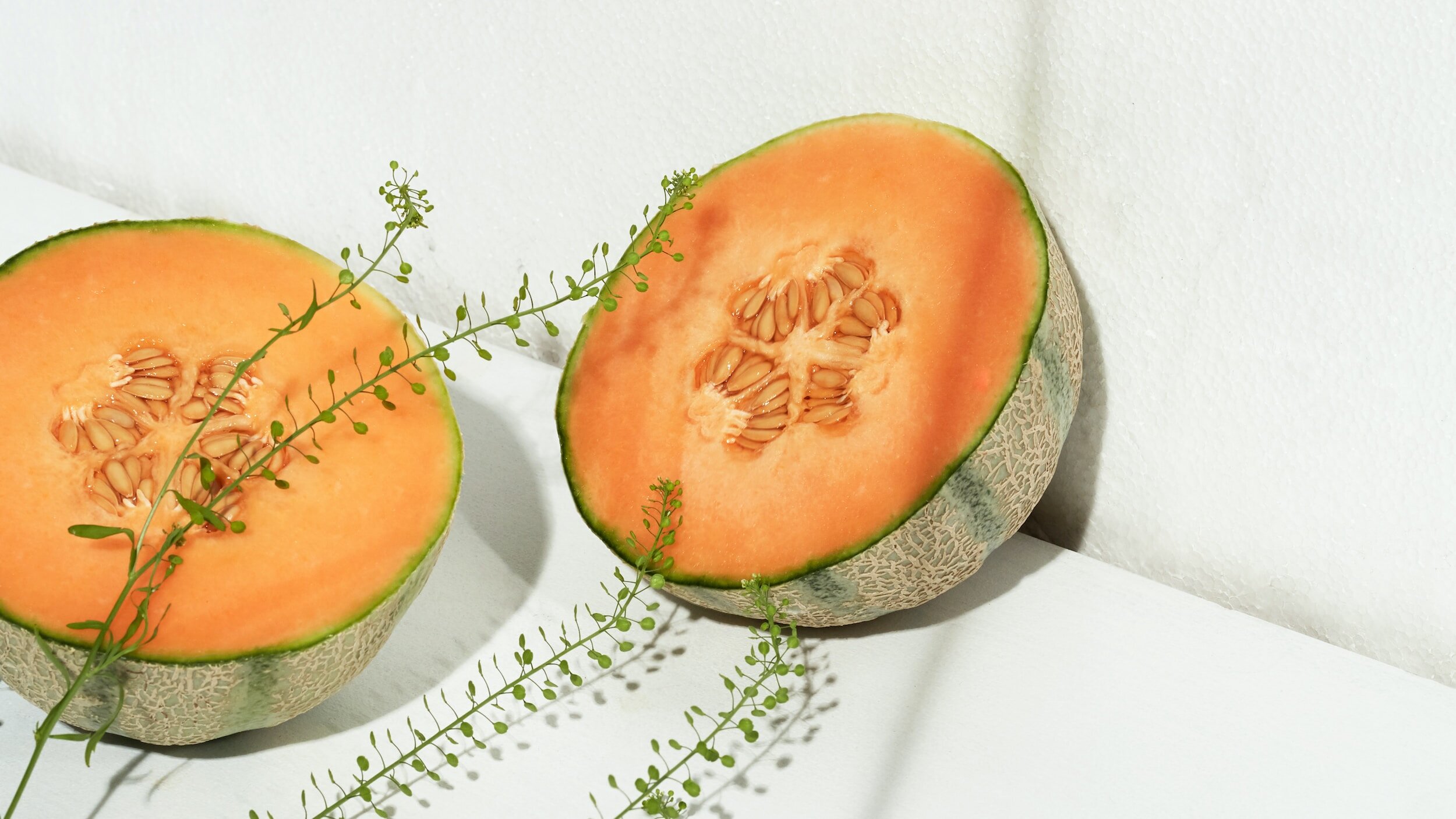 You'll want to consider pairing Semillon with different foods and flavors depending on whether you have a dry white table wine or a sweet dessert wine.
Food Pairing for Dry Semillon Wines
Dry Semillon wines, characterized by their moderate to high acidity and flavors of citrus and grass, pair excellently with a variety of dishes.
The wine's crispness and refreshing nature make it a great companion for seafood and light poultry dishes. If you prefer something heartier, complement Dry Semillon with dishes like vegetable risotto or lemon-infused pasta, enhancing the meal's overall freshness and flavor.
Grilled shrimp
Lemon-herb chicken
Goat cheese salad
Food Pairing for Sweet Semillon Dessert Wines
Sweet Semillon dessert wines, known for their luscious sweetness and rich golden color, make for wonderful after-dinner treats.
The wine's honeyed notes and intense flavors of tropical fruits, apricot, and marmalade call for indulgent pairings.
For a simple yet elegant combination, enjoy Sweet Semillon with a plate of ripe, juicy melon, bringing out the wine's inherent fruitiness.
Peach cobbler
Pineapple upside-down cake
Blue cheese and crackers
Ripe melon slices
Helpful Tip: Just getting into wine? Here's a quick guide on how to pair flavors with wine for winning combos every time.
Semillon vs Other White Wines
| Attributes | Semillon | Sauvignon Blanc | Chardonnay |
| --- | --- | --- | --- |
| Color | Pale Gold | Pale Straw | Pale Straw |
| Hue | Green-Gold | Green-Gold | Yellow-Gold |
| Sweetness | Dry to Sweet | Dry | Dry |
| Acid | Medium to High | High | Medium to High |
| Tannin | Low | Low | Low |
| Alcohol | Medium (11-13%) | Medium (11-13%) | Medium (12-14%) |
| Body | Medium | Light-Medium | Medium-Full |
| Intensity | Moderate | High | Moderate to High |
| Flavor | Citrus, Grassy | Citrus, Herbal | Stone, Tropical, Buttery |
| Historical Regions | Bordeaux (France), Hunter Valley (Australia) | Bordeaux (France), Marlborough (New Zealand) | Burgundy (France), California (USA) |
| Classic Pairings | Seafood, Poultry | Salad, Goat Cheese | Poultry, Seafood |
| Price Range | $10-$30 | $10-$25 | $15-$40 |
Compared to Sauvignon Blanc, Semillon can have a waxy quality, and more citrus notes than tropical fruit and generally has more body than Sauvignon Blanc when made as a dry wine. Chardonnay tends to have more apple, stone, and tropical fruit (depending on where it's grown) than Semillon. Check out the chart above for an at-a-glance comparison.
Helpful Tip: Of course, where wine grapes are grown and how the winemaker crafts the wine will always shape what's in your glass. Cheers!
Here's a full post just on Sauvignon Blanc if you're just getting into wine.
Semillon Synonyms
Semillon is also called Blanc doux, Colombier, Malaga,Groendruif, Wyndruif, Hunter River Riesling.
Where Is Semillon Grown?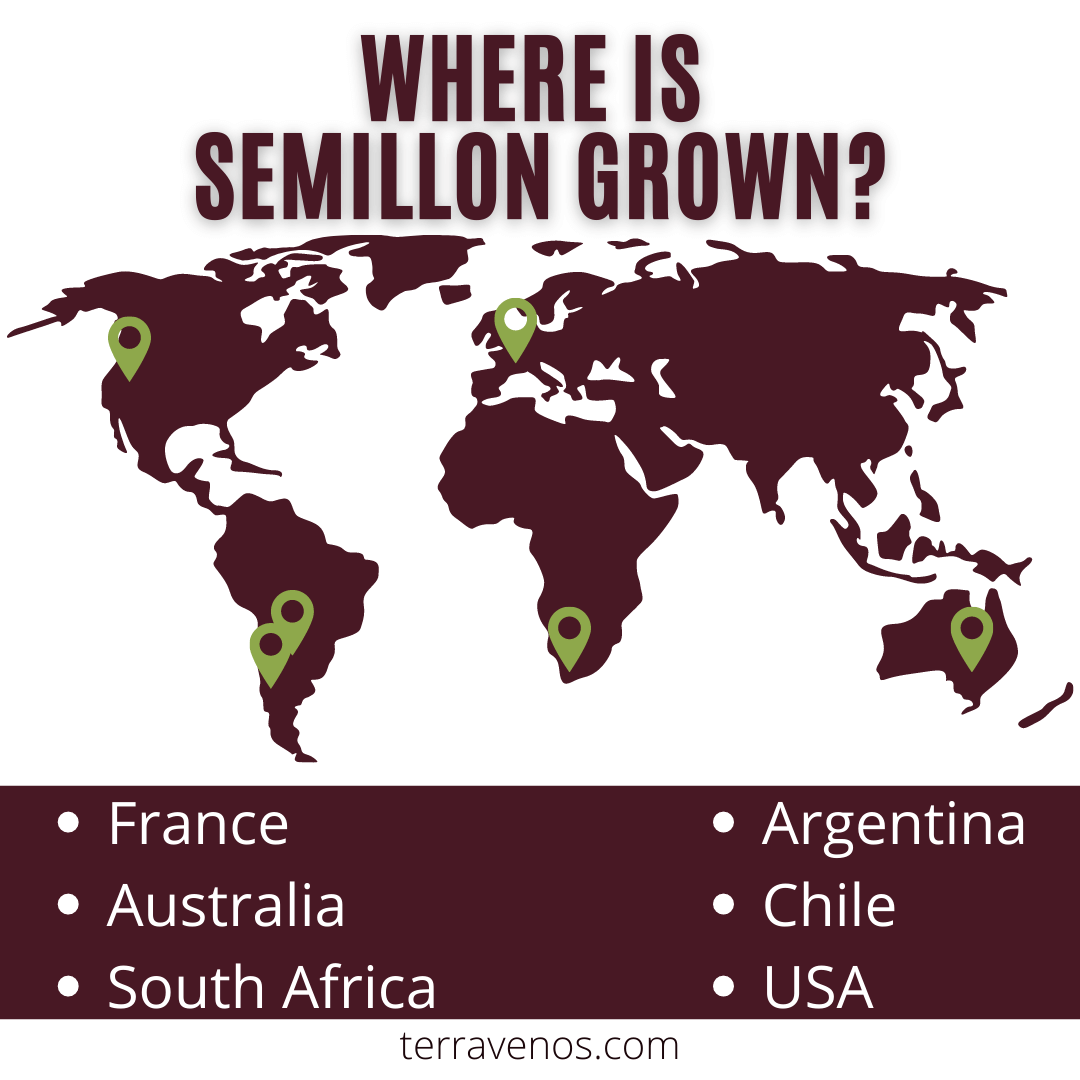 Semillon acreage spans the globe, with vineyards dedicated to this grape found on every wine growing continent.
Countries with Semillon acreage under vine, in order from the largest to smallest, are:
France
Australia
South Africa
Argentina
Chile
U.S.A.
China also now has Semillon vines under production, though statistics on China's wine grape production are limited.
Where Does Semillon Wine Come From in France?
Historically, Semillon hails from the Bordeaux wine growing region of France, where it makes up the largest variety grown by percentage in the famous white Bordeaux trio:
Semillon (53%)
Sauvignon Blanc (38%), and
Muscadelle (6%)
Within Bordeaux, Semillon grows in the following AOCs:
Graves AOC
Entre-deux-Mers AOC
Sauternes AOC
Bourg AOC
Blaye AOC
This cool Mediterranean climate produces dry white Semillon blends in Entre-Deux-Mers, as well as the uber-famous, lusciously sweet Sauternes dessert wine, from the Sauternes AOC, as well as in Barsac AOC.
The Ciron River and Garonne River create perfect conditions for botrytis cinerea and world-renowned dessert-style Semillon in these AOC regions. 
Where Does Australian Semillon Come From?
Australia is the second largest grower of Semillon in the world, making both warm and cool climate styles.
You'll find four styles of Semillon from down under:
Unoaked single varietal
Oaked single varietal
Blended (usually with Chardonnay)
Sweet dessert
Hunter Valley is arguably the most well-known of the Semillon growing regions in Australia with a warm, humid climate.
Semillon is picked early with high acidity and vinified without oak. The higher acidity means that Hunter Valley Semillon can be aged.
Over time, citrus, grass, and lanolin evolve into tertiary aromas and flavors of honey, toast, and nuts.
Across the country in the westernmost growing region of Margaret River, winemakers produce several styles of wines using cool climate Semillon, oaked and unoaked, in a blend with Sauvignon Blanc.
If you're a bargain hunter, look for Australian Semillon dessert wines made in Riverina, New South Wales.
Dessert Semillon wines are only made in years when climate conditions are perfect for Botrytis cinerea in the vineyard, and while not age-worthy, produce lusciously sweet Semillon wines.
Semillon Wine in South Africa
Similar to Australia, South Africa produces Semillon in a range of styles.
Fun Wine Fact: Brought to South Africa by French Huguenots in the late 1600s, Semillon was once the most widely planted grape in the country, accounting for over 90% of production.
Plantings decreased substantially following a phylloxera epidemic, with Chenin Blanc taking Semillon's place as the primary white grape of the region.
Today Semillon is considered a heritage grape in South Africa, where Semillon is most often vinified in a white Bordeaux wine style combined with Sauvignon Blanc. Several producers are trying to bring Semillon back into favor with South African wine drinkers.
Semillon Wine in South America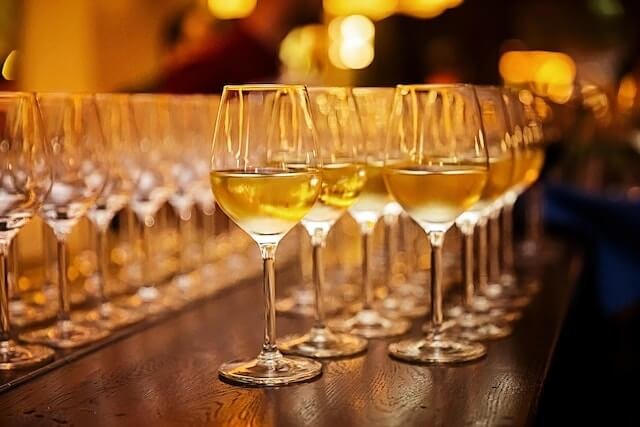 Across the globe in South America, Argentina and Chile both have acreage dedicated to Semillon vines. In Argentina's Uco Valley in the Mendoza province and in the Rio Negro province in Patagonia, Semillon enjoyed popularity in the 1970s.
However, with growing consumer demand for Argentina's signature Malbec, Semillon plantings declined.
Today, Argentina's old Semillon vines produce high-quality wines in a range of styles.
Similar to Argentina's Semillon story, the variety was once the most widely planted white grape in Chile, and only slightly behind Cabernet Sauvignon and Pais.
At the end of the 20th century, however, Semillon again fell out of favor with consumers, replaced by Chile's Sauvignon Blanc.
Small plantings remain in Chile's Itata Valley.
Semillon in the USA
In the U.S.A., small plantings of Semillon can be found across winegrowing regions.
Washington State is home to quality Semillon production in the Walla Walla Valley.
With the Cascades protecting vineyards from Pacific storms, Walla Walla enjoys a long growing season with good diurnal ranges to help the grape maintain acidity.  
Semillon Growing Challenges
Winegrowers and winemakers face several challenges with Semillon. The grape is thin-skinned and easily affected by downy mildew and botrytis, two destructive fungal diseases, as well as wind damage.
Vineyards planted to Semillon in variable growing climates mean that in some years the grapes may experience botrytis and in other years they may be unaffected. This will directly impact the style of wine produced.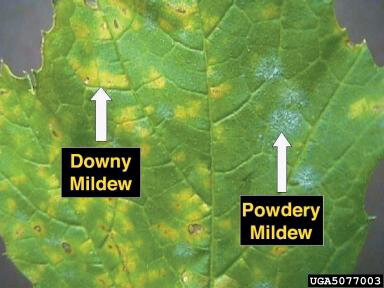 Another vineyard factor is canopy management. The flavor and aroma profile of Semillon can be significantly manipulated with canopy management.
Closed canopies produce green and citrus flavors.
Open canopies tend towards more tropical and stone fruit notes.
Likewise, the grape's natural moderate acidity means that winegrowers need to consider when the grape is best harvested.
Blending considerations determine the final wine's overall style.
Semillon can be blended with Sauvignon Blanc to increase mouthfeel and body and to balance out Sauvignon Blanc's acidity.
Notable Semillon Wine Producers and Bottles to Try
When exploring Semillon, seek out producers known for their dedication to this exceptional varietal. Some notable wineries include:
Tyrrell's Wines (Hunter Valley, Australia): Tyrrell's is renowned for its long-standing commitment to Semillon, producing exceptional single varietals that showcase the grape's versatility and aging potential.
Château d'Yquem (Bordeaux, France): As one of the most prestigious producers in Bordeaux, Château d'Yquem crafts legendary sweet Semillon dessert wines from its prized vineyards in the Sauternes region.
Brokenwood Wines (Hunter Valley, Australia): Brokenwood Wines is a highly regarded winery in the Hunter Valley, celebrated for its outstanding Semillon wines. Their classic Hunter Valley Semillon offers a perfect balance of citrus flavors and a long-lasting, elegant finish.
Final Thoughts: What's So Special About Semillon Wines?
The diverse aroma and flavor profile of Semillon largely depends on its growing climate and vineyard management, making this a unique grape capable of different wine styles.
From simple dry table wines to heady, honeyed dessert wines, Semillon has a storied history among winegrowers going back centuries.
Once a common, widely-planted grape, today Semillon enjoys an esteemed reputation among wine aficionados, and is a secret worth sharing with anyone who loves delicious vinos!
Thirsty for More?
Old-vine Semillon is widely sought after, here's exactly what old vine wines mean on wine labels and in practice.
Disease is nothing new in the world of wine, here's a quick history of phylloxera and how it almost killed off all of the vineyards in Europe.
Hosting a white wine tasting? Here's a list of perfect cold appetizers for your next white wine tasting.