Pronunciation: pee-noh NWAHR
Pinot Noir, an ancient red wine varietal, embodies power and elegance in your wine glass. Here's what you need to know about Pinot Noir.
What Kind of Wine is Pinot Noir?
Pinot Noir is a medium-bodied red wine with moderate acidity, delicate tannins, and a balanced alcohol level. Its style falls between lighter reds like Gamay and fuller-bodied reds like Cabernet Sauvignon.
Here's a witty excerpt of what to expect from Pinot Noir from the movie Sideways.
Fun Wine Fact: Unlike Bordeaux, Pinot Noir is almost never blended with other wine grapes. Most Pinots are 100% Pinot Noir.
Where Does Pinot Noir Wine Come From?
Pinot Noir, a grape variety with a rich history, originates from the Burgundy region in France. It holds a deep connection to the region's winemaking traditions. Today, Pinot Noir is cultivated in various wine regions worldwide, each offering its own expression of this captivating grape.
Pinot Noir in Burgundy
Here's a map of the heart of Burgundy. You can see the mountains to the west, this is the famed Cote d'Or, or Golden Slope, home to some of the world's most famous Pinot Noir vineyards.
In Burgundy, Pinot Noir reigns supreme, particularly in the Côte d'Or subregion. The vineyards of Gevrey-Chambertin, Vosne-Romanée, and Chambolle-Musigny produce exceptional Pinot Noir wines, known for their finesse and complexity.
Pinot Noir Around the World
Outside of Burgundy, Pinot Noir has found success in the New World wine regions. In the United States, the cool climates of Oregon's Willamette Valley and California's Sonoma Coast offer ideal conditions for growing this delicate grape. These Pinots charm with bright red fruit and crunchy coastal profile.
New Zealand, Chile, Australia, and Germany are among the other countries producing noteworthy Pinot Noir wines.
Fun Wine Fact: Pinot Noirs from New Zealand will have a deeper ruby hue thanks to more intensive UV rays. I often get tricked by the color of New Zealand Pinot Noirs in blind tastings.
What Does Pinot Noir Smell Like?
Pinot Noir presents a distinctive aroma profile that includes red fruits such as cherries and raspberries. It can also exhibit earthy notes like mushrooms and forest floor, along with hints of spice, such as cloves or cinnamon. The aromatic complexity of Pinot Noir adds to its allure.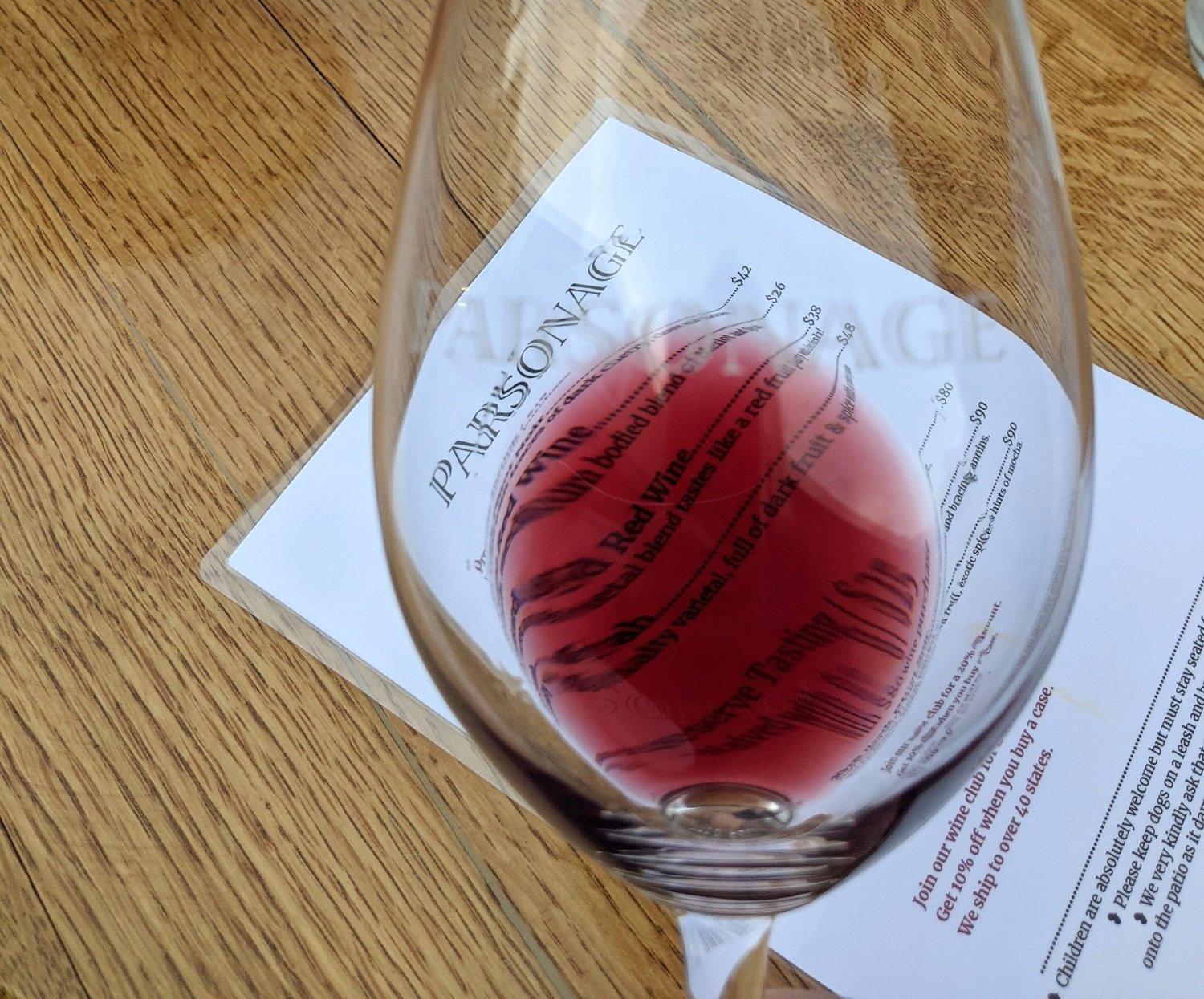 Fun Wine Fact: In the movie "Sideways," the main character, Miles, famously declared his love for Pinot Noir, describing it as "transcendent." The film's popularity led to a surge in Pinot Noir consumption and a renewed appreciation for its elegant and nuanced qualities.
What Does Pinot Noir Taste Like?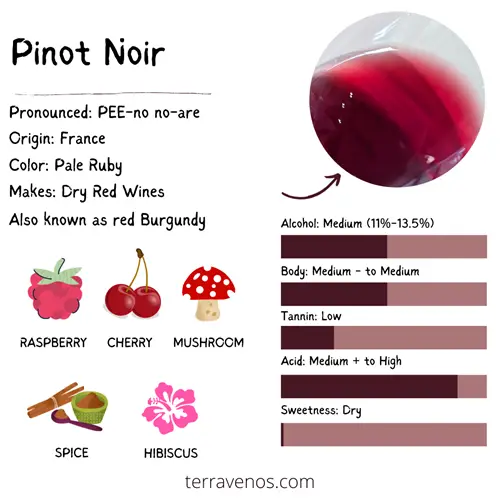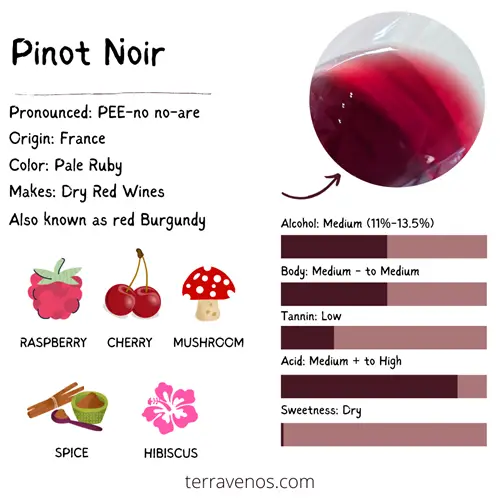 Pinot Noir has well-defined flavors and a silky texture, making it a great wine for new wine drinkers. Expect flavors of ripe strawberries, red cherries, and plums, complemented by subtle herbal undertones.
Well-crafted Pinot Noir wines are powerfully aromatic and you'll experience fruity aromas jumping out of the glass.
Pinot Noir offers a range of taste profiles depending on the region and winemaking style, making it worthwhile to experiment with different producers.
Helpful Tip: Still deciding which red wines you'll enjoy? Head over to this post Cabernet Sauvignon vs Pinot Noir: Which Is Better?
How to Serve Pinot Noir Wine
Temperature
Serve Pinot Noir slightly below room temperature, around 55-60°F (12-15°C). This allows the wine to reveal its delicate aromas while maintaining freshness.
Glassware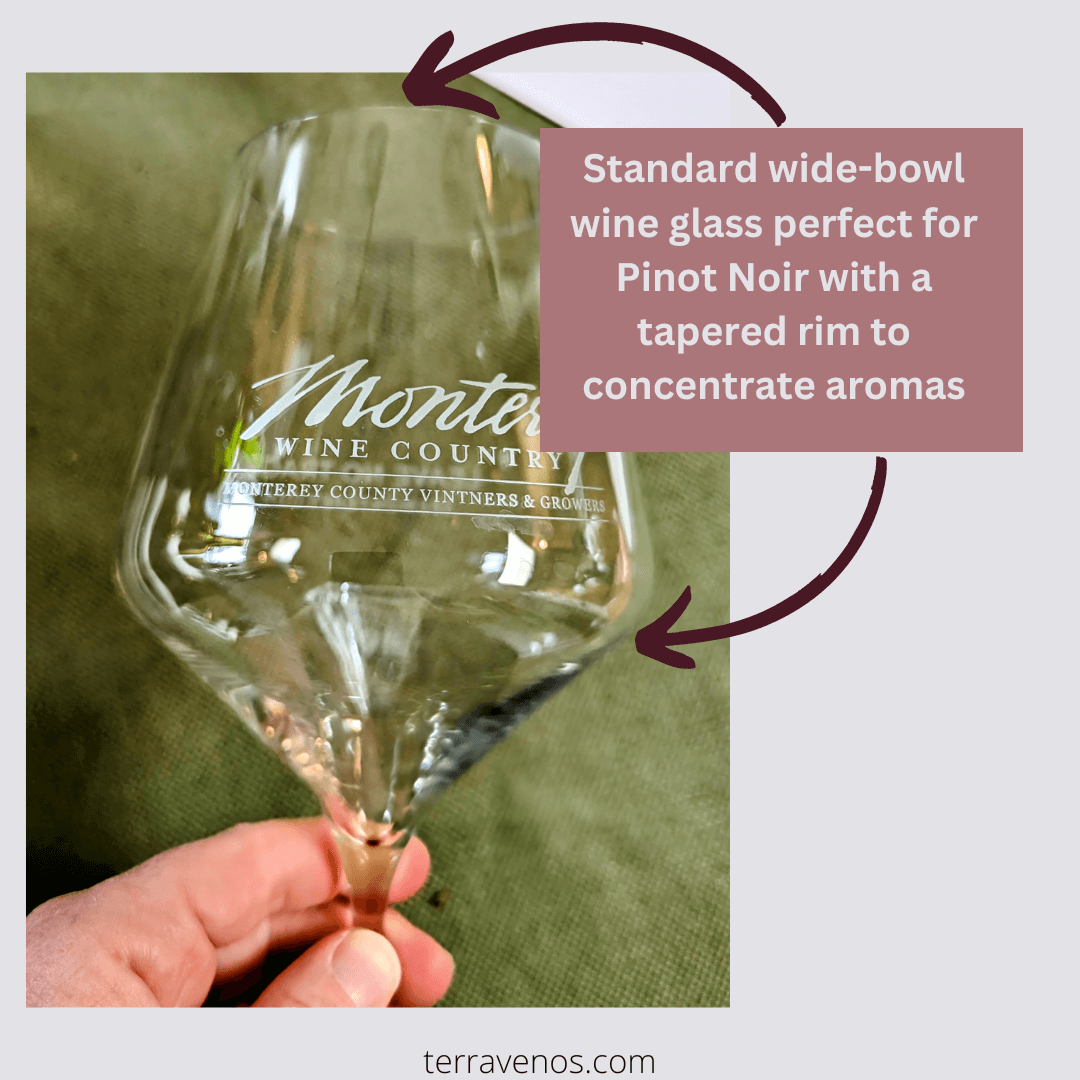 If you're a purist, you want a red Burgundy wine glass for your Pinot Noir. These are giant fish-bowl style glasses that allow all of the aromas of Pinot Noir to unfold and hang above the wine, allowing you to breathe deeply.
Sigh. I love Pinot Noir.
If you don't have a red Burgundy wine glass…
Opt for a standard red wine glass with a wide bowl and tapered rim. This shape enhances the wine's aromatics and allows for a smooth, controlled sip. Easy.
Decanting
Most Pinot Noir wines benefit from minimal to no decanting. However, if you have a complex, aged Pinot Noir, decanting it for 10-15 minutes can help it open up and showcase its nuances.
Aging Potential
Pinot Noir can age gracefully, especially high-quality examples from Burgundy. Lighter-bodied Pinot Noirs are best consumed within 3-5 years, while structured and age-worthy ones can evolve and improve over 5-10 years or longer.
Pinot Noir Food Pairing Suggestions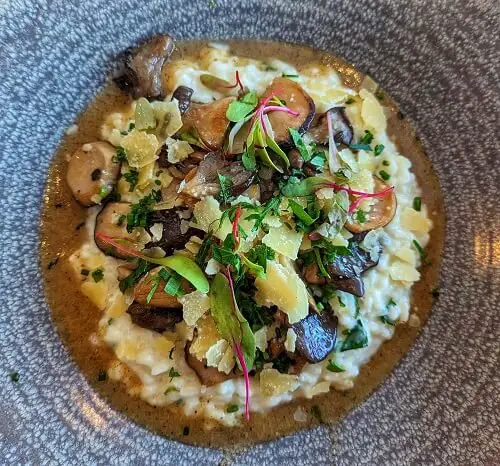 Pinot Noir's versatility makes it a delightful companion for various dishes. Its elegant character and balanced acidity harmonize well with a range of flavors. Consider these food pairing suggestions to enhance your Pinot Noir experience:
Quick Tips: Pinot Noir Food Pairing
Roasted pork loin
Grilled salmon with a herb-infused butter
Mushroom risotto with truffle oil
Discover: Pinot Noir Cheese Pairing Guide
Pinot Noir vs. Other Varietals
While Pinot Noir shares some similarities with other red varietals, it possesses a unique character that sets it apart. Compared to bolder wines like Cabernet Sauvignon, Pinot Noir offers a lighter body, delicate tannins, and an enchanting aromatic profile. Its elegance and complexity make it a standout choice for wine enthusiasts seeking a refined experience.
Fun Wine Fact: Pinot Noir grapes are thin-skinned and susceptible to mutations, resulting in various clones with distinct flavors and characteristics (like Pinot Grigio). This diversity adds to the intrigue and endless possibilities of exploring different expressions of Pinot Noir.
Discover:
Malbec vs Pinot Noir
Pinot Noir vs Merlot vs Cabernet Sauvignon
Pinot Noir vs Sangiovese
Sustainable Practices in Pinot Noir Vineyards
Pinot Noir has tight clusters of grape and thin skins, making it susceptible to bunch rot in the vineyard. Winemakers rely on sprays to keep rot down. Sustainable viticulture looks toward organic fungicides and vineyard inputs to help suppress rot.
You can find organic farmed Pinot Noir grapes in many regions that have drier growing conditions (less humidity and rain through the growing season, means less risk of rot).
By preserving the natural balance of the vineyard, winemakers can craft wines that reflect the character of the Pinot Noir grape and the land.
Fun Wine Fact: Did you know that Pinot Noir is often referred to as the "heartbreak grape"? Its delicate nature and challenging cultivation conditions make it a winemaker's ultimate test of skill and perseverance.
Notable Pinot Noir Producers and Bottles to Try
When exploring Pinot Noir, it's worth discovering producers dedicated to showcasing the grape's beauty. Keep an eye out for wineries renowned for their expertise in crafting exceptional Pinot Noir wines. Here are a few notable examples:
Domaine de la Romanée-Conti (Burgundy, France) – Note: This is arguably the finest Pinot Noir producer in the world.
Au Bon Climat (California, United States)
Felton Road (Central Otago, New Zealand)
These producers offer a range of Pinot Noir wines, each expressing its own terroir-driven qualities and winemaking philosophy.
Emerging Trends and Innovations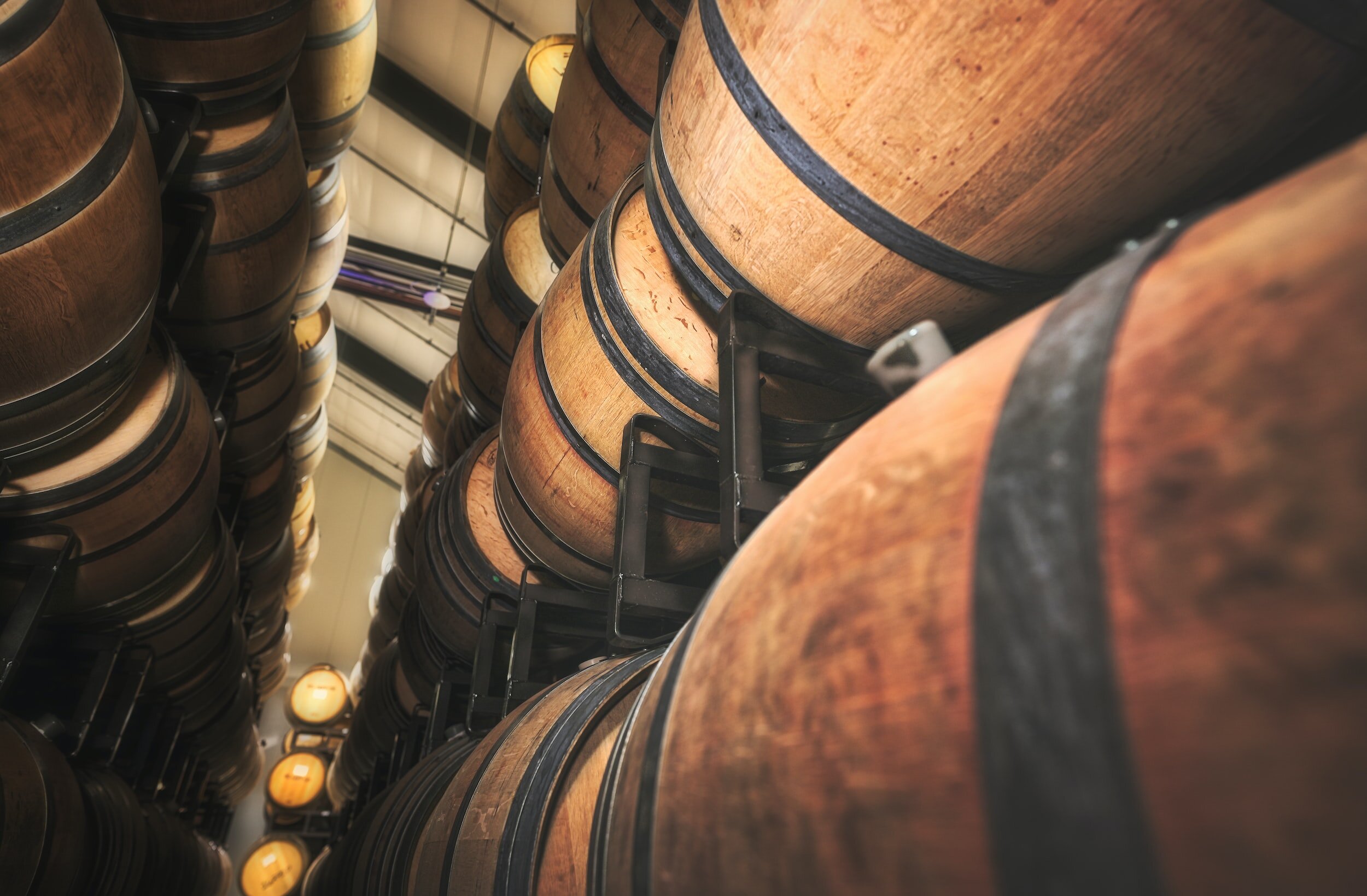 The world of wine is ever-evolving, and Pinot Noir remains at the forefront of innovation. Winemakers are constantly experimenting with new techniques and approaches to elevate the expression of Pinot Noir.
Many winemakers that craft Pinot Noir experiment with whole-cluster fermentation and stem inclusion to add flavor complexity in the wine.
Pinot Noir Wine Buying Tip: Look for "whole-cluster" or "whole-bunch" fermentation or "stem inclusion" on your Pinot Noir wine labels if you're looking for a wine that's a little different.
Final Thoughts – Pinot Noir as a World-class Wine
Pinot Noir, a red wine varietal, offers a unique character with its lighter body, delicate tannins, and enchanting aromatic profile. As you get ready to enjoy your next bottle of Pinot Noir, remember:
Pinot Noir wines are usually 100% Pinot.
Pinot Noir has a rich history rooted in Burgundy, France, but you'll find it in many wine regions worldwide, each showcasing its own expression.
Moreso than many wine grapes, Pinot Noir is a wine that you should experiment with by tasting bottles from different producers. Each will craft unique wines that reflect the land, but also their own winemaking styles.
Thirsty for More?
Here's a post that explores other light red wines similar to Pinot Noir.
Check out my frugal wine lover's guide to saving money on wine.
Some money saving tips I've included above, but here are more tips to save money when you go out wine tasting.
I put together this post that covers the major wine growing regions around the world and their signature wine stylese. Enjoy!
Discover More:

Pinot Noir vs Sangiovese
Pinot Noir vs Merlot
Pinot Noir vs Cabernet Sauvignon