Merlot's a personal favorite. An easy-drinking, inviting red wine that deserves a place on any table.
Originally from France, today Merlot grows in major wine producing regions around the world. Best known are Bordeaux, California, Washington, Tuscany, Australia, New Zealand, Argentina, and Chile.
Here's a rundown of Merlot's terroir and what to look for.
Understanding Terroir and Its Impact on Merlot Wines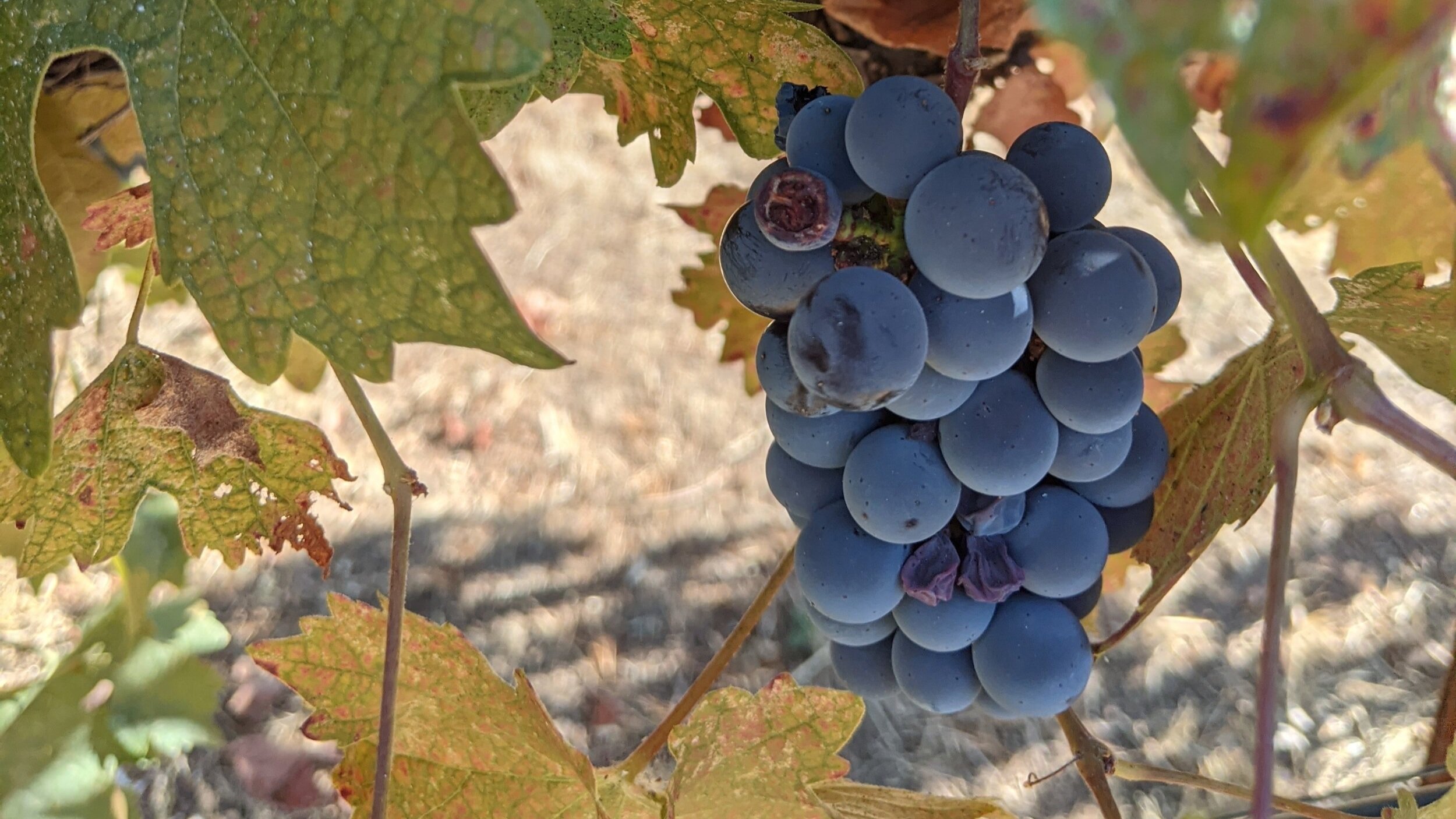 Terroir, the soul of a vineyard, is the sum of its soil, climate, and vineyard practices. All of these bits come together to shape the fruit over a growing season, giving your Merlot wine its soul.
Helpful Tip: Head over to this post for a comprehensive overview of everything Merlot.
Two Styles of Merlot: Warm and Cool Climate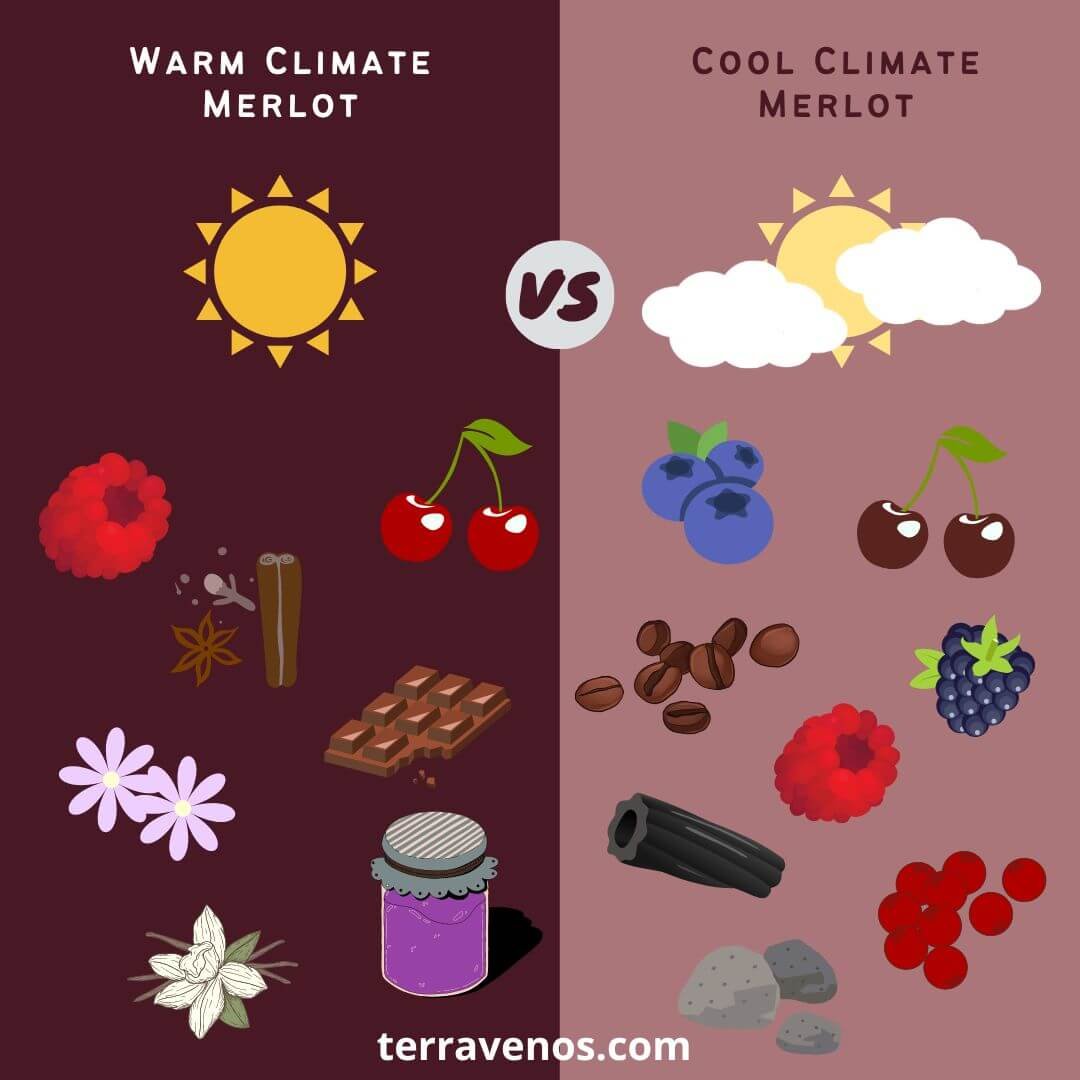 Generally speaking, there are two distinctive styles of Merlot: Merlot wines made from grapes grown in warmer regions, and Merlot wines made from grapes in cooler regions.
Warm Climate Merlot (e.g., California, Eastern Washington, Southeast Australia): These will be jammier Merlot wines, with velvety rich fruit, higher alcohol, and a smoother profile.
Cool Climate Merlot (e.g. Bordeaux, France): These Merlot wines will have more structured tannins and crunchy black fruit, and maybe even a slightly earthy flavor.
Fun Wine Fact: Wine grapes ripen just like any other fruit. They start out hard and sour and then slowly get sweeter and riper through the growing season. Cooler regions won't ripen the grapes as much, resulting in crunchy, just-ripe fruit flavors. Warmer regions ripen (and can even over-ripen) the grapes giving your wine rich jammy flavors, and sometimes even raisiny notes.
Bordeaux, France: The Birthplace of Merlot
Explore this map of Bordeaux. Pomerol is marked, a premium growing region for Merlot in Bordeaux.
Merlot is originally from Bordeaux, France. Perhaps more than any other winegrowing region, Bordeaux carries the name recognition of epic wines.
Merlot holds a special place among them, most renowned are Pomerol and Saint-Émilion.
The northern latitude accompanied by cool maritime weather coming off of the Atlantic makes this a region that produces cool climate Merlot wines.
Helpful Tip: Love Merlot? Check out this Merlot and Cheese pairing guide.
Expect your Merlots from Bordeaux to have structured tannins, minerality, mocha, and oodles of bright fruit like currant, dark cherry, and raspberry.
Finding Merlot from Bordeaux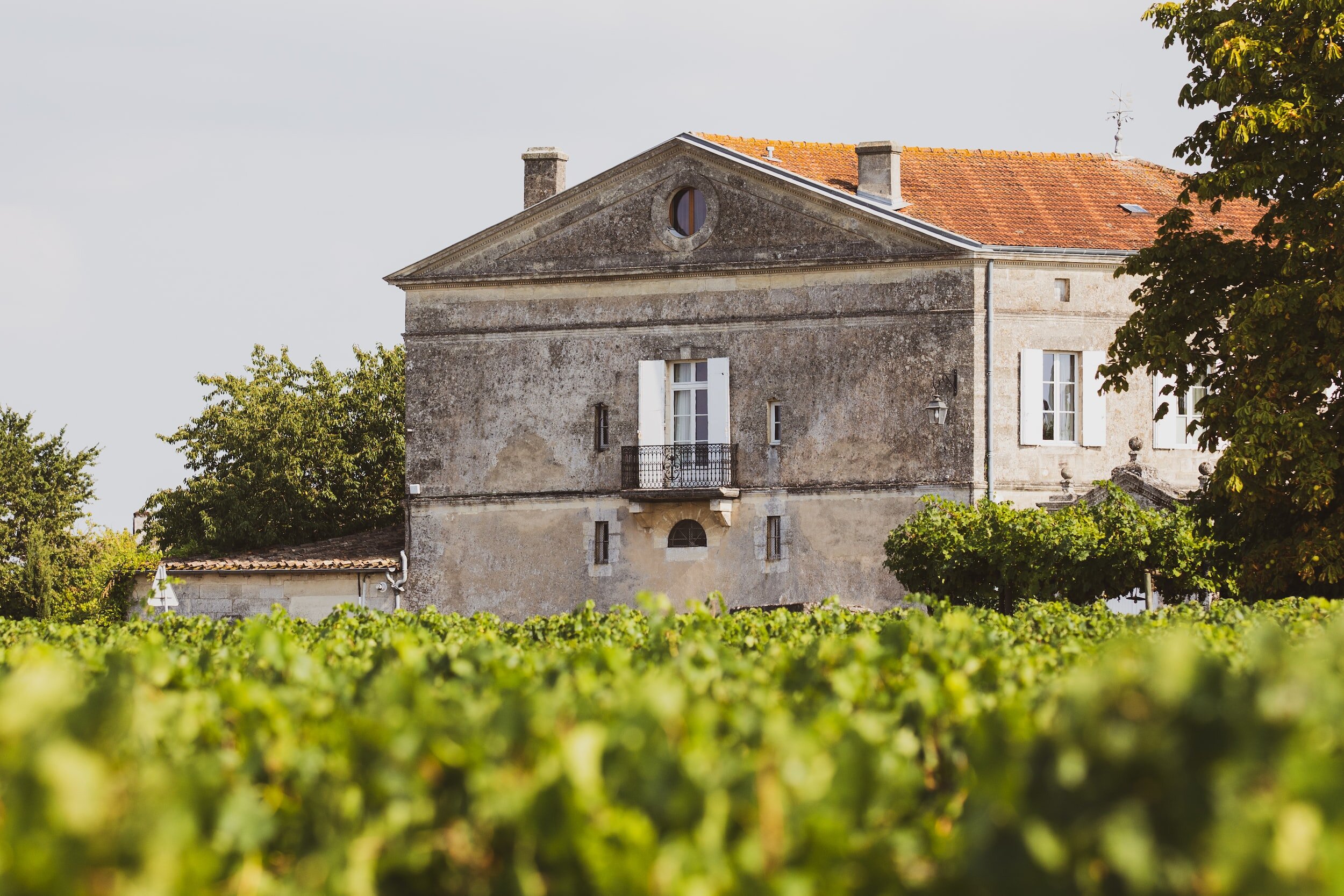 Look for scrumptious Merlot wines from the following premium Bordeaux wine-growing regions.
Saint-Émilion AOC
Pomerol AOC
Fronsac AOC
Napa Valley: Merlot Across the Atlantic
Explore this map. Napa Valley is marked.
Cabernet may be king in Napa Valley, but Merlot also thrives in the region, where winemaking is all about boldness and innovation!
Thanks to millions of years of geological activity, volcanic soils, alluvial soils, you name it – add layers of complexity to the Merlot wines of Napa Valley.
A sun-drenched paradise, Merlot vines bask in a Mediterranean climate. The grapes soak up that golden goodness, resulting in wines with intense fruit flavors.
Finding Merlot from California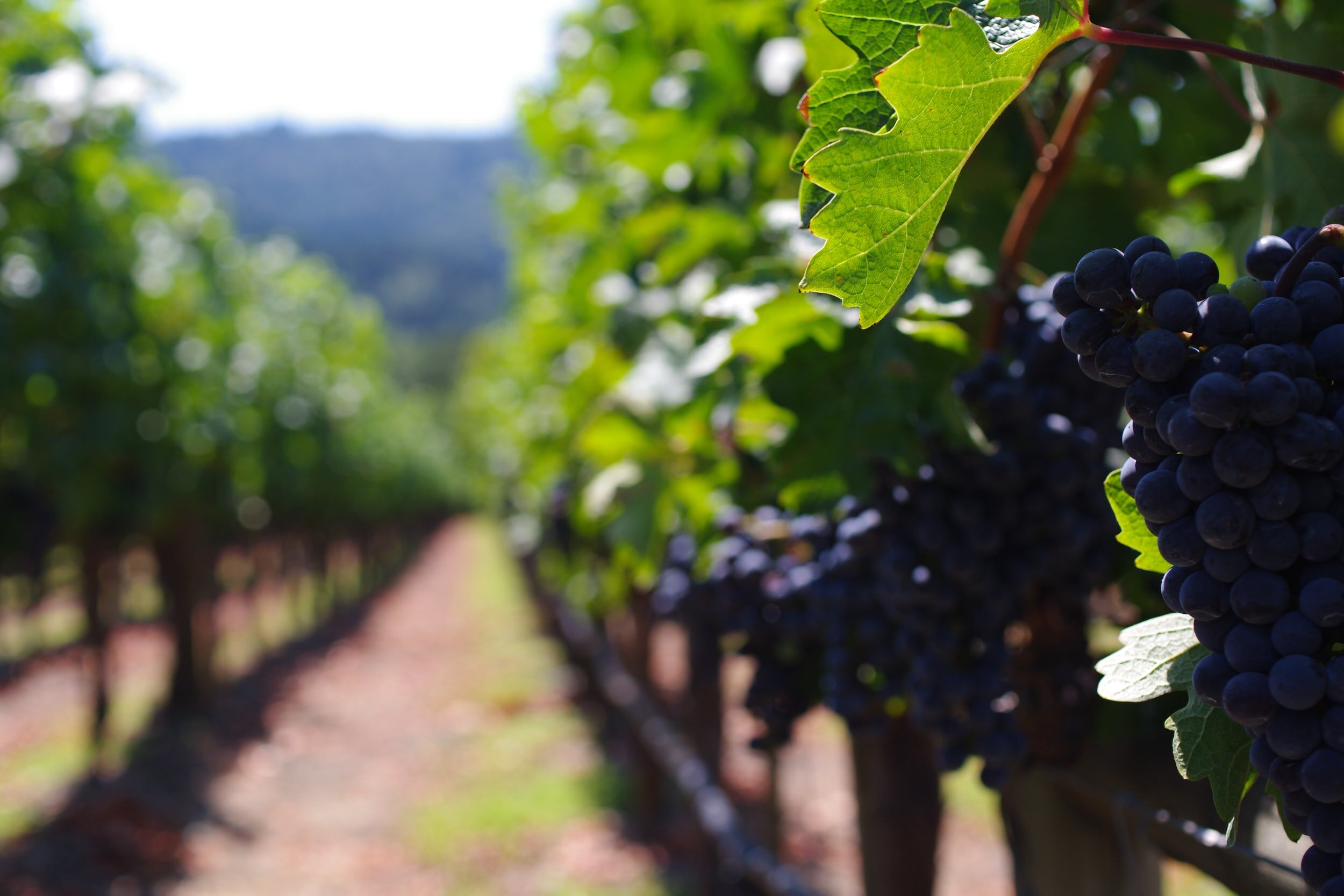 Classic Examples of Merlot from Napa Valley:
Duckhorn Vineyards: Duckhorn Vineyards has long been recognized as a premier producer of Merlot in Napa Valley. Their commitment to crafting elegant, balanced wines has made them a benchmark for Merlot in the region. Their flagship Merlot, the Duckhorn Vineyards Napa Valley Merlot, showcases the varietal's richness and complexity, with a harmonious structure. Duckhorn's Merlot wines exemplify the best of Napa Valley.
Shafer Vineyards: Shafer Vineyards has established itself as a producer of world-class wines in Napa Valley, and their Merlot is no exception. Their Hillside Select Merlot is a highly sought-after wine that demonstrates the potential of Merlot in the region.
Merlot from Washington: Exploring the Evergreen State
Explore this map. Yakima Valley is marked.
You may think that Washington is all rainclouds and Pacific Coast fog, but thanks to a coastal mountain range that blocks that maritime weather, inland Washington is hot, hot, hot.
Think high desert.
The larger Columbia Valley covers a broad area just to the east of the coast, with smaller wine regions nestled within.
Red wines from Washington, including Merlot, exude charm, depth, and a touch of wild beauty.
Finding Merlot from Washington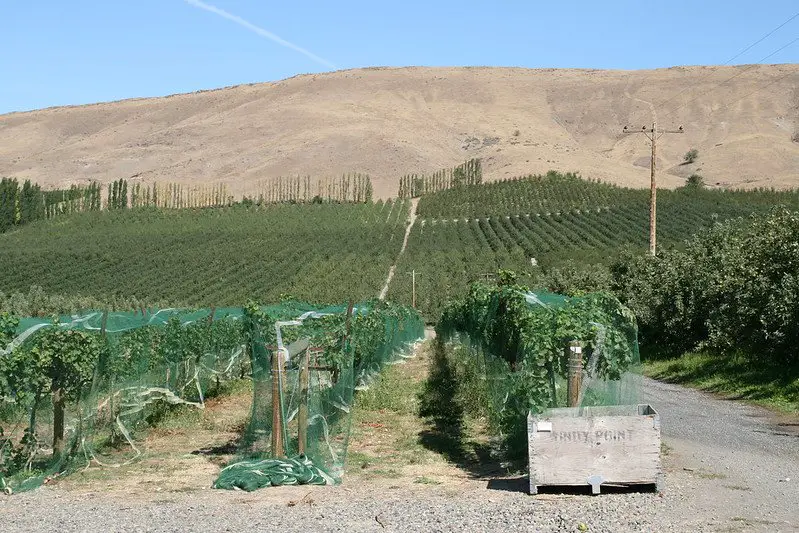 Look for Washington Merlot wines with the following AVAs on the bottle:
Red Mountain and Horse Heaven Hills sub-regions. These two regions experience intense sunlight and deliver robust Merlot wines. Expect deep, ripe fruit flavors, velvety tannins, and a generous mouthfeel that lingers on the palate.
Walla Walla Valley. This region's unique combination of basalt-rich soils and a semi-arid climate shapes Merlot grapes with remarkable balance and complexity. Expect ripe red berries, hints of earthiness, and a touch of herbal freshness.
Yakima Valley. This region's diverse patchwork of microclimates and well-drained soils create Merlot wines with more fruit-forward expression.
Merlot from Tuscany, Italy
Explore this map. I've marked Bolgheri on the coast of Tuscany, home of Super Tuscan wines that blend in a percentage Merlot.
Oh, bella Italia! Tuscany, with its rolling hills and picturesque vineyards, is home to some truly captivating Merlot wines.
Thanks to a quintessential Mediterranean climate blessed by cooling coastal breezes, Merlot thrives in Tuscany.
Even though Merlot isn't a classic Italian grape, winegrowers have known for a generation that Merlot is well-suited to Tuscany's growing climate.
Clay, sand, and rich rocky soils – all contribute to the complexity and character of Tuscan Merlot wines, especially when it comes to the iconic Super Tuscan blends.
Love Merlot? Here's what you need to know about aging and cellaring Merlot wine.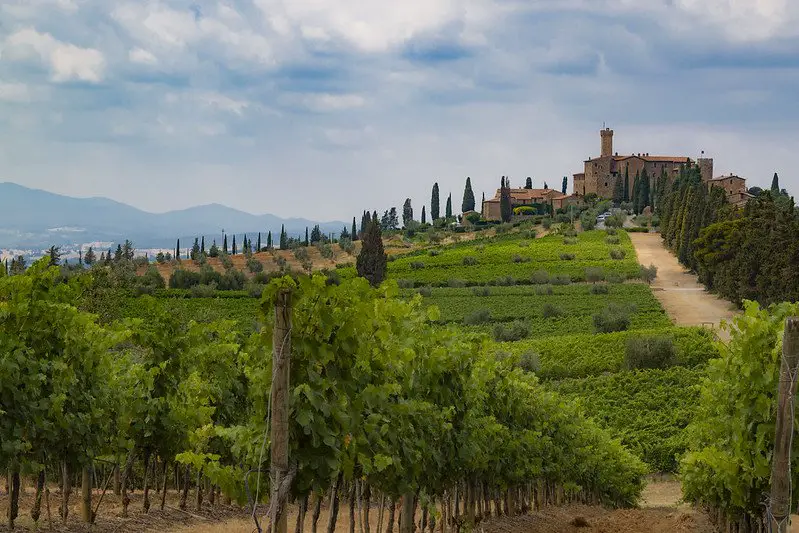 Classic examples of Merlot from Tuscany:
Tenuta dell'Ornellaia: Located in the coastal region of Bolgheri, Tenuta dell'Ornellaia is internationally acclaimed for its exceptional wines, including their Merlot offerings. Their flagship wine, Ornellaia, is a Bordeaux-style blend that often includes a significant proportion of Merlot. With meticulous vineyard management, precise winemaking techniques, and a commitment to excellence, Tenuta dell'Ornellaia consistently produces Merlot wines of depth, elegance, and age-worthiness.
Petrolo: Situated in the heart of the Chianti Classico region, Petrolo is known for crafting outstanding wines that showcase the character of the Tuscan terroir. Their Merlot-based wine, Galatrona, has gained renown among wine enthusiasts. Made from Merlot grapes grown in their estate vineyards, Galatrona captures the essence of the varietal with its rich, velvety texture, luscious dark fruit flavors, and impressive balance of power and finesse.
Merlot from Australia
Explore this map. I've marked Margaret River:
Explore this map. I've marked Coonawarra:
G'day, mate! We can't forget about the Land Down Under when it comes to Merlot. Sometimes it's easy to forget that Australia is a friggin continent!
Of course, they make wine, but the wine regions are geographically separate and distinctive.
Here are 3 Australian Merlot-growing regions you're likely to encounter:
Margaret River, Western Australia. Better known for Cabernet, Margaret River crafts soft, juicy Merlot wines. This acclaimed winegrowing region sits on the far western coast of the continent along the stunning coastline. The maritime influence brings cool breezes and a touch of elegance to the wines.
Coonawarra, South Australia. Coonawarra has an ancient soil that crafts premium Merlot wines. Expect Merlots from this region to be delicate with sweet ripe berry fruit, cinnamon, and cloves.
Southeastern Australia. The more general growing region of Southeastern Australia sources grapes from, well, the southeastern region of Australia. This includes the cooler coastlines and warmer inland river valleys with fertile land. Most shoppers should be able to find inexpensive, perfectly slurpable, rich Merlots with Southeastern Australia on the label.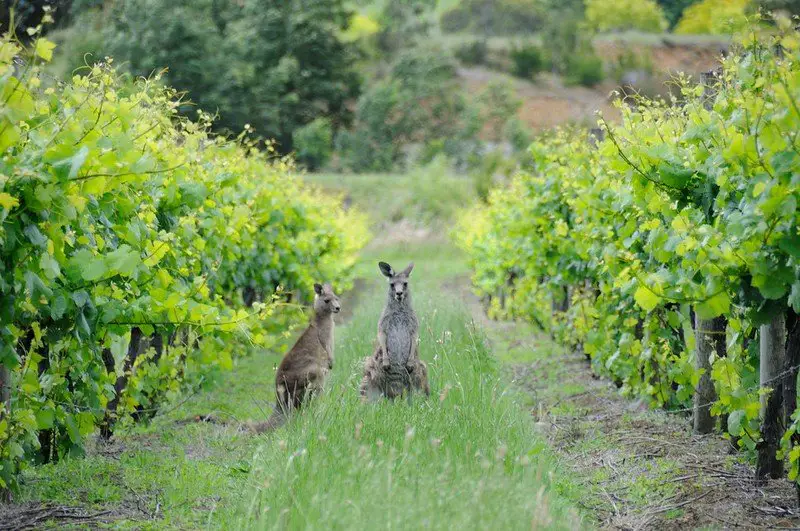 Finding Merlot from Australia:
Penfolds. If you've been around wine for a hot minute, you're familiar with Penfolds. The producer sources grapes from different regions, but you'll often find a component of Merlot in some of their popular blends.
Cape Mentelle, Margaret River. Cape Mentelle is one of the 5 founding wineries in Margaret River, so they've been at this winemaking stuff long enough to know a thing or two. Like Penfolds, they will include Merlot in their Bordeaux-style blends.
Similar to the US, Australia is a region of experimentation and blending.
Look for single-vineyard Merlots from Australia as a mark of quality.
Regional labels, like Southeastern Australia, will be affordable, everyday Merlots, but nothing you will want to buy and cellar.
So, drink up!
Merlot from New Zealand
Explore this map. I've marked Hawke's Bay.
Kia ora! You may think of Sauvignon Blanc when picturing New Zealand, but the island nation also crafts a handful of delicious red wines, including Merlot.
Nestled amidst picturesque vineyards, New Zealand showcases its own unique terroirs, offering Merlot wines that are vibrant, expressive, and simply irresistible.
New Zeland's key Merlot growing regions:
Hawke's Bay. Protect by cool maritime weather, Hawke's Bay is one of the warmer growing regions in New Zealand. This creates an ideal environment for Merlot grapes to flourish. Hawke's Bay's diverse sub-regions, such as Gimblett Gravels and Bridge Pa Triangle, offer different expressions of Merlot, each with its own distinctive character.
Waiheke Island: Just a short ferry ride from Auckland, Waiheke Island boasts a Mediterranean-like climate, combined with its unique soils, crafts Merlot wines that are full of charm and personality.
Explore this map of Waiheke Island:
Finding Merlot from Hawke's Bay:
Good news. Bad news.
Bad News: If you're based in the US, you're probably going to need to go to a wine specialty store to find New Zealand Merlot. Merlot from New Zealand competes with Merlots from other major growing regions (including the US itself), and will have a higher price point than many other regions thanks to shipping costs – it's on an island!
Good News: If you can find Merlot from New Zealand, the wine will be of very good quality and worth your time and attention.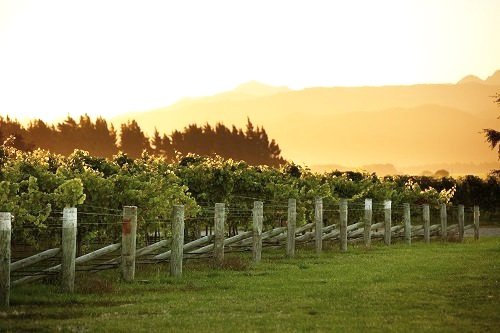 Quality New Zealand Merlot Producers:
Craggy Range Winery: Craggy Range is a renowned winery in Hawke's Bay known for producing high-quality wines, including Merlot. They have vineyards in the Gimblett Gravels sub-region, which is particularly well-suited for Merlot production.
Te Mata Estate: Te Mata Estate is one of New Zealand's oldest and most respected wineries. They have a strong reputation for producing premium wines, and their Merlot is highly regarded. Te Mata Estate has vineyards in the Havelock North area of Hawke's Bay.
Esk Valley Estate: Esk Valley Estate is located in the Esk Valley sub-region of Hawke's Bay, which has a cooler climate compared to other parts of the region. They are known for producing elegant and complex wines, like Merlot. Esk Valley Estate focuses on handcrafted wines made with traditional techniques.
Merlot from Argentina
Explore this map for Argentina. I've marked the city of Mendoza, but you can scroll out and see the Andes. Vineyards rest in the foothill area.
While Malbec is Argentina's #1 wine export, Argentina makes delicious red wines of all varieties, including Merlot.
Mendoza and San Juan are the two main provinces you're likely to see on a Merlot wine label, but you may also find a subregion, like Uco Valley.
Mendoza: (province) Welcome to Mendoza, the crown jewel of Argentine wine production. Nestled in the foothills of the majestic Andes Mountains, Mendoza boasts an arid climate and high altitude vineyards, making it a perfect playground for Merlot. Key Subregions: -Luján de Cuyo-Maipú-Uco Valley
San Juan: (province) Just to the north of Mendoza sits San Juan province. The climate tends to be warmer, making more fruit-forward Merlot wines.
Explore this map of San Juan, Argentina.
Finding Merlot from Argentina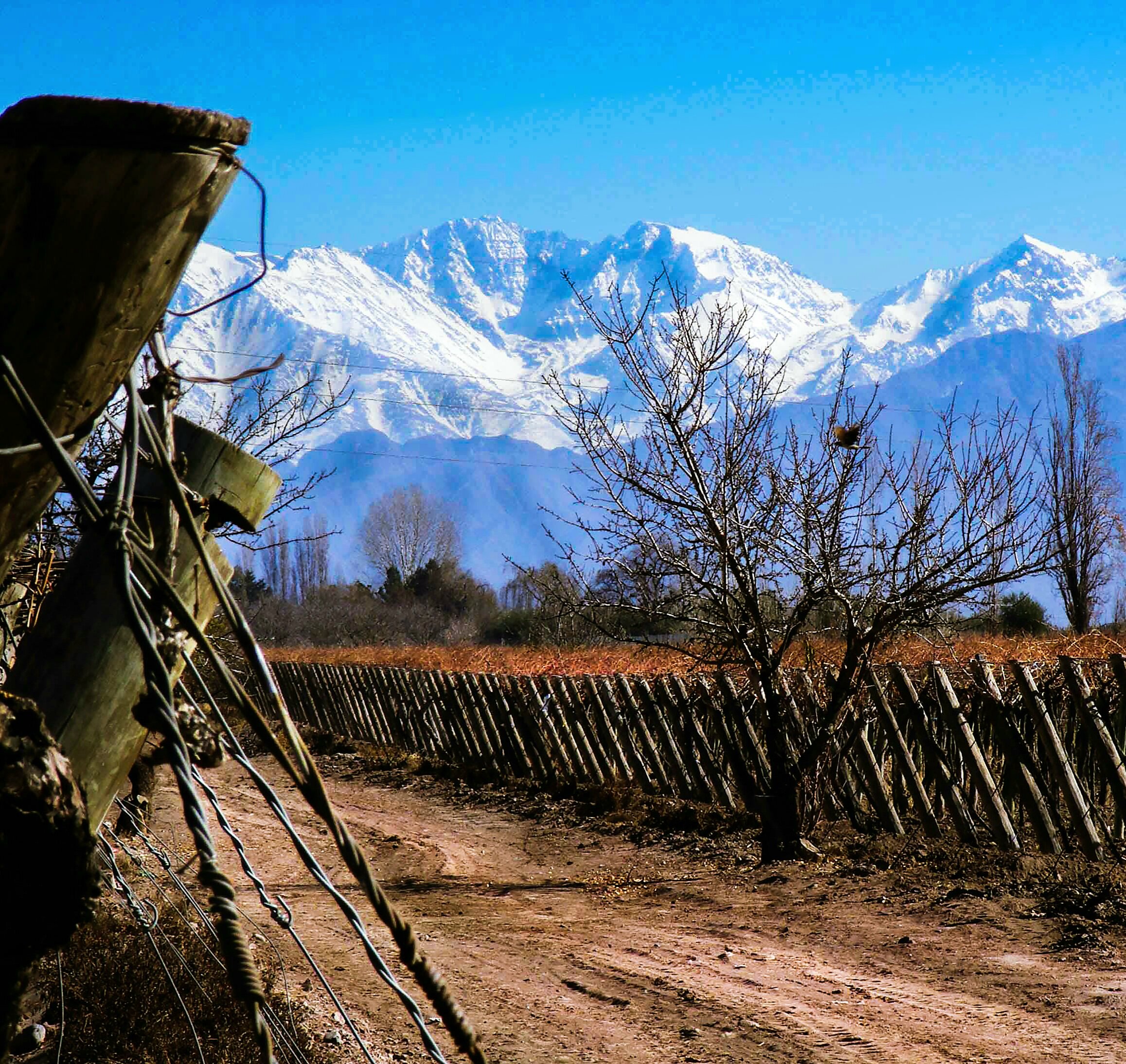 Inexpensive, everyday Merlots from Argentina will likely come from some of the country's major cooperatives.
Thanks to favorable exchange rates and lower labor costs, these Merlots make delicious everyday wines.
Quality Merlot Producers
Achával-Ferrer: Achával-Ferrer is a highly respected winery located in Mendoza, Argentina. They are known for their premium wines, and their Merlot is considered to be of exceptional quality. Achával-Ferrer focuses on producing wines that showcase the unique terroir of Mendoza, and their Merlot reflects the region's characteristics with rich flavors and elegant structure.
Catena Zapata: Catena Zapata is a prominent winery in Mendoza that has played a significant role in elevating the quality of Argentine wines. They have vineyards at various altitudes, allowing them to produce wines with different profiles. Catena Zapata's Merlot offerings are often praised for their complexity, balance, and aging potential.
Look for single-vineyard Merlots from Argentina as a mark of quality.
Merlot from Chile
Explore this map of Chile. I've marked Colchagua Valley.
Chile's coastline mirrors that of California, so you know they're making amazing wines.
Regions and their subregions have heavy climate influences from the cool air and elevation thanks to the Andes, and frigid coastal currents from the Pacific Ocean, so it's helpful to explore wines from distinctive regions.
The two main regions you're likely to see on a bottle of Chilean Merlot are Maipo Valley and Colchagua Valley.
Maipo Valley: Merlot's Historic Home in Chile, Maipo Valley enjoys a warm Mediterranean climate surrounded by protective mountains.
Colchagua Valley: Colchagua Valley is famous for the Carmenere-Merlot mystery. Carmenere, a red grape similar (at least in looks) to Merlot, was interplanted with Merlot and misidentified in the vineyards for decades. Today, the region makes wines from both grapes.
Helpful Tip: Check out this full post on the mystery of Carmenere. If you love history and a good wine story, this post's for you.
Finding Merlot from Chile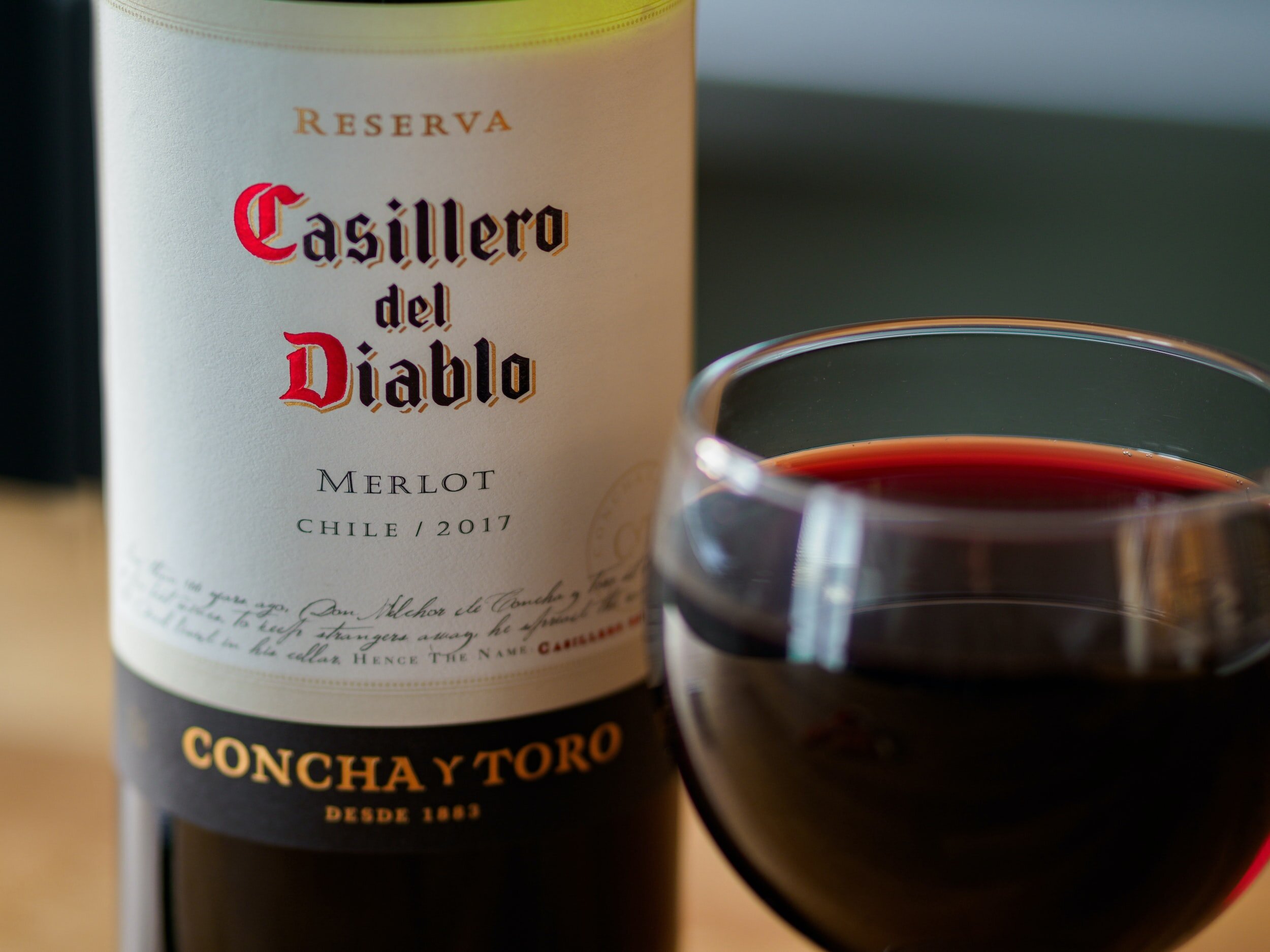 A handful of giant producers dominate Chile's wine industry. If you find a bottle of Chilean Merlot, it will likely fall into one of two categories:
Inexpensive, everyday drinkers (probably from a grocery store)
Mid-priced, very good wines (probably from a specialty wine shop)
Thanks to economies of scale, favorable exchange rates, and inexpensive labor, Chile plays a key role in growing wine grapes used for wines made around the world.
You may be drinking a Merlot made from Chilean grapes if the wine just says 'Merlot' on the bottle, with no other regional indication.
If you want something higher-quality, look for single-vineyard Merlots from Argentina as a mark of quality.
Final Thoughts – Where's Merlot Grown?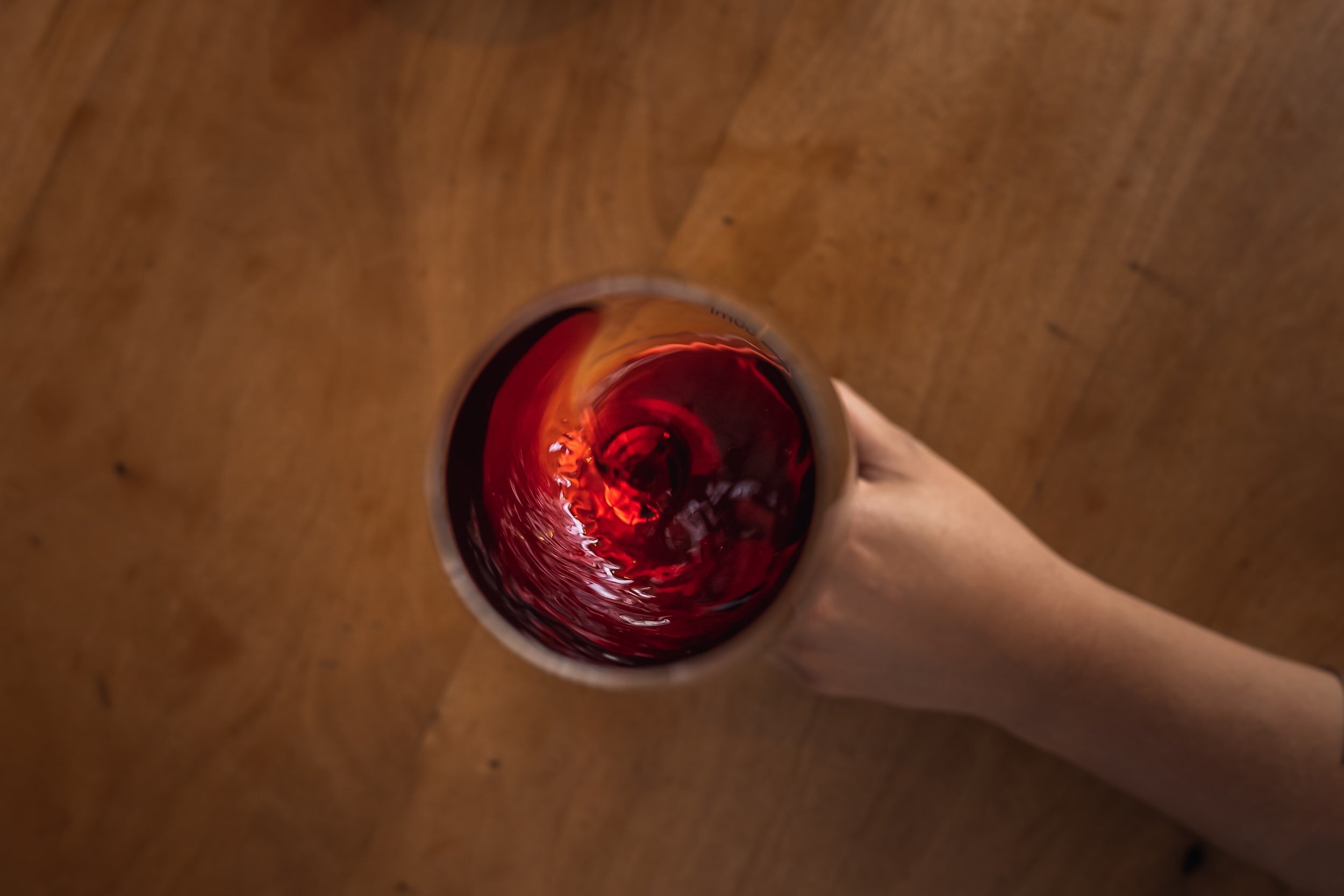 Whether you're looking for an age-worthy bottle of Merlot, or a berry bomb for Wednesday afternoon, you can find Merlot wines made around the world in a style that's perfect for you.
From Bordeaux, to Napa, to Australia, to Chile, winemakers craft this well-loved grape into many different styles.
The beautiful thing about Merlot is that with so many options, you're guaranteed to find a bottle of Merlot at the price point and style that you want.
Go explore!
Discover More:
Merlot vs Pinot Noir
Merlot vs Chardonnay
Merlot vs Cabernet Sauvignon
Merlot vs Malbec
Merlot vs Pinot Grigio
Thirsty for More?