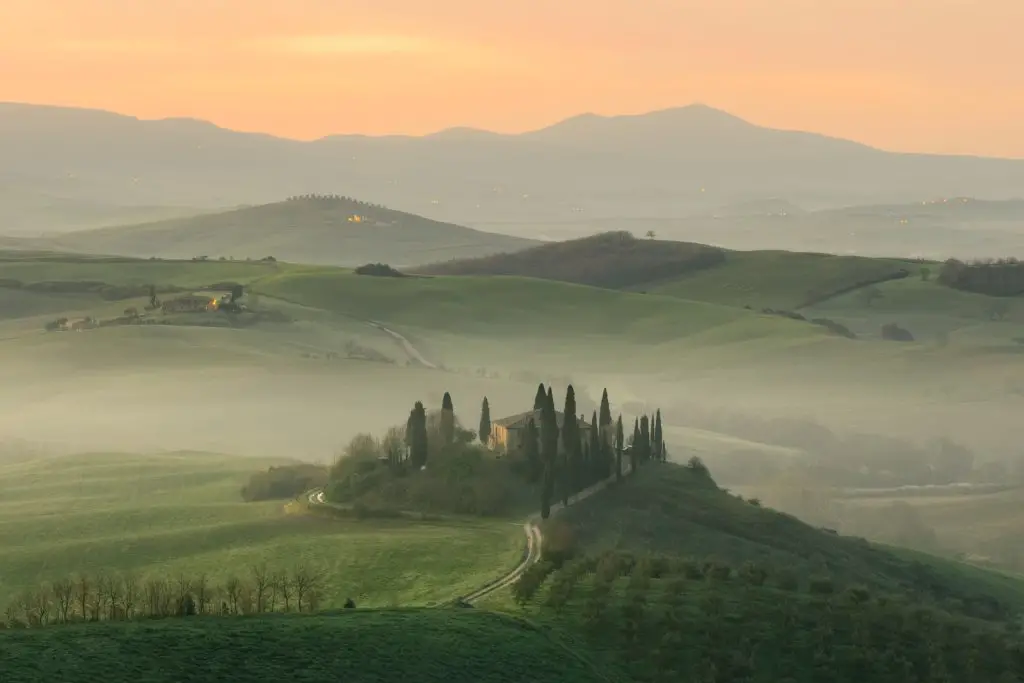 Pronunciation: SAN-geo-VEY-say
Sangiovese is an Italian red wine grape used to make inexpensive everyday table wines and premium age-worthy wines. It's high acid, juicy red fruit, and firm tannins make it a great food wine.
Here's what you need to know about Sangiovese.
What Kind of Wine is Sangiovese?
Sangiovese is a medium-bodied red wine with medium acidity, medium to pronounced tannins, and moderate alcohol content. Its style often falls between the lighter Pinot Noir and the bolder Cabernet Sauvignon.
Where Does Sangiovese Wine Come From?
Sangiovese can trace its roots back to the 1500s in Italy. Today, Sangiovese holds a deep connection to Central Italy, and Tuscany in particular. Depending on the specific area within Tuscany, Sangiovese plays a significant role in various wine blends or stands proudly as the primary component. Two famous regions that you've probably heard of that cultivate Sangiovese are Chianti and Brunello di Montalcino.
Check out the map above to explore the hilly regions of Tuscany, home to many Sangiovese vineyards.
Sangiovese in Chianti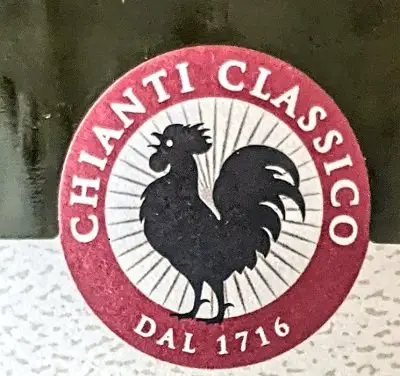 Chianti, located in central Tuscany, is renowned for its rolling hills and warm Mediterranean climate, providing an ideal environment for Sangiovese to thrive. Here, Sangiovese takes center stage in the renowned Chianti wines, often blended with small percentages of other grape varieties like Canaiolo and Colorino.
Helpful Tip: Go check out this full post on Chianti wine and how to pick delicious Chianti wines every time (spoiler alert: not all Chianti is delicious.)
Sangiovese in Brunello di Montalcino
Montalcino sits south of the traditional Chianti winemaking regions. Winemaking in Montalcino also uses Sangiovese.
Here, the Sangiovese grape takes on a distinct identity and is known as Brunello. Brunello di Montalcino is made exclusively (100%) from Sangiovese Grosso, a unique clone of Sangiovese.
These wines go through an extended aging process and you'll pay a premium for them, but they are exceptional, so seek them out when you have the opportunity.
Sangiovese in California
Sangiovese found its way to California through Italian immigrants in the late 1800s, possibly arriving at the Seghesio Family's "Chianti Station" near Geyserville. Yet, it remained relatively overlooked until the success of Super Tuscans in the 1980s ignited fresh interest in this grape.
Acreage expanded from 200 acres in the 1990s to more than 3,000 by the early 2000s.
The outset of Sangiovese in California presented challenges for winemakers. Unfavorable site selection and clonal choices led to wines that diverged significantly from traditional Tuscan Sangiovese. Some attributed quality issues to the intense California sunlight.
Instead of trying to replicate Italian-style Sangiovese wines, modern Californian Sangiovese wines lean toward fruit-forward profiles with floral hints. Sangiovese growers continue to explore clone and site selection to improve quality.
Look for California Sangiovese from:
Napa Valley AVA
Sonoma County AVA
San Luis Obispo AVA
Santa Barbara AVA
Sierra Foothills AVA
Atlas Peak AVA
Sangiovese vs. Nebbiolo: Understanding the Differences
| Characteristics | Sangiovese | Nebbiolo |
| --- | --- | --- |
| Hue | Medium to deep ruby red | Pale to medium ruby red |
| Color | Red | Red |
| Aromas | Red cherry, plum, leather, tobacco | Red cherry, rose, tar, earth |
| Tannins | Moderate | High |
| Acid | High | High |
| Alcohol (%) | 12-15% | 13-15% |
| Body | Medium to full | Full |
| Intensity | Moderate to pronounced | Pronounced |
| Key Growing Regions | Tuscany, Italy | Piedmont, Italy |
| Classic Pairings | Pasta with tomato sauce, pizza, grilled meats | Grilled steak, game meat, truffle dishes |
| Price Range | $15-$40 | $30-$100+ |
You probably know that Sangiovese and Nebbiolo have each earned a reputation for being classic Italian wines, but just how are they different? (Check out the chart above for a side-by-side comparison between these two Italian greats)
Sangiovese offers a medium-bodied profile with vibrant red fruit flavors and herbal undertones. It generally presents moderate tannins, making it approachable and food-friendly. Sangiovese wines are known for their versatility and can range from light and fruity to fuller-bodied and structured.
Nebbiolo, predominantly grown to the north of Tuscany in Piedmont, Italy, produces wines that are higher tannins and more pronounced acidity. Nebbiolo wines often exhibit flavors of dark fruits, roses, and earthy undertones.
Fun Wine Fact: Nebbiolo's descriptors are often "tar and roses". I kid you not. Here's a full post on Nebbiolo.
Discover More
Sangiovese vs Cabernet Sauvignon
Sangiovese vs Merlot
Sangiovese vs Pinot Noir
Sangiovese vs Zinfandel
Sangiovese vs Nebbiolo
Sangiovese vs Chianti
What Does Sangiovese Smell Like?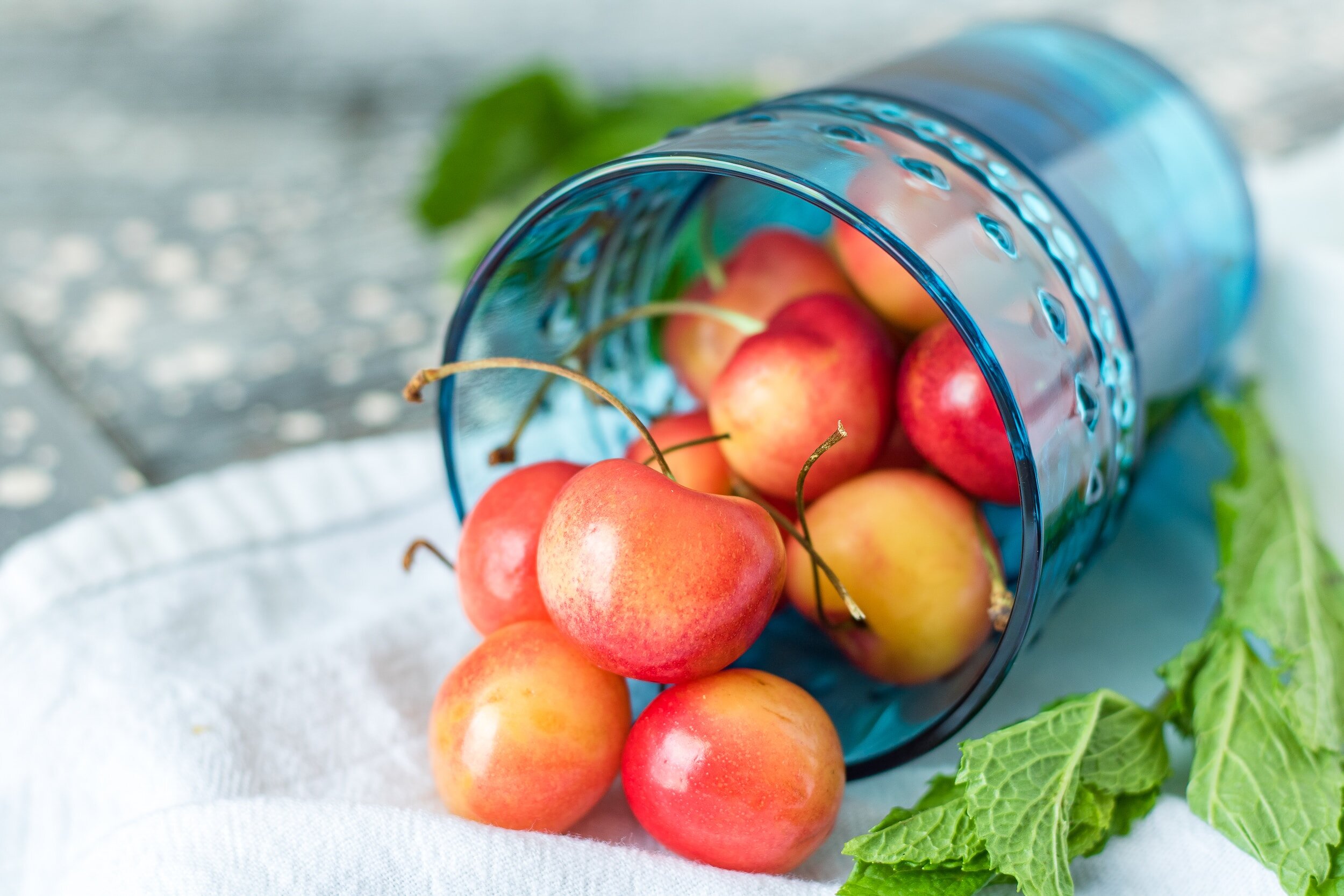 Sangiovese is a fruit-forward wine. Red berries dominate, primarily cherries, raspberries, and sometimes hints of dried herbs and spices. Depending on the winemaking style and aging process, Sangiovese can also have earthy leathery notes.
Fun Wine Fact: Did you know that Sangiovese gets its name from the Latin phrase "Sanguis Jovis," which means "the blood of Jove" (Jupiter)? Lovely.
What Does Sangiovese Taste Like?
Sangiovese tends to have medium plus to high acid, and this will make the wine seem bright in your mouth with crunchy fruit.The wine also has higher levels of tannin, which will create a drying sensation in your mouth, making it a perfect food wine and not-so-perfect sipping wine. Sangiovese is usually oaked, so expect some smokey spicey flavors to show up, too.
How to Serve Sangiovese Wine
Temperature
Serve Sangiovese slightly below room temperature, around 60-65°F (15-18°C). This will help preserve the sense of freshness with the wine's higher acid levels and bright red fruit profile.
Glassware
Opt for a standard red wine glass with a slightly tapered rim. This shape allows the wine's aromas to concentrate, enhancing your tasting experience.
Decanting
Decanting Sangiovese wines isn't always necessary. However, for more robust and aged Sangiovese bottles, decanting for about 30 minutes can help the wine open up and reveal its full potential.
Helpful Tip: Don't bother decanting an inexpensive bottle of Sangiovese. It probably won't have the concentration of fruit to withstand decanting. Instead, give it a good swirl in your glass and enjoy.
Aging Potential
Sangiovese, especially the higher-quality Brunello di Montalcino, has excellent aging potential. Some of the best examples can age gracefully for 10-20 years or more, developing complex flavors and aromas of leather and potpourri over time.
Let price be your guide as to whether you have an age-worth Sangiovese or a drink-now Sangio.
Sangiovese Food Pairing Suggestions
Sangiovese's high acid and higher tannins make it the perfect food wine, which isn't a surprise. After all, this is a classic Italian red that's won the hearts of foodies worldwide! Here are a few Sangiovese pairing ideas.
Quick Tips: Sangiovese Food Pairing
Classic Margherita pizza with fresh basil and tomatoes
Traditional Tuscan pasta dishes
Grilled rib-eye steak seasoned with rosemary and garlic
Check out this complete guide to easy Sangiovese wine and food pairings for everyday real people.
Notable Sangiovese Producers and Bottles to Try
When shopping for Sangiovese, you're going to come across a range of prices, from entry-level daily drinkers, to cellar-worthy bottles. Here are some notable wineries to look for include:
Antinori (Tuscany, Italy)

Castello di Volpaia (Chianti Classico, Italy)

Ciacci Piccolomini d'Aragona (Brunello di Montalcino, Italy)
Here's a fun little video that introduces Castello di Volpaia.
Final Thoughts – Sangiovese as a Must-Try Red Wine Varietal
With its vibrant red fruit flavors, zippy acidity, potential for graceful aging, and food-friendly nature, Sangiovese should be on your wine shelf.
Three key takeaways to remember:
Distinctive Tuscan Charm: Sangiovese's spiritual home is Italy, and within Italy, the grape calls Tuscany "home".
Versatility in Pairing: Sangiovese's profile makes it the perfect red food wine.
Regional Heritage: Look for Chiantis or Brunello di Montalcino if you want a classic Sangiovese wine.
Thirsty for More?
Discover more historic winegrowing regions and their classic wine styles here.
Just getting started with wine? Here's a quick guide to food and wine pairing.
Hosting a wine tasting event? Check out this list of what you can serve at a red wine tasting.