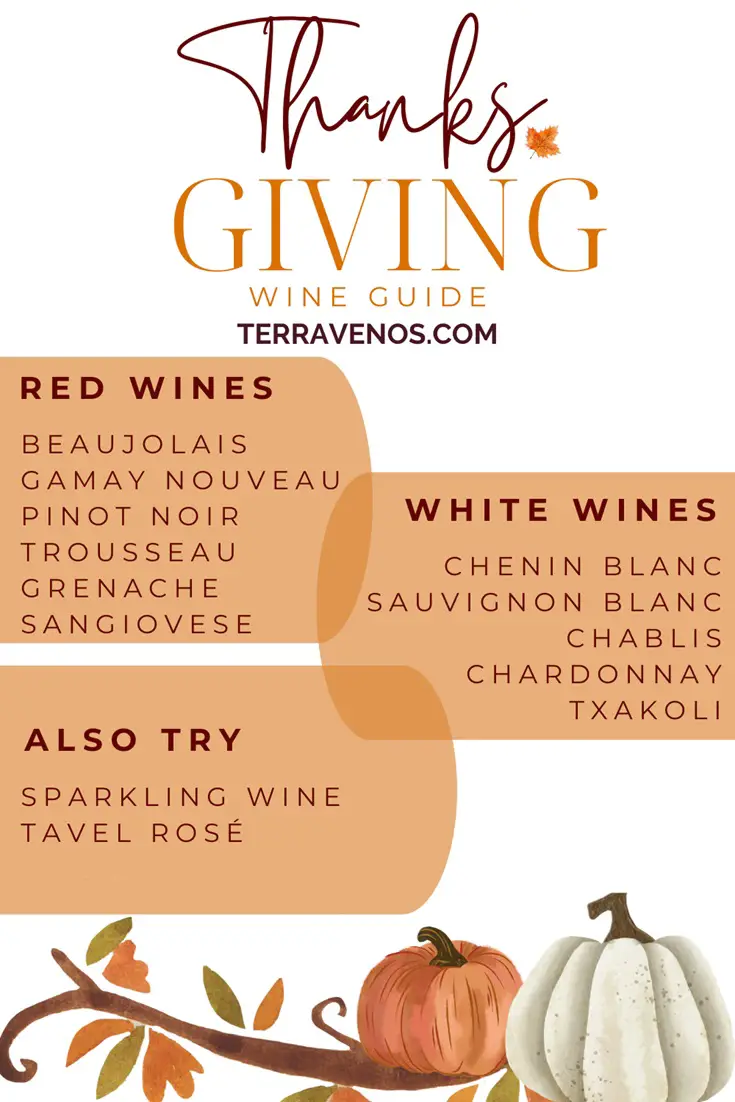 As the autumn landscape transforms, with leaves ablaze in hues of gold and a crisp chill gracing the air, the season of Thanksgiving draws near.
While families prepare their feasts and gather in gratitude, wine enthusiasts set out on a quest for the perfect Thanksgiving wines to enhance their celebrations.
The best Thanksgiving red wines are Pinot Noir, Gamay, Nouveau-style reds, Trousseau, Grenache, and Sangiovese. Good white wines for Thanksgiving are Chenin Blanc, Sauvignon Blanc, Chablis, Chardonnay, and the friendly Txakoli. Good Thanksgiving wines will complement the meal you're serving.
These are the best Thanksgiving wines that are widely available and made for every budget, so get your corkscrew and carving knives ready.
Best Red Wines for Thanksgiving Dinner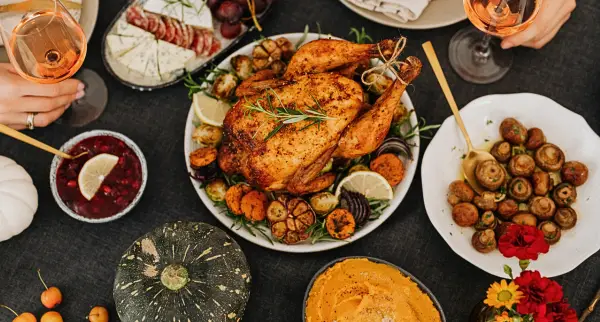 Lighter red wines will complement the white meat and herb-infused flavors of traditional Thanksgiving meals. A good guideline is to look for red wines that mirror the bright red cranberry flavors you'd find in your cranberry sauce. Here are several red wines that will always work with your Thanksgiving meal.
Beaujolais Gamay Nouveau: Best Traditional Thanksgiving Red Wine
Originating from the Beaujolais region in France, Gamay Nouveau is an eagerly anticipated release each year, arriving just in time for Thanksgiving feasts. Priced between $10 and $15, this light and fruity red wine is a perfect companion for the Thanksgiving turkey. With notes of red berries and a hint of floral, Gamay Nouveau is a delightful and affordable choice for the holiday table.
Traditional roasted turkey
Cranberry sauce
Herb-infused stuffing
Helpful Tip: If you want to go full-on traditional, then Beaujolais Nouveau is the wine you'll want to drink for Thanksgiving dinner. It's released the first Thursday in November and is the first wine of the year's harvest. Here's why we drink Beaujolais at Thanksgiving.
Pinot Noir Is the Best Thanksgiving Red (Change My Mind)
Originally from France, Pinot Noir is a bright red wine with light profile, making it an ideal pairing for Thanksgiving. A good bottle of Pinot Noir typically falls within the $20 to $40 range. This wine complements dishes like roast chicken, with its cherry and earthy undertones enhancing the flavors of wild mushroom gravy and sweet potato casserole.
Roast chicken
Wild mushroom gravy
Sweet potato casserole
Trousseau: Best Wine Lover's Thanksgiving Red Wine
Trousseau, with its roots in the Jura region of France, offers a bright red-fruited profile not unlike Pinot Noir. It's often called the Poor Man's Burgundy because it's more affordable than Red Burgundy (which is always Pinot Noir). If you're inviting a wine enthusiast over for dinner, find a Trousseaeu and they'll be delighted. It's not common, but perfectly matched with traditional Thanskgiving foods. Priced between $25 and $40, Trousseau exhibits flavors of dark berries and savory herbs, harmonizing perfectly with herb-roasted lamb, sausage, and apple stuffing, as well as roasted Brussels sprouts with bacon.
Herb-roasted lamb
Sausage and apple stuffing
Roasted Brussels sprouts with bacon
Grenache: Best All-Around Red Wine for Thanksgiving
Originally from Spain, Grenache is a bold and flavorful red wine that pairs exceptionally well with the richness of Thanksgiving sides. Typically priced between $15 and $30, Grenache features notes red berry, like cranberry and strawberry. Some Grenaches are fuller-bodied. Try to find a lighter style that's more fruit-forward for your turkey dinner. Heavier styles with oak will work with smoked ham, candied yams, and spiced cranberry relish.
Smoked ham
Candied yams
Spiced cranberry relish
Sangiovese: Non-Traditional Thanksgiving Red Wine
With its roots in Italy, Sangiovese is known for its high acidity, cutting through the richness of Thanksgiving dishes. Priced between $20 and $35, Sangiovese boasts flavors of red cherry, herbs, and a touch of earthiness. It pairs excellently with pasta dishes, Italian sausage stuffing, and roasted butternut squash. If you're on a budget, an inexpensive bottle of Chianti wine will pair with your traditional Thanksgiving meal just fine. The best Thanksgiving wines don't have to be expensive, you can find an entry-level Chianti for under $10 USD.
Pasta with mushroom sauce
Italian sausage stuffing
Roasted butternut squash
Best White Wines for Traditional Thanksgiving Dinners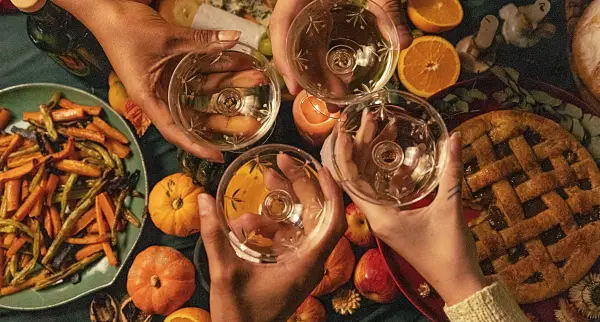 If you're wondering what white wines to pair with your traditional Thanksgiving dinner, you have plenty of decent options. Heavier whites will work with gravy, turkey, and stuffing. Lighter, semi-aromatic whites compliment herb-infused dishes. Look for staples, like Sauvignon Blanc, for salads and turkey breast.
Chenin Blanc: Best Easy Drinking Thanksgiving White Wine
Originally from the Loire Valley in France, Chenin Blanc's lighter, semi-aromatic style makes it a Thanksgiving table staple that will please larger crowds with diverse drinking preferences. It has a pleasant soft pair aroma. Priced between $15 and $25, Chenin Blanc complements dishes like roast turkey with a citrus glaze, apple and walnut salad, and brie and pear appetizers.
Roast turkey with citrus glaze
Apple and walnut salad
Brie and pear appetizers
Sauvignon Blanc: Good Thanksgiving White Wine Choice Everyone Knows
Sauvignon Blanc, known for its crispness and powerful aromatics, complements the lighter elements of the Thanksgiving feast. Guests know what Sauvignon Blanc is and most people will drink a glass without complaining. These are good things when you're dealing with family dynamics and a turkey in the oven.
A good bottle of Sauvignon Blanc typically falls within the $12 to $25 range. It pairs well with grilled turkey breast, green bean almondine, and herb mashed potatoes. Sauvignon Blanc generally comes in two styles: grassy and herbaceous and tropical and lush. Try to find a grassy, herbaceous Sauvignon Blanc to match a traditional Thanksgiving meal, for example, a Sancerre. Here are a few other Sauvignon Blanc options similar to Sancerre.
Grilled turkey breast
Green bean almondine
Goat cheese and herb mashed potatoes
Chardonnay: My Favorite Thanksgiving White Wine (Drinking and Cooking)
Also called white Burgundy, Chardonnay's full-bodied profile pairs well with all of the richness of Thanksgiving classics. Typically priced between $15 and $30, it complements dishes like roasted turkey with creamy gravy, buttery mashed potatoes, and cornbread and sausage stuffing.
Personal note: Chardonnay makes a great addition to your turkey gravy, adding in acid and a fruity layer.
Roasted turkey with creamy gravy
Buttery mashed potatoes
Cornbread and sausage stuffing
Chablis: White Wine for Thanksgiving Meal (Which Is Just Chardonnay)
Chablis, known for its minerality, enhances the flavors of lighter Thanksgiving dishes. Priced between $20 and $35, Chablis is 100% Chardonnay, made in a crisp, linear style. Chablis pairs well with oyster stuffing, lemon herb roasted turkey, and seafood bisque. If you're on a budget, look for Petit Chablis.
Oyster stuffing
Lemon herb roasted turkey
Seafood bisque
Txakoli: Best Non-Traditional Thanksgiving White Wine
Txakoli, with its effervescence, adds a festive touch to Thanksgiving celebrations. It's a slightly effervescent white wine that is light and easy-drinking with green apple notes. Originating from the Basque Country, it is priced between $15 and $25. Txakoli pairs well with fried turkey, salads, and stuffing. This is the white wine you want to bring to your wine enthusiast's Thanksgiving meal. It will delight and surprise. You'll need to order it online or go to a specialty shop.
Fried turkey
Ceviche appetizers
Green apple and fennel slaw
Other Delicious Wines for a Traditional Thanksgiving Dinner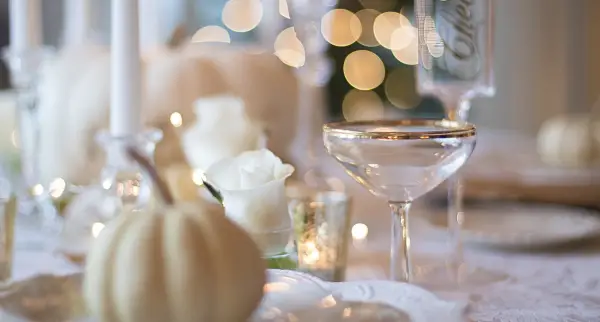 Sparkling Wine: Best Wines for Thanksgiving Dinner
Sparkling wine, including Cava, Prosecco, and Champagne, will always pair well with a Thanksgiving meal. Sparkling wine's acidity and effervescence make it a great palate cleanser during Thanksgiving. Typically priced between $15 and $30, it pairs well with smoked salmon appetizers, triple cream brie with honey and almonds, and pear and prosciutto bites.
Smoked salmon appetizers
Triple cream brie with honey and almonds
Pear and prosciutto bites
Rosé: Personal Favorite Best Wine for Thanksgiving Meal
Most people stick to a red and a white for Thanksgiving, but why not pink? A versatile and crowd-pleasing option, Rosé wine, typically priced between $10 and $25, offers gentle fruit and acid to balance out the heavy dishes we think of for Thanksgiving.
Turkey sliders with cranberry aioli
Caprese skewers
Strawberry spinach salad
How Much Wine Do I Need for Thanksgiving Dinner?
When it comes to estimating the quantity of wine for your gathering, it's essential to consider the size of your guest list and their preferences. A general rule of thumb is to plan for half a bottle of wine per guest for the evening.
Does your guest list include avid wine enthusiasts? Plan for more! Check out this table:
Thanksgiving Dinner Wine Calculator
Guests
Gathering
Duration
Red Wine (bottles)
White Wine (bottles)
Dessert Wine (bottles)
Total Wine (bottles)
4
2 hours
1
1
0
2
4 hours
2
2
0
4
6 hours
2
2
0
4
10
2 hours
2
2
1
5
4 hours
3
3
1
7
6 hours
4
4
1
9
20
2 hours
4
4
2
10
4 hours
6
6
2
14
6 hours
8
8
3
19
30
2 hours
6
6
3
15
4 hours
9
9
4
22
6 hours
12
12
5
29
Note: The wine quantities are approximate and can vary based on factors such as the preferences of your guests, the types of dishes served, and the overall drinking habits of your crowd. It's always a good idea to have a slightly larger quantity on hand to accommodate unexpected variations. And plenty of water, too!
Check out this simple calculator I put together to help you figure out how much wine you need for your next event: Party Wine Calculator Tool
Thirsty for More?
Check out this post on the best cold appetizers for wine tasting – perfect pairings for any party.

Here's a guide on how to host your very own blind tasting for beginners.

And if you're on a budget, check out these frugal wine buying tips.