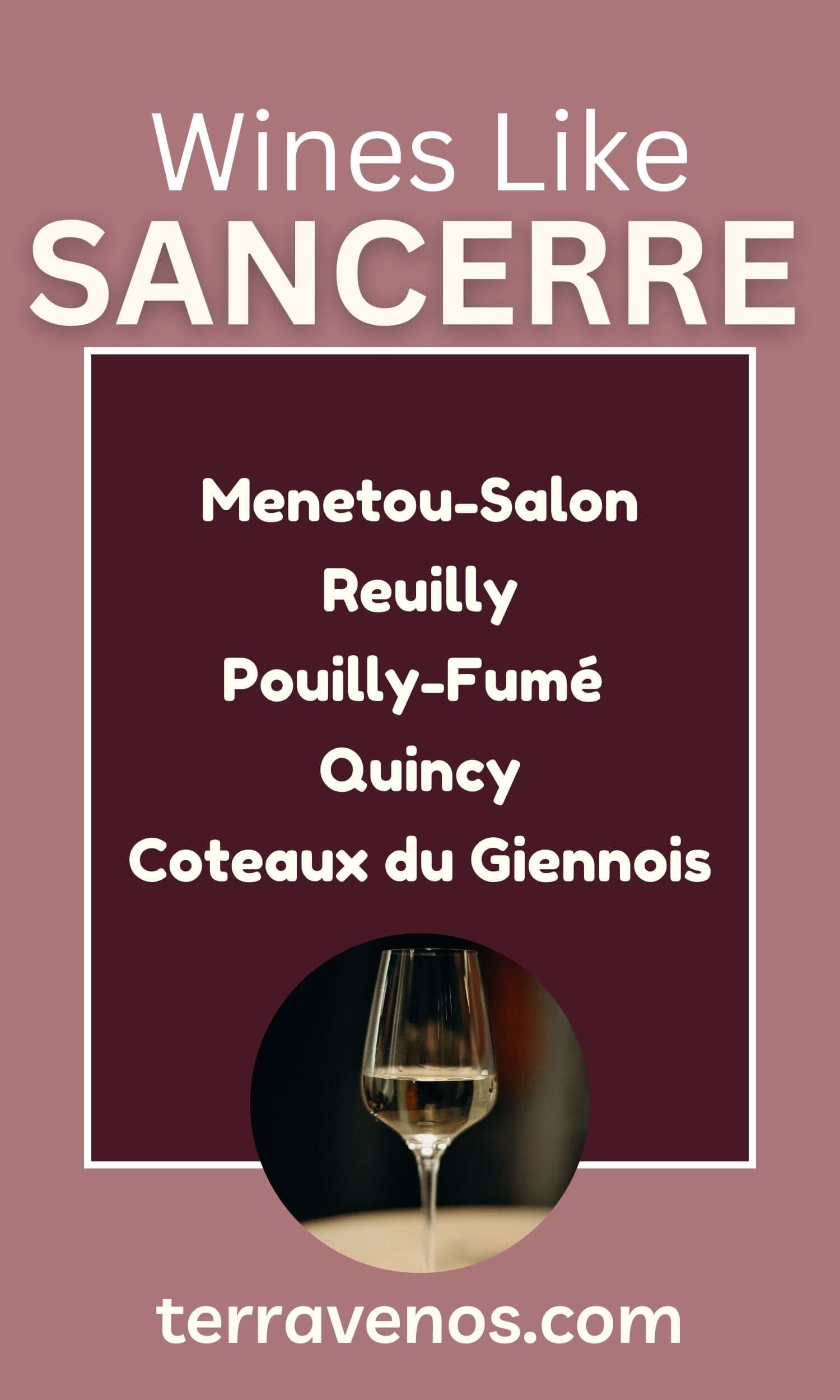 Sancerre is having something of a moment. And why not? This cerebral wine scintillates the senses and if you're looking for a wine similar to Sancerre, you've got options.
Wines like Sancerre from the Loire Valley include: Pouilly-Fumé, Quincy, Reuilly, Menetou-Salon, and Coteaux du Giennois. Similar to Sancerre, these are Sauvignon Blanc wines that display distinctive, memorable expressions of this beloved grape.
Here's what you need to know about other wines like Sancerre.
A region that's long been synonymous with exceptional Sauvignon Blanc is Sancerre, located in the Loire Valley of France. Sancerre's unique terroir imparts distinctive qualities to its wines, making it a benchmark for Sauvignon Blanc enthusiasts. 
Zoom out to explore this map of Sancerre:
But there's so much more to explore! Several other regions within the Loire Valley offer alternative wines that showcase the beauty of Sauvignon Blanc.
Helpful Tip: Check out this Sauvignon Blanc wine guide to get started if you're just getting into wine.
What Makes Sancerre So Wonderful: Intensity in Your Glass
Sancerre, nestled in the eastern part of the Loire Valley, has gained worldwide acclaim for its outstanding Sauvignon Blanc wines.
The region's chalky limestone and flint-rich soils, coupled with a cool continental climate, contribute to the unique characteristics of Sancerre wines.
These factors lend the wines their renowned minerality, vibrant acidity, and expressive aromas of citrus, green apple, and fresh herbs. Sancerre Sauvignon Blanc exemplifies elegance, finesse, and a sense of place.
Fun Wine Fact: Did you know that the characteristic herbaceous and grassy notes often found in Sauvignon Blanc wines are due to a compound called methoxypyrazines? These compounds, present in the grape's skin and stems, contribute to the wine's unique aroma profile, adding a touch of freshness and complexity.
Wines Similar to Sancerre You'll Enjoy
Within the Loire Valley, several Appellations d'Origine Contrôlée (AOCs) share similarities with Sancerre while offering their own distinct expressions of Sauvignon Blanc. 
Delve into these regions and their notable producers that make wines similar to Sancerre.
1. Pouilly-Fumé (pooey-foom-eh)
Scroll out to explore this map of Pouilly-Fume.
Situated just across the river from Sancerre, Pouilly-Fumé is renowned for its Sauvignon Blanc wines with a touch of smoky flintiness, hence the name "Fumé."
The vineyards of Pouilly-Fumé enjoy similar chalky limestone soils as Sancerre, along with Kimmeridgian marl. These geological factors contribute to the wine's characteristic minerality and complexity. 
Fun Wine Fact: Pouilly-Fumé's unique smoky character is not the result of oak aging but rather the interaction between the flint-rich soils and the Sauvignon Blanc grape, creating a distinctive flavor profile.

Didier Dagueneau Blanc Etc 2018
Key producers: Domaine Didier Dagueneau, known for their meticulous vineyard management and exceptional winemaking techniques, crafts some of the most sought-after wines from the region – these wines can be pricey. Domaine Michel Redde is another esteemed producer known for its precise and expressive Sauvignon Blanc wines. Pouilly-Fumé wines range in price from $20 to $40.
2. Quincy
Scroll out to explore this map of Quincy.
Situated southwest of Sancerre, Quincy holds the distinction of being one of the oldest AOCs in the Loire Valley dedicated solely to Sauvignon Blanc. The vineyards of Quincy thrive in sandy, gravelly soils, which impart a unique character to the wines. Quincy Sauvignon Blanc wines are known for their lively acidity, vibrant fruit flavors, and delicate floral notes. 
Fun Wine Fact: Quincy was the first village in the Loire Valley to receive AOC status for Sauvignon Blanc, recognizing its long-standing tradition of producing high-quality wines.
Key producers: Domaine Trotereau (affiliate), with its family winemaking traditions dating back to the 18th century, is a notable producer from this region. Domaine Mardon is another esteemed estate crafting elegant and expressive Sauvignon Blanc wines. Quincy wines generally fall within the price range of $15 to $25.
3. Reuilly
Scroll out to explore this map of Reuilly.
Situated east of Sancerre, Reuilly is a hidden gem that produces Sauvignon Blanc wines, alongside other grape varieties. The vineyards of Reuilly thrive in soils with a high proportion of sand, which contributes to the wine's lively acidity and fresh fruit character. Reuilly Sauvignon Blanc wines are often described as crisp, citrusy, and vibrant. Explore affordable Reuilly wines here on wine.com
Key producers: Domaine Denis Jamain, known for its commitment to organic and biodynamic practices, produces exceptional Sauvignon Blanc wines that showcase the terroir of Reuilly. Domaine Bigonneau is another noteworthy producer with a reputation for crafting wines of great finesse and expression (also crafts wines under Quincy AOC). Reuilly wines typically range in price from $15 to $30.
4. Menetou-Salon (men-eh-two-salon)
Scroll out to explore this map of Menetou-Salon.
Sharing similar terroir with Sancerre, Menetou-Salon is located just southwest of its renowned neighbor. The vineyards of Menetou-Salon enjoy limestone and clay soils, which impart a distinct minerality and complexity to the Sauvignon Blanc wines. Menetou-Salon Sauvignon Blanc exhibits a beautiful balance of fruit flavors, vibrant acidity, and refined elegance.
Key producers: Domaine Philippe Gilbert, (find on wine.com here) a family-owned estate with a commitment to sustainable viticulture and biodynamic wines, produces exceptional wines that showcase the terroir of Menetou-Salon. Domaine Pellé is another respected producer known for its terroir-driven wines of exceptional quality. Menetou-Salon wines generally fall within the price range of $15 to $35.
Fun Wine Fact: Menetou-Salon is often referred to as the "hidden jewel" of the Loire Valley, offering excellent value and comparable quality to Sancerre at a more accessible price point. 
5. Coteaux du Giennois
Scroll out to explore this map of Coteaux du Giennois.
Located north of Pouilly-Fumé, Coteaux du Giennois is a lesser-known AOC that produces Sauvignon Blanc, as well as red and rosé wines. The vineyards of Coteaux du Giennois benefit from similar limestone and marl soils found in neighboring regions. Coteaux du Giennois Sauvignon Blanc wines are characterized by their vibrant acidity, freshness, and expressive fruit flavors.
Key producers: Domaine Lucien Crochet, with its commitment to organic farming and traditional winemaking practices, produces exceptional Sauvignon Blanc wines that reflect the terroir of the region. Domaine de Villargeau is another notable producer crafting wines with a focus on purity and elegance. Coteaux du Giennois wines typically range in price from $15 to $25.
Here's a lovely promotional video from Domaine Lucien Crochet:
Other Sauvignon Blanc AOCs Worth Your Time
In addition to the regions above, other Loire Valley AOCs produce noteworthy Sauvignon Blanc wines, each with its own unique characteristics. Touraine, known for its diverse range of wines, offers Sauvignon Blanc expressions that are often vibrant and fruity, though less intense than Sancerre. Sauvignon Blanc under the Touraine AOC will source grapes from many different vineyard locations around the region.
Valençay, with its limestone and clay soils, produces Sauvignon Blanc wines that express minerality and finesse. 
Fiefs Vendéens, located further west in the Loire Valley, showcases Sauvignon Blanc wines with fresh acidity and bright fruit flavors (they also craft reds, other whites, rose, and sparkling wines, but I know you're here for Sauvignon Blanc).
Final Thoughts – So Many Wines Similar to Sancerre, What Will You Choose?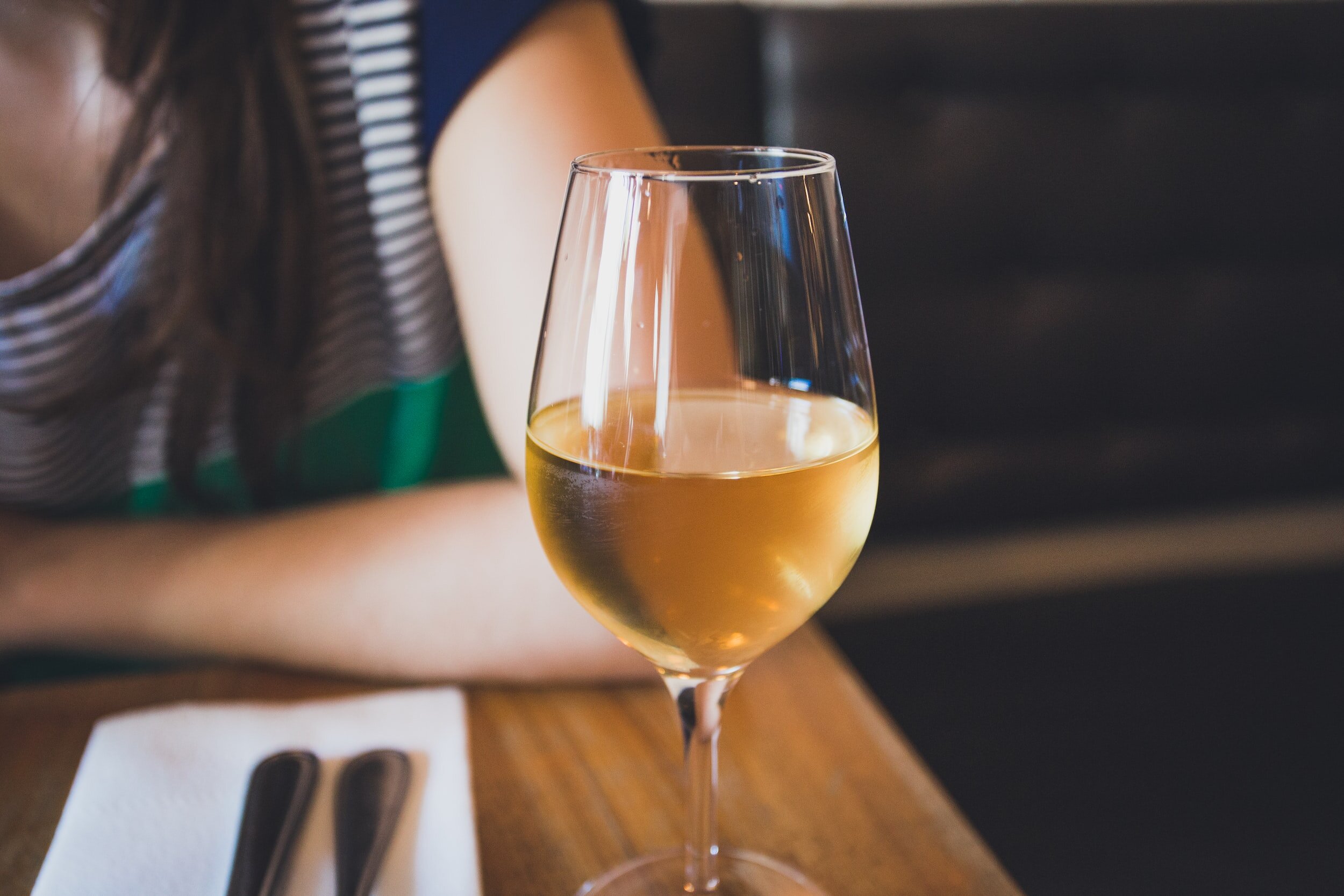 While Sancerre remains a benchmark for Sauvignon Blanc, the Loire Valley presents a range of alternative regions that produce exceptional wines from this highly sought-after grape. 
From Pouilly-Fumé's smoky elegance to Quincy's sandy freshness, each AOC offers its own expression of Sauvignon Blanc.
Anyone who is wine-curious should try exploring these neighboring wine regions of Sancerre.
With varying price ranges, there's an option for every palate (and wallet) within Loire Valley's Sauvignon Blanc portfolio. Whether you love that biting minerality, searing acidity, or burst of fruit flavors, the Loire Valley's alternative wines provide a wide-ranging interpretation of wines for Sauvignon Blanc lovers.
Thirsty for More?
Feeling adventurous? Here's a list of 8 alternative white wines for the Sauvignon Blanc lover. I promise you'll find something worth drinking.
Here's an interesting post that dives into why New Zealand Sauvignon Blanc is so good.
Check out this side-by-side comparison of Sauvignon Blanc and Chenin Blanc – both grapes of the Loire Valley.
Love Sauvingon Blanc? You may also like Chablis. Here's a rundown of the differences between Chardonnay and Chablis.