Pronunciation: gah-MAY
Gamay, a red wine varietal, finds itself at home in the Beaujolais region. Whether you're a wine enthusiast or a curious beginner, this comprehensive guide introduces you to Gamay.
What Kind of Wine Is Gamay?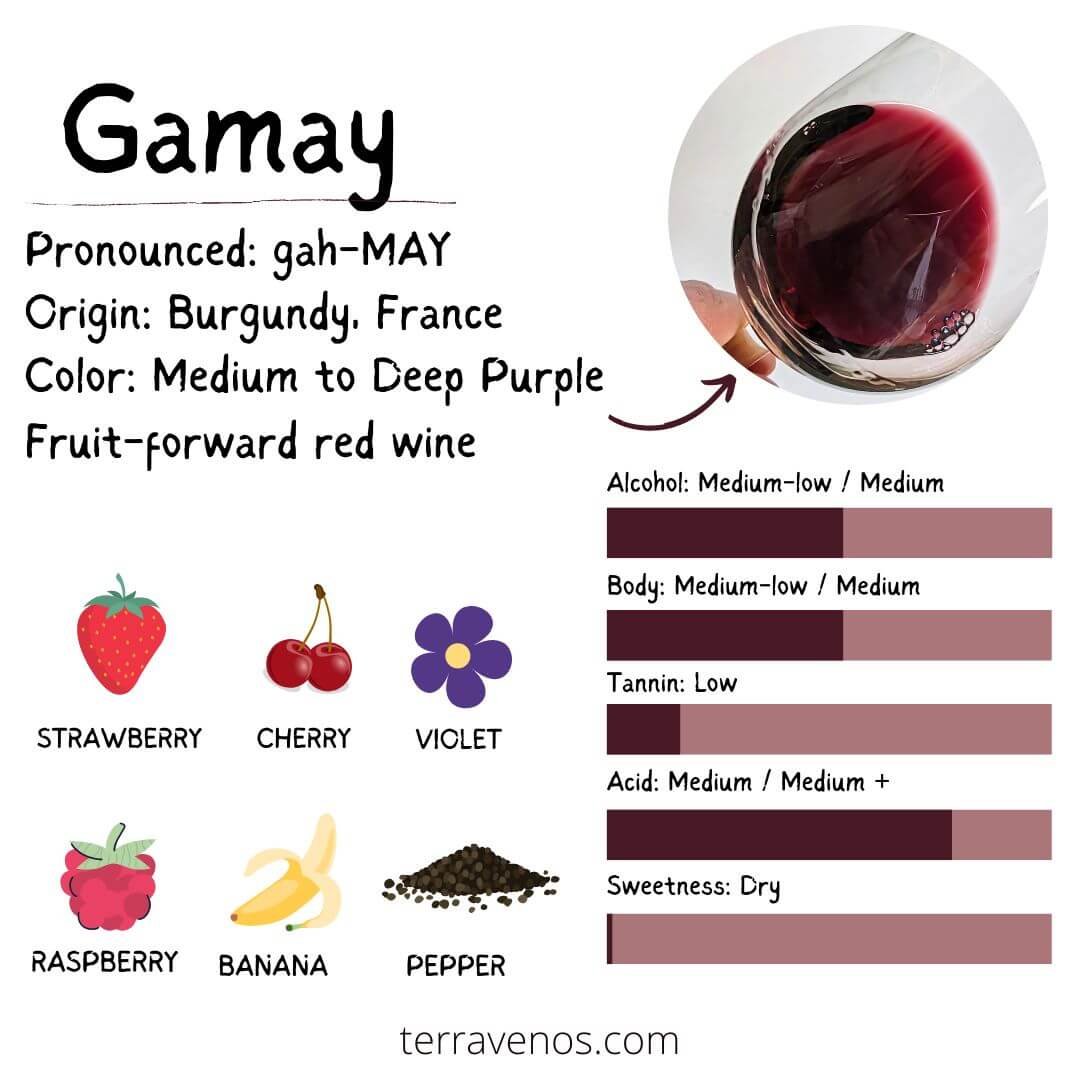 Gamay is a light-bodied red with moderate acidity, soft tannins, and moderate alcohol. It offers a style that is typically lighter than Cabernet Franc but fuller than Pinot Noir.
Were Does Gamay Wine Come From?
Gamay, a grape variety originating from the Beaujolais region in France, holds a deep connection to the region's winemaking traditions. The Beaujolais region sits just below its more famous northern neighbor, Burgundy, where Pinot Noir and Chardonnay play starring roles. Beaujolais is renowned for its production of vibrant and fruity Gamay wines.
Gamay in Beaujolais
In Beaujolais, Gamay takes center stage as the primary grape variety. The region's unique granite-based soils and the semi-carbonic maceration winemaking technique contribute to the production of lively and expressive Gamay wines.
The 10 Crus Beaujolais AOCs in France are:
Brouilly
Chénas
Chiroubles
Côte de Brouilly
Fleurie
Juliénas
Morgon
Moulin-à-Vent
Régnié
Saint-Amour
These ten AOCs, known as the "Crus of Beaujolais," represent the highest quality and expression of Gamay wines from the Beaujolais region in France.
Each AOC has its own unique characteristics and terroir, contributing to the diverse range of Gamay wines available.
Here's a wonderful video to get you feeling Beaujolais:
Fun Wine Fact: Gamay has a long history as a wine grape south of Burgundy. Check out Gamay's quirky backstory here and discover how it almost didn't survive to modern times.
You'll find other Beaujolais wines that don't list the Cru AOCs. These are very drinkable (and affordable) wines. Many Gamay grapes grown outside of the Cru Beaujolais AOCs are used in Beaujolais Nouveau, a bright, friendly, easy-drinking wine released in November immediately after harvest.
Other Notable Gamay Growing Regions
Outside of Beaujolais, Gamay has found its way into different wine regions. In the Loire Valley of France, specifically in the region of Touraine, Gamay produces delightful and refreshing wines. It has also gained popularity in other parts of the world, including Oregon in the United States and certain regions in Canada.
What Does Gamay Smell Like?
Gamay exhibits a distinct aromatic profile. It offers vibrant aromas of fresh red berries, such as strawberries and raspberries. There are also hints of floral notes, such as violet, and occasionally a touch of earthiness.
What Does Gamay Taste Like?
Most everyday Gama wines have a lively and fruit-forward flavor profile. It offers juicy red fruit flavors, including cherry and cranberry, with a subtle hint of sweetness. The wine's moderate acidity adds a refreshing and vibrant quality to the overall taste. Gamay's tannins are soft and gentle, contributing to its smooth and easy-drinking nature.
Helpful Tip: Gamay can be a fruit bomb wine, with fresh red fruits bursting in your mouth. If you like wines that taste like fruit, check out this post for other fruit-forward wine recommendations.
Gamay, a remarkable red wine varietal, captivates with its brilliant dark garnet color and intricate delicacy. Higher quality examples exhibit a complex array of aromas, including enticing notes of blackberry, cassis, plum, and the enchanting fragrance of faded rose petals. With a full-body and well-structured nature, premium Gamay wines grace the palate with elegant tannins that add a refined touch.
How to Serve Gamay Wine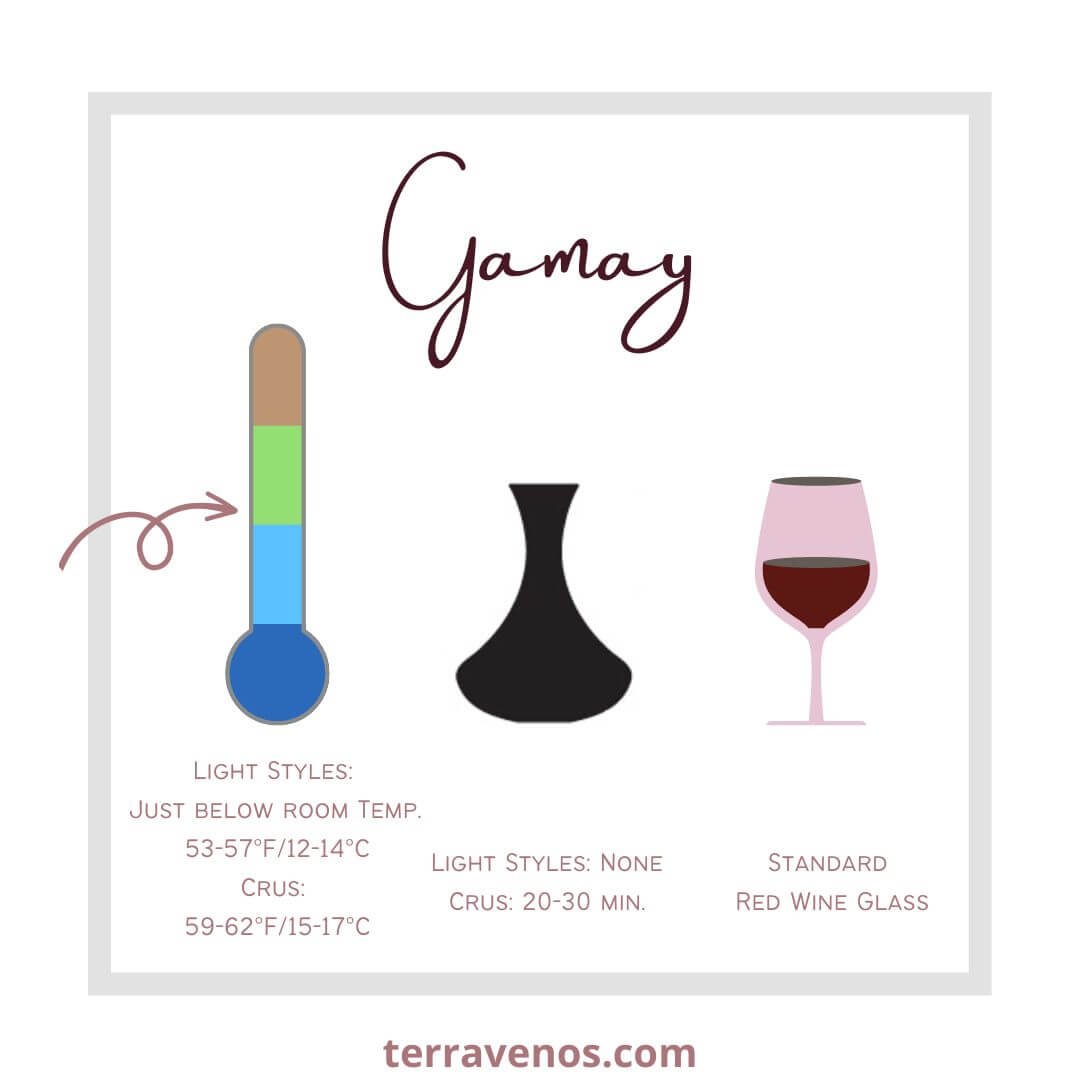 Temperature
Serve lighter gamay styles slightly chilled, just below room temperature around Gamay slightly chilled, around 53-57°F (12-14°C). This temperature allows the wine to showcase its vibrant fruit flavors while maintaining a refreshing character. Fuller bodied Gamays will taste delicious at room temperature, between 59-62°F (15-17°C).
Glassware
Opt for a standard red wine glass with a tulip-shaped bowl for your Gamay wine. This type of glass helps concentrate the aromas and directs them towards your nose, enhancing the overall tasting experience.
Decanting
Gamay wines typically do not require decanting. However, if you have a more complex and structured Gamay, such as a Cru Beaujolais, a brief decanting of 10-15 minutes can help the wine open up and reveal its full range of flavors.
Aging Potential
Gamay wines are best enjoyed in their youth when their vibrant fruit flavors are at their peak. While some Cru Beaujolais wines can age for a few years, the majority of Gamay wines are meant to be consumed within a year or two of their release.
Gamay Food Pairing Suggestions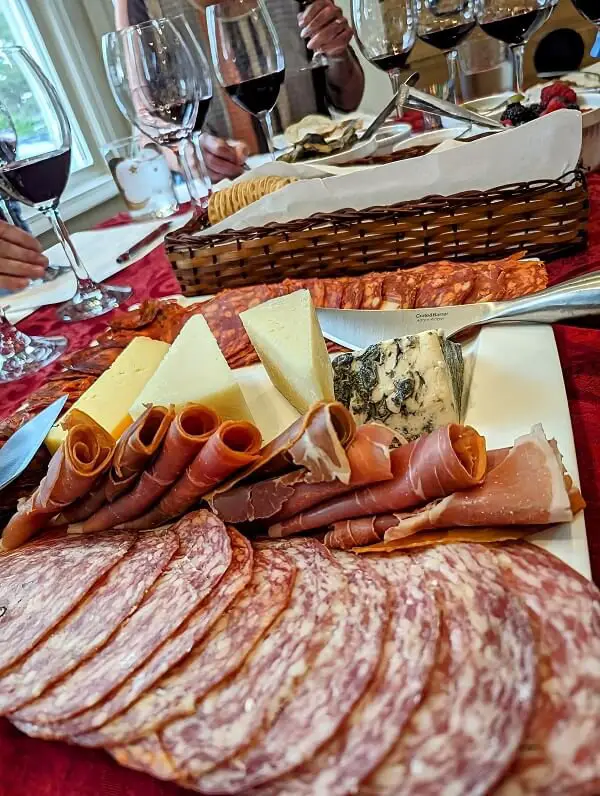 Gamay's versatility makes it a wonderful companion for various dishes. Its lively acidity and fruit-forward character complement a wide range of cuisines. Here are a few food pairing suggestions to enhance your Gamay experience:
Grilled salmon with an herb sauce or rub
Roast chicken with fresh herbs and vegetables
Charcuterie board with cured meats and tangy cheeses
Helpful Tip: Still getting started with food and wine pairing? Head over to this post for some quick wine pairing tips that you can use tonight.
Gamay vs. Other Varietals
While Gamay shares some similarities with Pinot Noir, it possesses its own distinct personality. Gamay offers a lighter body, brighter acidity, and a more overt fruit character compared to Pinot Noir. In comparison to Beaujolais' other red grape variety, Cabernet Franc, Gamay is known for its youthful and vibrant nature, making it an excellent choice for those seeking a wine with a playful and fruity profile.
Gamay in the Vineyard
Gamay is characterized by its early bud break and ripening. It thrives in cooler regions with moderate temperatures and benefits from a longer, more temperate growing season. Gamay's preference for a continental or oceanic climate contributes to the retention of acidity and the development of vibrant fruit flavors.
Gamay's known to be moderate to high-yielding, thanks to its vigorous nature.
This can lead to dilute flavors and lower-quality wines. Proper vineyard helps maintain a balance between vine vigor and grape quality.
Let price be your guide for higher-quality Gamay wines.
Overall, Gamay's early development, affinity for cooler climates, and moderate to high yields make an attractive grape for growers and winemakers alike.
Notable Gamay Producers and Bottles to Try
When exploring Gamay, it's worth seeking out different producers so that you can experience the wine's range. Here are a few notable wineries to discover:
Domaine Marcel Lapierre (Beaujolais, France)
Domaine Jean Foillard (Beaujolais, France)
Domaine du Vissoux (Beaujolais, France)
These wineries offer a diverse lineup of Gamay wines, each showcasing the unique qualities of the grape and the terroir.
Emerging Trends and Innovations
The world of wine is continually evolving, and Gamay is no exception. From carbonic maceration to extended skin contact, to minimal intervention, these innovations are adding new dimensions to Gamay and expanding its potential for diverse expressions. Beaujolais is known as one of the epicenters for the natural wine movement.
Helpful Tip: Go check out this post on the rise of Beaujolais and the Natural Wine Movement on Flatiron Wines and Spirits (external link).
Final Thoughts – Gamay as Must-Try Red Wine Varietal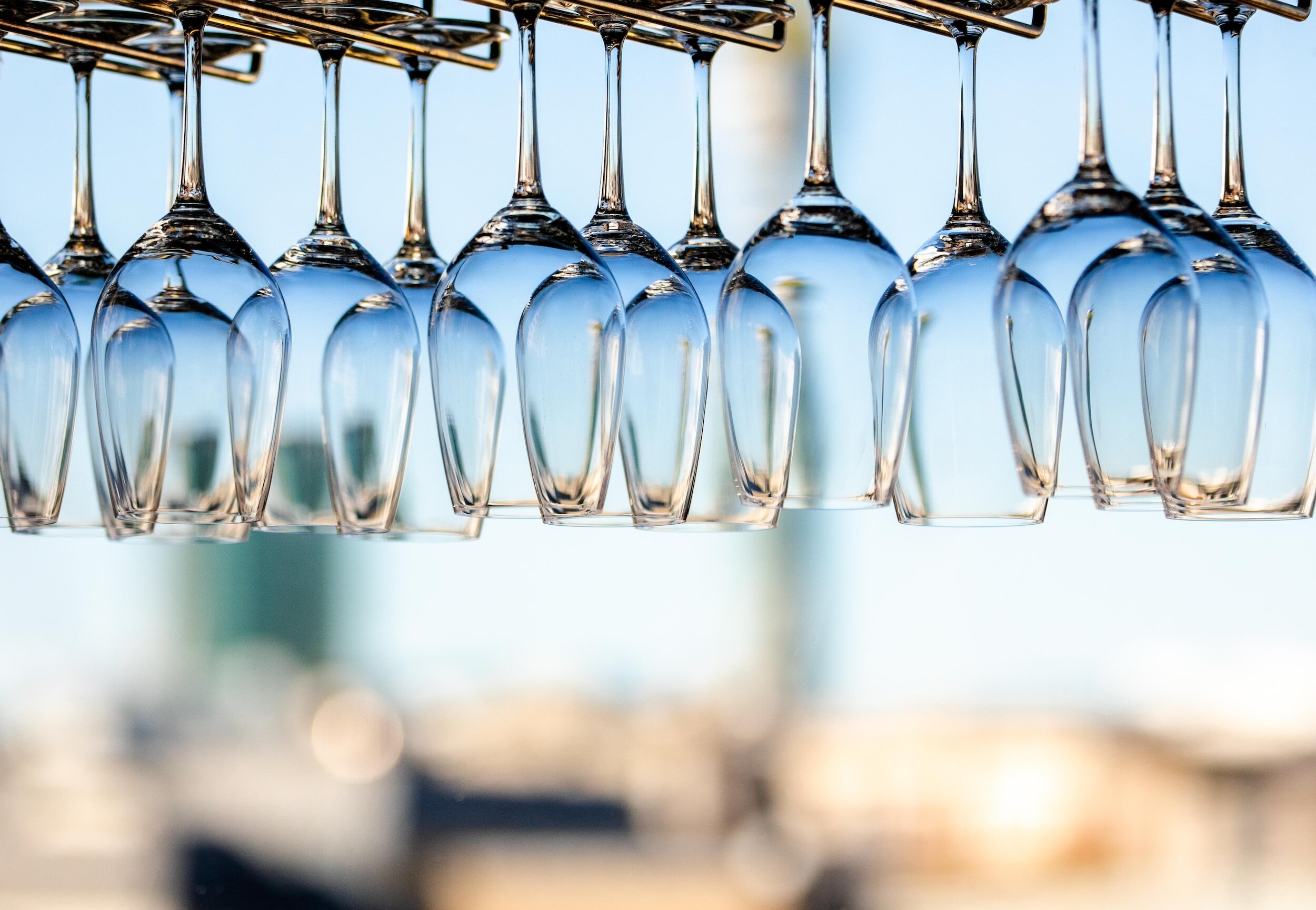 With its vibrant fruit flavors, lively acidity, and approachable nature, Gamay is a red wine varietal that deserves attention. Here are three key takeaways to remember:
Distinctive Flavor Profile: Gamay offers a delightful combination of juicy red fruit flavors, refreshing acidity, and soft tannins.
Versatility in Food Pairing: Gamay pairs well with a variety of dishes, from grilled meats to vegetarian options, thanks to its vibrant acidity and fruit-forward character.
Expressive Terroir: Gamay showcases the unique terroir of its growing regions, particularly in Beaujolais, where the granite-based soils contribute to the wine's distinct personality.
Gamay is a must-try red wine varietal perfect for wine lovers who enjoy easy-drinking, uncomplicated, friendly and approachable red wines.
Thirsty for More?
Here's a post that explores other light red wines similar to Gamay.
Check out my frugal wine lover's guide to saving money on wine.
Some money saving tips I've included above, but here are more tips to save money when you go out wine tasting.
I put together this post that covers the major wine growing regions around the world and their signature wine styles. Enjoy!