Chenin Blanc may not be as famous as Chardonnay or Sauvignon Blanc, but its flavor profile never fails to entice.
A typical tasting note for Chenin Blanc has citrus, pear, stone fruit, and blossom, with a light body, bright acid, and medium alcohol. Chenin Blanc makes dry, off-dry, and sparkling white wines. Read wine labels carefully to pick a style that you'll enjoy.
Here's a deep dive into Chenin Blanc's wine characteristics and flavor profile.
Chenin Blanc Flavor Profile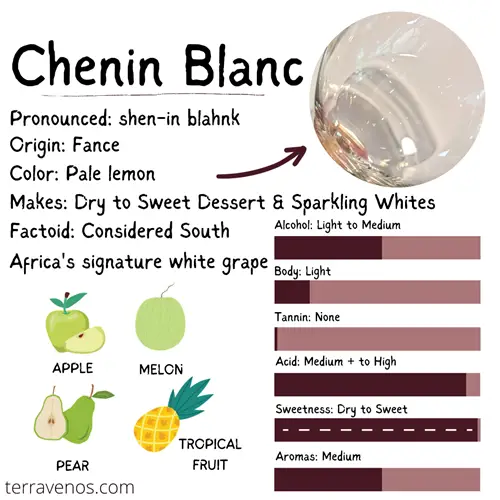 When it comes to tasting Chenin Blanc, you'll notice that it can express different fruit and floral notes depending on the vintage and winemaker. 
Primary flavors, those that come from the Chenin Blanc grape, can include zesty citrus notes, like a burst of lemon, lime, and grapefruit, which makes the wine refreshing, not unlike a Sauvignon Blanc (Here's what you need to know about Sav Blanc).
Chenin Blanc grapes from warmer vintages, or growing regions, will express luscious stone fruits, like juicy peaches, ripe apricots, and silky nectarines.
Chenin Blanc also tends to have a honeyed character, or sweet floral notes, like honeysuckle and jasmine. 
You may even find that your Chenin Blanc has a spiciness to it, like ginger and clove, and sometimes an herbal note.
Did You Know: Chenin Blanc is often praised for its ability to showcase both crisp, tangy flavors and luscious, ripe fruit characteristics.
Chenin Blanc Aroma Profile
Most consider Chenin Blanc an aromatic white wine, but I find it to have aromas that are more layered and subtle than a Riesling, for example. That said, you'll notice those citrus, stone, and floral notes jump out of your glass as you swirl it around.
Helpful Wine Tasting Tip: Check out this 30-second tasting tip on why you should smell your wine with your mouth open.
Look for subtle hints of flowers, honey, and sweet herbs as you swirl your Chenin Blanc wine. Take your time as you sip.
Fun Fact: Chenin Blanc can offer both fresh and ripe tropical aromas, ranging from ripe pineapples to mangoes This adds to the wine's allure. Before you take a sip, really try to identify what it is you're smelling in your Chenin Blanc.
Chenin Blanc Structural Elements
When you hear the term "structure" in wine, it's referring to the acid, sweetness, body, alcohol, and tannin (but tannin is mainly for reds, not whites, so we'll skip tannin here). 
Add all of these elements together and you get the wine's structure. 
Chenin Blanc Acid: Chenin Blanc has vibrant, medium (+) to high acidity. The wine's acid is a key feature, making it a mouthwatering and refreshing wine.
Chenin Blanc Sweetness: Chenin Blancs can make dry, off-dry, and even dessert wines, depending on the producer and winemaking style. Off-dry Chenin Blancs are quite common. 
This makes shopping carefully for Chenin Blanc important.
You'll want to read your wine labels carefully so that you get the wine style you'll enjoy. 
Personal Note: I'm a big believer that different wine styles fit different occasions. If you're having seafood, like fried fish and chips, you'd probably want a dry, crisp, zippy Chenin. If you're having a fruit salad, then an off-dry Chening will pair better. 
Chenin Blanc is a food you want to think about before pairing. Match the wine style to the food.
Chenin Blanc Body: Body is the mouthfeel, or weight, of the wine. When it comes to body, Chenin Blanc offers options for every palate. You can enjoy light-bodied Chenin Blanc wines that are delicate and crisp, medium-bodied ones that strike a perfect balance between texture and freshness, or full-bodied expressions that offer a rich and satisfying mouthfeel.
Chenin Blanc Finish: The finish is the last impression that lingers after each sip of wine. The length of the finish can vary for Chenin Blanc, ranging from short and snappy to long and lingering. An inexpensive bottle will quench your thirst and are easy sippers for summer afternoons. Higher-quality Chenin Blancs will have a longer finish. 
7 Sample Chenin Blanc Tasting Notes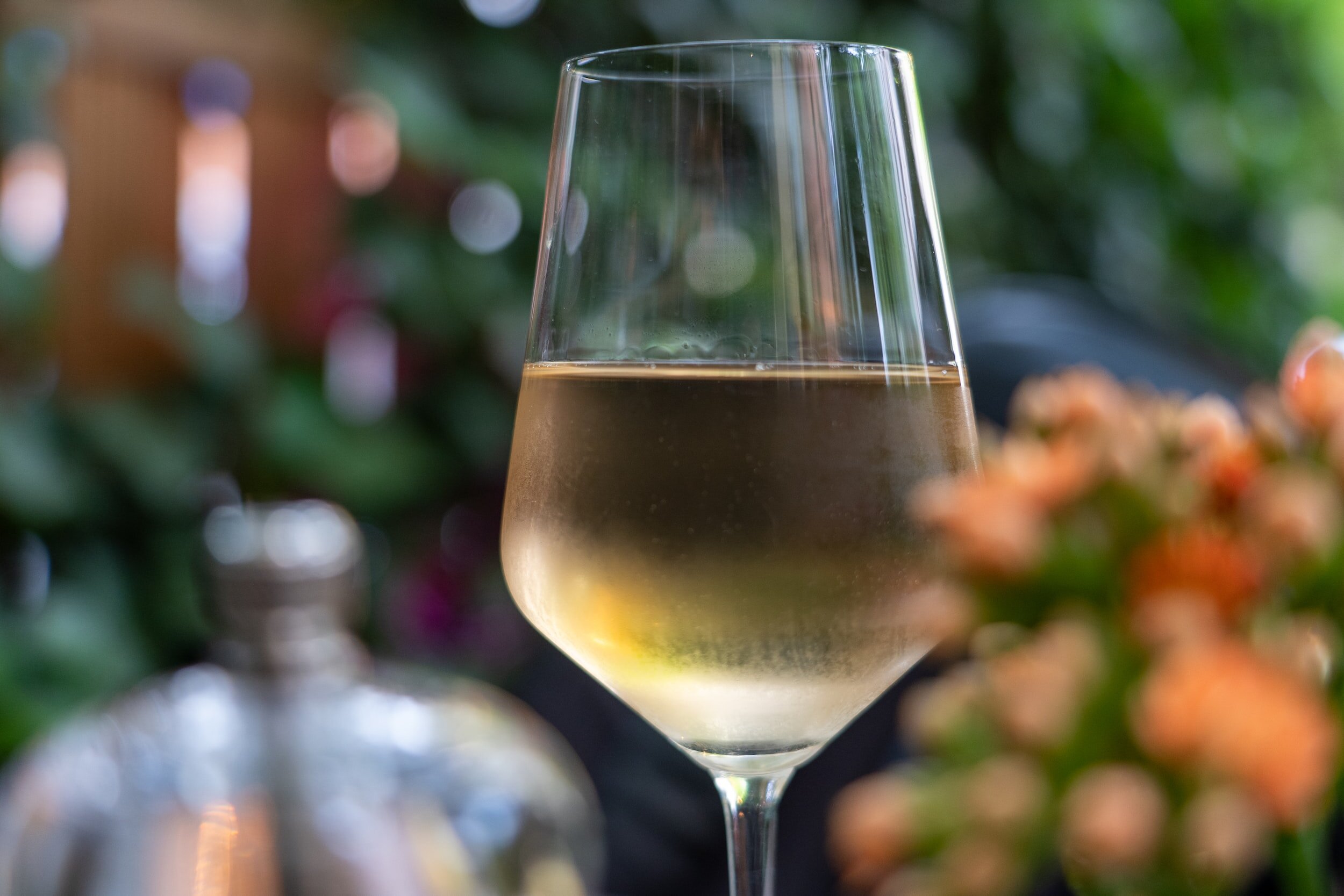 Fresh and fruity with some lemon zest and white fruit such as pears, melon and white nectarines. Crisp and dry, with a direct and refreshing palate. Good purity even though it's rather simple and concise.
Very pretty scents of white peach, honeysuckle, beeswax, biscuit and green herbs. The palate is silky, mouthwatering and surprisingly gregarious with intense, nutty fruit and a long, elegant finish. Generous yet structured.
Intense and succulent, with lemon curd, passionfruit, apricot preserves and fresh, vibrant acidity. Shows a note of sea salt that adds to the succulence, with a fleshy, juicy body.
An inviting nose of peaches, sliced pears and dried orange peel. Medium-bodied with delightful texture. Bright and rounded with an expressive core of stone fruit.
Medium-bodied with aromas of Bosc pears, honeydew, light guava and a lovely flint-mineral character. These intense aromas are followed by flavors of pear, white peach, lemon-zest and citrus that finishes crisp, plush and mouth-filling.
Notes of pear, yellow King peach, ripe lemon, and Golden Delicious apple on the nose. There is also a hint of pineapple as the wine opens up a little more. There is lots of ripe fruit on the palate, but with lovely acidity and a dry finish.
Mineral and melon tones lift and widen, providing just enough acid quench to keep things interesting. Delicate with compelling balance. Lifted fruit, while detailing restraint.
If this doesn't leave you wanting to taste Chenin Blanc, I don't know what will!
Chenin Blanc Tasting Experience: How to Drink Chenin Blanc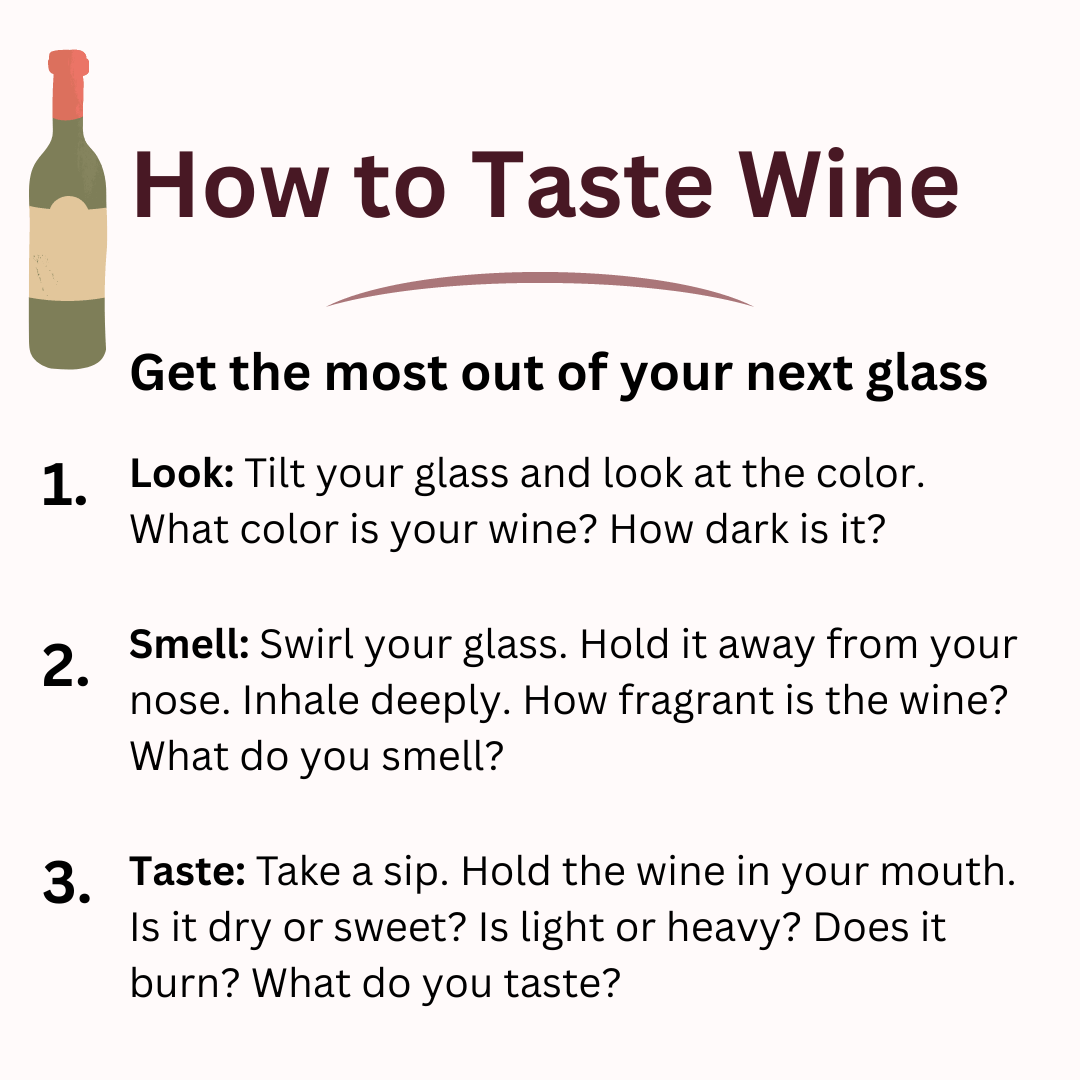 To fully appreciate Chenin Blanc, pay attention to the complete tasting experience. Start by serving it at the recommended temperature, usually between 45°F and 50°F (7°C and 10°C), allowing the flavors to shine.
Helpful Tip: Put your Chenin Blanc in the refrigerator overnight. Take it out of the refrigerator and let it sit for 15 minutes before enjoying. This will bring it to just about the right temperature.
Choosing the right glassware will help showcase the aromas and flavors of the wine. Opt for a tulip-shaped wine glass that allows the aromas to concentrate at the rim, providing a more pronounced olfactory experience. 
For certain full-bodied Chenin Blanc wines, decanting or allowing them to breathe can help enhance their aromatics. Give your wine a chance to breathe if you think it smells closed.
The wine's appearance can also provide valuable insights. Chenin Blanc wines range in color from pale straw to vibrant gold, with variations depending on the age and winemaking techniques used. Take a moment to observe the wine's hue, clarity, and viscosity—it adds to the overall sensory pleasure.
Chenin Blanc Food Pairing Suggestions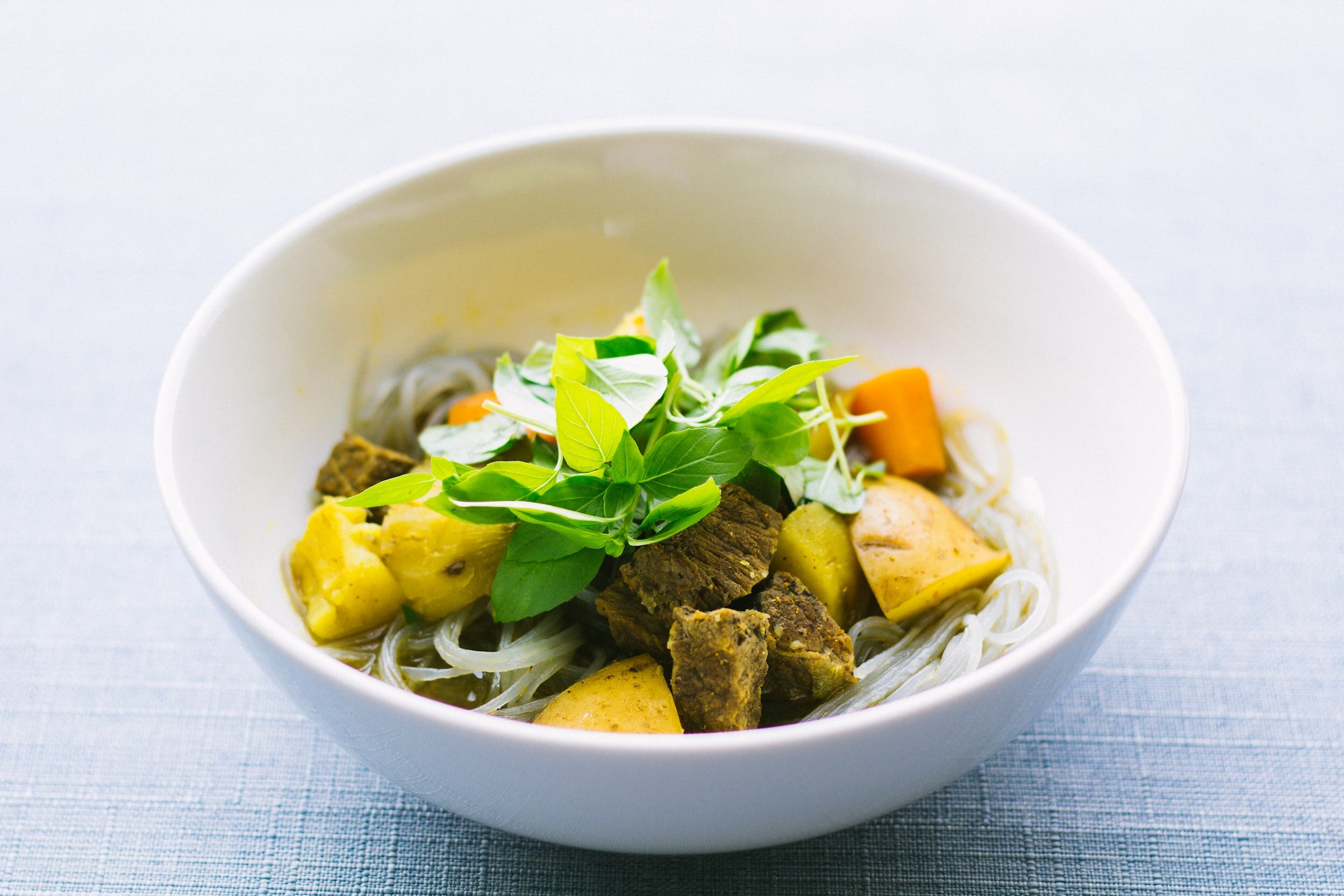 Moving on from Chenin Blanc tasting notes, it's time to pair Chenin Blanc with something to eat. This wine's versatility makes it a perfect match for a variety of dishes. 
Here are a few pairing suggestions:
1. Fresh seafood and shellfish: Chenin Blanc's bright acidity and lively flavors will complement delicate seafood dishes. Enjoy it with grilled shrimp and poached fish. 
2. Poultry dishes: Whether it's roast chicken or turkey, Chenin Blanc's citrus and tree fruit profile works well with poultry. Try it with herbed rubs or grilled white meats.
3. Creamy and soft cheeses: Chenin Blanc's inherent acidity makes it an excellent companion for creamy and soft cheeses. Pair it with Brie, Camembert, or fresh goat cheese. Chevre, anyone? 
4. Spicy Asian cuisine: If you find yourself with an off-dry Chenin Blanc, go for your spicey Asian take-out. The sweetness in the wine will balance out the chili heat in your food. 
Helpful Tip: If you're just getting started with wine and food pairing, I've put together this quick and easy wine and food pairing guide to get you started.

Looking for more Chenin Blanc pairing ideas? Head over to this post for more Chenin Blanc pairing tips.
Notable Chenin Blanc AOCs, AVAs, and Regions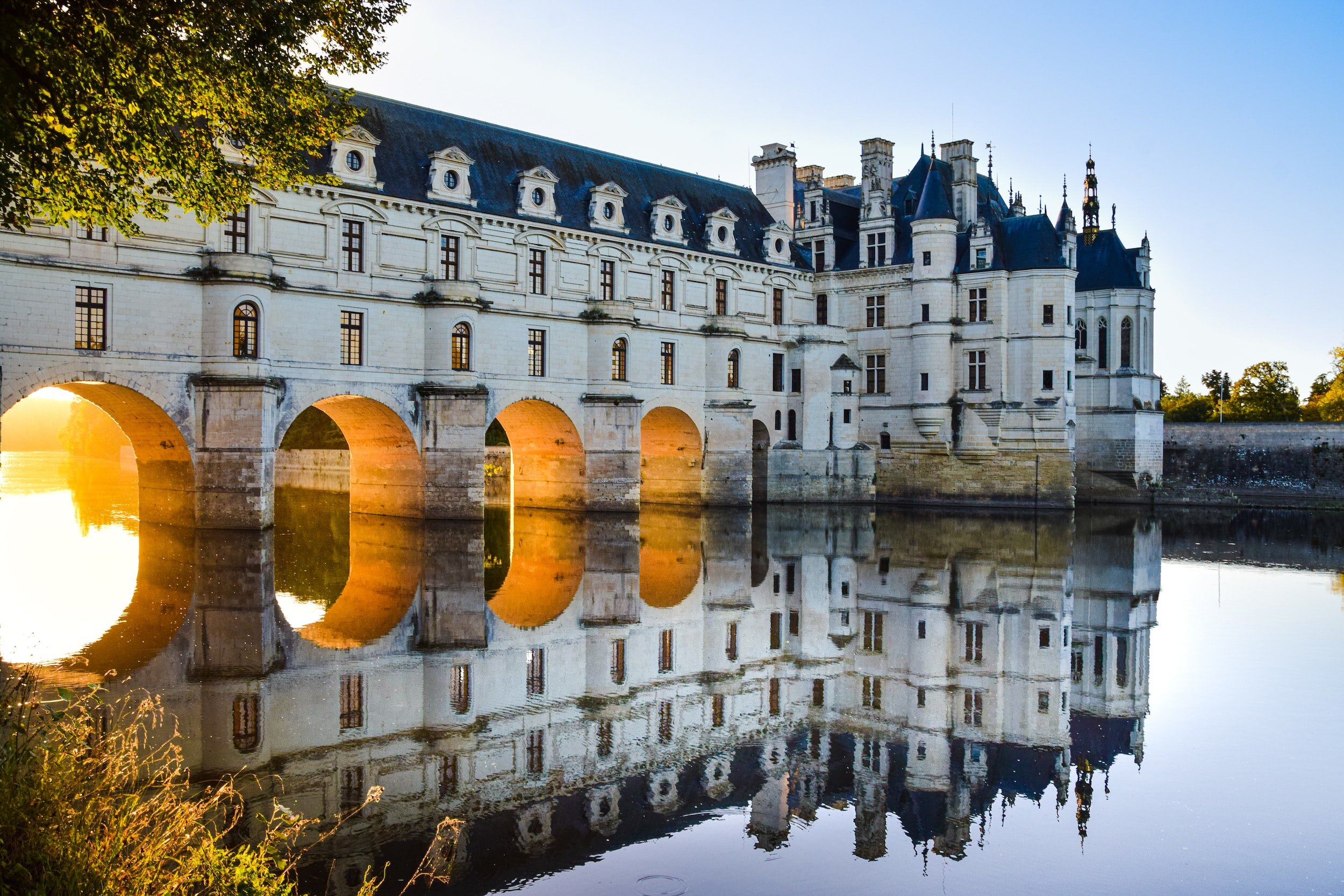 You'll find Chenin Blanc grown in many wine regions worldwide, but a few notable examples stand out. 
Loire Valley Chenin Blanc
In the Loire Valley of France, you'll find some exceptional Chenin Blanc wines from the appellations of Vouvray, Savennières, and Montlouis-sur-Loire. These regions boast centuries of winemaking history and offer a diverse range of styles, from dry and crisp to lusciously sweet. 
Vouvray, in particular, is renowned for producing age-worthy and terroir-driven Chenin Blanc wines that showcase the grape's full potential. 
Tip: Domaine Huet from Vouvray, France, is a well-regarded producer of Chenin Blanc. They practice organic and biodynamic winemaking resulting in Chenin Blanc wines of exceptional purity and complexity. The Huet wines reflect the diversity of Vouvray, ranging from dry to lusciously sweet, each with a unique sense of place. Expect to pay between $30-$60 USD.
South Africa Chenin Blanc
In South Africa, the Stellenbosch and Swartland regions have also gained recognition for their high-quality Chenin Blanc. 
Fun Wine Fact: In South Africa, Chenin Blanc goes by the regional name "Steen". If you see Steen on a bottle of wine, it's Chenin.
Here, the warm climate and diverse terroir create wines with richness and depth, often with tropical fruit flavors and vibrant acidity.
Tip:  Ken Forrester from Stellenbosch, South Africa, has a reputation as the "King of Chenin Blanc". His wines beautifully capture the essence of the grape, offering vibrant fruit flavors, crisp acidity, and a true sense of South African terroir and what Chenin Blanc is capable of. Expect to pay around $15 USD for their basic wines and up to $50 USD for their premium wines.
Final Thoughts – Charming Chenin Blanc Wine Tasting Notes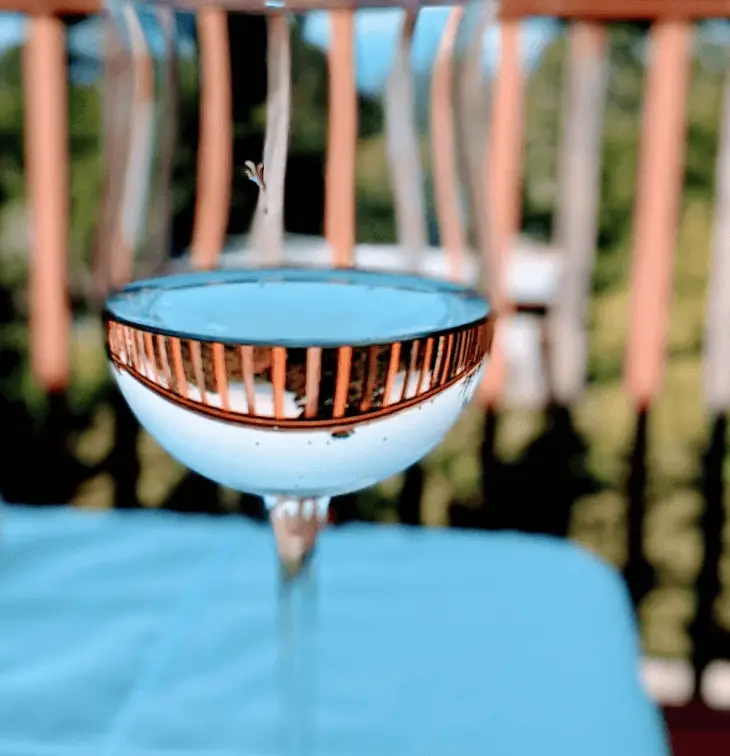 From its enticing flavors and charming profile to its refreshing acidity and diverse range of styles, Chenin Blanc white wine is truly a gem.
Chenin Blanc showcases vibrant citrus and luscious stone fruit flavors, coupled with its inherent acidity, making it an excellent choice for a wide range of occasions and food pairings. 
Whether you opt for Vouvray, Stellenbosch, or discover another region, Chenin Blanc delivers.
Thirsty for More?
Here's a side-by-side comparison of Chenin Blanc vs Riesling.
And, not to be confused with other famous white wines, head over to discover the differences between Chenin Blanc and Chardonnay, or Chenin Blanc and Sauvignon Blanc.
If you're just getting into wine, I put together this quick overview of 11 major winegrowing regions and their signature wine styles, which is a great place to get started.