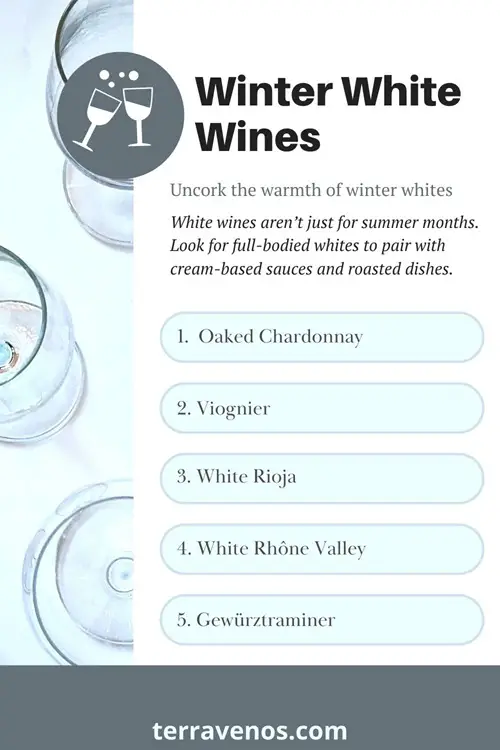 As winter wraps its icy arms around us, the inclination is often towards robust reds, but let's not forget the charm of a perfectly chilled glass of white wine. Here's what you need to know about finding and enjoying winter white wines, debunk myths, and provide a few solid recommendations to tide you over until spring.
What White Wines Are Good in Winter?
Good winter white wines are fuller-bodied, rich in flavor, and pair well with heavier dishes. Look for aromatic white wines, low-acid white wines, and oaked white wines to get you started. Here's a video version of winter white wines to inspire you.
Nine White Wines for Winter
Viognier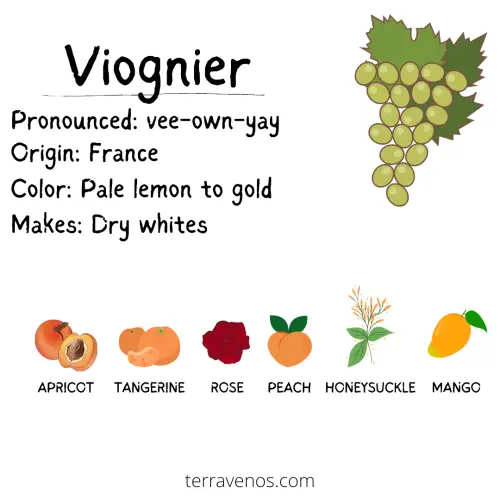 Description: Known for its lush and aromatic profile, Viognier captivates with notes of peach, apricot, and floral undertones. It has a full body and a velvety texture.
Pairing Suggestion: Pair with creamy pasta dishes and rich cheese plates.
Look For: Condrieu AOC from France/
Roussanne
Description: Roussanne offers a unique combination of richness and freshness. Expect flavors of honey, pear, and a hint of herbal complexity. It has a medium to full body with moderate acidity.
Pairing Suggestion: The honeyed richness of Roussanne enhances the flavors of roasted chicken or turkey dishes, making for a delightful winter pairing.
Marsanne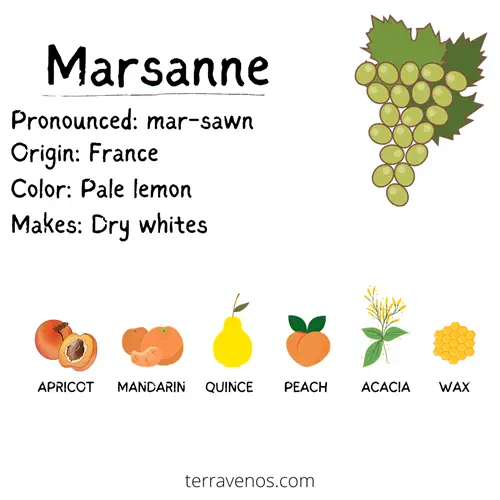 Description: With flavors of ripe apricots, honey, and a hint of almonds, Marsanne is a full-bodied white wine with a rich and luscious texture.
Pairing Suggestion: Marsanne's nutty undertones complement winter squash or pumpkin dishes, creating a balanced and flavorful pairing.
Helpful Wine Buying Tip: Marssane and Roussane are often blended together. Look for white wines from the Southern Rhone, France.
Gewürztraminer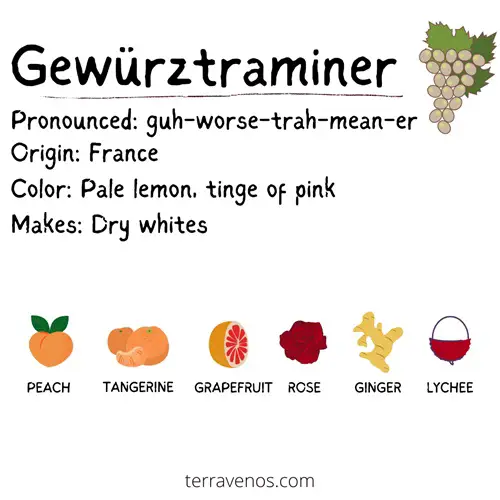 Description: Bold and aromatic, Gewürztraminer is known for its spicy and floral notes. It has a medium to full body with lower acidity.
Pairing Suggestion: Spice up your winter with Gewürztraminer, a perfect match for seafood stews, bringing out the wine's aromatic profile.
Fun Fact 3: Gewürztraminer translates to "spiced traminer" in German, reflecting its spicy and aromatic characteristics. This is one of my all-time favorite wines.
White Rioja
Description: White Rioja is primarily made from the Viura grape, also known as Macabeo. In addition to Viura, other grape varieties, such as Malvasía and Garnacha Blanca, may be blended to add complexity and enhance the flavor profile of White Rioja. The winemaking process, including oak aging, also plays a crucial role in shaping the final characteristics of the wine. Expect crisp notes of citrus, green apple, and a subtle hint of floral undertones. With a medium-bodied structure and a touch of oak aging, while Rioja is a perfect white winter wine.
Pairing Suggestion: White Rioja pairs excellently with winter dishes such as pan-seared sea bass with lemon-infused risotto or a classic chicken paella. The wine's citrusy freshness complements the seafood, while the medium body stands up to the heartiness of the paella and other rich rice dishes.
Riesling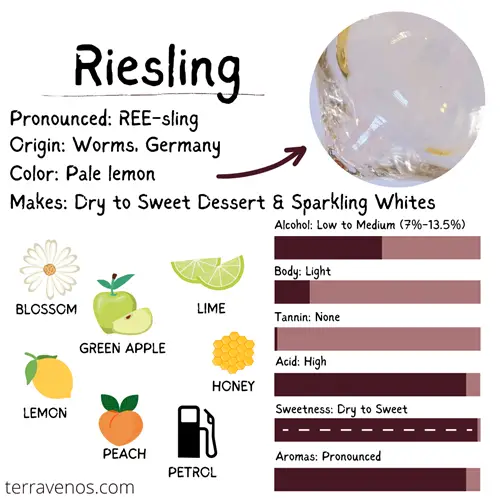 Description: Riesling is renowned for its balance of sweetness and acidity. Expect flavors of green apple, peach, and floral notes. It has a light to medium body.
Pairing Suggestion: Riesling's acidity cuts through the richness of creamy pasta dishes and those filling winter casseroles.
Chenin Blanc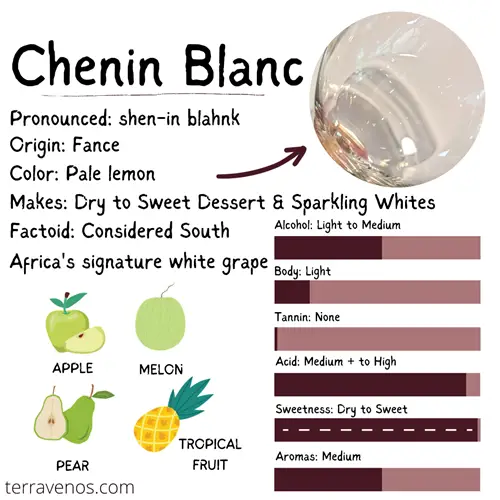 Description: Versatile and crisp, Chenin Blanc offers a spectrum of flavors from green apple to honey. It has a light to medium body with high acidity.
Pairing Suggestion: Pairing Suggestion: Chenin Blanc's crispness complements a variety of winter dishes, making it a versatile choice. Enjoy it with comforting classics like slow-cooked pulled pork, creamy chicken and wild rice casserole, or a flavorful butternut squash soup.
Oaked Chardonnay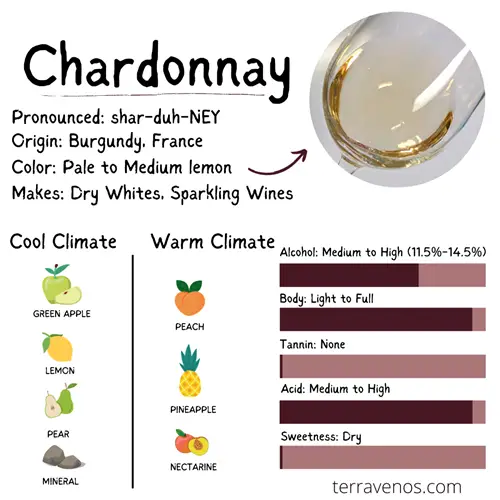 Description: Oaked Chardonnay is a full-bodied, rich white wine perfect for winter. Traditionally aged in oak barrels, you'll get flavors of vanilla, butter, and a subtle touch of toasted oak. With a full-bodied character, this Chardonnay is perfect for cold winter evenings.
Pairing Suggestion: Pair oaked Chardonnay with creamy pasta dishes, casserole, and warm fires. Oaked Chardonnay will also work with popcorn and chicken soup.
Helpful Tip: Check out my 5 all-time favorite Chardonnay pairings.
White Bordeaux
Description: A blend of Sauvignon Blanc, Sémillon, and sometimes Muscadelle, White Bordeaux exhibits complex flavors of citrus, green apple, and a touch of herbal notes. It has a medium to full body with bright acidity. The Semillon will give this wine a heavier waxy feeling in your mouth, making it a rich white wine for winter.
Pairing Suggestion: Enjoy white Bordeaux with classic winter dishes such as roasted chicken with root vegetables or a creamy butternut squash risotto.
Winter White Wines: Quick Pairing Guide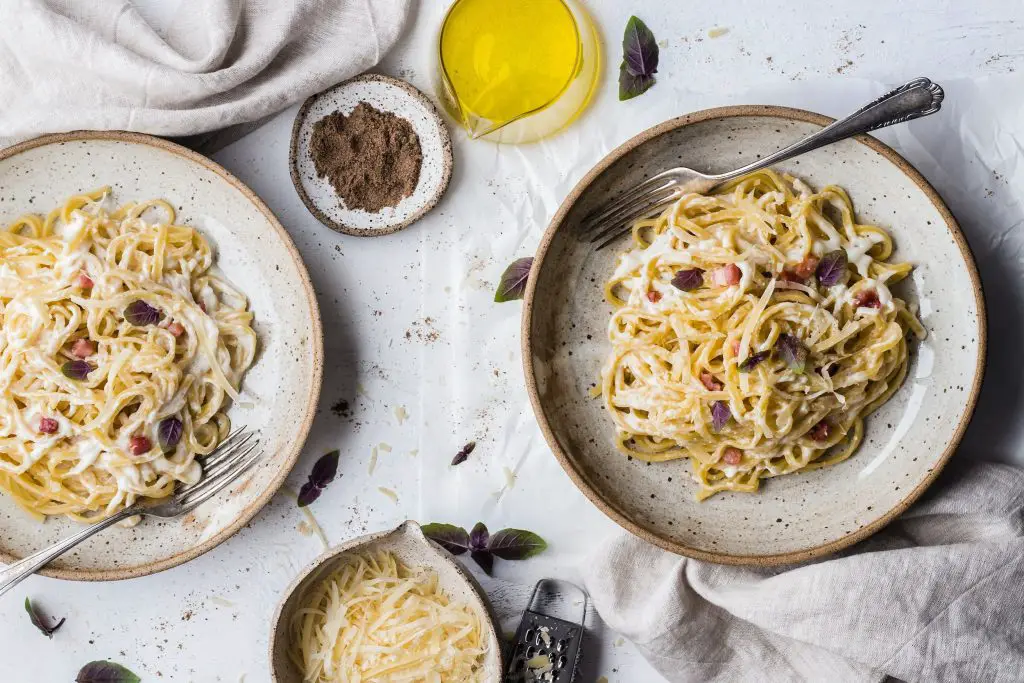 Here's a quick list of my go-to winter white wine pairings for soul-warming dishes that carry me through February.
Creamy Pasta Dishes
Viognier
Oaked Chardonnay
White Rioja
Marsanne
Roussane
Roasted Chicken or Turkey
Chenin Blanc
Chardonnay
White Rioja
White Bordeaux
Seafood Stews
Gewürztraminer
Unoaked Chardonnay
White Bordeaux
Winter Squash or Pumpkin Dishes
Marsanne
Roussane
White Rioja
Oaked Chardonnay
Viognier
Rich Cheese Platters
Is Chardonnay a Winter Wine?
Chardonnay is a perfect winter wine, especially oaked styles. Oaked Chardonnay brings notes of vanilla and butter, offering a rich and full-bodied experience.
Fun Wine Fact: Did you know? Chardonnay is one of the few white wines that ages well in oak barrels, gaining complexity over time.
Can You Drink Sauvignon Blanc in Winter?
You can drink Sauvignon Blanc in winter. Certain styles, particularly those from the Loire Valley or California, offer a bit more body, bringing a crispness that complements the winter chill. Keep in mind that the higher acid in Sauvignon Blanc will make this wine seem refreshing and bright in your mouth, which works well with richer cream-based dishes. This may not be the flavor combination you're going for, but it can work.
Pairing Tip: Sauvignon Blanc is known for its high acidity, making it an excellent palate cleanser between bites of hearty winter dishes, like creamy soups and roasted vegetables.
Final Thoughts – Winter White Wines
Winter is not only for red wines; white wines bring a unique charm to cold evenings. Whether you choose a bold Chardonnay or a crisp Riesling, let your winter be filled with warmth.
Stick with wines that have more body, lower acid, and perfumed aromatics to wrap yourself up until springtime.
Thirsty for More?
Check out this list of appetizers for white wine tasting.

Here's a list of wines perfect for fall.

Just getting started with wine? Here's a quick guide to wine and food pairing.