Southern France offers a dizzying number of wines to sort through. A warm climate and generous soils make it a go-to destination for tourists and wine producers alike. Here are the basics on what you need to know about the Languedoc.
The Languedoc region produces red, white, and rosé wines made from over 57 different permitted grape varieties. Over 70% of the wines are generic regional wines, either blends or single varietal wines. The region specializes in blends made from Grenache, Syrah, Mourvèdre, Carignan, and Cinsault.
Here's what you need to know about the robust winemaking region of Languedoc, France.
Where Is Languedoc?
The Languedoc region is located along the Mediterranean coastline in southern France, nestled between Roussillon to the west and Provence to the east.
Languedoc Climatic Influence
The region enjoys a warm Mediterranean climate, with rainfall mainly in the winter months. In the eastern part of the Languedoc where the Rhone River basin flows into the Mediterranean, the Mistral Wind also swoops down through the vineyards. In the western part of the Languedoc, the Tramontane wind traverses through mountain passes also affecting vine growth.
These breezes help to suppress fungal pressure in the vineyard, but can damage flowering and fruit set reducing yields.
Learn more about how wind affects wine quality here.
Languedoc Winemaking History
Grapes have been grown in the Languedoc region going back millennia, and likely started in 500 BC with the Greeks. The favorable climate means that cultivating the vine has always been a relatively easy agricultural pursuit.
A long, warm growing season translates into grapes that reliably ripen leading to more consistent, richer wines than, say, Bordeaux just to the northwest – a region that that has a cooler climate that can suffer from more marginal vintages.
Despite optimal growing conditions, it wasn't until the advent of the railroad that wines from the region found their route to market.
Production boomed with wine exported via rail to the thirsty denizens of Paris.
Railroad expansion coincided with phylloxera. Most vineyards succumbed across Europe in the late 1800s and early 1900s.
In a fortuitous turn of events, vignerons discovered that phylloxera avoided vines planted in the sandy soils along the coastline in Languedoc (Side note: This is still the case today. Vines planted in sandy soils are often safe from phylloxera.)
In turn, winegrowers cultivated Carignan, a workhorse of a grape capable of producing astounding yields, up to 200 hectoliters per hectare (in comparison, the Bordeaux wine region today averages about 45 hl/ha).
The region also imported grapes from Algeria to boost production of inexpensive wine to meet demand across much of France.
Both of these production strategies did little to impress anyone on the quality of wines coming from the region.
As is the case today, there's a market for all wine quality levels.
Languedoc's ability to produce large quantities of insipid wine proved critical during World War I and World War II, when production expanded to quench the thirst of French soldiers.
Today, Languedoc remains a workhorse of a wine producing region, responsible for 10%-15% of all French wine, some 70% of it produced under the generic Pay d'Oc IGP (regional indication).
If you're looking for quality, then you're in luck!
The Languedoc is enjoying the emergence of quality-minded producers bent on capturing the unique terroir and essence of the vine.
You'll discover excellent quality for value if you're open to seeking out less familiar regions and up-and-coming producers.
Key Grapes in the Languedoc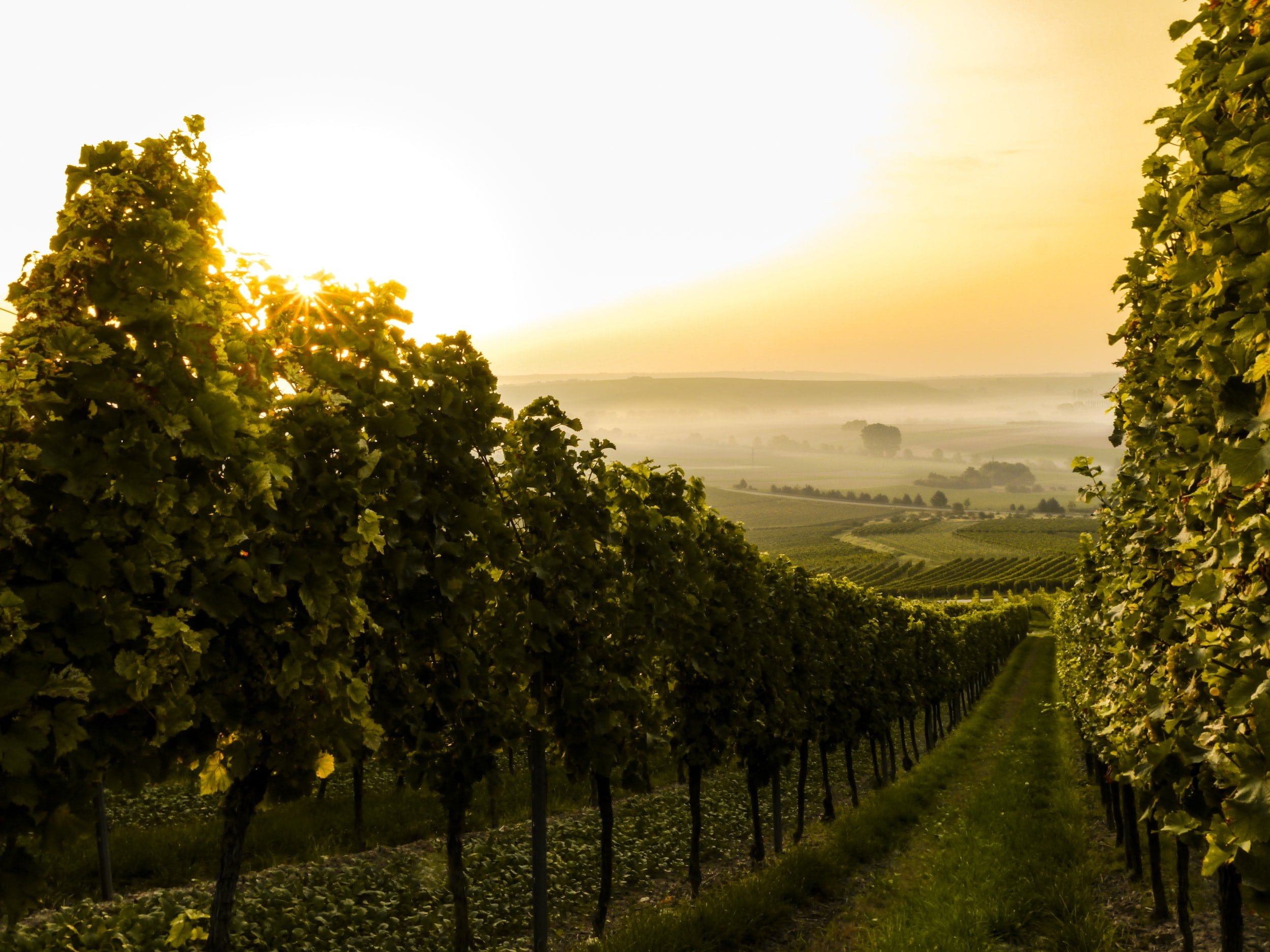 The IGP wines in the region can be reds, whites, or rosés. Growers have their pick of over 58 grape varieties. These can be blends or varietally labeled on the bottle. So, you pretty much have your pick of wines to chose from.
Varietal labeling has helped the region with export markets thanks to customers being able to pick out wines by grape name rather than region as is the case with much of French wine. 
Key grapes grown in the Languedoc region
Carignan. A high-yielding red grape that makes low-intensity wines with black fruit and spice. Once these vines hit 50+ years of age, they naturally produce less fruit with more intensity. Wines made from old vine Carignan are highly prized. Unfortunately, vine-pull schemes to reduce surplus wine on the market in the late 1980s destroyed much of the Carignan vineyards in the Languedoc, making old-vine Carignan that much more valuable.
Jargon Alert. Vine pull schemes are government programs where the government pays growers to grub up vineyards to reduce surplus production and stabilize the market, typically by increasing prices for generic, entry-level wines.
Syrah. Languedoc sits at the foot of the Rhone River valley, so it's no surprise that we find Syrah widely cultivated. A late-budding, mid-ripening grape with thick skins and medium to high tannins, Syrah can craft deep, rich wines with black fruit and black pepper notes.
Grenache. A thin-skinned, prolific producer, Grenache needs a long, warm growing season to fully ripen. Grenache offers up rich red berries and floral notes that vary in quality depending on how well yields are controlled.
Mourvèdre. Mourvèdre (a.k.a. Monastrell or Mataro) originated in northeastern Spain and crossed the border at some point into the Roussillon and Languedoc regions, then up through the Rhone valley. Mourvèdre needs a long, warm growing season to fully ripen and often produces wines in excess of 13% ABV, reflecting the longer hang time and greater sugar accumulation. Mourvèdre has notes of blackberry, game, and strong tannin levels along with a deep ruby color thanks to its thick skins.
Piquepoul/Picpoul Blanc. A high-acid white wine grape, Piquepoul actually means "lip stinger". Up until the advent of modern winemaking, most Piquepoul Blanc was destined for vermouth due to its unfortunate tendency to oxidize. Today, better winemaking science along with a robust tourist industry, make Piquepoul a much-adored wine among the region's vacationers. 
Key Wine Growing Regions in Languedoc
AOC wines only account for 10-15% of production, but if you're looking for wines from the Languedoc, here are some of the AOCs you're likely to come across. 
Jargon Alert: AOC "controlled designation of origin" – acts much like a geographic or political boundary for wine production within France (e.g., Bordeaux AOC, or Burgundy AOC).
Corbières AOC.
While this is the largest AOC in Languedoc, most of it is destined for French 70% stays in France and key export markets include China and Belgium. You may or may not find it in your local market. The region is hilly, sits at some altitude, and enjoys the moderating effects of the Tramontane winds. 70% of production is red wine and 40% of the final wines must include one of the principle grapes: Grenache, Syrah, Mourvèdre, or Carignan.
Minervois AOC.
Just to the north of Corbières AOC, sits Minervois. Also hilly with different vineyard sits sitting and different angles, these wines are similar to its neighbor – mostly red, mostly Grenache, Syrah, Mourvedre, Caringan and Cinsault. 
Fitou AOC.
Just to the south of Corbières AOC, Fitou AOC was the first designated AOC in the Languedoc (1948). Fitou is split into 2 distinctive regions. The first is low-lying next to the coast with clay and limestone serve the region well with water retention.
Wines from this region tend to be less concentrated.
The second region sits at higher elevation on fast-draining schist soils, capable of producing higher quality wines. Fitou wines are Grenache and Carignan dominant.
Picpoul de Pinet AOC.
Picpoul specializes in white wines made from the Piquepoul Blanc grape. This medium body, medium to high acid, citrus wine is made for easy drinking with local seafood dishes and warm afternoons on the beach.
Most wines are destined for the local tourist population and then exported to the tourists' home market (e.g., the UK). 
How to Buy Languedoc Wines
If you're ready to try wine from the Languedoc, here are a few terms that you can look for on labels:
Pay d'Oc: A regional wine that will likely be varietally labeled
Minervois AOC: A Grenache, Syrah, Mourvèdre (GSM) blend
Picpoul/Piquepoul: A white wine that Pinot Grigio lovers will enjoy