Tucked away in the northeast corner of Spain, Priorat boasts an ancient wine-growing culture rooted in Catalunya's history. 
Spain's prestigious Priorat wine region has unique llicorrella soils, forcing grapevines to dig deep for nutrients, resulting in rich red blends of Garnacha Tinta and Samsó (Cariñena). Expect intense black and red fruit flavors, spice, and higher alcohol levels. Priorat employs the "Els Noms de la Terra" classification system, featuring five wine categories: Gran vinya Classificada, Vinya Classificada, Vi de Paratge, Vi de Vila, and DOQ Priorat.
Here's what you need to know about the wines from Priorat.
Where Is Priorat?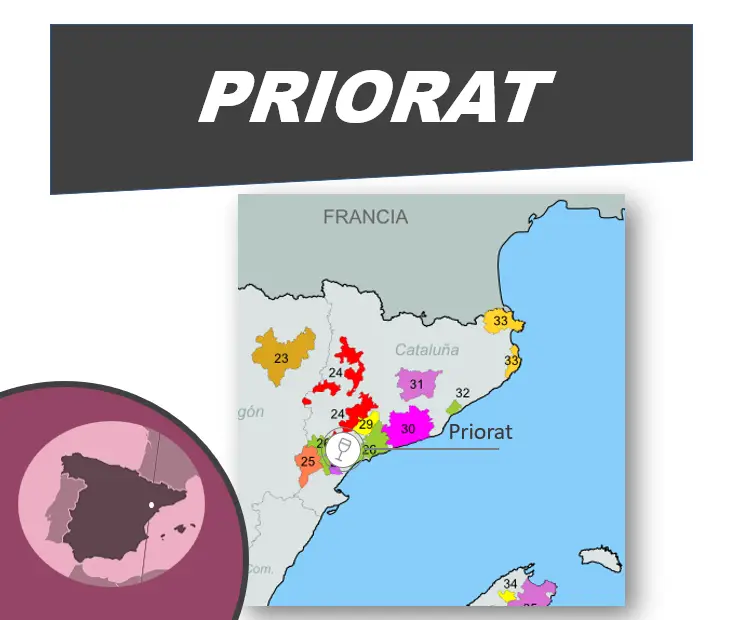 Why is it Priorat DOQ, not Priorat DOC?

Catalonia has a distinct identity from the rest of Spain. Home to the thriving city of Barcelona, the Catalans take pride in their cultural heritage and speak Catalan, not Spanish.
As such, the Denominación de Origen Calificada (DOC) that marks Spanish wines from Rioja, shifts to Denominació d'Origen Qaulificada in Catalan. You'll find that some producer labels are almost entirely in Catalan.
Wines with identity sell.
These producers have a distinct sense of origin and embrace their identity.
Brief History of Priorat Winegrowing
The Carthusian monks settled in the region and grew vines back in the late 12th century. Like many regions in Spain, the wine culture spread and continued up until phylloxera devastated vineyard holdings in the late 1800s. 
The phylloxera blight coincided with industrialization.
Once the preventative cure for phylloxera was established, the region lacked a ready labor force to re-plant at scale because many farmers had moved to Barcelona.
As a result, the region remains relatively small. 
The local growers knew that to increase sales, they would need to promote the region on a national scale. They petitioned the Ministry of Agriculture, which officially recognized the Priorat in 1932. 
Fast forward to the 1980s, and a new generation of winemakers relocated to the area hoping to craft wines of merit, recognizing the unique terroir and growing climate in Priorat.
A mere 20 years later, the Catalan government awarded Priorat the highest classification in Spain: DOQ. This was followed by national recognition in 2009. 
How Does Priorat Wine Classification Work?
The growers of Priorat haven't settled with DOQ status, and have been busy working to further distinguish their wines.
In a nod to Burgundy, the region officially approved "El Noms de La Terra", or the names of the land, in 2019. 
Each category requires that the wines be estate-owned (the winery owns the grapes), or under long-term contract with the grower. The wines must contain a minimum of 60% Garnacha Tinta and/or Samsó.
Here are the five categories of Priorat wine classification, lowest to highest:
DOQ Priorat: Grapes sourced anywhere in Priorat
Vi de Vila: Grapes sourced from within a village boundary, 90% of the vines are at least 10 years old; the remaining vines are at least 5 years old, maximum yields are 5,000 kg/ha, wines must be a minimum of 60% Garnacha/Samsó.
Vi de Paratge: Similar to a lieu-dit, or named site, these grapes come from a designated growing site, 90% of the vines are 15 years or older, the remaining are at least 5 years old, maximum yields are 4,000 kg/ha, wines must be a minimum of 90% Garnacha/Samsó. As of this writing, there are 459 paratges.
Vinya Classificada: Single vineyard wines, 80% of the vines are at least 20 years old, the remaining vines are at least 5 years old, traceability for a minimum of 5 years, maximum yields are 4,000 kg/ha, wines must be a minimum of 60% Garnacha/Samsó.
Gran Vinya Classificada: Similar to a Grand Cru, grapes are from a single vineyard, 80% of the vines are at least 35 years old, the rest are at least 10 years old, traceability for a minimum of 5 years, maximum yields are 3,000 kg/ha, wines must be an impressive minimum of 90% Garnacha/Samsó.
Only one wine is currently a Gran Vinya Classificada designee: L'Ermita, made by Alvaro Palacios.
The consejo set a standard for the term 'old vines' used on a label. You'll see this as 'Vinyes Velles'. The vines must be a minimum of 75 years old, or planted prior to 1945.
What's the Growing Climate in DOQ Priorat?
Priorat is a special place to grow grapes, claiming a Mediterranean climate with continental influences. The vineyards are protected from the Cierzo winds by the Montsant mountains that cradle the region.
The wind does, however, cause moisture evaporation in the vineyard which leads to drastic temperature changes. This helps preserve acidity while allowing the late-ripening Grenache and Carignan to fully ripen.
What's Priorat's Special Soil: Llicorella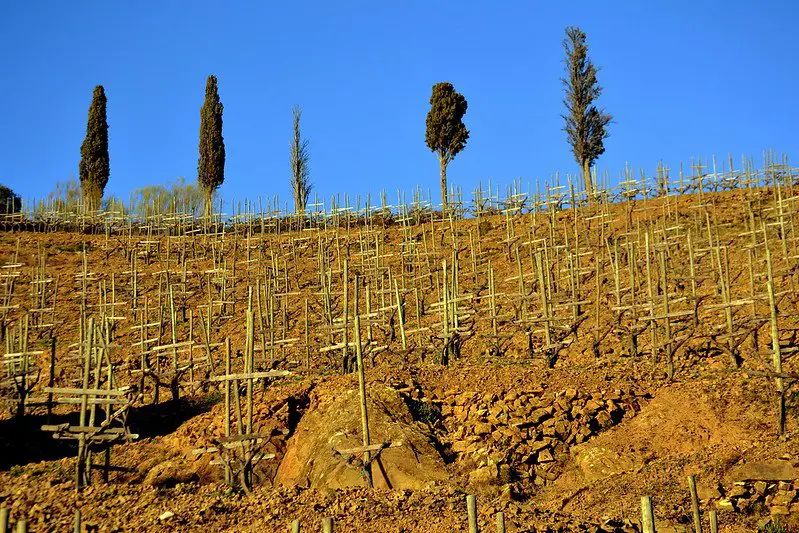 For quite a while, I was confused about whether llicorella (liquor-ella) was a shale or a slate. It turns out that llicorella is a part of the metamorphic family, and the soil's in a state of transition, so may be referred to as a shale or a slate depending on who you reference. The soil starts out as a shale, then will morph into a slate and finally into schist – though not in my lifetime!
Copper-colored llicorella soil is poor in organic matter, shallow, and breaks apart easily at the surface. The vine's roots must dig deep into the soil for water and nutrients.
This effort increases the wine's final intensity.
Wines grown on llicorella are said to have distinct minerality and power.
What Red Wines Are Made in DOQ Priorat?
95% of all wines made in Priorat are red.
The principal grapes, Grenache and Carignan/Samsó, serve as the main grapes used for DOQ Priorat wines. International varieties, like Cabernet Sauvignon, Cabernet Franc, Pinot Noir, Merlot, and Syrah, are also permitted by the local consejo regulador (authorities).
Tempranillo, the famous Spanish grape more at home in Rioja than Priorat, is grown in the region, and goes by the name Ull de Llebre (which translates to eye of the hare), in keeping with the grape's many monikers within Spain. 
Helpful Tip: Here's a complete guide to Tempranillo wines, and another guide just on Grenache wines.
What Do Red Wines from Priorat Taste Like?
Red wines from Priorat are made from similar grapes as those wines from the southern Rhone Valley. 
If you enjoy Grenache-based wines with a firm backbone, then you should absolutely seek out the Priorat DOQ label. Grenache gives red fruit to the wine, while Carignan brings black fruit to the mix; both add layers of silky complexity.
I also find that the wines have a spiciness to them thanks to the Carignan.  
Expect red wines from Priorat to have high alcohol, often well above14% ABV. This stems from the long growing season needed to ripen both Grenache and Carignan. 
Those warm growing days filled with grapes basking in the sun add up to impressive wines worthy of any dinner table. 
Thirsty for More?
Check out this post on Spanish red wines you must try, and a delicious dive into Spanish white wines as well.
Hosting your own wine tastings at home? I highly approve. Here's a comprehensive list of wines that I put in the order you should taste them. Find your wines and sip away! It's that easy.