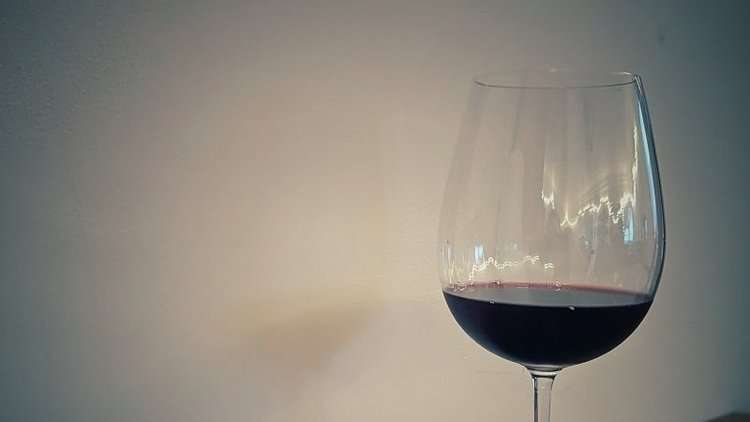 Every wine lover lives to discover something new, so imagine my delight when I uncorked a new-to-me bottle of Baga. What is Baga wine?
Baga is a Vitis vinifera grape variety with small, thick-skinned purple berries. The word baga means 'berry', and the variety grows widely in the coastal Bairrada region of central Portugal. Today, innovation and experimentation in winemaking mean that Baga wines can be vinified into refreshing rosés, light and fruity reds, or even bold, tannic blockbusters. 
Baga Grape History
Baga has long been cultivated in Central Portugal – going back at least to the 1600s, where it may have originated in either the Bairrada or neighboring Dão regions.
Port producers would actually sneak the little grape up the coast to blend into their Port to increase volume and help satisfy commercial demand. 
Fun Baga Fact: Baga is the primary grape used in Mateus Rosé, an iconic wine brand that helped popularize wine-drinking across much of the United States and Europe post World War II, and once accounted for a whopping 40% of Portugal's wine exports.
The Portuguese wine tradition is blend-heavy. Winemakers have long selected grapes from different varieties and vineyard plots. Like other Portuguese varieties, Baga's played a starring role in blends to bulk up bulk wines.
But unlike most other Portuguese grape varieties, Baga also has a history of being one of the few grapes used to craft stunning, single-varietal Portuguese wines.
Where are Baga grapes grown?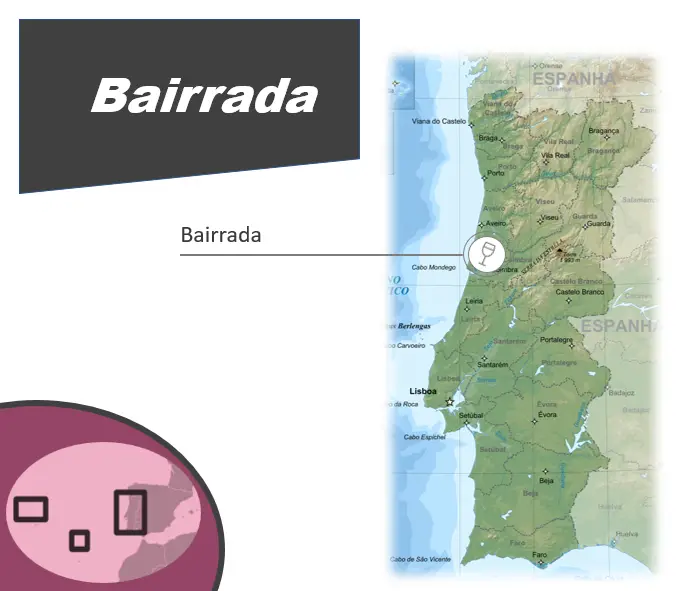 Baga grapes originated somewhere in central Portugal. Ampelographers (researchers who study wine grape origins) aren't quite sure where, exactly.
Genetic sequencing tells us that Baga is a child of Malvasia Fina, another Portuguese grape variety – which is today used in white port and Madiera wines.
Today, it's the most widely planted red grape in the Bairrada region. Bairrada enjoys a maritime climate that can experience rain throughout the growing season.
The grape variety is resistant to powdery mildew (a good thing in a wet climate), but can still be affected by late fall rains that threaten the overall quality of the grapes.
Outside of Bairrada, you can find Baga grapes grown in the Dão, and other regions within Portugal as well, but Bairrada remains its spiritual home.
Baga isn't listed in the California Crush Report, even under 'Other Reds', so you're unlikely to find it in the US as a domestic label.
Baga in the Vineyard
Similar to Carignan, Baga is a high-yielding grape in the vineyard. This means that grapes from Baga can be used for inexpensive bulk wines because of their bountiful crops. If yields are closely managed, winemakers can craft higher quality wines with greater structure and intensity. 
What is Baga wine like?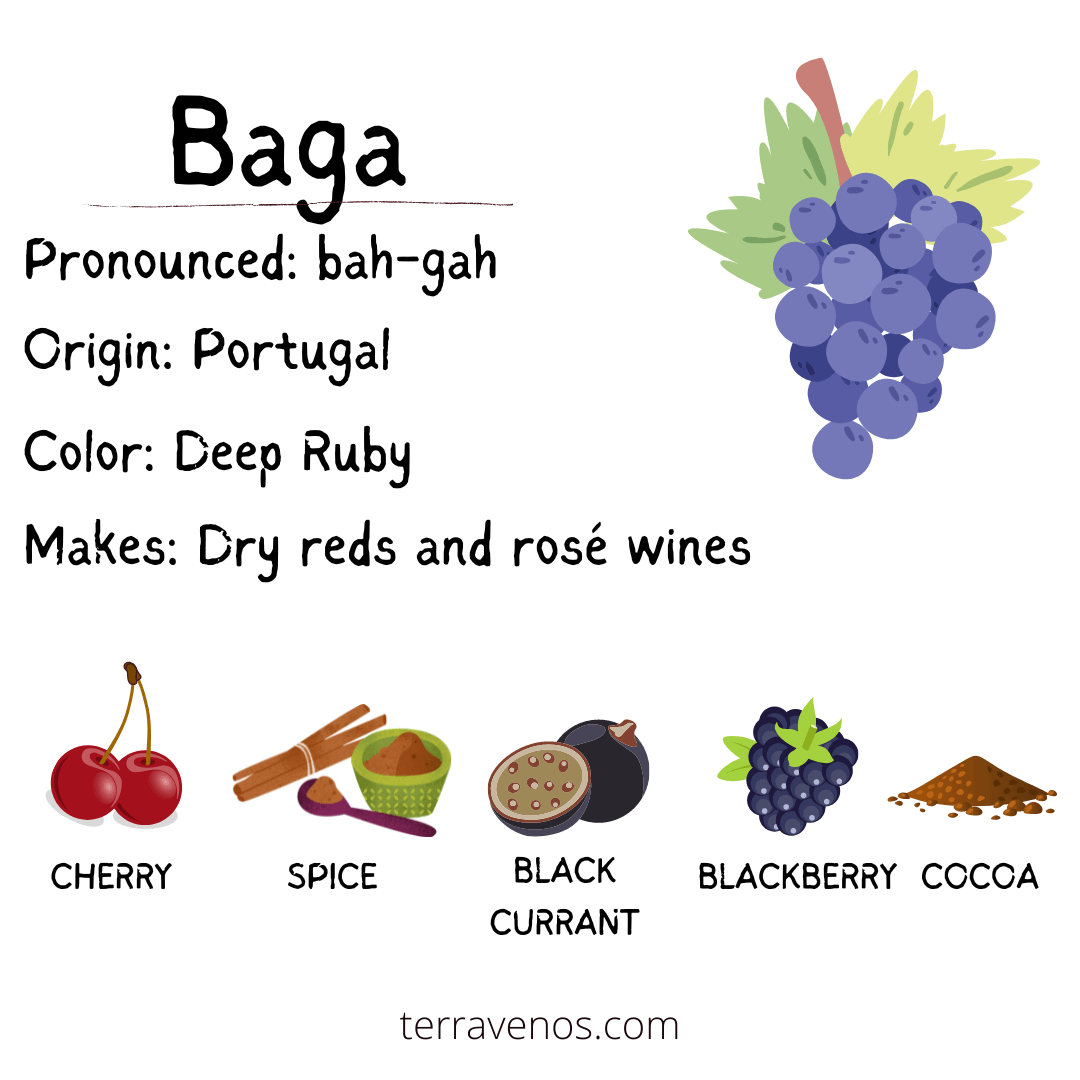 Baga is not a grape for the faint of heart.
Underripe Baga berries ferment into tannic and acidic wines. When I asked about the grape in my WSET Diploma coursework, the instructor emphasized that everyone should try Baga wines because they are so bitingly tannic.
"More tannic and acidic than Tannat and Nebbiolo?" was my question. To which he replied yes – even more so. 
How is that even possible?
Baga grapevines need a long dry growing season to reach full ripeness. 
The grape clusters can be susceptible to fungal disease in the vineyard, which means that viticulturists need to balance delaying harvest until the berries reach the desired flavor and tannic ripeness with the threat of fall rains which, if they do get caught out in the rain, can lead to rot, berry burst, and diluted flavors.
Baga has naturally high acidity, similar to Nebbiolo. Growers use this to their advantage to delay harvest late into the season allowing the grapes to ripen fully without fear of the final wine losing its freshness or coming off as flabby and jammy. 
If they harvest too early, the wines can be harsh.
To mitigate risk, producers can pick a part of their crop early, bringing in less-ripe berries, and opting to leave the remainder of the crop in the vineyard to ripen fully.
The flip side is that they may just end up with a partial crop of under-ripe berries if the weather changes and the grapes in the vineyard suffer rain damage.
Farming is a risky business.
What grape is Baga similar to?
Baga produces a wide range of styles, meaning that some experimentation is in order if you want to truly appreciate its potential.
Baga Rosés: As a rosé wine, Baga makes a light, refreshing wine style with juicy strawberry, cherry, cranberry, and maybe even candied red fruits. These wines may be dry or off-dry. Drink now. Don't age.
Light-bodied Baga Reds: Baga made into a lighter-bodied red wine may be crafted using semi-carbonic maceration to enhance the red cherry and cinnamon notes in the wine. The winemaker may limit the time the wine spends on the grape skins, reducing color and tannin extraction to keep the wine softer and more approachable. If you find this style of Baga wine, it's not unsimilar to a fruit-forward Pinot Noir. 
Full-bodied Baga Red: Baga wines made in a full-bodied style will have time on skins to extract color and tannin. The berries may be small, but the skins are thick – producing inky wines. These will be big bold bottles, the Nebbiolo of Portugal. They will likely have time on oak to help soften and integrate the flavors and tannins.
Where to purchase Baga wine?
Baga is a specialty wine. If you have a wine shop that carries a solid collection of Spanish wines, you may have luck with them. I've also seen Baga on wine lists at Spanish restaurants. You're unlikely to find Baga wines at a mainstream wine shop. 
Your best option is to seek out an online wine retailer.
Baga Wine Is Budget Friendly
Even the highest quality wines made from Baga come in at attractive price points. Age-worthy wines from top producers fall in the affordable $25 to $35 USD range – and that's an imported wine!
Yum!
Baga, Wine, Portugal
Producers in the region have taken to experimentation, shining a spotlight on the grape.
Better viticultural science married with a wide range of winemaking techniques means that the wines coming from the region aren't just refreshing on the palate, they're refreshing to those seeking out novelty with their wine sipping. 
Today, Baga is enjoying something of a moment.
Wines made from this little grape offer an alternative to mainstream Cabernet and – to a lesser extent – even Nebbiolo. 
Not only that, but the region's producers have tapped into the increased demand on the export market for unique wine varietals. 
Wine enthusiasts eagerly seek out lesser-known wines from obscure grapes.
Baga fits this profile: 10/10.
How to Serve Baga Wine
Serve full-bodied Baga wines at room temperature, just like a Cabernet Sauvignon or Merlot. This is not a cocktail wine; you'll want something to eat with it.
Serve lighter-bodied Baga wines at slightly below room temperature. Put the bottle in the fridge for about 15 minutes, then uncork.
Food for Baga Wine
Enjoy Baga Rosé with light dishes. This wine will pair well with grilled seafood, salad, and Asian fusion cuisine.
Enjoy light-bodied Baga with roasted chicken, roasted pork, or grilled white meats. This wine will pair well with risottos, mushroom-based dishes, and grilled vegetables.
Enjoy full-bodied Baga with roasted or grilled red meats. You'll want to serve this wine with well-seasoned foods that are savory and rich on the palate so that the tannins and acid cut through them, enhancing the dish.
Baga Case Study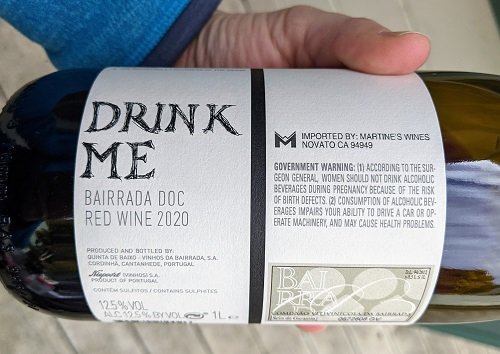 Drink Me Nat'Cool (2020) $20USD (1 Liter)
Producer: Dirk Niepoort
Appearance: Medium Ruby
Medium (+) aroma intensity: cranberry, red cherry, watermelon, red licorice, violet, kirsch
Dry Medium alcohol
Medium (+) acidity
Medium body
Medium (-) tannins – slightly chalky
Medium (+) intensity on the palate – red fruit, candy cherry – oh the cherry!
Medium finish
Made from 100% organic grapes sourced from 80+-year-old vines, this Baga wine is crafted by Dirk Niepoort, one of Portugal's most talented winemakers.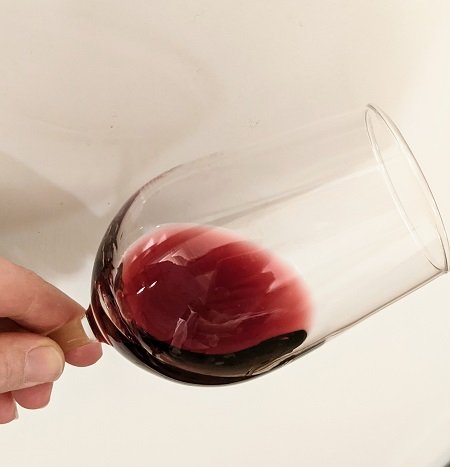 This is a good, friendly wine. No oak, only stainless steel, and a wild fermentation to drive the wine's style. The bright acidity plays well with a charming juice red fruit profile. Candy cherry notes à la Jolly Rancher point to carbonic winemaking. Fresh. Fresh. Fresh. This style of wine will pair well with a range of dishes. I imagine a rice pilaf, couscous, lamb, chicken tacos, or tuna casserole – plays well with others.
The wine will hold with the acid level and potentially build complexity with dried fruit qualities, but it's really intended to be enjoyed young.
Did you notice that it comes in a 1 L bottle, not the standard 750 mL?
Bargain.
Serve lightly chilled and don't hold back!