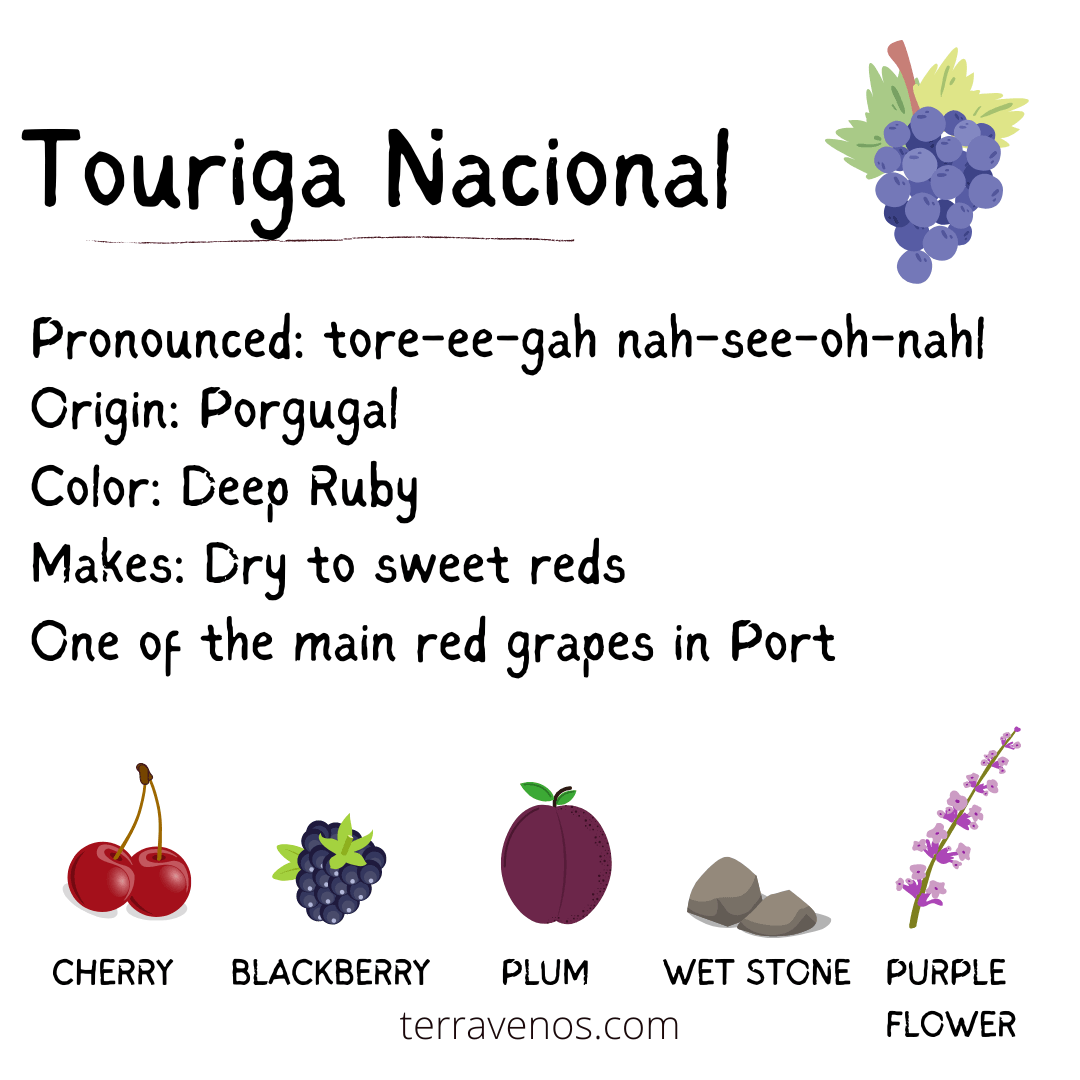 Pronounced: tore-ee-gah naw-see-oh-nahl
If you're holding a bottle of Touriga Nacional right now, please invite me over. Seriously. 
Touriga Nacional is a black wine grape native to Northern Portugal. Winemakers use Touriga Nacional as a main blending grape in age-worthy sweet fortified Port wines, as well as fine dry red table wines. Touriga Nacional wines are inky black, full-bodied, tannic, and concentrated with red and black fruit and floral aromas.
Here's what you need to know about the powerful, Touriga Nacional red wine.
Where Is Touriga Nacional Wine From?
Portugal's blessed with incredible genetic diversity when it comes to native grapes, and Touriga Nacional has emerged as the most famous red grape variety used in Port.
Researchers believe the variety is from the Dão region and it's grown widely there and in the Douro region.
Portugal's Dão is landlocked, surrounded by mountains that protect vineyards from Atlantic storms.
Vineyard soils are mainly granitic, and they sit at some altitude between 200 – 1000 meters (655-3,280 feet). Thanks to the region's relative isolation, the Dão managed to hold off phylloxera while the neighboring Douro vines withered and died.
Grapes from the Dão, including Touriga Nacional, were used to supplement shortages through the phylloxera crisis as farmers replanted their vines.
Fun Fact: Phylloxera is a vicious, vine-eating mite that wiped out Europe's grapvines in the early 1900s. If you hang around wine people long enough, you'll hear about this evil blight. Check out this post that's a peek into what phylloxera is and why it's important.
Today, Touriga Nacional grapes are cultivated throughout Portugal to make dry red wines.
Is Touriga Nacional the Same as Tempranillo?
Touriga Nacional isn't the same grape or the same wine as Tempranillo, but the confusion is understandable.
Tempranillo, the signature red grape of Portugal's neighbor, Spain, does grow throughout Portugal, including in the same areas as Touriga Nacional, the Dão and Douro.
In Portugal, Tempranillo goes by the name Aragonez, a nod to its Spanish origin.
Helpful Tip: Here's a complete guide to Tempranillo wines just for you.
What's the difference between Tempranillo and Touriga Nacional?
| Criteria | Touriga Nacional | Tempranillo |
| --- | --- | --- |
| Body | Full-bodied | Lighter |
| Color | Deep, dark | Light |
| Tannin | High | Higher end for dry red table wines |
| Fruit Profile | Red and black fruit, cherry, blackberry, plum, purple flower, wet stone | Red fruit (raspberry, cherry), cedar, tobacco, dill |
| Additional Notes | Suitable for aging for decades | Spice and leather |
| Common Use | Principal grape in high-quality Port wines | Dry red table wines |
| Origin | Portugal | Spain |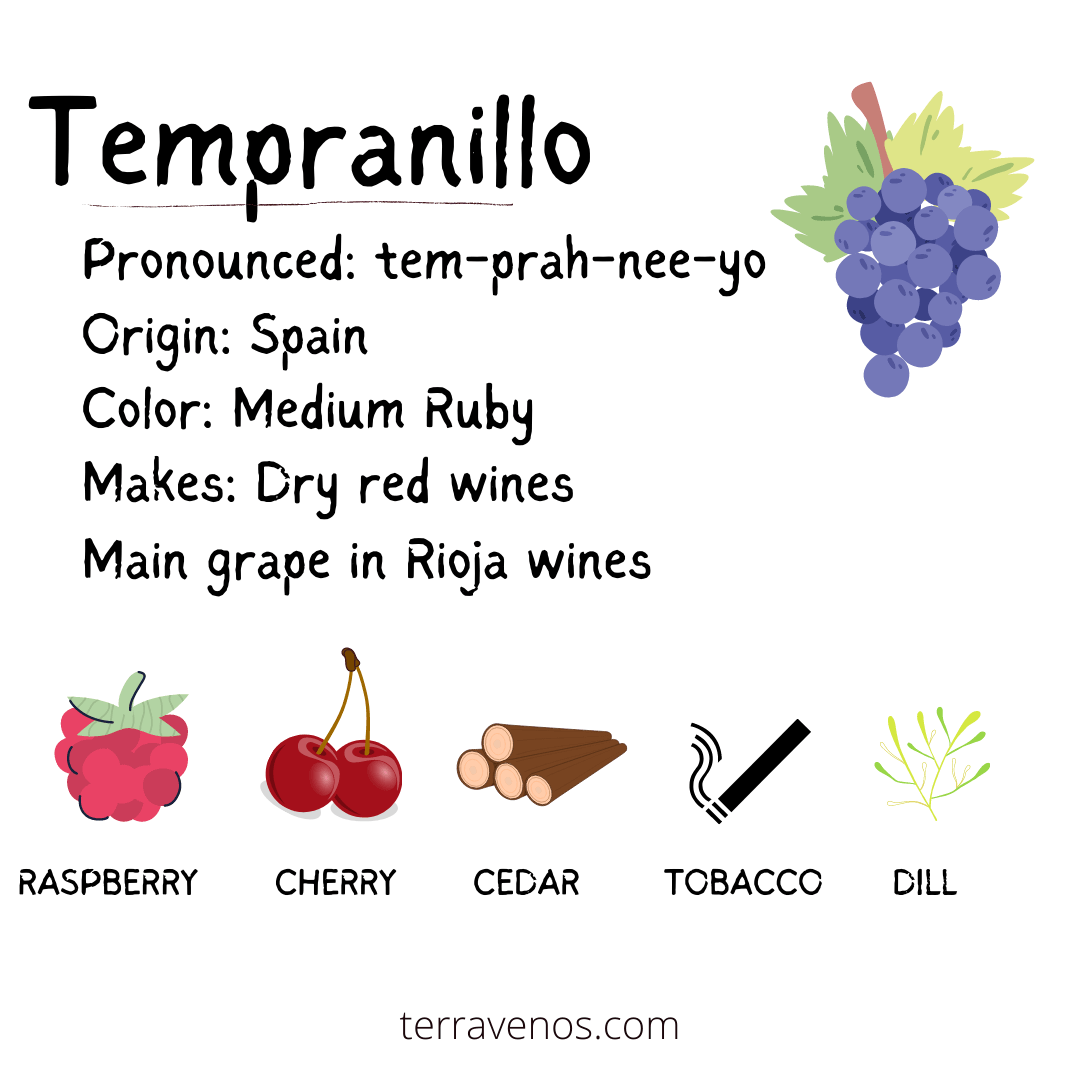 Touriga Nacional vs Tempranillo are night-and-day together.  Tempranillo makes wines that are lighter in body, color, and tannin (though still at the higher end for dry red table wines) than Touriga Nacional. Tempranillo tends to forefront red fruit, including cherry and plum, as well as fig, along with spice and leather.
Touriga Nacional is a full-bodied blockbuster that makes deep, dark wines with red and black fruit. It's this profile that allows it to age for decades as one of the principal grapes in high-quality Port wines.
What's Touriga Nacional Like in the Vineyard?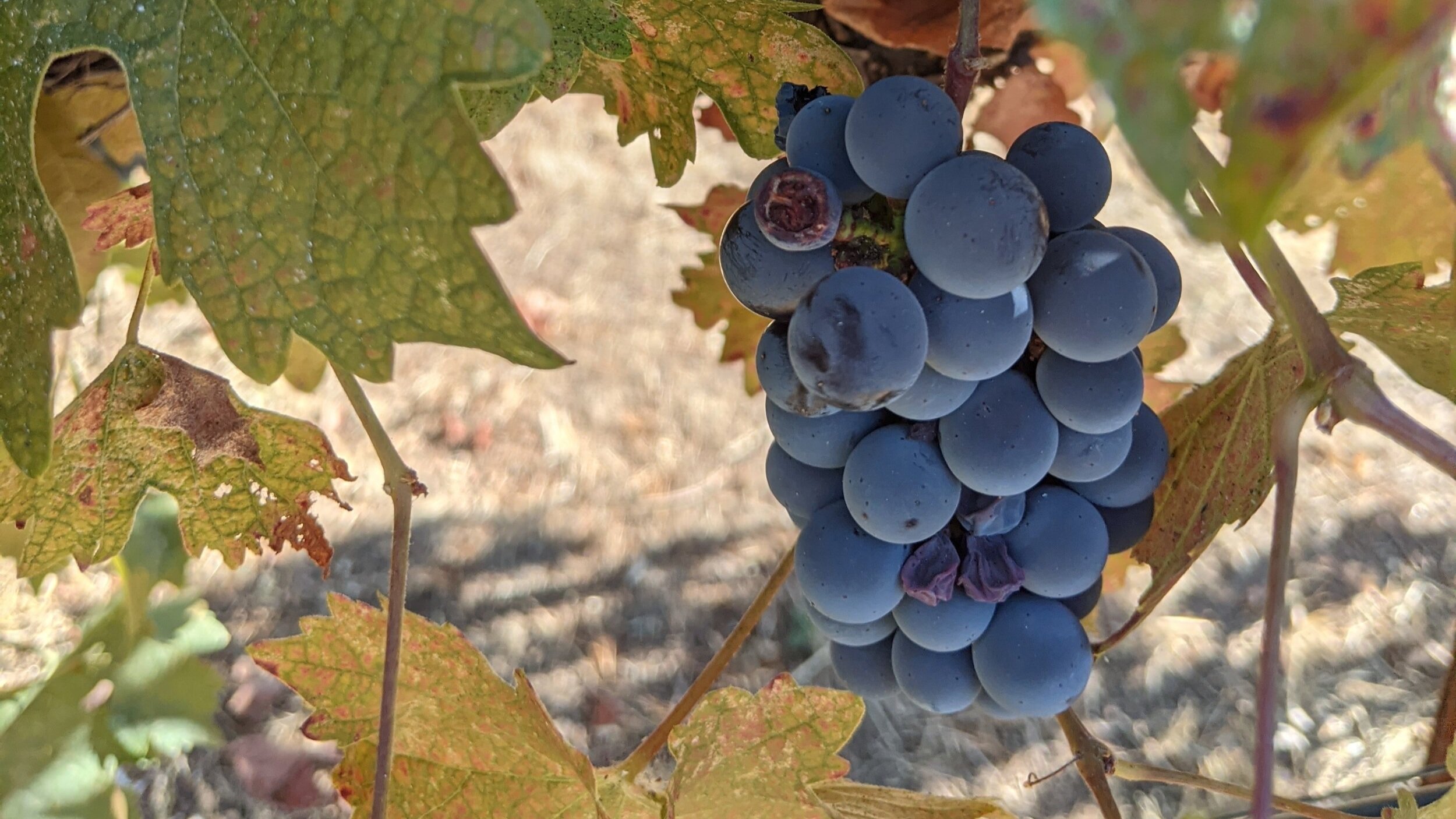 Touriga Nacional grapes are vigorous but susceptible to coulure (shatter) that can cause significant crop loss.
This happens with inclement weather at exactly the same time when the flowers bloom causing them to go unfertilized (and thus no berries). 
Unfortunately, viticultural challenges meant winegrowers were disinclined to cultivate the vine. Why work a vine if you're uncertain you can get a crop off of it? Touriga Nacional ALMOST went extinct in the mid-1900s because of these challenges. 
Advances in viticultural science in the last 70 years have led to better Touriga Nacional grape clones with more reliable crops.
Touriga Nacional has small berries with thick skins that help with color, tannin, and flavor concentration. What's not to love about those qualities?
Today, Touriga Nacional grapes have become a leading variety throughout Portugal crafting wines of national pride.
What Type of Wine Is Touriga Nacional?
Touriga Nacional makes dry, full-bodied red table wines. This is a wine that will stain your teeth purple and begs for rich food pairings. It's not a cocktail wine or solo-sipper.
The grape tends to make high-alcohol wines above 14% ABV, so be mindful with your pours. In addition to dry red wines, Touriga Nacional is one of the main blending grapes used to make quality, ageable red Port, like Vintage and Age-indicated Ports.
What Is Touriga Nacional Similar To?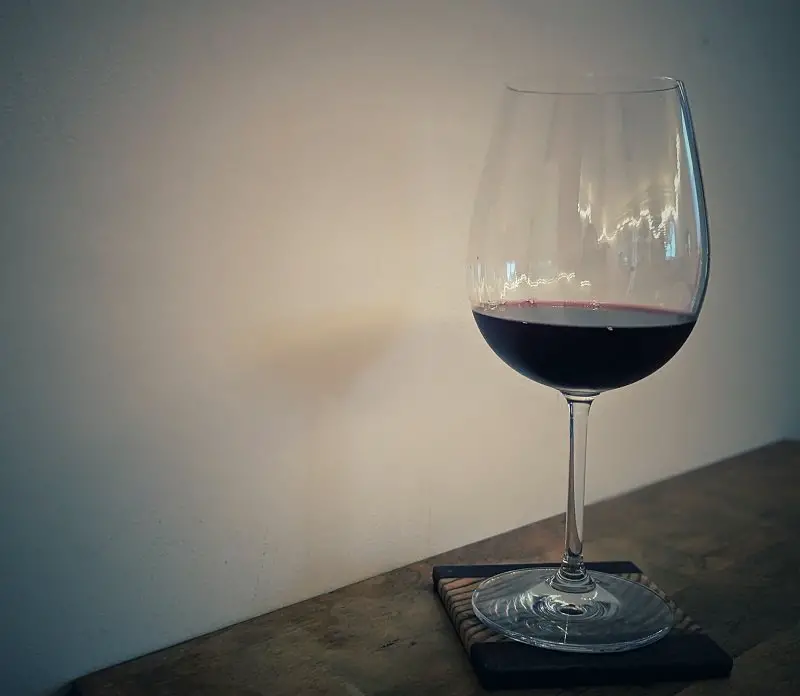 Wines made from Touriga Nacional are powerhouse reds. Touriga Nacional red wines are similar to full-bodied Syrahs and warm region Cabernet Sauvignon in terms of tannin, body, and alcohol.
Unlike Cabernet, you won't find mint, herb, or green notes in Touriga Nacional wines. The flavor profile for fruits is similar to a Malbec, but you'll find the body, alcohol, and tannin much higher than your standard Malbec. 
Helpful Tip: Do you love bold, teeth-staining red wines? If so, then I put together this quick post on 11 strong red wines you need to check out.  See if you already know them all.
Touriga Nacional definitely makes the list of full-bodied, age-worthy red wines that you'll want to check out for your cellar.
You can find single variety bottles of Touriga Nacional from the Dão and Douro regions of Portugal.
Is Touriga Nacional Sweet?
Touriga Nacional can be made into a fully dry red wine or a lusciously sweet fortified wine with Port.
Where Does Touriga Nacional Grow?

Obviously, Touriga Nacional grows throughout Portugal, but its value as a grape capable of making structured, full-bodied wines, means this little grape is planted around the world.
Today, you'll find Touriga Nacional in Australia, South Africa, and California. 
Locally in California, I've found it growing in South County, Monterey, El Dorado, and Paso Robles, though I'm sure it's cultivated around the state thanks to its suitability for hot, dry conditions. 
How Much Does a Bottle of Touriga Nacional Red Wine Cost?
Portugues table wines are excellent quality for value thanks to being less well-known than their French, Italian, and Spanish cousins. 
Expect to pay between $12 and $20 USD for a solid quality bottle of dry red Touriga Nacional wine. 
For high-quality bottles of Touriga Nacional that you'll be able to cellar, be prepared to pay between $30 and $50 USD.
Personal Note: If I had a $50 budget and my choices were a $50 Napa Cabernet or a $50 Portuguese Touriga Nacional, I'd pick the Touriga Nacional every time.
What Foods Pair with Touriga Nacional Red Wine?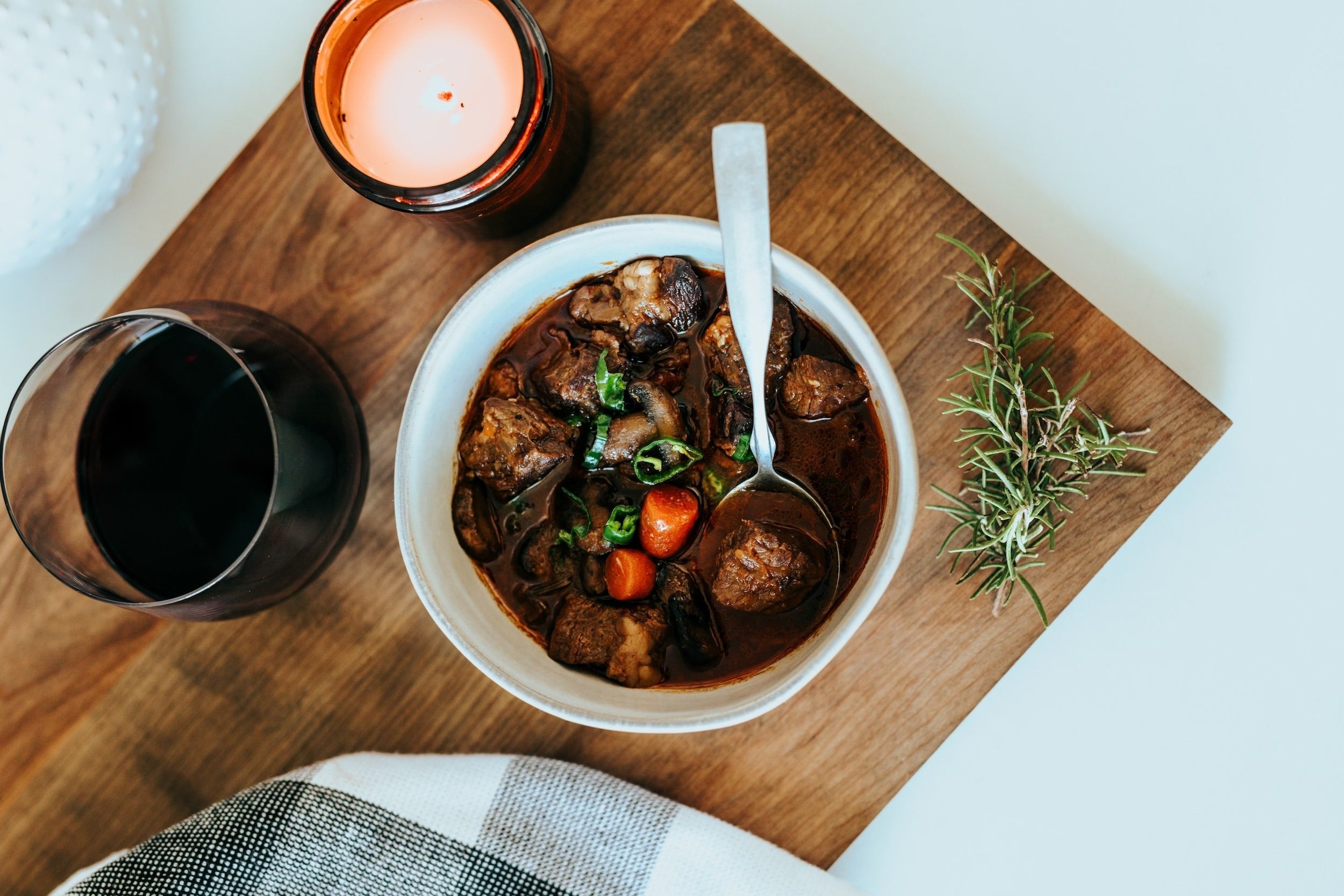 If you're looking for Touriga Nacional food pairing ideas, then here are a few to get you started:
Smoked Meats
Rich Stews
Hard Cheeses
Blue Cheese
Spice-rubbed Pork Loin
Philly Steak Sandwiches
Meatloaf
Squash Soup
Roast Carrot Soup
Pasta Bolognese 
Roasted almonds
Remember, this is a full-bodied, tannic wine.
You're going to want to pair it with foods that have fat and protein, be it meat, olive oil, cheese, or nuts. The fat and protein in the food will help bind with the concentrated tannins in Touriga Nacional and keep your mouth feeling fresh, instead of puckered and dried out. 
Helpful Tip: If you're just getting started out with wine, I put together this helpful overview of food with wine pairing to get you started. Side note – I spend just as much time thinking about food with wine pairing as I do deciding what I'm going to eat every night. Utter hedonism. What can I say?
Where to Buy Touriga Nacional Wines? 
You won't find Touriga Nacional wines at your mainstream grocery store or everyday bottle shop. Unfortunately, the grape doesn't have the same name recognition as 'Cabernet Sauvignon'. So, you'll need to go to a specialty wine shop or look online for Touriga Nacional wines (if you live where you can ship wines). 
You'll want to go to the 'Portugal' section of the store.
You may actually find a range of dry red Portuguese wines without any grape names on the front of the label.
This is because Portugal has a long winemaking tradition of crafting blended wines – and, let's face it, not many people outside of Portugal who are non-wineos know the names of Portugues grapes are, so why waste the label space? (Esgana Cão, anyone?)
Pick up a few bottles of Portuguese red wine and read the backs of the labels.
It's almost guaranteed that Touriga Nacional will be one of the principal grapes in Portuguese red wine blends, especially if the is from the Dão or Douro regions. 
Thirsty for More?
Go check out that post on 11 strong red wines if you're curious to discover something new!
Looking for random and different wine advice? Here's a quick post on why you should hold your wine in your mouth.