Everyone loves the story of an underdog. An endurance trial to come back against all odds, winning favor and acclaim.
Malbec (pronounced Mal-beck) is the underdog of wine.
Once a widely-planted grape throughout France, this grape suffered catastrophic losses in the mid-20th century due to frost damage and was left by the wayside. But across the Atlantic in Argentina, clones brought over in the mid-1800s thrived, and Malbec quickly rose to prominence thanks to its inviting profile and a thirsty export market.
Here's what you need to know about Malbec wines.
Will You Like Malbec?
If you enjoy Zinfandel, Merlot, or Shiraz, then you'll probably love Malbec's warm black and blue fruit and soft spice.
If you're familiar with Mourvedre, then you'll find Malbec similar in weight and winemaking style.
In short, if you like hearty red wines, then yes, you'll like Malbec.
What Does Malbec Taste Like?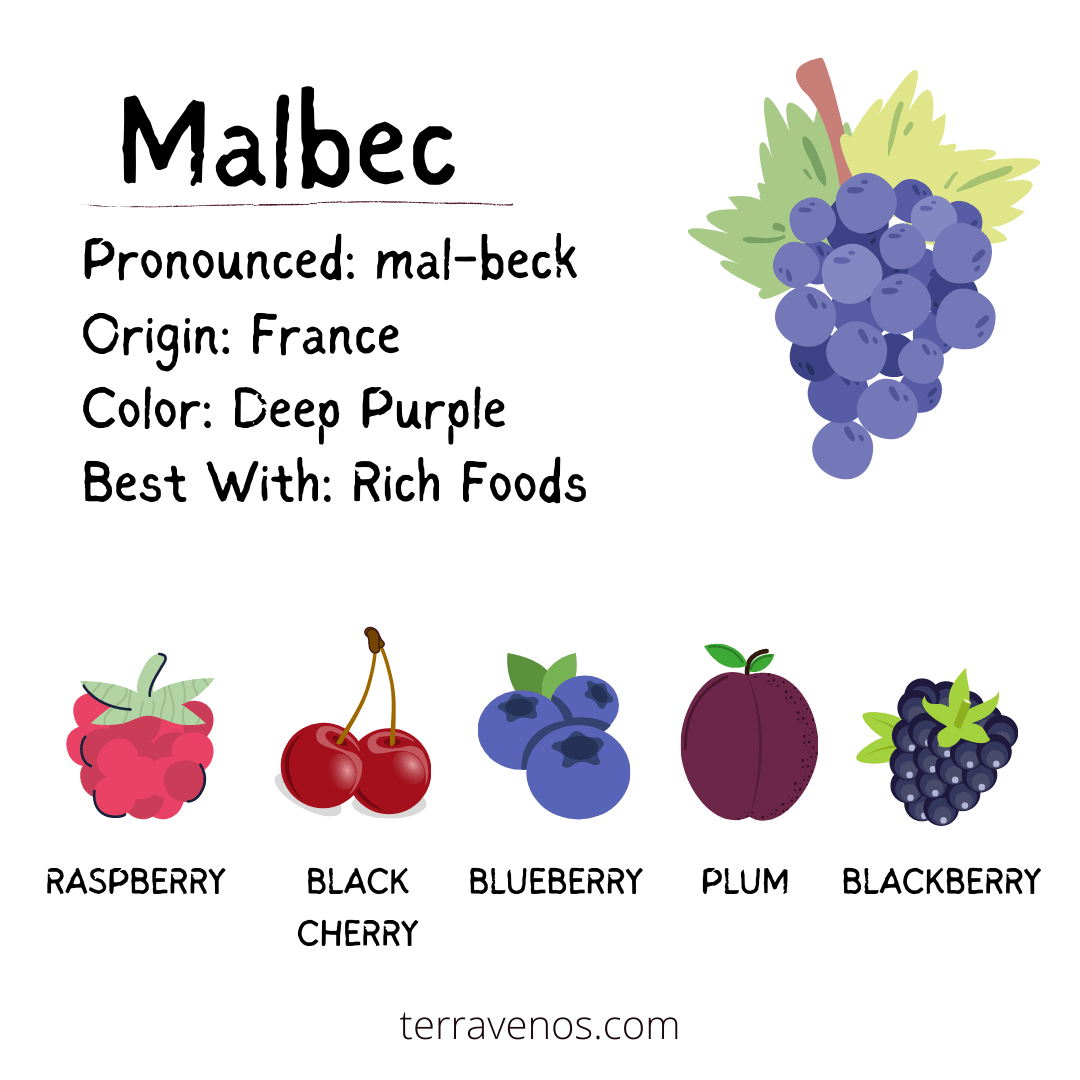 Malbec offers up an alternative to Cabernet Sauvignon. Classic Malbec makes an inky purple wine with ample plum and a firm tannin structure and a full body. 
You'll find two distinct styles of Malbec:
Restrained Malbec with lower levels of alcohol and crunchy red fruit with higher levels of acidity. The tannins may be stemmier. These wines come from cooler growing sites. 
Fuller-bodied Malbec with higher levels of alcohol and jammy black fruits. These wines come from warmer growing sites and may have a softer tannin profile.
It's common for producers to blend Malbec from different vineyard sites to increase the wine's complexity and craft more elegant wines that balance warmth and power with restraint and finesse.
Oak and Malbec
Malbec wines, like Cabernet Sauvignon and Merlot, benefit from oak. Higher quality Malbecs may spend upwards of 12 months on oak, developing notes of spice, cocoa, mocha, toast, and smoke to create a depth of flavors that compliment the wine's black and blue fruits.
Less expensive Malbecs around the $10 USD price range usually see less than 6 months on oak or rely on oak chips and staves to infuse spice qualities.
Is Malbec Dry or Sweet?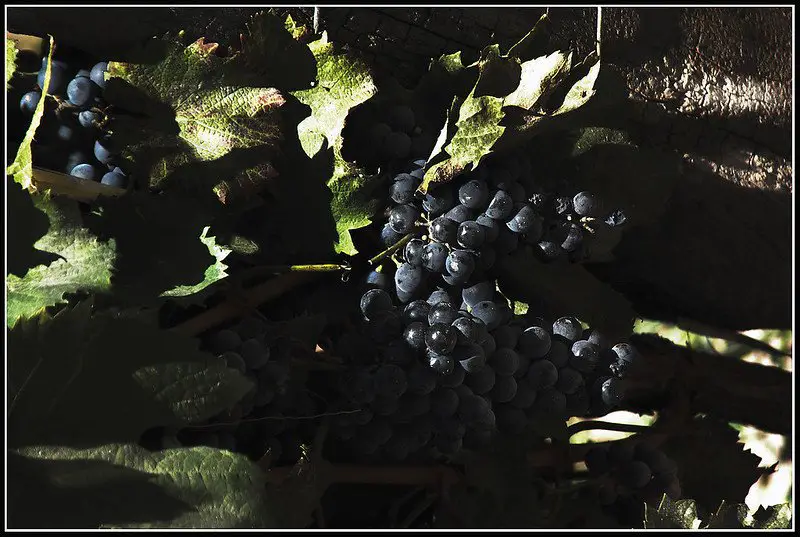 Malbec is a dry red wine, but some producers will craft off-dry styles. You may not be able to tell your Malbec is off-dry, but a rich, full-bodied, high alcohol Malbec likely has some residual sugar to help balance the wine out and improve the wine's mouthfeel.
Malbec grapes are not traditionally used to make sweet wines, so it's unlikely you'll find a sweet Malbec unless it's from a boutique producer playing with winemaking.
Where Does Malbec Grow?
You'll find Malbec grown throughout the New World, but the grape reigns in two specific countries.
France: Cahors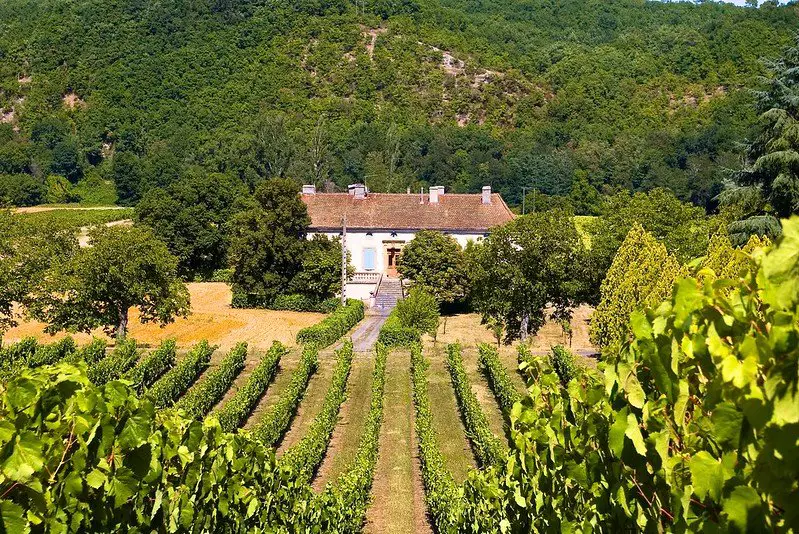 Grape geneticists believe that Malbec probably came from northern Burgundy, but in France, Malbec's associated with Bordeaux and the southwestern region of Cahors.
The grape is one of the permitted varieties in classic Bordeaux wines.
Prior to 1956, the grape was a major blending partner to Cabernet Sauvignon, Merlot, and Cabernet Franc. In 1956, a devastating frost wiped out most of the Malbec vines in the region. Only growers in Cahors replanted to Malbec. 
Today, Cahors has a publicity campaign to project its brand as the original home of Malbec in a bid to win some of the wine's fanbase.
The region's Malbec wines fall into the earthier, more rustic style that grips your mouth and begs for grilled food. 
Discover: Shiraz vs Malbec
Argentina Malbec

While not the birthplace of Malbec, Argentina is the country where Malbec matured and made its debut on the global stage.
The vineyard extremes in elevation translate into higher levels of UV light that help Malbec grapes develop thicker skins and an exuberant, intense fruit profile. 
Argentina has three notable provinces growing Malbec:
Mendoza
San Juan
La Rioja
The best Malbecs in Argentina come from Mendoza, but the range of elevations and vineyard sites means that quality varies.
Grapes grown on fertile Mendoza river valley floor lack the expression and concentration of vineyards sitting at higher elevations, for example from Uco Valley.
San Juan is better known for its quality Syrah than its Malbec, but does produce ample Malbec.
La Rioja enjoys a warmer growing climate than Mendoza and San Juan.
Malbec wines from La Rioja will be jammy and watch out for the alcohol level! These Malbecs are of good, everyday drinker quality.
Argentina's investing significant resources into researching Malbec clones, high elevation viticulture, and the impact of soil differences on the wine's profile.
I expect that we'll be hearing more about this research in the coming years.
Good Argentine Malbec has an almost velvety texture that wraps around the black fruit. These are silky-smooth red wines that burst with juice and spice.
If you're still new-ish to wine, you'll want to start with Argentina's vinos and then tiptoe into Cahor's vin.
You'll find Malbec grown in smaller quantities from:
California
New Zealand
Australia
Chile
South Africa
5 Fun Malbec Facts
Malbec goes by the name Côt in France. 
Malbec is a popular choice for New World Bordeaux-blend style wines.
The clone of Malbec in Argentina has smaller berries than those in France.
Malbec is Argentina's #1 wine export.
Why Is Malbec So Popular?
Malbec's a delicious food wine in its own right, but this vino's rise in popularity is linked to more than just what's in the bottle.
Argentina went through a currency deflation in the early 2000s.
As a result, producers exported Malbec to the US where a strong dollar meant that wine enthusiasts could gulp down high-quality Malbec wines for a pittance (relative to other wines). 
Almost overnight, demand for Argentina's signature grape surged and Americans couldn't get enough of this quaffable vino.
The timing was everything; today, American wine drinkers think of Malbec as a solid, affordable, food-friendly wine perfect for that casual get-together or weeknight bottle.
Is Malbec Expensive?
Malbec's global rise in popularity thanks to a weak currency in Argentina is a double-edged sword.
Malbec lovers expect the wine to be affordable at every quality level, and the wine lacks the historic prestige of classic Bordeaux or Burgundy to command higher prices.
Malbec Pricing Chart
| Category | Price |
| --- | --- |
| Entry-Level | $15 |
| Mid-Priced | $25 |
| Premium | $40 |
This is great news for wine lovers!
All but the most iconic Malbec wines are affordable for regular drinkers.
How to Serve Malbec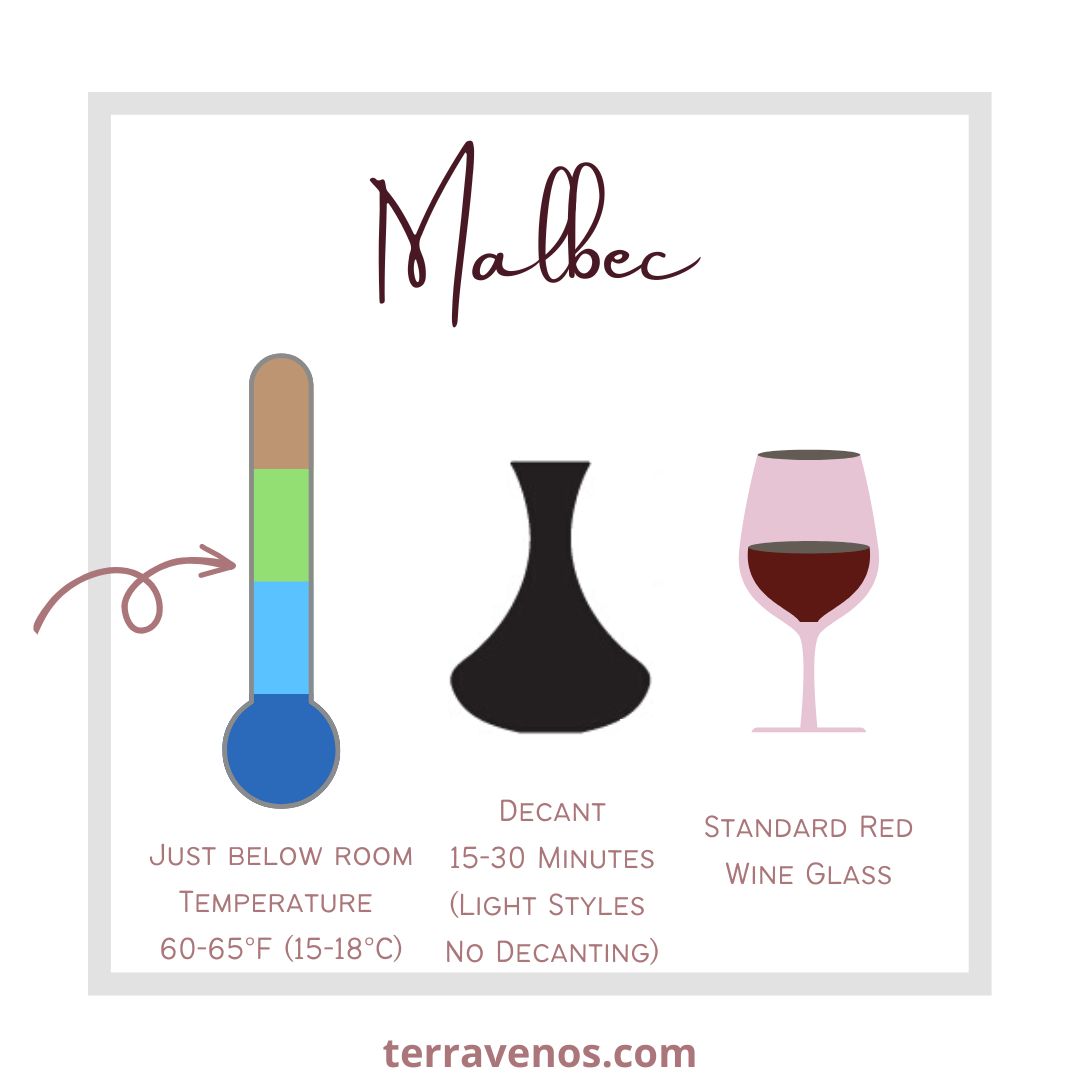 Malbec Serving Temperature
The recommended serving temperature for Malbec is between 60 to 65 degrees Fahrenheit (15 to 18 degrees Celsius). This temperature range allows the wine to express its full range of flavors and aromas.
Malbec's a full-bodied, dry red wine, so you'll want to serve it at room temperature, or even with a hint of a chill – think of a cool room – by putting the bottle in the fridge for 15-20 minutes before drinking the wine. 
Type of Wine Glass for Malbec Wine
You'll want to use a wine glass with a wide bowl that will allow the wine's aromas to evaporate but stay inside the glass while you swirl and smell.
This will allow you to experience Malbec's heady black fruit and warm spice. 
Should I Let Malbec Breathe?
Dry, full-bodied, premium Malbec will benefit from breathing. You can pour yourself a glass of Malbec wine about 20 to 30 minutes before you're going to drink it or use an aerator.
Decanting can also get rid of unwanted sediment.
Less expensive Malbecs are generally pop-and-pour wines, meaning that you shouldn't need to decant them.
As with all wines, if you think that your wine is closed or unexpressive, give your glass a stiff swirl and another sniff to see if that helps lift up those aromas.
Doing a quick swirl test can be a good indicator if the wine needs time to breathe. 
When Should You Drink Malbec?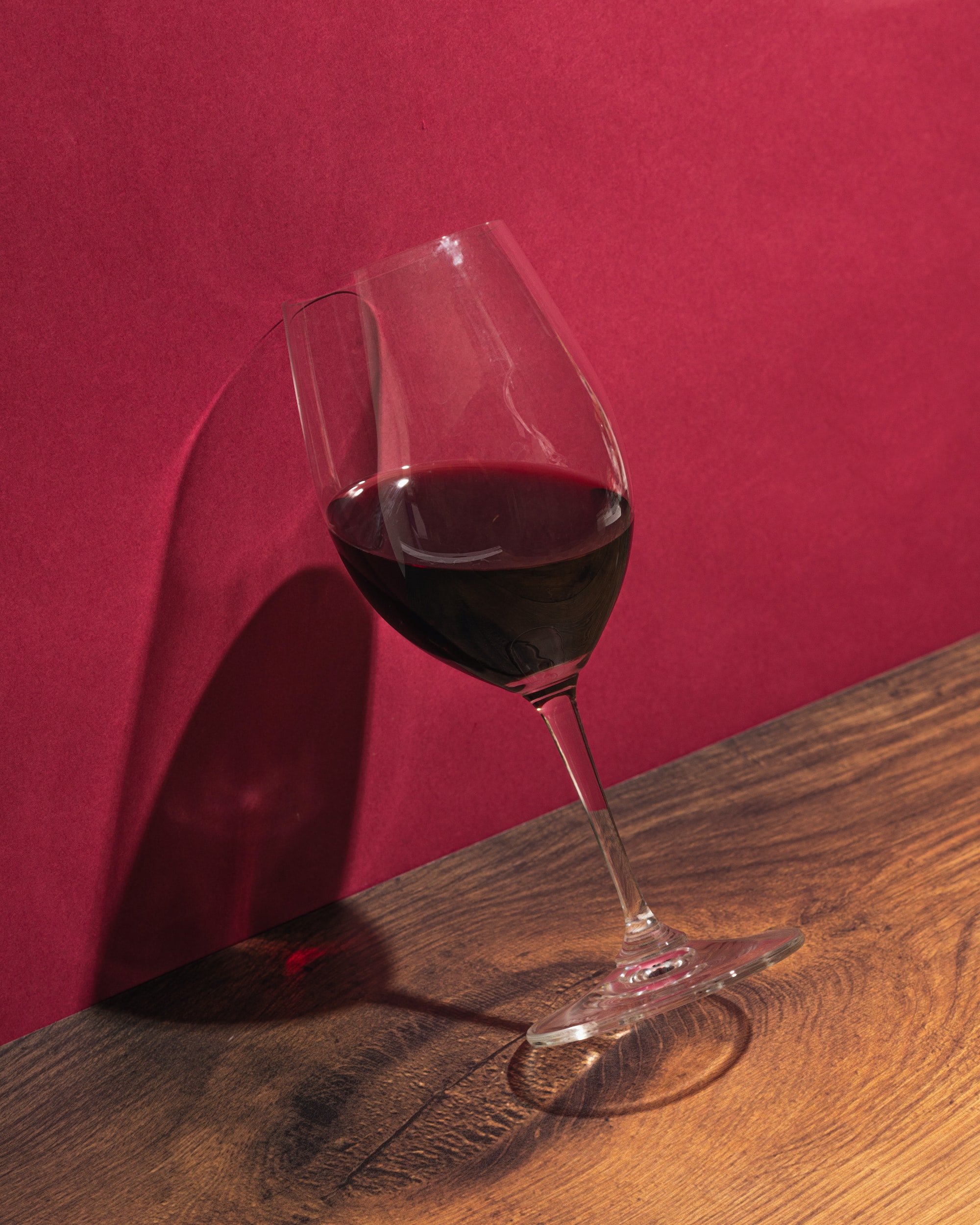 Well, World Malbec Day on April 17 is a perfect time to raise your glass to Malbec, but why wait for a special day?
With softer tannins than Cabernet Sauvignon and a warm black and blue fruit profile, Malbec wines elevate savory and earthy dishes. You'll find that this wine pairs well with most meals, so there's no reason to not pop open a bottle!
How Long Does a Bottle of Malbec Last?
Store leftover Malbec wine right in the bottle by replacing the cork and putting the wine in your refrigerator. The wine will stay fresh for 3-4 days. When you're ready for more, pour yourself another glass about 20 minutes before you want to drink it to let the wine come to room temperature. Enjoy!
Can Malbec Age?
This is technically a different question than how long will an open bottle last. For red wines to be age-worthy, they need three critical structural components: 1) tannin, 2) acid, and 3) fruit intensity.
Malbec will soften with time. 
Wines that start out with high levels of tannin, acid, and fruit intensity will survive in the bottle longer than those wines with lower levels.
In general, Malbec lacks the tannin structure of Cabernet Sauvignon and may also lack the necessary acid levels if grown in a warmer location.
This means that most Malbecs are made for drinking, not aging, within a few years of bottling.
Of course, you can seek out ageable Malbecs for your wine cellar by consulting wine reviews that offer drinking windows. You'll find these notes that have something like: drink between 2025-2035.
What Food to Pair with Malbec?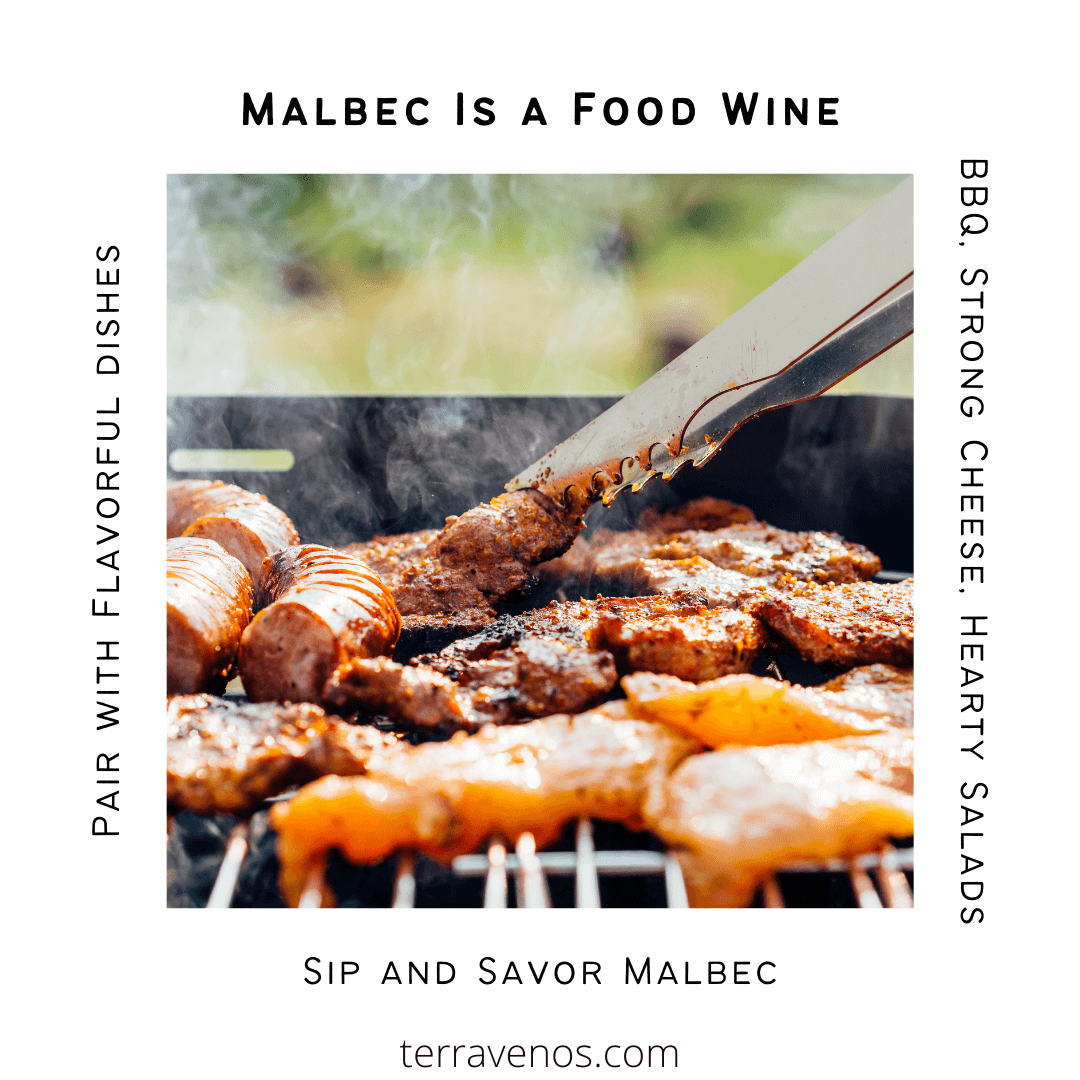 Malbec is one of those food lovers' dream wines: Never overpowering, always complimentary. 
The wine embodies a softer structure than Cabernet Sauvignon but carries more heft than a Merlot.
You'll want to pair Malbec with dishes that have some fat, either animal or plant-based (e.g., olive oil).
Personal Note: Malbec is my go-to BBQ wine, but this wine will pair with roasts, ragus, tacos, rich soups (e.g., minestrone), or even lentil dishes.
If you have a higher alcohol Malbec (+15% ABV), stay away from spicy dishes as this will make the wine seem alcoholic, harsh, and bitter.
Final Thoughts – Malbec Wine
Whether you end up falling in love with Malbec or find favor with a different vinous paramour, Malbec's comeback story is worthy of toasting the next time you find yourself pouring a bottle of this little journeyman of a grape.
Thirsty for More? More Red Wines Compared to Malbec