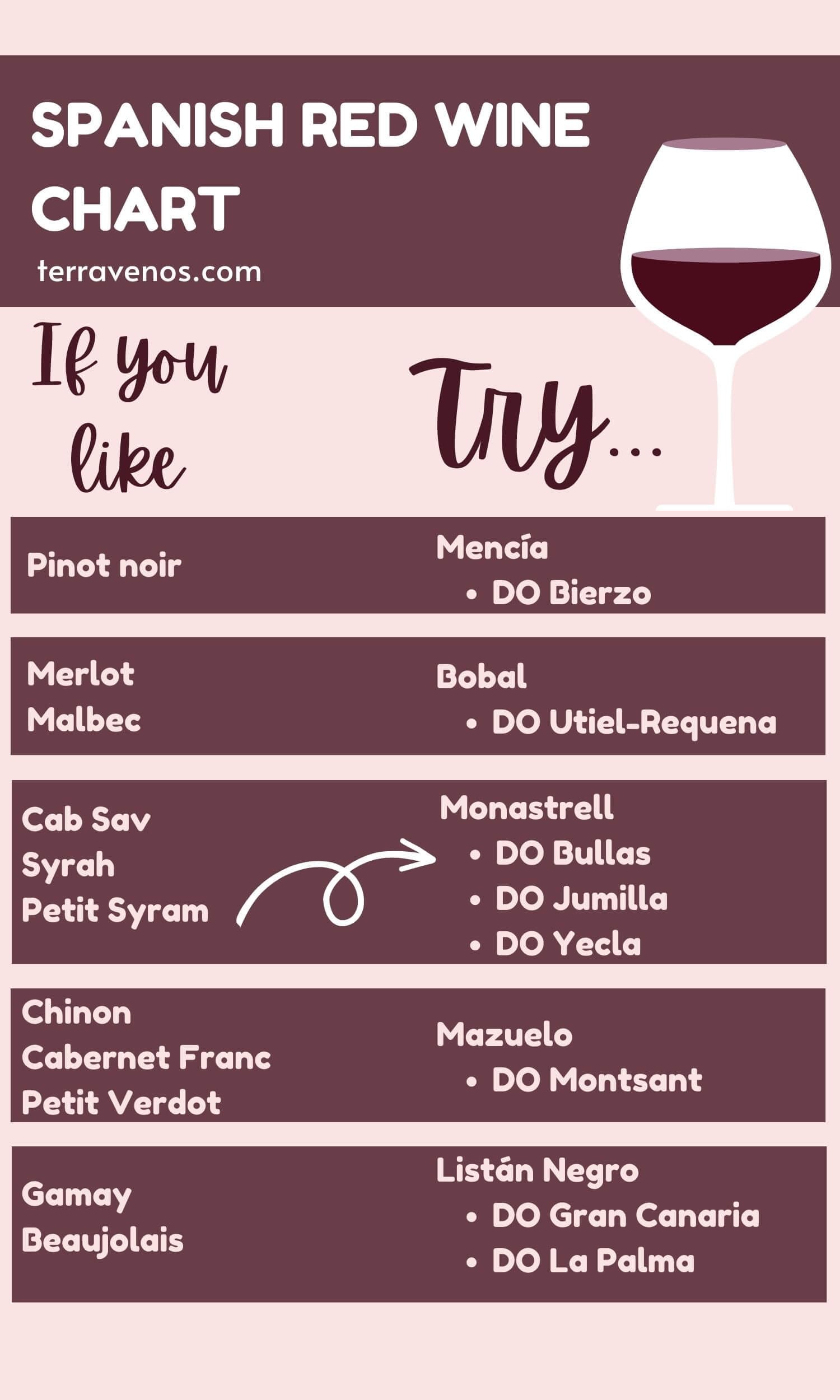 If you've recently discovered Spanish wine, or are just starting to decant this historic wine producing country, then you're in for a treat! 
Famous types of Spanish red wine include Rioja, Priorat, Ribera del Duero, which are regions and wines. Mencía, Bobal, Monastrell, Mazuelo, and Listán Negro are delicious Spanish red wine grapes. Red Spanish wines range from light and easy drinking, like Listán Negro, to complex, full-bodied, like Monastrell. Spanish red wines use a classification system to help you identify different styles and qualities. 
There are so many different red Spanish wines available, that you're sure to find a red wine you love. Here are some tips to get you started with your vino tinto.  
How the Spanish Denominación de Origen Classification System Works
Just like France with its AOCs, Italy with its DOCs, and the US with its AVAs, Spain has demarcated wine growing regions and uses the Denominación de Origen Protegida/Protected Designation of Origen (PDO) system. Here are the quality levels:
Denominación de Origen Protegida/Protected Designation of Origen (PDO)

Denominación de Origen Calificada
Vino de Calidad con Indicación Geográfica (VC)
Pago

Indicación Geografica Protegida/Protected Geographical Indication (PGI)

Vino de la Tierra (VT)
Vino
Key Spanish Wine Terms: Wines with Geographical Origen
Denominación de Origen Protegida/Protected Designation of Origen (PDO)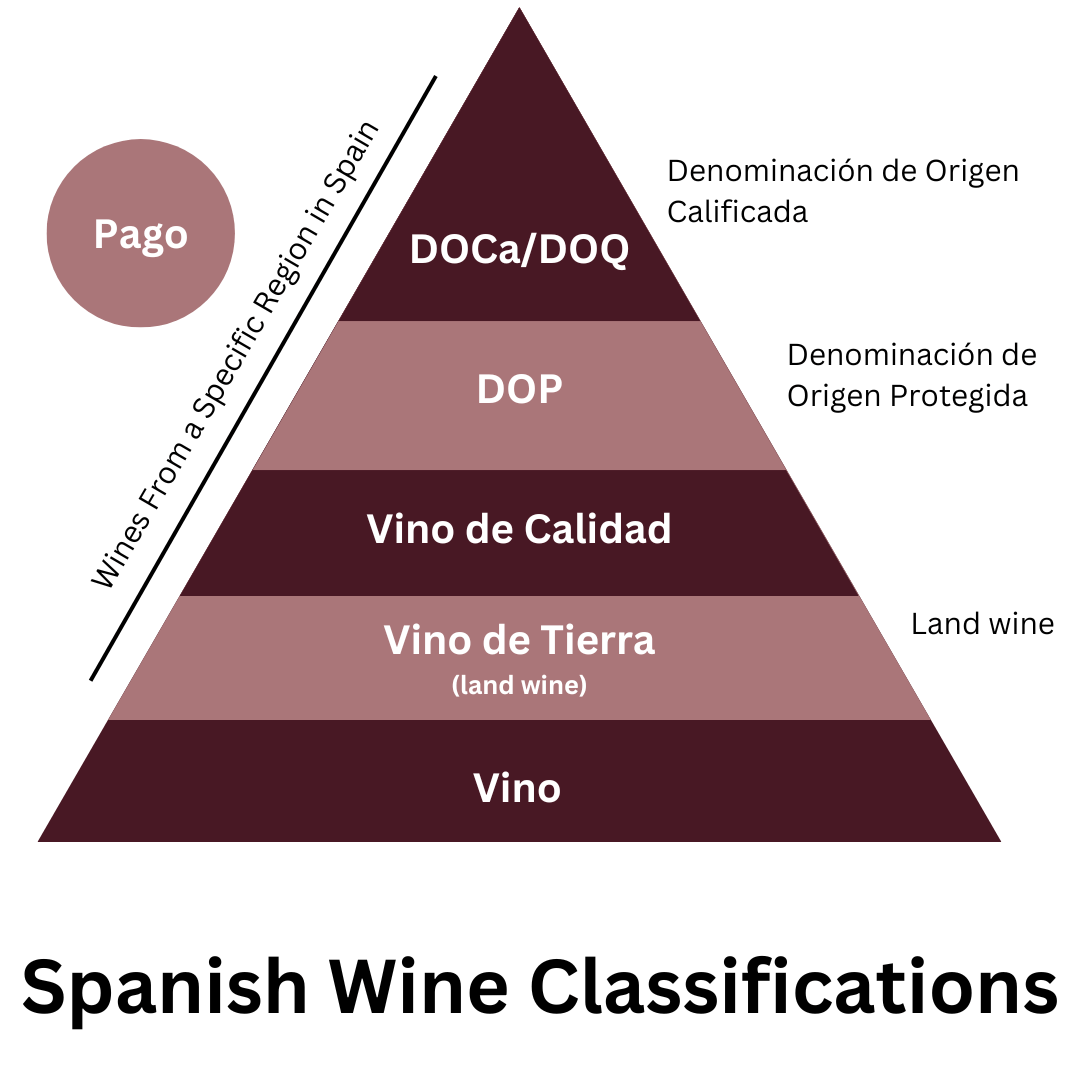 The Spanish denominación de origen classification system classifies wine based on geographical boundaries for the vineyards within a region and regulates production – both in the vineyard and in the winery.
There are 4 distinct categories in the PDO.
I've described them below, but here's a video overview that may be more helpful:
Denominación de Origen Calificada (DOCa)
This translates to 'qualified denomination of origin'. A wine region that has been a DO for at least 10 years can apply to become a DOCa. These are well-established Spanish wine producing regions with a long heritage. Currently, Spain only has two DOCa regions: Rioja and Priorat.
Side Note: You'll see Priorat DOQs instead of Priorat DOCa. Why? Because they speak Catalan and the locals take great pride in their semi-autonomous status from the rest of Spain, so they call their winegrowing region: Denominació d'Origen Qualificada (DOQ). Just know that DOCa and DOQa hold the same quality status. Easy!
The next level is…
Denominación de origen (DO)
You may also see this as denominación de origen protegida (DOP) translates to 'protected denomination of origin'. The winery makes wine within the boundaries of this region. Wines can be of any quality within a DO. A region must have a 5-year history of wine production to be awarded a DO.
Vino de Calidad con Indicación Geográfica (VC)
This translates to 'quality wine with a geographical indication'.
VC Spanish wines come from a region and reflect the wine growing and winemaking quality of that region.
This is a newer category, and something like an in-between status for wines moving from the lower PGI classification (see below) to the full DO classification. They're in limbo and must stay at this level for a minimum of 5 years.
Pago
A pago is a single estate wine producer. The producer owns the land and sets their own regulations for wine growing and winemaking.
A pago can fall outside the boundaries of a formal DO. This allows wine producers to still carry a quality label regardless of where they're making wine in Spain. 
Side note: There are pagos for things other than wine, like olive trees (olive oil) and even equestrian estates – think Andalusian horses. The idea behind a pago is that a product's quality is linked to the quality of the land.
Indicación Geografica Protegida/Protected Geographical Indication (PGI)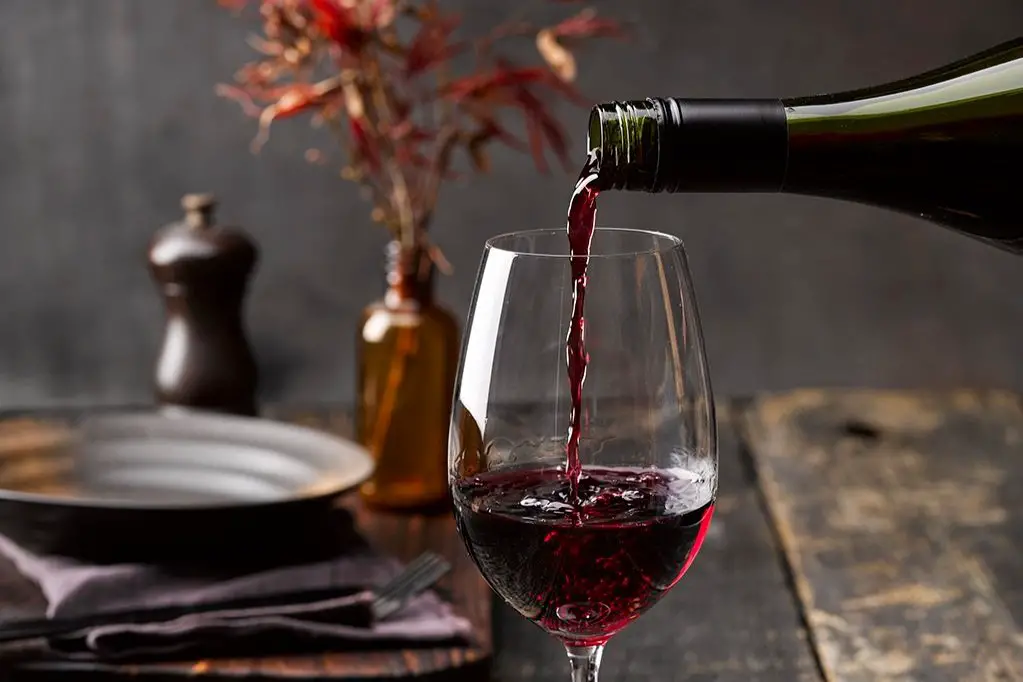 Vino de la Tierra (VT)
This translates to 'land wine' or 'regional wine'. The broadest regional category, VT Spanish wines offer producers flexibility in vineyard management, sourcing grapes, blends, and winemaking styles, but still within a geographical area.  If you're familiar with French or Italian wine labels, it's the same as IGP or IGT wine classifications, respectively. 
Vino/Wine
You may see Vino de Mesa (table wine) or Vino de Espana (Spanish wine). This is the broadest category and producers can use any grape or winemaking style.
Similar to Super Tuscan wines of Italian fame, some producers purposefully declassify their wines to allow for blending, innovation, and experimentation, so you may find outstanding Vino in this category.
More often than not, however, it's just bulk wine and a great option for your sangria party.
Vino (It's wine!)
You'll see these terms on wine labels, and it's worth knowing what they are as you shop for more Spanish red wines.
Aside: Most of the Spanish wines that I see in my local California wine shop are DOs. Your market may be different. Moving on.
Spanish Wine Aging Label Terms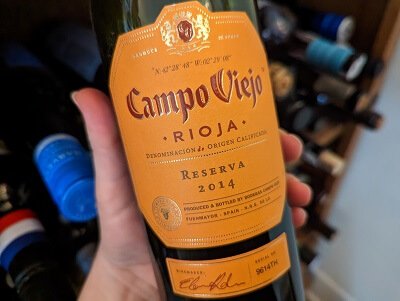 You may also run across label terms for a wine's aging. DO regions may have different aging requirements to use these terms, but generally speaking here's the breakdown for Spanish RED wines (white Spanish wines are different):
Joven: Aged for a minimum of 1 year from the date of harvest.
Crianza: The shortest aging regimen that holds the wine in a barrel for 6 months, and a minimum of 2 years before release. So the wine's at least 2 years old.
Riserva: The middle aging regiment that holds the wine in a barrel for 1 year and aged for a minimum of 3 years total before release. 
Gran Riserva: The longest aging regiment. The wine's held in a barrel for 18 months, and held for a minimum of 5 years before release.
Why Are Spanish Aging Terms Good to Know?
If you know that Joven's the youngest style and Gran Riserva is the oldest, you know that Joven wines will have fresher, crunchier fruit and Gran Riserva will have dried fruit, like dried fig or dried cherry, and potpourri. You may have a stylistic preference in your Spanish red wines.
GOOD TO KNOW: Spain's wineries age the wines for you.
The vast majority of Spanish red wines are aged at the winery and ready to be enjoyed upon release. You don't need to cellar these wines for them to improve – though Spain does make excellent, cellar-worthy red wines. 
Red Spanish Wines You Need to Try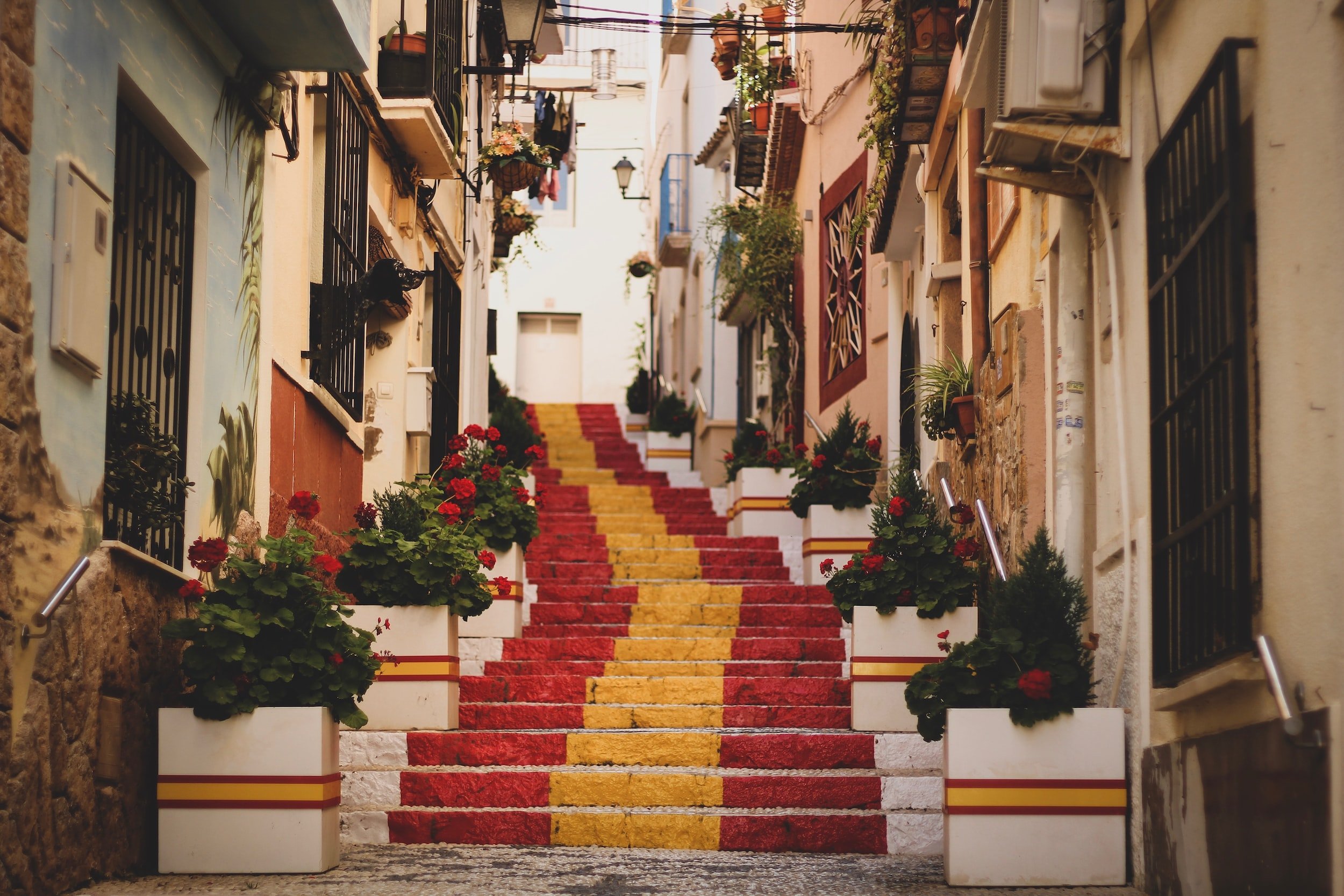 Let's get into the red wines of Spain!
Red Spanish Wine #1: Rioja DOCa
Red Spanish wines from the Rioja DOCa are red wine blends. Rioja's actually divided into three separate geographical areas:
Rioja Alta, Rioja Alavesa, and Rioja Oriental
Producers mix grapes grown in different regions to achieve balance in their red wines. 
The early budding Tempranillo grape, which is a backbone in most Rioja wines, comes from these regions. 
The heat-loving Grenache, called Garnacha in Spain, comes from the warmer Rioja Oriental, which benefits from a moderating Mediterranean influence coming off the Ebro River. 
Red Spanish wines from the Rioja DOCa blend together four different grape varieties: Tempranillo, Garnacha Tinta, Cariñena, and Graciano.
Red Spanish Wine #2: Priorat DOQa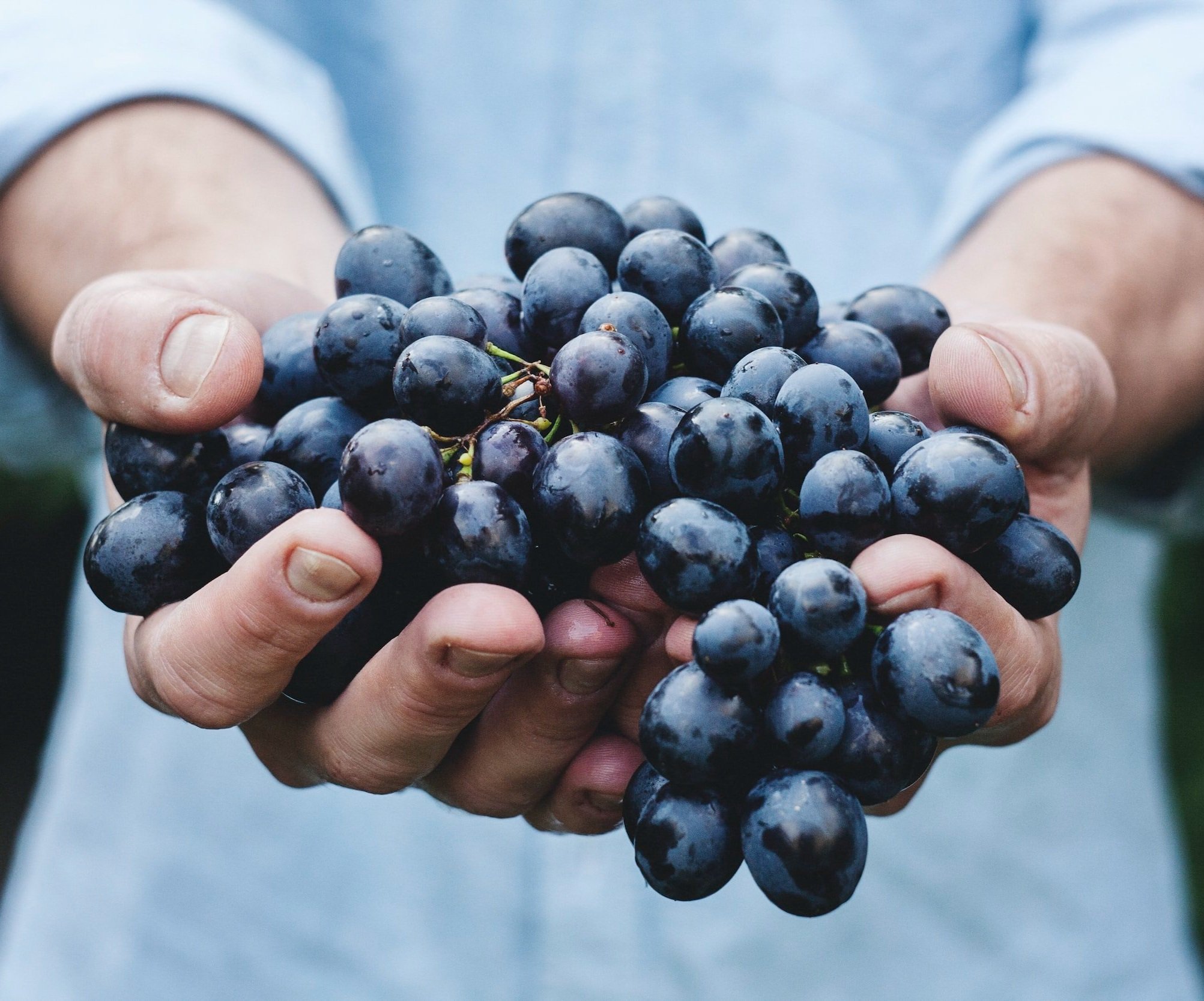 Wines from Cataluña are perhaps one of the best kept secrets of Spanish red wines, especially if they come from Priorat DOQa. Like Rioja, most red Spanish wine from Priorat will be blends. Expect red wines from Priorat to be Grenache-heavy.
These aren't the light-bodied fruity Grenache wines you'll find in California, they're stylistically similar to the red wines of the Rhône Valley in France. 
Cataluña sits against the border with south western France, just on the other side of the Pyrenees, so it makes sense that they share a winemaking connection that's evolved over centuries. 
If you love Châteauneuf-du-Pape, full-bodied Syrah, or red wines from Languedoc, then Priorat needs to be your first stop for some of the best Spanish red wines.
Priorat DOQa red wine varietals: Garnacha Tinta (Grenache), Garnacha Peluda (Alicante Bouchette), Cariñena (Carignan), Cabernet Franc, Cabernet Sauvignon, Merlot, and Syrah.
Spanish Red Wine #3 – Ribera del Duero DO
Just to the west Rioja, you'll find Ribera del Duero that spreads across the Duero River (a.k.a. The Duoro River in Portugal of Port fame). Silty, stony embankments off Duero tributaries create rich, mineral-laden vineyard land perfect for growing flavor-packed grapes.
Fun Wine Fact: 99% of the wines made in Ribera del Duero DO are red.
The region's home to the famous Vega Sicilia label responsible for crafting some of the finest red wines in Spain – these are the Grand Crus of Spanish wine.
Ribera wines have a minimum of 75% Tempranillo, with many producers opting to make 100% Tempranillo wines. Winemakers age their wines in French and American oak, playing with the style.
Ribera del Duero red wines use the Crianza, Reserva, and Gran Reserva labels that indicate aging back at the winery. You may also find 'joven' on the label; these are younger wines that have a fresher style.  
Helpful Tip: Here's a complete guide to Tempranillo wines.
What does Ribera del Duero wine taste like?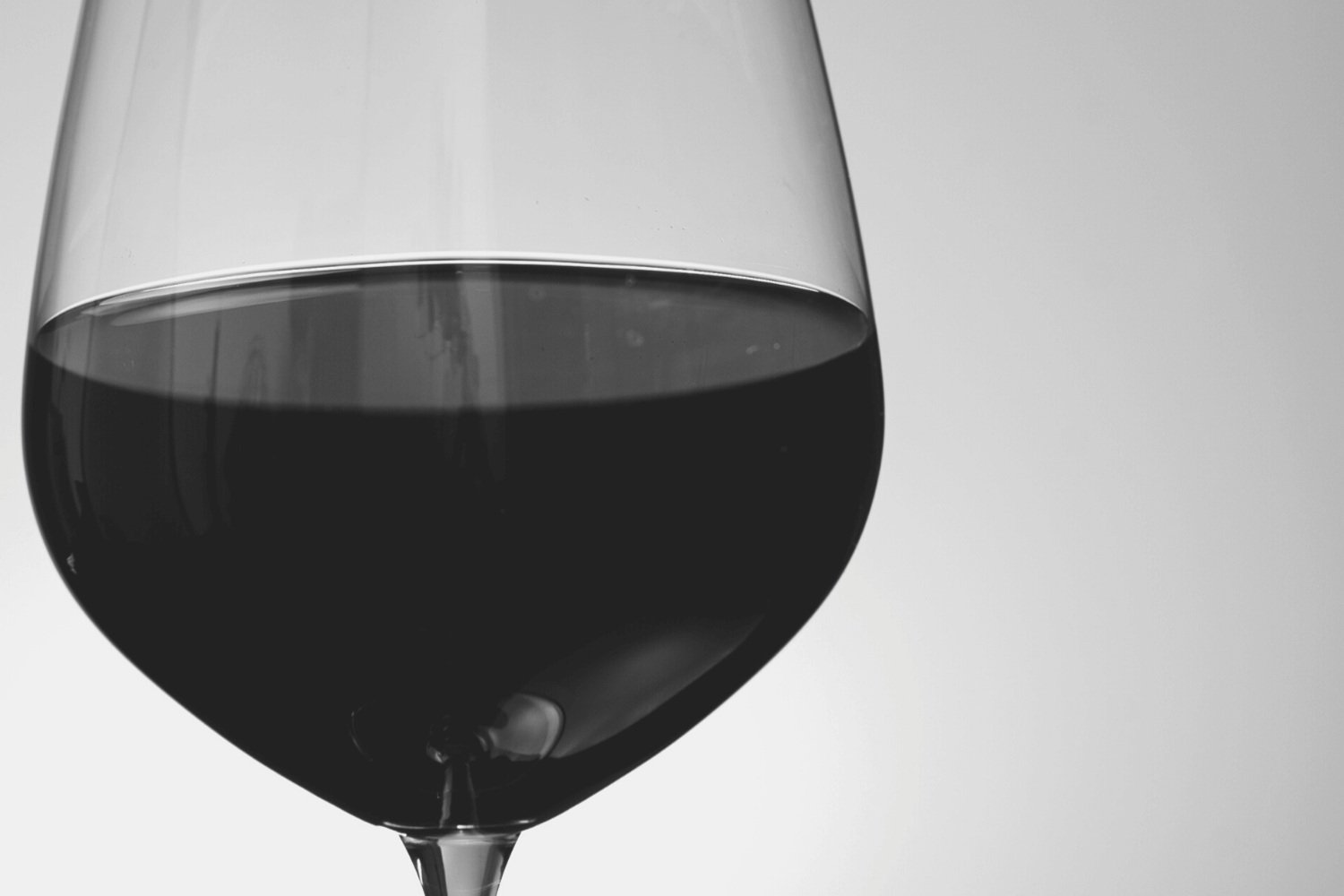 Ribera del Duero wines reflect Tempranillo at its finest. Intense, full-bodied red and black fruit, spice, and licorice. Expect aged Ribera del Duero to have complex layers of savory flavors with smooth tannins.
Fun Fact: Ribera del Duero actually earned approval to become a DOCa region, similar to Rioja and Priorat. This would be Spain's 3rd DOCa. But, the local Consejo never pursued the change, and so you still find DOP on bottles of Ribera del Duero wines. So, you know this is quality vino tinto!
Red Spanish Wine #4 – Mencía Wines
A native grape of northwestern Spain, Mencía makes a vibrant red Spanish wine. Mencía will delight Pinot Noir lovers with its crunchy red fruit, light style, and softer tannins. Mencía is probably one of the best-kept secrets of the Spanish red wine world. Pair Mencía as you would a Pinot: risottos, white fish, cream-based pastas, roasted vegetables, and white meats like poultry and pork. 
Who Makes Mencía Wines? Look for Mencía from Bierzo DO (the main growing region for Mencía wines), DO Monterrei, DO Ribeira Sacra, DO Valdeorras, and VC Cangas. 
Spanish Red Wine #5 – Bobal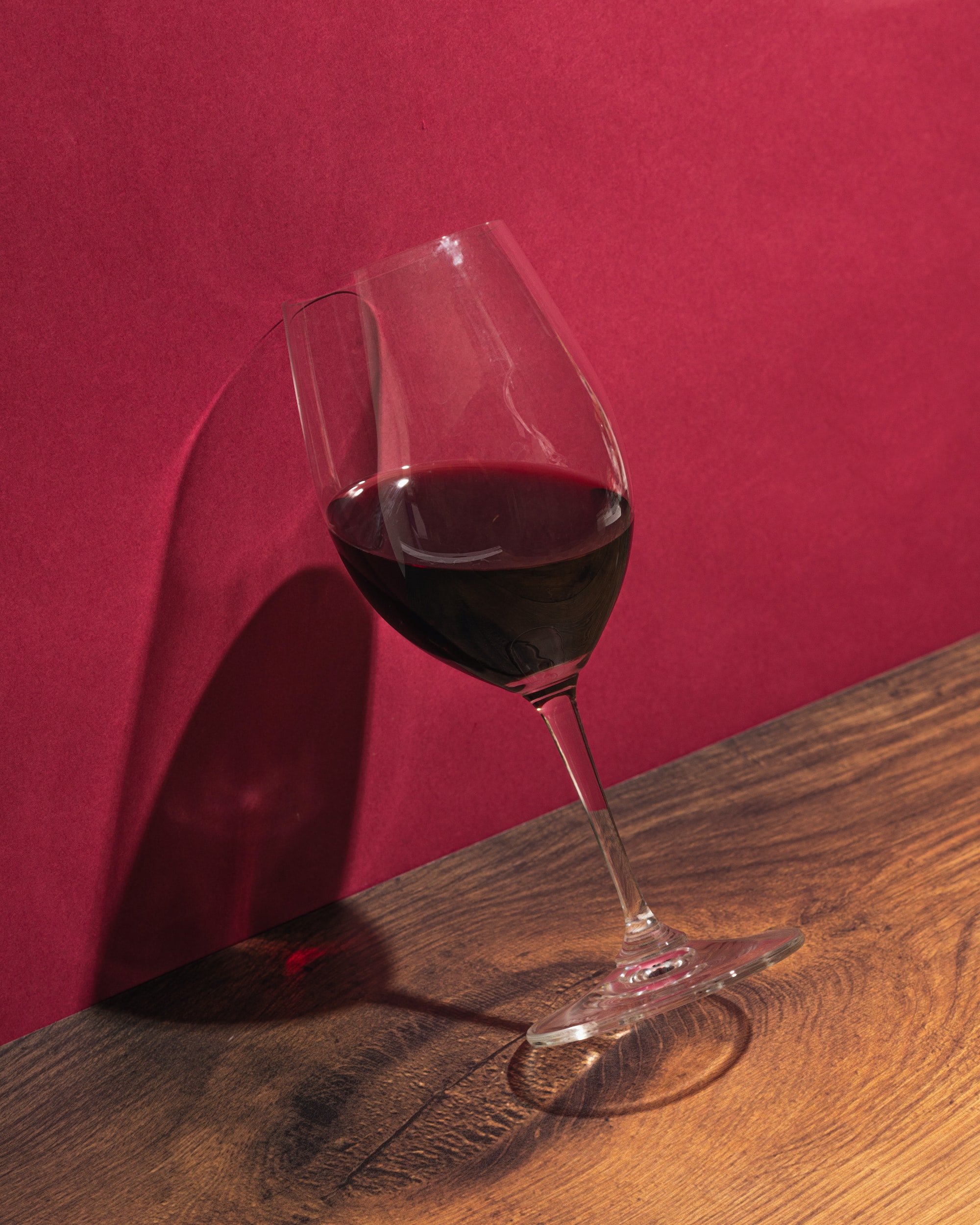 The red Bobal grape is another indigenous grape on the Iberian Peninsula found around Valencia on the eastern coast in Utiel-Requena.
Bobal's a heavy-yielding variety, meaning that gives lots of fruit, for lots of wine.
It's actually the second most widely-planted red grape in Spain after Tempranillo.
Bobal makes inky-black grapes that can be used as grape concentrate and to help bulk up other wines. If you love big, bold reds, this one's for you!
What is Bobal wine taste like?
Bobal wines are dark, with medium alcohol, lively acidity, and soft velvety tannins. Expect black fruit in Bobal wines like blackberry and black plum, but you'll also find pomegranate, black tea, black licorice, and spice.
If you love Merlot and Malbec, then look for a red wine from Utiel-Requena DO, which will be Bobal.
The wines are slightly more rustic than Monastrell, but they tend to hold their acidity better and can come across as fresh red table wines perfect for heavy dishes.
Red Spanish Wine #6 – Monastrell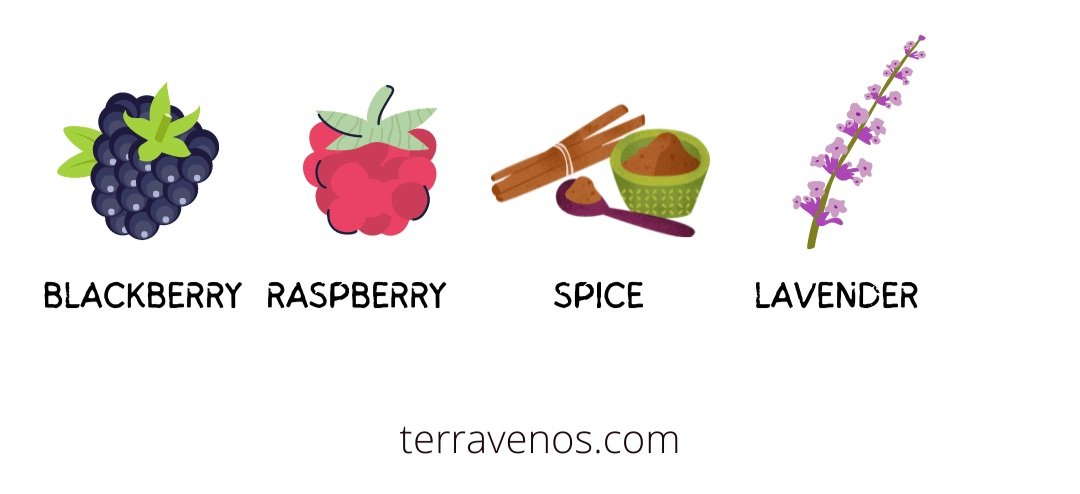 Monastrell, known by its better-recognized synonym Mourvèdre in other winegrowing regions, is another noteworthy red Spanish wine waiting for your glass.
The name Monastrell has its roots in 'monastery', intimating a close connection to the Catholic religious orders and their winemaking heritage through the ages. So, you know this grape has history! 
Like Bobal, Monastrell's believed to be native to Valencia and needs a long, hot growing season to ripen fully. 
What's Monastrell wine taste like? 
Given its proximity to the Mediterranean and heat-loving nature, it's no surprise that Monastrell crafts high alcohol, high tannin, deeply pigmented chewy red wines. Monastrell has dark black fruit like black cherry, blackberry, and black plum, along with a meaty quality to it.
If you love Cabernet Sauvignon, Alicante Bouschet, Petit Sirah (Durif), Syrah from Côte-Rôtie, France, or Shiraz from Barossa Valley, then definitely grab a bottle of Monastrell, a monolith of red Spanish wine.
Look for these Spanish wine regions for Monastrell: DO Alicante, DO Bullas, DO Jumilla, DO Yecla, DO Almansa.
Spanish Red Wine #7 – Mazuelo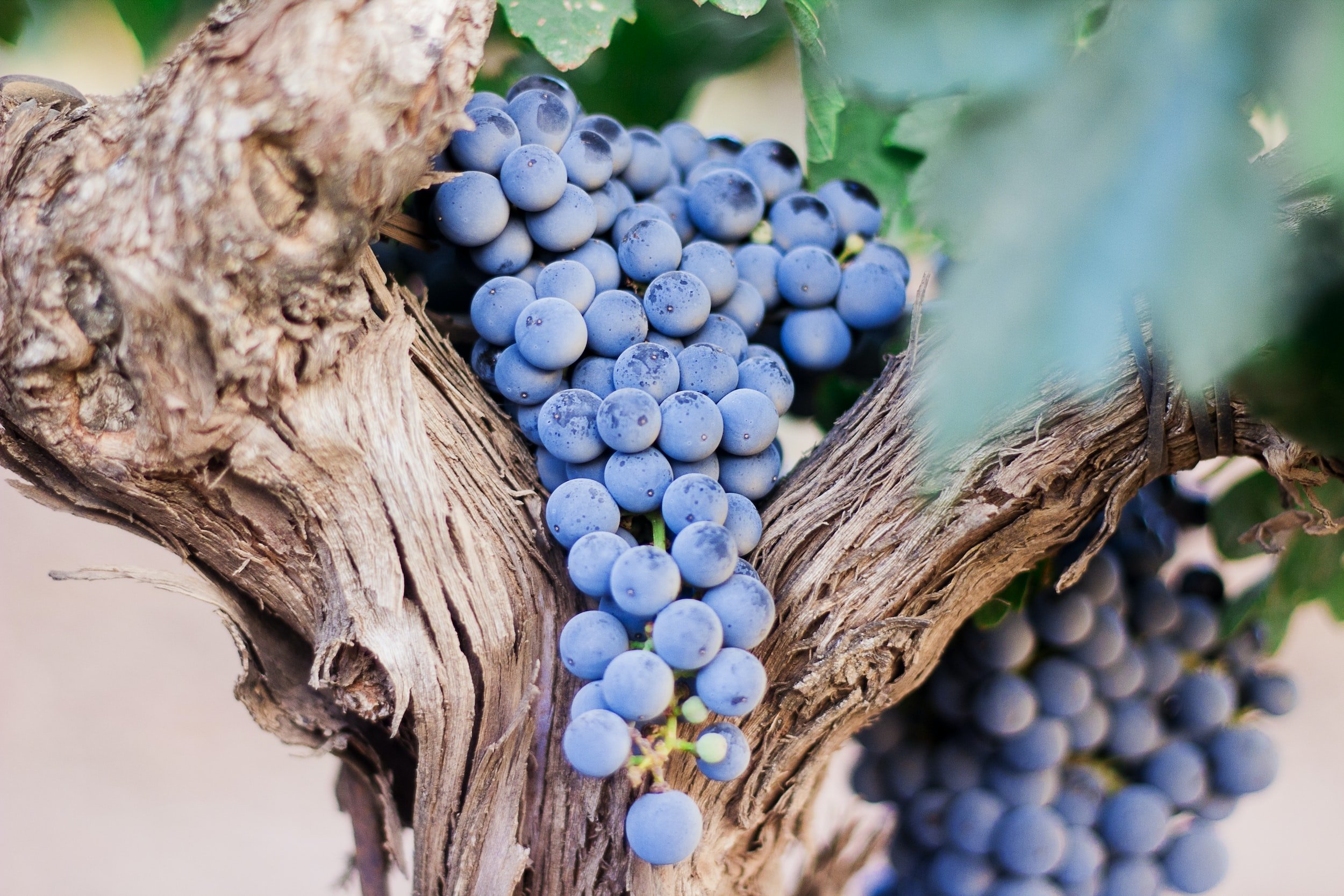 Even if you've never heard of the wine grape Mazuelo, you've probably heard of the wine grape Mazuelo by its synonym: Carignan.
Despite Carignan's widespread plantings in Southern France, it's roots are deeply Spanish. Mazuelo's an ancient grape variety believed to come from Aragón.
Mazuelo's a vigorous, high-yielding variety that if left unchecked can make uninspired red wines.
However, when properly managed in the vineyard, or with very old vines that have lower yields, Mazuelo can craft some exciting vinos. 
Spain's home to many old-vine Mazuelo vineyards, so look for label clues like 'viñas viejas' translated as 'old vines' on Spanish red wine labels.
What does Mazuelo wine taste like?
Mazuelo makes high acid, high tannin, and deep ruby wines. The grape's tannin level can easily become unbalanced making rustic, chewy red wines.
In the hands of a master craftsman, expect wines of balance and layered red fruits like raspberry, pomegranate, and cherry, tobacco leaf, warm baking spice, and even leathery notes with age. 
Look for these Spanish wine regions for Mazuelo: DOCa Rioja, DO Cariñena, DO Montsant, and DOQ Priorat. You'll find excellent quality for value with DO Cariñena and DO Montsant. (I've never had a wine from these two regions that wasn't stellar).
Spanish Red Wine #8 – Listán Negro
If you've tried Listán Negro before, you've probably vacationed in the Canary Islands.
The red Spanish wine grape Listán Negro grows in the Canary Islands and – fun wine fact – has a unique genetic makeup. Listán Negro's DNA doesn't match any other modern wine grape.
Who knew? 
Listán Negro is a highly vigorous vine producing large yields of grapes that will make lower-intensity red wines.
What does Listán Negro wine taste like?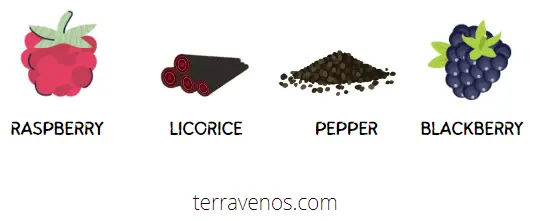 Listán Negro crafts low tannin, medium intensity red wines with red and black fruit, like raspberry and blackberry, as well as licorice and black pepper. 
Listán Negro responds well to semi-carbonic maceration, where the grapes are fermented whole-berry for a short period of time to enhance confected fruity qualities, including bubblegum, banana, and cinnamon.
If you like Gamay and Beaujolais Nouveau, then you'll enjoy Listán Negro wines. These are easy drinking, approachable, friendly red wines.
Where to Buy Listán Negro Wines: Listán Negro grows across the Canary Islands, each with their own DO. Look for: DO Gran Canaria, DO La Palma, DO Tacoronte-Acentejo, DO Valle de la Orotava, DO Ycoden-Daute-Isora. 
Most Listán Negro wine gets consumed domestically. So, you'll have to take a vacation to the Canary Islands (oh, what a burden!), or you're going to have to find Listán Negro wines in a specialty wine shop. 
Final Thoughts – Red Spanish Wines
Spanish DOs specialize in different grapes and different wine styles following their regional traditions. Spanish red wines almost always list their grape variety on the label and, like their white sisters, have Denomination of Origin (DO) or DOP on the label. This helps you find wines from a particular region.
Traditional red Spanish wines offer incredible quality for value on the export market. These wines are well worth the effort to find them at your local bottle shop or try them at your favorite Spanish tapas bar. Raise your next glass to the land of Sancho Panza and Picasso!
Thirsty for More?
Spanish wines are among my favorites because their story weaves together wine and history, which is why I became a Spanish Wine Scholar. If you're curious about Spain's wine story, check out this fun post on how the Spanish Civil War propelled Rioja to become a world-class winegrowing region.
Looking for something less serious? Check out this quick post on how you can start a wine tasting group, which is how I first got into wine lo-those many years ago!