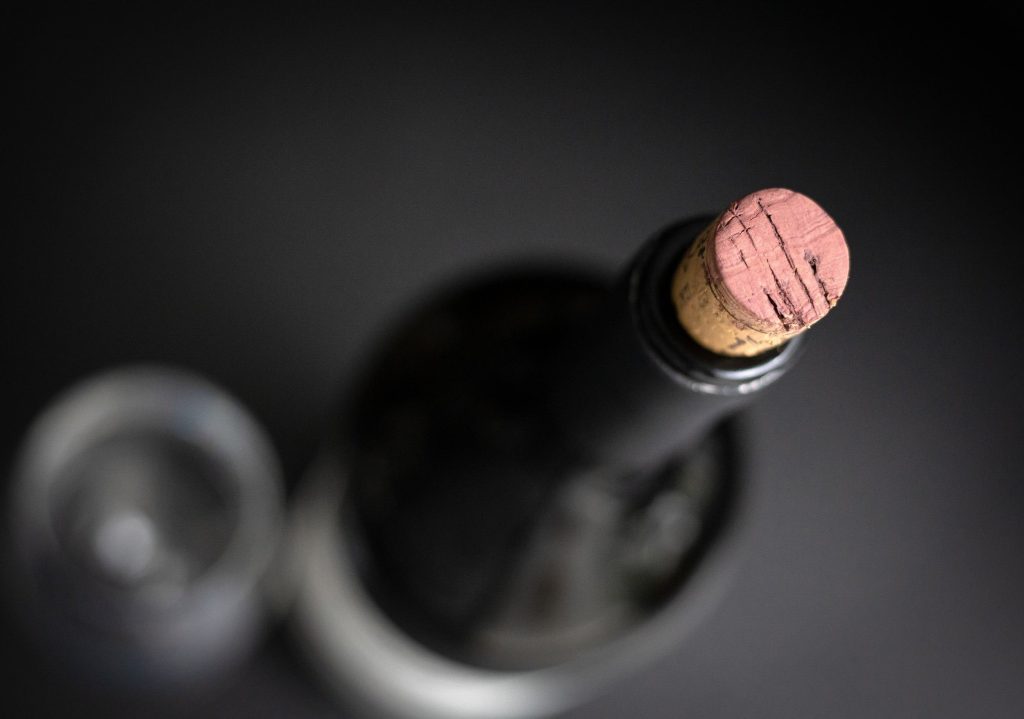 Pronunciation: puh-TEET see-RAH or peh-TEET si-RAW
Petite Sirah is a red wine grape that makes tannic, full-bodied red wines. It's not the same as Syrah. The grape's used as a blending partner to deepen the color of other wines. Pair Petite Sirah with rich stews and BBQ.
Here's what you need to know about Petite Sirah.
What Kind of Wine is Petite Sirah?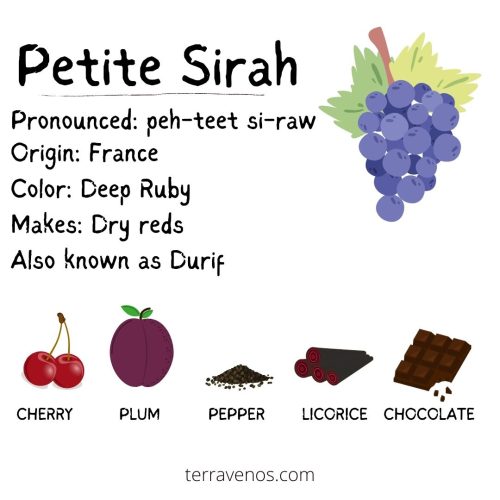 Petite Sirah is a bold, full-bodied red wine with medium to high acidity, pronounced tannins, and higher alcohol content. It often stands out for its richness and intensity of flavors, making it a unique and captivating choice among red wines.
Petite Sirah vs. Syrah: The Differences
Before delving further into Petite Sirah, it's essential to understand its differences from Syrah, as the two grape varietals are often confused due to their similar names.
Here's an at-a-glance chart of how Syrah and Petite Sirah are different:
| | Petite Sirah | Syrah |
| --- | --- | --- |
| Grape Variety | Distinct grape variety, also known as Durif | Separate grape variety, different heritage |
| Size & Appearance | Smaller and denser grapes | Larger and more elongated grapes |
| Tannins & Body | More pronounced tannins, fuller body | Softer tannins, slightly lighter body |
| Flavor Profile | Dark berries, plum, black pepper, occasional blueberry and chocolate | Blackberry, black olive, smoked meat, spice |
| Growing Regions | Associated with California, popular in Napa Valley and Sonoma County | Global presence, notable in France (Rhone Valley), Australia, and more |
Grape Variety: Petite Sirah (also known as Durif) is a distinct grape variety, while Syrah is a separate grape variety with a different genetic heritage.
Size and Appearance: Petite Sirah grapes are smaller and denser compared to Syrah grapes, which are larger and more elongated.
Tannins and Body: Petite Sirah typically exhibits more pronounced tannins and a fuller body than Syrah, giving it a bolder and more robust character.
Flavor Profile: Petite Sirah tends to showcase flavors of dark berries, plum, and black pepper, with occasional notes of blueberry and chocolate. Syrah, on the other hand, often presents flavors of blackberry, black olive, smoked meat, and a touch of spice.
Growing Regions: While both varieties are grown in various wine regions worldwide, Petite Sirah is often associated with California, where it has gained popularity, especially in regions like Napa Valley and Sonoma County. Syrah, on the other hand, has a more extensive global presence, with notable plantings in France (Rhone Valley), Australia, and other parts of the world.
Where Does Petite Sirah Wine Come From?
Petite Sirah has its origins in France, where it was developed by Dr. François Durif in the 1860s. However, it gained significant attention and popularity in California, where it was imported, planted, and promoted by Charles McIver in the late 19th century.
Since then, California has become a key region for producing exceptional Petite Sirah wines. Today, you can also find excellent examples of Petite Sirah from regions like Australia, Argentina, and other parts of the world.
Petite Sirah in California
In California, Petite Sirah has found a second home and thrived in regions like Napa Valley, Sonoma County, Paso Robles, and Livermore Valley. The warm climate of these regions allows the grapes to ripen fully, resulting in rich and concentrated wines that are often used as blending grapes as well as single varietal wines.
Petite Sirah in Other Regions
Beyond California, Petite Sirah is gaining recognition in regions like Australia, particularly in the Barossa Valley and McLaren Vale. Australian versions of Petite Sirah often display a more fruit-forward profile and are well-received by wine enthusiasts.
What Does Petite Sirah Smell Like?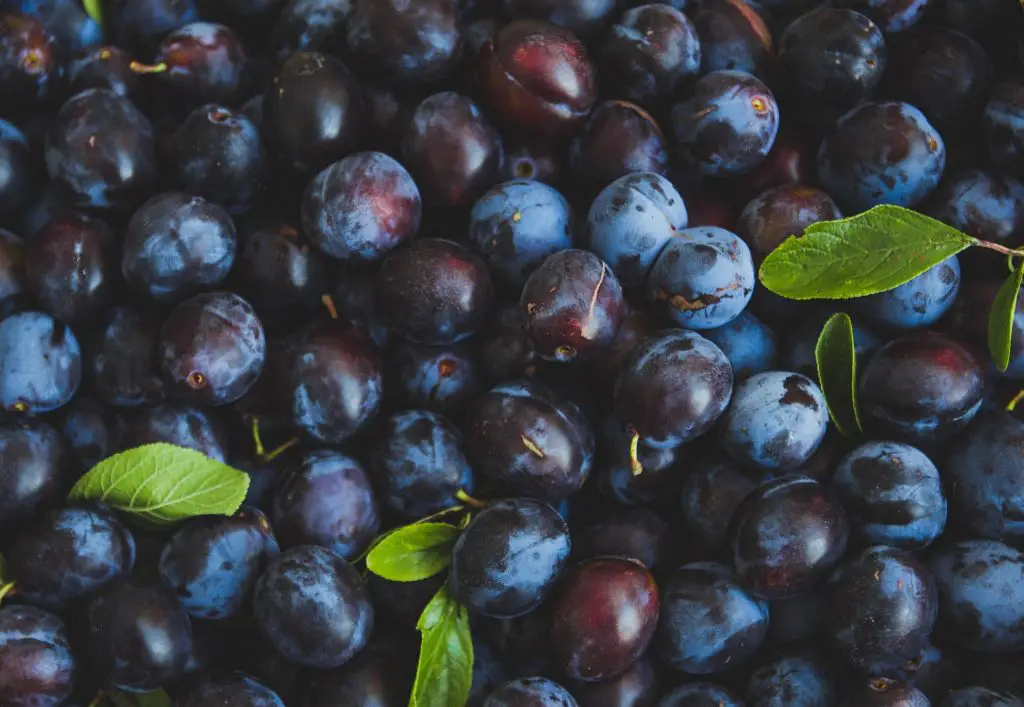 Petite Sirah exhibits a powerful and aromatic nose, with intense dark fruit aromas taking center stage. Expect scents of blackberry, blueberry, and plum, accompanied by hints of black pepper, vanilla, dark chocolate, and baking spices. These enticing aromas contribute to the wine's complexity and allure.
What Does Petite Sirah Taste Like?
Petite Sirah has a powerfully tannic body, which is probably the first thing you'll notice when you take a sip. The wine's deep and concentrated flavors of blackberry and dark plum are complemented by notes of spicy black pepper, cocoa, espresso, and a touch of smokiness.
How to Serve Petite Sirah Wine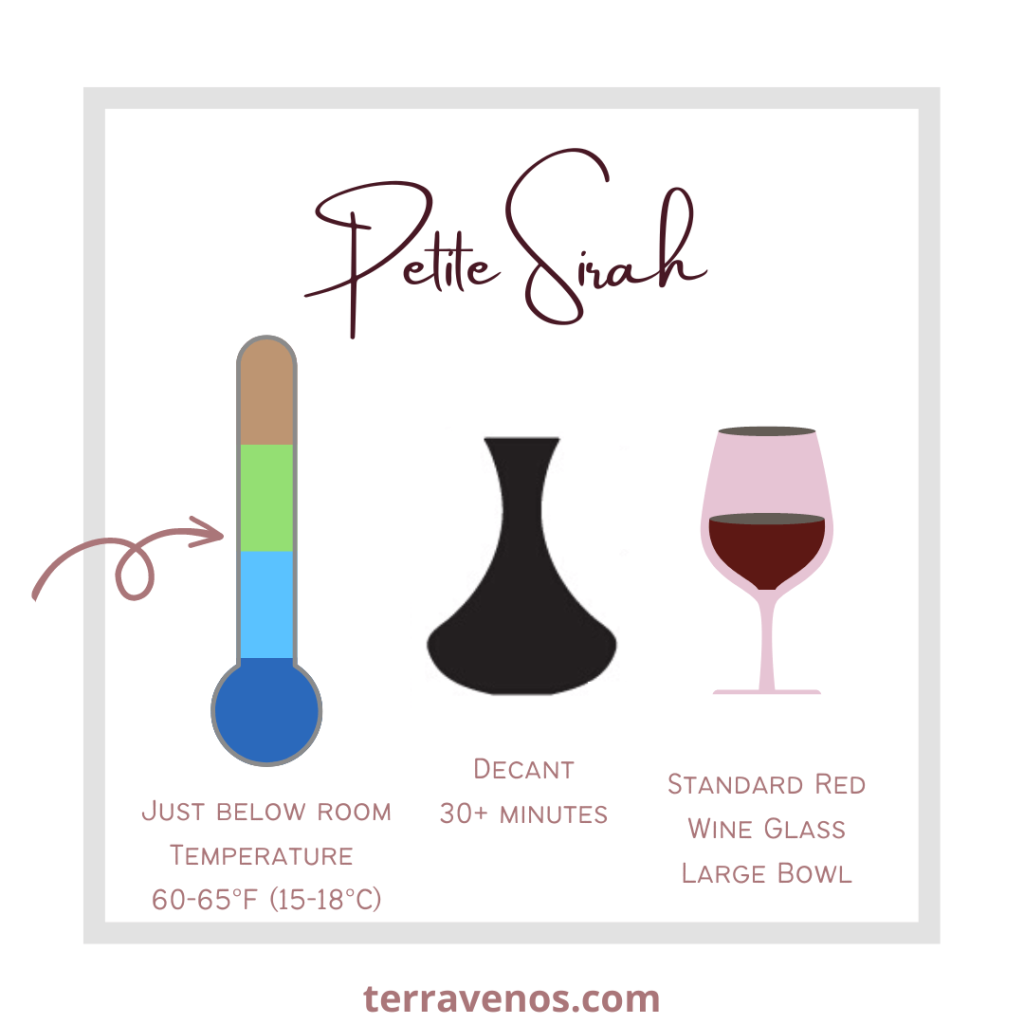 Temperature
Serve Petite Sirah between 60-65°F (15-18°C) to allow its complex aromas and flavors to fully express themselves without being overly dominated by higher alcohol notes.
Glassware
Opt for a large-bowled glass with a slightly tapered rim to enhance the wine's bouquet and focus the aromas toward your nose, intensifying the tasting experience.
Decanting
You'll probably want to decant younger, fuller-bodied Petite Sirah wines, as it allows the wine to breathe and opens up its flavors. Decant for at least 30 minutes, and longer for particularly robust vintages.
Helpful Tip: Whenever you're drinking wine, if you think that it's not very aromatic try letting it sit in your glass for 5-10 minutes. If you notice a change in the aromas, then, yes, it needs to decant.
Aging Potential
Petite Sirah is known for its aging potential, and well-structured wines can easily improve over 5-10 years and sometimes even longer. The aging process allows the wine to develop more complexity and a smoother texture.
Petite Sirah Food Pairing Suggestions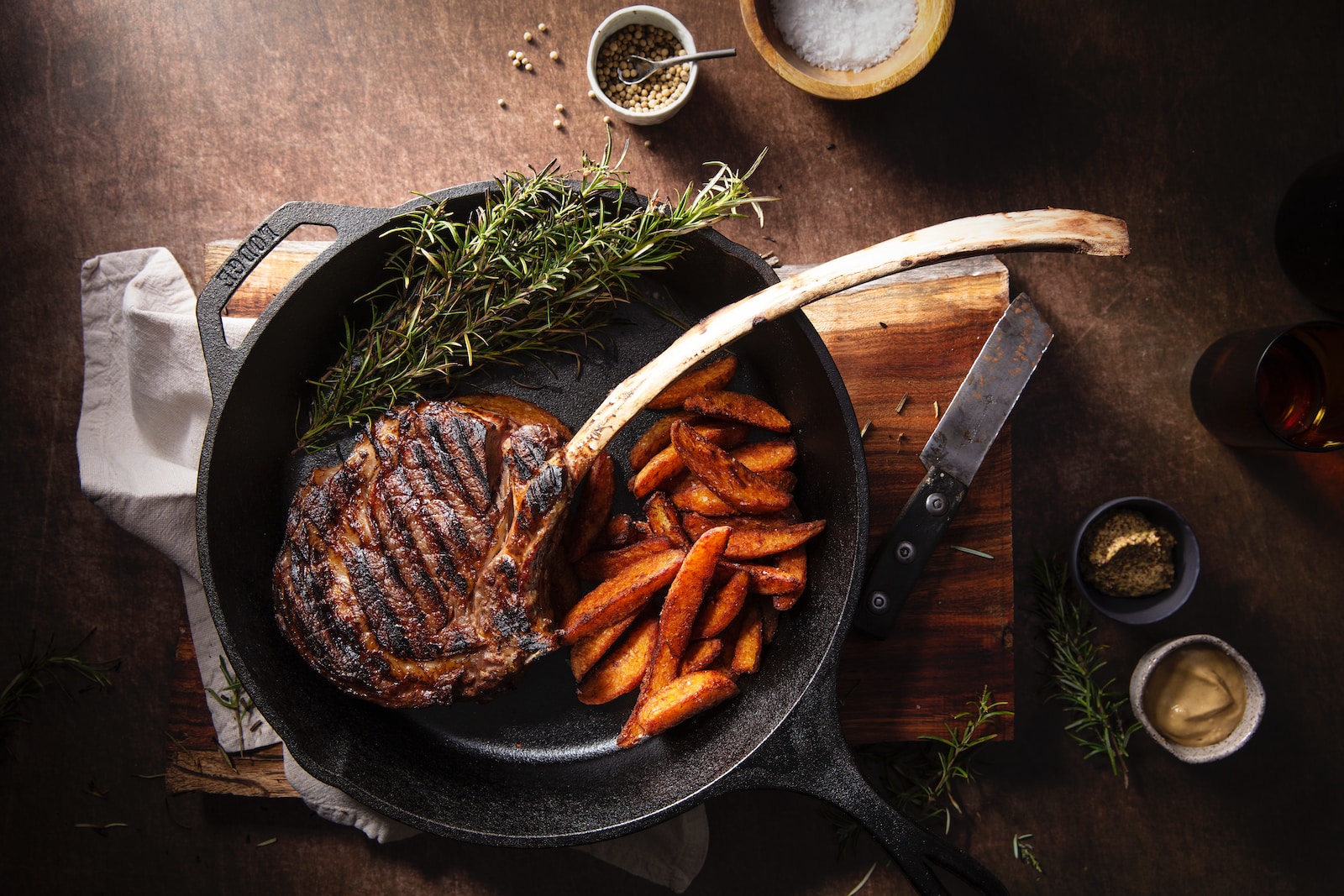 Petite Sirah's bold character and rich flavors make it an excellent choice for pairing with hearty and flavorful dishes. The wine's high tannins and acidity help it stand up to robust flavors, and fatty foods, making it a great choice for BBQ. Here are some food pairing suggestions:
Grilled or Braised Meats: Pair Petite Sirah with grilled steaks, lamb chops, or braised beef dishes for a delightful combination of flavors.
Aged Cheeses: The wine's structure and intensity work well with aged cheeses, such as aged cheddar or Gouda. (smoked Gouda is a personal favorite)
Savory Vegetarian: Think grilled veggies with drizzled with olive oil and Parmesan cheese and freshly ground black pepper or quesadillas.
Embrace the wine's robust character by pairing it with smoky and savory flavors.
Helpful Tip: Still figuring out food and wine pairing? Head over to this quick how-to guide on pairing different flavors with different wine styles.
Notable Petite Sirah Producers and Bottles to Try
When exploring Petite Sirah, seek out producers known for their dedication to this exceptional varietal. Some notable wineries include:
Final Thoughts – Petite Sirah as Must-Try Red Wine Varietal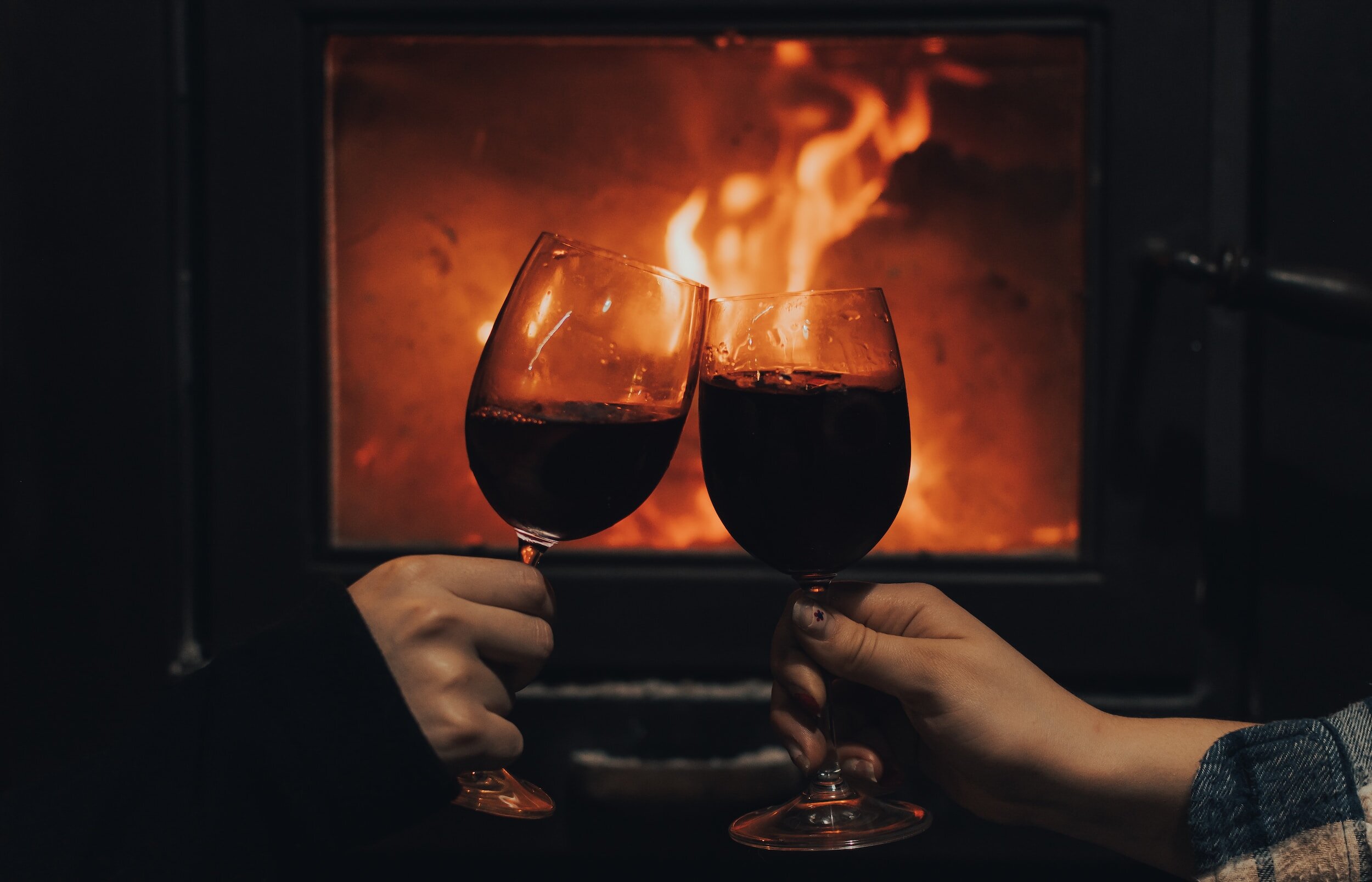 If you like big red wines, then you're going to want to keep a bottle or two (or three) of Petite Sirah on your wine shelf or in your wine cellar. This is a full-bodied, intense wine experience that works well for all of your hearty winter stews and cozy fireside chats.
Three Key Takeaways to Remember:
Intense and Bold: Petite Sirah captivates with its rich flavors of dark berries, plum, and black pepper, underlined by firm tannins and refreshing acidity.
Rich Pairing: Pair Petite Sirah with grilled meats, aged cheeses, and hearty barbecue dishes to enhance your dining experience.
Not Syrah: Despite the name, Petite Sirah isn't Syrah. If you're still not convinced, grab a bottle of each and host a side-by-side tasting.
Thirsty for More?
Head over to this post for an overview of Syrah and Shiraz wines.
Looking for more bold red wines? Here are a few more Big Red Wines you must try.
Hosting a wine tasting? Check out this list of foods that pair perfectly with red wines.