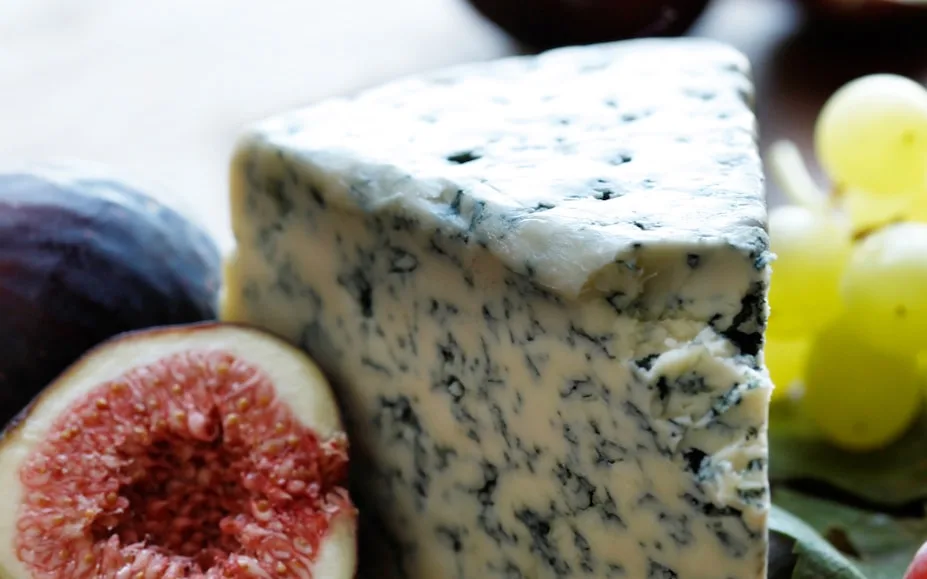 Syrah, a varietal known for its diverse expressions, works well with a range of cheeses, so you've got options!
Depending on the style of Syrah you enjoy, you'll want to match your wine with a complimentary cheese. Here's what you need to know, along with 11 cheese pairing recommendations for your next bottle of Syrah wine.
What Kind of Wine Is Syrah?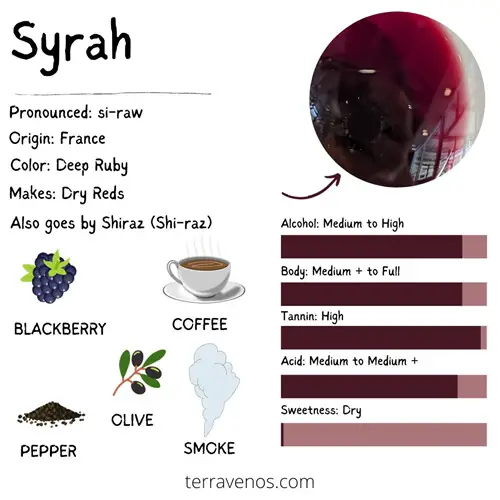 Syrah is a full-bodied wine with dark fruit flavors. Often, Syrah has time on oak, imparting smoke, chocolate, and even coffee. With age, Syrah wines begin to show tobacco and leather.
Syrah comes in two general styles:
Jammy & Fruit-Forward Syrah: This Syrah variant offers an opulent, fruit-driven experience, featuring rich, jammy flavors that delight the palate. Often full-bodied, it showcases a vibrant fruitiness that captivates the senses.

Earthy & Peppery Syrah: This style of Syrah encapsulates earthy undertones and a distinct peppery spice, presenting a more restrained and chalky tannin structure, creating an intriguing tasting experience.
Knowing what kind of syrah you have can help you pair your cheese. Most inexpensive Syrah wines will fall into the first category (under $10 USD). Syrah wines from the Northern Rhone, and from cooler growing climates will fall into the second category.
Check out more about Syrah wine here, and what's the difference between Shiraz vs Merlot.
Cheese Recommendations for Jammy Syrah Wines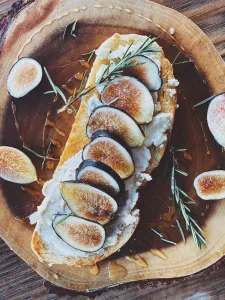 For fruit-forward, jammy Syrah wines, pick cheeses that compliment the wine's flavors, for example, fruit-infused cheeses, such as blueberry-infused or fig-infused variations. The natural sweetness and tang of these cheeses align with the jammy character of Syrah. Additionally, creamy and mild options like Havarti and Brie act as wonderful partners, allowing the fruit-forward notes of Syrah to shine. Check out these Syrah cheese pairings to get you started:
Havarti
Havarti, with its buttery and slightly sweet notes, finds a delightful partner in jammy and fruit-forward Syrah. The wine's fruitiness enhances the creamy Havarti, creating a palate-pleasing fusion. Try herb-infused havarti for a twist.
Brie
The creamy and mild Brie harmoniously complements the fruity essence of jammy and fruit-forward Syrah. The gentle flavors of Brie elegantly align with the luscious notes of the wine. (I love this pairing.)
Blueberry Infused Cheese
Infused with the sweetness of blueberries, this cheese enriches the fruit-forward profile of Syrah. The burst of blueberry flavors in the cheese resonates with the jammy essence of Syrah, creating layered, fruity bites.
Fig-Infused Goat Cheese
The delightful tanginess of goat cheese, infused with the essence of figs, perfectly balances with the fruit-forward notes of Syrah. This pairing offers a unique blend of flavors where the sweetness of figs complements the jammy character of Syrah, resulting in a taste sensation that is both complex and inviting.
Syrah Cheese Pairings for Earthy Wine Styles
The other common style of Syrah wine embodies earthy and peppery notes, offering a distinctive flavor profile for cheese pairing. This style of Syrah can hold up to aged cheeses and cheeses with stronger flavors. Check out these pairings.
Manchego
Manchego, a traditional Spanish cheese, hails from the La Mancha region and is crafted from sheep's milk. Its unique flavor, slightly nutty with a tangy undertone, beautifully complements the earthy and peppery notes of Syrah.
Did you know? Manchego has been enjoyed for over 2,000 years, making it one of the oldest recorded cheese varieties in the world.
Parmesan
Parmesan, often dubbed the "King of Cheese," is a hard and aged Italian cheese, known for its robust, nutty flavor. It's a versatile cheese that pairs wonderfully with an earthy and peppery Syrah. Parmesan is that authentic Parmigiano-Reggiano can only be produced in specific regions of Italy, following age-old traditions that have remained unchanged for over 700 years.
Pepper Jack
Pepper Jack is an American cheese variety characterized by its mild and creamy taste, infused with spicy jalapeño peppers. This playful cheese adds a kick to your pairing experience with Syrah, enhancing its earthy and peppery tones.
Truffle Pecorino
Truffle Pecorino is an Italian cheese made from sheep's milk and infused with truffle, creating a rich, earthy, and distinctly flavored cheese. This unique cheese pairs exceptionally well with Syrah, amplifying the wine's earthy and peppery notes.
Smoked Gouda
Smoked Gouda is a Dutch cheese variety that's smoked in ancient brick ovens over wood chips, giving it a distinctive, smoky flavor. This pairs wonderfully with layered, aged Syrah wines.
Bleu Cheese
Bleu cheese (or blue cheese), known for its characteristic blue veins and strong, pungent flavor, is a bold choice that stands up to the robust, earthy notes of Syrah. The intense flavors of both the cheese and the wine come together easily.
Helpful Tip: Syrah wines work well with cobb salads and other salads with blue cheese dressings.
Gorgonzola
Gorgonzola, a well-known Italian blue cheese, boasts a creamy texture and a strong, slightly tangy taste. Paired with more restrained styles of Syrah, it offers a delightful fusion of flavors.
Fun Fact: Gorgonzola is that it's one of the world's oldest blue-veined cheeses, and its production dates back to at least the early Middle Ages.
Discover: Red Wine Pairing Guide (for all the other reds in your cellar).
Final Thoughts: Syrah and Cheese Pairing Ideas
Start with the style of Syrah wine you want to enjoy, and then move on to choosing your cheese.
Pick out more than one block to taste alongside your wine to help tease out the interplay of flavors and textures.
Experimentation is always a must when pairing foods and wine together, so be sure to try different combinations to dial in your favorite Syrah and cheese pairings.
Thirsty for More?