When it comes to pairing Syrah wines with food, certain dishes can enhance your enjoyment of this robust wine, bringing out the best in both your meal and your wine.
Here's a helpful Syrah wine guide, if you're curious about this powerhouse of a grape.
13 Easy Dinner Dishes to Pair with Syrah
Check out this list of dishes that pair well with Syrah wines.
Helpful Note: I've included real dishes that real, everyday people (like me and you) make and enjoy.
1 Meatlovers Pizza – Easy
Sausage, pepperoni, and ham pizzas with a full, yeasty crust and rich, melted mozzarella cheese beg for a glass of Syrah wine. Pairing your pizza with Syrah will cut through the protein, salt, fat, and spice in each bite, cleaning your palate.
Tip: No one's judging you if you get a takeout pizza or throw a frozen pizza in the oven. I'm right there with you on a Friday night. If you have good wine, all will be well good.
2 Deli Sandwiches – Easy
Deli sandwiches work well with Syrah wines. Whether you make your own or grab a sandwich from your favorite take-out deli, you have options. Because Syrah has robust flavors and structured tannins, you can choose sandwich options with oomph, too.
Think salami, pepper jack cheese, honey mustard, roast beef, olives, and pickles.
Helpful Tip: While you can go for a lighter sandwich, like tuna fish, this is really an opportunity to choose some of those bolder flavors. (I'd stick with a buttery Chardonnay for tunafish sandwiches – or maybe even a dry Sherry. Oh. That'd be yummy.)
3 Dark Green Leafy Salads – Easy Vegetarian
Any salad lovers out there? Shiraz and salad pairings can work if you go for earthy flavors, think blue cheese, spicy arugula, sunflower seeds, and green onions. This is not the time for an Italian vinaigrette. Think thick and robust.
Helpful Tip: Add tofu (if you're vegan), hardboiled egg, or leftover chicken and steak for additional protein. Protein will help balance out the tannins in your Syrah, creating a better synergy.
4 Taco Night – Easy Syrah Pairing
Steak, carnitas, al pastor, impossible burger – whatever your favorite filler is, add those classic taco flavors with chili, garlic, onion, cumin – and you're all set. Syrah is a big flavor wine, so go for those flavors in your tacos, too.
Helpful Tip: Be careful with the spice! Chili spice can accentuate alcohol and bitterness in wine. Start with your mild salsa and then taste-test your way up the heat index.
5 Shepherd's Pie
What I love about this easy Syrah wine pairing is that it's a filling dish that you can add will warm your insides. If you go homemade, good on you, but if you're a busy professional/parent, or if you've spent all of your money on great wine, you can pick up a frozen shepherd's pie and keep in your freezer for a last-minute meal.
Meat helps balance out the Syrah, and by adding earthy herbs like oregano and basil to the dish, you'll help bring out the wine's fruit.
Bonus Tip: Add a dash of your Syrah wine to the meat while it's simmering. You're welcome.
6 Meatloaf
Another protein-rich meal, meatloaf will pair with any Syrah and Shiraz wine. The wine's pepper and cherry base will add layers of flavor to the dish.
Consider a side of caramelized onions, onion rings, or even french fries.
The Syrah will be the starring companion to your meal, cleansing your palate and adding freshness to an otherwise heavy dish.
Tip: Other red wines that pair well with meatloaf include Cabernet Sauvignon and Malbec.
7 Chili – Vegan Optional
Personal Note: Chili makes a regular appearance on my meatless Monday dinner table.
Just add a bottle of Syrah and you're ready to feast.
Pairing chili with Syrah wines brings out the wine's red fruit notes and complements the dish's tomato sauce and spice base.
8 Slowcooker Stew
Use a tomato-based broth and add mushrooms, onions, garlic, turmeric, beef or sausage, along with potatoes, barley pearls, or brown rice for a soul-pleasing meal. Similar to the other heavy dishes listed, the berry flavors and tannins in your Syrah wine will elevate your stew.
9 Roasted Vegetables – Vegan
Roasted vegetables have those earthy flavors and also a slight caramelized quality from their natural sugars. Drizzle generously with extra virgin olive oil and maybe even a balsamic vinegar reduction if you have it around. Sprinkle with sea salt.
10 Spaghetti Carbonara
Who doesn't love rich umami flavors and pasta? Whether you go for bacon and ham, or sausage for your carbonara, dust generously with parmesan cheese and freshly ground black pepper.
11 Grilled Cheese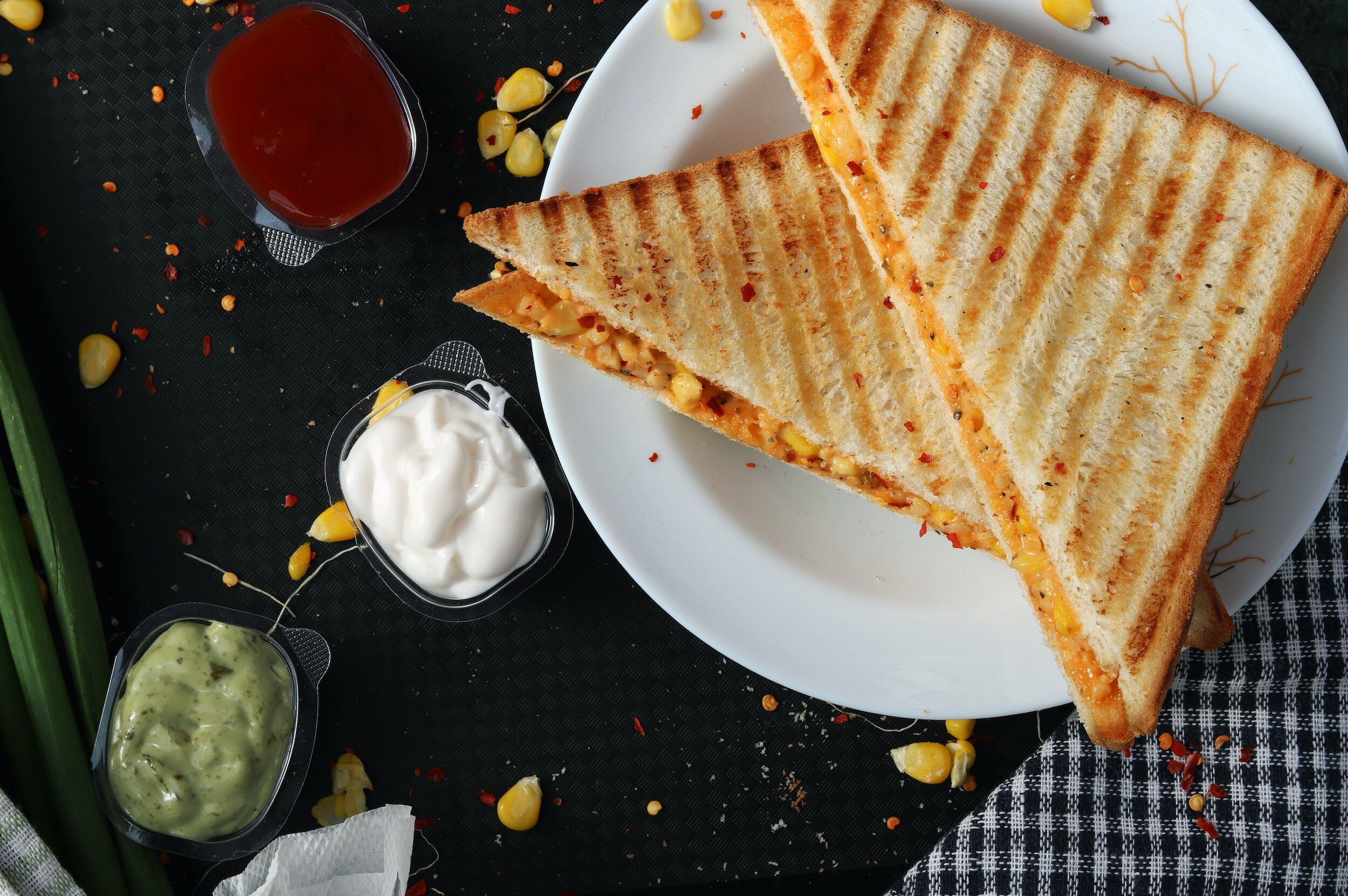 If you have young children and need to make a quick meal, grilled cheese can be an easy go-to option. Up your adult grilled cheese by pairing it with Syrah. Add a dipping sauce with chipotle flavors and enjoy!
Syrah's acid balances the richness of the cheese and complements will cut through the oil. Try with pepper jack cheese for added flavor.
12 Grilled and Roasted Sausage
Pairing Syrah wines with roasted sausage and red and yellow peppers, and maybe a side of onions and garlic, works every time.
Personal Note: This is my go-to camping pairing.
Sausage and peppers are an easy match for Syrah wines. What I love about this pairing is that it's accessible for beginning cooks.
13 Hamburgers – Vegan Optional
Whether you enjoy bison burgers or vegan patties, the flavor combination of grilled or charred patty with tomato, onion, lettuce, and sauces are always a crowd-pleaser when pairing Syrah.
Whether you choose takeout or homemade burgers, both will work with your Syrah wine.
Syrah's structure and acidity cut through the fat in your burger, elevating the qualities and flavors of both wine and food.
What Foods Don't Work Well With Syrah Wines?
Avoid pairing Syrah and Shiraz wines with sweet dishes. Think sweeter sauces. This will clash with the dry tannins of Syrah wine.
Delicate, fruity flavors, like a fruit salad, will make your wine seem harsh and bitter.
Chili spice will accentuate the alcohol burn in your Syrah if you have a higher-alcohol bottle (above 13.5% ABV).
Helpful Tips for Wine and Food Pairing
Not all wines will work with all foods. You can force it and pair however you like, but you'll miss that magical synergy.
Helpful Tip: Check out this wine and food pairing guide if you're just starting out. It goes over flavors and considerations with wine pairing.
Final Thoughts – Syrah Food Pairing
Pairing Syrah wines with rich, full-flavored dishes that have protein and fat makes all of the difference. Take some time to pair your Syrah wine well, and you'll be well-rewarded.
Discover: Syrah Cheese Pairing Guide
Thirsty for More?