What Appetizers Pair Well with Red Wine?
The best cold appetizers for your red wine tasting will deliver fat, protein, and/or salt. Fat softens wine's acid and salt will make your wine seem fruitier. The protein binds with tannins in red wine, making it smoother and cleansing your palate. This is why cold cuts, olive oil, and cheeses make good red wine partners.
Helpful Tip: Here's an easy overview of how wine and food pairing interact. A must-read if you're just getting started.
Cold appetizers, like cheese, artichoke dip, stuffed cherry tomatoes, salted almonds, and even deviled eggs all work with red wines. Each of these foods features salt, protein, or fat, making them great appetizers for your red wine tasting.
Check out this list of 13 cold appetizers for your next red wine tasting event. You'll find some are easier to prepare than others, so hopefully you'll find an appetizer that works for you.
Helpful Tip: If you're looking for cold appetizers for any wine (red or white), then head over to this post that covers all cold appetizer ideas for wine tasting.
What Appetizers Don't Work Well With Red Wine?
Be careful with foods that have a sweetness to them. What seems like a good pairing idea (apples, strawberries, or even grapes, for example) can make your dry red wine seem tannic and thin.
Best Cold Appetizers for Red Wine Tasting List
1. Crudité Platter
A crudité platter is a plate of raw vegetables (sliced or whole), arranged artfully (or not) on a plate or board. You'll typically include a sauce of some sort for dipping – this could be a hummus, a yogurt dip, or just some sort of salad dressing.
Stick with vegetables that are fresh and in season.
Think about the flavor profile of the veggies you're serving with your red wine. Carrots and celery have an earthy quality to them. Bell peppers and cherry tomatoes have a sweetness to them, as well as acid that will lift up your wine.
Difficulty: Easy
Red Wine Examples: Any. Go have fun shopping for veggies.
2. Cheese Board
There's a reason cheese works well with red wine. Cheese has salt, protein, and fat. All three qualities help to lift up your wine's body and fruitiness, mellowing out any tannins or alcohol.
And cheese is a fermented food, just like wine. (Coincidence? I think not.)
Bring together a variety of cheese to experiment with flavor combinations. Cheddar, Gruyere, Manchego (my personal favorite), or even fresh parmesan.
Pro Tip: Be careful with pepper jack and other spicy cheeses. Chili pepper can enhance the alcohol burn and tannin in wine in red wine.
Different styles bring unique qualities to the table, so feel free to experiment.
Difficulty: Easy
Red Wine Examples: Any. Have fun and play around with your red wine selections.
3. Hummus and Pita Chips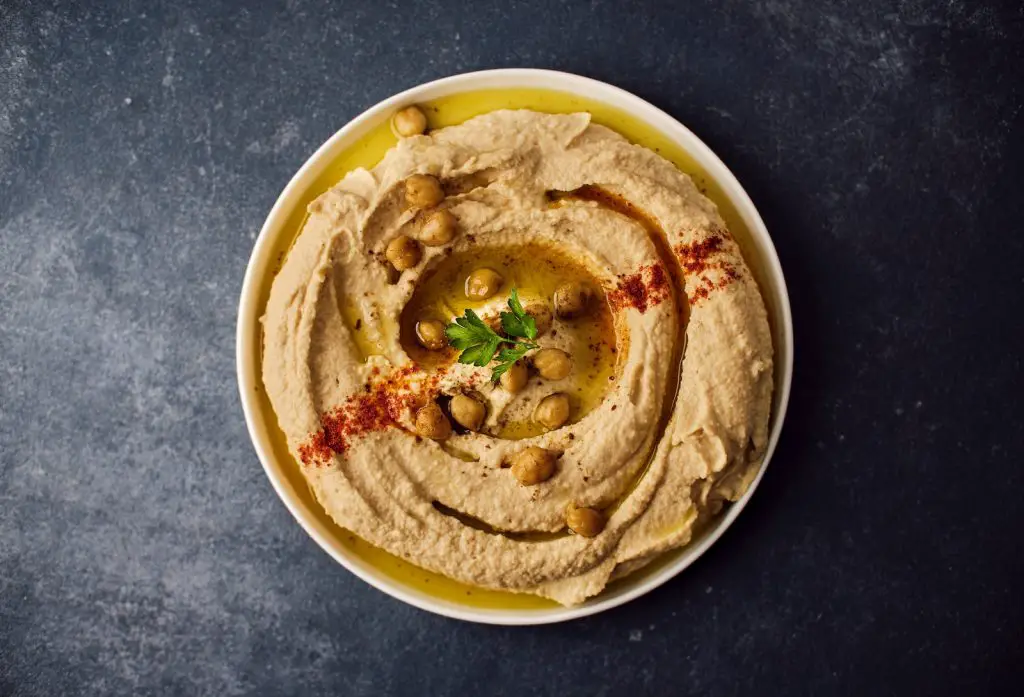 Hummus and pita chips are always a winning combination for your cold wine appetizer list. Hummus delivers a nutty, creamy quality. Drizzle it in olive oil for added fat that will smooth out the acid in your red wine and make it taste fruitier.
Hummus can hold up to heavier, fuller-bodied red wines, so experiment and go big!
Difficulty: Easy to Medium (if you make your own)
Red Wine Examples: Merlot, Malbec, Zinfandel, Cabernet Sauvignon, Cabernet Franc
4. Bruschetta
A classic cold Italian appetizer, bruschetta brings together bread, olive oil, and fresh tomatoes for a true Mediterranean treat. If you're fortunate to be reading this when tomatoes are in season, then bruschetta is a fabulous choice as a go-to cold wine appetizer.
Helpful Tip: Check out this list of super easy appetizers for wine tasting.
What I like about bruschetta is that it's more filling than some of the other options on this list, perfect if you're not having a full meal, just wine and finger foods.
Difficulty: Medium
Red Wine Examples: Chianti, Lambrusco, Zinfandel (Primitivo), Merlot
5. Caprese Skewers
Caprese skewers are a quick and easy party appetizer that works for your wine event. Cherry tomatoes, basil leaves, fresh mozzarella balls, and a balsamic reduction glaze bring together acid, fat, and layers of earthy flavors. Caprese tends to have more structured flavors and will stand up to your red wines.
Like the bruschetta, think Italian!
Difficulty: Medium
Red Wine Examples: Chianti, Lambrusco, Zinfandel (Primitivo), Merlot, Montepulciano
6. Deviled Eggs
Deviled eggs make a great cold appetizer for wine tasting thanks to the eggs' protein. If you mix in mayonnaise, just be forewarned that this can cause some pairing clashes. Stick to lighter, fruitier red wines with your deviled egg appetizer.
Difficulty: Medium
Red Wine Examples: Pinot Noir, Gamay (Beaujolais), Lambrusco, Light Bodied Grenache
7. Stuffed Cherry Tomatoes
Scoop out the insides of a handful of cherry tomatoes, then add a dollop of smooth cream cheese mixed with fragrant dill and chopped cucumbers. Boom! A tasty, bite-sized treat for your chilled appetizer. Tang. Fat. Cream. And earthy goodness. This will be an excellent cold appetizer for lighter red wines.
Difficulty: Medium
Red Wine Examples: Inexpensive Chianti, Gamay, Light Styles of Grenache, Pinot Noir, Schiava
8. Dolma
Dolma, or stuffed grape leaves, have a savory quality to them with layers of spice and a subtle creamy texture thanks to the generous use of olive oil. Dolma's more substantive and can stand up to heavier red wines, so go big.
Difficulty: Easy (if you purchase pre-made)
Red Wine Examples: Cabernet Sauvignon, Bordeaux, Malbec, Zinfandel, Primitivo, Aglianico
9. Salted Nuts
Every wine goes well with nuts. They have protein, fat, and salt. The perfect trio to balance tannins, enhance fruit qualities, and cleanse the palate while you're sipping. Added bonus: nuts are shelf-stable.
Difficulty: Easy to Medium
Red Wine Examples: Honest – salted nuts work with all red wines. Go get some nuts.
If you're looking to elevate your nut experience, try toasting them right before serving or serving herb or truffle-infused nuts. Here's a personal favorite: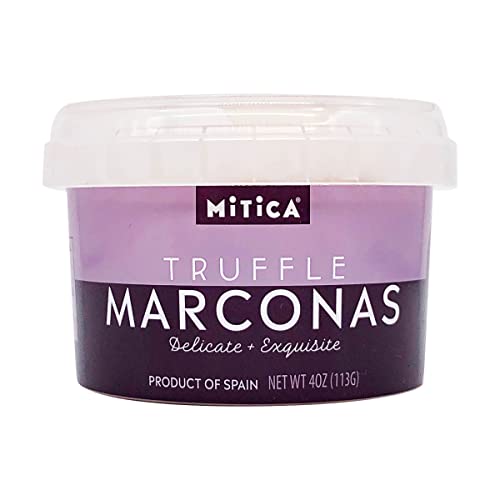 10. Tortilla Pinwheels
Quick and easy, tortilla pinwheels are a more substantive appetizer. You can make them vegetarian or vegan, or add cream cheese and slices of deli meats. Crunchy fresh vegetables will lift up your wines. The combination of vegetables and tortillas makes this a neutral appetizer that can work with any red wine.
Difficulty: Medium
Red Wine Examples: Pinot Noir, Grenache, Mencia, Gamay, Cabernet Sauvignon, Malbec, Zinfandel
11. Potato Chips
Arguably not the sexiest of red wine appetizers, but potato chips work 100% of the time. They have salt and fat. Fat cuts through red wine tannins (as you know by now). Salt enhances the wine's fruit profile. You can't go wrong with potato chips. Another perfect shelf-stable appetizer for any last-minute red wine gathering.
Difficulty: Really Easy
Red Examples: Any and all red wines.
12. Artichoke Dip
With its sour cream or yogurt base, artichoke dip makes an excellent cold appetizer for lighter red wines. Artichoke dip is easy to make ahead of time or pick up at your local grocer. With artichoke's long history in the Mediterranean, you know artichoke dip will pair well with wine. Stick with lighter reds.
Difficulty: Easy
Red Wine Examples: Pinot Noir, Schiava, Mencia, Gamay (Beaujolais Nouveau)
13. Baguettes and Olive Oil
A classic, timeless wine pairing: baguettes dredged in olive oil with freshly crushed black pepper and parmesan. This simple, yet satisfying, pairing will keep you filled up while you finish a glass (or two) of wine.
Difficulty: Easy
Red Wine Examples: Dealer's Choice – you can't go wrong with a fresh baguette and dipping dish of extra virgin olive oil
Final Thoughts – Fat, Salt, and Protein
Appetizers are a wonderful way to learn more about red wine pairing and flavor combinations. As you plan your cold appetizer menu for your upcoming red wine tasting event, keep in mind how the food's flavors will interact with your wine selections.
Stick with a sampling of cold appetizers that have fat, salt, and protein and you'll be all set.
Remember to be mindful of sweet foods that can make your wine seem thin and acidic.
To red wine and food! Have fun~
Thirsty for More?
Head over to this post for more general wine tasting food ideas if you're looking for inspiration.
If you already know what wines you'll be serving, check out this post on what to serve at a red wine tasting (not just cold appetizers), and here's the sister post: what to serve with a white wine tasting.
Check out this post for ultimate list of finger foods for wine tasting (for red and white wines).
Are you a Chardonnay fan? Here are my top 5 everyday Chardonnay pairings for everyday people. Go ahead, bring a little decadence to your Wednesday.