If you love drinking pink wine, then you're fortunate! Rosé wines are known for being less expensive and easy to find wherever you buy your wine.
Decent rosé wines cost between $10-$15 USD, which isn't very expensive. You can find entry-level, cheap rosé wines priced under $5 USD. But not all rosé wines are extreme value. The most expensive rosé wines are pink Champagnes, which can be priced over $200 USD per bottle.
Here's what you need to know about why rosé wine price and why drinking pink is such a bargain.
Is Rosé a Cheap Wine?
Yes, rosé wines are cheap – or, more accurately, inexpensive – compared to other wine styles.
The winemaking processes for rosé aren't as involved as for red wine. Also, rosé wines don't need the same aging regimen as red wines. Both of these factors help to keep rosé wine prices low, which means lower per-bottle costs for you as the wine drinker.
Finally, rosé wines don't have the structure to allow them to age for several years (or decades), which means that rosé wines can't command the prices of other investment-grade wines for cellaring (Bordeaux, anyone?).
Why Is Rose Wine Easier to Make?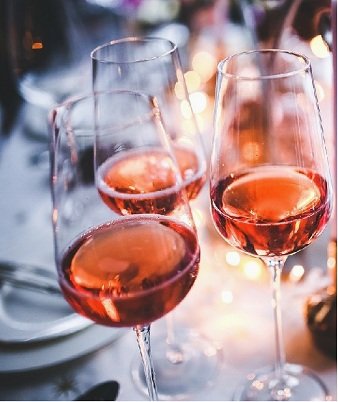 Rosé wines should always deliver a fresh, easy-drinking experience. The winemaker's goal is to keep those robust, crunchy red and citrus fruit flavors in the bottle.
Because of this, the winemaker usually wants to get the wine to you as quickly as possible.
This means not putting the wine through malolactic conversion. Malolactic conversion's a natural process that lowers a wine's acid level (the fruit won't seem as fresh and crunchy), helps to stabilize the wine, but adds to production time.
Helpful Tip: You can read more about the technicalities of malolactic conversion here (it's not for everyone, I know). 
The winemaker will also avoid aging the rosé in oak barrels or adding oak chips. This reduces production time and cost.
Less-involved winemaking and less time held back at the winery for aging as inventory mean that winemakers can turn a profit more quickly with rosé wines.
Helpful Post: If you really want to know more about how rosé wine is made, then check out this overview post that covers the different options winemakers have to make rose wine.
Why You Shouldn't Keep Rosé Wines for Years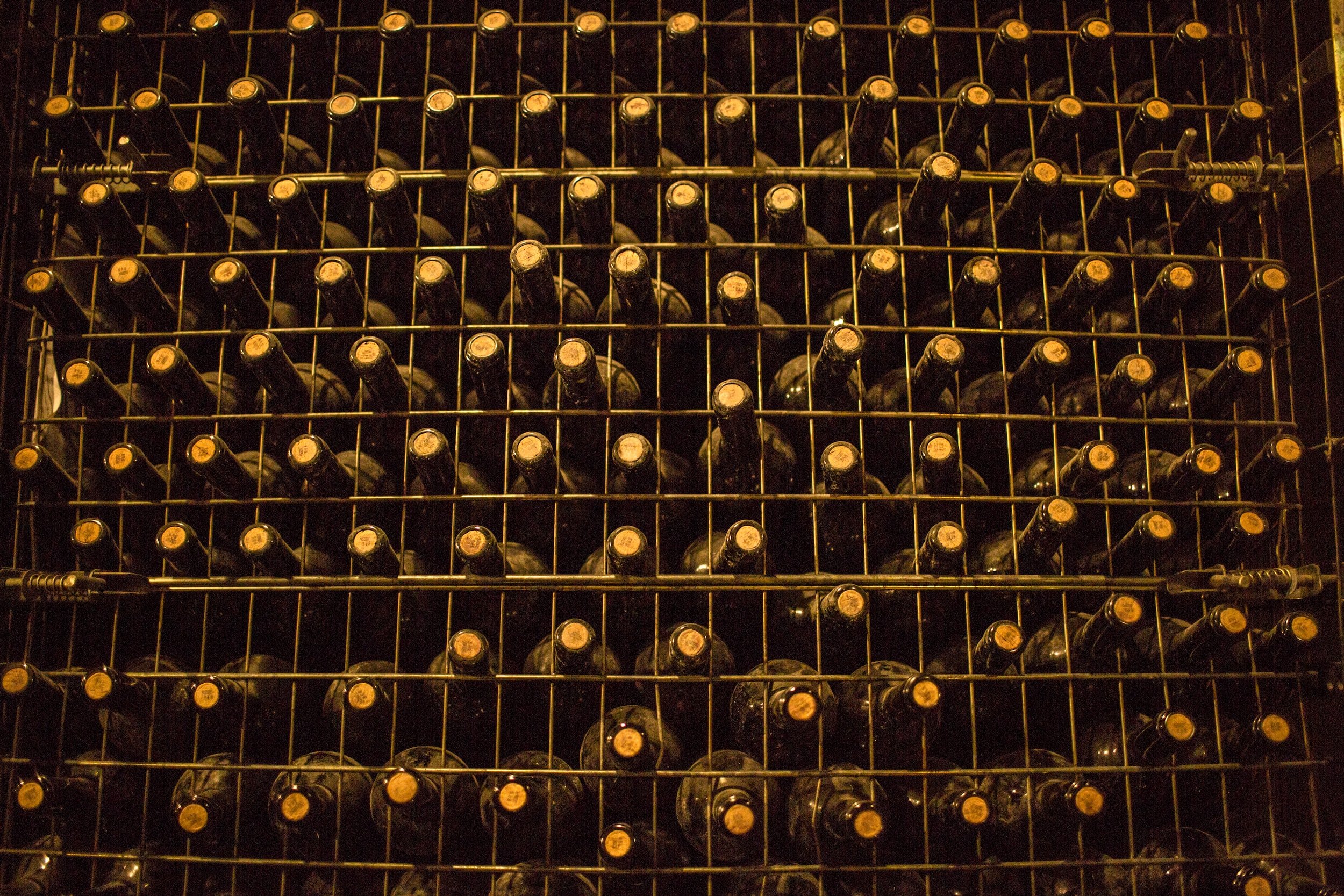 Ageable wines have high acid, high tannins, high alcohol, and intense fruit concentration (or a combination of these elements) that will allow them to age in bottle for years. While rosé wines do typically fall on the higher-end of the acid scale, they don't have high tannin levels, high alcohol levels, or the fruit concentration that will allow them to age for years in the bottle.
Some fuller-bodied rosés can keep for a few years, but the general rule is to always buy the youngest rosé that you see on your store shelf.
After about one year, you'll notice the pink color starts to fade and turn to a salmon, and then to a faded, washed-out brown color. This is a good sign your rosé wine is passed its prime. 
The fact that rosé wines aren't ageable is another reason why they're cheap. The wine producer knows that they need to sell their wine as quickly as possible.
They don't want to get stuck with leftover rosé inventory from last year that's past its prime and have this year's rosé coming to market.
This supply timeline is excellent for thirsty wine lovers because it means that rosé wine price is always agreeable.
How Much Does Rose Wine cost?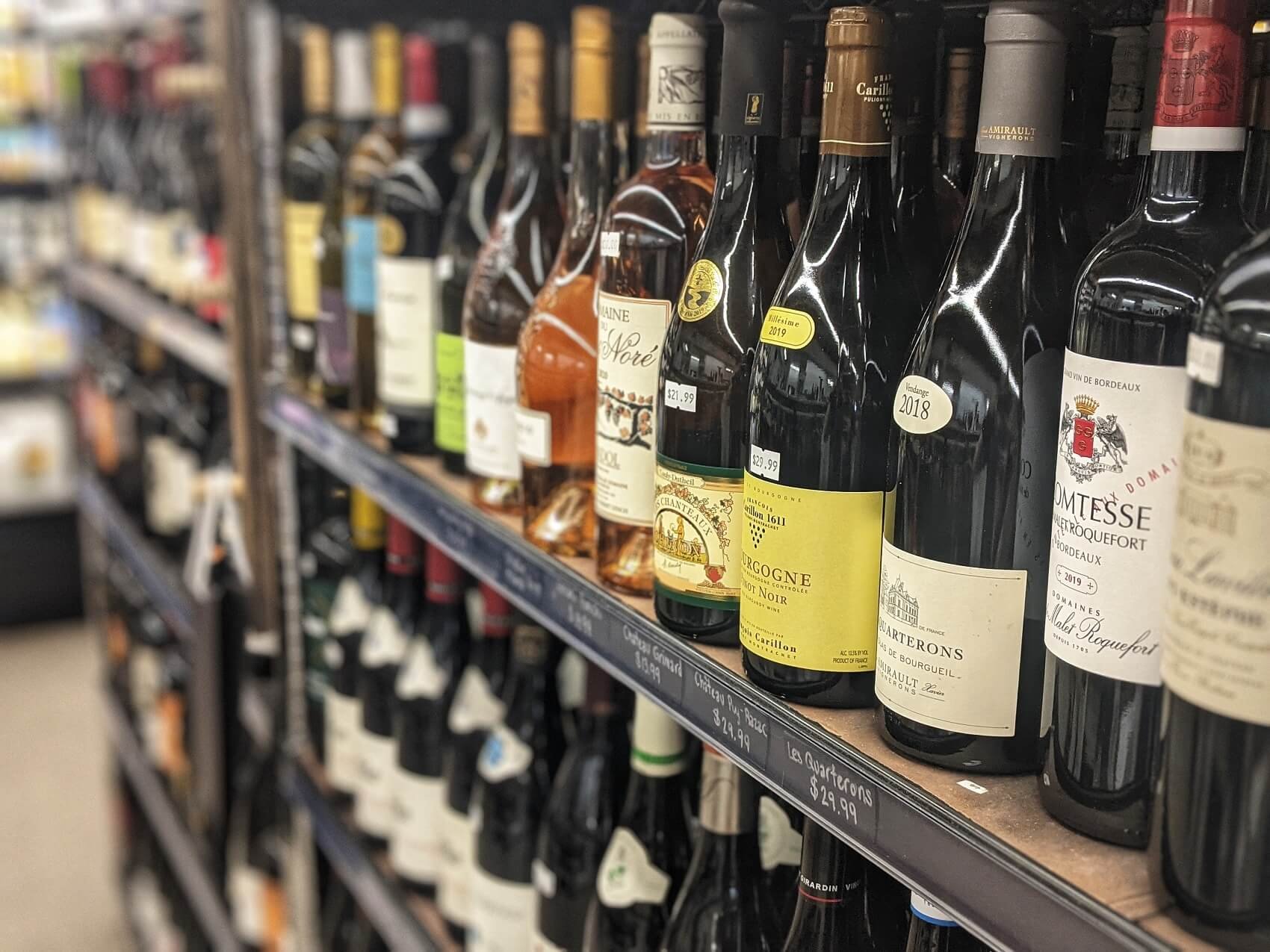 Cheap, entry-level rosé wines can cost under $5 USD per bottle. Expect cheap rosé to taste like red berries and red candy, but you won't have layers of flavor.
Most inexpensive rose wines will have a little sweetness to them. 
Decent, mid-priced rosé will cost you between $9 – $15 USD.
You'll find excellent roses from Chile, Argentina, Portugal, Spain, France, and the US at this price point.
In the $15 – $20 USD range, expect to have a more nuanced and greater concentration of fruit flavors.
You'll also start to see bottles from smaller producers, and regions that aren't as well known for rosé wines, like South Africa, Northern Italy, Pfalz, Minervois, and New Mexico. This can be a fun category to explore. 
Fun Fact: Of the 700 rosé wines available for sale on wine.com, 350 bottles were $20 USD or less and 450 bottles were $25 or less. You should never have to pay more than $25 for a decent quality rosé. 
Champagne Rose Wine Price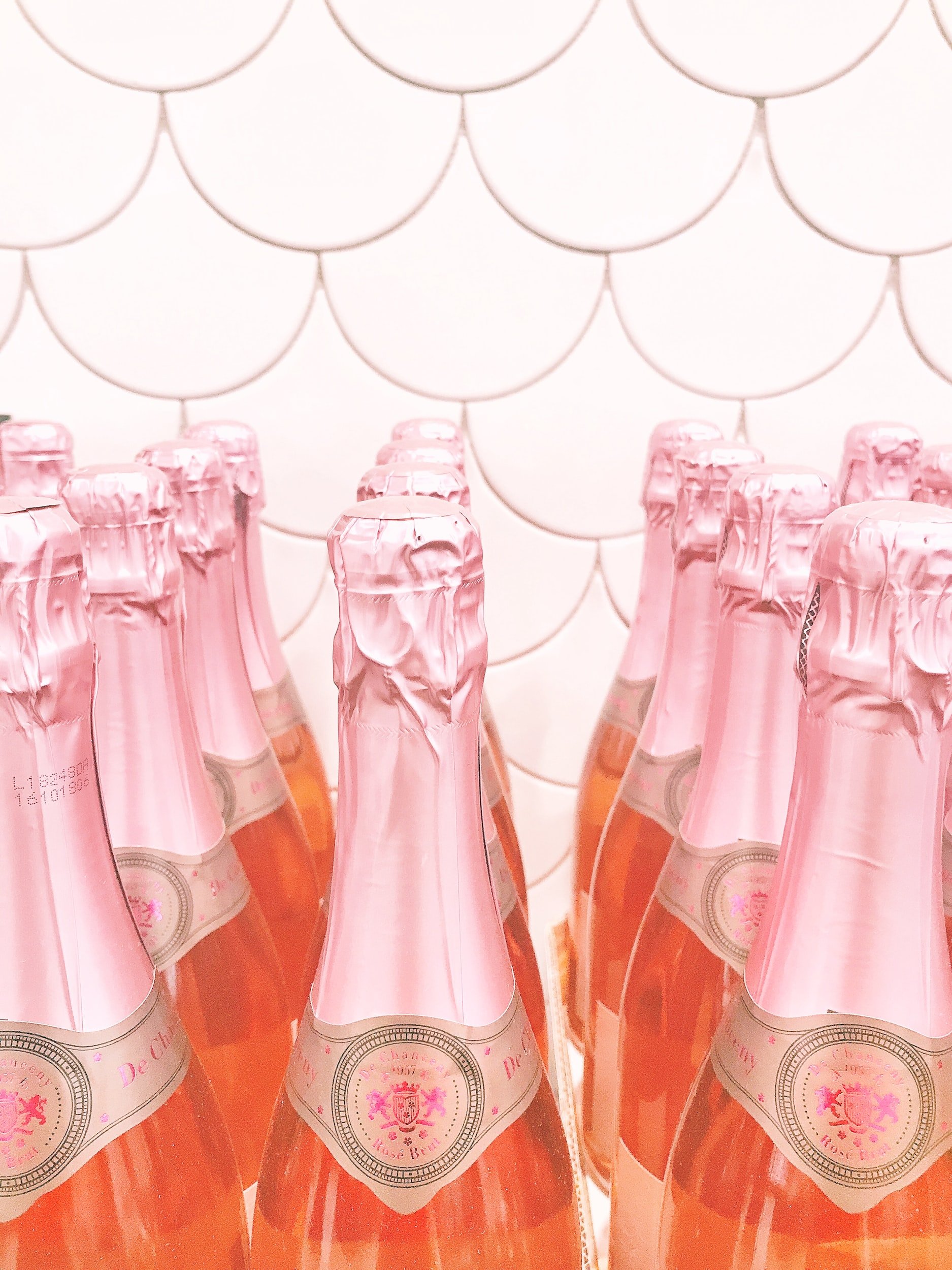 Rosé wine's so affordable, but why is pink Champagne so expensive? Sparking rosé wine or rose Champagne is much more expensive than still rose wines because of their production costs.
Unlike still rosé wines, Champagne has a minimum aging time of 15 months. If there's a year on the bottle (it's a vintage rosé Champagne), then the winemaker can't sell it for 3 years. 
That's a long time to hold onto inventory.
Champagne's also a challenge to make. Champagne grapes, in general, are among the most expensive in the world to grow due to strict yield limits and finicky weather that can damage vines and reduce crop loads.
And, Champagnes are a blend of grapes, meaning the winemaker needs to manage different lots of wine and blend them together to make a balanced wine. Most sparkling rosé wines will be blends of Chardonnay, Munier, and Pinot Noir.
Finally, sparkling pink wines (including rosé Champagnes) are difficult to make because that pink color isn't stable in the bottle, and the winemaker needs to know exactly how much red wine (Pinot Noir) to blend into the base wine to get that perfect pink hue.
Here are a few rosé Champagne prices:
Gosset Celebris Extra Brut Rose 2008 – $239 USD
Beau Joie Special Cuvee Brut Rose – $139 USD
Ruinart Brut Rose – $110 USD
Louis Roederer Brut Rose 2015 – $86 USD
These eye-watering prices are astronomical compared to still rosé wines.
Helpful Tip: Here's a more in-depth post on sparkling rose wine. Pink bubbles! Check it out!
What Does Sparkling Rose Champagne Taste Like?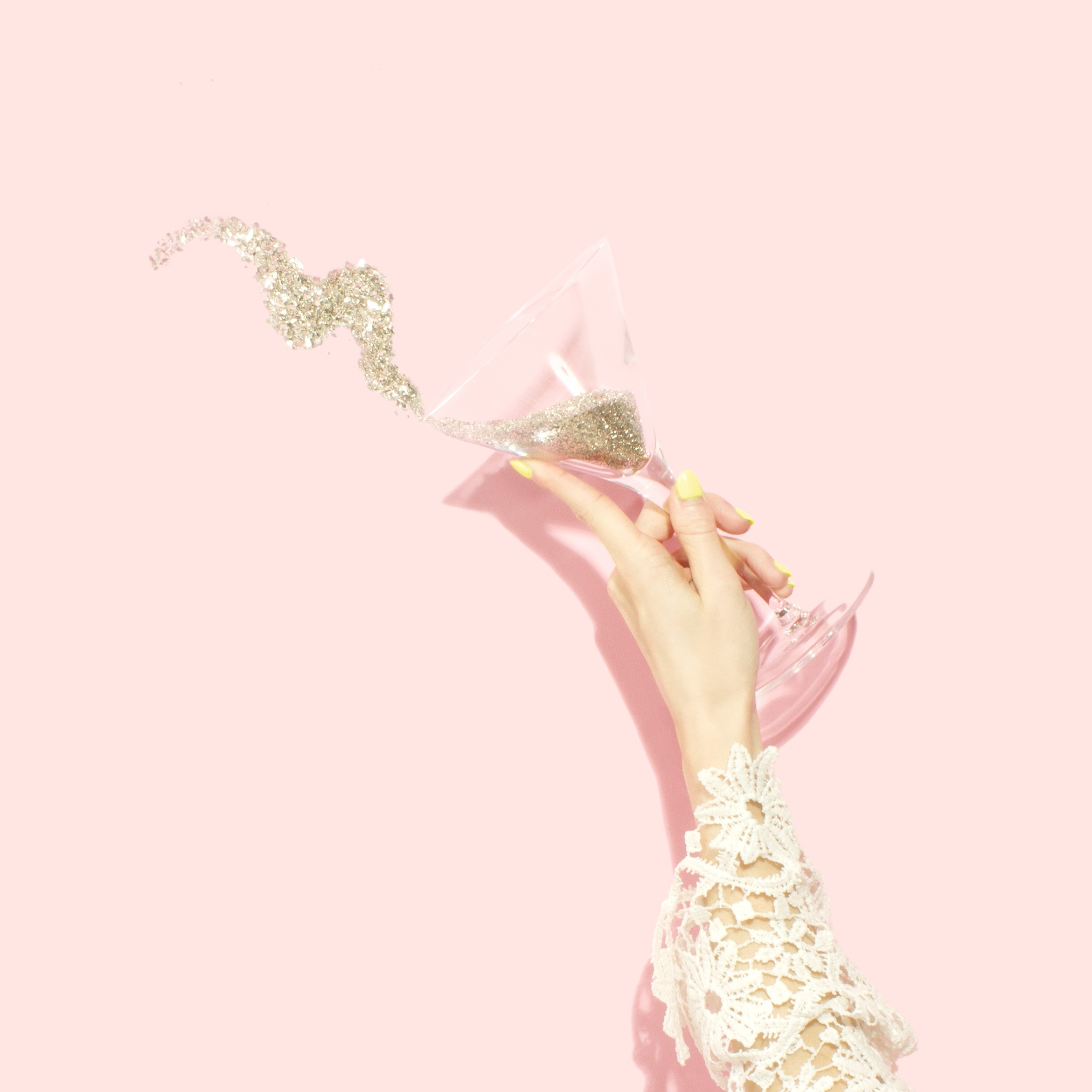 Most sparkling pink or rosé Champagne will be Brut, meaning the wine will have up to 12 grams per liter of residual sugar to offset high, linear acid levels.
Sparkling rosé Champagnes have a creamy mousse with fine bubbles that will tickle your tongue.
Rose Champagnes are complex wines with red fruit like currants and strawberries, blood orange, white floral notes, nectarine, hints of marzipan, and brioche. 
You can tell just by the description that these sparkling rosé wines have a depth of complexity that your still rose won't be able to replicate. 
Discover: Goat Cheese and Wine Pairing Guide and this Rose Cheese Pairing Guide for more fun cheese and wine pairing ideas.
Is Rosé wine cheap or a bargain? You decide!
Rosé wine price makes this pink wine a fabulous choice for wine lovers who also like to keep an eye on their wine budget. You'll find extreme economy bottles of rosé under $5 USD, and perfectly quaffable cheap rosé under $15 USD.
All you need to do is shop around and try different labels to see what bottle of pink strikes your fancy!
Thirsty for More?
Check out this overview post on why we drink rose wine on Valentine's Day and more about the economics of rosé wine production.

Curious about the grapes that they use to make your rosé wine? Check out this post that has all of the grapes that winemakers can use to make pink wine.

Here's a nice overview post that goes into how rose wine is made – it's a little nerdy, but that may be just your thing!