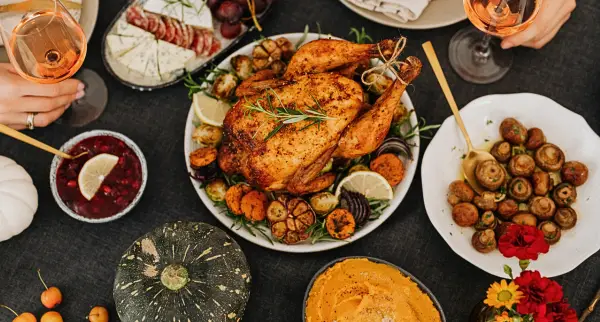 Thanksgiving dinner is a time-honored tradition, and the choice of wine can significantly enhance the dining experience. Dry turkey needs something to go with it, and that something is most definitely wine, but… Cabernet Sauvignon may not be the best choice.
Is Cabernet Sauvignon Wine Good for Thanksgiving Dinner?
Cabernet Sauvignon wine isn't the best option for a traditional Thanksgiving dinner with turkey, stuffing, and green bean casserole. Cabernet's full-body, high tannin, and dark fruit will overpower the earthy flavors of your traditional Thanksgiving meal.
What Foods Does Cabernet Sauvignon Pair Well With?
Cabernet Sauvignon has high tannin levels and a full-bodied nature making it an excellent companion for hearty dishes that are rich in protein and fat, think steak and BBQ.
Cabernet Sauvignon is a world-class red wine. With prominent notes of dark fruits like blackcurrant, plum, and cherry, coupled with hints of cedar, tobacco, and sometimes green bell pepper; it is a wine that demands attention. But does it complement the diverse flavors of a traditional Thanksgiving spread?
What Flavors Are You Pairing with Traditional Thanksgiving Foods?
Thanksgiving tables are laden with a variety of flavors, from the succulent roast turkey to the sweet and tangy cranberry sauce, the savory stuffing, and the earthy sweetness of sweet potatoes. So, what exactly are you pairing?
Poultry (white meat) – that's sometimes dry
Herbal rubs
Roasted and caramelized root vegetables
Savory gravy
Sweet potatoes
Mashed potatoes
Cranberry dressing
Salads
Helpful Tip: Here's a quick guide to pairing food flavors with wines to get you started.
What Wines Work with a Traditional Thanksgiving Dinner?
While Cabernet Sauvignon may be a splendid choice for certain occasions, its bold and intense profile might overpower the delicate and varied flavors of Thanksgiving dishes.
Head over to this post for my go-to list of Thanksgiving wines that work with traditional Thanksgiving dinner dishes.
You'll find these wines within any budget and they'll work beautifully with your fried turkey, oven-roasted turkey, or gumbo-stuffed turkey. Whatever you're turkey choice is, they'll be delicious.
In conclusion, while Cabernet Sauvignon is undoubtedly a magnificent wine, it's not the best match for the earthy flavors of a traditional Thanksgiving dinner.