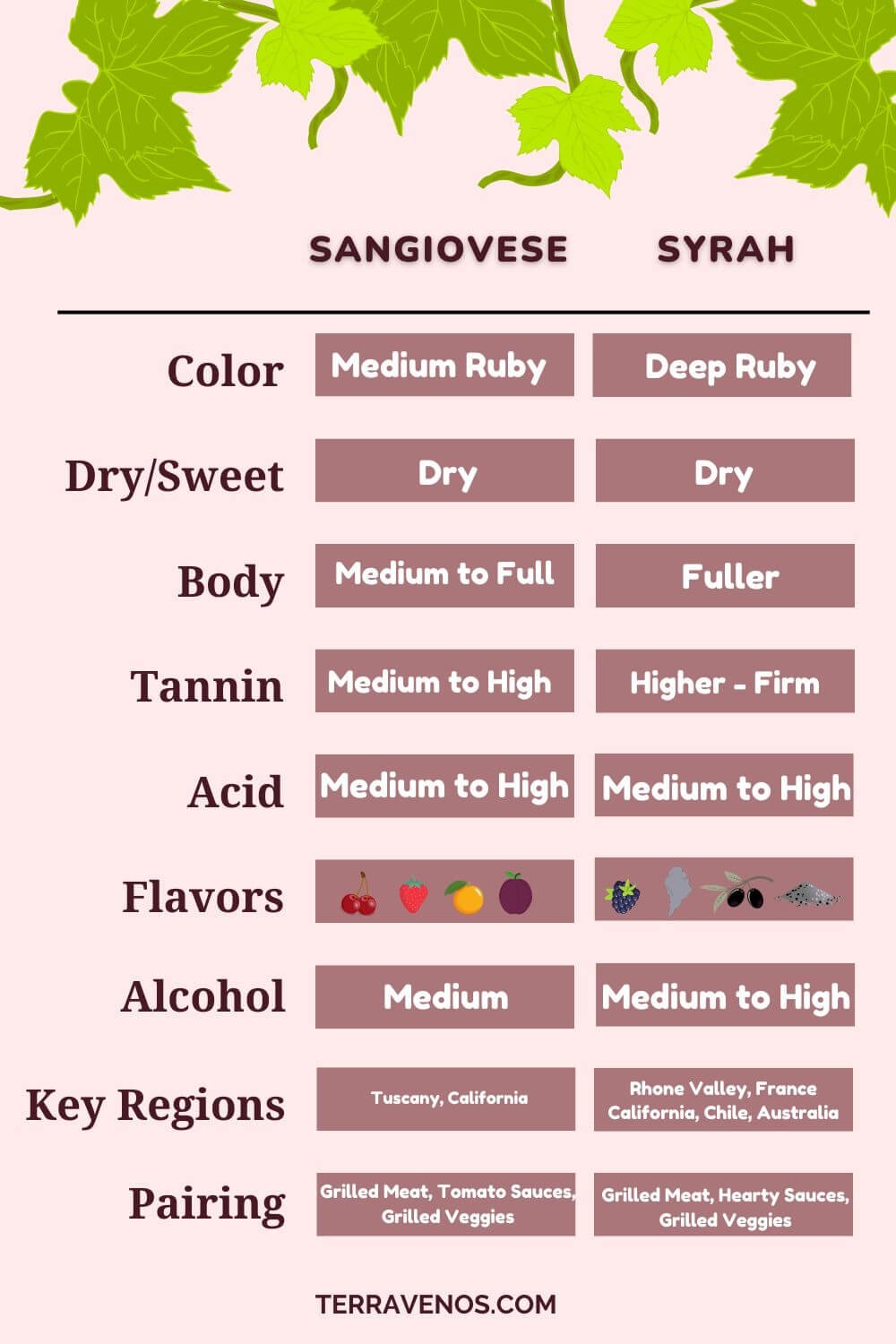 What's the difference between Sangiovese and Syrah?
Italy's Sangiovese has a medium body, biting acidity, high tannins, and crunchy cherry and herbal notes. Syrah tends to have a fuller body, more structured tannins, and black fruit, black pepper, and olive. Both wines are commonly sold in the $10 to $20 USD price range.
Here's what you need to know about the differences between Sangiovese and Syrah.
Sangiovese Basics: Italy's Grape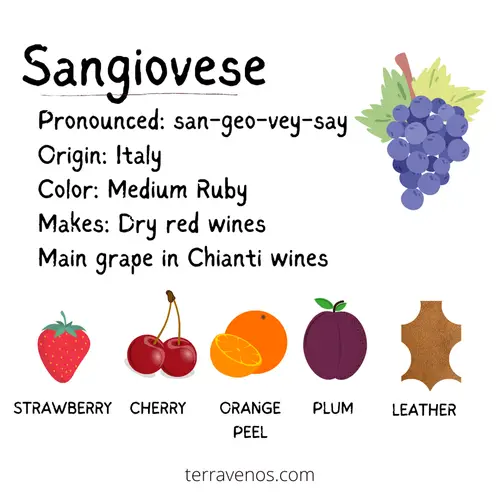 Sangiovese, an ancient Italian grape, plays a significant role in the country's wine culture. This food-friendly red wine has a medium to full body with red fruit notes, such as cherries and raspberries, complemented by subtle herbal. Italy remains the primary producer of Sangiovese globally, offering a diverse range of options to cater to various tastes and budgets, from everyday drinking wines to premium selections.
You'll also find excellent Sangiovese expressions from regions like California. Here's a full post on Sangiovese.
Fun Wine Fact: Sangiovese is a primary grape variety in the world-renowned Chianti wine. Check out this post on how to buy Chianti wines, along with a print-out shopping guide.
Syrah Basics: A Full-Bodied Red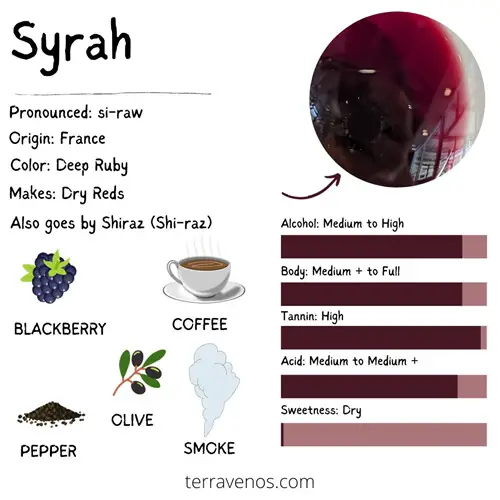 Originally from the Rhône Valley in France, Syrah's considered one of the major international wine grape varieties. Syrah is a full-bodied red wine with medium to high acidity, pronounced tannins, and medium to high alcohol content. Check out this full post on Syrah wine.
Today, Syrah can be found not only in France, but also in regions like California, Chile, and Australia, each offering its unique expression of this beloved grape variety.
Fun Wine Fact: Syrah goes by the name Shiraz in Australia, and is the country's signature red wine grape.
Wine Comparison: Sangiovese vs. Syrah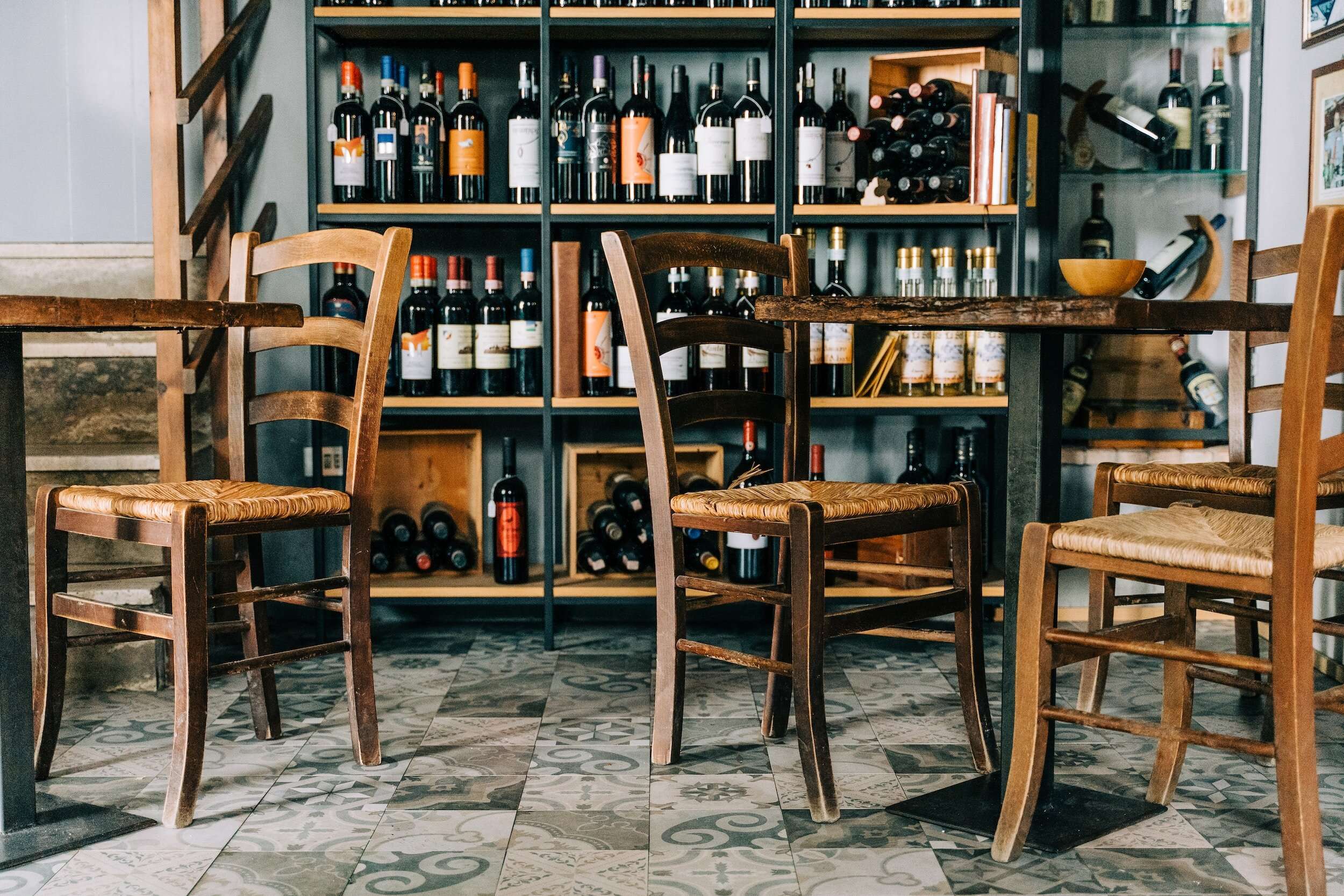 Let's uncork a side-by-side comparison of Sangiovese and Shiraz.
Sangiovese Wine Profile:
Sweetness: Sangiovese is typically produced in a dry style, offering minimal residual sugar.
Alcohol: Sangiovese wines generally have a moderate alcohol content, ranging from around 13% to 14.5% ABV.
Body: Sangiovese has a medium body. You may come across fuller-bodied expressions in premium Sangiovese wines.
Acid: Sangiovese has medium plus acidity. This higher acid level makes the red fruit taste bright and fresh.
Tannin: Medium and textured. In cooler years, if the grapes don't fully ripen, this can add herbal notes to your Sangiovese wine.
Flavor and Aroma Intensity: Sangiovese boasts vibrant aroma intensity, with red cherries, raspberries, and hints of herbs and earthiness.
Flavors: The flavor profile often includes notes of red berries, subtle spice, herbal undertones, and sometimes an orange peel.
Syrah Wine Profile:
Sweetness: Syrah is typically made in a dry style. You may find off-dry examples in entry-level bottles made for a broad consumer market.
Alcohol: Syrah wines typically have a higher alcohol content than Sangiovese, ranging from around 13% to 15% ABV.
Body: Syrah is known for its full body.
Acid: Syrah has medium to high acid, usually lower than Sangiovese. This will give it a rounder mouthfeel.
Tannin: Syrah has high tannins that grip the mouth. They'll feel more structured when you sip. Grippy is often a word you use to describe Syrah tannins.
Flavor and Aroma Intensity: Syrah displays medium aroma intensity with blackberry, black cherry, and savory notes, such as olive, black pepper, and smoke.
Flavors: The flavor profile often includes black fruit notes complemented by delicate spice undertones.
Are Sangiovese and Syrah Similar?
Sangiovese and Syrah are both structured red wines, meaning that you'll notice their tannins, acid, and alcohol level. This makes them perfect food wines. They also share higher tannin levels than some other red wines, like Merlot.
What Is the Difference Between Sangiovese and Syrah?
Sangiovese is a red-fruited wine, with red cherry and raspberry. Syrah has a black fruit profile, like black cherry and blackberry. Syrah is typically fuller-bodied than Sangiovese, though Sangiovese can be made in a fuller-bodied style.
Sangiovese vs. Syrah Winemaking
Winemakers use different techniques when crafting Sangiovese and Syrah. This includes using neutral vessels, such as stainless steel or barrels, for fermentation and/or aging. Both wines can be made as single varietals (i.e., only Sangiovese grapes or only Syrah grapes go into the wine), and used in blends, like Chianti and Grenache-Syrah-Mourvedre (GSM). Both wines undergo traditional red winemaking processes.
Fun Wine Fact: In some regions, Syrah is traditionally made by adding a small percentage of Vermentino during the fermentation process. Vermentino's a white wine grape. It helps stabilize the red color in Syrah wine and adds floral notes to the final wine. Chemistry. Neat.
Sangiovese vs. Syrah: Food Pairings and Serving Temperature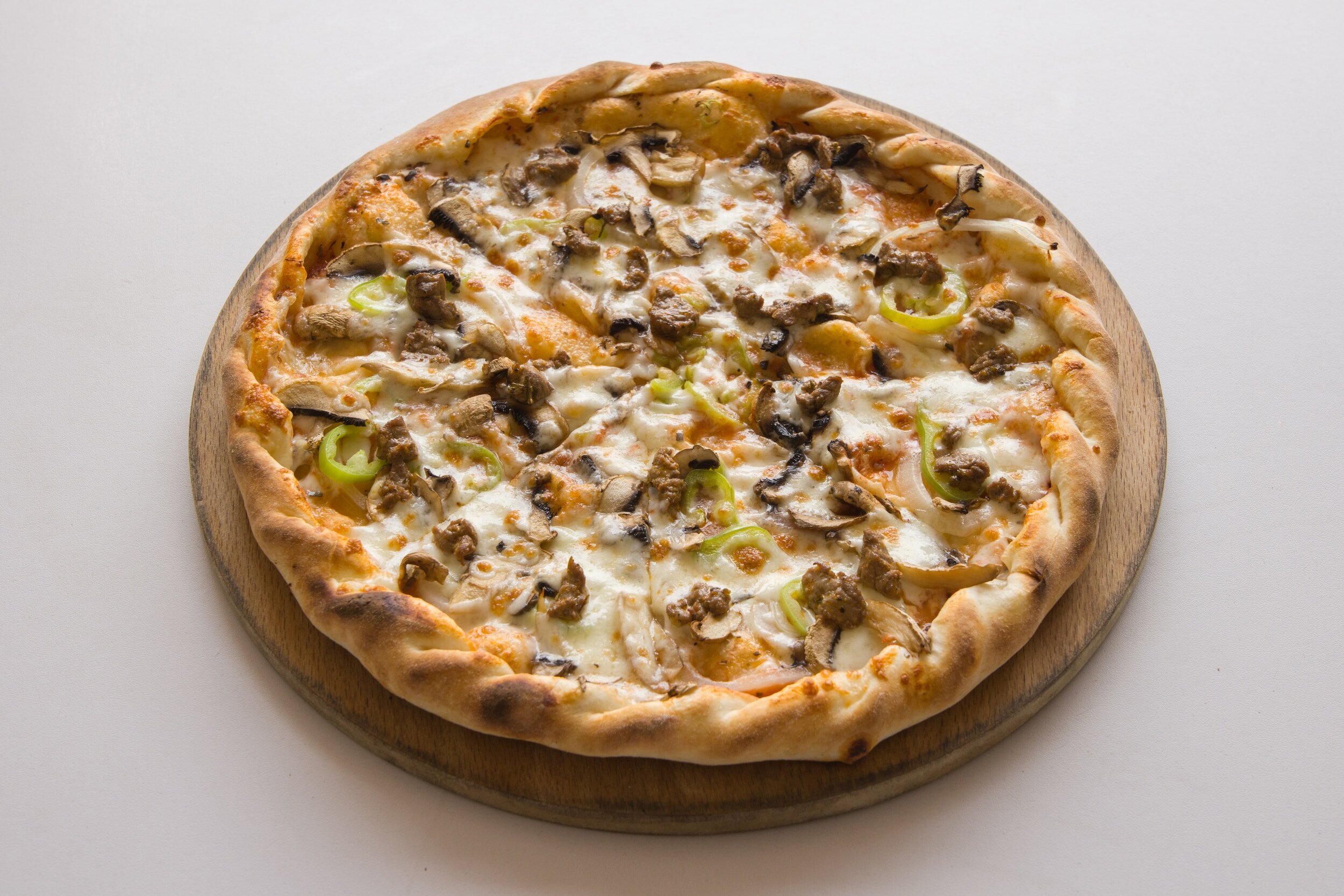 Sangiovese's medium body and higher acidity make it a perfect match for classic Italian dishes, including pasta with tomato-based sauces, grilled meats, and aged cheeses. Syrah's richer, fuller-bodied profile pairs beautifully with dishes like roasted meats, tacos, and hearty salads.
Here's a quick guide for more Sangiovese food pairing ideas and a food pairing guide for Syrah. and check out this Syrah Cheese Pairing Guide.
Serving Sangiovese and Syrah Comparison
| Aspect | Sangiovese | Syrah |
| --- | --- | --- |
| Serving Temp | 60-65°F | 60-65°F |
| Decanting Recommendations | Not necessary, but improves with aeration | 30 minutes to 1 hour to enhance flavors |
| Glass Shape | Tulip-shaped | Bordeaux glass |
Both Sangiovese and Syrah are best served slightly chilled. Place them in the refrigerator for approximately 15-20 minutes before serving to reach the ideal temperature.
You should be able to enjoy most Sangiovese wines immediately after opening (decant fuller styles and aged bottles), while Syrah benefits from some aeration before tasting.
Helpful Wine Drinking Tip: Inexpensive, entry-level wines rarely benefit from decanting. Give them a good swirl in your glass to open them up and then sip away!
Which Is More Expensive, Sangiovese vs. Syrah?
The price you pay for a bottle of wine will depend on various factors. In general, Sangiovese and Syrah wines are similarly priced. You should be able to find decent bottles of both wines within any wine budget.
| Wine Price | Sangiovese | Syrah |
| --- | --- | --- |
| Entry-level | Under $10 USD | Under $10 USD |
| Everyday | $10-$15 USD | $10-$15 USD |
| Premium | $15-$25 USD | $15-$35 USD |
| Super-Premium | $30-$50 USD | $40-$90 USD |
Syrah and Sangiovese wines from renowned vineyards can also be expensive, with Sangiovese prices often exceeding $50 per bottle and Syrah going for several hundred dollars.
Which Is Better, Sangiovese or Syrah?
If you enjoy red wines with a medium body, vibrant acidity, and chewy tannins, then Sangiovese is for you. If you prefer red wines with a fuller-body, grippier tannins and layers of blackberry and spice, then Syrah would be your ideal choice.
Final Thoughts – Sangiovese or Syrah?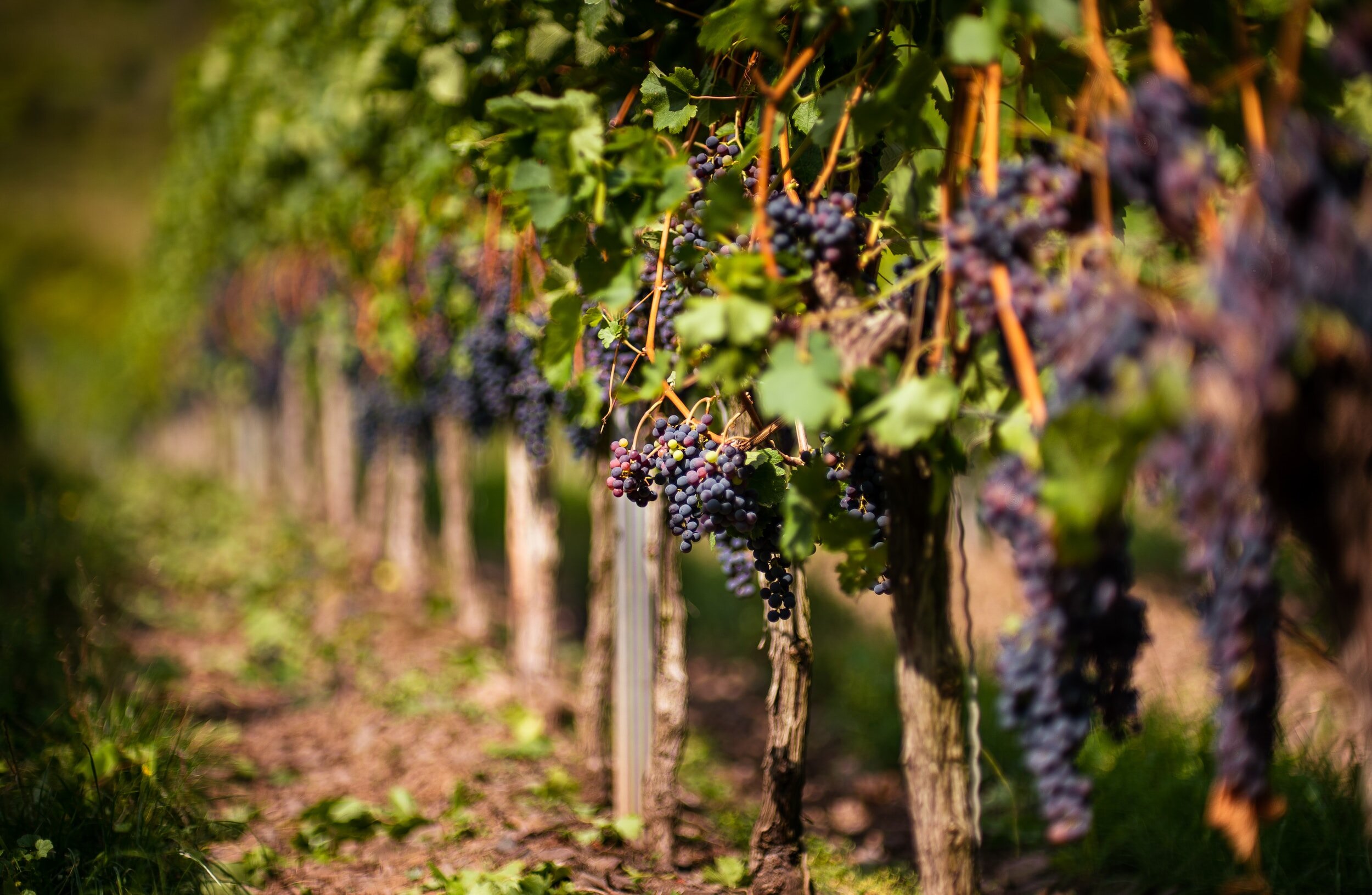 Sangiovese offers brighter red fruit compared to Syrah's deeper black fruit, but both are worthy of your glass.
I recommend organizing a side-by-side tasting of these two wines if you haven't done so already.
Grab two bottles of similarly priced Sangiovese and Syrah and enjoy an evening of exploration with friends. Remember, the world of wine is vast, and each bottle will be different, making this experiment worth repeating.
Discover More:
Sangiovese vs Cabernet Sauvignon
Sangiovese vs Pinot Noir
Sangiovese vs Zinfandel
Sangiovese vs Nebbiolo
Sangiovese vs Merlot
Shiraz vs Merlot.
Thirsty for More?
If you're passionate about boosting your wine knowledge, why not host a blind tasting?
Check out: Chenin Blanc vs. Sauvignon Blanc and Cabernet Sauvignon vs Cabernet Franc.
Delicious wines can be found at every price point; here's how to find great wines under $50.