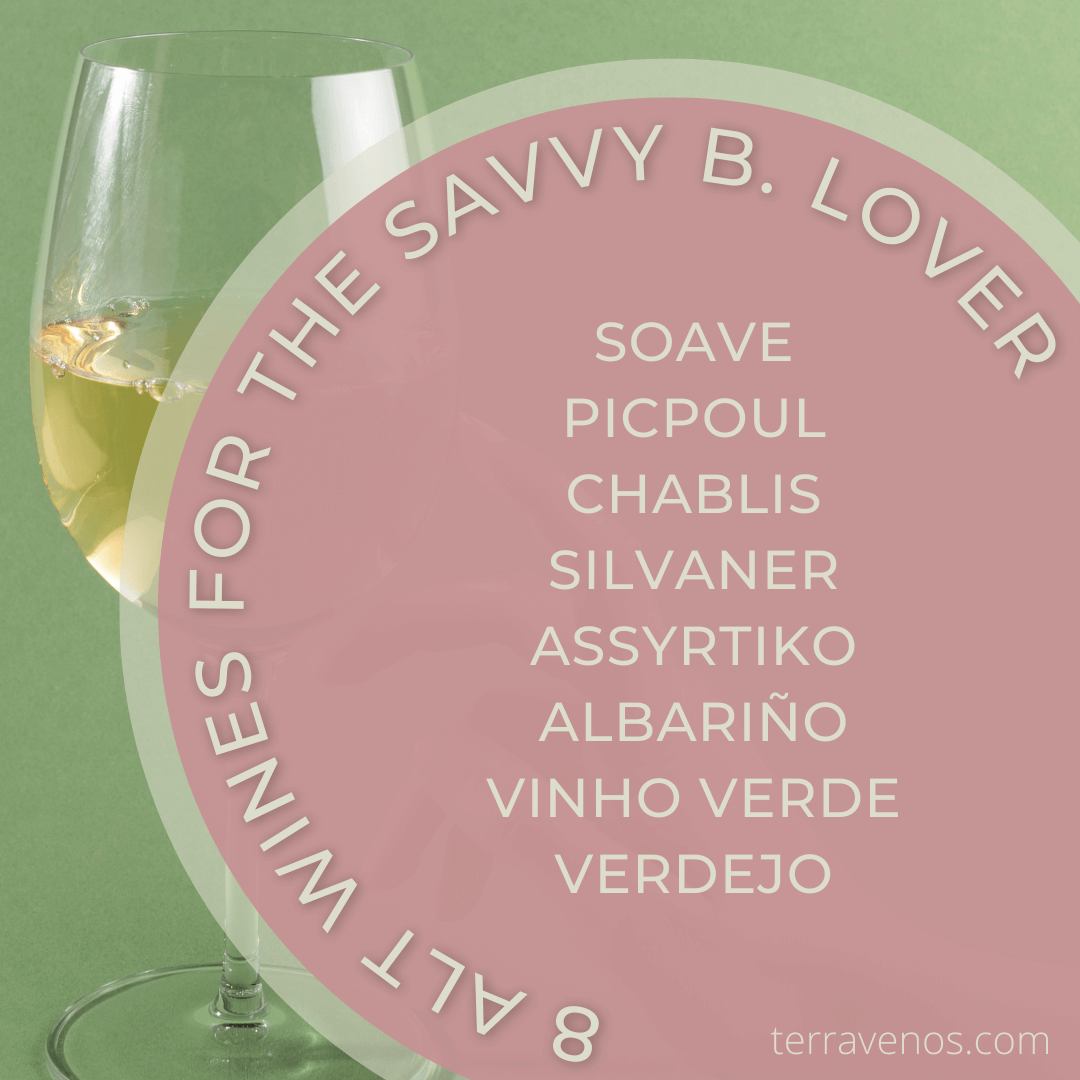 If you're in love with Sauvignon Blanc, you're not alone. This little grape wraps itself in fresh fruit and popping acidity that makes for a versatile wine, great for sipping solo or food pairing.
Love white wines like Sauvignon Blanc? Try Soave, Picpoul, Chablis, Silvaner, Assyrtiko, Albarino, Vinho Verde, and Verdejo. These white wines all have pungent aromatics and a pop of acidity, just like Sauvignon Blanc.
Here's what you need to know.
What Style of Sauvignon Blanc Do You Like?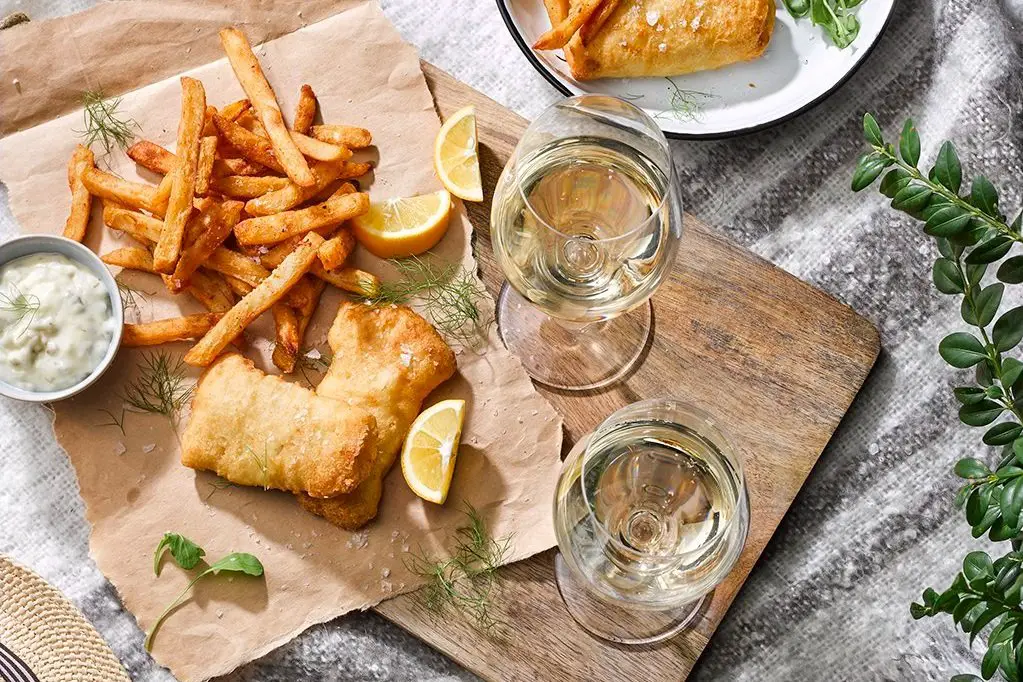 In warmer growing regions, Sav Blanc develops lush tropical notes of pineapple, mango, and, its signature aroma, passion fruit. Wines from cooler regions express zesty citrus and green apple.
Somewhere in between, we have temperate climes where the wines embrace stone fruits – honeyed peach and sunny nectarine. The grape's flavor range attracts ardent followers around the world. (psst… here's a full post just on Sauvignon Blanc.)
But variety is the spice of life, and everyone needs a little novelty from time to time.
What better way to shake things up than by uncorking something new?
If you're ready to break away from Sauvignon Blanc, try these eight delicious, alternative wines with similar qualities – crisp, fruit-forward, clean, and classic.
8 Wines Like Sauvignon Blanc
Soave
Our first stop is Northeastern Italy, just outside the city of fair Verona, where Romeo and Juliet embraced each other in their timeless story of ill-fated love. Here you'll discover Soave. Soave wines can be a blend of two grapes: Garganega (70% minimum) and Verdicchio. This high-acid, fruity wine seldom sees oak. Most of the wines from this region come from small family growers who sell their crops to larger cooperatives, making them excellent quality for value, typically inexpensive to mid-priced.
What does Soave taste like?    
Soave balances medium to high acid and a medium body that lifts ripe citrus (e.g., lemon, grapefruit, lime) and green apple for a refreshing, juicy style. The wines are not overly complex, but are a brilliant option for light sipping and food pairing. Soave is not intended for cellaring. Enjoy these wines as you buy them.
Picpoul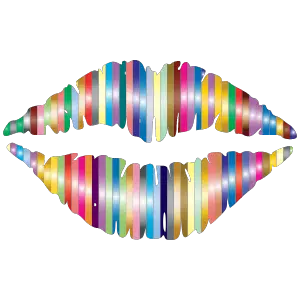 On to France. If you love the biting acidity of Sauvignon Blanc with its racy citrus notes from cooler climates, then you'll want to try Piquepoul Blanc, a.k.a. Picpoul (peek-pool).
Originating in the Languedoc region of Southern France right along the Mediterranean coast, Picpoul literally translates to 'lip stinger'.
These wines are bright, intense, and ready to pair with your seafood, salads, or cocktail hour.
Chablis
Produced in northeast France, Chablis is 100% Chardonnay, but don't let that mislead you. These wines express linear acidity with all of the citrus and green fruits you'd find in a cool climate Sauvignon Blanc.
These wines also have minerality thanks to the unique limestone marl found in the region's vineyards.
The majority of producers forego oak aging to elevate the fruit's purity. If you're in love with crisp, firm whites, you can't go wrong with a Chablis AOC.
Silvaner
A quick flight takes us next to Germany, along the Main River in the Franken region. You're not wrong to imagine 'Riesling' when you think of German wine, but a lesser-known grape called Silvaner (sill-VAH-ner) drives white wine production in this particular growing area.
Silvaner has lower acidity than Sauvignon Blanc, but these wines still pack a punch and a similar style range, from green fruit to tropical notes depending on the vineyard site.
Also, like SB, Silvaner can embody an earthiness depending on the location. Full-bodied, dry, with notes of wet stones, these wines are affordable and perfect for the adventurous spirit who loves Sav Blanc from Sancerre.
Look for Silvaner wines from Germany or Sylvaner wines from Alsace, France.
Assyrtiko
Time for a quick cruise down to Greece, where we find Assyrtiko (ah-seert-eek-oh). Fun fact: Assyrtiko is actually Greece's signature white grape; it's most prized indigenous variety.
It comes from the island of Santorini, where it adapted to the hot Mediterranean growing climate.
The grape maintains very high acid despite the blistering conditions. These wines exhibit intense citrus, stone (e.g., peach, nectarine), and tropical fruits. If you enjoy Marlborough, New Zealand Sauvignon Blanc, this wine is for you.
Some producers do make a fuller-bodied Assyrtiko, where they age the wine in oak, more akin to an oaked Chardonnay. You'll want to look for a wine made in stainless steel, concrete, or clay.
These wines can be cellared for a few years with their high acid and in-your-face fruit profile.
Albariño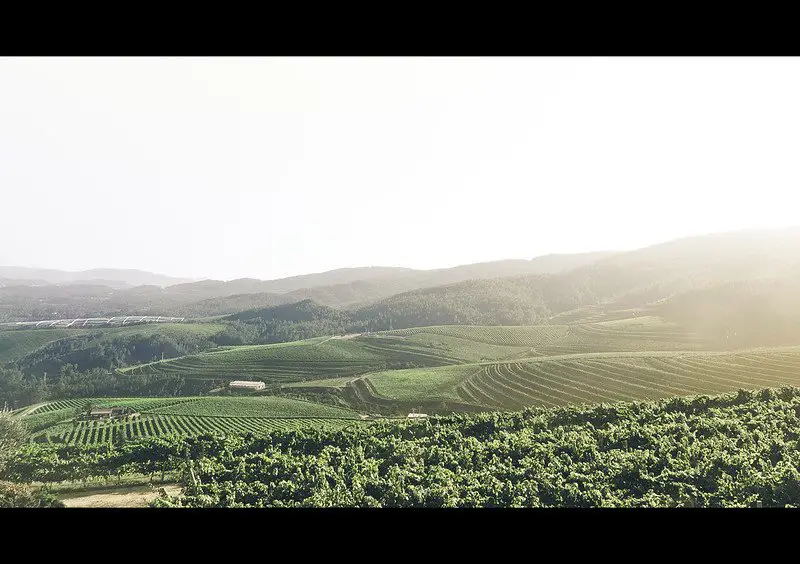 Albariño (al-bah-REEN-yo) is just a fun wine to drink. Grown in moderate climates around the world, this grape makes medium bodied, fruit-forward wines that mimic the aroma range of SB.
Think citrus fruits, maybe some peach or nectarine, and sometimes even tropical aromas.
High acid translates into crisp bouquets and flavors, making an ideal food-friendly and/or happy hour pairing partner.
You'll find Albariño grown around the world, but popular regions include Northwestern Spain, in the region of Rías Baixas and its Portuguese neighbor across the border where the grape goes by the name Alvarinho in the Vinho Verde region.
Speaking of…
Vinho Verde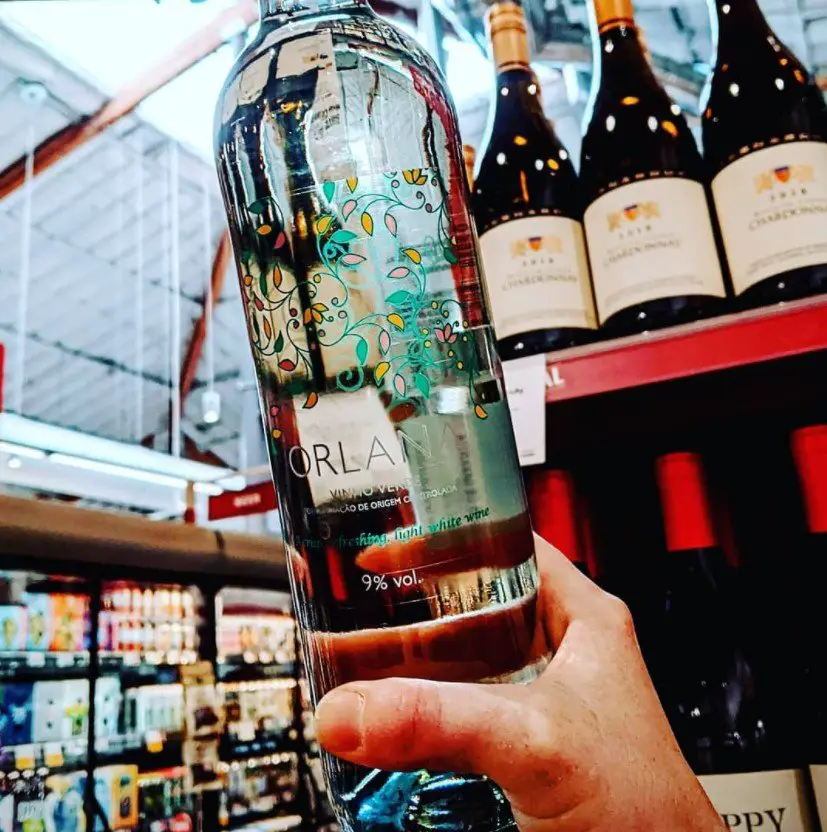 Hopping down into Portugal, we find Vinho Verde, which translates to 'green wine'. Vinho Verde isn't a grape, but rather a wine region that plays to a particular style.
These wines are 'green' because they're to be enjoyed young.
Some producers bottle as early as 3 months after harvest.
Bright, fresh, high acid and fruit-driven, the wines can be a blend of different grapes, or made into single varietal wines, typically from Loureiro, Alvarinho, Arinto, and Trajadura – all juicy, aromatic white grapes.
One peculiarity of Vinho Verde is that winemakers tend to bottle them with just the tiniest bit of CO2, helping to lift them in your mouth, creating a refreshing sensation.
But wait – this is also a common tactic shared by Savvy B. producers aiming for a similar style – a sure sign that you should definitely try these wines if there ever was one.
Vinho Verde is typically lower in alcohol, around 11%, which makes it a good choice for health-conscious wine lovers looking to moderate alcohol consumption.
Helpful Tip: Do not hold onto a bottle of Vinho Verde. Age it no longer than the time it takes you to carry it home from the store.
Okay, it can handle rush hour traffic, but not much more, so cheers!
Verdejo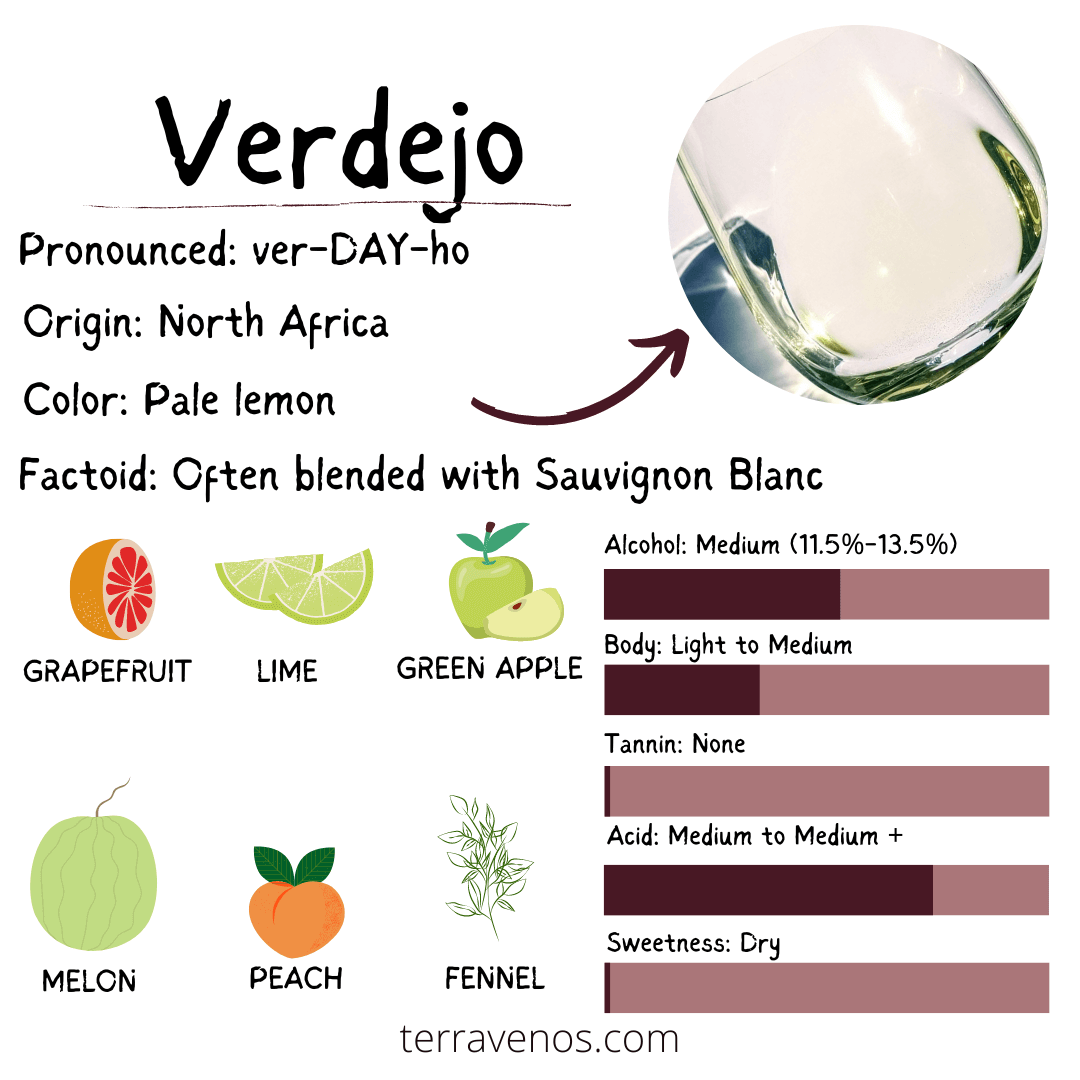 I could write epic poetry about my love of Verdejo, but finding a bottle and enjoying it yourself will be time better spent for both of us.
Verdejo wines have all of the zesty green and stone fruits of Sauvignon Blanc.
Indeed, the two wines often find themselves thrown together into a torrid Romeo and Juliet-esque love affair as blending partners.
Look for Verdejo wines from Rueda, Spain. These wines offer fabulous value for money and will be a crowd-pleaser if you're looking for a novel white wine for your next gathering.
Helpful Tip: Go check out this complete post on Verdejo wine.
Sauvignon Blanc Wine Flight Ideas: 3 Tasting Lineups
Ready for a little sensory discovery? Here are three possible tasting lineups that you can try with friends and family.
DIY Sauvignon Blanc Wine Flight 1
Vinho Verde
Soave
Sauvignon Blanc
DIY Sauvignon Blanc Wine Flight 2
Picpoul
Albariño
Sauvignon Blanc
DIY Sauvignon Blanc Wine Flight 3
Chablis
Verdejo
Sauvignon Blanc
Wines Like Sauvignon Blanc: Downloadable Shopping List
Wine shops are generally organized around regions and styles. To help you find the wines above, grab this complimentary wine list to get you to the right spot in the store.
Print out a copy and take it to your favorite wine shop.
Thirsty for More?
Here's a deep-dive into wines similar to Sancerre (also made from Sauvignon Blanc).
On the nerdy side, here's what acid adds to wine – giving your whites their crisp zippy life.
| Characteristics | Sauvignon Blanc | Soave | Picpoul | Chablis | Silvaner | Assyrtiko | Albariño | Vinho Verde | Verdejo |
| --- | --- | --- | --- | --- | --- | --- | --- | --- | --- |
| Hue | Pale yellow to green | Straw yellow | Pale yellow to gold | Pale to medium gold | Pale yellow to gold | Pale yellow | Pale yellow to green | Light yellow | Straw yellow |
| Color | White | White | White | White | White | White | White | White | White |
| Aromas | Citrus, green apple, herbaceous | Floral, almond, citrus | Citrus, green apple, floral | Green apple, lemon, flinty | Herbal, green apple, citrus | Citrus, mineral, sea breeze | Citrus, peach, floral | Citrus, green apple, floral | Citrus, stone fruit, herbal |
| Sweetness | Dry | Dry | Dry | Dry | Dry | Dry | Dry | Dry | Dry |
| Acid | High | High | High | High | High | High | High | High | High |
| Body | Light to medium | Medium | Light to medium | Light to medium | Light to medium | Medium | Light to medium | Light | Light to medium |
| Alcohol (%) | 12-14% | 12-13.5% | 12-13% | 12-13.5% | 12-13.5% | 13-14% | 11-13% | 8-11% | 11-13.5% |
| Intensity | Moderate to pronounced | Moderate | Moderate | Moderate to pronounced | Moderate | Moderate to pronounced | Moderate | Moderate | Moderate |
| Pairings | Seafood, salads, goat cheese | Seafood, risotto, grilled vegetables | Seafood, oysters, salads | Seafood, oysters, poultry | Asparagus, salads, light poultry | Seafood, grilled fish, Greek dishes | Seafood, shellfish, light poultry | Seafood, sushi, light appetizers | Seafood, salads, tapas |