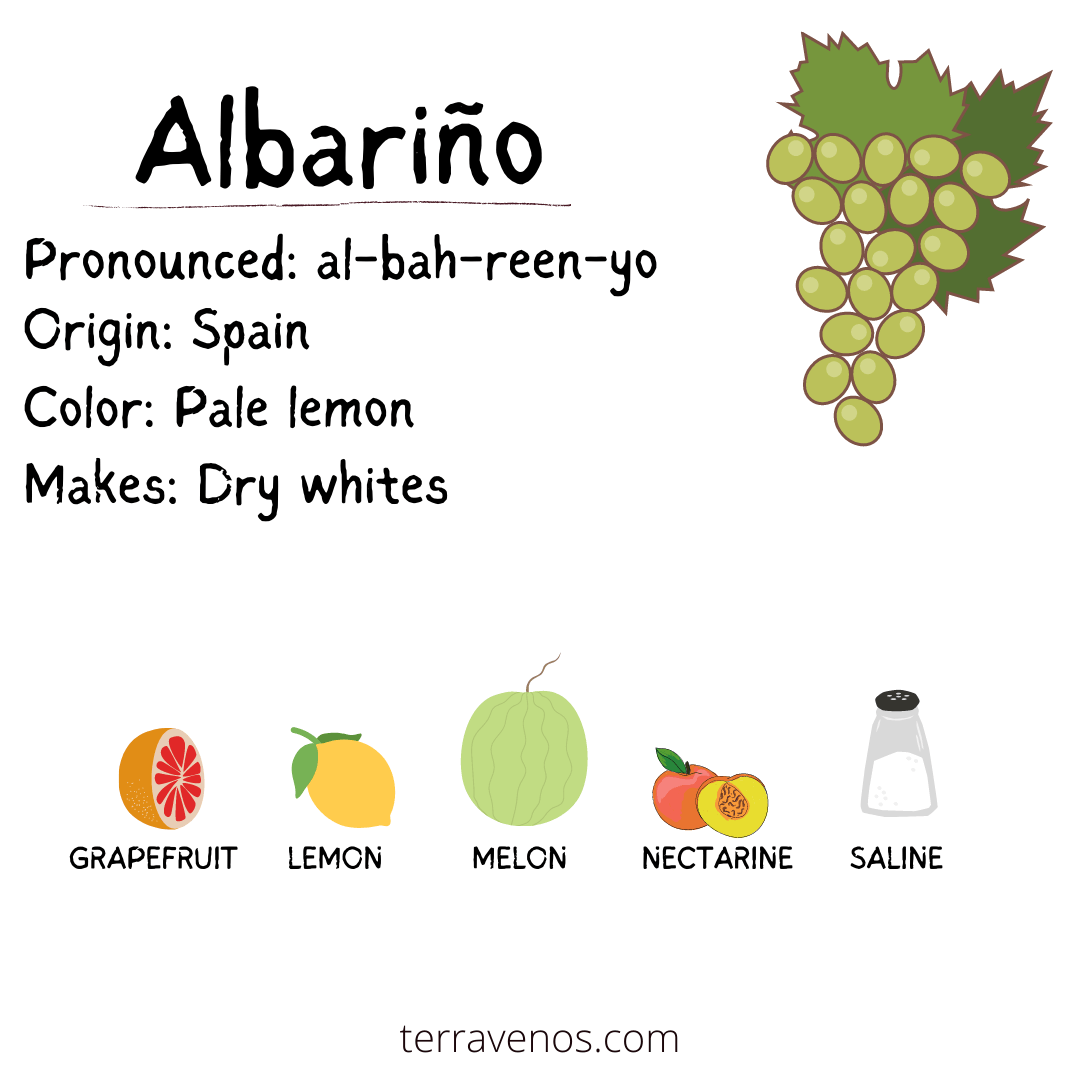 Honest confession time. Albariño is the one wine that I always have challenges with on blind tasting exams. 
Albariño (al-bah-reen-yo) is a refreshing, light-bodied white Spanish wine from the northwestern corner of Spain in the region of Rias Baixas, Galicia. Albariño wines showcase lemon zest, apricot, melon, grapefruit, white peach, nectarine, and honeysuckle. You may also notice bitter almond or pithy notes from the grape's thick skins. Some Albariños can have a slight beeswax to them.
Here's what you need to know about Albarino wine.
Is Albariño Wine Dry or Sweet?
Albariño wines are dry white wines. Unless you find a bottle of Albariñomade by a non-traditional winemaker experimenting with wine styles (which could be interesting), expect your Albariño to be a dry, high acid white similar to a Pinot Grigio or Sauvignon Blanc.
Tasting Tip: Learn how to figure out if your wine is dry or sweet with this helpful post.
Albariño Wines from Rías Baixas
Rías Baixas (ree-ahs bye-shus) means "Lower Rivers" in the Galician. There are four principal rivers in the region that run into the Atlantic Ocean: Muros y Noia, Arousa, Pontevedra, and Vigo.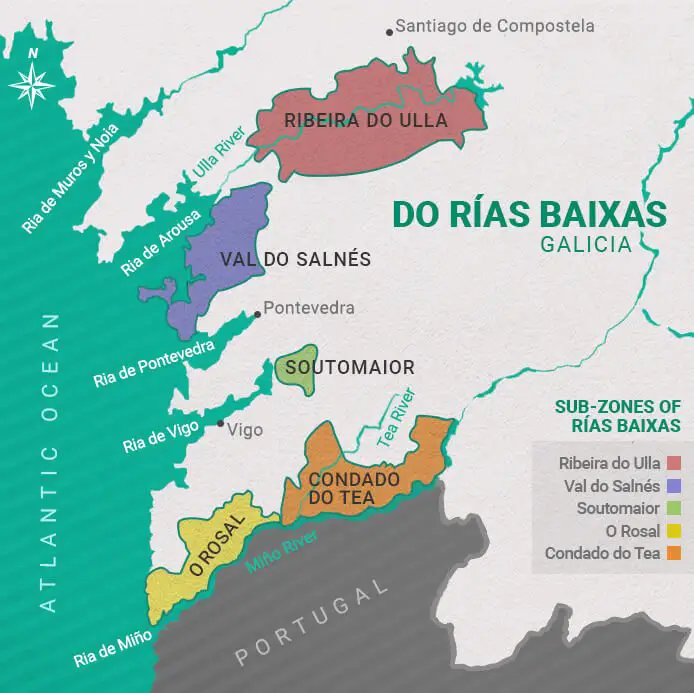 Within Rías Baixas, you'll find 5 sub-zones each producing unique Albariño wines.
For the longest time, I didn't realize that these regions are non-contiguous, meaning that they aren't all located right next to each other.
Each region will have a nuanced expression of Albariño.
Val do Salnés: The assumed birthplace of Albariño. These vineyards lie right along the coastline and resulting in Albariño wines with pronounced minerality and salinity. 
O Rosal: This region lies along the Portuguese border along the coast.
Ribeira do Ulla: This is the newest subregion and is the most northerly. The region sits inland and crafts fruiter wines thanks to a warmer overall growing climate.
Condado do Tea: This growing region sits the furthest inland making more concentrated, fruitier wines thanks to clay soils and warmer growing conditions.
Soutomaior: This is the smallest of the five growing regions and sits on a river estuary. You'll find minerality in these wines as well. 
If you want to do a fun tasting, find bottles of Albariño wines from the different sub-regions and do a side-by-side comparison. See what you discover in your glass!
A regulatory body, called the Consejo Regulador, oversees Albariño wines from Rías Baixas. The Consejo (for short) regulates vineyard and winemaking practices. They also put the wines through a tasting panel to certify the wine's quality.
Is Albariño Like Pinot Grigio?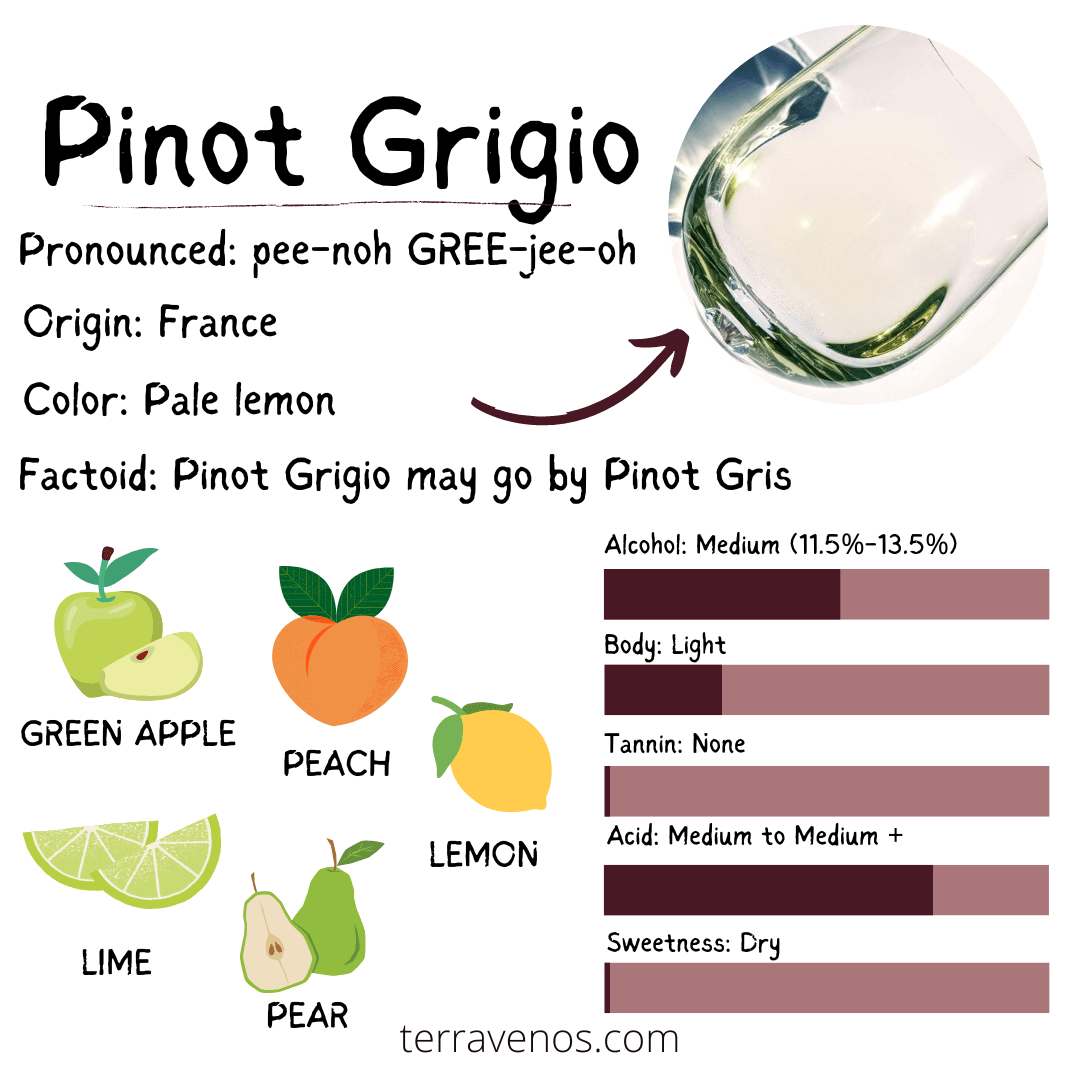 Albariño makes wines with higher acid and more body and structure than a Pinot Grigio, but the flavor profiles are similar. You'll notice a weight in the middle of your mouth that Pinot Grigio doesn't typically have. 
One of the telltale signs that you're enjoying an Albariño from Rías Baixas is a kiss of sea salt and minerality in your wine. This saltiness comes from the Atlantic sea air blowing into the coastal vineyards. 
Albariño wines are perhaps among one of the purest examples of how the nuances of a wine can be linked to the land and growing environment. (Here's a full post on Pinot Grigio wines.)
7 Fun Albariño Facts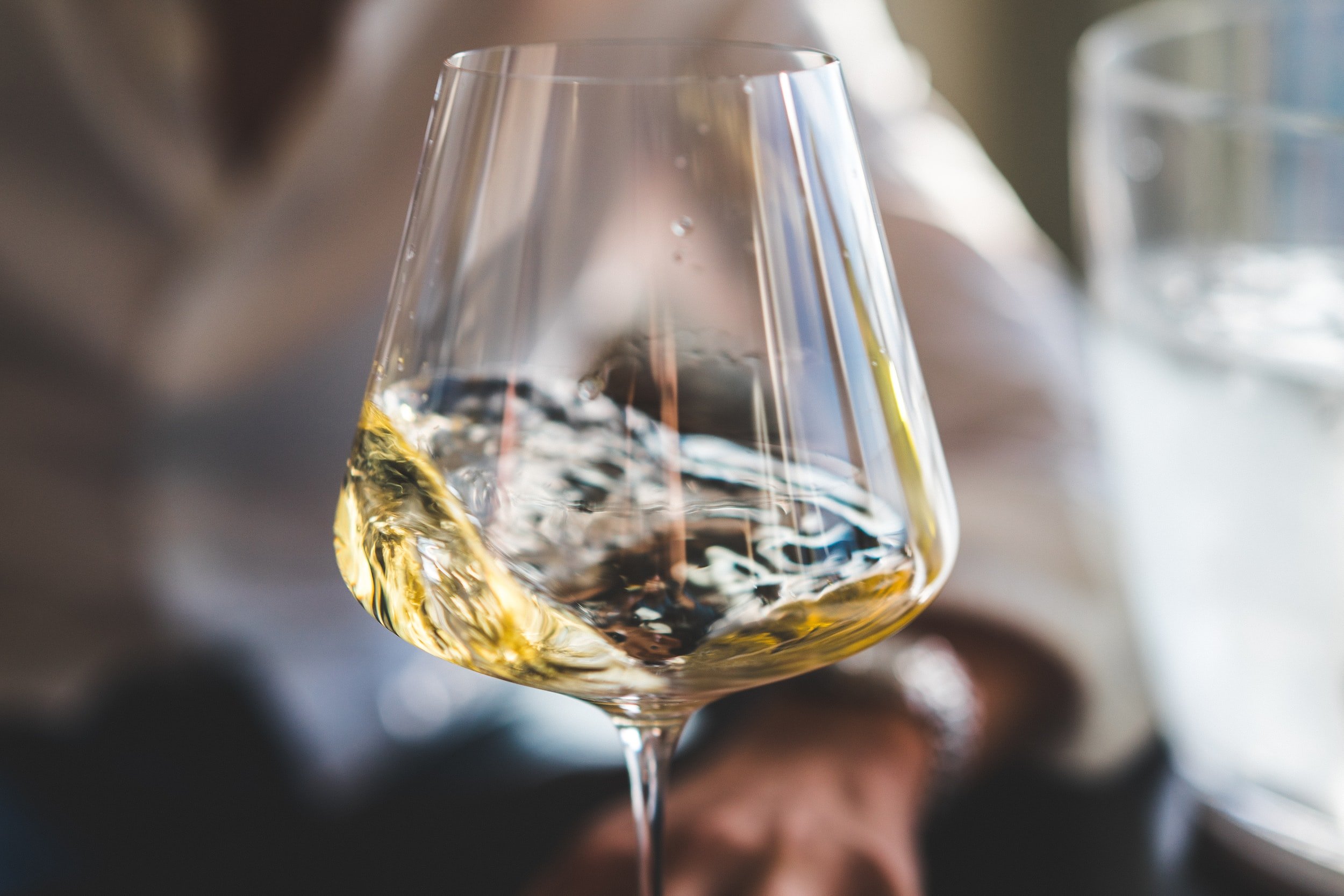 Albariño Day is August 1st. Mark your calendar!
Rías Baixas has a strong tradition of women winemakers and wine producers. About 50% of the winemakers in Rías Baixas are female. 
Albariño goes by Alvarino in neighboring Portugal. Alvarinho was one of the first Portugues wines to go by its grape name, so today Alvarinho is one of the best-known Portugues grapes.
Albariño has a crisp freshness and isn't usually aged in oak. Some producers are beginning to experiment with different winemaking practices and aging Albariño in oak. These wines will have brioche and toasty notes similar to an oaked Chardonnay. 
Traditional Albariño vineyards in Rías Baixas use pergolas instead of wire trellising systems.
Grape researchers originally thought Albariño was a Riesling clone. It's not. Albariño's native to Galicia.
Albariño's popular! About half of the white wine made in Spain is Albariño.
What's Albariño Like in the Vineyard?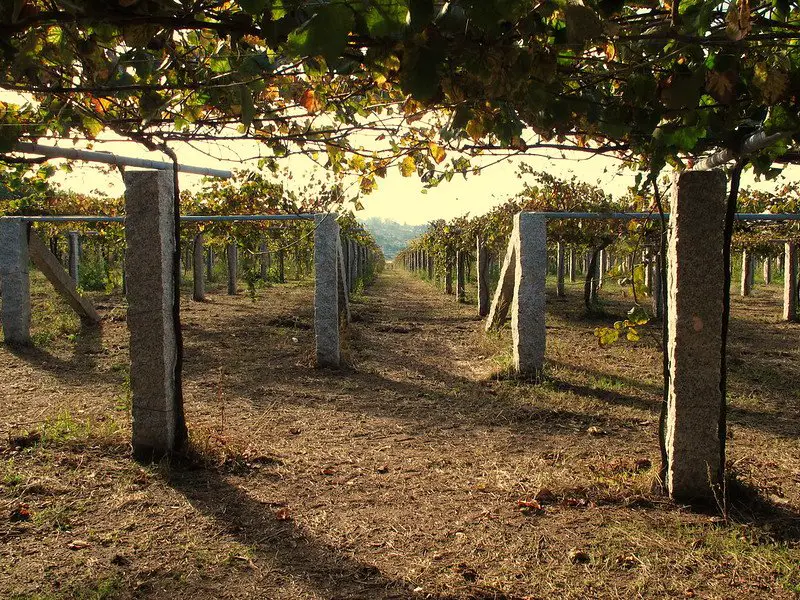 In Rías Baixas, vineyards along the coastline can experience issues with fungal disease due to humidity.
As a result, traditional viticultural practices trained grapevines up pergolas, called parrals, lifting the grapes high above the ground to help with airflow between the leaves and bunches. 
The added benefit for grape growers was that they could plant other non-grape crops below the pergolas allowing them to use more of their land for food production.
Today, historical vineyards throughout Rías Baixas still use the traditional pergolas but advances in viticultural science mean that growers can transition to more mainstream trellising systems that allow for easier crop management.
Albariño grapes need a long growing season to ripen their small, thick-skinned berries. The varietal does well on sandy, well-draining soils.
Where Does Albariño Grow?
Look for Albariño wines from the following winegrowing regions:
Spain: Rías Baixas
Portugal: Minho / Albariño
California: Central Coast
Uruguay
Others: Australia, Argentina, Chile, Brazil
Spain and Portugal have the widest plantings of Albariño grape vines by far. In Spain, Albariño is mostly made into single varietal white wines. In Portugal, Albariño will often be blended with Treixadura and Loureiro in Vinho Verde, though it can be a single varietal wine as well.
Here along the Central Coast, California, Albariño seems to be emerging as a noteworthy grape for quality winemaking. Thanks to the region's cool coastal fog, this little grape can ripen slowly over the growing season.
Look for Albariño wines from iBrand as a solid example.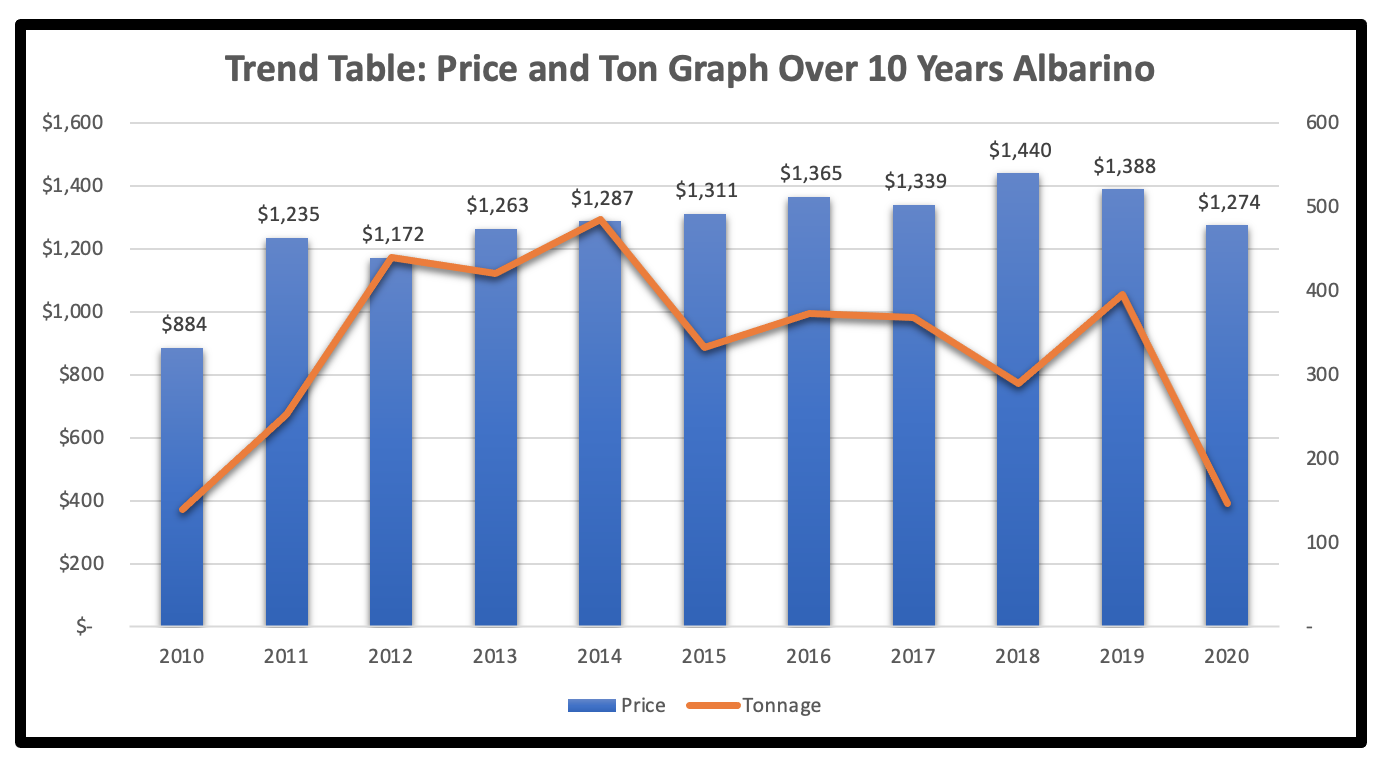 Do You Age Albariño Wine?
If you're buying an inexpensive Albariño at your local grocery store or bottle shop, then don't plan on aging it.
The majority of Albariño wines are intended to be enjoyed young and fresh.
If you have the option between buying an inexpensive to mid-priced Albariño wine from two years ago and one from this year, pick the newer wine. 
Premium Albariños have the potential for aging thanks to the wine's high acidity which acts as a preservative and the intensity of the flavors and structure of the wine thanks to the grape's skins.
Notable Albarino Producers to Try
If you're looking for notable Albarino producers, then head to Spain, of course! Check out these Albarino producers:
Bodegas del Palacio de Fefiñanes (Rias Baixas, Spain)
Bodegas Martin Códax (Rias Baixas, Spain)
Pazo de Señorans (Rias Baixas, Spain)
How Much to Spend on Albariño Wine?
One of the beautiful things about Albariño wines is that they're affordable at all quality levels. Here's how much you should spend on Albariño wine.
Albariño Pricing Chart
| Category | Price |
| --- | --- |
| Entry-Level | $10-$15 |
| Mid-Priced | $20 |
| Premium | $35+ |
What Foods to Pair with Albariño?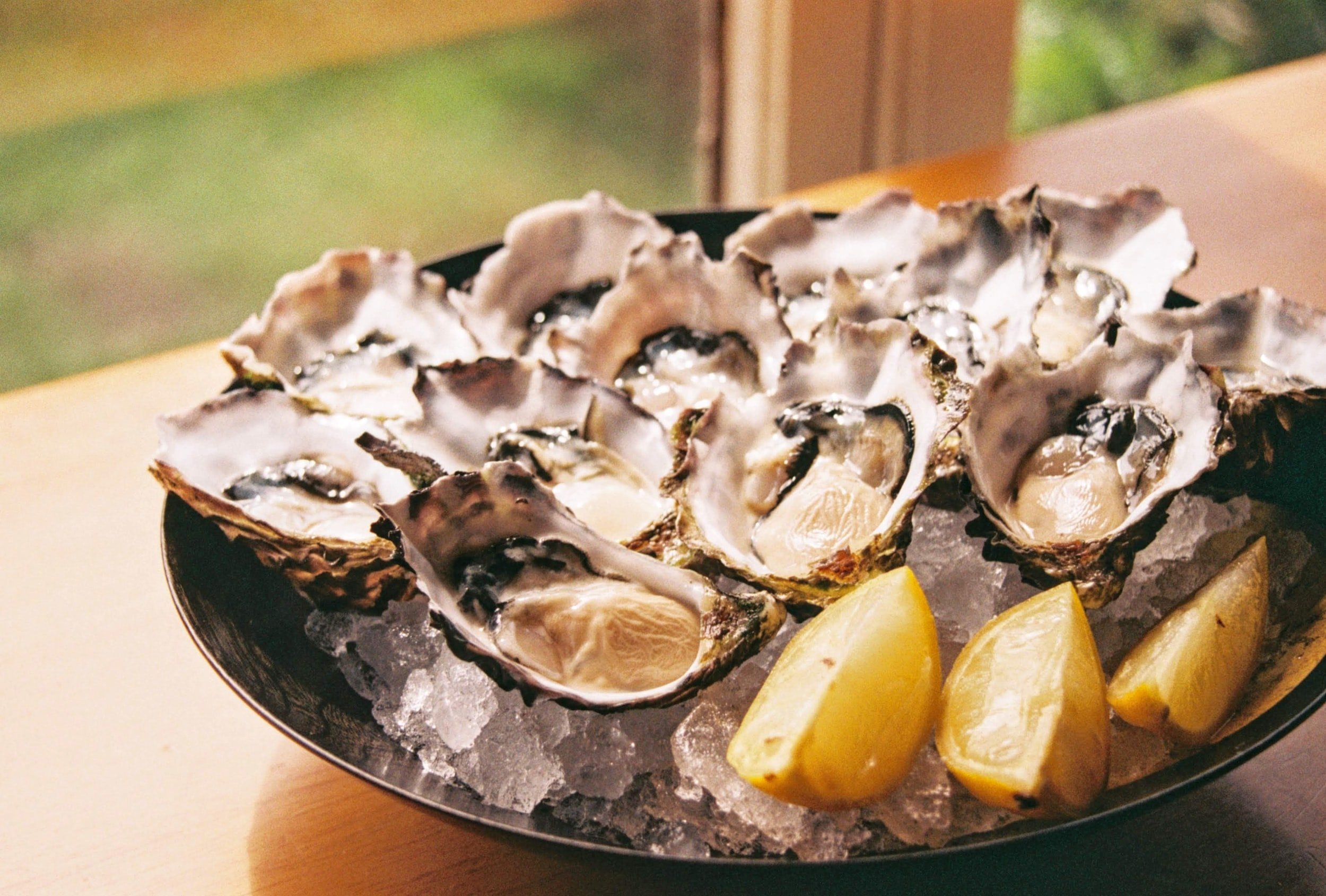 The coastal region of Galicia enjoys a rich heritage of maritime cuisine, and you'll find that this zippy white wine complements shellfish and seafood dishes. The wine's high acid and pronounced profile – both on the nose and in your mouth – means that it will stand up well with more pungent foods.
Mussels
Oysters
Ceviche
Feta cheese
Manchego cheese
Gouda cheese
Olives
Ceasar salad
Salads with Italian dressing
Grilled vegetables
Balsamic vinegar dressing
Sushi
Sashimi
Herbed chicken
Fried fish
Helpful Tip: If you're just getting started out with wine, I put together this helpful overview of food with wine pairing to get you started. Side note – I spend just as much time thinking about food with wine pairing as I do deciding what I'm going to eat every night. Utter hedonism. What can I say?
How to Serve Albariño Wine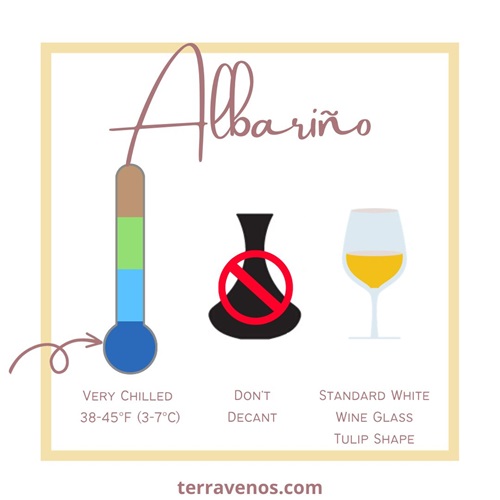 Serve Albariño chilled. 38–45°F / 3-7°C In the real world, this means chilling your bottle of Albariño down in the fridge and pouring the wine 5-10 minutes before drinking.
Thirsty for More?
If you love Albarino, you should definitely check out this post that covers Spain's other delicious white wines – mouthwatering goodness in a bottle.
Aaaand – you can't talk about Spain's white wines without mentioning those dusty, earthy, ethereal reds. Check out this post on Spanish red wines.