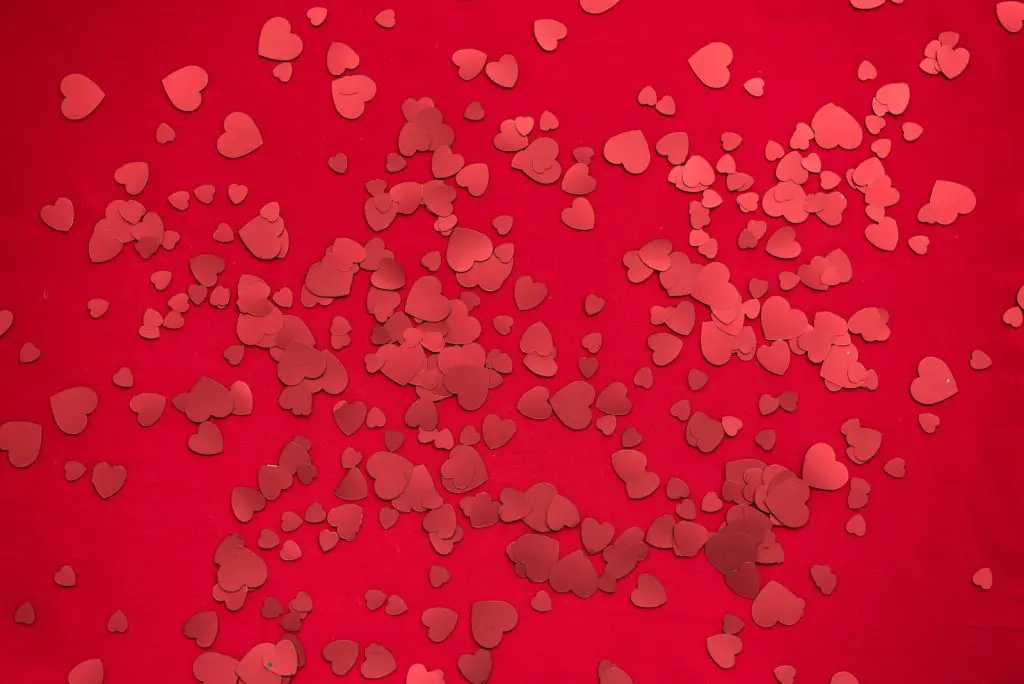 If you haven't had a bottle of rosé lately, you're missing out. Pink wine's popular resurgence reminds us that every wine has its time and place.
Rosés are pink wines made from black grapes. Rosés have been gateway wines for the past 70 years as a friendly wine style for new wine drinkers. Today, producers make rosés and release them around Valentine's Day as a way to boost profits and keep their wineries running while their white and red wines continue aging. Always buy the most recent rosé to get the freshest wine.
What Is Rosé Wine?
Rosés are pink wines made from black (red) grapes that get their color from limited skin contact during the winemaking process.
If you've ever mixed a load of ill-fated white t-shirts with one fire engine red sock in the laundry, you understand the fundamentals at play. Everything comes out pink. 
For wine making, the winemaker crushes the black grapes and leaves the juice in a container with the skins instead of pressing them off immediately.
Some of the grape skin's color, called anthocyanin, leeches out into the white grape juice – et voilà! You get pink wine. Lighter ballet slipper rosés have less time with skin contact; darker punch rosés have longer skin contact.  
Winemakers achieve different colors of rosé depending on their intended wine style.
What Is Direct Press Rosé Wine?
The direct press method skips crushing the grapes before pressing out the juice. The winemaker throws the entire cluster of red grapes in the wine press and squeezes.
These rosés have the briefest of skin contact and result in the slightest of blushes. Think sandy colored wines.
Side note: The direct press method limits skin contact which can be a strategic option for wineries that source red grapes from areas affected by wildfires during a growing season. Smoke molecules, bound in the grape skins, have less chance of being transferred into the finished wine through direct press because of the limited skin contact. Making direct press rosés from these grapes can decrease the smoke taint, or ashy notes, in the final bottle. This is one reason why you'll see an uptick in rosés on the market following a growing season marred by wildfires. Sadness.
What Is Saignée Rosé Wine?
The second method, the saignée (san-yay) method, meaning to bleed in French, takes a slightly different route to bottle (no actual blood involved). Winemakers using the saignée approach start with grapes destined for intense, fuller-bodied red wines.
The winemaker crushes the grapes and sets the juice and skins aside for anywhere from a few hours to a few days. This short time window allows the juice to absorb the pink color and fruity aroma molecules from the skin, but isn't long enough to make a dark red wine.
When the color is where the winemaker wants it to be, she drains off a portion of the pink juice, separating it from the main batch that will eventually become a red wine. 
The saignée method serves two purposes:
1) The winemaker increases the juice-to-skin ratio for the primary red wine which will result in a wine with greater aromatics and more concentrated flavors; and
2) the winemaker now has two distinct wines from one harvest that can be sold under different labels.
Rosé Puts the 'Fun' in Functional
Winemakers enjoy rosés because the wines can be brought to market quickly and target a different consumer expectation.
Because the wines forego long aging, the winery can bottle, label, and sell rosés long before the traditional reds from the same grapes are ready for market. It's like two children from the same parents.
Sibling #1 is destined to be the serious, brooding lawyer surrounded by books in a dark hardwood paneled office. Sibling #2 is the flower child who takes up residence in a yurt with a herd of goats. 
Why are we drinking rosé on Valentine's Day?
Cuz it's pink! What other reason do you need?
Think like a marketer. Pink wines will be the first wines released on the market from last year's harvest (apart from Beaujolais).
Wineries target the February 14th holiday knowing that we're planning that special something with that special someone – a true 21st century synergy of holiday marketing and winemaking. 
From the business side of the house, this is a critical time of year when wineries need to boost cash flow after the harvest bills come due: grapes, labor, electricity, barrels…  Winemaking's expensive.
Rosés help keep our wineries humming along through the season and quench our thirst while they patiently continue raising our favorite reds back in the cellar.
An easy way to show some love is to enjoy a bottle of pink in support of your favorite labels. 
Check out this action shot of rosé wines getting bottled and ready for a Valentine's debut from one of my favorite local brands, Dawn's Dream Winery (They have a great charity mission that I strongly support).
Rosés that Changed the World
One of the most storied rosés hails from Portugal and goes by the label Mateus.
If you haven't heard of Mateus, it's likely because you weren't a drinking member of the zeitgeist back in the 1950s and 60s.
Launched in 1942, this slightly sweet, slightly spritzy rosé exploded in popularity following the war and at one point accounted for 40% of Portugal's wine exports.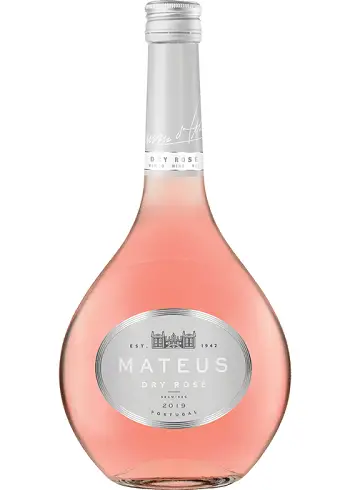 Today, Sogrape, Portugal's largest wine company (and by large, Sogrape's annual production is greater than the next seven largest Portuguese wine companies combined), owns the Mateus label. A bottle will set you back about $12 USD. The wine still sports its original curved bottle shape inspired by soldiers' flasks from WWI.
Fast forward 20 years, and another blockbuster rosé rocked the wine market.
Sutter Home White Zinfandel accidentally crafted a movement when a stuck fermentation forced them to bottle a slightly sweet pink rosé. It won the hearts and palates of America's post-prohibition dinner tables.
Noteworthy fact: Wine Spectator awarded Sutter Home with its Distinguished Service Award in 1994 for "having introduced more Americans to wine on the table than anyone in history," thanks to White Zinfandel. 
The last glass of Sutter Home White Zin I enjoyed was at the free happy hour (best kind, btw) in a hotel bar. The wine was fruity with memorable melon notes and perfectly acceptable.
Lots of curb appeal for happy hour wine.
Today, rosé has come into its own.
How to Buy Good Rose Wine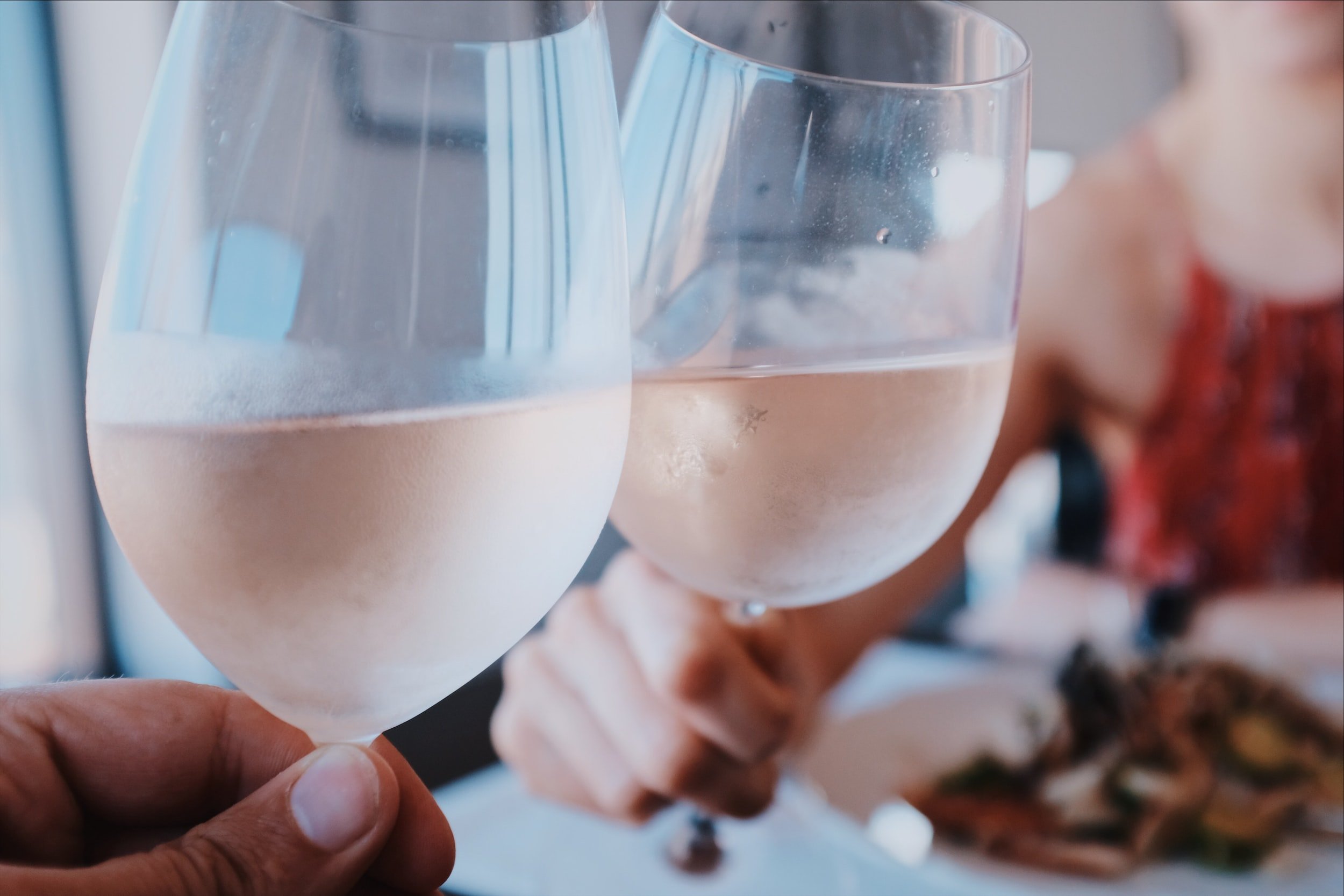 Here are three quick tips to buy the perfect rosé every time:
Look for a brightly colored wine. Pink wines turn salmon as they age. Stick with something that's still youthful.
Pick the most recent vintage (year). If you have a choice between two bottles of rosé, last year's or two years ago, pick last year's bottle.
Look at the Alcohol Level. An alcohol level above 11% will usually be a dry rosé wine. An ABV below 11% will be an off-dry or sweet rosé style. Go with what you enjoy.
One of the frustrating things about rosés from the consumer side is that they rarely include varieties on the label. Most brands cater to flowery lifestyle promises, not taste profile. Not helpful when you're trying to buy a good bottle of vino.
Winemakers regularly blend rosés to add complexity, though they can be made from a single varietal (e.g., Rosé of Pinot Noir). The tendency to blend means that most bottle contents are a mystery. The challenge from a consumer standpoint is that there aren't any real clues about the wine's taste profile other than what may (or may not) be included on the label. 
The counterpoint to the mystery blend is that rosés are typically at a price point that lend themselves to experimentation.
What Does Rosé Wine Taste Like?
The best rosé wines are destined to be pink wines from the outset. 
Winemakers will harvest red grapes intended for pink wines earlier than the same red grapes used for red wines. Harvesting earlier retains the wine's natural acidity, resulting in the lighter wine style you'd expect in a pink wine.
Higher quality rosés should taste like they look.
So much about rosé is visual. Kiss me colors are eye candy, which is why they come in clear bottles. Winemakers will sculpt the color and flavor profile together to match your expectations. Pale salmon wines should have melon, tart berry, or floral notes.
Sassy bubblegum pinks will express crunchy red fruit, perhaps strawberry, raspberry, or sour cherry.
Winemakers understand that consumers have a set of expectations for rosé and will craft their wines with intentionality, using careful yeast selection, temperature-controlled fermentation, and judicious blending. 
Is It OKAY to Age Rose Wine?
Most rose wines shouldn't be aged. They are moderately priced and made to be enjoyed when you buy them. What's on the shelf in the local market is at its peak now.
Don't age your rosé.
Don't let it languish on your wine shelf. Don't let the dust settle on its lovely coral silhouette. Drink up! Rosés are uncomplicated lovers perfect for any Valentine's Day. 
Thirsty for More?
Check out this rose wine and cheese pairing guide.

Here's a fun post on sparkling rose wine, always as treat!