We all know and love Spanish red wines – the famous Tempranillo, Garnacha, and Rioja, but what about Spanish white wines?
If you want to try white Spanish wines, look for Albariño, Godello, Rioja Blanca, Verdejo, Macabeo, and Cava. Don't overlook Andalucia's traditional Sherry. Spanish white wines pair well with tapas. Looking for a unique white wine from Spain? Seek out Txakoli and Treixadura.
Here's a rundown of white wines of Spain to get you started exploring the Iberian Peninsula.
Spanish White Wine #1 – Albariño
Albariño, pronounced al-bah-reen-yo, is a white grape grown extensively in the northwestern corner of Spain in Rías Baixas, Galicia.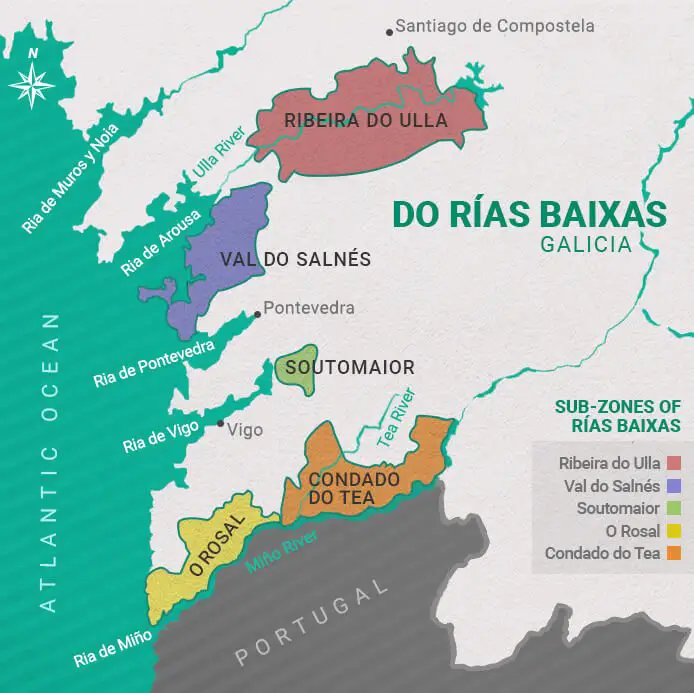 Look for 5 sub-regions on your bottle labels:
Ribeira do Ulla
Val do Salnés
Soutomaior
O Rosal
Condado do Tea
What are Albariño grapes like in the vineyard?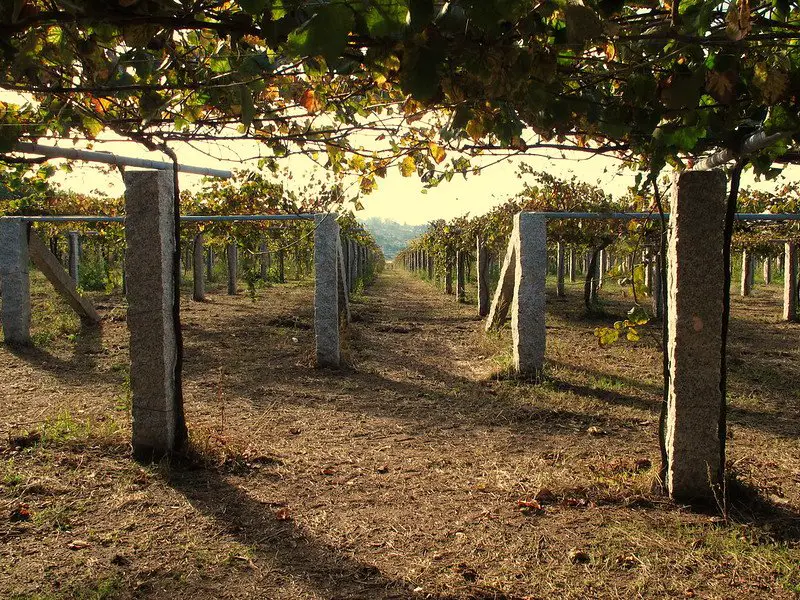 Albariño grapes are thick skinned with small berries. This helps protect the grape from fungal disease typical of coastal vineyards.
The traditional method for growing Albariño vines includes the use of pergolas, called parrals. These pergolas train the grapevine up to overhead canopies. Lifting the grapes off the ground serves two important purposes.
First, it allows for increased airflow in the canopy and between the grape bunches. Air circulation reduces fungal rot.
Second, it maximizes farming land, allowing small farmers to plant other crops below their vines.
What does Albariño wine look like?
Albariño will be pale lemon in your glass. You may notice a tinge of green.
What does Albariño smell like?
This aromatic white Spanish wine, Albariño showcases grapefruit, lime, and lemon. These aromas will jump out at you from the glass.
Some will have warmer fruits, like peach and apple. Your Albariño will likely have a kiss of the ocean thanks to salty sea air next to the vineyards and wineries.  
What does Albariño wine taste like?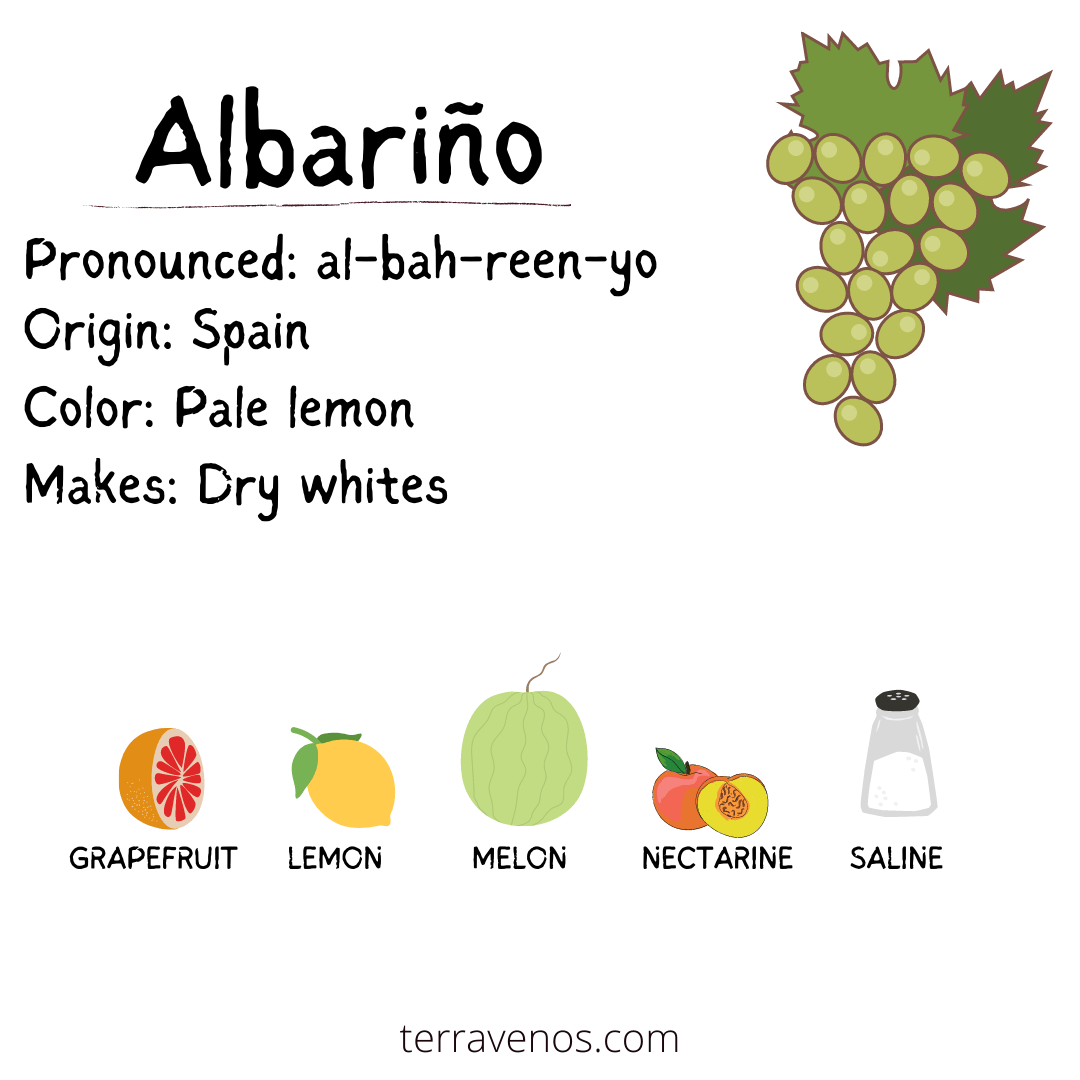 Your Albariño will be dry with biting acidity. Albariño has citrus, almond, and even a little salinity from its costal influence.
You can taste the salinity by rubbing your lips together as you sip.
Expect your Albariño to have more body than a typical Pinot Grigio, akin to a medium-bodied Chardonnay. This is an easy drinking Spanish white wine that pairs beautifully with all kinds of seafood.
Most Albariño wines will be made using stainless steel to maximize their zippy fruitiness, but there are exceptions with winemakers experimenting using oak for fuller-bodied Albariño wines.
Tip: Check out this overview post to read more about Albariño wine, a classic Spanish white wine.
What Albariño should you buy?
Albariño wines are made to be enjoyed young. Buy your Albariño and drink it within 2-3 years of the bottle date. If you have a choice between an older Albariño and a newer Albariño on your bottle shop shelf, go with the younger wine.
#2 Spanish White Wine – Garnacha Blanca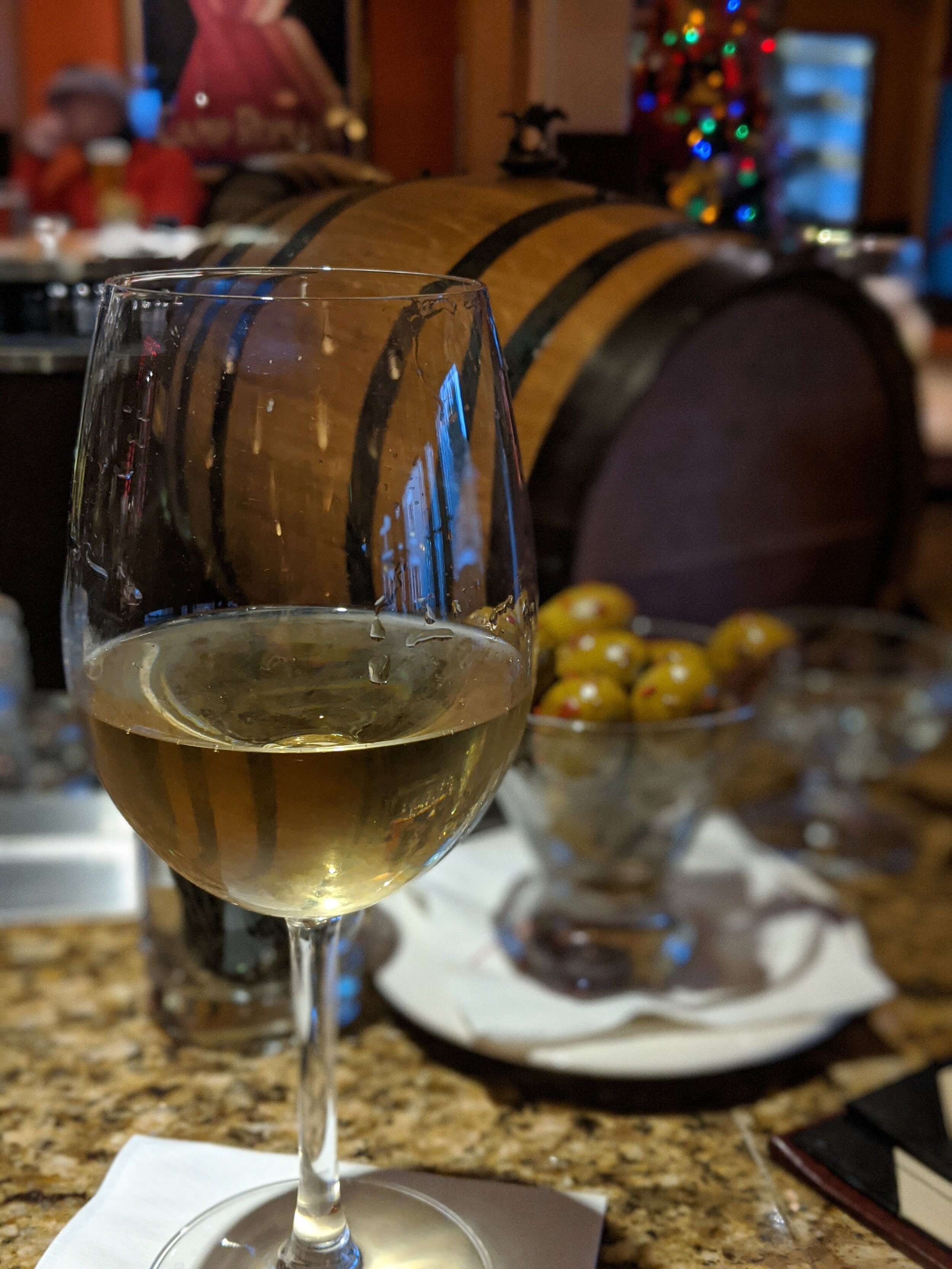 You've probably know and love the red Garnacha, or Grenache, of Spain, but did you know there's a white Garnacha mutation?
White Grenache or Garnacha Blanca, makes creamy white wines that have an eager following. You'll find Garnacha Blanca in Cataluna, DO Alella, and DO Terra Alta.
What's Garnacha Blanca like in the vineyard?
Garnacha Blanca buds later and ripens earlier than Garnacha Tinta. These grapes accumulate sugar quickly, and lose acidity if not harvest at the right time.
Garnacha Blanca's prone to oxidation, so producers will harvest at night to help protect the grapes.
What does Garnacha Blanca wine look like?
Garnacha Blanca wines are pale to medium lemon. When aged in oak, expect your Garnacha Blanca to have a deeper gold color you'd expect to find in an oak-aged Chardonnay.
What does Garnacha Blanca smell like?
Prepare to be enchanted! Garnacha Blanca brings you rich tropical aromas like pineapple and mango, but also golden pear, peach, and citrusy lemon. If it's oak aged, Garnacha Blanca will have hints of warm baking spice, like cinnamon and allspice, and even notes of vanilla.
What does Garnacha Blanca taste like?
Garnacha Blanca will taste like pineapple, mango, and candied citrus, like lemon curd. Garnacha Blanca is a medium to full-bodied white wine. Garnacha Blanca has medium acidity and high alcohol. This wine has a smooth, creamy texture on the palate.
Helpful Tip: Here's a full post on Garnacha Blanca (also known as Grenache Blanc).
#3 Spanish White Wine #3 – Godello
Godello, pronounced go-DAY-oh, is white Spanish wine made in the eastern side of Galicia in Valdeorras. Godello almost went extinct following phylloxera, but boutique producers revived the grape and today you'll find it under DO Valdeorras.
This lovely white Spanish wine isn't widely made, so look for it in a specialty wine shop or at a good Spanish tapas bar.
Many compare Godello to Chardonnay because it reflects the hand of the winemaker.
What's Godello like in the vineyard?
Godello produces low yields. Godello's an early budding, early ripening grape which means it's susceptible to spring frost.
Godello's has yellow-green skins. Godello is hard grape to grow. It's early-ripening, early budding, and produces
What does Godello wine look like?
Godello wines are pale to medium lemon with slightly green tinges.
What does Godello smell like?

Godello will smell like green and golden apple, pear, stone fruits including peach and nectarine.
The winemaker can vinify Godello to be a light bodied, zesty wine with linear acidity like a Pinot Grigio, or opt to make a full-bodied rich style of Godello similar to a Chardonnay.
If the winemaker decides to age Godello in oak, expect to smell cinnamon and vanilla in this delightful Spanish white wine.
What does Godello wine taste like?
Light styles of Godello will have high acidity and be tart in your mouth.
Expect linear green and citrus fruit, like green apple, lime, and grapefruit. Fuller bodied styles of Godello will taste creamy with slight biscuit or brioche notes if the winemaker aged the wine on its lees.
The wine will still have a sharp edge, but expect this to be balanced by the wine's fuller body.
What Godello wine should you buy?
Godello is a Spanish white wine where you want to read the bottle label or tasting note before buying if you have strong white wine preferences. Do you enjoy Pinot Grigio and Riesling? Then look for Godello made in stainless steel.
Do you enjoy butter Chardonnay? Then look for Godello aged in oak.
Drink your stainless steel Godello within 2 years of the date on the bottle.
Oak-aged Godello will age better than stainless steel Godello, but drink it within 3 years of the bottle date.  
#4 White Wine of Spain – Verdejo
Verdejo wines are one of the best kept secrets of all white wines of Spain.
It's believed to have been brought to Spain by the Arabs during the Moorish occupation through the Middle Ages. Verdejo's main white grape of Rueda Denominacion de Origen (DO) located in Castilla y Leon.
White Rueda wines can blend Sauvignon Blanc and Viura (Macabeo), which gives you an idea of what to expect in this uniquely Spanish white wine.
What's Verdejo like in the vineyard?
Verdejo comes from the word 'verde' or green in Spanish. The grape's bloom, or the soft waxy coating, has a green tinge to it.
Veredejo's a vigorous grape in the vineyard and drought tolerant, making it the perfect grape for Spain's long, hot summers.
Verdejo has tight clusters, making it susceptible to mildew. Quality-minded producers harvest Verdejo at night to reduce oxidation and retain the grape's naturally high acidity.
What does Verdejo wine smell like?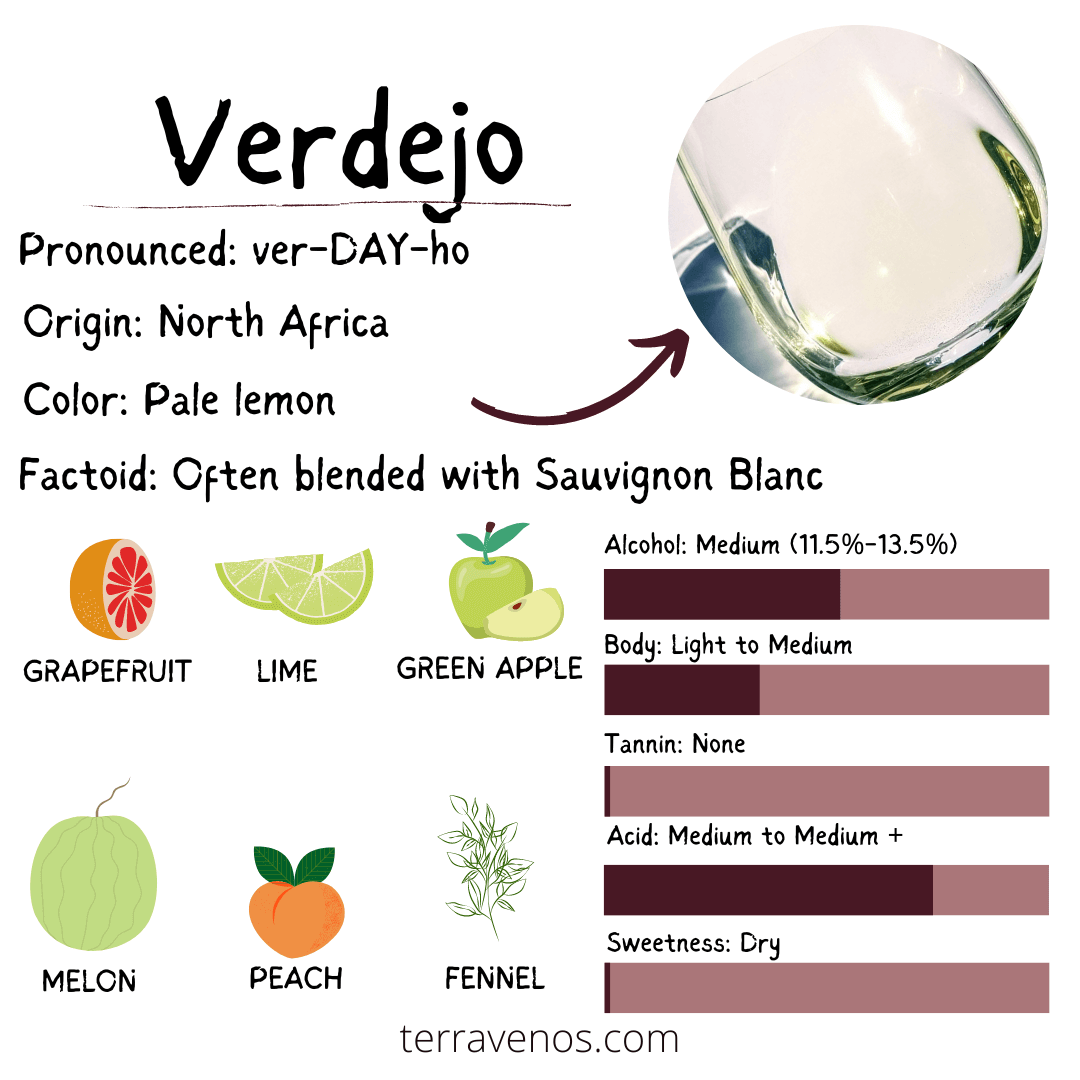 Verdejo wines deliver powerful citrus notes, including lime, lemon, and grapefruit. In warmer vineyard locations, expect tropical notes like pineapple, mango, and mandarin.
Here's a full post on Verdejo wines.
What does Verdejo wine taste like?
Verdejo wines are dry with tangy citrus. The wines are typically light bodied with high acid. Expect the wines to be medium alcohol depending on the grapes and growing season.
Curious for More? Verdejo's actually one of my most favorite white wines. Check out this post on the curious history of Verdejo and how it became one of Spain's most beloved white wines.
#5 White Wine of Spain – Macabeo or Viura
Believe it or not, there's more to Rioja than red wine – or vino tino as the Spanish say.
Viura, known regionally as Macabeo, is a white Spanish grape used to make white Rioja. Viura's most closely associated with simple white wines, but can have expressive complexity and aging potential in the hands of the right winemaker.
Expect Viura's quality to be reflected in its bottle price.
What's Macabeo like in the vineyard?
Macabeo's late budding, early ripening grape and needs hot conditions to thrive, perfect for Spain's central plains. Macabeo's a naturally high yielding grape. This means that winegrowers can get a significant crop from their vineyards.
The higher the yield, the lower the overall intensity in the berry.
This means lower flavor concentration and lower quality. If the winegrower controls yields, then Macabeo becomes an intense, expressive grape in your glass.
What does Macabeo wine look like?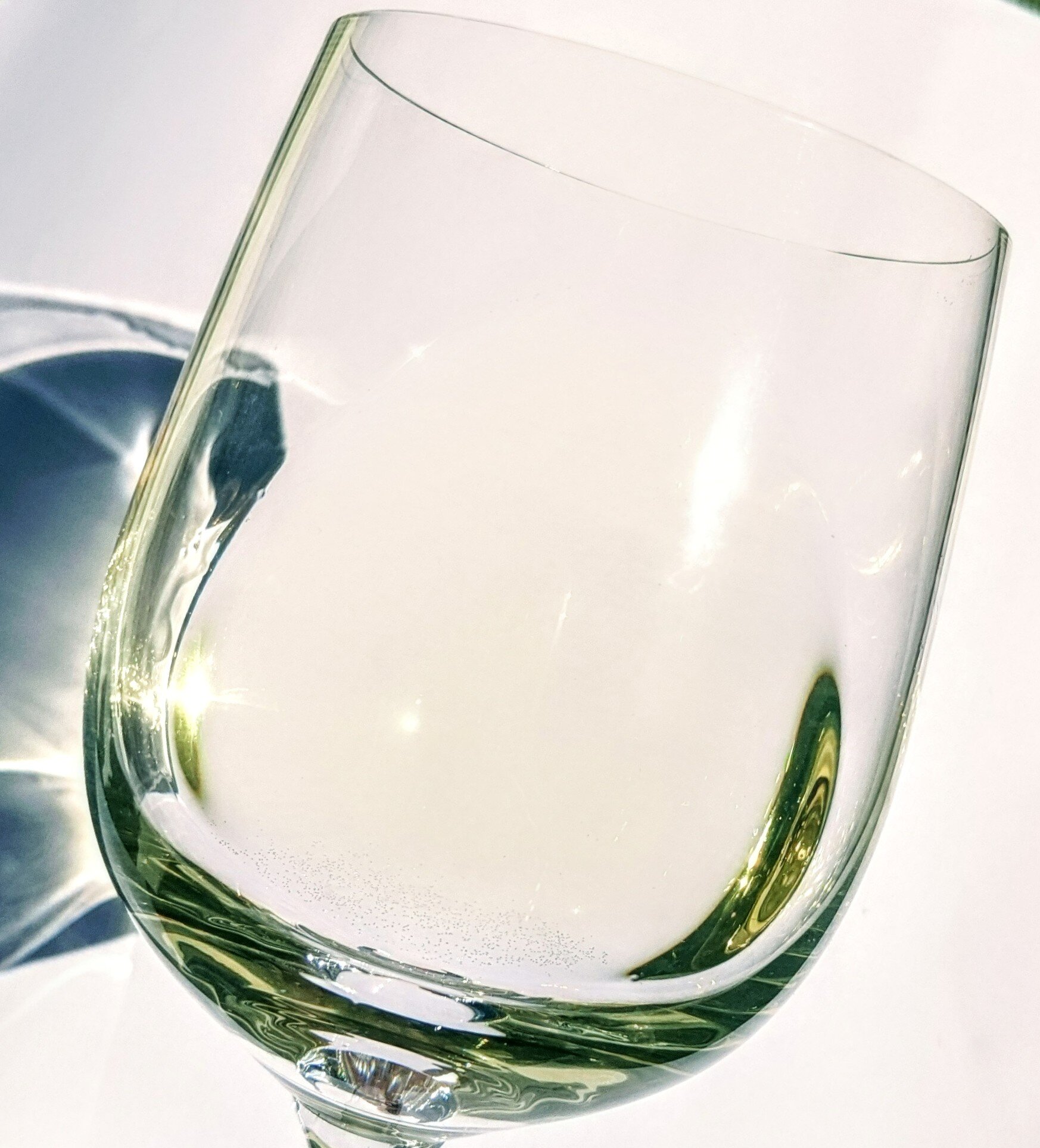 Macabeo is a pale lemon wine.  
What does Macabeo wine smell like?
Macabeo is an aromatic white wine with pronounced aromas of melon, yellow apple, and white blossom.
Expect stone fruit like peach and nectarine and juicy citruses like grapefruit and lemon curd.
If the winemaker ages Macabeo in oak, you will smell coconut, vanilla, cinnamon, and allspice.
What does Macabeo wine taste like?
Macabeo comes in two styles. Unoaked Macabeo tastes similar to a Pinot Grigio and will have a light body and crunchy acidity.
This is an easy drinking style of Macabeo.
Macabeo shows good resistance to oxidation, so the grape does well with oak barrel aging.
Oaked Macabeo will have a medium body with layers of citrus and spice. With age, expect earth and mineral notes in your Macabeo wine.
#6 White Spanish Wine – Cava
Cava's Spain's answer to Champagne. This sparkling white Spanish wine combines three primary grapes: Macabeo, Xarel.lo, and Parellada.
Fun Spanish white wine fact: Cava can be made anywhere in Spain and still be called Cava.
DO Cava is spread out over 150 towns and municipalities in 7 different regions, though Cataluña is Cava's spiritual home.
What does Cava wine look like?
Cava will be light to medium lemon, depending on its age. Expect your Cava to have a fine, pearly mouse from its traditional production method of second fermentation in the bottle and lees aging.
What does Cave wine taste like?
Thanks to the blend of grapes, Cava has layers of different flavors. Macabeo adds perfume and green apple. Xarel.lo delivers citrus and herbal notes. Parellada adds lemon to the blend.
All Cava is made in the traditional Champagne method, so you'll discover yeast and autolytic notes in your Cava.
What Cava Should You Buy?
The two biggest producers of Cava are Freixenet and Cordoniu (the oldest sparkling wine producer in Spain).
You'll find these Cava brands in almost every market. Look for other brands of Cava if you want to discover something new.
Don't age your Cava.
Cava's come in a number of different aging designations and will be aged at the winery and ready to enjoy upon release.
#7 White Spanish Wine – Txakoli (Hondarribi Zuri)
Txakoli (pronounced chah-ko-lee) wines are another hidden gem among Spanish white wines. Made from the white Hondarribi Zuri grape, look for
Txakoli from three regions in the northeastern País Vasco: Arabako Txakolina, Bizkaiko Txakolina, and Getariako Txakolina.
Zuri means 'white' in Basque, the regional language.
It's likely that Hondarribi Zuri isn't actually a grape at all, but a general name for white grapes grown in the region, possibly Courchen, Courbu Blanc, or Noah (an American hybrid).
Who knew?
Whatever the grape actually is, the wine's best known as Txakoli.
What does Txakoli smell like?

Txakoli will smell like citrus, including lime, lemon, and grapefruit, peony, and barely ripe strawberry. Expect to smell mineral and saline notes from vineyards located close to the Cantabrian sea.
What does Txakoli wine taste like?
Txakoli wines are bright, high acid white Spanish wines with citrus and mineral driving their flavor profile.
Expect traditionally made Txakoli white wines to have a little sprightly effervescence to them.
Txakoli will forefront lime, underripe strawberry, green herbs, and saline notes. Txakoli is a low alcohol, light bodied wine.
What Txakoli wine should you buy?
Always buy the newest, or youngest, vintage of Txakoli wines. This is a bright, friendly wine made to be enjoyed within a year of bottling.
#8 Spanish White Wine – Treixadura
Treixadura (pronounced tray-sha-doer-ah) is a white Spanish wine produced mainly in the Ribeiro region of Galicia in northwestern Spain and throughout northern Portugal where the grape goes by Trajadura.
Look for white DO Ribeiro wines and you'll find yourself Treixadura.
What's Treixadura like in the vineyard?
Treixadura's a vigorous grapevine, capable of high yields. The grapes are thin-skinned and susceptible to rot and mildew. Good canopy management is essential to wine quality.
What does Treixadura wine smell like?

Trexiadura wines smell like citrus, including lime, lemon, and grapefruit, and stone fruits like white peach and nectarine. You may detect crunchier notes like cucumber and herbs.
What does Treixadura wine taste like?
Treixadura wines are medium alcohol and medium to high acid making fresh, balanced wines with some complexity of flavors. Expect citrus, stone fruit, mineral notes, and white flower in Treixadura wines.
#9 White Wine of Spain – Jerez-Xérès-Sherry (Palomino Fino)
If you've never heard of Palomino Fino, you're not alone! This white Spanish wine grape is better known by it's fortified wine style: Sherry.
That said, you can find dry white Spanish wines made from 100% Palomino Fino.
Look for dry white Palomino Fino wines from Andalucía and the Canary Islands.
As a regular white table wine, Palomino Finos has soft lemon, yellow apple, and chamomile. It doesn't jump out of the glass but makes an excellent everyday drinker.
Expect to pay around $15 USD for a Palomino Fino. Drink it, don't cellar.
What's Palomino Fino like in the vineyard?
Palomino Fino needs hot dry conditions to thrive. It's susceptible to chlorosis and does best in vineyards with chalky soils and high calcium content.
What does Sherry look like?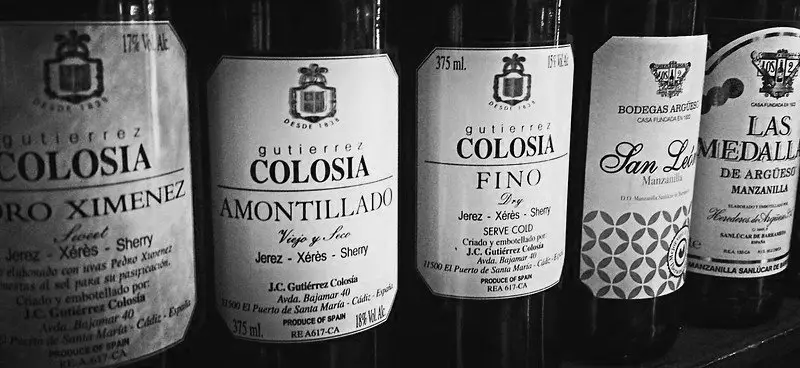 Sherry comes in different styles. Fino Sherry will be pale lemon. Oxidatively aged Sherries, like Cream and Oloroso Sherries, will be golden brown.
What does Sherry smell like?
Palomino Fino, the grape used to make Sherry, isn't an aromatic or perfumed grape. It does have lemon and chamomile notes.
Fino Sherry will smell like citrus, lemon, and bread yeast. Oxidatively aged Sherry will smell like almond, toffee, and dried citrus peel.
What does Sherry wine taste like?
It's true that most Sherries are sweet, but there are dry Sherries, too.
Sherry is a low acid wine with noticeable acetaldehyde (varnish) qualities. Expect the burn of high alcohol because these are fortified wines.
Sherries will have a nutty quality.
What Sherry should you buy?
I recommend diving into Sherry by trying two different styles. Start out with a Cream Sherry, which is a sweet style of Sherry, and a Fino Sherry, which is a bone dry Sherry style.
Both of these Spanish white wines will be an experience!
Tip: Check out this post that covers Sherry wine more in depth before you go buying anything. Like a friend with benefits, Sherry's complicated.
Does Spain make White Wines Like Chardonnay and Sauvignon Blanc?
You'll find mainstream international white wines like Chardonnay and Sauvignon Blanc made throughout Spain.
These white wines tend to be sold within the country, used as blending grapes with traditional varieties (like Verdejo and Sauvignon Blanc), or used in bulk wine production.
One challenge Spain has on the export market for grapes like Chardonnay and Sauvignon Blanc is that it has to compete with better-known regions that are famous for these styles of wine (e.g., New Zealand or Burgundy).
Final Thoughts – Spanish White Wines
Spanish DOs specialize in different grapes and different wine styles following their regional traditions.
Spanish white wines almost always list their grape variety on the label and, like their red brothers, have their Denomination of Origin (DO) on the label.
This is helpful.
You can easily find wines from a particular region.
Traditional white Spanish white wines offer incredible quality for value on the export market.
After a lost century of wars and messy dictatorships, Spain's still coming into its own with amazing wines. Spanish wines are well worth the effort to find them at your local bottle shop or try them at your favorite Spanish tapas bar.
Thirsty for More?
I love figuring out how history shapes the world of wine, which is one of the reasons I became a Spanish Wine Scholar. Check out this quirky post about how Rioja became Spain's preeminent wine region.
Looking for something a little less serious? Here's a quick guide on what wines are sweet and fruity. Cheers!