Whether you have a recipe that calls for a dry white wine, or you're looking for a bottle to drink, you've got options.
If you see "Dry White" on a wine label, then the wine is a blend of white grapes. Widely available dry white wines include Sauvignon Blanc, Chardonnay, Muscadet, Albariño, Pinot Grigio, Soave, Picpoul, and Grenache Blanc. Inexpensive, entry-level wines often have a little sweetness to them, called residual sugar, so you'll want to purchase mid-priced bottles of higher quality if you're looking for a dry white wine. Fruity, aromatic wines with high acid can sometimes taste sweet, even if they're dry, for example, Torrontes, Viognier, and some Rieslings.
Here's what you need to know to be able to answer the question: "What wine is dry white"? Along with 11 dry white wines to try tonight.
Can you taste sweetness in wine?
It can be challenging to detect sweetness in wine if you're a new wine drinker. Long-time wine drinkers or those with great tastebuds can pick up sweetness at 2 grams per liter of residual sugar in a glass of wine.
That's less than ½ of a teaspoon of sugar in a glass of wine!
Below this level, it's almost impossible to pick up sugar in your white wine.
What wines have sugar in them?
Many inexpensive, mass-market table wines that you'll find at the grocery store have significantly more residual sugar than 2 g/l.
Labels like Meomi, Yellow Tail, Kendall Jackson, Franzia – all of these wines were made to have perceptible sweetness above 2 g/l.
These wines are made to appeal to a wide audience, and, generally speaking, humans love sugar and sweetness. Certainly in the United States, we like things sweet!
Not All Wines that Taste Sweet Have Residual Sugar
High acid, fruity white wines can come across as sweet because of their fruit intensity. These dry white wines include bottles like Riesling, Chenin Blanc, Torrontes, and Grüner Veltliner.
5 Good Strategies to Pick Dry White Wines 
Because a white wine can be made in a dry or off-dry style regardless of the grape, here are some good strategies to help you pick a dry white wine:
Avoid entry-level wines under $10 USD
Select mid-priced, above the $15 USD
Choose imported European white wines
Look for sweetness indicators on the back of the wine label
Read the wine's technical specifications online
If you're 100% determined to know what the residual sugar is in a wine, then look for the wine's technical sheet.
A wine's technical sheet is an informational sheet that includes all of the nerdy wine info for the wine you're tasting (or thinking of buying). 
Here's a great example of the technical sheet for Jam Jar wine.
In your internet browser, type in the name of the wine, the year, and "technical sheet" and you should get a PDF document with all of the wine's details.
What Wine Is Dry White: 11 White Wines
If you see the term "dry white" on a wine label, without any grape variety mentioned, then the wine is a blend of white grapes.
No one grape makes up enough of the blend to put the grape name on the label. 
Below you'll find 11 dry white wines. Next to each wine, you'll see a classification:
Widely available – you should be able to find this wine wherever wine's sold
Somewhat difficult to find – you'll probably need to go to a large bottle shop to find this wine
Dry White Wine #1 Sauvignon Blanc – Widely available
Sauvignon Blanc is a dry white wine made around the world. Sauvignon Blanc makes aromatic white wines that have citrus, stone fruit, grass, or herbal notes. In cooler growing regions, Sauvignon Blanc tends to be more herbaceous with gooseberry. In warmer growing regions, Sauvignon Blanc bursts with tropical fruit, namely passion fruit and papaya. 
(Here's a complete guide to Sauvignon Blanc.)

Helpful Tip: Sancerre AOC and Pouilly-Fumé AOC wines from the Loire region in France will always be bone-dry Sauvignon Blancs. Inexpensive, entry-level Sauvignon Blancs will likely have residual sugar and a little sweetness to balance them out.
Dry White #2 Chardonnay – Widely available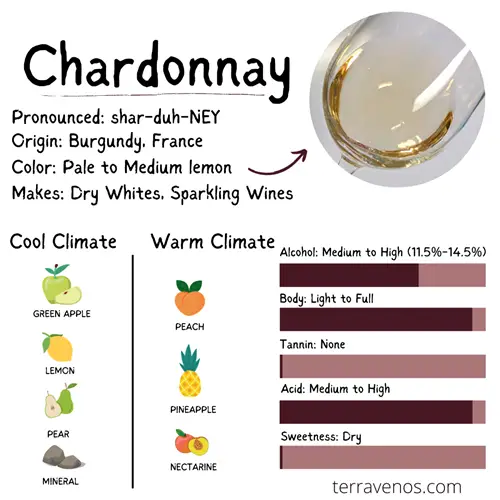 Chardonnay is the most popular white wine in the US. And in a country that celebrates individuality, you can infer that there's some special quality to Chardonnay that makes it special for a range of drinking preferences.
(Go check out this full post on Chardonnay wines.)
If your Chardonnay comes from a cool climate, let's say Chablis in Northeast France, expect the wine to be bone dry, crisp with good acidity, and a definite minerality with wet stones, green apples, and citrus. 
If your Chardonnay comes from a warm climate, for example, the Central Valley in California, then your wine will likely express luscious stone fruits – peach and nectarine – maybe even moving into more tropical fruits, for example, pineapple. 
Helpful Tip: Avoid extreme-bargain Chardonnays under $5. These Chardonnays will almost always have sugar in them. Chablis from France, on the other hand, will always be dry.
Dry White #3 Muscadet – Somewhat difficult to find
Muscadet will always be a bone dry white wine. This white wine is made from the Melon de Bourgogne grape, or simply Melong. Muscadet is a light wine similar in body to a Pinot Grigio.
Muscadet wines have tart citrus, including lemon and lime, along with green apple making this a high-acid dry white perfect for seafood pairings.
Look for Muscadet-Sevre et Maine AOC for a special treat.
(Personal opinion, I would pick a Muscadet any day of the week over a Pinot Grigio.)
Dry White #4 Picpoul – Somewhat difficult to find

Picpoul (pronounced peek-pool) specializes in white wines made from the Piquepoul Blanc grape. This medium body, medium to high acid, citrus wine is made for easy drinking with local seafood dishes and warm afternoons on the beach.
Most wines are destined for the local tourist population and then exported to the tourists' home market (e.g., the UK). Picpoul translates to "lip stinger", so you know this wine's got zip. Picpoul's a lively dry white wine that Pinot Grigio lovers must try.
Look for dry white wines from Picpoul de Pinet AOC.
What is the driest white wine?
Picpoul and Muscadet are two white wines that will always seem like they are the driest white wines because of their light body and high acid. 
Dry White Wine #5 Albariño – Widely available
Albariño wines are dry white wines. Unless you find a bottle of Albariño made by a non-traditional winemaker experimenting with wine styles (which could be interesting), expect your Albariño to be a dry, high acid white similar to a Pinot Grigio or Sauvignon Blanc.
Helpful Tip: Check out this more in-depth post on Albariño wine that covers where it's grown and how to pick great bottles of this food-friendly dry white wine every time. Spoiler Alert: Always choose the youngest bottle of Albarino on the shelf.
Albariño wines showcase lemon zest, apricot, melon, grapefruit, white peach, nectarine, and honeysuckle. You may also notice slight bitter almond or pithy notes from the grape's thick skins. Some Albariños can have a slight beeswax to them.
Dry White #6 Pinot Grigio – Widely available
Pinot Grigio wines are light bodied, dry white wines with high acid and apple and citrus notes. You'll find inexpensive dry white Pinot Grigio coming from Italy, which grows vast quantities of this little white wine grape. 
(Go check out this full post Pinot Grigio wines.)
Dry White Wine #7 Soave – Somewhat difficult to find
Soave, an Italian white wine made from the Garganega grape, is a dry, light to medium-bodied white wine that has a slightly oily mouthfeel that gives it richness.
These wines have lemon, peach, white flowers, and green melon. Soave tastes similar to Pinot Grigio and Sauvignon Blanc and is an excellent choice for a dry white wine.
Dry White #8 Grenache Blanc – Somewhat difficult to find
Grenache Blanc (a.k.a., Garnacha Blanca in Spain) makes medium to full-bodied, high-alcohol dry white wines with low acidity.
Grenache Blanc expresses citrus, including lemon and orange peel, pear, and honeysuckle. If you love Chardonnay, then you need to try Grenache Blanc.
You'll find Grenache Blanc in Southern France, White Rioja Spanish wines, as well as some specialty producers in California. 
Dry White #9 Torrontés – Somewhat difficult to find
At home in Argentina, Torrontés is a playful, light bodied, dry white wine that's less presumptuous than Sauvignon Blanc.
Think fruit cocktail in a glass with a kick of acid to back it up. Torrontés is the perfect choice for avocado and California rolls, lazy summer afternoons, and family reunions. Inexpensive, fun, and fruity.
Dry White #10 Viognier – Widely available
Viognier (pronounced vee-own-yay) is white wine that crafts medium to full bodied, aromatic wines with low acid. Viognier showcases a tropical potpourri of peach, mango, rose, and honeysuckle.
You'll want to double check if the bottle you're holding is dry or off-dry. Some producers will leave a little sugar in Viognier to increase the wine's body and mouthfeel. (Here's a Viognier wine guide.)
Look for Viognier from the Northern Rhone region of Condrieu AOC which makes dry white Viognier wines.
Dry White #11 Riesling – Widely available
Riesling's an aromatic white wine grape that expresses varied floral qualities, minerality, and honey.
More than anything, though, the wine's high acid makes it a racy drinking companion.
Rieslings from cooler growing regions show green apple, lemon, lime, and floral notes.
Wines from moderate regions give deliver rich stone fruits – peach, nectarine, and yellow apple. The warmest vineyards will produce wines with honey, pineapple, and mango.
Riesling is one white wine where you will need to verify that it's dry, because it can come in off-dry versions as well. If you see the words kabinet, feinherb, or halb troken, this is a sweet style of Riesling. If you find a bottle that has 'troken' or 'GG' on it, then it's dry.
Riesling producers are getting better at putting little sweetness scales on the backs of their wine labels, so definitely check that out before picking up a bottle if want a dry white wine.
Final Thoughts: What are some good dry white wines?
Now that you have 11 ways to answer the question: What wine is dry white? All that's left for you to do is head to your local bottle shop and pick up a dry white wine! 
Thirsty for More?
Check out this post on White Spanish Wines that's a must-read if you love white wines as much as I do.
If you're just getting into wine, one of the best ways to learn more is to do side-by-side comparisons of different wines, called wine flights. Here are some fun ideas for your next wine flight with friends.