Whoever anticipates a tryst when hearts are involved?
A thick-skinned white grape, Verdejo (vur-day-hoe) is the offspring of Savagnin and Castellana Blanca. This zippy white grape, originally from Northern Africa, calls Rueda, Spain 'home'. Probably brought to the region during the Moorish occupation of the Iberian Peninsula over 1,000 years ago. 
Verdejo is a finicky grape for winemaking because it is highly susceptible to oxidation. Imagine a piece of cut apple left on the counter for a few hours, it slowly starts to turn brown. The same happens with Verdejo. Originally, the grapes were used to produce just this style – an oxidized wine, similar to Sherry, brown with nutty characteristics that was popular back in the day, but not so much with modern consumers.
It wasn't until the 1970s when French winemaker Èmile Peynaud ventured down to assist the Rioja-based producer Marqués de Riscal launch a new venture to produce crisp, fresh white wines that Verdejo truly came into its own. Full-bodied red Rioja wines are wonderful, and they have their place, but in the hellishly-hot summers of Castilla y León, you need something light and refreshing. 
Enter the White Wine Verdejo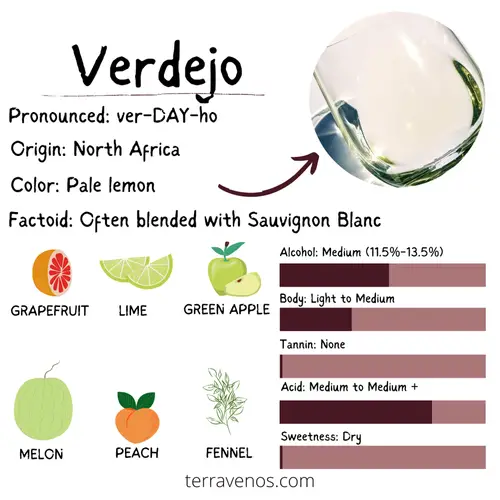 Enologist Èmile Peynaud, credited as "the forefather of modern oenology", brought the science of protective winemaking with him to the region, transforming Verdejo from an unexciting oxidized brew to something entirely unrecognizable – a quaffable and zippy vino blanco.
Because of the oxidation issue, producers need to handle these babies carefully. This starts in the vineyard. Growers harvest Verdejo at night instead of harvesting during the full heat of the day so that cool grapes come into the winery – this reduces grape browning. From there, most Verdejo winemakers will use temperature-controlled stainless steel to preserve freshness. Some producers use oak to add spice. Regardless of the style, they minimize oxygen contact.
The problem with Verdejo is that it's Spain's 'other white wine'. If the average consumer thinks of getting a Spanish white, it's typically an Albariño from Rías Baixas, up in the Northwest corner of the country, known as Green Spain.
Albariño is pleasant enough, but it's not my new-found love, Verdejo.
Why Verdejo Is Better than Albarino
Verdejo brings a weight to it that Albariño does not – along with a perfumed and aromatic elegance of lime, peach, and herbal notes. Today, Verdejo can be 100% varietal or blended with Sauvignon Blanc bringing additional acidity and complexity.  Verdejos with good acidity can age, developing notes of toasted nuts and orange peel. 
Where Is Rueda, Spain?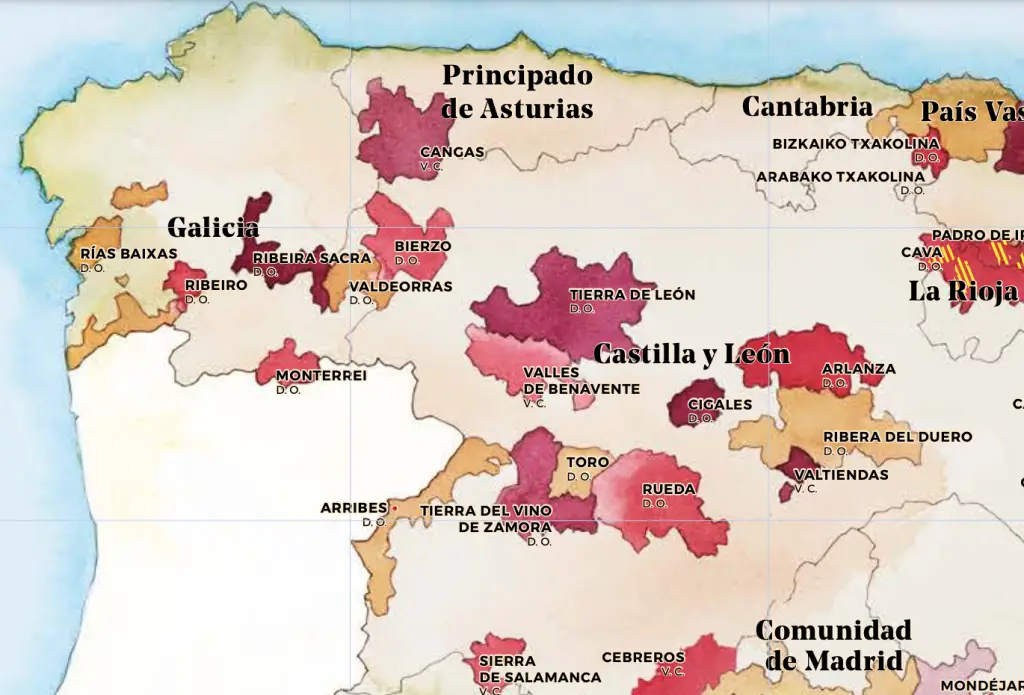 The Rueda DO (Denominación de Origen) sits in the Duero River Valley in Castilla Y León, with river valley soils: gravel, limestone, and sandy limestone. The first DO of Castille y León, Rueda was formed in 1980. 99% of the grapes are white, and 87% of those are Verdejo. Rueda produces 40% of Spain's vino blanco, the largest in the country. Why don't we know more about Rueda?
Rueda (Verdejo) Labeling Laws
Here's a breakdown of the Rueado DO labeling laws.

Sample Verdejo Tasting Note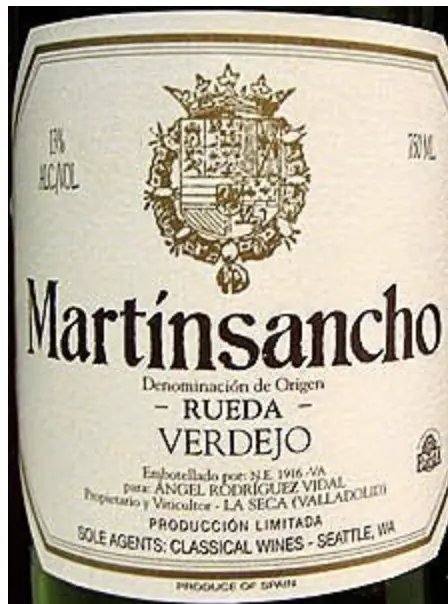 The Martínsancho winery website is a must-visit for a little armchair tourism. The winery has underground caves carved by hand during the Middle Ages. Inside are 6,000 liter American oak vats. 2017 is a special vintage, born under the watchful eye of Angel Rodriguez, one of the original founders of the Rueda DO and champion of the Verdejo grape. He passed away in 2018. This simplifies a legacy, though. In the 1970s producers were ripping out the unpopular Verdejo and replacing vineyards with Viura and Palomino. Angel Rodriguez hand-grafted 25 acres of premium vineyard land to Verdejo, preserving the grape from extinction and putting it on the path to regional fame. 
What a wonderful reason to raise a glass of Verdejo!
Tasting Note: Pale lemon, clean – pronounced aromas of pear, blossom, peach honeysuckle. Dry, medium body, medium alcohol, medium(+) intensity, medium(+) finish. Add almonds to the palate in addition to the aroma notes. Very good wine. 
Perfect Pairing: Moderately chilled with seafood, salads, or fish tacos. All work. You can imagine enjoying a glass of Verdejo along with your pinchos on a weekend afternoon in the summer.
I've decided that in my perfect world I would go into a restaurant and ask about the house white, the wait staff would look at me and respond in obvious impatience, "…but it's a Verdejo, of course!" 
Not likely to happen anytime soon.
Where Do We Grow Berdejo in the US?
The 2020 California Grape Crush Report lists only 182 tons of Verdejo harvested coming from Crush Districts 9, 10, and 11 – all in the Sierra Foothill regions. I couldn't even find specific quantities for WA or OR.
If you find a domestic producer that makes Verdejo, grab a bottle and count yourself fortunate!
In the meantime, relocating to Spain will remain an option on the table for my white wine dalliances.
Thirst for More?
Go check out this post on Verdejo wine, a comprehensive guide to this humble white Spanish grape.
Head over to this post for winning Verdejo food pairing recommendations.
Here's a post that covers other white Spanish wines you should try.