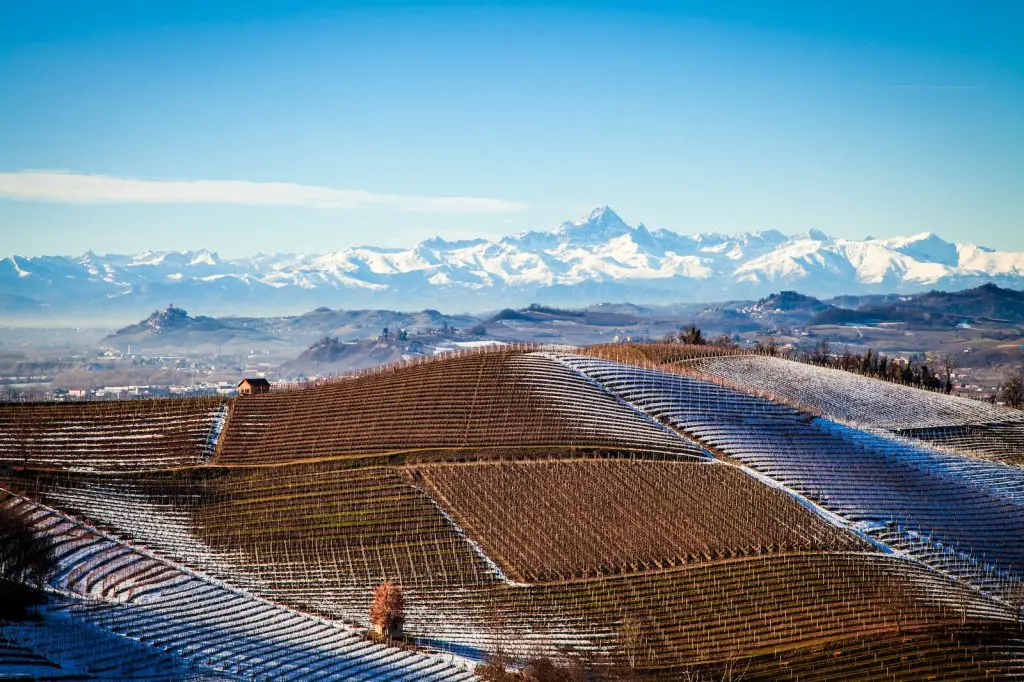 Pronounced: Nebby-oh-low
Where Is Nebbiolo Wine Grown?
Nestled under the Swiss Alps to the north and the Apennine mountains to the south and east, Nebbiolo (pronounced Nebby-oh-low) grapes are native to northwestern Italy in the region of Piedmont (Piemonte). Today, Nebbiolo vineyards crisscross Piedmont, its southern neighbor Liguria, and even to the east into Lombardy. 
Is Nebbiolo Sweet or Dry?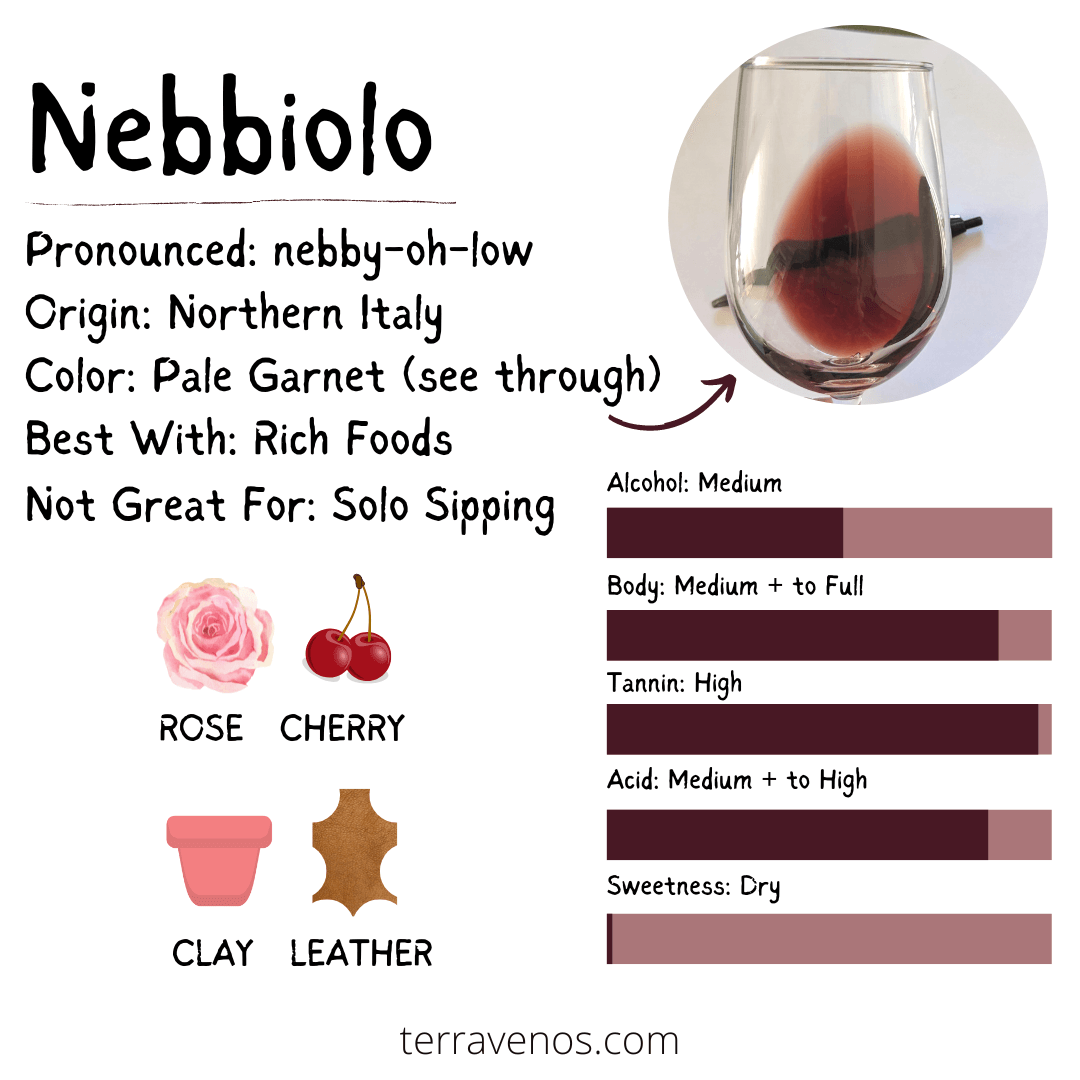 Nebbiolo is a dry red wine. There are no mainstream Nebbiolos made in a sweet style. If you're looking for a sweet wine from the Piedmont region in Italy (home of Nebbiolo), then you'll want to look for Dolcetto, another red grape that translates into "little sweet one", or even Moscato, a refreshing sparkling wine with a kiss of sugar.
Is Nebbiolo a Good Wine?
Thanks to its powerful tannin structure, high acid, and intense floral and red fruit notes, Nebbiolo wine makes an excellent wine for collectors interested in building cellars with age-worthy bottles.
What Are Nebbiolo Wines Called?
Nebbiolo is a native grape to northern Italy. Today, it's grown across the Piedmont, Liguria, and Lombardy. In Italy, they use the region on the wine label instead of labeling based on grape variety. 
The most famous wines made from Nebbiolo grapes are from Barolo DOCG and Barbaresco DOCG.
Jargon Alert: Denominazione di Origine Controllata e Garantita, or DOCG, is part of Italy's wine classification system. The DOCG is Italy's highest classification for a protected designation of origin (a demarcated growing region). Look for the DOCG label on your Italian wines.
Is Barolo the Same as Nebbiolo?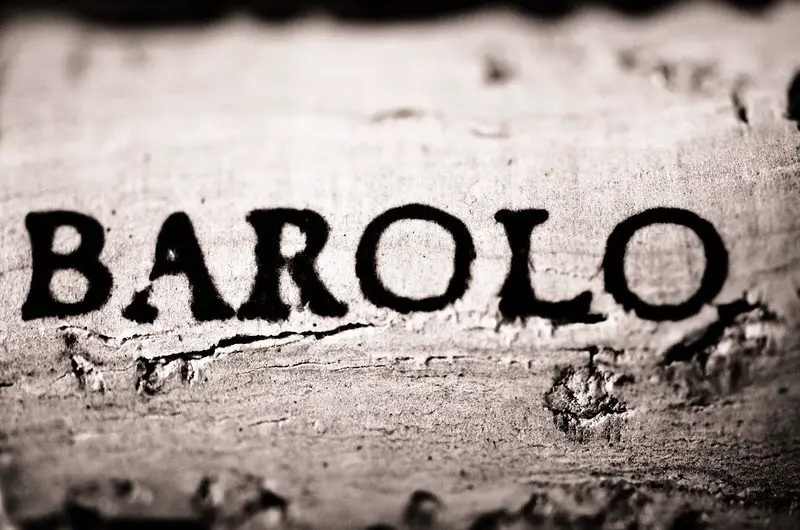 Barolo is the name of the geographical region in Piedmont, Italy, that grows the black-skinned Nebbiolo grape. If you see Barolo on a label, it is made from Nebbiolo grapes.
Is Barolo made from 100% Nebbiolo grapes?
Yes, Barolo is made from 100% Nebbiolo grapes. 
Is Barbaresco the Same as Nebbiolo?
Like Barolo, Barbaresco is the name of the geographical region in Piedmont, Italy, that also grows the black-skinned Nebbiolo grape. If you see a bottle of wine with 'Barbaresco' on the label, then the wine is made of Nebbiolo grapes.
Discover: Nebbiolo vs Barbera
Is Barbaresco 100% Nebbiolo?
Yes, Barbaresco is made using 100% Nebbiolo grapes.
If you see a bottle of wine with 'Barolo' or 'Barbaresco' then the wine is made of Nebbiolo grapes.
What's the Difference Between Barolo and Barbaresco?
While both wines are made from the Nebbiolo grape, Barolo and Barbaresco differ slightly in their taste profile. Barolo sits at a higher elevation than Barbaresco, meaning that the grapes ripen more slowly, retaining racy acidity and developing additional flavor compounds.
This translates into wines with powerful intensity. Barolo delivers red fruit, red floral notes, spice, licorice, and cocoa. 
>>Expect to spend $60+ for a Barolo.
Barbaresco sits at a lower elevation with warmer temperatures. Nebbiolo grapes grown for Barbaresco ripen earlier and express a fruitier, more approachable wine style.
You'll find raspberry, red cherry, cotton candy, and juicy goodness in your Barbaresco bottle.
The aging requirements for both wines reflect the stylistic difference between Nebbiolo and Barbaresco.
Barolo requires 3 years for non-reserve wines and an impressive 5 years for reserve wines prior to release.
Barbaresco is held back 2 years (26 months) for non-reserve with a minimum of 9 months in barrel, and 4 years (50 months) with a minimum of 24 months in barrel for reserve wines.
>>Expect to spend $40-$60 for a Barbaresco.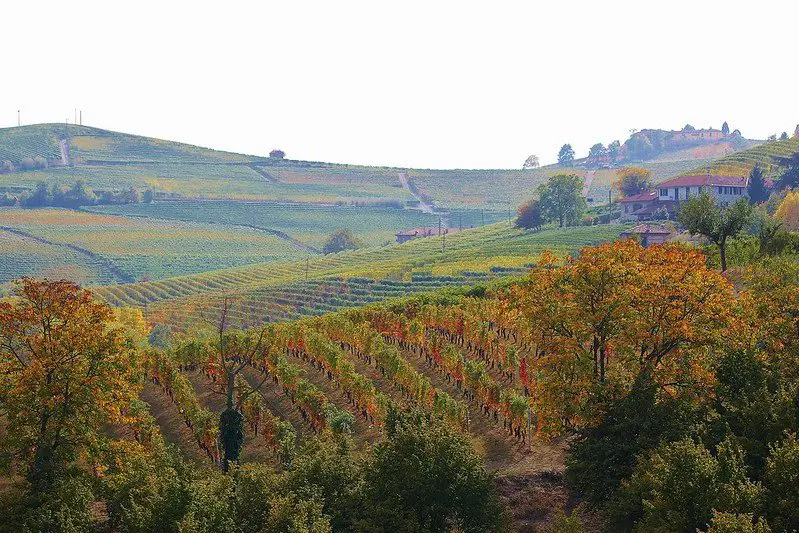 All Barolo and Barbaresco wines are Nebbiolo, but not all Nebbiolo is Barolo or Barbaresco. 
Nebbiolo is the grape, and in Italy the name of the geographical region where the wine is made goes on the bottle, not the grape.
So Barolo and Barbaresco are geographical winegrowing regions that use Nebbiolo for their wines. 
Other Nebbiolo growing regions include Carema, Fara, Lessona, and even Valtelina in Lombardy.
Why Does Nebbiolo Cost So Much?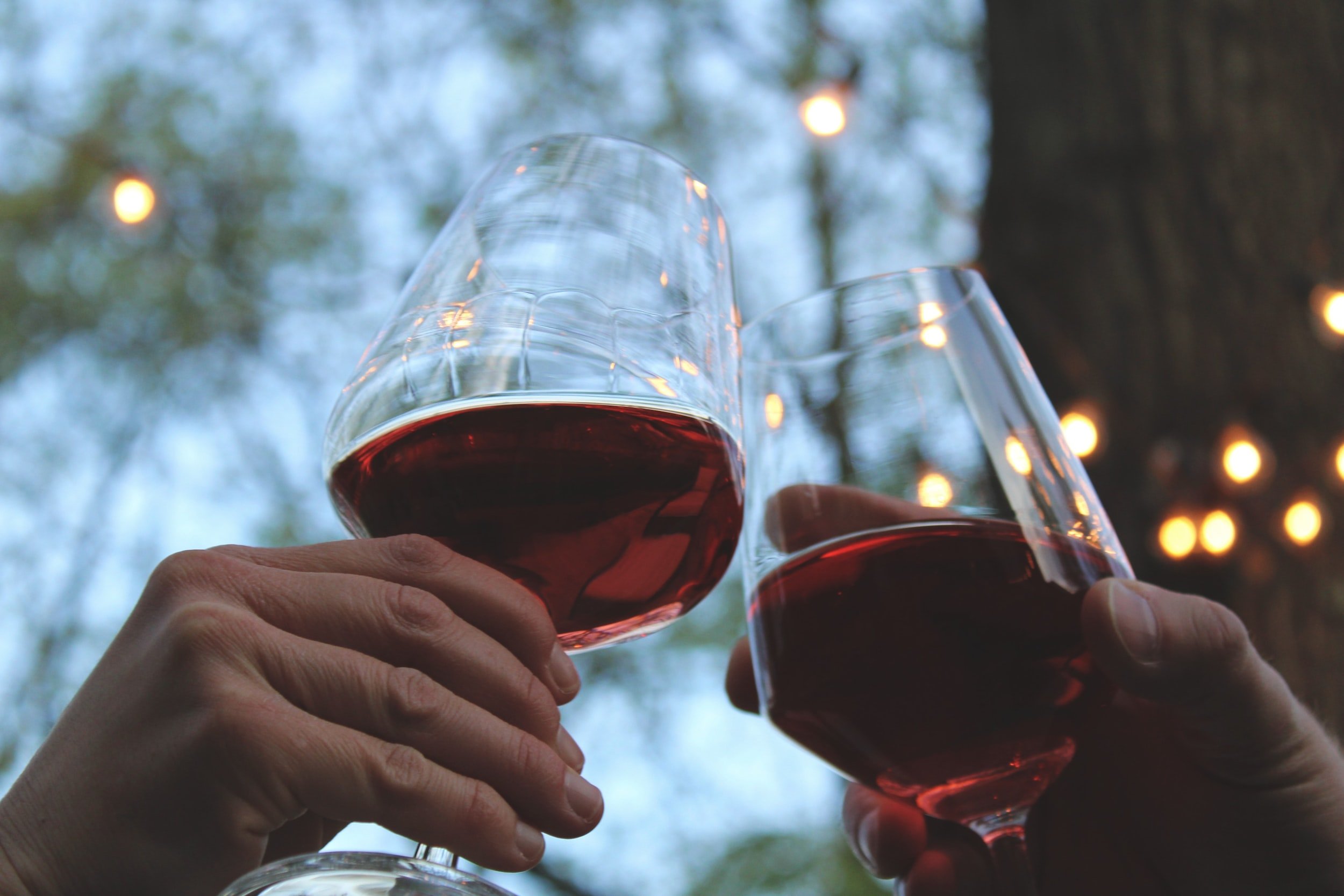 The meteoric rise of collectible Bordeaux and Burgundy over the past two decades has pushed budget-minded consumers to look elsewhere for bottles that can age at palatable prices.
Nebbiolo ticks both of these boxes:
As a result, prices for Nebbiolo have seen dramatic increases. That said, Nebbiolo's still more affordable when compared to their more famous French counterparts.
If you're looking for affordable Nebbiolo, stick with the lesser-known regions (see the list below).
One positive of Nebbiolo's growth in popularity is that growers and producers in the Piedmont region have been able to maintain their family wine businesses.
In other regions throughout Italy, for example in Alto Adige and Veneto, low demand has translated into consolidation with large cooperatives.
Growers and producers have sold out to larger companies that can leverage efficiencies of scale. 
Demand in the export market for Nebbiolo wines has helped buoy the region's wine production and helped to keep wine growing and winemaking in the hands of smaller wineries. 
The region's production diversity translates into distinctive wines that vary by producer. If you love tasting unique wines that reflect the terroir and the individuality of the winemaker's philosophy, then Nebbiolo will appeal to you.
Is Nebbiolo Similar to Pinot Noir?
| Characteristics | Nebbiolo | Pinot Noir |
| --- | --- | --- |
| Hue | Pale to medium ruby red | Pale to medium ruby red |
| Color | Red | Red |
| Aromas | Cherry, rose, tar, herbs | Red berries, floral, earth, spice |
| Tannins | High | Low |
| Acid | High | Medium |
| Alcohol (%) | 13-15% | 12-15% |
| Body | Medium to full | Light to medium |
| Intensity | Pronounced | Subtle |
| Key Growing Regions | Piedmont, Italy | Burgundy, France, Oregon, New Zealand |
| Classic Pairings | Roast lamb, truffles, hard cheeses | Duck, pork, mushrooms, salmon |
| Price Range | $30-$100 | $20-$80 |
Both Nebbiolo and Pinot Noir are similar in color, making pale red wines. Also, they are similar because they are both dry table wines.
Fun Wine Fact: You can read through your glass Pinot Noir or Nebbiolo if you tilt your wine over a piece of paper with writing on it.
Stylistically, Nebbiolo and Pinot Noir offer sharply contrasting experiences for wine drinkers. 
Pinot Noir brings red cherry notes, along with cinnamon, soft tannins, and an earthy quality with age. 
The classic Nebbiolo tasting note is tar and roses – an intoxicating burnt petrol and floral wine.
Not all Nebbiolo will have strong floral notes, but most do. 
Traditional Nebbiolo has wicked high levels of tannin and eye-popping acid that will leave you puckering.
These two qualities make Nebbiolo the perfect candidate for age-worthy wines, but also mean that they can be hard to approach when young.
What Other Wine Is Nebbiolo Like?

Nebbiolo is unlike most mainstream wines you'll find in your wine shop. If you love Nebbiolo or want to try a wine similar to Nebbiolo, then look for Xinomavro from Greece.
Actually, I confused these two wines in a blind tasting recently because they were so similar. Who knew?
Will You Like Nebbiolo?
If you are brand new to wine, you'll likely not be a big fan of Nebbiolo. This is not a friendly wine that's easy to knock back.
The bruising tannins will leave you smacking your lips wondering what just happened.
That said…
I'm of the opinion that everyone should try Nebbiolo at least two times. 
The first time you taste Nebbiolo is an experience. You'll likely be taken aback by the wine's profile. Not much can prepare you for this wine unless you're accustomed to drinking Greece's Xinomavro.
The second time you taste Nebbiolo you'll be able to wrap yourself in the wine's aromas, fully aware of what you're going to be tasting.
If you have an adventurous spirit and are ready to branch out from your standard Cabernet Sauvignon and Zinfandel, the Nebbiolo is waiting for you!
Discover:
Tasting Lineup: Do Not Recommend…
Don't try to do a side-by-side tasting with Nebbiolo and a new world, fruit-forward, brash, and jammy wine. A Merlot, Zinfandel, or even Cabernet Sauvignon in a side-by-side winetasting will overpower the more delicate and nuanced profile of Nebbiolo. 
This wine is old-world in style, meaning the wine is more restrained in its flavors and winemaking, and you'll want to appreciate it within that context.
What Wine Glass to Use when Drinking Nebbiolo?
Barolo, Barbaresco, and any other wine made from Nebbiolo will shine in a Pinot Noir glass. A Pinot Noir shaped glass with a broad bowl will fold the wine's aromas over and allow you to thoughtfully contemplate all the wine's nuanced fruit and spice.
What Does Nebbiolo Pair Well With?
Nebbiolo is not a cocktail wine. 
This means you want to drink your Nebbiolo wine when you have something to munch on. The strong tannins that strip your mouth and searing high tannin levels beg for rich, fatty foods. 
Hearty pasta dishes, winter stews, roasted vegetables, and rich, creamy cheeses… 
Nebbiolo grows in truffle and hazelnut territory, so let your imagination wander with the local cuisine!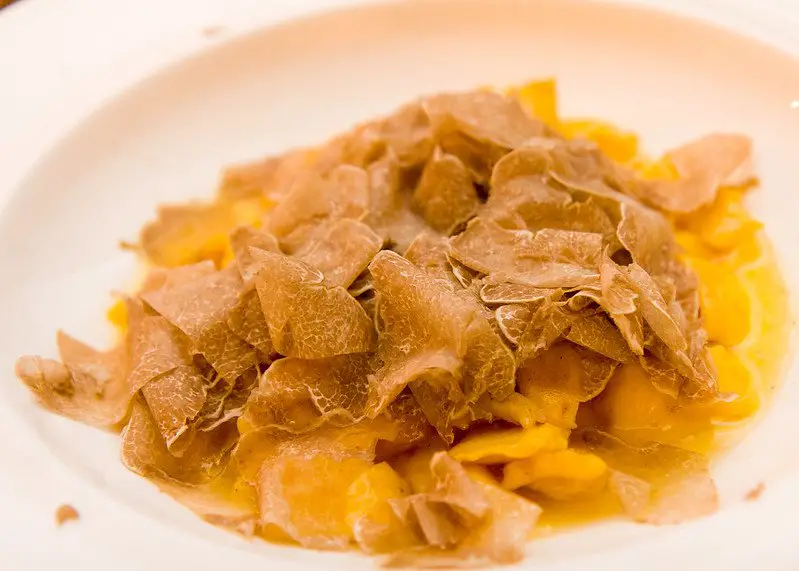 Nebbiolo is the wine I've recommended to my family members who love big game hunting. If you're into roasted or smoked meats, then Nebbiolo should definitely grace your dinner table. 
Here's a complete guide to Barolo food pairing if you need more inspiration, and one specifically for Nebbiolo cheese pairing recommendations.
How to Buy Nebbiolo Wines
Look for any of the following terms on the bottle label for classic Nebbiolo wines:
Barolo
Barbaresco
Gattinara
Ghemme
Roero 
Finding Affordable Nebbiolo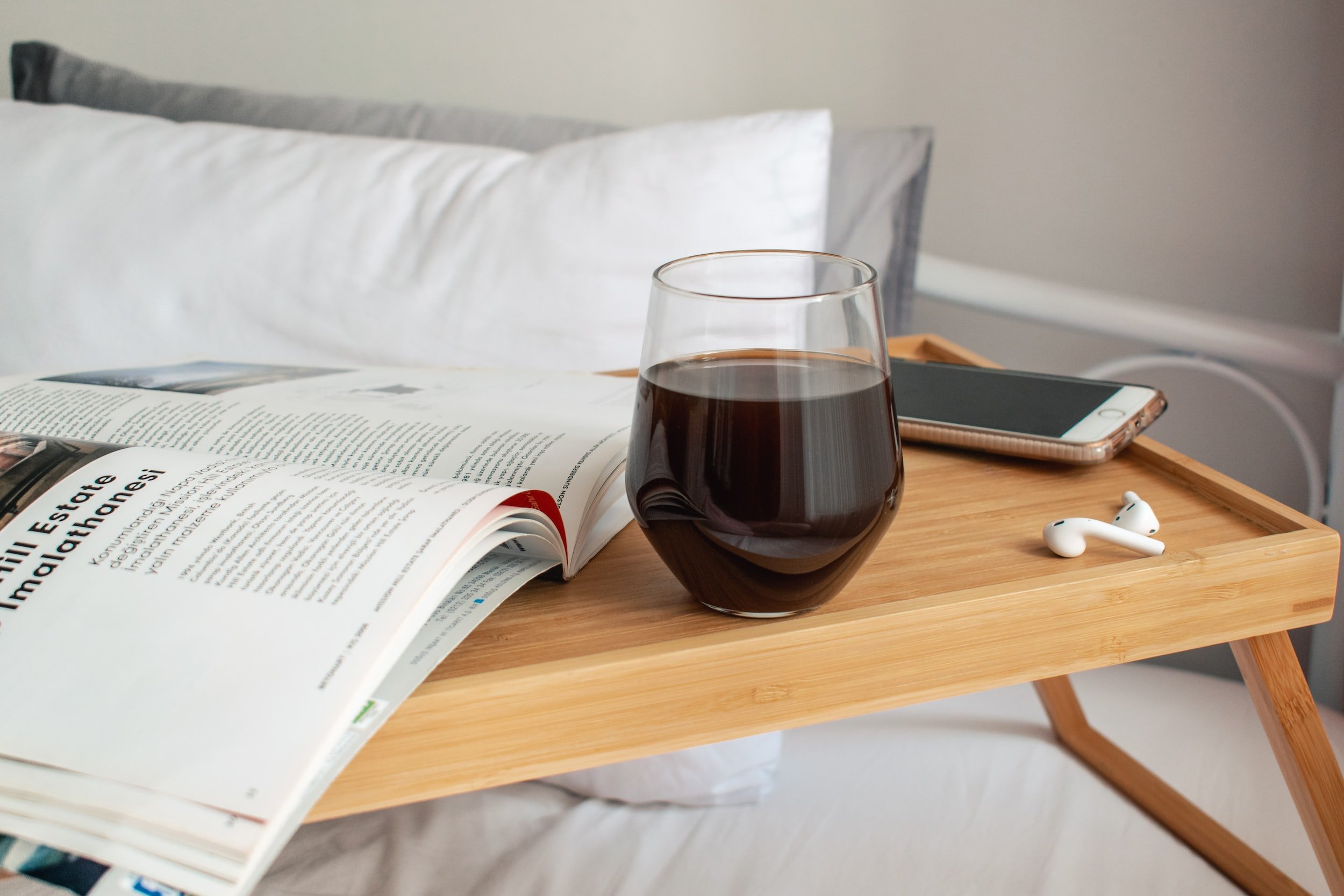 If you're looking for budget-friendly Nebbiolo, or aren't sure where to start, then you'll want to find Nebbiolo wines from the larger DO regions. 
Look for Nebbiolo d'Alba and Langhe Nebbiolo.
Here's a full post on Nebbiolo wine price.
Langhe Nebbiolo = Barolo at half the price. 
Nebbiolo vineyards for Barolo but don't quite make the cut will be labeled as Langhe Nebbiolo. 
Sometimes the vineyards aren't in the primo growing sites and may struggle to ripen in cooler years. Barolo needs a minimum of 13% ABV, and the grapes may not reach the requisite level.
Or, the vines may be younger and unable to produce the flavor concentration that comes from grapes on older vines that can withstand Barolo's long aging requirements. 
So, if you buy a Langhe Nebbiolo, you're going to experience a younger, fresher version of Barolo. Baby Barolo! These wines are ready to rock and roll when you pop the cork!
>>Expect to spend $15-$20 for a Langhe Nebbiolo.
Nebbiolo d'Alba covers south-central Piedmont and churns out affordable Nebbiolo.
These wines can deliver fruity, floral finesse to more rustic styles. You'll want to taste around and find a producer that speaks to you.
Thirsty for More?
If you're just getting into Italian wines, may I suggest exploring Friulano wines, a lesser-known white wine that will absolutely enchant you.

Here's a helpful post on how to choose high-quality Chianti (spoiler alert: it's not all great wine).

Check out this post on how to read Italian wine labels. DOC? DOCG? IGT?

If you've never tried Negroamaro, then you're missing out on this delightful Italian red. Go find out why.