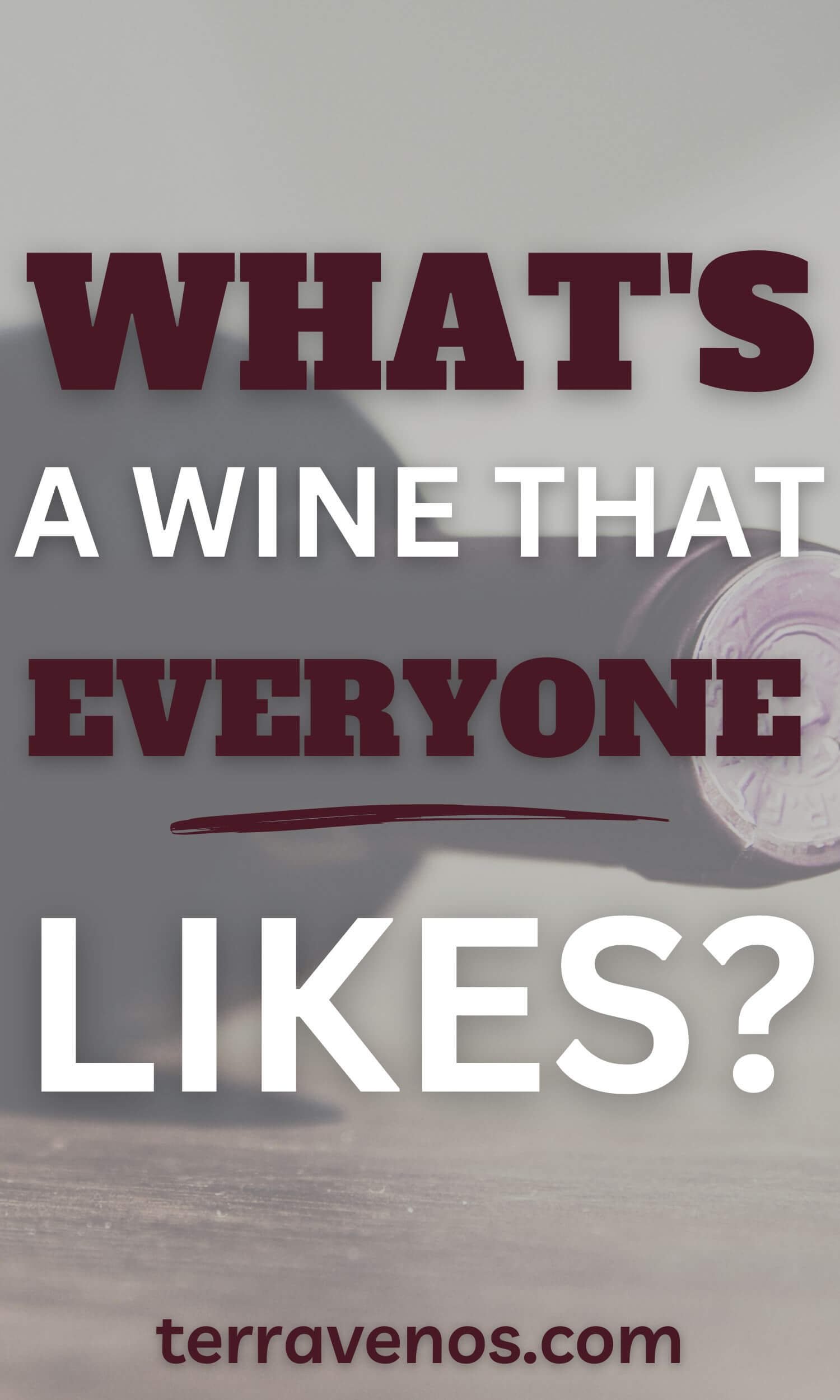 If you're planning a special event and trying to pick a wine that everyone likes, then there's a lot to consider.
While Cabernet Sauvignon is the #1 most planted wine grape in the world, Cabernet Sauvignon wines have a strong flavor profile that not everyone wine drinker enjoys, grippy tannins and green notes. Malbec has the same black fruit as Cabernet, but softer tannins without green notes, making it a better wine that everyone enjoys if you're looking for a crowd pleaser.
Let's take a look at what makes Malbec a wine that everyone enjoys.
Why Malbec Makes Friendly Wines
Malbec may not seem like the obvious choice as a wine that everyone likes, but it makes food friendly, approachable wines with broad appeal.
Malbec grapes grown at higher elevations and cooler locations express crisp black fruit, including black plum, black cherry, and even blueberry. Malbec grapes grown at lower elevations or warmer vineyard sites can have rich, jammy qualities.
Both wine styles make medium bodied red wines with silky smooth tannins. In turn, Malbec wines can easily pair with a wide range of foods.
Why Not Everyone Likes Cabernet Sauvignon
Wine drinkers who dislike Cabernet Sauvignon tend to dislike the green bell pepper taste. The green bell pepper taste in Cab comes from pyrazines in underripe grapes.
Ripe Cabernet Sauvignon grapes taste like mint. Other wine drinkers who dislike Cabernet Sauvignon don't care for the raspy, strong tannins. Cabernet's a big wine. 
Tip: Check out this helpful post on how to taste wine tannins.
When made well, Cabernet Sauvignon has infinite appeal because of its long aging potential and ability to transform in the bottle. The tannins soften and the fruit evolves. This is why Cabernet Sauvignon is King in Napa Valley and why it's a key grape in Bordeaux blends.
Tip: Here's a quick post on how to use Bordeaux classifications to pick great wines.
For many wine drinkers the grippy, sandpaper-like quality of Cab's tannins makes it a difficult wine to enjoy. Red wines with softer, rounder mouthfeels are more approachable if you're looking for a wine that will be popular for many different people.
What's the Difference Between Cabernet Sauvignon and Malbec?
In general, Cabernet Sauvignon has more body, tannin, and acid than Malbec. Malbec has softer, more velvety tannins, medium acid, and a medium body. While both Cabernet Sauvignon and Malbec have black fruit, like blackberry, black plum, and bramble, Malbec's often dominated by blueberry and Cabernet tends to have more black currant, cassis, and mint.
Are Cabernet Sauvignon and Malbec Similar?
Both Cabernet Sauvignon and Malbec are red wines, and both fall under the Bordeaux family of grapes originating in the Bordeaux region of France. Both Cab and Malbec have black fruit notes. Both wines pair well with red meats and rich stews.
Tip: Not all foods work with all wines. Check out this helpful post on how to pair food and wine successfully every time.
Why Malbec Is a Good Wine that Everyone Likes
Malbec makes an approachable, food friendly wine that delivers the same black fruits as Cabernet Sauvignon, but without the green bell pepper notes and grippy tannins that many people dislike.
You don't have to look far to see clear evidence of Malbec's popularity. 
Argentina's wine industry capitalized on Malbec's approachable, easy drinking style and launched the wine to global popularity with tremendous growth over the past 10 years.
What Kind of Malbec to Buy?
Argentina's National Institute of Vitiviniculture puts out some astounding Malbec facts as of 2020:
Malbec accounted for an impressive 21.3% of all vineyards in Argentina
Malbec's seen 43% growth between 2011-2020
84.6% of all Argentinian Malbec is grown in Mendoza
57% of Argentinian Malbec is exported globally. This means that you're going to find Argentinian Malbec in almost every wine market!
Here's the range of different Malbec wine styles you can expect to find:
Malbec from San Juan, Argentina – If you see the term 'San Juan' on your bottle of Malbec, expect fruitier, jammier styles of wine. San Juan has a warmer growing climate than Mendoza.
Malbec from Mendoza, Argentina – If you only see the term 'Mendoza' on your bottle of Malbec, expect the wine to have a softer, riper fruit quality to it. These grapes likely came from multiple vineyards, or from warmer vineyard sites. Mendoza is the #1 province growing Malbec in Argentina and it has considerable name recognition with wine drinkers, so expect to see lots of Malbec wines from 'Mendoza'.
Malbec from Lujan de Cuyo, Argentina – If you see the term 'Lujan de Cuyon' on a bottle of Argentinian Malbec, the wines come from higher elevation sites with good protection from the Andes. Expect the wines to have bright fruit flavors and noticeable acid, but still ripe tannins.
Malbec from Ucu Valley, Argentina – If you see the term 'Uco Valley' on a bottle of Argentinian Malbec, the vineyards are at still higher elevations, 900-1,500 meters (2,950-4,900 feet). Not only to the grapes have intense solar radiation creating deeply colored wines, but they also have a firm structure and body from slow ripening. These Malbecs will feel more like Cabernet Sauvignon.
If you're looking to substitute Malbec for a Cabernet Sauvignon, a Malbec from Uco Valley makes sense. The two wines share similar structural profiles.
Where Else Does Malbec Grow?
Malbec from France – France, the birthplace of Malbec grapes, still grows Malbec and makes wines using the variety in small quantities in Bordeaux. However, Malbec isn't widely planted in the region because it's susceptible to spring frost. That said, the most famous region growing Malbec in France is Cahors, in the southwest of the country.
Look for the name Côt on the bottle, the local name for Malbec. The Malbec grapes grown in France have a genetic mutation from those in Argentina.
Expect higher acid and raspier tannins than the friendlier, softer Argentinian Malbecs. 
Don't expect everyone to enjoy French Malbec.
In cool years, French Malbec from Cahors can have rough edges of barely ripe tannins.
French Malbec is definitely a food wine that you will want to pair with hearty stews, roasted vegetables, game, or red meat. You want that grease and salt to help tame the wine. Pair these wines the same as a Cabernet Sauvignon.
Final Thoughts on a Red Wine Everyone Likes – Malbec Is your gal!
Cabernet Sauvignon may have a reputation for being a high quality, age worthy wine, but that doesn't make it the best wine for everyone.
Cabernet's green notes and harsh tannins can turn people off. Malbec, on the other hand, has a similar black fruit profile as Cabernet Sauvignon, but much smoother tannins and a more approachable style in general.
Check out Argentian Malbecs if you're looking for an accessible, affordable, or delicious red wine that everyone will enjoy.
Thirsty for More?
If you're confident in comparing your Malbec and Cabernet, can I tempt you in a lineup of Spanish red wines? Check out this post on Spanish Red Wines you MUST try at some point (like maybe tonight).
Here's a fun post that covers 5 Fun Chardonnay Facts. I love random wine facts.