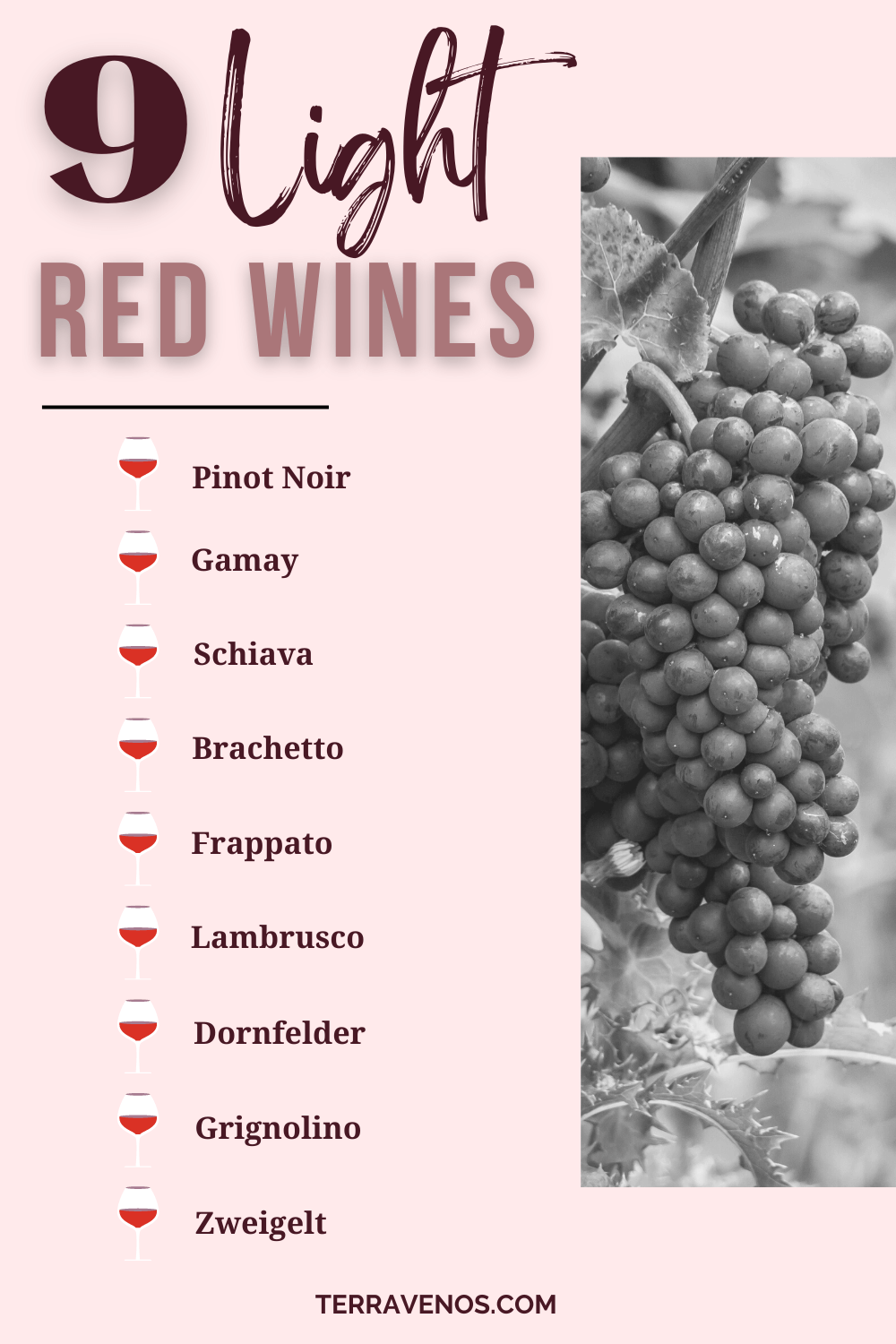 If the thought of a teeth-staining, tannic Cabernet leaves you wanting to order iced tea instead of wine, then you'll want to check out these lighter styles of vino.
Light red wines have lower tannins, a lighter body, and usually less alcohol than fuller-bodied reds. Light styles of red wine include Pinot Noir, Gamay, Schiava, Brachetto, Frappato, Lambrusco, Dornfelder, Grignolino, and Zweigelt. While some of these light red wines are harder to find, all of them are types of light red wine worth trying!
Here's an overview of what makes a light style of red wine, and 9 light red wines worth exploring if Syrah just isn't your thing.
What Is a Light Style Red Wine?
Light red wines showcase bright fruit, lower tannins, and low to medium levels of alcohol (below 13.5% ABV). Some of these qualities are inherent in the grape, some come from the winemaking process, and still other qualities start in the vineyard with the growing environment
What Are Light Red Wine Grapes
Grapevines that grow lots of grapes (called high yields) make lighter styles of wine. This is because the sugar and flavors aren't as concentrated. Yields can vary depending on the grapevine, soil nutrients, water availability, and pruning practices.
Grapes with lots of water, and fertile soils can produce huge yields of less-concentrated grapes that turn into lighter red wines.
This isn't necessarily a bad thing, it's just one factor in determining a wine's final style.
Winegrowers can manipulate their vines through pruning and irrigation (or not), and this will affect the final wine style.
Light Red Wine Tannins
Tannin, that drying textural sensation in your mouth when you drink red wines, comes from the skins, seeds, and stems in grapes. Red grapes with thinner skins or wines made with minimal seed and stem contact will have lower levels of tannin.
Helpful Tip: Check out this quick post on how to taste tannin if you're newer to wine drinking.
Where Do They Make Light Red Wines?
Red grapes growing in cool climates will make lighter styles of red wines. A wine's alcohol level comes from the sugar content in the grapes. More sugar (i.e., riper grapes), leads to higher levels of alcohol.
High-alcohol wines tend to be fuller-bodied.
So, vineyards that are in marginal climates, or where the summers aren't scorching hot, will grow grapes with low to medium levels of alcohol and make light red wines. Think Coastal California, Germany, foothills of the Alps type of cool.
9 Light Red Wines to Try Tonight
Ready for light red wine ideas? Check out these fun options if you're looking for light red wines.
Light Red Wine #1 – Pinot Noir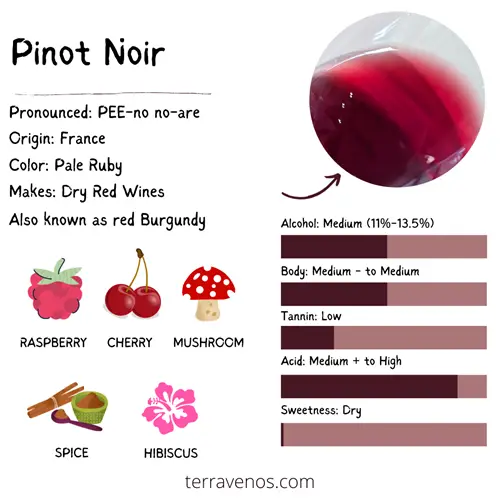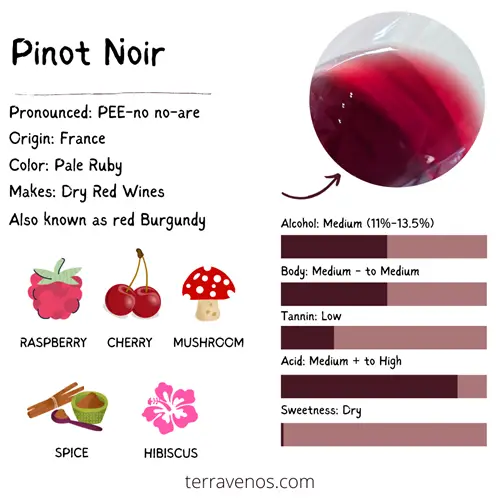 An excellent light red wine is Pinot Noir. Pinots thrive in more temperate growing regions like Coastal California, Burgundy, Coastal Oregon, and the Southern Alps of New Zealand. Pinot Noir is a thin-skinned grape with naturally low to medium tannin levels and makes excellent, crunchy red-fruit wines.
You may also taste cinnamon, warm baking spice, and an earthy or mushroom quality to aged Pinots that can be divine to experience in your glass. 
Some winemakers will intentionally try to add more body and texture to Pinot Noir through their winemaking processes, like adding grape stems to the early stages of fermentation.
Helpful Tip: Here's a full post just on Pinot Noir wine.
You won't know if the wine has a heavier body unless it's mentioned on the bottle. Look for:
 "stem inclusion" or 
"whole berry fermentation" or 
"whole cluster fermentation"… 
These are clues that the wine you're holding is a heavier style of Pinot Noir.  It's worth trying out several different labels of Pinot to find one that suits your tastes. 
Check out this comparison post to see the differences between Pinot Noir vs. Cabernet Sauvignon – I think it's helpful, especially if you're trying to find lighter styles of red wines.
Where Do You Buy Pinot Noir? – Easy to find, inexpensive to ultra premium-priced
What I love about Pinot Noir as a light red wine is that it's widely available in every wine market and at every price point. Go explore!
Light Red Wine #2 – Gamay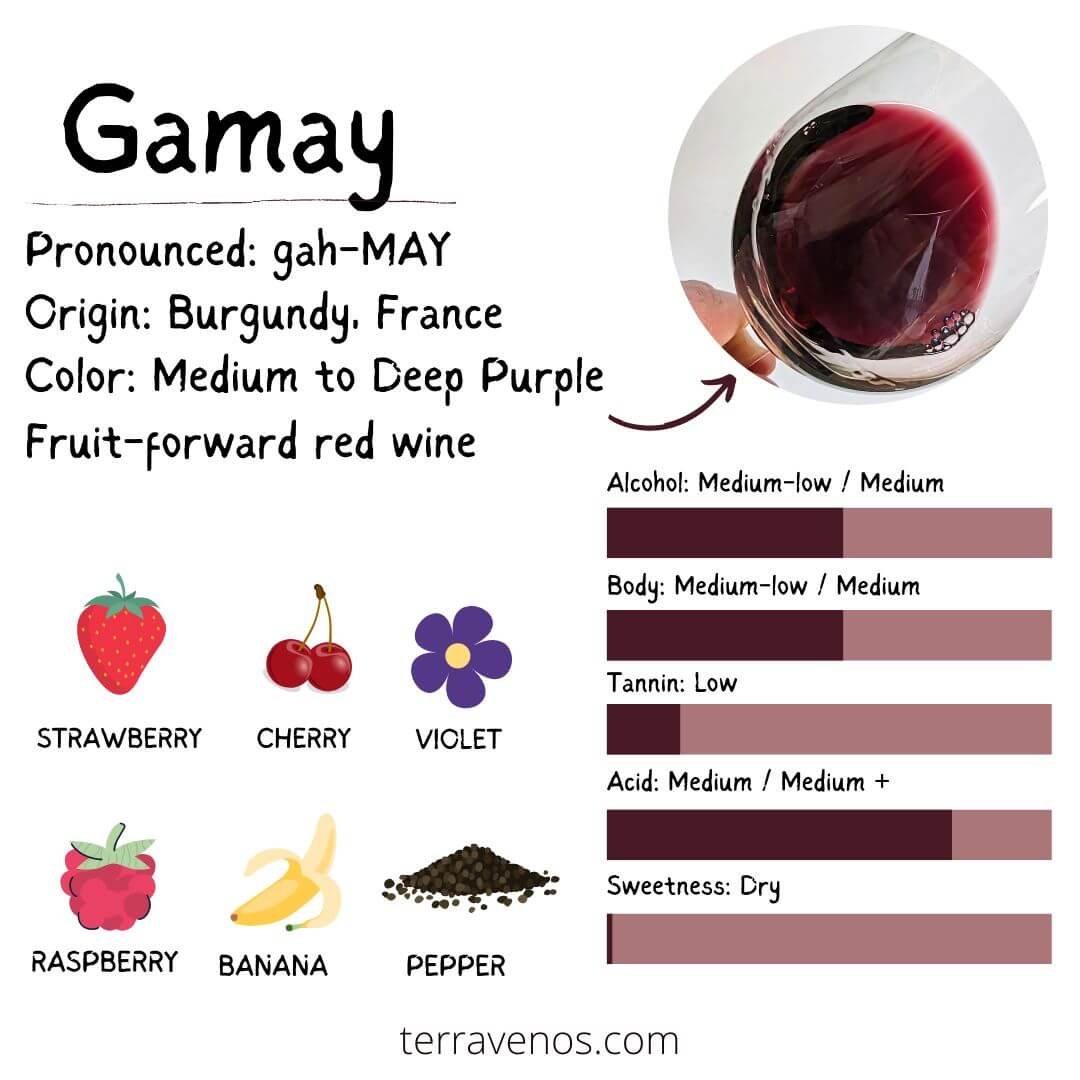 Gamay makes light, uncomplicated red wines. Gamay comes from Burgundy, France and is a prolific vine, gifting winegrowers huge yields of grapes when left unchecked. Gamay's famous for its role in Beaujolais Nouveau, the first wine of the new harvest that's easy-drink.
Fun Wine Tip: Check out this post on the quirky backstory of Gamay and how Gamay became a cultural wine  phenomenon across the world. 
Gamay's a winemaker's grape, meaning that winemakers have found ways to manipulate the grape during fermentation to change the flavor profile.
Expect inexpensive Gamay wines to be light in style with low to medium tannins, red cherry, red berry, bubblegum, cinnamon, and even banana notes. Gamay will have medium alcohol levels.
Helpful Tip: Go check out this full post on Gamay wines if you're interested in finding out more.
Where Do You Buy Gamay? – Easy to find, mid- to premium-priced
There are Grand Cru Gamays from Beaujolais, France; however, these wines will be more structured and fuller-bodied. If you're looking for a light red wine, sick with the basic, less expensive Gamay wines. Entry-level Gamay in the US will be about $10 to $15 USD. One level up will be around $20-$25 USD. You should be able to find Gamay at almost all shops with large wine selections.
Light Red Wine #3 – Schiava
Schiava is a thin-skinned red grape that makes light red wines in the Trentino-Alto Adige region of Northern Italy in the foothills of the Alps. If you're looking for a light red wine alternative, you must try a Schiava.
What Does Schiava Taste Like?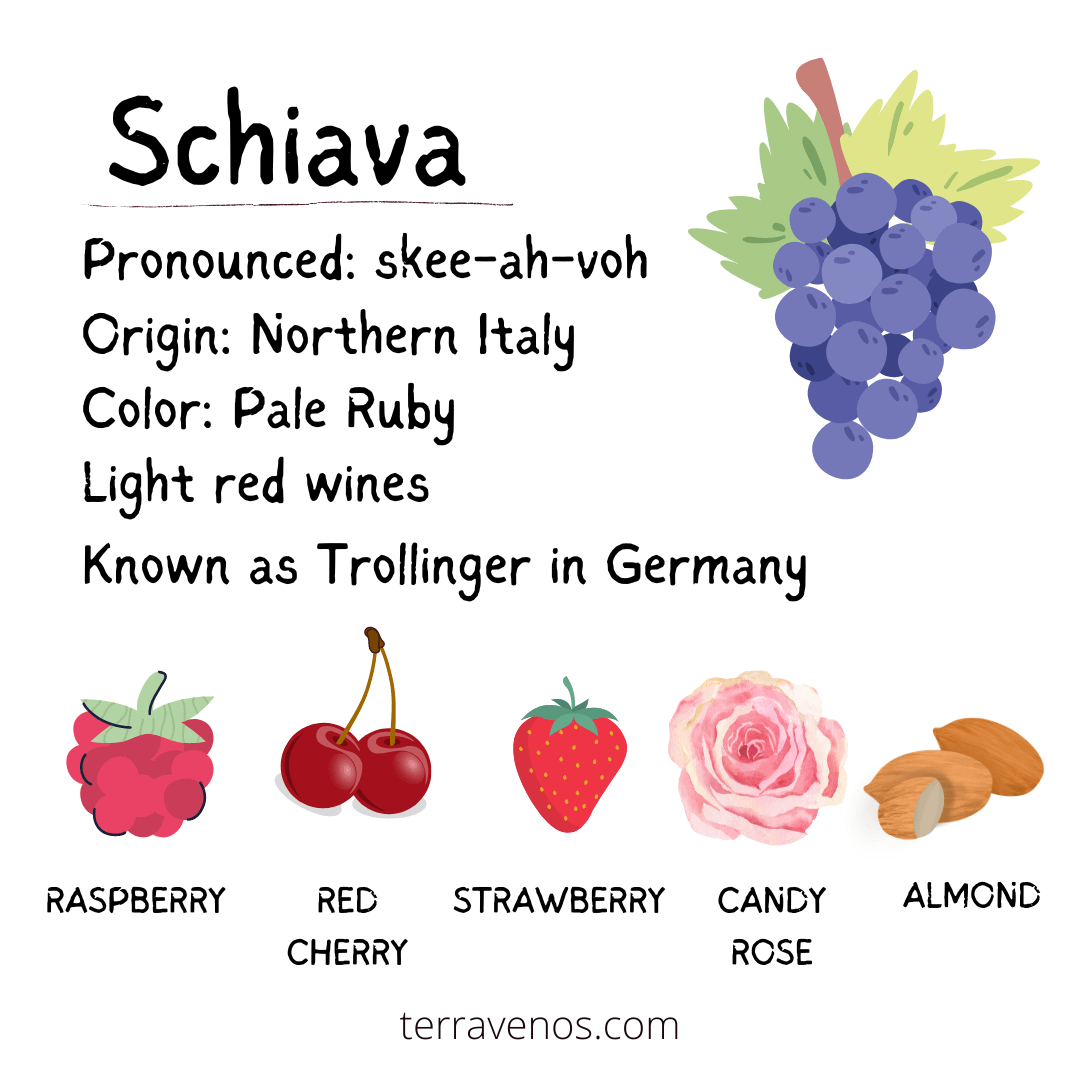 Schiava wines forefront red fruit like cherry and raspberry with a delicate almond finish. The wines are naturally mild in tannin and acidity with medium alcohol, making them approachable. 
Schiava has declined in popularity in the past 30 years, probably due to the rise of big red wines. However, there's still a place for this little grape in your glass.
Where Do You Buy Schiava? – Difficult to find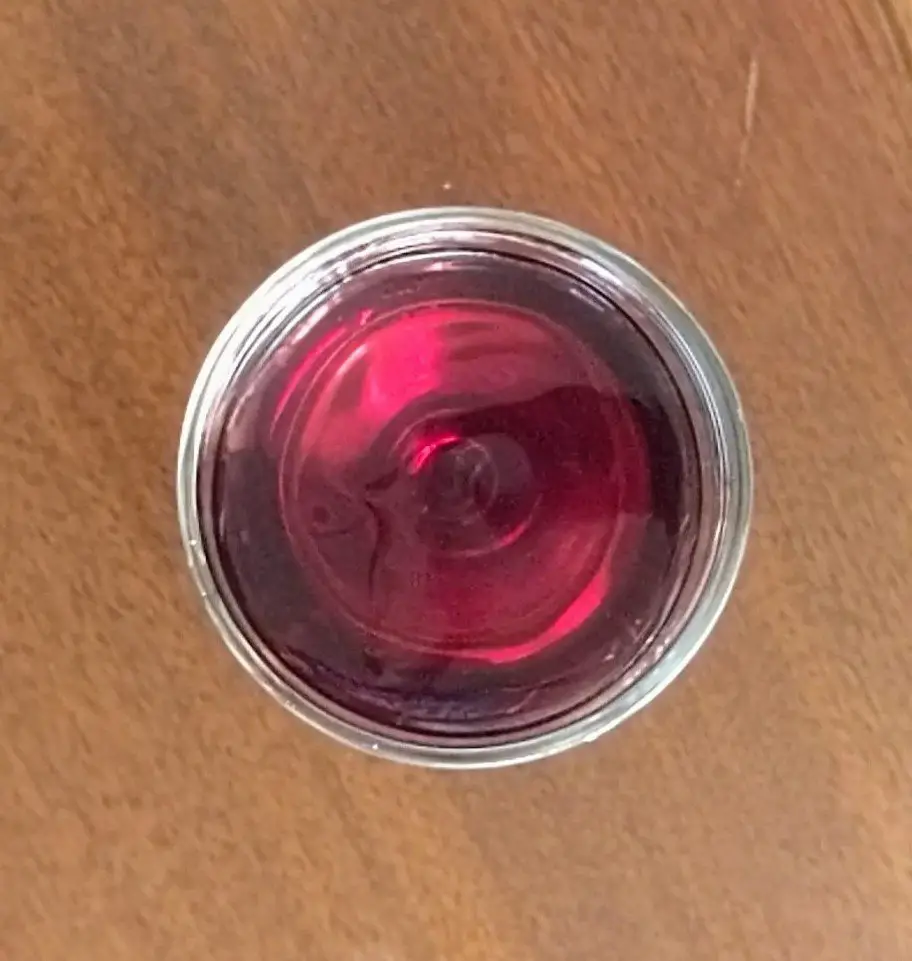 You won't find Schiava wines at your local grocery store or mainstream bottle shop. You'll need to seek them out online or from specialty shops. Italian restaurants with good wine lists may offer Schiava. 
How Much Does Schiava Red Wine Cost? – Mid-priced
Expect to pay around $20 USD for a bottle of light red Schiava wine imported from Italy.
Light Red Wine #4 – Brachetto
Can I tempt you with fizzy strawberries? If so, then Brachetto wines await! Brachetto is an aromatic, light red grape grown mainly in Piedmont, Italy. Brachetto is the red version of Moscato d'Asti, a light, aromatic slightly effervescent wine with a kiss of sugar.
This is the perfect red wine for those look for a refreshing red.
What Does Brachetto Taste Like?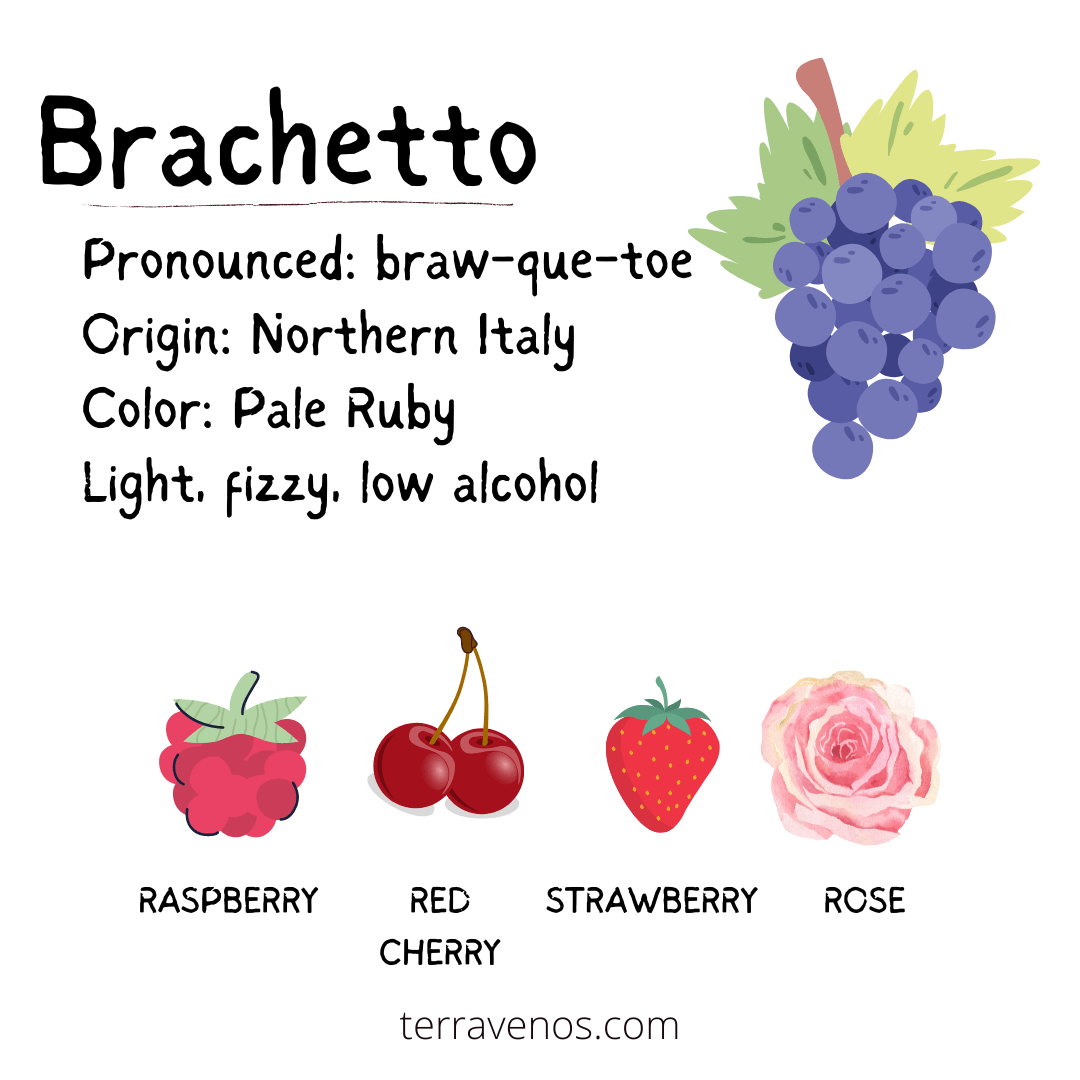 These light red wines are slightly fizzy, low in alcohol (under 6%), sweet, and taste like roses and strawberries. Brachetto's an uncomplicated, friendly wine that's perfect for new wine red wine drinkers.
Where do You Buy Brachetto Wine? – Somewhat difficult to find
Like Schiava, you're going to need to go to a specialty wine shop to find these light red wines, but they seem to have wider distribution. Look for Brachetto d'Acqui DOCG.
What's DOCG Mean? Check out this helpful post to decrypt Italian wine classifications.
How Much Does Brachetto Red Wine Cost? – Mid-priced
Brachetto wines cost around $15- $20 USD, making them affordable wines for a little experimentation. 
Light Style of Red Wine #5 – Frappato
Frappato is a light red grape grown on Sicily. While it's mainly used in red blends, you can find single varietal wines made with Frappato from specialty wine shops. 
What Does Frappato Wine Taste Like?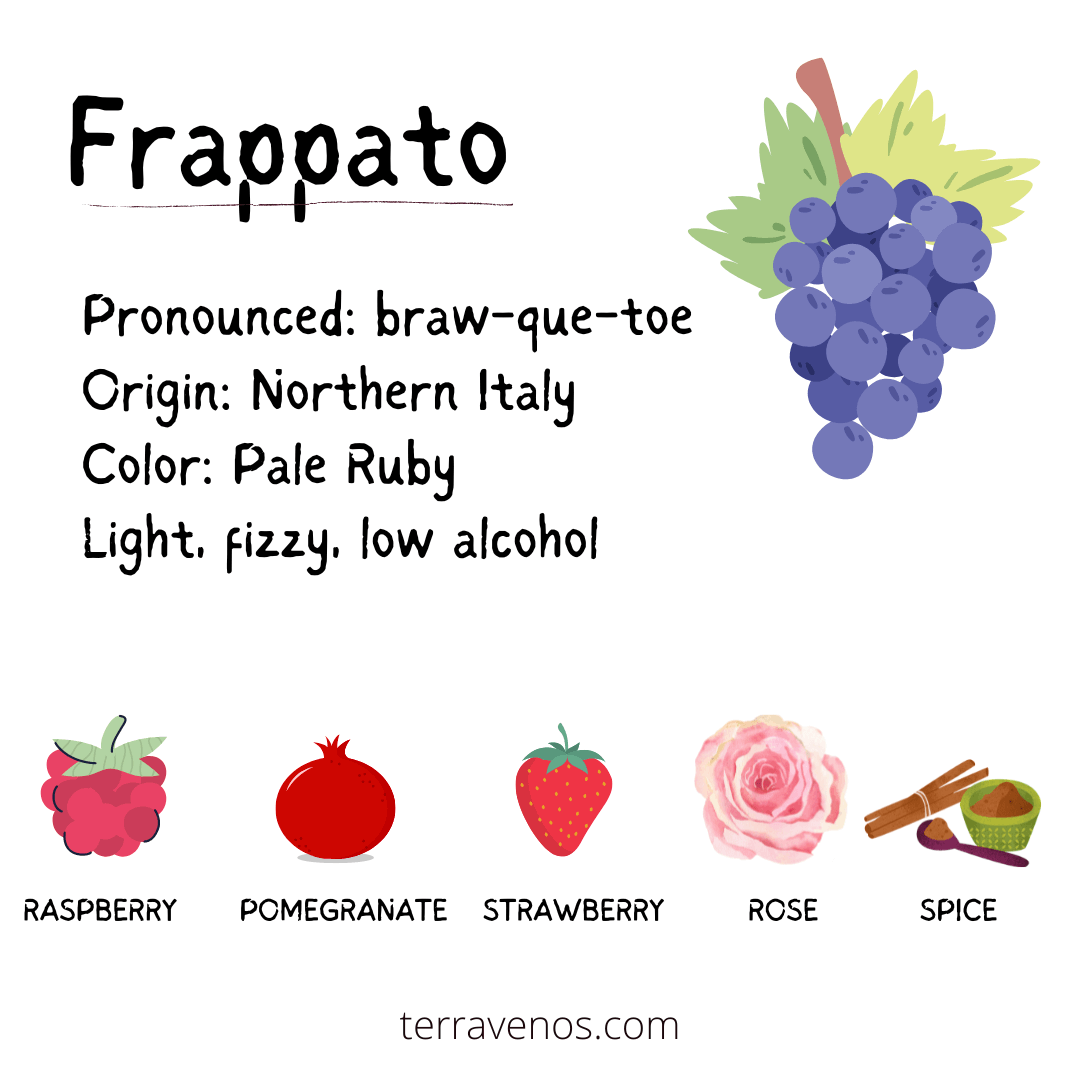 Frappato expresses wild strawberries, delicate floral notes, a light to medium body, and medium acid. Frappato is generally 11-13% ABV, depending on where the grapes come from on Sicily.
How Much Does Frappato Red Wine Cost? – Upper-end of mid-priced, somewhat difficult to find
Expect to pay between $20 and $25 USD for a bottle of Sicilian Frappato. Less expensive bottles will likely be lighter expressions of the wine, so keep that in mind as you're shopping. Look for Frappato at large bottle shops; they should have a few to choose from.
Lighter Style Red Wine #6 – Lambrusco
No list of light red wines is complete without Lambrusco. Made in the Emelia region (Parma, Modena, and Reggio nell'Emilia) of Italy, Lambrusco wines are light red, sweet sparkling wines with high acid. Tannin levels vary but are generally on the lower end for red wine. 
What Does Lambrusco Taste Like?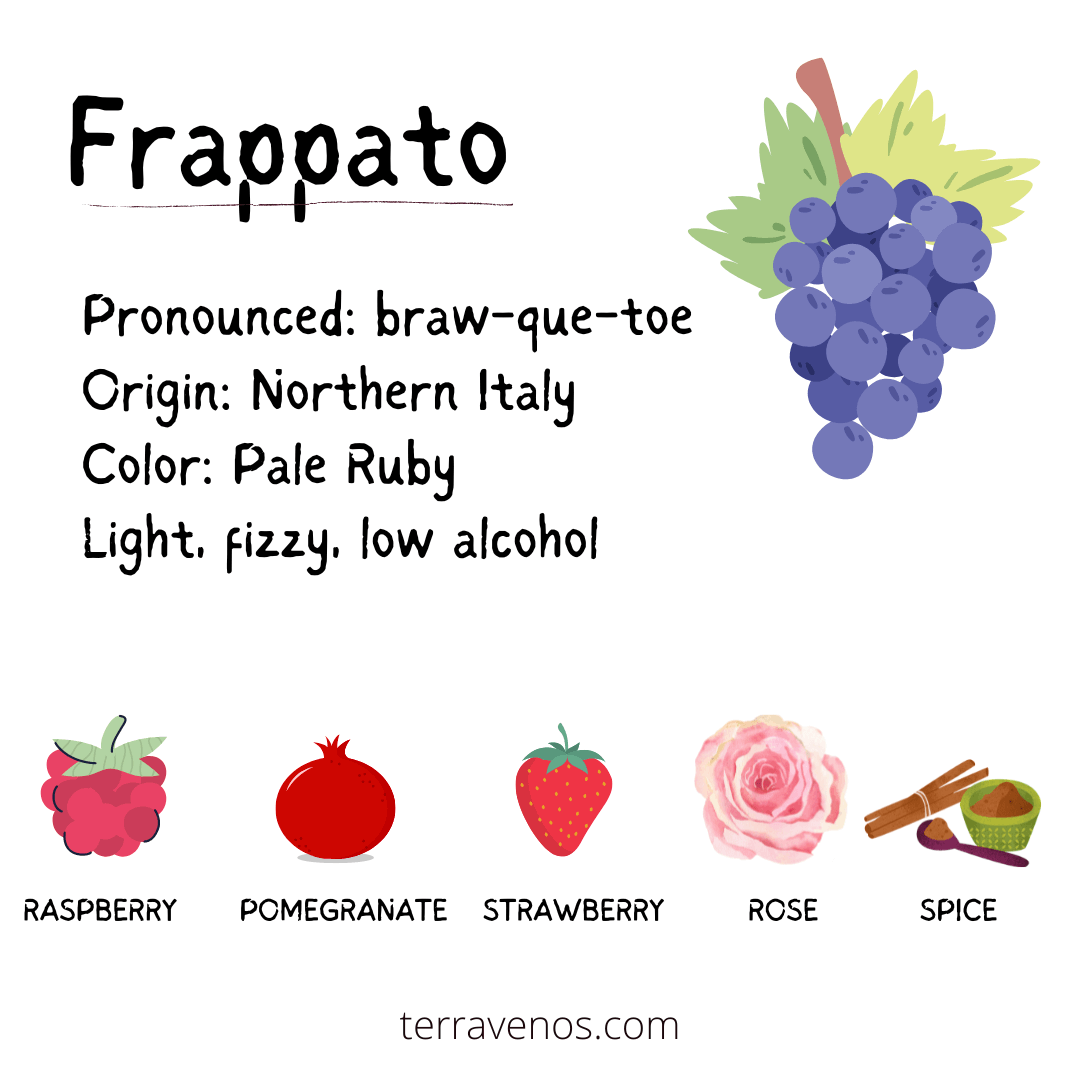 Lambrusco wines taste like strawberries, cherries, plum, blackberry, citrus, and floral notes, like wild rose and violet.
The vast majority of Lambrusoco on the export market is off-dry (meaning it's got some sweetness to it), but you can find dry versions of the wine with a little work. Lambruscos always are on the higher end of acid (giving the wine's freshness), and the lower end of alcohol (11% ABV).
Don't be fooled by this light wine, some styles can be inky ruby in color!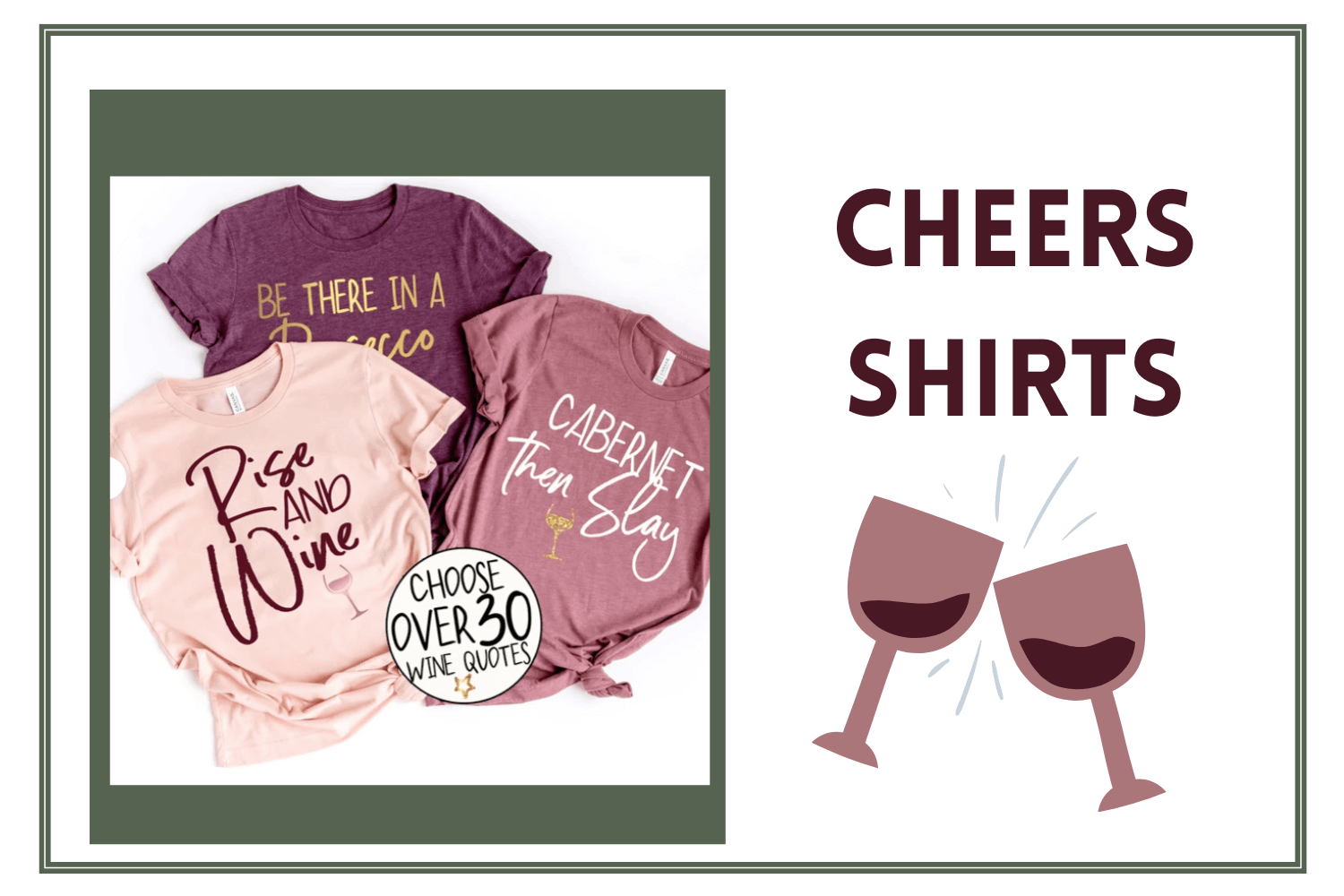 How to Drink Lambrusco?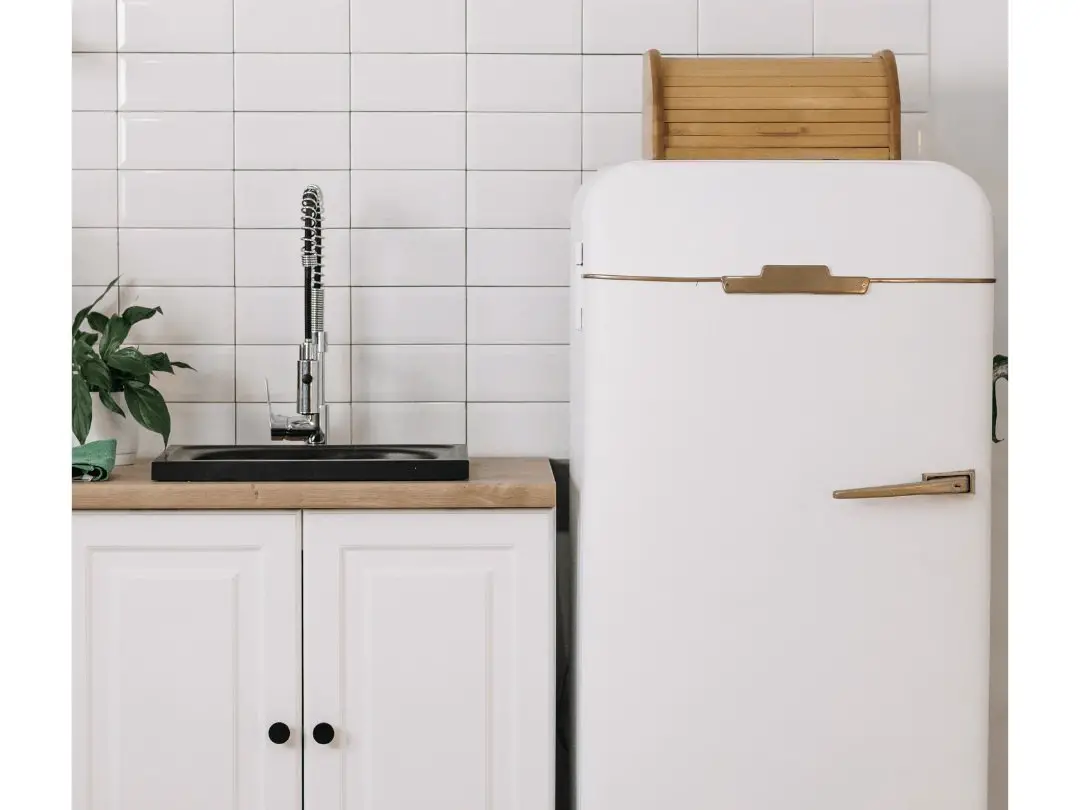 Serve Lambrusco well-chilled. In fact, one of the region's largest cooperatives came out with the marketing slogan
"Lambrusco on ice tastes nice."
Lambrusco's a wine made to pair with the region's hearty cuisine, including spaghetti and meatballs. The wine's natural acidity and lighter body help counter-balance hearty fare, so get your lasagna and oven mitts ready!
What Lambrusco Should You Buy?
Lambrusco's a fascinating wine because most of it gets bottled into generic regional blends. If you're looking for a higher-quality Lambrusco, look for 'DOC' somewhere on the wine label, it'll likely read:
DOC Modena – these will likely be the lightest in style
DOC Lambrusco Salamino di Santa Croce
DOC Lambrusco di Sorbara
DOC Lambrusco Grasparossa di Castelvetro
DOC Lambrusco Mantovano
How Much Does Lambrusco Cost? – Mid-priced, Easy to find
If you live in the US, there's good news and bad news when it comes to Lambrusco. The good news is that our market tends to get higher-quality Lambruscos. The bad news is that if you're looking for an extreme bargain Lambrusco, you're not going to find it.
Our Lambruscos will cost you between $12 – $20 USD.
If you live in other markets, you may find entry-level, inexpensive Lambruscos.
Light Style Red Wine #7 – Dornfelder
Wines from Dornfelder grapes make easy-going wines. Dornfelder's grown in Germany and developed in grape-breeding programs of the early 1900s. Germany's famous for researching different grapes and grape clones suitable for their northern climes, and so today we're fortunate to have Dornfelder.  
What Does Dornfelder Red Wine Taste Like?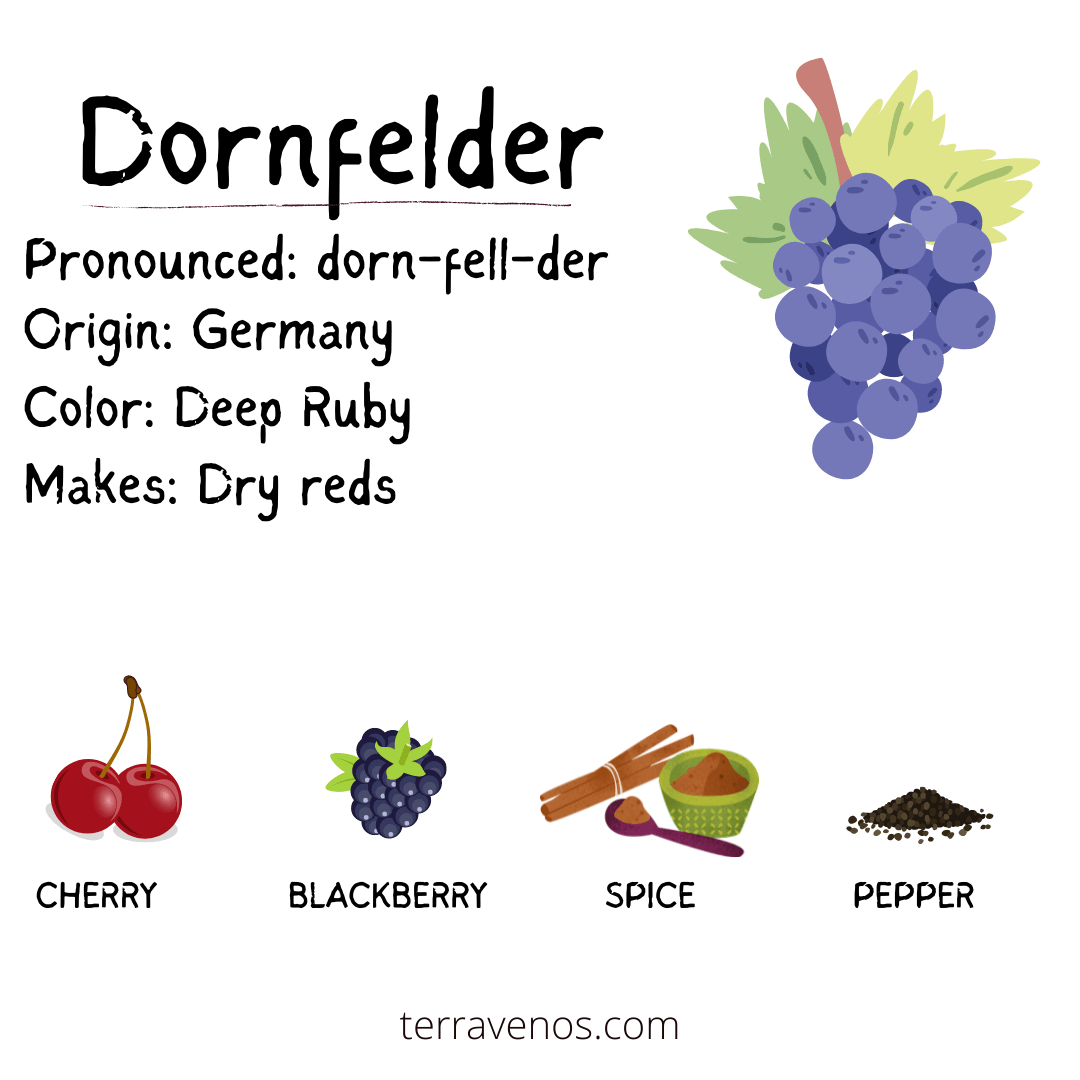 Dornfelder wine has soft tannins, medium acid, and black fruit with plum, blackberry, and cherry, and finishes on a floral note. Some winemakers use oak with Dornfelder, so you may taste warm baking spice. Winemakers may also choose to leave a little sugar in the wine, with a hint of sweetness.
Different clones of Dornfelder mean that your wine can have different hues – from lighter to darker ruby, but not to worry, this has little to do with the wine's style. 
Dornfelder is similar in style to Gamay Beaujolais, so if you like Beaujolais, then you need to try Dornfelder.
Where to Buy Dornfelder? – Somewhat difficult to find
Dornfelder is more widely available than some of the other wines on this list. Look for Dornfelder wines at large wine stores that have a solid international offering. Otherwise, you'll need to go to a specialty bottle shop. 
How Much Does Dornfelder Wine Cost? – Mid-priced
Expect to pay between $10 and $15 USD for a bottle of Dornfelder wine. The price reflects the fact that it's an easy-drinking, less popular German wine.
Light Red Wine #8 – Grignolino
The red Grignolino grape originates in the Piedmont region of Italy. The name Grignolino (pronounced green-yo-leen-yo) comes from grignole, meaning "many pips" (seeds) in the local dialect, a nod to the grape's seeds.
What Does Grignolino Red Wine Taste Like?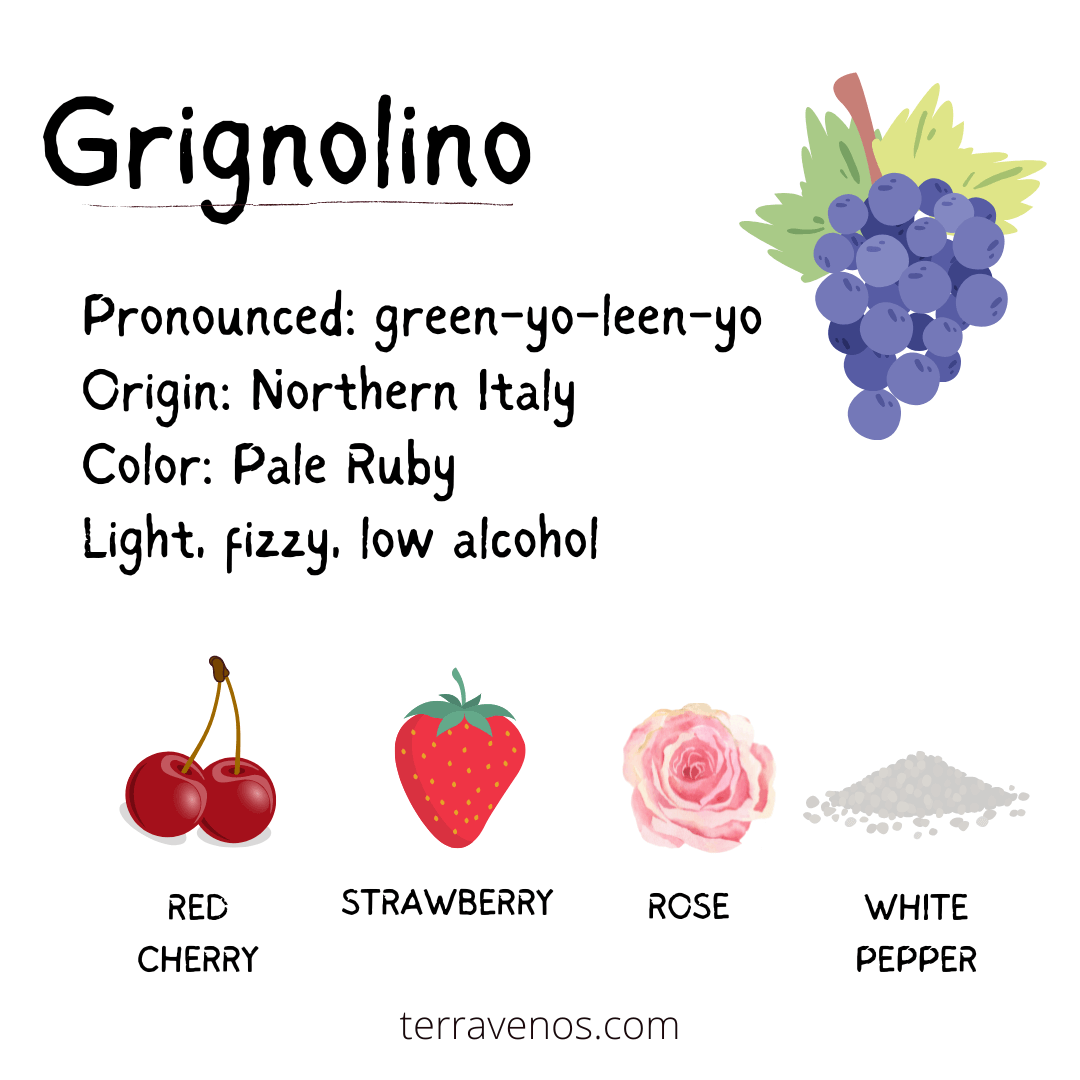 If you're looking for a light red wine, then Grignolino is an excellent choice. Grignolino wines are light-bodied, pale red wines that are low in alcohol (around 11%-12%). They do have more tannins than other light red wines, thanks to all of those seeds (ergo this little grape's name "pips"). Winemakers try to minimize tannins with gentle pressings, though. Grignolino wines have strong acid, red cherry, strawberry, wild rose, white pepper, and feathery tannins.
Where to Buy Grignolino? – Difficult to find
Unless you live in the Piedmont region of Italy, you'll need to find a specialty wine shop to source these unique, light red wines. 
How Much Does Grignolino Wine Cost? – Mid-priced
A bottle of Grignolino costs between $20 and $25 USD. 
Light Style Red Wine #9 – Zweigelt
Zweigelt's Austria's most popular red wine. Crossed between Blaufrankisch and St. Laruent in 1922 by a Dr. Zweigelt, Zweigelt's just over 100 years old. The grape does well with Austria's spring weather and has gained popularity in the Czech Republic, Hungary, Japan, and even Great Britain. 
What Does Zweigelt Wine Taste Like?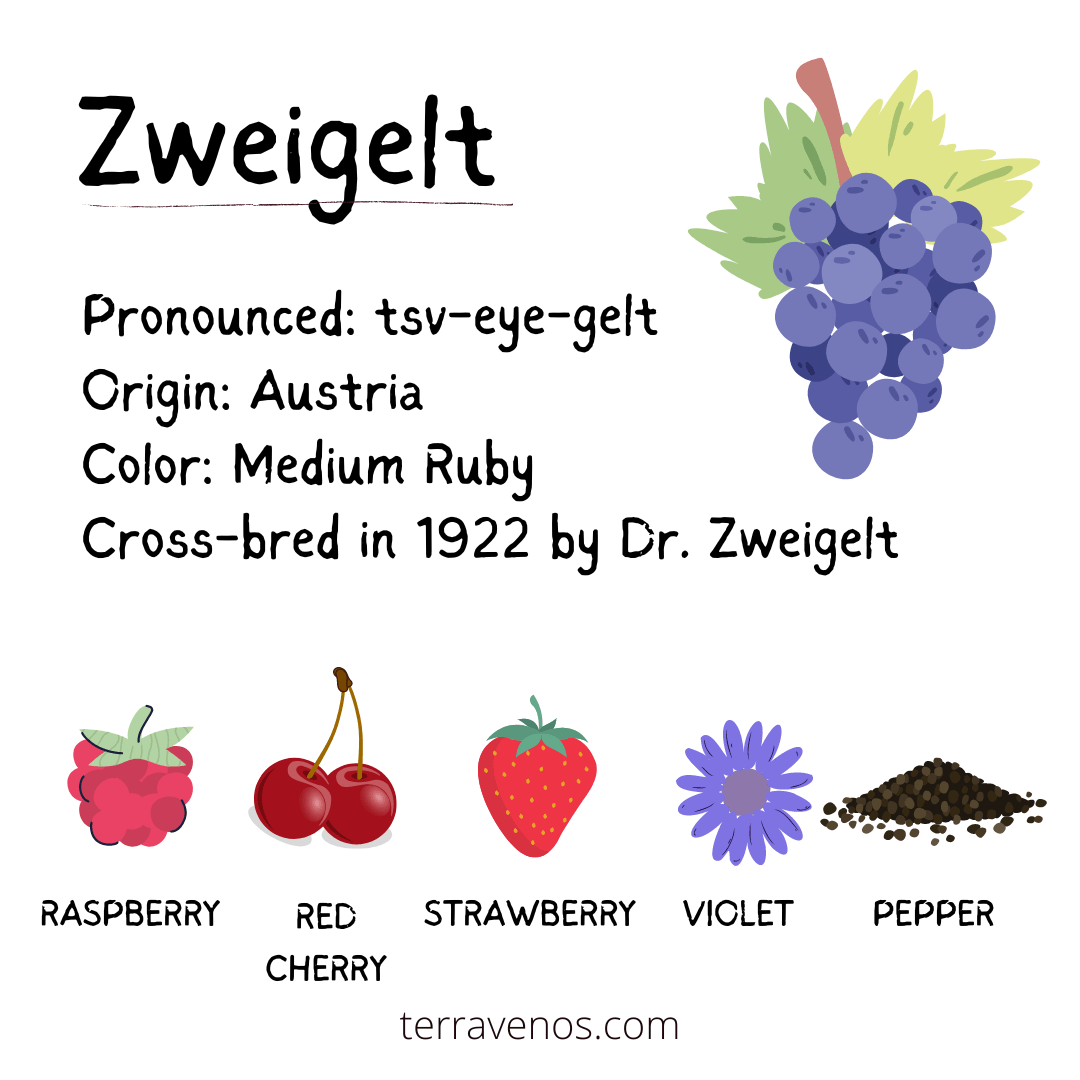 Zweigelt wine tastes of fresh red fruit, like cherry, cranberry, and raspberry, purple flowers, like violet, and has a slightly peppery finish. You may notice earthy notes and toast if the wine has barrel aging. These are light body, medium alcohol, and toward the higher end of acid making them bright red wines. 
Where to Buy Zweigelt Wine? – Hard to find
You'll need to buy Zweigelt from a specialty wine shop unless you're lucky enough to live in or near Austria!
How Much Does Zweigelt Wine Cost? – Mid-priced
Expect to pay between $15 – $20 USD for a bottle of imported Zweigelt, which isn't all that bad! Almost all Zweigelts are made to be enjoyed when they're youthful. Zweigetl's with oak aging may hold up longer to cellaring but stick with the youthful wines if you want a lighter style red wine.
Final Thoughts – What Light Red Wine Will You Try Tonight?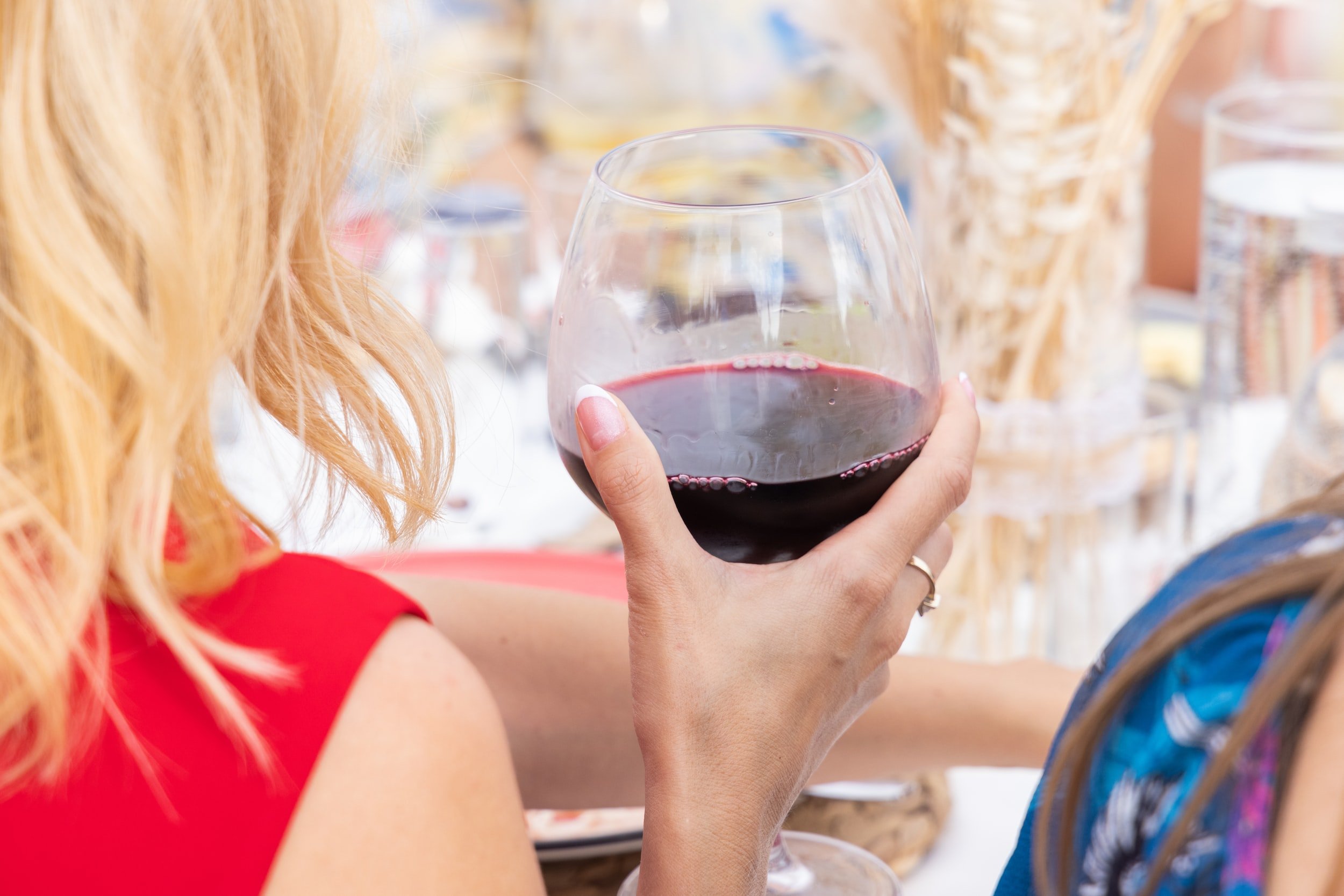 What's fascinating about this list of light red wines, is that it reflects back the fact that light red wines aren't mainstream. Current drinking trends skew towards strong red wines, like Zinfandel, Syrah, and Cabernet Sauvignon – which are readily available wherever wine's sold. 
The good news is that producers in small pockets around the world still cultivate light red wine grapes, nurturing them through the winemaking process and into a bottle you can enjoy.
Pinot Noir, Gamay, and Lambrusco will be easy for you to find. Some of the other light red wines on this list, like Grignolino, Brachetto, and Schiava, are treasure-hunting wines – bottles you'll need to hunt down and find – which is half of wine's fun! 
Thirsty for More?
The opposite of light red wines is strong red wines. So, here's a fun post on 11 strong red wines. Do you know them all? 

Just getting into wine tasting? Check out this tasting post on why you should hold your wine in your mouth.