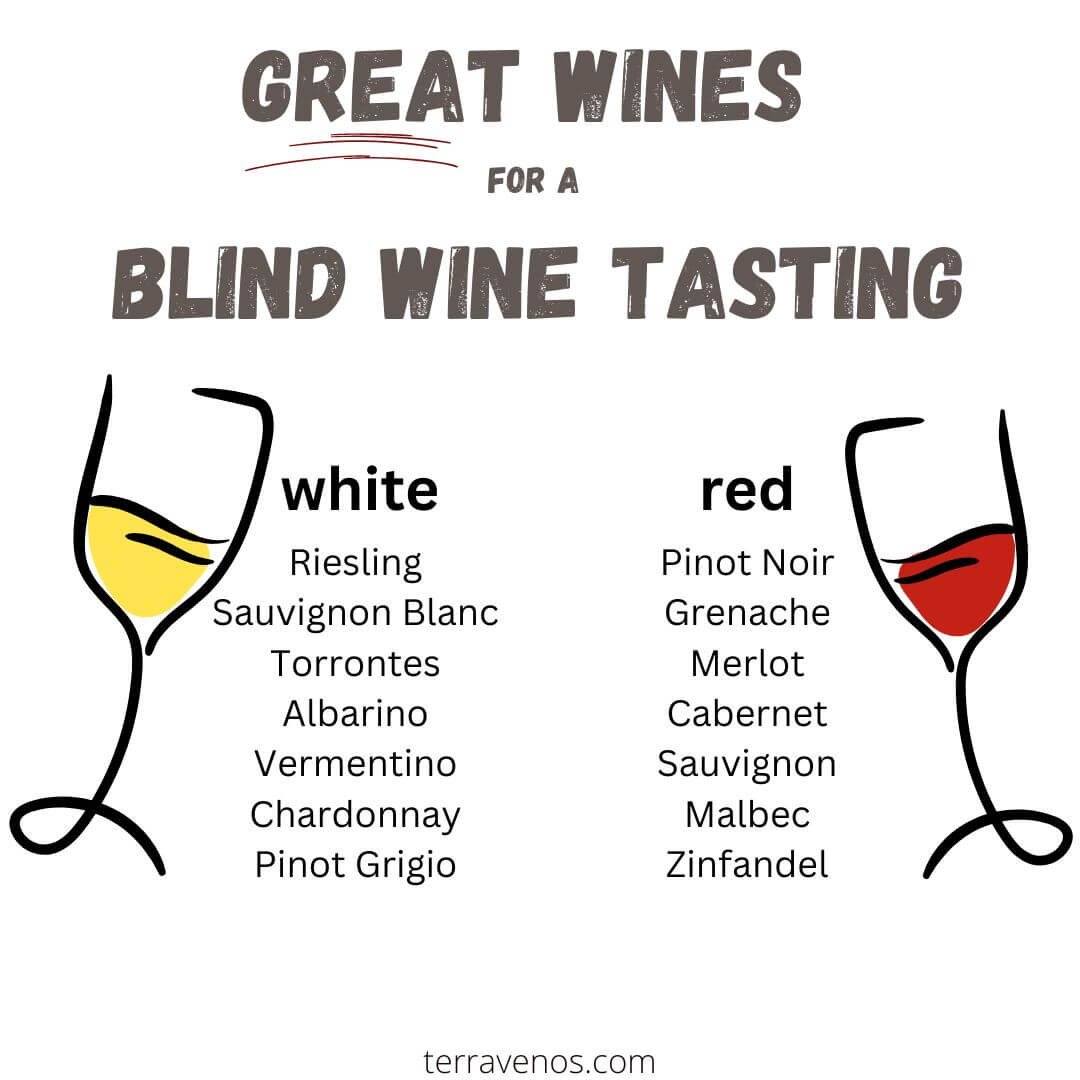 Hosting an at-home wine tasting party or get together can be a great way to learn about wine. In fact, it's one of the ways that I first got interested in wine several years ago.
Hosting a blind wine tasting at home is a great way to learn about wine. Pick 4-6 wines for 4-6 guests. Wrap the bottles in foil, place in bags, or pour ahead of time to blind them. Label both the bag and the bottle/glass to keep track of the wines. After tasting your wines, show everyone what wines they were drinking.
Here's how to break down hosting a blind wine tasting for a successful event.
Why Do a Blind Tasting?
Many formal wine tastings where wines are being judged on their merit by professionals are done blind. This means that the judges don't know who the producer of a particular wine is.
Why do wine judges bother doing blind wine tastings?
Blind tasting can help judges assess the wine based on that wine's individual qualities, and not be influenced by other outside information that they may know about the producer, the region, the vineyards, or even the winemaker – all of which will influence a wine's style.
For the average person – not the wine judge – tasting blind can be a fun way to learn about wine by helping you focus on the wine's structure: its flavors and aromas.
You can better tease out what you like and dislike about a wine.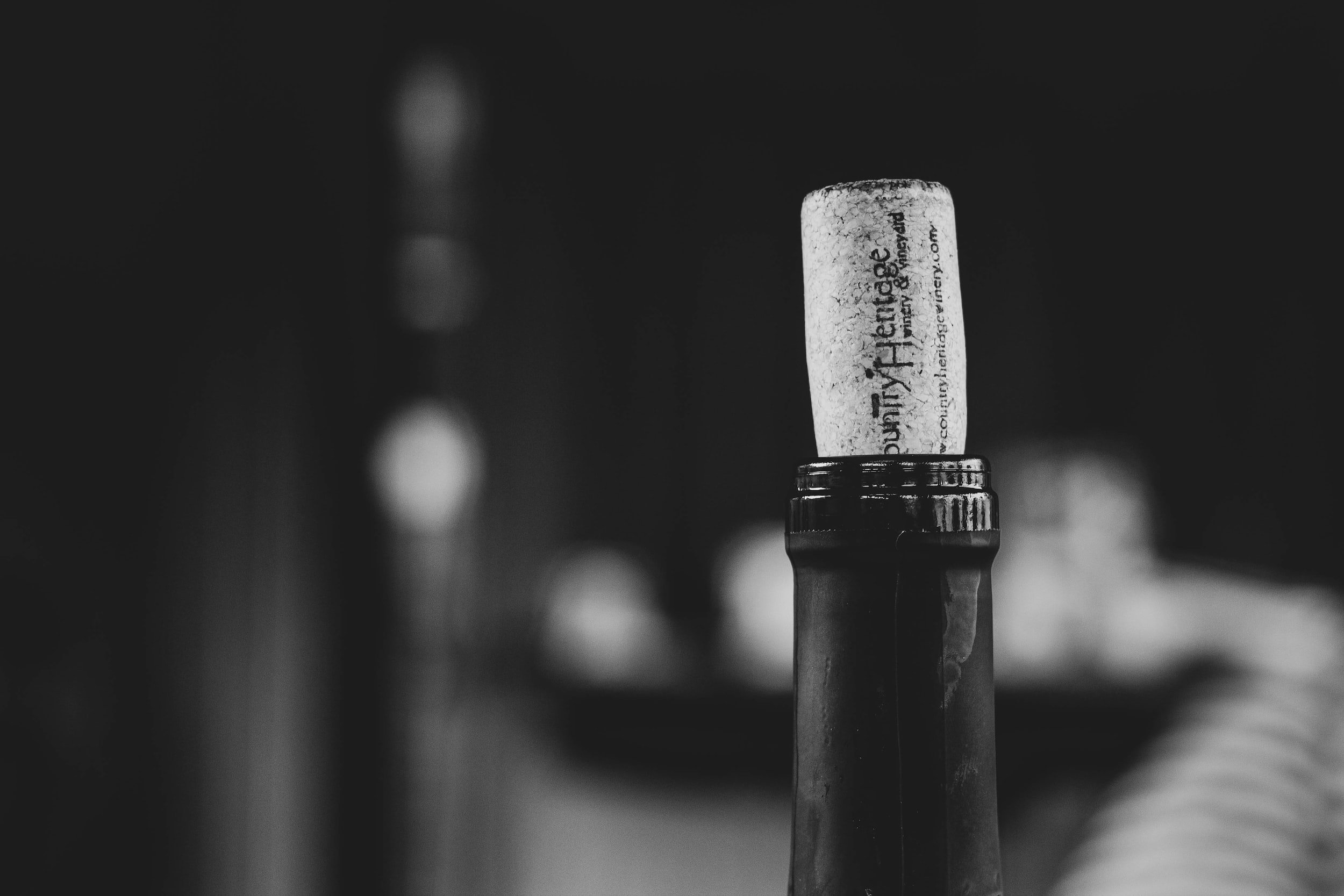 Blinding the wine can be helpful because we're often influenced by visual cues when we're drinking a wine (e.g., the wine's label) as well as physical cues (e.g., the bottle weight).
By blinding wine, you stop yourself from using your other senses that can influence your perceptions of what's in the glass.
Clever wine marketers know that we are influenced by the way wine bottles look. 
The use of gold foil lettering, calligraphy, and pictures of French Chateau or lofty castles, evoke wines of nobility and high quality.
Wines with brooding dark labels using heavy block letters in deep grays, blacks, and even images of crimson red evoke danger, gravitas, and weight – perhaps alluding to a serious wine that's worthy of our attention.
On the other end of the spectrum, you'll find bottles in clear glass that let you see the floral pink hues from the wines of Provence, with whimsical flowering on the label. These are wines of light, simplicity, and elegance.
We are heavily influenced by our sense of sight, and that will sway how we perceive a wine. Blind tastings are the perfect way to help level the playing field between different wines and their distinct packaging. 
Tasting blind allows us to identify what we really enjoy. 
How Many Wines Do You Need for a Wine Tasting?
A good rule of thumb is to plan on 4-6 wines for four to six people.
Each standard 750 ml bottle of wine has 12, 2 oz pours (standard wine tasting pour). However, most of us tend to pour a little heavier at home than they do at the wine bar, so…
Plan on around 8 pours per bottle.
Someone in the group will want to revisit a wine (they really like it or want to re-taste it to confirm, or heaven forbid there's a spill), so you can safely plan on each bottle serving 6 people comfortably with leftovers to spare. 
Helpful Tip: Go check out this quick and simple wine calculator to figure out how much wine you need for your next event based on your total guest list.
What Wine Is Best For A Blind Tasting?
Start with classic red and white wines. The best red wines for a blind tasting are Pinot Noir, Grenache, Merlot, Cabernet Sauvignon, Malbec, and Zinfandel. Good white wines are Riesling, Sauvignon Blanc, Torrontes, Albarino, Vermentino, Chardonnay, and Pinot Grigio.
You can mix up the wines and choose a few white wines and some red wines, or just stick with one style.
Alternatively, if you're looking for a little more structured guidance, you can use the Wine and Spirits Education Trust Level 1 qualification (external link) wines as a fantastic guide.
Personal Note: I personally love how they include sparkling wines, fortified wines, and dessert wines, too.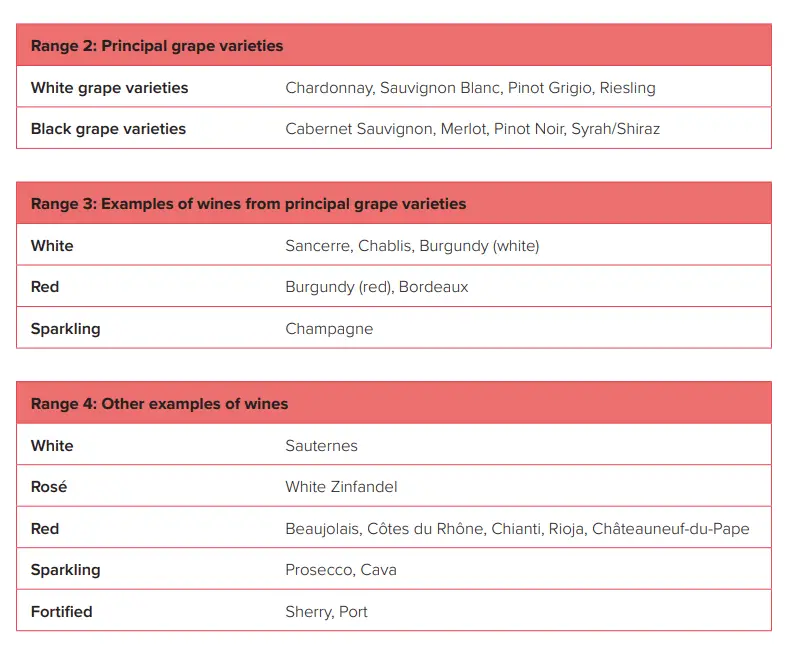 How to Set Up a Blind Wine Tasting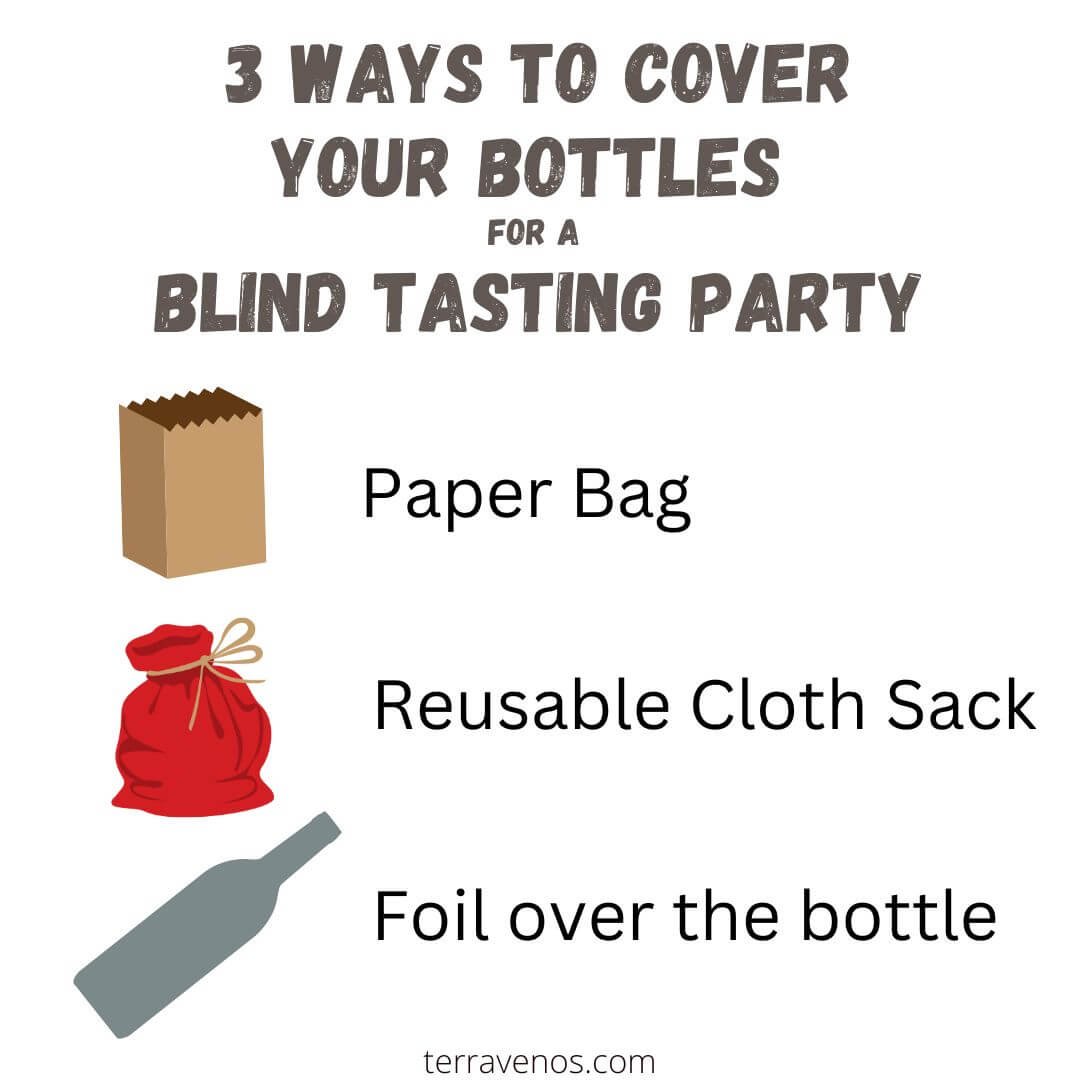 Start by blinding the wines. Put the wines into a paper or cloth bag.
This can be a simple lunch sack and doesn't have to be anything elaborate. You can find reusable bags for blind wine tasting online.
Here's an elegant and classy example:
Blind Wine Tasting Game Includes: Six Individually Numbered Bags, Storage Pouch & Pad Of Scoring Notes – All you need is wine!Buy on Amazon
If you don't have bags, you can wrap your bottle in foil. This is quick, simple, and inexpensive.
Label each bag with a number or a letter, and put the same number or letter on the wine label for the wine that's going inside that sack.
By numbering the wine, you and your guests can keep track of what you're tasting.
Pro Tip: After several glasses of wine with friends, things are going to get disorganized. Trust me, label your bottles with the same number as the bags… DON'T skip this step. 😎
What Do Guests Need for a Blind Tasting Party?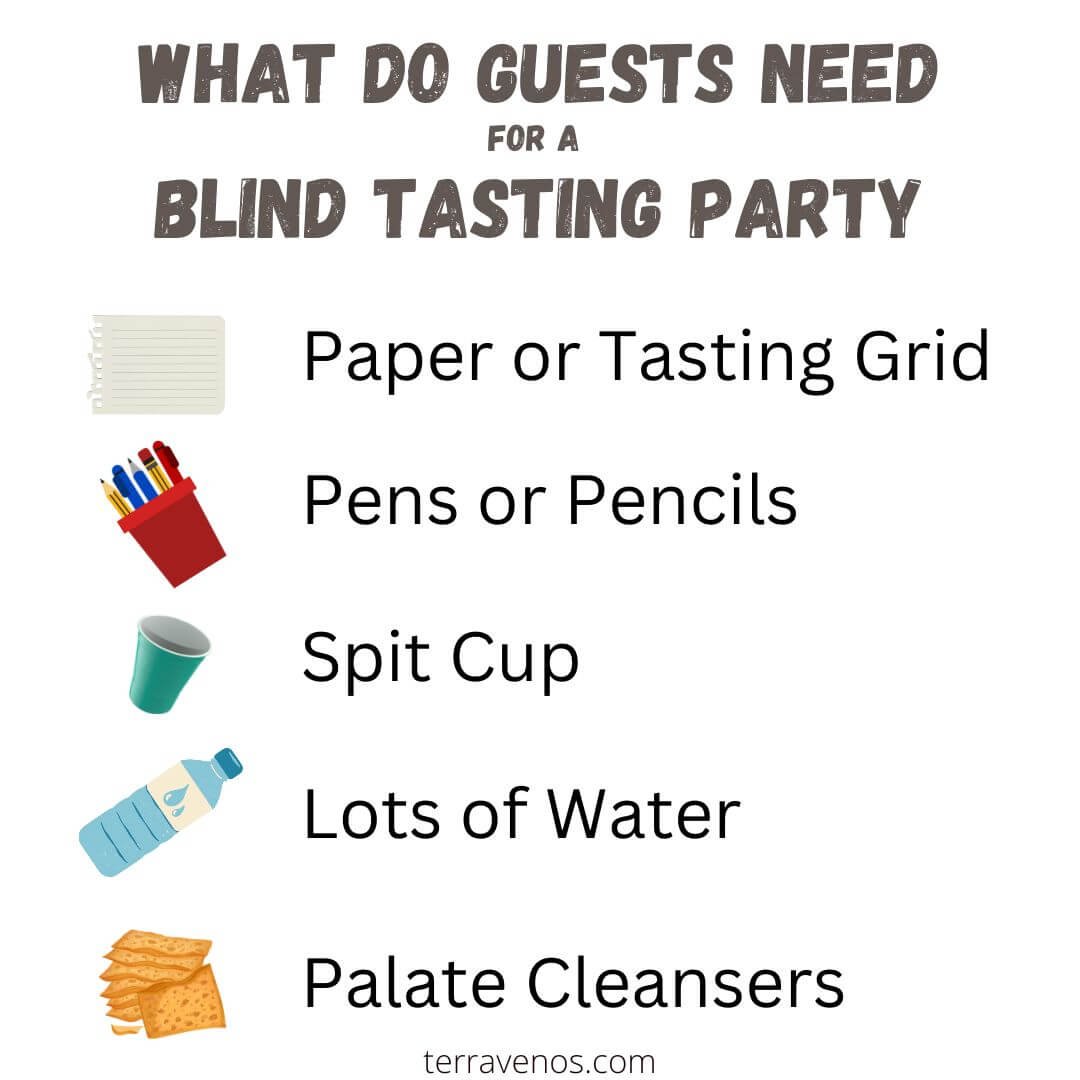 Your guests are going to want to take notes of what they're tasting so that they can go and buy more bottles of the wine after the tasting, or even make note of the style of wine that they enjoy.
Here's what you need to give your guests for a blind wine tasting party:
Provide each guest with a tasting grid or piece of paper so that they can take notes and write down their observations about the wines that they're tasting.
A pen or a pencil to write with
Something to spit their wine out into, like a coffee mug or a paper cup
Water to drink or swish out a glass
Helpful Tip: You will need to pour out wines, or you will get drunk. Have a spit cup nearby for each guest. If you host wine tastings regularly, you may want to get a spit bucket. Spit buckets hide the nast spit dribble and limit backsplash. Yuck! Here's what they look like: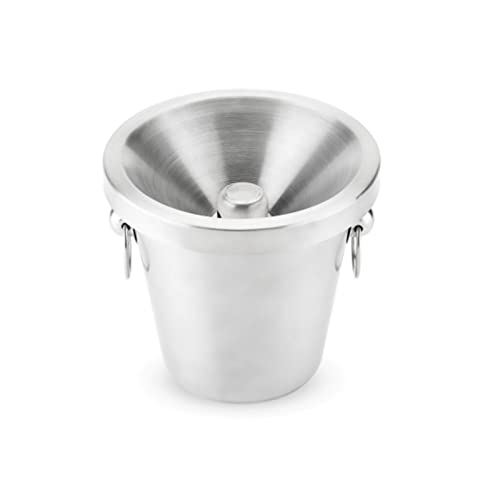 True Stainless Steel Spittoon for Wine, Whiskey, Cocktails, Alcohol Tasting Spit Cup – Savor, Set of 1, Silver SpitterBuy on Amazon
What Order Do You Serve Wines In A Blind Tasting?
If you are mixing up wines from different styles, start by tasting the wines from the lightest to the fullest.
You may be tasting wines from a particular region or wines from the same variety of grapes (like Merlot), but you'll always want to start with white wines before any red wines. Leave any sweet, dessert, or fortified wines for last.
Helpful Tip: Check out this helpful post on what order to put your wines for wine tasting. I wrote this just for you!
During the tasting, let each guest know which wine you are pouring by telling them the letter or number on the bag. Each person can keep track of the wines this way.
Can You Pour the Wines Ahead of Time?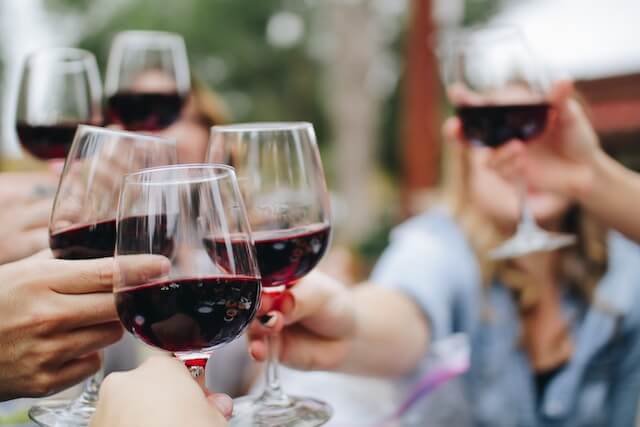 You may own enough glasses to pour a full wine flight for each of your guests before they arrive.
For example, if you are tasting 3 wines, each guest will have 3 glasses.
If can pour the tasting before they arrive, you can skip the paper bags. 
Some people own copious quantities of stemware. (*ahem, I'm guilty of this).
A blind tasting is the perfect opportunity to flex your stemware collection.
No worries if you don't have enough glasses to pre-pour. You can easily dump a tasting and switch between wines, reusing your glasses.
Does It Matter How Long the Wines Sit Open?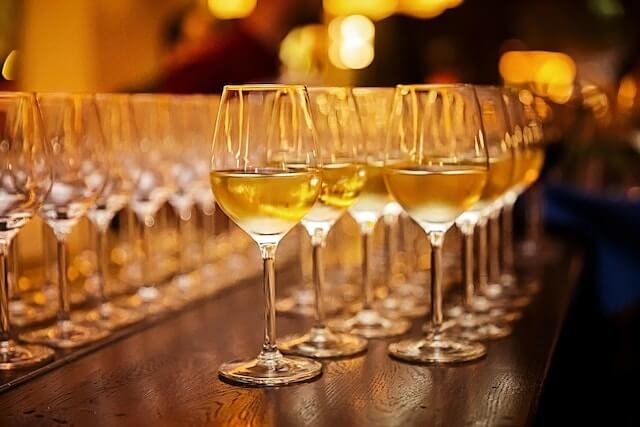 If the wine shop told you to open a wine several hours before drinking, then go ahead and open the bottle up and let it breathe before your guests arrive.
Otherwise, you'll generally want to open the bottles around 20 minutes before your tasting.
If you have a sufficient number of glasses, pour the wines around 20 minutes before your guests arrive.
Do You Chill White Wines For A Blind Tasting?
No, don't chill your white wines when you are doing a wine tasting. Chilling your white wines will mute their aromatics and make it more difficult for you to tease out the rich nuance of aromas and flavors in the wine.
While you do chill white wines when you're pairing them with food, or actually drinking them, you want to keep your white wines as flavorful as possible when you're doing a tasting. 
Helpful Tip: Check out this 30-second tasting tip – Why You Should Warm Up Your White Wine. I feel so passionately about white wine temperature, that I wrote a whole how-to on it.
What Food To Serve At A Blind Wine Tasting?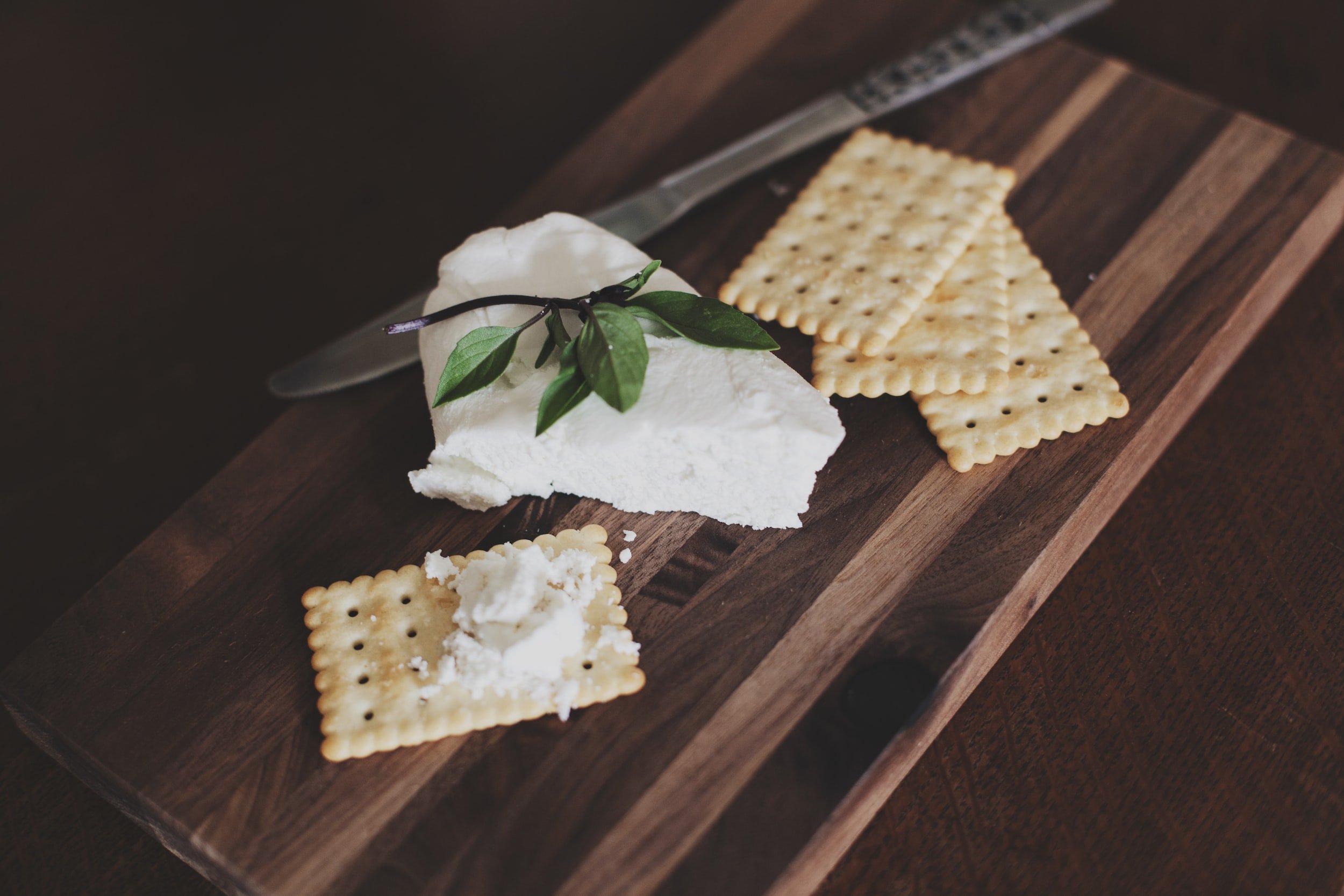 Think about providing a palate cleanser. This is a small snack, like:
crackers
cheese
black olives
salted nuts
Palate cleansers will help your guests cleanse their palate between wines by resetting their taste buds.
Of course, you could make this as elaborate as you want with dried fruits, fresh fruits, cured meats, rolls, or any other foodstuff.
Helpful Tip: Check out this post on the perfect foods to serve with your next red wine tasting.
Now that you have everything you need set up for your at-home blind wine tasting, what are the actual steps while you're tasting your wines?
How To Go Through a Blind Wine Tasting: 6 Steps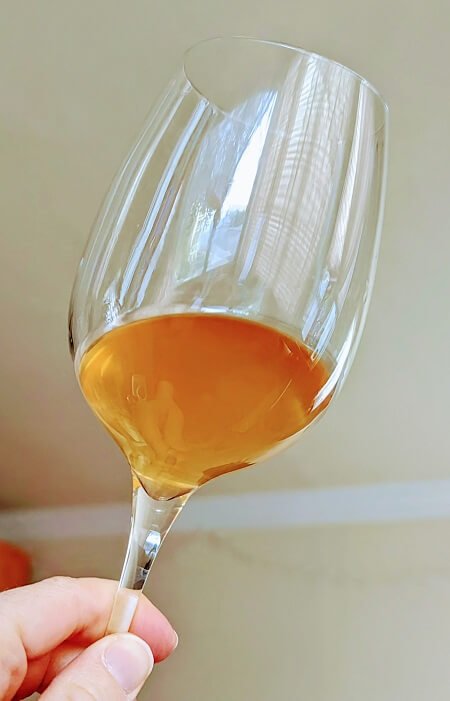 Go through the tasting and try the wines one by one.
You should all be trying the same wines at the same time. So, each guest sips the same wines at the same time.
Discuss what the wine looks like in the glass, and what you smell and taste in the glass. Do you smell the same things or different things? There's no correct answer here and each person will have their own sensory experience.
Try talking about the wines and what you like or dislike, and perhaps what other wines come to mind while you're sipping.
Take a sip of water and a bite of your palate cleanser in between each wine.
If you're re-using glasses, swish out your glasses with a small amount of water (or the next wine) as you move between wines.
Once you have finished going through all of the wines, do a quick tabulation on which wines received the most likes amongst the tasting group. Do the big reveal and unveil the wine that was the most popular wine.
Line up the wines from top-ranked to bottom-ranked, and see if there are any surprises.
Was the most expensive wine the most well-liked?
Was the wine that looks like it has the highest quality based on the packaging the most well-liked? 
These are all fun discussion questions as you finish up your tasting. 
Wrapping Up Your Blind Wine Tasting Event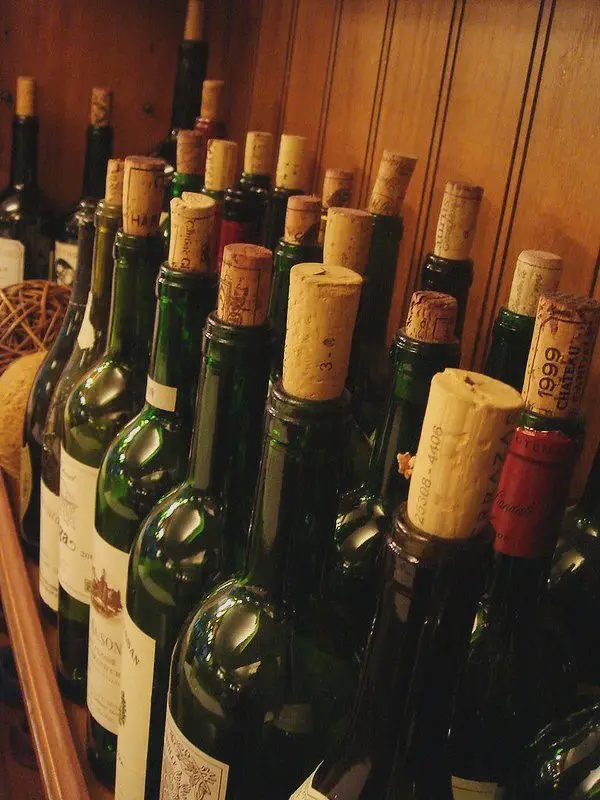 Finally, at the end of the evening, think about setting up another event with a new theme.
There are so many ways to explore the world of wine, and doing so blind can really open your eyes.
Consider tasting wines from different regions, perhaps wines from different producers in the same region, or even wines made out of the same variety of grapes but imported from different regions around the world.
You're going to have leftover wine.
Save any corks or screwcaps to send leftovers home with guests.
Final Thoughts: Hosting Your Own Wine Tasting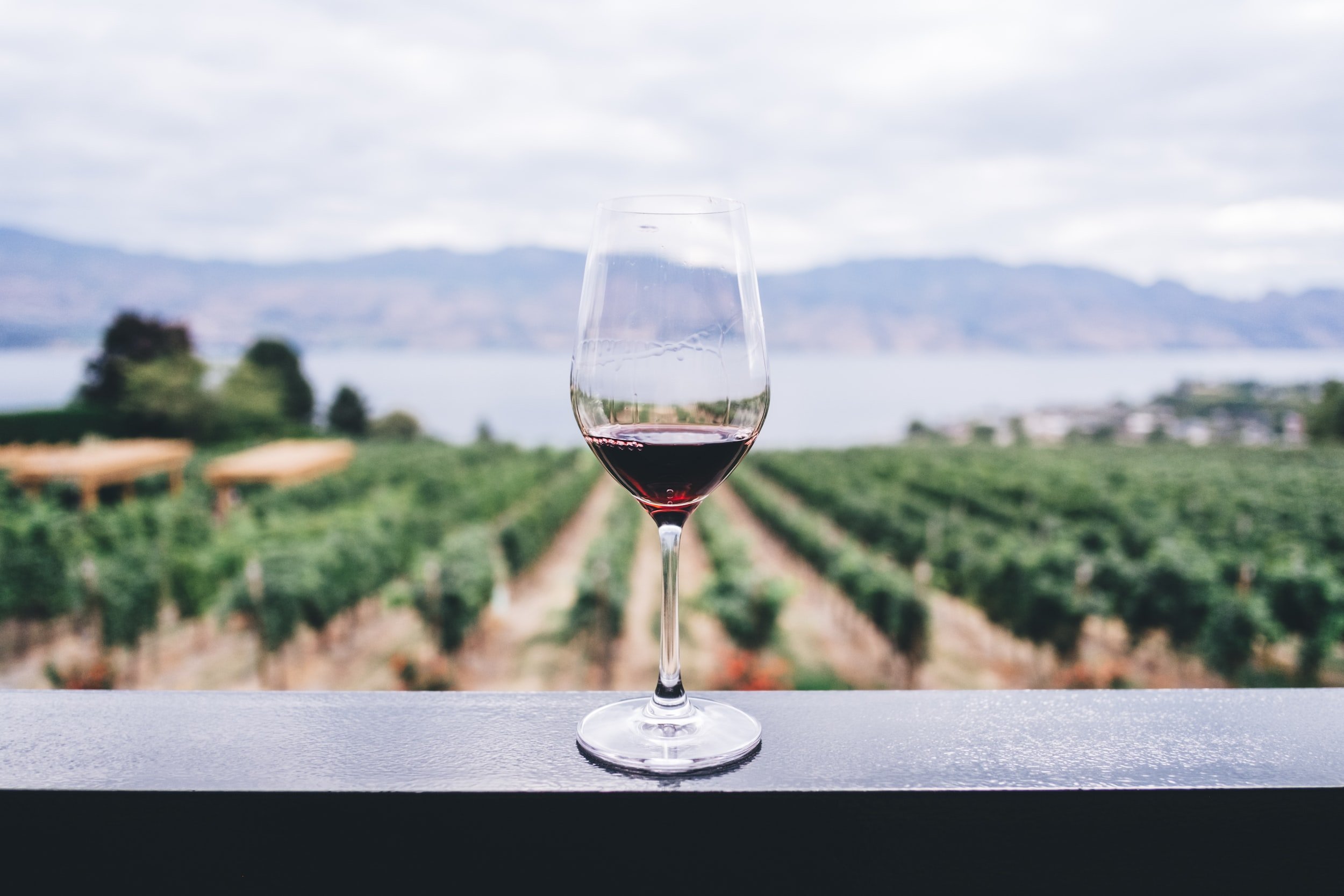 Hosting your own blind wine tasting party is a great way to learn about different wines in a relaxed and comfortable setting.
By inviting friends, you get to explore and talk about your likes and dislikes together.
Remember:
4-6 bottles of wine for 4-6 people
Each bottle will serve 6 pours
Number each bottle
Mask each bottle
Talking about which wines were the most and least enjoyed before doing the big reveal is all part of the fun.
Enjoy!
Thirsty for More?
So, you're doing a blind tasting. You want to know what order to taste your wines in. I've done the work for you! Check out this post on what order to put wines for your next tasting event.
Check out this post on what you absolutely shouldn't do at a wine tasting – some of these tips apply to your home tasting event, too!
Here's a great post on how to pick out a good grocery store wine, which may be helpful if that's where you're getting your bottles for your tasting.