In the world of wine, you've heard of the terms "Port" and "Ruby Port" a few times, but what's the difference between the two?
Port is a broad category of Portuguese fortified wines made in the Douro Valley region. Ruby Port is a subcategory – or style – of Port. Ruby Ports are inexpensive sweet wines with dark fruit like black cherry and blackberry, purple flower, and licorice. Ruby Ports pair well with chocolate desserts.
Is Ruby Port a Port Wine? Yes! Here's what you need to know.
What Is Port Wine?
Port wine, often just called "Port" is a fortified wine made in the Douro Valley of Portugal. 
Port wines are always sweet, and typically red. Port's fortified with distilled spirits which raise the alcohol level to 19%-22% alcohol by volume. Renowned the world over, Port has a reputation for being a powerhouse of a wine with rich layers of flavor, a full body, and lingering notes of candy and fruit. 
Think of Port as the umbrella category.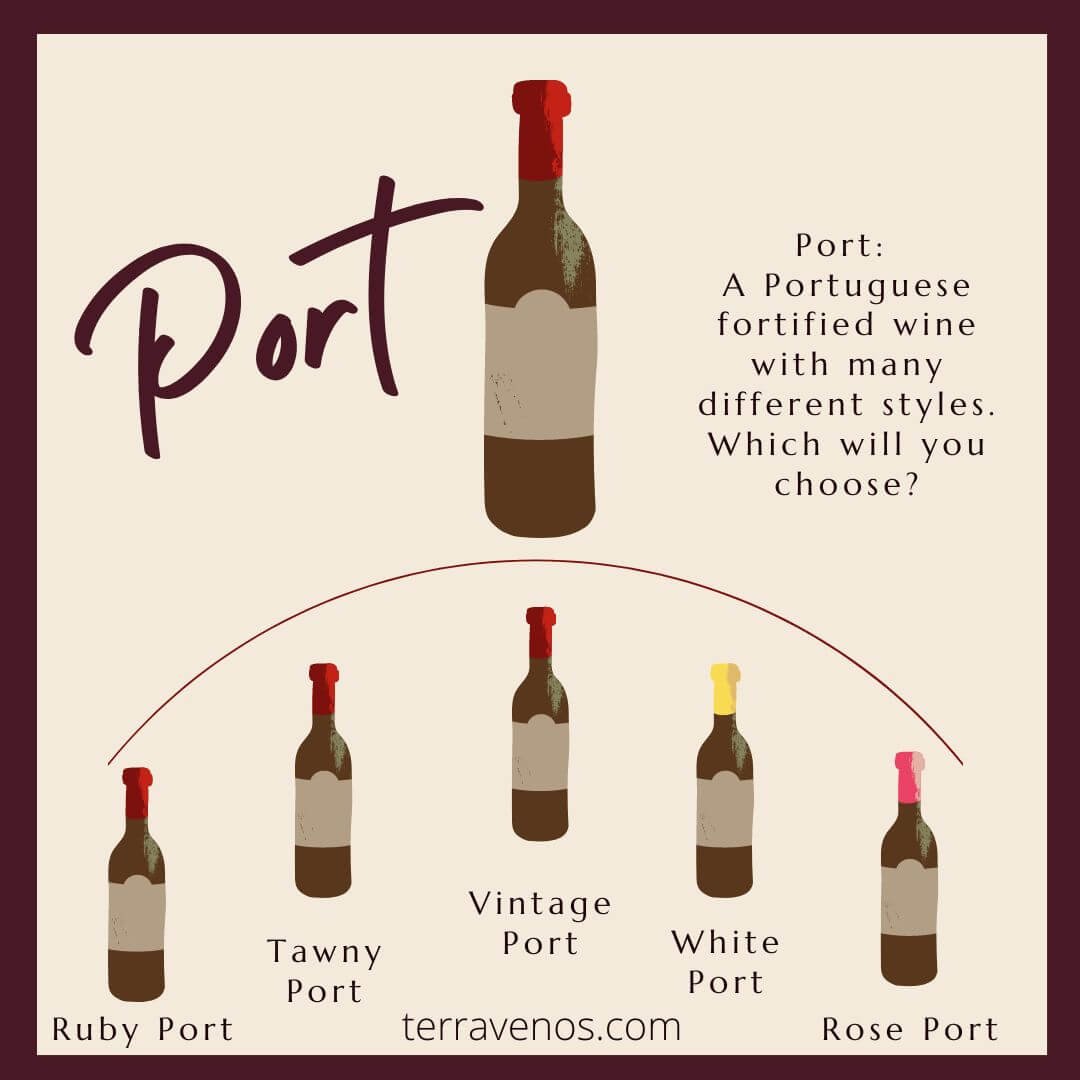 There are several different styles of Port, including Tawny Port, Vintage Port, and Ruby Port (of course), among others. You can even find White Port and Rosé Port, but these are uncommon.
Each Port style has its own unique characteristics and flavor profile.
What Is Ruby Port?
Ruby Port is the least expensive style of Port wine. It's made to be early drinking with pronounced red and black fruit, purple flower, and candied licorice notes. 
Ruby Port is always a blend of grapes and a blend of vintages. Ruby Ports are released 2 to 3 years after harvest.
Helpful Tip: There's lots to know about Port, so I put together this in-depth overview of how Port wines get made. Check it out!
Stylistically, Ruby Ports are generally considered to be more straightforward, more approachable, and less complex than some of the other styles, like Vintage Ports or Age-Indicated Tawny Ports. 
What is the Difference Between Port and Ruby Port?
The main difference between Port and Ruby Port is that Ruby Port is a specific style of Port. Port is the umbrella category of fortified wines made in the Douro Valley, Portugal.  
Ruby Ports have that characteristic fruit-forward style with a deep, rich ruby color, but unlike other styles of Port such as Tawny or Vintage, it doesn't require extended wine aging to develop its characteristic taste.
Other styles, for example, Tawny Ports, aren't as deeply colored and may have nuances of nuts, spice, and even black tea. 
Vintage Ports are made from grapes grown during a single, exceptional year.
Vintage Ports are aged in bottle for decades before they're considered ready to drink. They're famous for their intense, concentrated flavors. 
As for food pairing, Ruby Ports make excellent companions to sweet desserts, but other Port wine styles have more versatility, pairing with savory dishes like roasted meats, and earthy stews. 
How to Serve Ruby Port
Serve your Ruby Port slightly chilled. Keep the bottle in the fridge for 30 minutes before pouring.
Ruby Ports pair beautifully with anything that has chocolate, cream-based desserts, and blue cheeses.
Keep your leftovers in the fridge and drink within 30 days. Ruby Ports don't have the concentration to help them keep terribly long after opening.
Helpful Tip: Here's a rundown of what wine glasses you should be using when drinking Port wines (and also creative substitutes if you don't have a full wine bar). 
Final Thoughts – Is Ruby Port the same as Port? Yes, but…
To recap, Port is the broad category of fortified wines that has several different styles underneath it, including Ruby Port. 
Ruby Port is known for its deep ruby color, rich dark fruit, and full-bodied, sweet style. 
Ruby Port's a great option if you're looking for a dessert wine, but other Port styles offer more complexity and nuance and have greater versatility for pairing. 
Thirsty for More?
Check out this post on Ruby Port FAQs for a quick summary of this powerhouse red wine.
You've heard of Ruby Port and Tawny Port, but what's the difference? Check out this post on Ruby vs Tawny wine.
Fortified wines are relatively uncommon for most average wine drinkers, so I put together this post that goes into more detail on the differences between fortified and unfortified wines.
You may be interested in this post on how to pick out a good fortified wine.