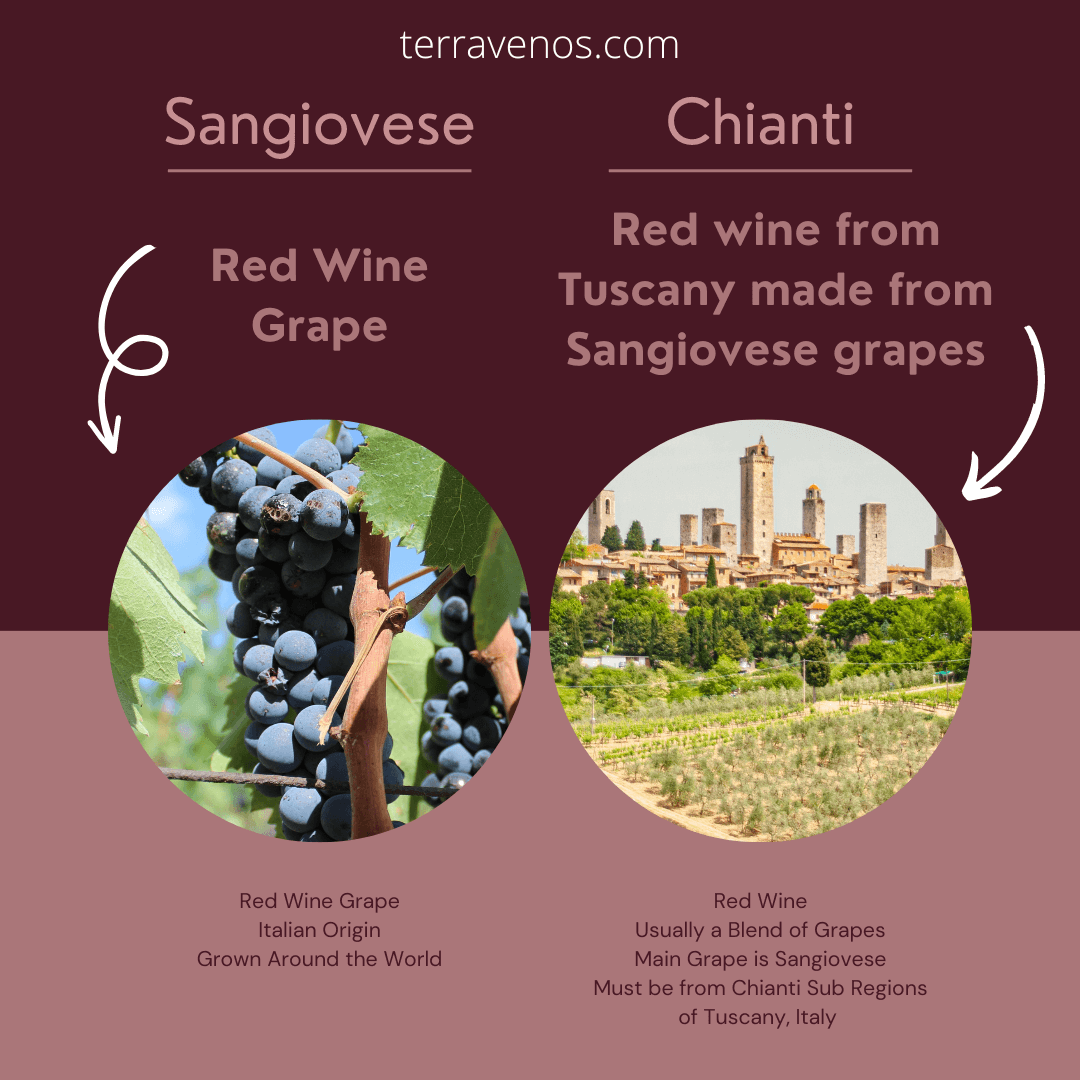 So you've made it to Italian red wines. Good for you. But could they be any more confusing?
Chianti is a specific type of wine that is primarily made from Sangiovese grapes, while Sangiovese refers to the red grape variety itself. While Sangiovese is a versatile grape used in various wines, Chianti is a renowned Italian wine with specific regional characteristics and regulations made in Tuscany.
So pour yourself a glass. Here's what you need to know about the differences between Sangiovese and Chianti wines.
Here's a quick video on Sangiovese vs Chianti that summarizes what you need to know:
Sangiovese Basics: Italian Workhorse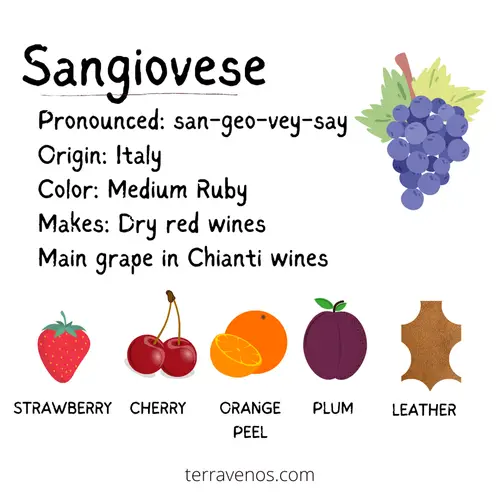 The red wine grape Sangiovese comes from Italy and is widely grown across the country. It makes wines with a medium to full body with higher acid levels, chewy tannins, and ripe crunchy red fruit, like cherry and strawberry.
Here's a full guide to Sangiovese wine.
Chianti Basics: A Tuscan Red Blend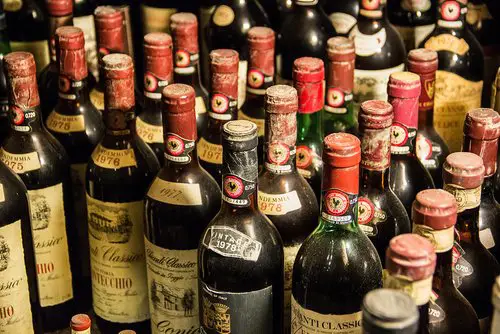 Chianti is a red wine made specifically in the demarcated Chianti sub-regions of Tuscany. It's made up of different grapes blended together, the primary grape is Sangiovese.
To be called "Chianti" the wine you're drinking had to follow the traditional red winemaking practices of these regions and grown and made in these regions.
Helpful Tip: Here's a full post on what makes a Chianti and how to buy decent Chianti wines every time (there's a lot of "meh" Chianti out there).
Wine Comparison: Sangiovese vs Chianti
Let's delve into a side-by-side comparison of Sangiovese vs Chianti.
| Aspect | Sangiovese Wine Profile | Chianti Wine Profile |
| --- | --- | --- |
| Region | Italy, California, Australia | Chianti Subregions in Tuscany, Italy |
| Style | Single-grape wine (can be blended) | Blended with other grapes |
| Sweetness | Typically produced in a dry style | Typically dry |
| Alcohol Content (ABV) | Around 13% to 14.5% | Around 12.5% to 14% |
| Body | Medium-bodied, premium can exhibit fuller body | Light to medium body, resembling Sangiovese |
| Acid | Medium plus acidity | Tart acidity that makes the fruit taste crunchy and fresh |
| Tannin | Medium and textured, can add herbal notes | Smooth, polished tannins |
| Flavor and Aroma Intensity | Red cherries, raspberries, herbs, earthiness | Enticing red berry aromas, occasional spice notes |
| Flavors | Red berries, subtle spice, dried leather, herbs | Red fruit, spice, sliced orange, cinnamon |
Are Sangiovese and Chianti Similar?
Yes, Sangiovese and Chianti are similar. They share that same vibrant acidity, fresh cherry, strawberry, and raspberry notes, and tannin structure.
What Is the Difference Between Sangiovese and Chianti?
Chianti comes from the Chianti subregions of Italy and is typically a blend of different grapes (including Sangiovese). Sangiovese is an Italian red wine grape grown around the world now and makes delicious red wines all on its own.
Fun Wine Fact: Brunello di Montalcino – which isn't a Chianti – has to be 100% Sangiovese.
Sangiovese vs. Chianti Winemaking
Winemakers employ use various techniques to craft Sangiovese and Chianti wines, including fermentation and aging in neutral vessels like stainless steel or barrels. The price-point and desired wine style influence the winemaker's approach. Inexpensive Chianti may emphasize fruit-forward characteristics with minimal oak influence (and come in a box or tetra pack.).
Both wines undergo traditional red winemaking processes (here's what happens on harvest day if you're a red wine grape).
Sangiovese vs Chianti: Food Pairings and Serving Temperature
You can pair Sangiovese and Chianti with the same foods and flavors.
Sangiovese's medium body and higher acidity make it a perfect companion for classic Italian dishes, such as pasta with tomato-based sauces, rich, meaty dishes, and hard cheeses. (Here's a full guide to Sangiovese food pairing.)
Chianti's light to medium body and delightful red fruit flavors harmonize beautifully with dishes like roasted chicken, hearty soups, and pizza.
Serving Sangiovese and Chianti Comparison
| Aspect | Sangiovese | Chianti |
| --- | --- | --- |
| Serving Temp | 60-65°F | 55-60°F |
| Decanting Recommendations | Not necessary, but improves with aeration | 30 minutes to 1 hour to enhance flavors |
| Glass Shape | Tulip-shaped | Bordeaux glass |
Both Sangiovese and Chianti are best served slightly chilled, allowing all of that amazing acid to shine. Stick them in the fridge for around 15-20 minutes before serving.
For fuller styles and aged bottles, consider decanting.
Helpful Wine Drinking Tip: Inexpensive, entry-level wines rarely benefit from decanting. Give them a good swirl in your glass to open them up and then sip away!
Which Is More Expensive, Sangiovese vs. Chianti?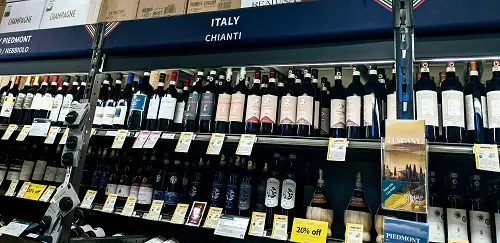 The price of a bottle of wine is influenced by various factors. In general, Sangiovese can make inexpensive bulk wines and premium bottles alike – and by extension, you'll find various quality levels of Chianti wine. You can use use the Italian wine classification system to help you figure out quality level.
Here's how to read an Italian wine bottle label.
We don't tend to get the absolute entry-level Chianti wines in the US as import wines, but if you live in Europe, you've probably seen these on your wineshop shelves.
Discover: The King of Italian Wines, Nebbiolo, beckons you…
Sangiovese Wine Price
Entry-level Sangiovese: Under $10 USD
Premium Sangiovese: $15-$25 USD
Super-Premium Sangiovese: $30-$80+ USD
Chianti Wine Price
Everyday Chianti: Under $10 USD
Premium Chianti: $15-$30 USD
Super-Premium Chianti: $50+ USD
Either of these wines that come from well-known producers can easily top $50 per bottle.
Helpful Tip: Here's a full breakdown of how a wine bottle gets priced if you're curious about that sort of thing.
Which Is Better, Sangiovese or Chianti?
If you want to go true Tuscan, then stick with Chianti. If you're up for tasting a pure varietal wine, try Sangiovese. Both will have similar taste profiles, so it's worth experimenting and drinking broadly.
Discover
Sangiovese vs Merlot
Sangiovese vs Pinot Noir
Sangiovese vs Zinfandel
Sangiovese vs Syrah
Final Thoughts – Sangiovese vs Chianti Wine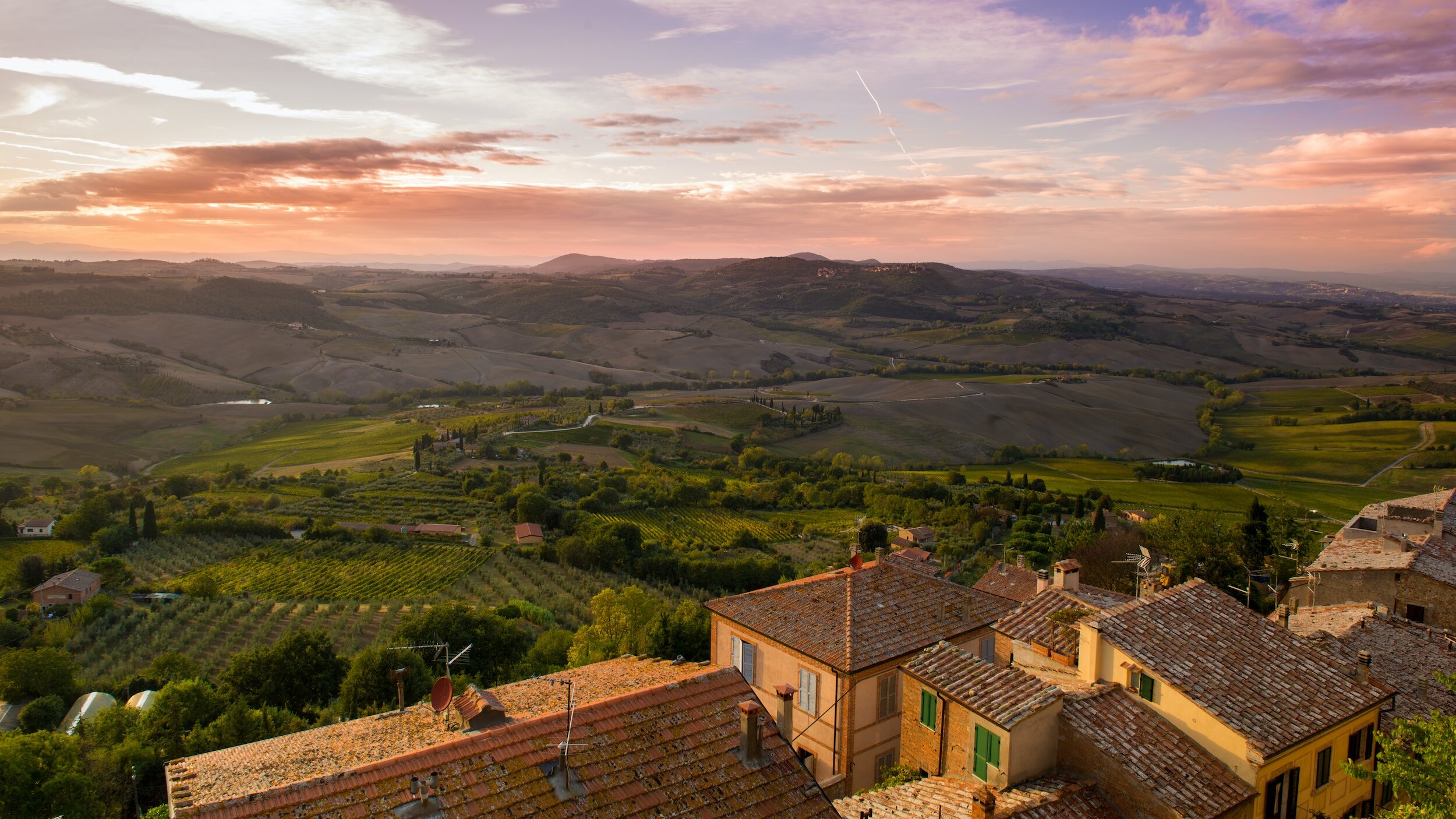 Both Sangiovese and Chianti have deep roots in Italian winemaking and wine and food culture.
Remember: Sangiovese is a grape. Chianti is a red Italian wine made in the Chianti subregions of Italy and Sangiovese is the main red grape in those wines.
The best way to figure out the differences between these two is to do a side-by-side comparison.
Gather some friends and go find 2 bottles of similarly priced Sangiovese and Chianti. Uncork these Italian classics and sip, swirl, and compare the night away.
Thirsty for More?
If you're passionate about expanding your wine knowledge, consider hosting your own wine tasting for beginners.

Which is better: Cabernet Sauvignon or Pinot Noir?

Here's how to find great wines under $50.