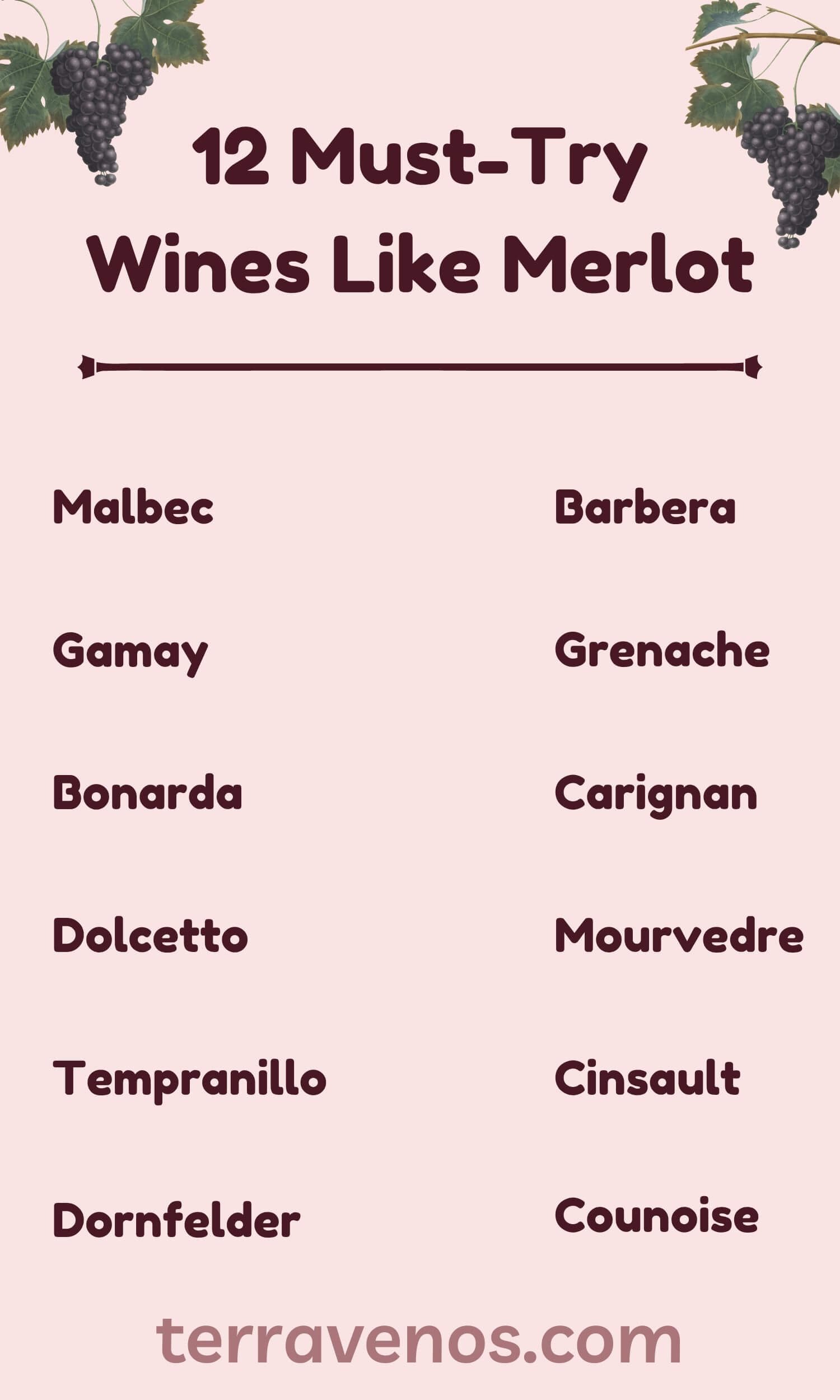 If you're a fan of the velvety allure of Merlot, but want to try something new, then you have options.
Red wines like Merlot but not Merlot include: Malbec, Grenache, Gamay, Cinsault, Barbera, Dolcetto, Tempranillo, Mourvedre, Carignan, Counoise, Bonarda, and Dornfelder. Merlot's soft, medium body and velvet texture profile make it an approachable red wine found in many other grapes.
You've got several unique wine options if you're looking for red wines similar to Merlot. Check them out!
Merlot Alternative No 1: Malbec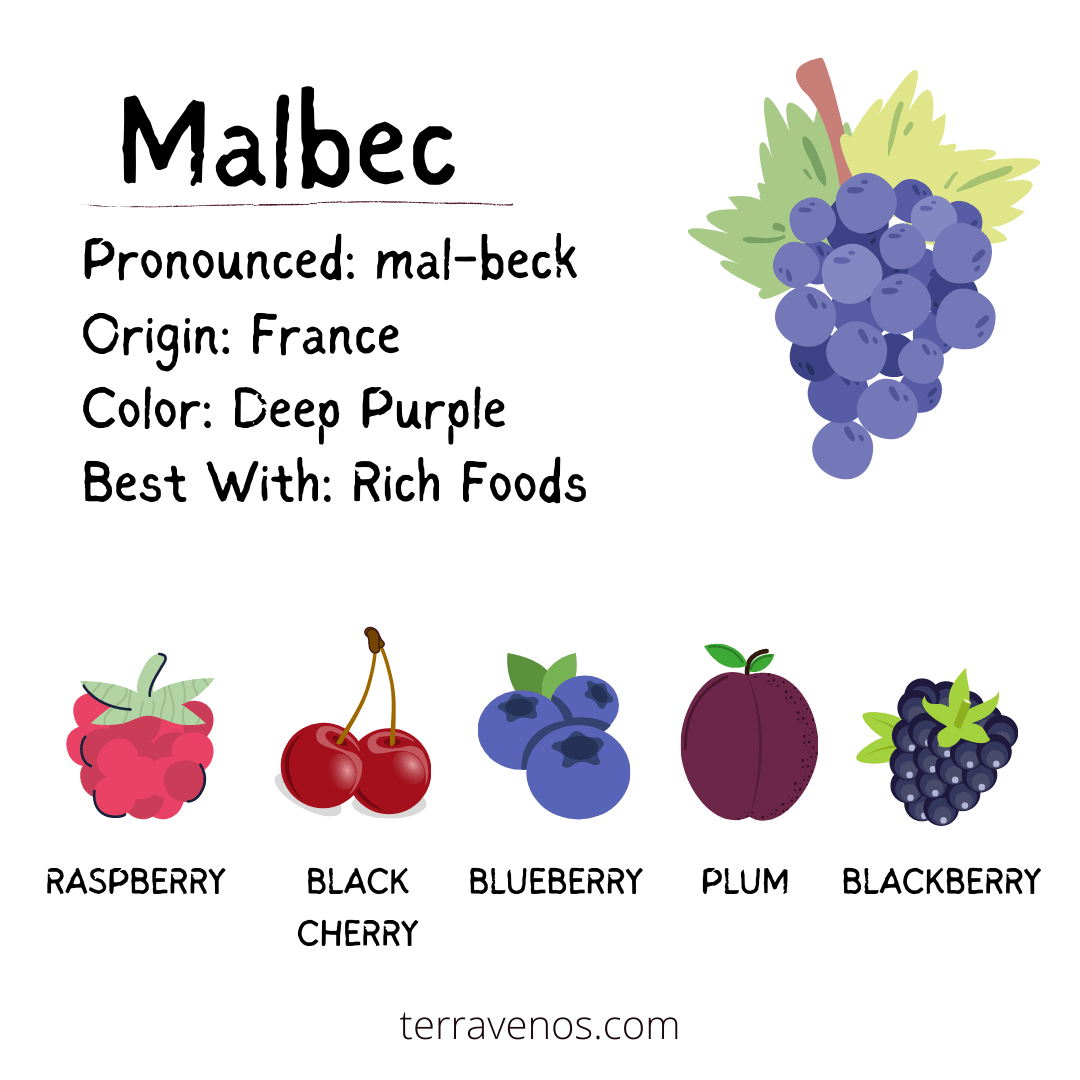 Tasting Profile: Malbec mirrors Merlot's dark, velvety fruit with cherry, plum, and blackberry. Most Malbecs will have soft tannins, similar to Merlot, and are easy-drinking red wines. Malbec's medium to full body and lingering finish make it a great substitute for Merlot.
Helpful Tip: I'm a big fan of Malbec as a gateway red wine. So much so, that I wrote this post: What Is a Wine that Everyone Likes? Malbec! Here's why…
Merlot Alternative No 2: Grenache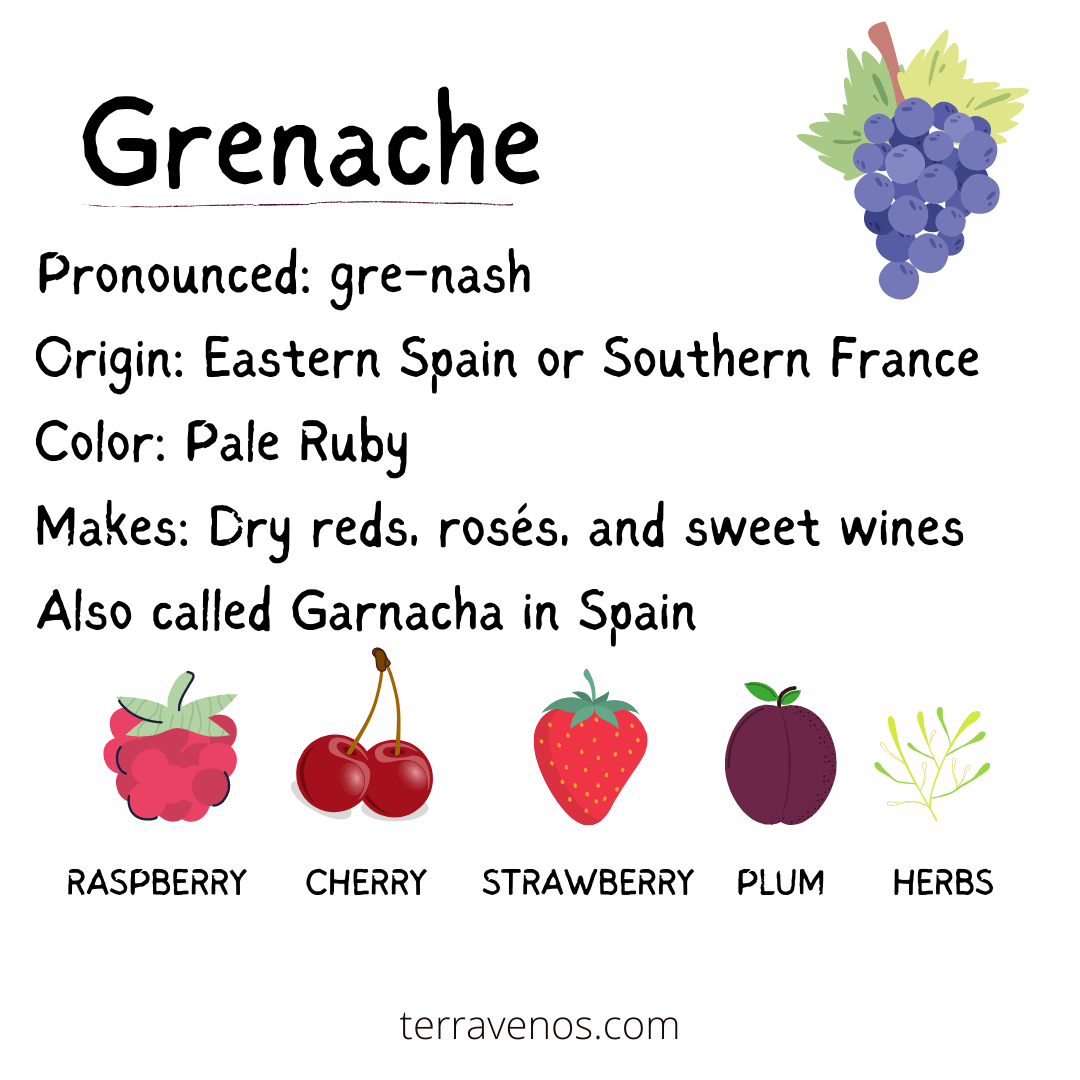 Tasting Profile: Grenache, known for its versatility and approachable nature, displays a beautiful ruby hue and offers enticing aromas of red berries, herbs, and a hint of spice. 
Helpful Tip: Grenache comes in a range of styles, from light and fruity, to heavier and more serious. If you're looking for a Merlot-like Grenache, I recommend looking for Grenache-based wines from Priorat, Spain (where it goes by Garnacha or Garnatxa).
With medium body and soft tannins, Grenache wines express flavors of raspberry, strawberry, and subtle earthy notes. 
Merlot Alternative No 3: Gamay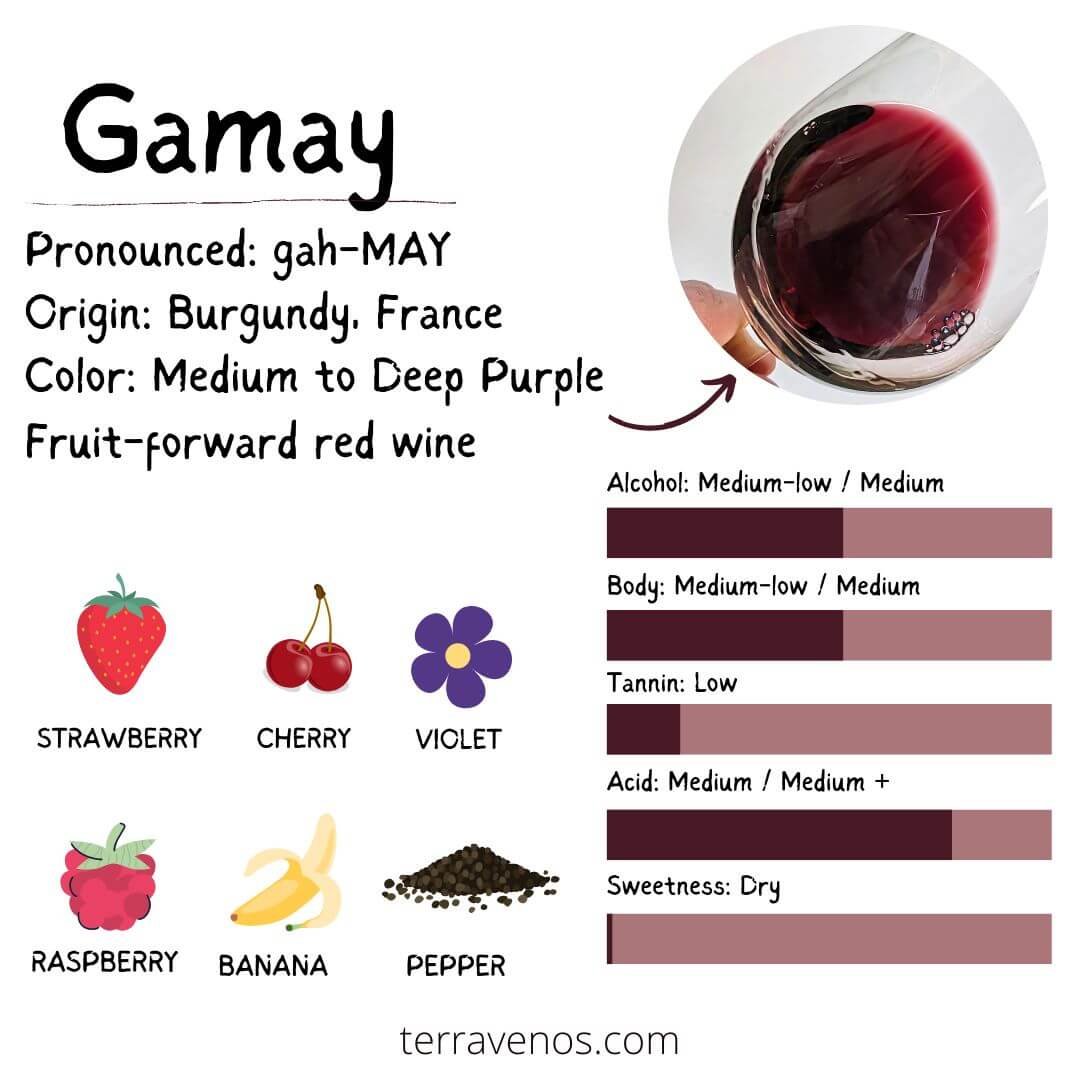 Tasting Profile: Gamay, a delightful grape variety hailing from Beaujolais in France, showcases a vibrant ruby color and an inviting bouquet of red fruits, like cherry and cranberry, with floral undertones.
Helpful Wine Buying Tip: Entry-level Gamay from Beaujolais tends to be lighter in body and more similar to Pinot Noir. Look for Beaujolais Villages (one step up), or even Beaujolais Crus for the most Merlot-like wines. Here's a full post on Gamay wines.
Regardless of style, Gamay charms with juicy fruit, soft tannins, and a touch of earth. Gamay is an excellent choice for those seeking a lively, easy-to-understand, and refreshing red wine.
Wine Like Merlot #4: Barbera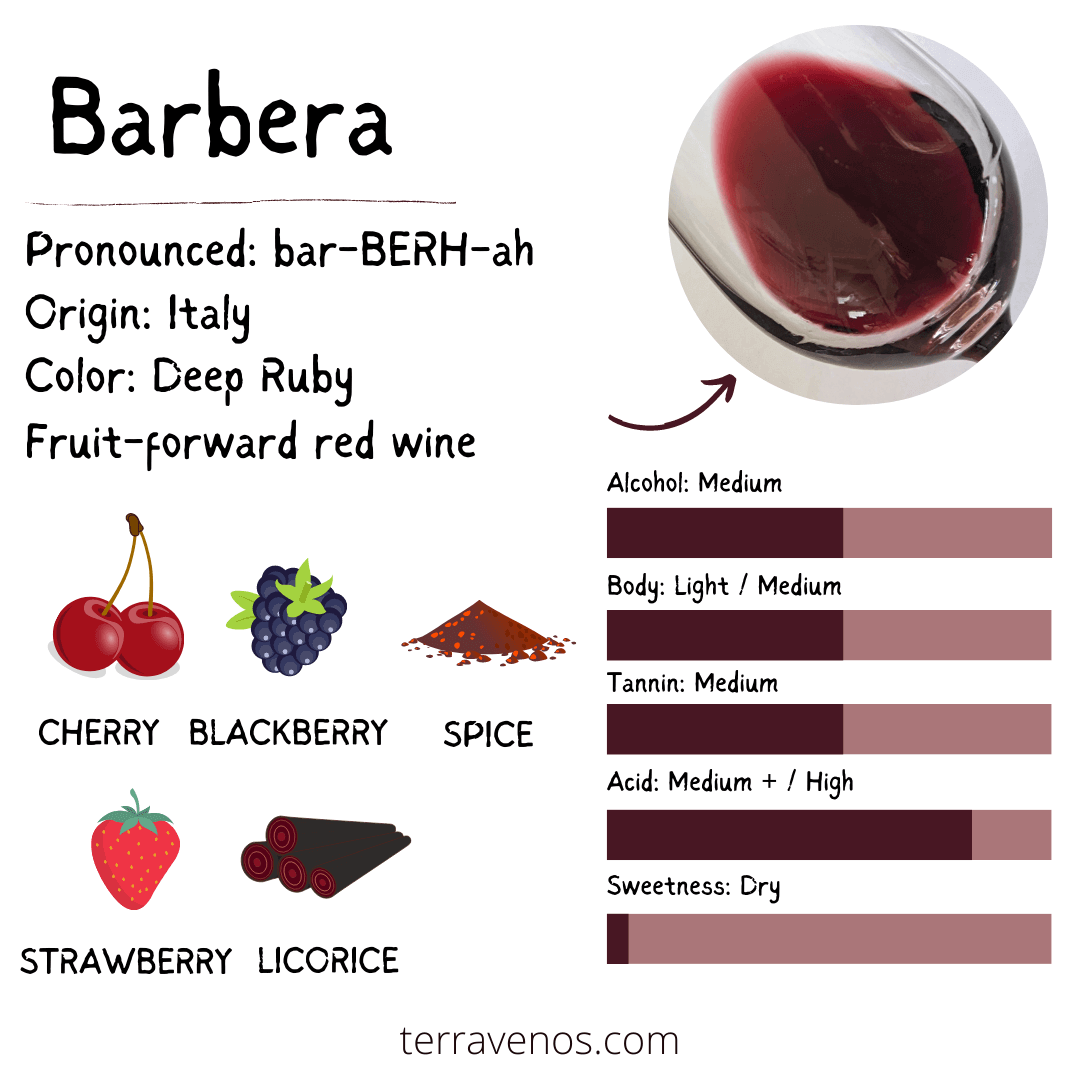 Tasting Profile: Barbera is a traditional Italian grape that boasts a deep ruby color and a vibrant nose filled with red berries, plums, and a touch of spice. Barbera is among the lesser-known varietals that you should definitely taste if you love Merlot.
Similar to Merlot, Barbera has a medium body with mellow, silky tannins. 
Unlike Merlot, Barbera has higher acid, making the fruit taste brighter in your mouth. (Here's a full post on Barbera if you're curious.)
Helpful Wine Buying Tip: You can find wines made from Barbera from El Dorado, California, as well as traditional Italian wines. 
Wine Like Merlot #5: Dolcetto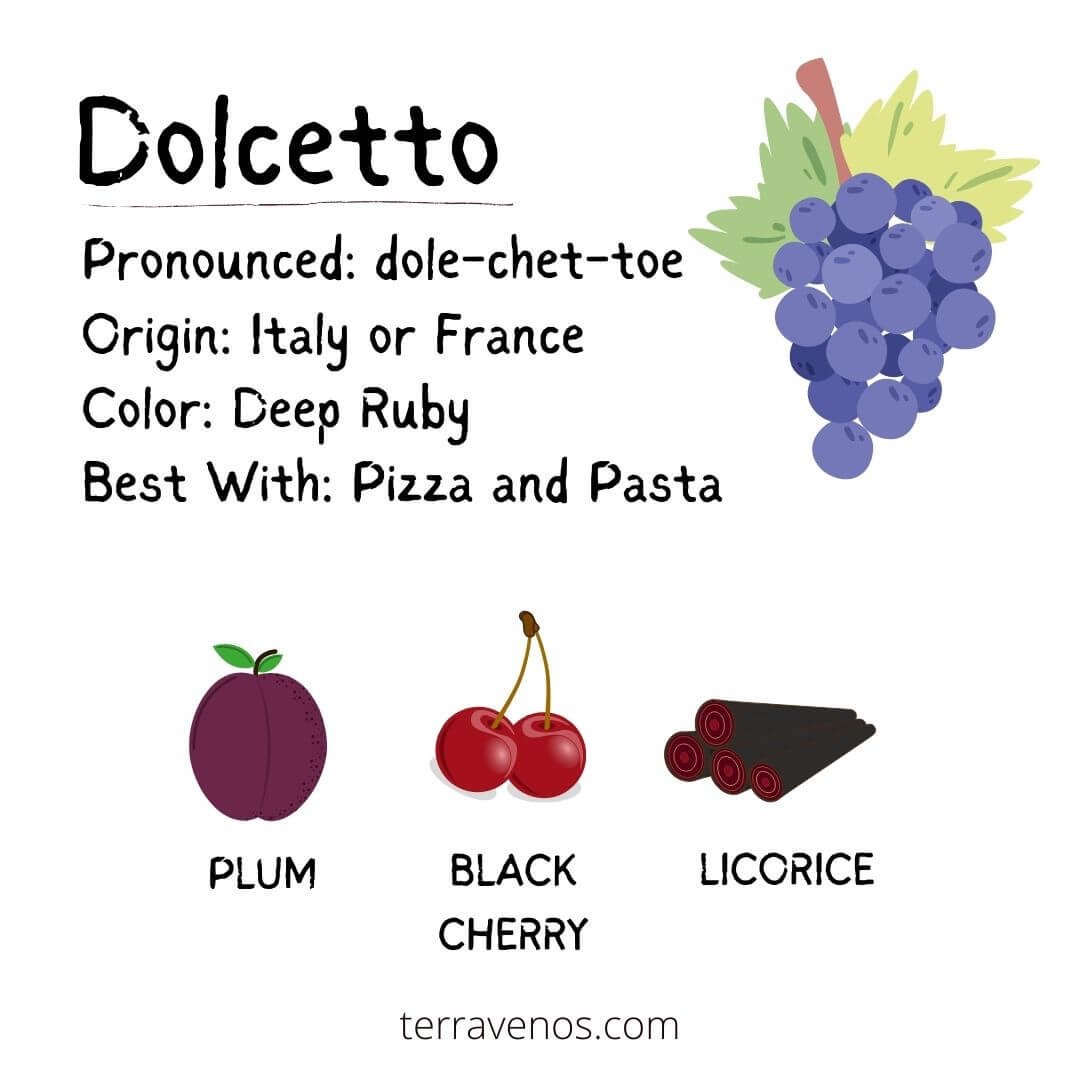 Tasting Profile: Dolcetto, another Italian beauty, translates to little sweet one. Dolcetto enchants with its deep purple color and alluring aromas of black cherry, plum, prune, licorice, and a hint of almond and a slightly bitter finish. 
Helpful Tip: Love Merlot? Check out this Merlot and Cheese pairing guide.
Dolcettos have soft tannins, similar to Merlot, along with that dark cherry and plums alure.
Wine Like Merlot #6: Tempranillo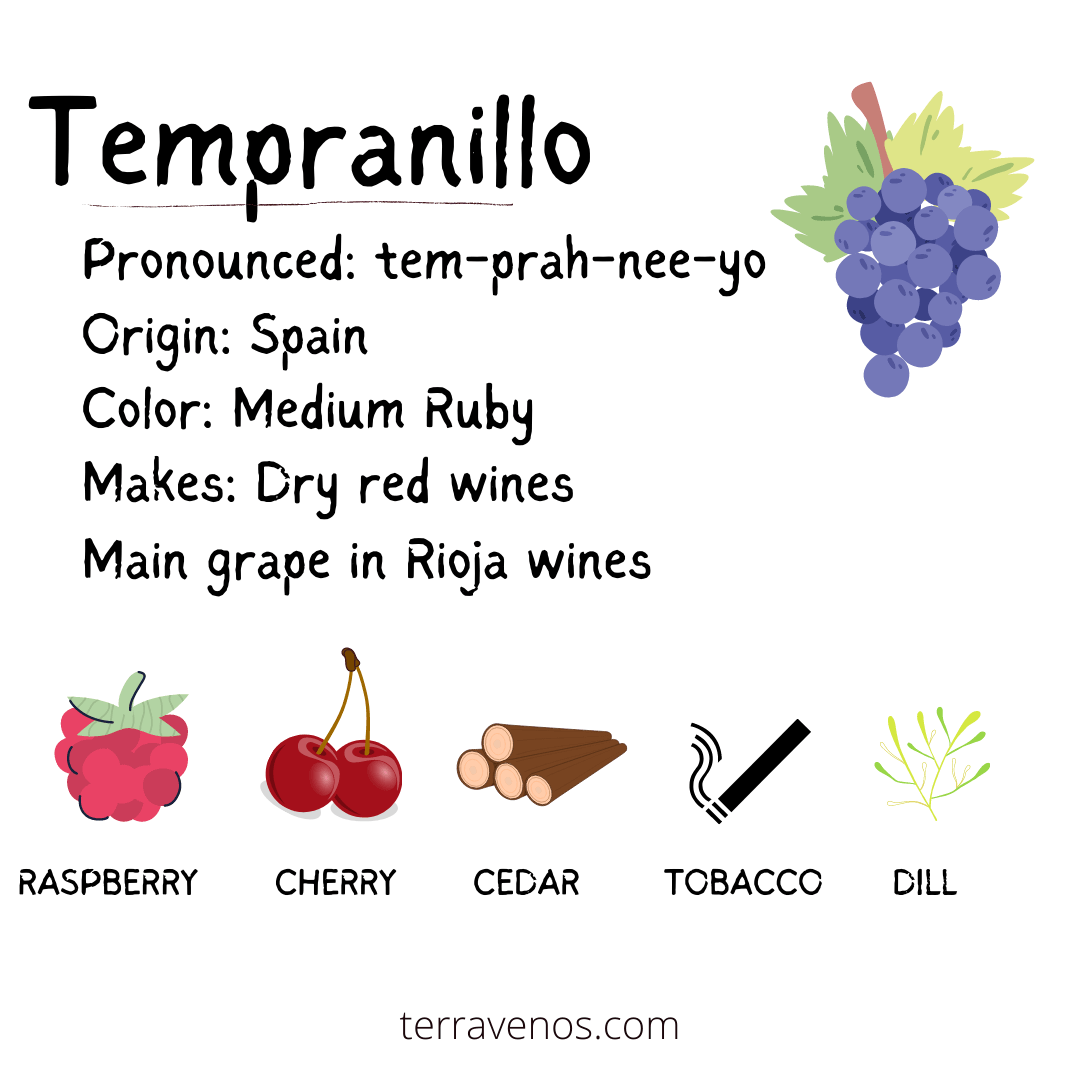 Tasting Profile: Tempranillo, Spain's signature grape, presents a garnet color and seduces the senses with aromas of ripe red berries, vanilla, and tobacco.
Classically made Tempranillo wines have a medium body with supple, velvety tannins, just like Merlot, with similar flavors of cherry and plum. 
Look for 100% Tempranillo wines from Spain and California. Here's a complete guide to Tempranillo wines just for you.
Fun Wine Fact: Rioja Wines use Tempranillo as a part of their blends. You may also enjoy Rioja if you're looking for a wine like Merlot but not Merlot.
Wines Similar to Merlot #7: Mourvèdre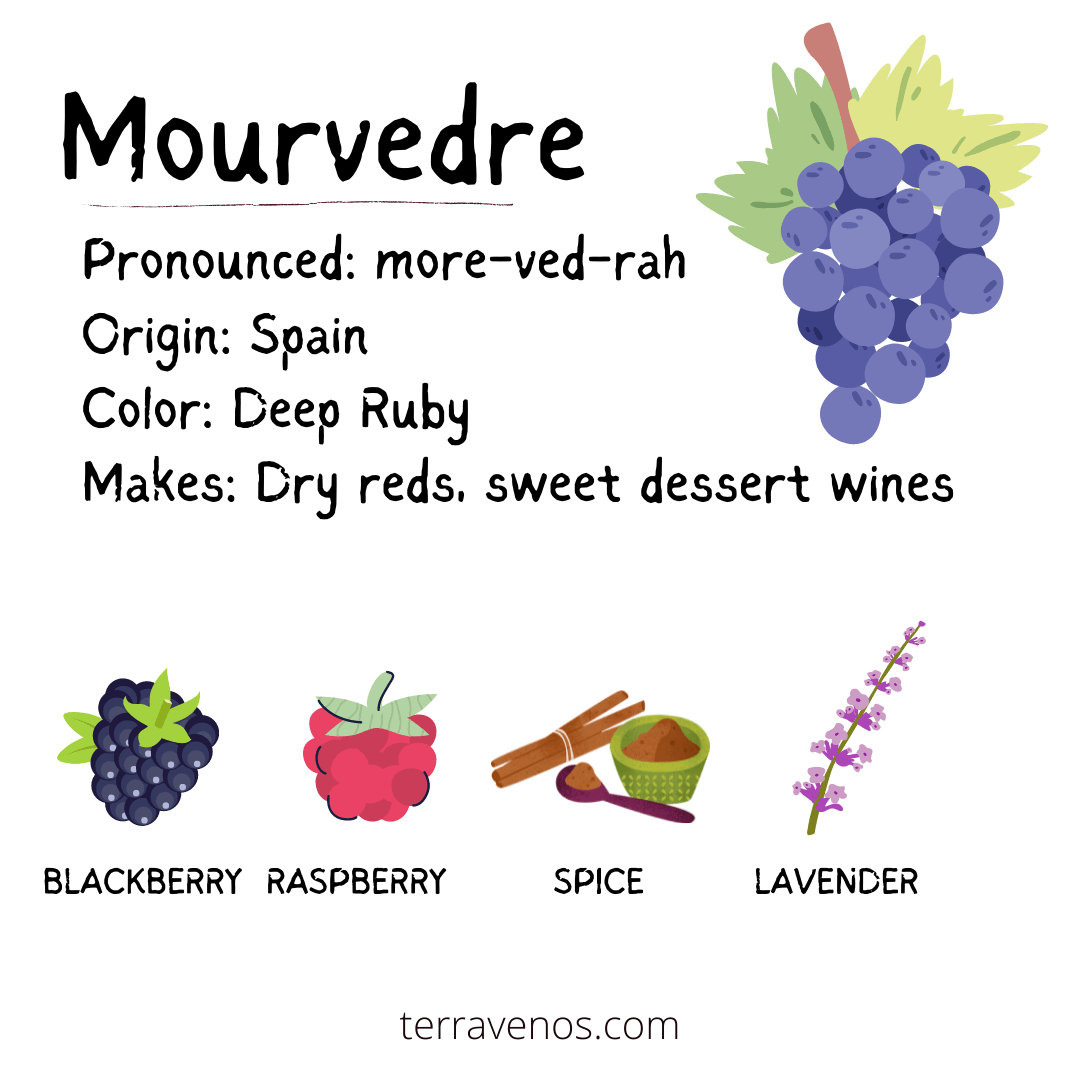 Tasting Profile: Mourvèdre (also called Monastrell), is a bold, robust red grape that has deep, inviting aromas of black fruits, herbs, and spices. 
Mourvedre makes wines that parallel the heavier styles of Merlot, so if you want a wine with a little more oomph, then look no further. 
Helpful Wine Buying Tip: Look for wines made from Mourvedre from Spain's Jumilla DO, where it goes by Monastrell. Here's a full guide to Mourvedre wine.
Wines Similar to Merlot #8: Carignan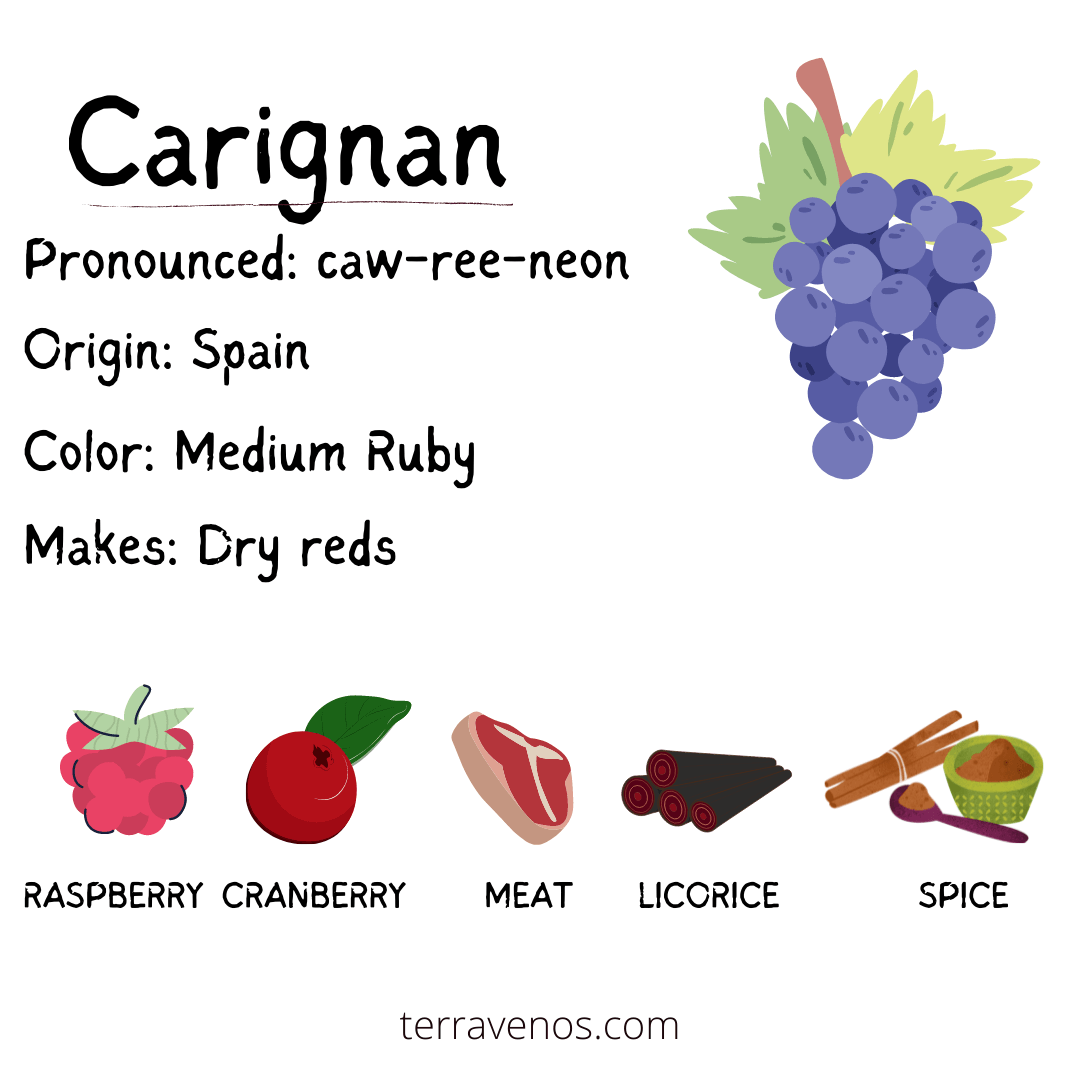 Tasting Profile: Carignan often gets overlooked in wine lists, but if you enjoy Merlot, then it's worth your time. Carignan has that deep garnet color with layers of dark berries, black cherry, and smoke. Carignan has the same medium body as Merlot with smooth tannins.
Helpful Wine Buying Tip: Careful! Carignan is a workhorse of a grape, meaning that it can be used to make huge quantities of inexpensive, lower-quality wine. Don't buy the most inexpensive bottles of Carignan. Go for one step up or look for bottles that say "Old Vines" on them. Why? These vineyards will limit yields, increasing the quality of the grapes and the quality of the resulting wine.
Carignan is one of the hidden gems for Merlot lovers.
Merlot Wine Alternative #9: Counoise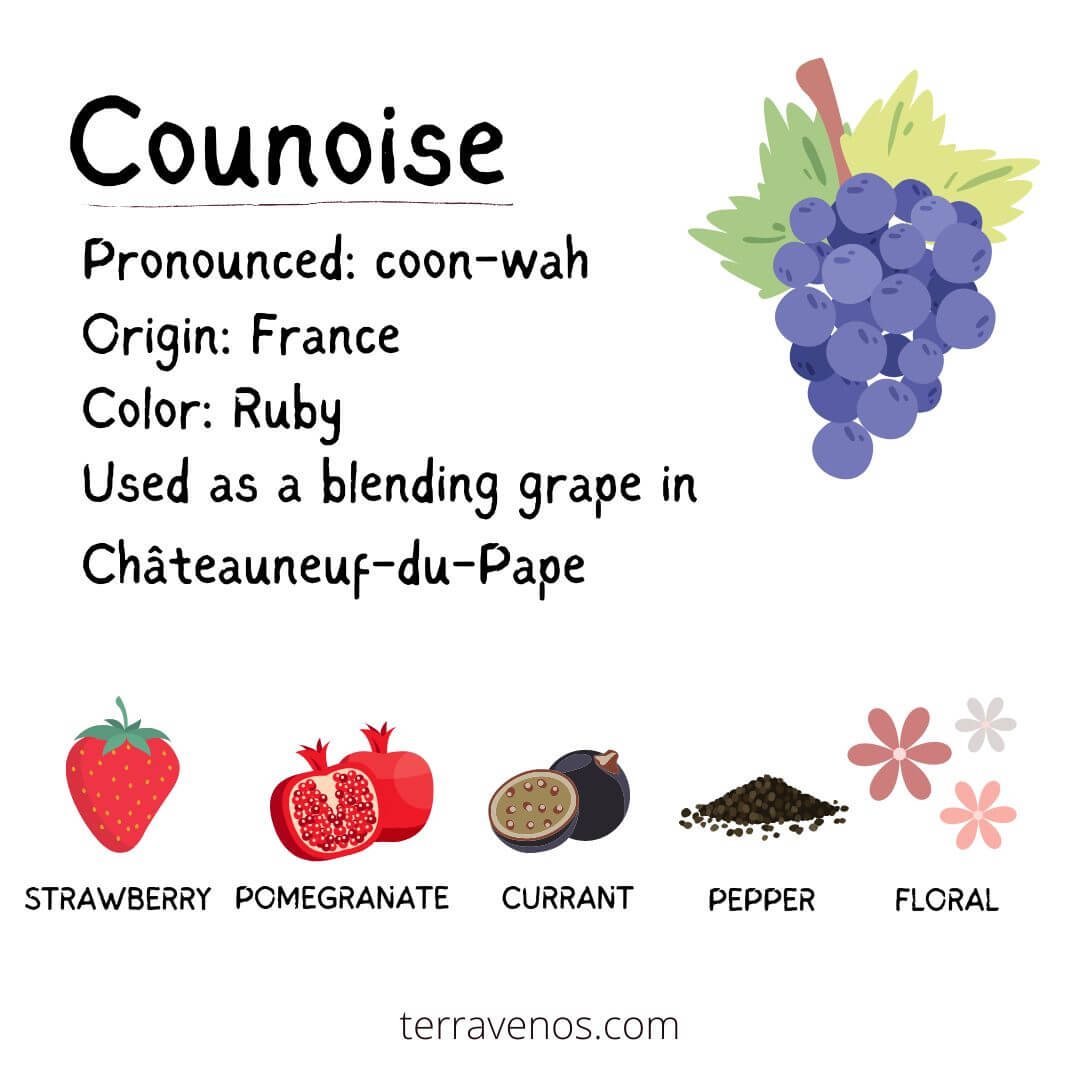 Tasting Profile: Counoise, often used in blends, is another of the less common wines that have a similar profile to Merlot.
Counoise wines are ruby red with aromas of red currants, punchy pomegranate, and floral hints. Light-bodied with silky tannins, it offers bright flavors of cranberry, raspberry, and a subtle peppery note. 
Note: Counoise is lighter in style than your standard Merlot, but still an easy-drinking wine if you're trying to find a red with soft tannins.
Merlot Wine Alternative #10: Bonarda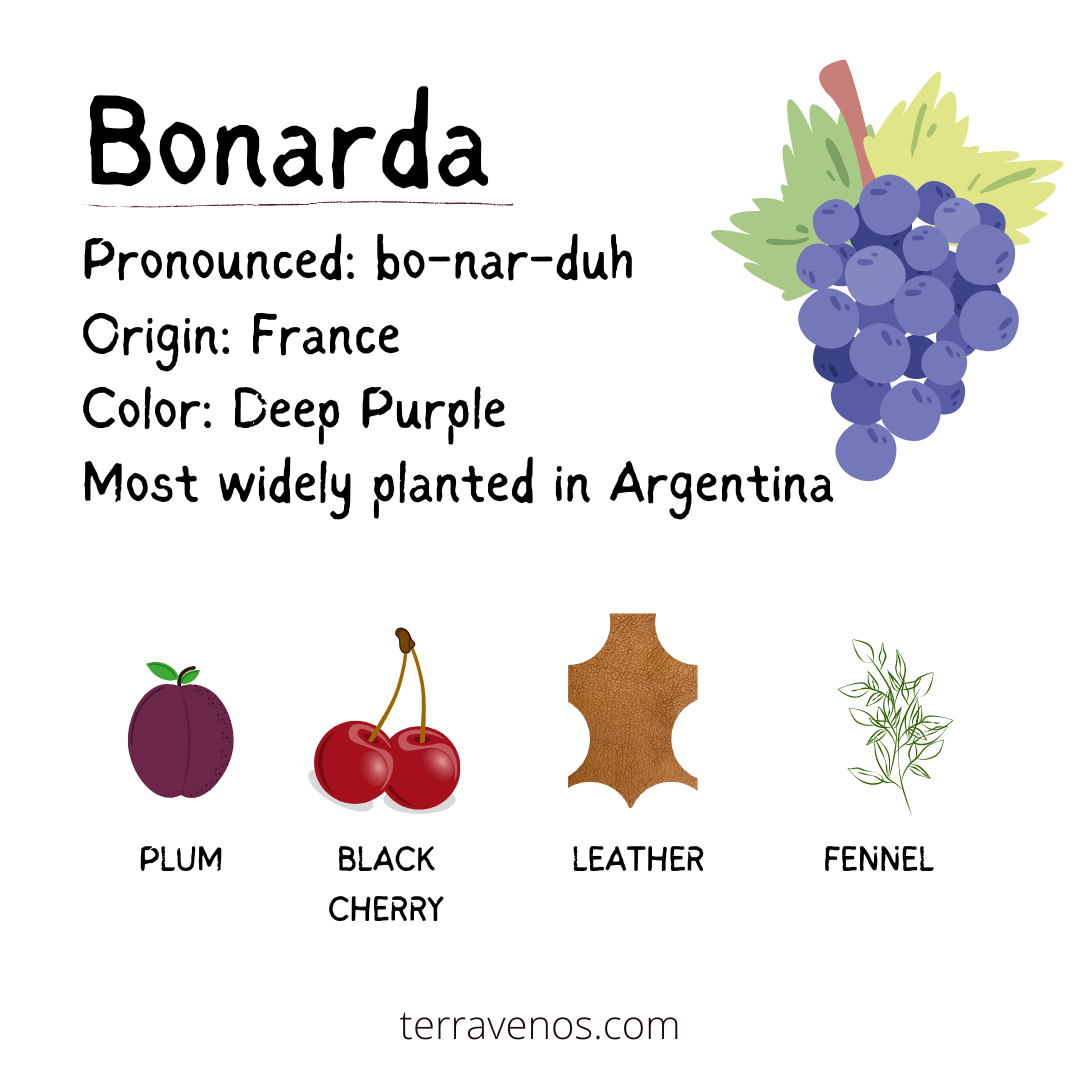 Tasting Profile: Bonarda is a widely-grown Argentinean red wine grape. Not as popular on the export market as Malbec, Bonarda is a deep purple wine with black fruit, purple flowers, plum, and (sometimes) a hint of vanilla.
If you've never heard of Bonarda, you're not alone.
You'll probably have to go to a large wine outlet or specialty wine store to find a bottle. The good news is that it's always an affordable wine thanks to high yields and favorable exchange rates.
Helpful Tip: Bonarda's planted throughout California where it goes by the charming name Charbono. Check out this Bonarda wine guide.
Bonarda's similar to Merlot with its fruit-forward profile and smooth texture.
Bonarda's one of those broadening wine experiences. Go find a bottle. I know you'll like this wine.
Merlot Wine Alternative #11: Dornfelder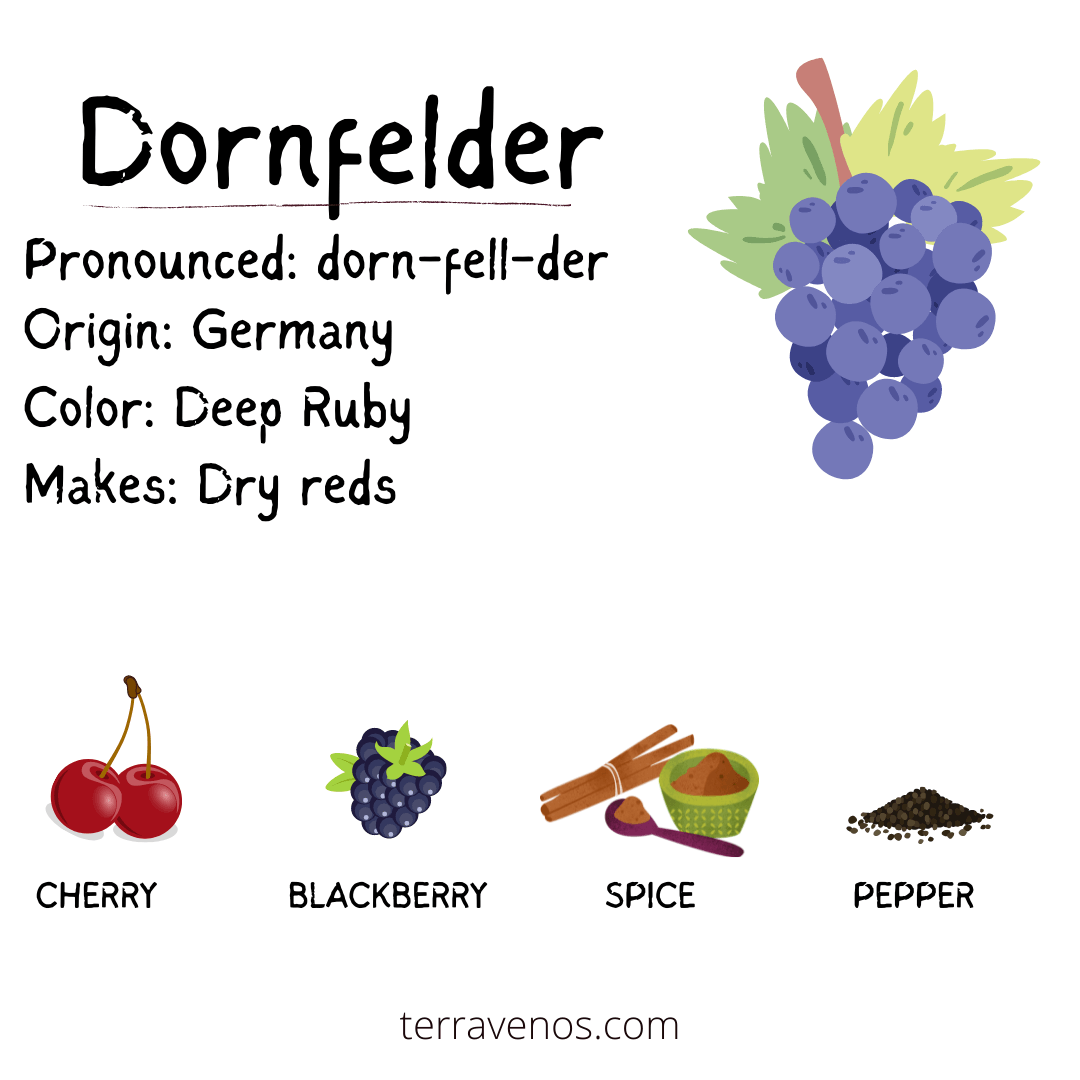 Tasting Profile: Dornfelder is a lesser-known German grape variety but absolutely deserves a place on your table if you're looking for Merlot wine alternatives.
Dornfelder has a deep garnet color and seduces the senses with its enticing aromas of blackberries, cherries, and a hint of spice. 
Personal Tip: Dornfelder is a personal favorite of mine. I think it's the perfect pizza party wine. Change my mind.
Dornfelder's smooth texture makes it a great alternative to Merlot.
Merlot Alternative #12: Cinsault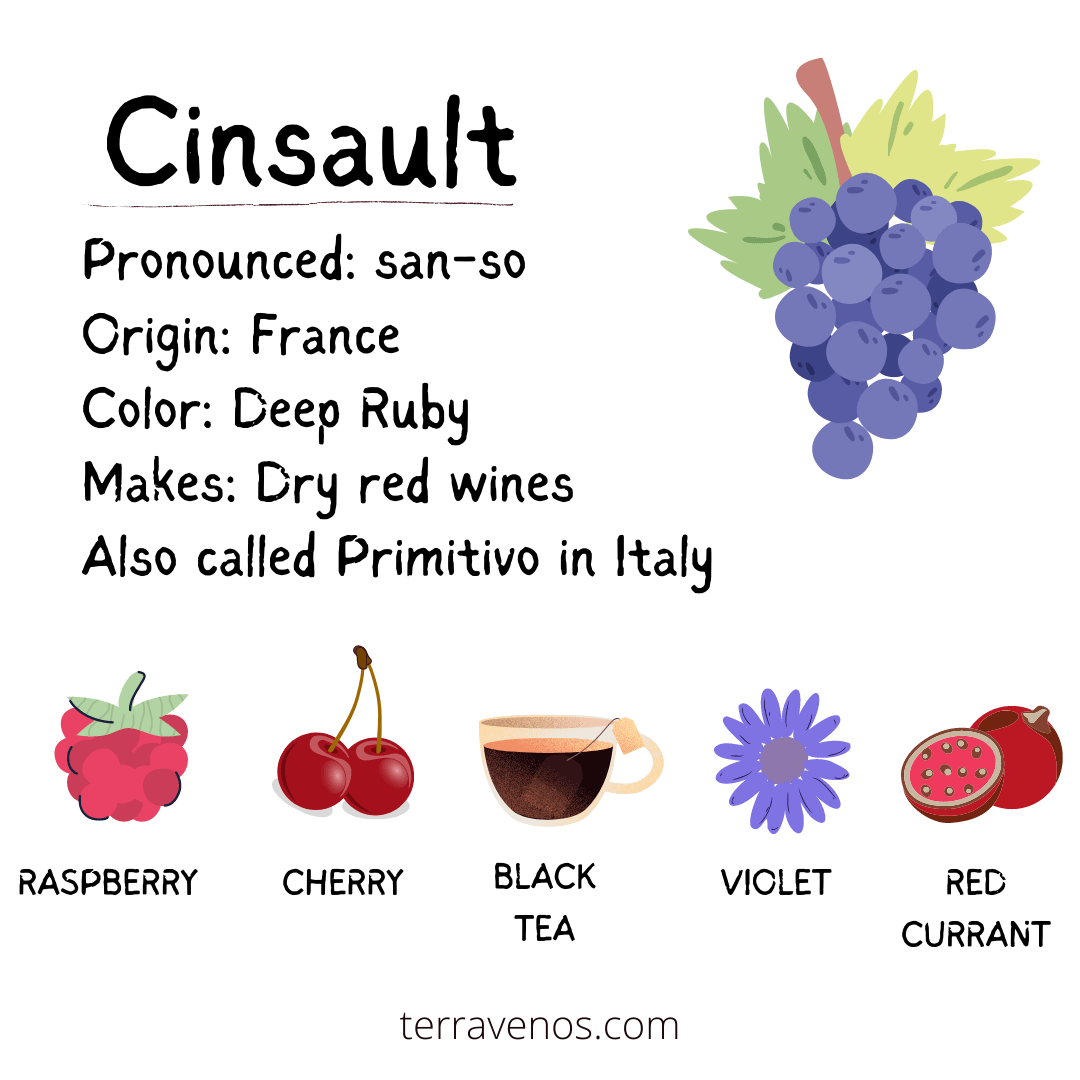 Tasting Profile: Cinsault (pronounced san-sew), is better known as a blending grape throughout history, but today enjoys renewed popularity as a single-varietal wine. 
Cinsault will be lighter than Merlot, with a translucent ruby hue. The wine has a lovely red fruit profile, with strawberry, watermelon, raspberry, and floral notes. 
Cinsault comes in different styles, some with a lighter body, others with a medium body.
Look for medium-bodied Cinsault to match the style you love in Merlots.
Final Thoughts – Wine Like Merlot, But Not Merlot? Lots of Options!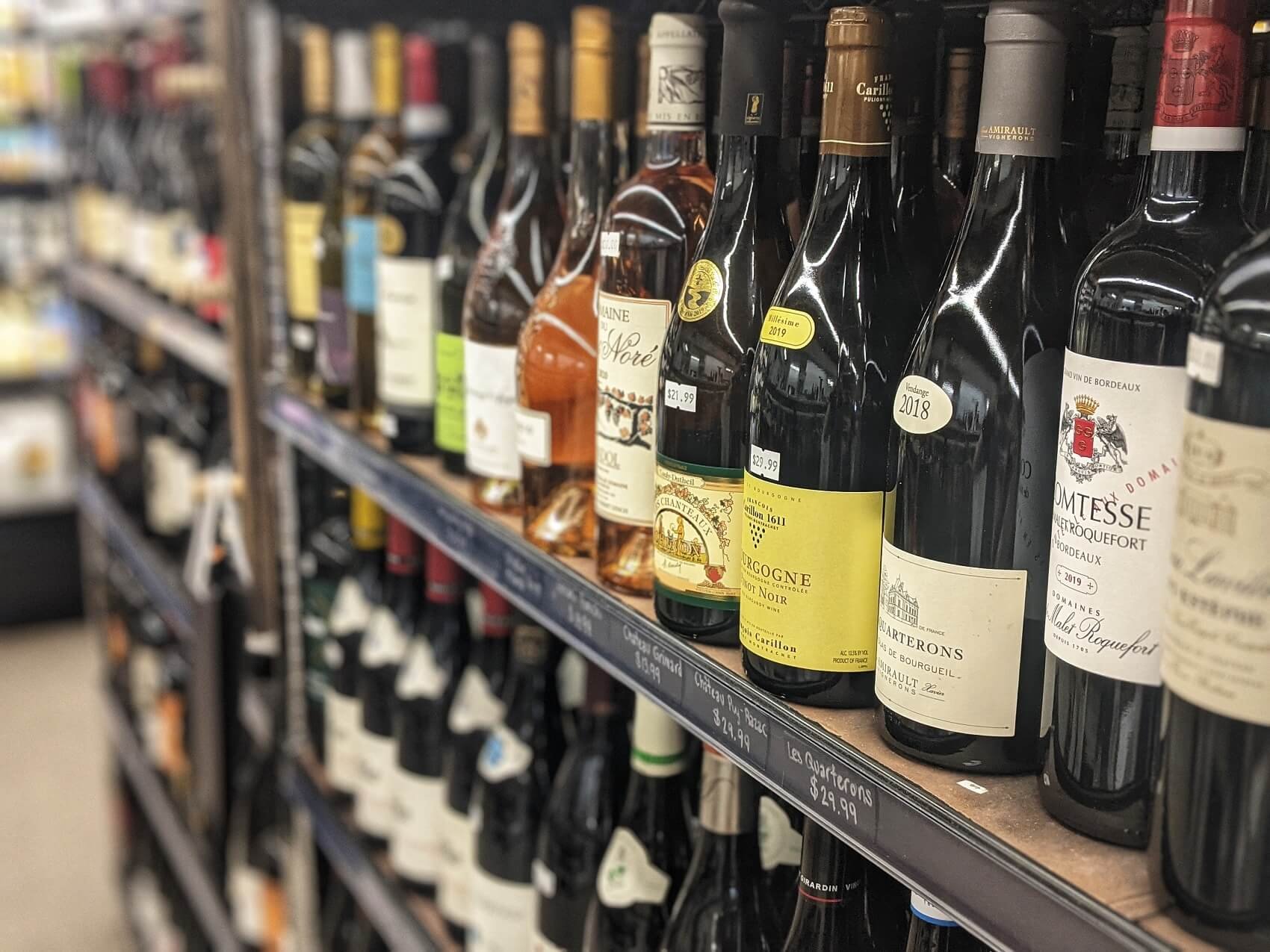 If you're looking for alternatives to Merlot, then you've got options. 
Remember: Merlot is just the starting point to a world of captivating red wines waiting just for you. 
Exploring wine horizons and trying less familiar wines is worth your time.
Red wines resembling Merlot will express ripe, luscious flavors of red and black fruit, a velvet texture, and soft tannin structure making delicious drinking partners for a range of occasions.
Whether you pick up a Dornfelder, Dolcetto, Gamay, or Garnacha if you stick to these tips for finding wines similar to Merlot and you'll be in for a treat.
Thirsty for More?
Check out this post that covers the basics of What's Merlot Wine?
Go visit this post on how much you should be paying for a bottle of decent Merlot.
Check out this list of foods that work well with Merlot and figure out how the different Merlot wine styles pair up.
And if you're into Merlot pairings, here's a post on Merlot and Meat Pairings, and another one on Merlot and Vegetarian pairings (you need both in this big, beautiful world).
One of the things you probably like the most about Merlot are the softer tannins. This makes Merlot more approachable than, for example, Cabernet Sauvignon. Here's a 30-second tasting tip on how to taste red wine tannins.