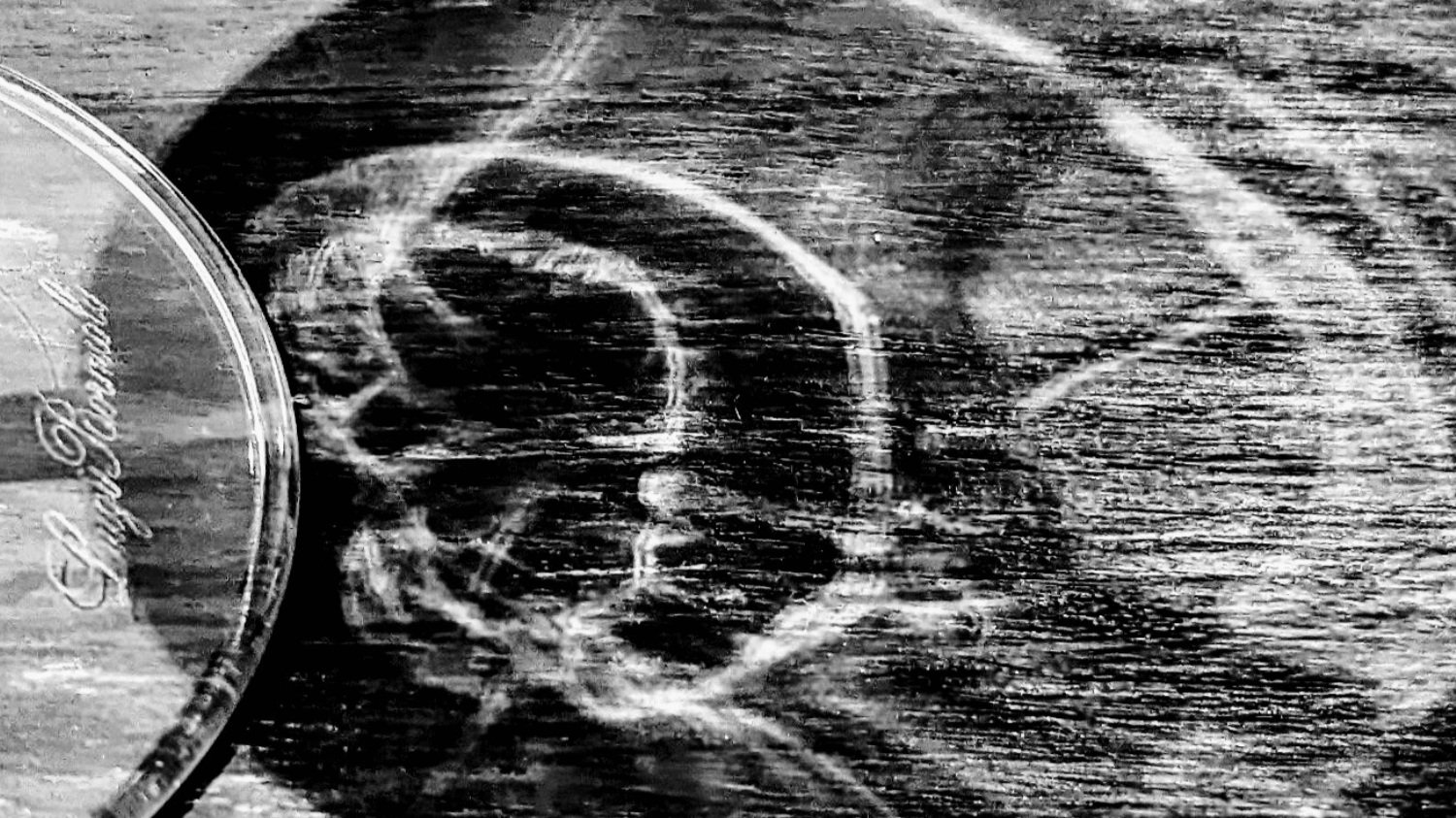 If you have a bottle of Verdejo ready to open, you're in for a treat! What pairs well with Verdejo wine?
Verdejo's naturally high acidity acts as a palate cleanser for flavorful dishes. Verdejo wine pairs well with fusion cuisine, salads, Mexican food, and shellfish. Verdejo's slight fennel note works well with bitter herbs, green vegetables, and white fish. Here are winning ideas to pair your next bottle of Verdejo wine. 
What's Verdejo Wine Like?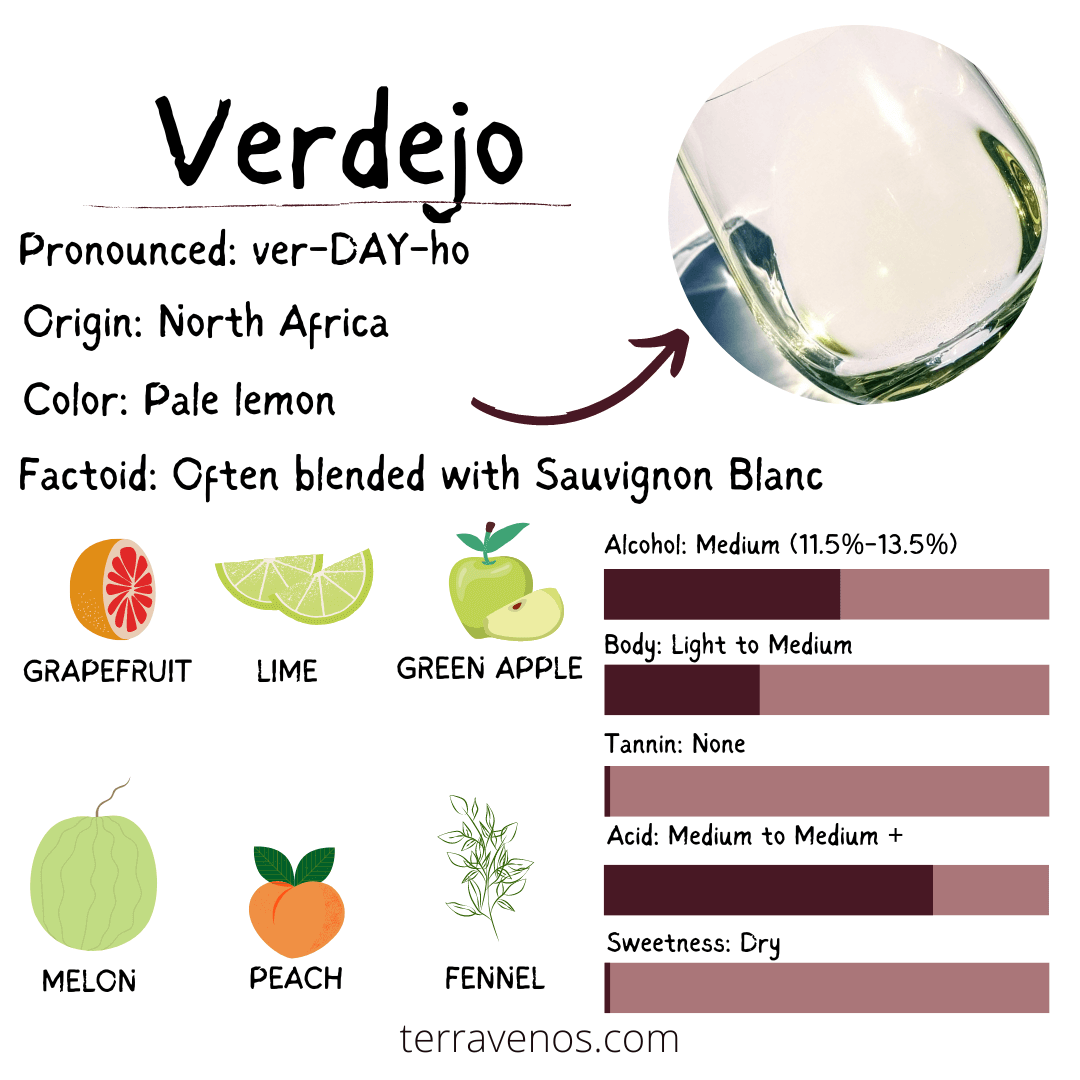 Crisp, assertive, and refreshing, Verdejo wines are versatile dry whites driven by tangy citrus. Verdejo wines are typically light bodied with high acid. Expect the wines to be medium alcohol depending on the grapes and growing season.
Most Verdejo wines deliver powerful citrus notes, including lime, lemon, and grapefruit. In warmer vineyard locations, expect tropical notes like pineapple, mango, and mandarin. Verdejo's blending partner is often Sauvignon Blanc and the two share similar profiles. 
As a general rule of thumb, if you're wondering what to eat with Verdejo wine, know that the foods that work well with Sauvignon Blanc will pair well with Verdejo.
From salads to seafood, and cheese to charcuterie, you're in the right place when looking for the best Verdejo food pairings for any occasion and any season.
Here are everyday food pairings that work well with Verdejo wine.
Helpful Tip: Go check out this complete post on Verdejo wine.
A general guide to Verdejo food pairing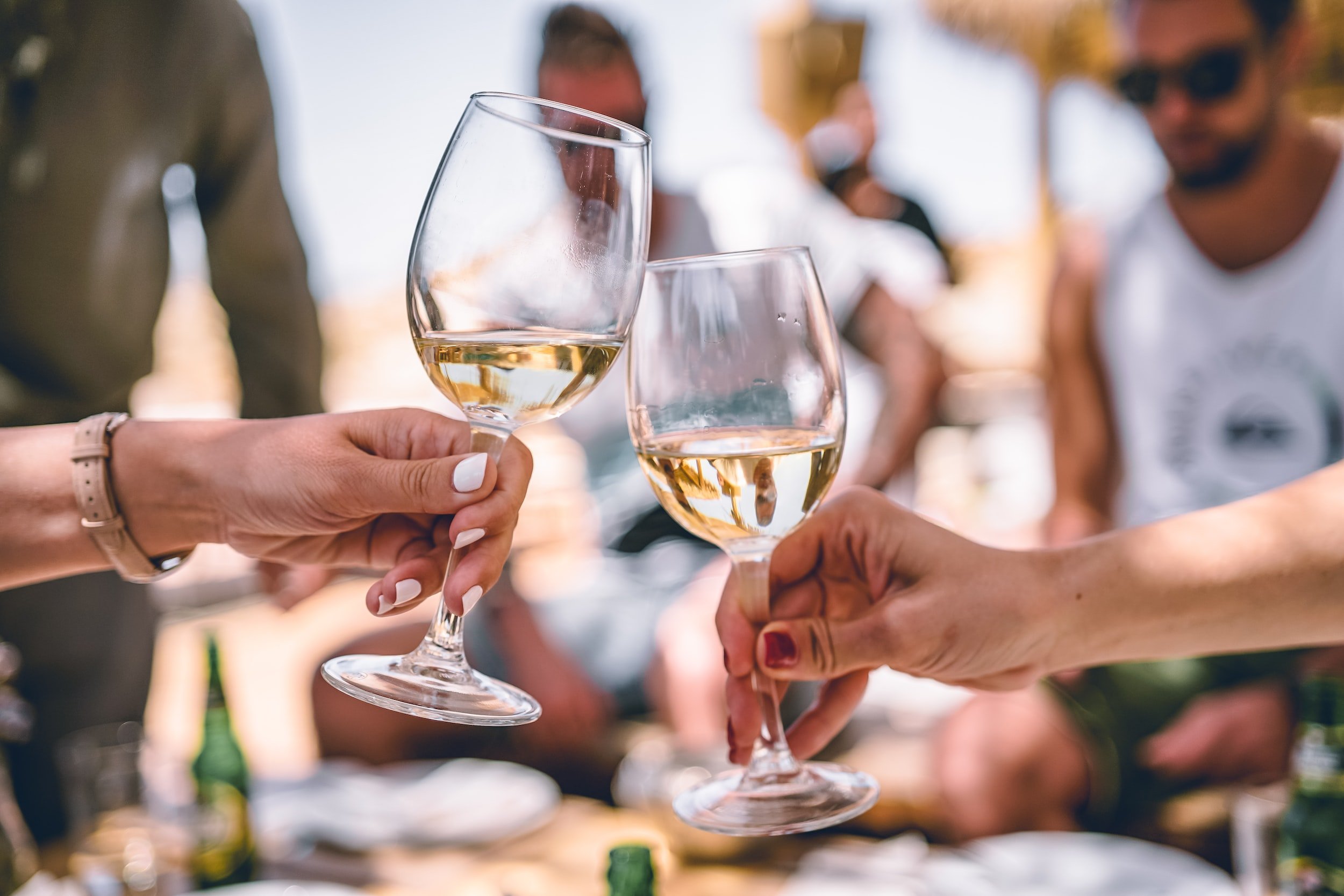 Verdejo wine food pairings don't need to be complicated. The bold flavors in this wine will match with bold flavors in your food.
Some excellent Verdejo wine food pairings include tangy vinaigrettes, briny sauces, chili heat, and herb rubs.
The tartness of Verdejo wine will lift up heavier dishes and rich sauces, enhancing the subtle nuances of different ingredients. Verdejo can pair beautifully with light, delicate flavors as well, which makes it great for white meats, spring vegetables, and fresh tomatoes. 
A general rule is to avoid pairing light whites with heavy red meat dishes or rich gravies, but Verdejo can cut through cream sauces and cream-based ragus. 
As you can tell, Verdejo food pairings are broad and you have plenty of counter space to experiment. Here are some helpful ideas to get you thinking about creative food and wine pairings for your next bottle of Verdejo or Rueda DO wine. 
Helpful Tip: Check out the quirky history of Verdejo and how Verdejo became Spain's favorite white wine (and one of mine, too!).
15 of the best Verdejo food pairings 
There are an infinite number of flavor combinations and powerful pairings for Verdejo, but here are 15 of my favorites.
Helpful Tip: If you're just getting started out with wine, I put together this helpful overview of food with wine pairing to get you started. Side note – I spend just as much time thinking about food with wine pairing as I do deciding what I'm going to eat every night. Utter hedonism. What can I say?
Verdejo Food Pairing #1 – Cheese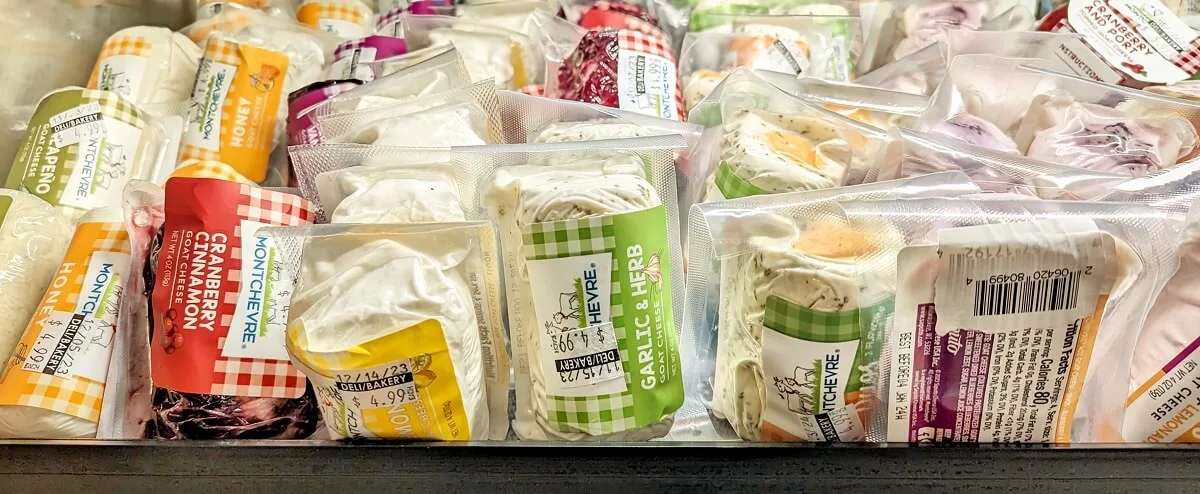 Perhaps one of the most simple wine pairings, cheese and Verdejo wine pairings, are worth trying. Pair Verdejo with goat cheese, or even better, herbed goat cheese, for a match made in heaven.
Experiment with other types of cheese pairings with Verdejo. A nutty parmesan and a smoked cheddar will pair beautifully with Verdejo. Just remember that you want to pick a flavorful cheese that will contrast with the citrus in your Verdejo. A cheese with a little tang or bite can help balance out the wine.  
Verdejo Food Pairing #2 – Grilled and Roasted Vegetables
Verdejo's citrus begs to be paired with foods that have a little sweetness to them. Grilled and roasted vegetables develop a slight caramelization that can balance out the wine's tang. Alternatively, drizzle your veggies with a little balsamic vinegar. 
Recipes that call for vegetables, like zucchini, carrots, asparagus, brussels sprouts, and peas will all pair beautifully with Verdejo wine. 
Verdejo Wine Pairing #3 – Oysters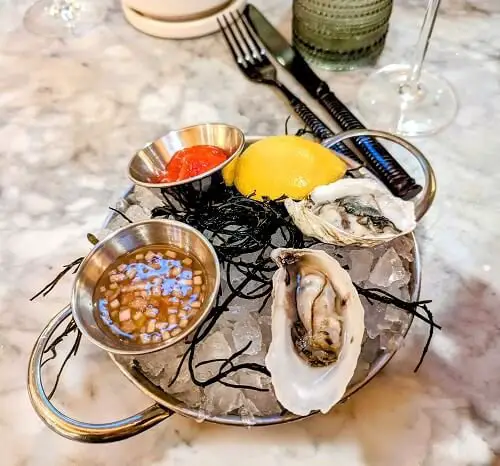 If you have a citrusy Verdejo, I absolutely recommend indulging in freshly shucked raw oysters. Verdejo makes the perfect wine for $1 oyster night. Verdejo's lemon and lime backbone will wash through your mouth with the briny oyster juices for a hedonistic experience.
Verdejo Wine Pairing #4 – Pasta
Pasta can pair well with all different styles of Verdejo. Verdejo wine will work with creamy pasta dishes and truffle pasta dishes alike. For a memorable meal, try pairing Verdejo wine with pesto pasta. 
Stay away from tomato-based sauces.
The acid in tomato sauce will clash with the acid in Verdejo wine and you'll have a puckering experience.
Stick with red wines for spaghetti night. 
An easy pasta and Verdejo pairing is a little garlic, oregano, olive oil, and parmesan cheese. Add a side of roasted asparagus and your wine and you're in for a treat! Wine pairing perfection!
Verdejo Pairing Idea #5 – Fish
All kinds of fish will pair beautifully with Verdejo. The wine's core of lemon acts the same way as a slice of lemon on your fish. Try white fish such as sole, sand dab, halibut, tuna, sea bass, or even cod. Sushi and sashimi also pair well with Verdejo and Rueda wines. 
Not too keen on cooking an elaborate meal? An easy Verdejo wine pairing is fish and chips!
Verdejo Pairing Idea #6 – Salad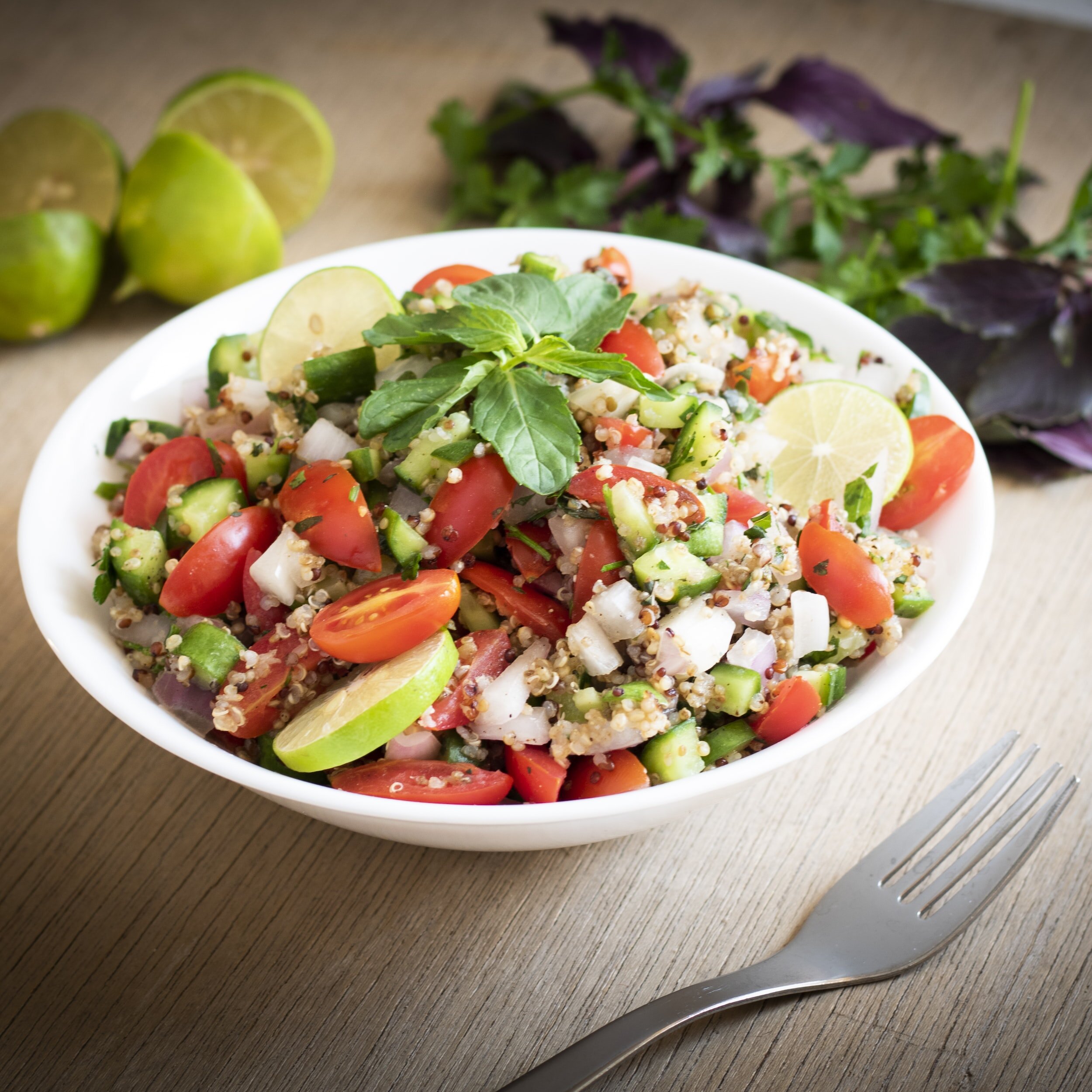 Any kind of salad is one of the best Verdejo food pairings. Add a tangy vinaigrette and nuts, cheese, egg, mushroom, or tofu to help balance out all that acid. 
Verdejo compliments a range of salads, from tabbouleh to fruit salads, as long the salad has a balance of herbs or green vegetables, like avocado, peppers, tomatoes, or green mango. Verdejo's slight fennel note needs a green or herbaceous counterpoint to balance it out.
What to Pair with Verdejo Wine #7 – Thai food 
Do you love the heat? As in chili heat? Then spice things up with your favorite Thai dish. Thai food's a power pairing with Verdejo wine. Personal favorites include spring rolls, Pad Thai, Thai chicken salad, and Thai green curry. 
What to Pair with Verdejo Wine #8 – Greek food 
Verdejo's zippy acidity makes it a go-to wine on hot summer evenings, which logically means that eating Mediterranean cuisine with Verdejo wines works beautifully with Mediterranean cuisine.
Traditional Greek dishes, including salads with feta, stuffed grape leaves, briny olives, and marinated artichokes meld seamlessly with Verdejo's lithe citrus profile. 
Try an easy cucumber salad or pita and garlic hummus with an olive oil dip with your glass of Verdejo wine. Sit back and enjoy a languid evening. 
What to Pair with Verdejo Wine #9 – Mexican food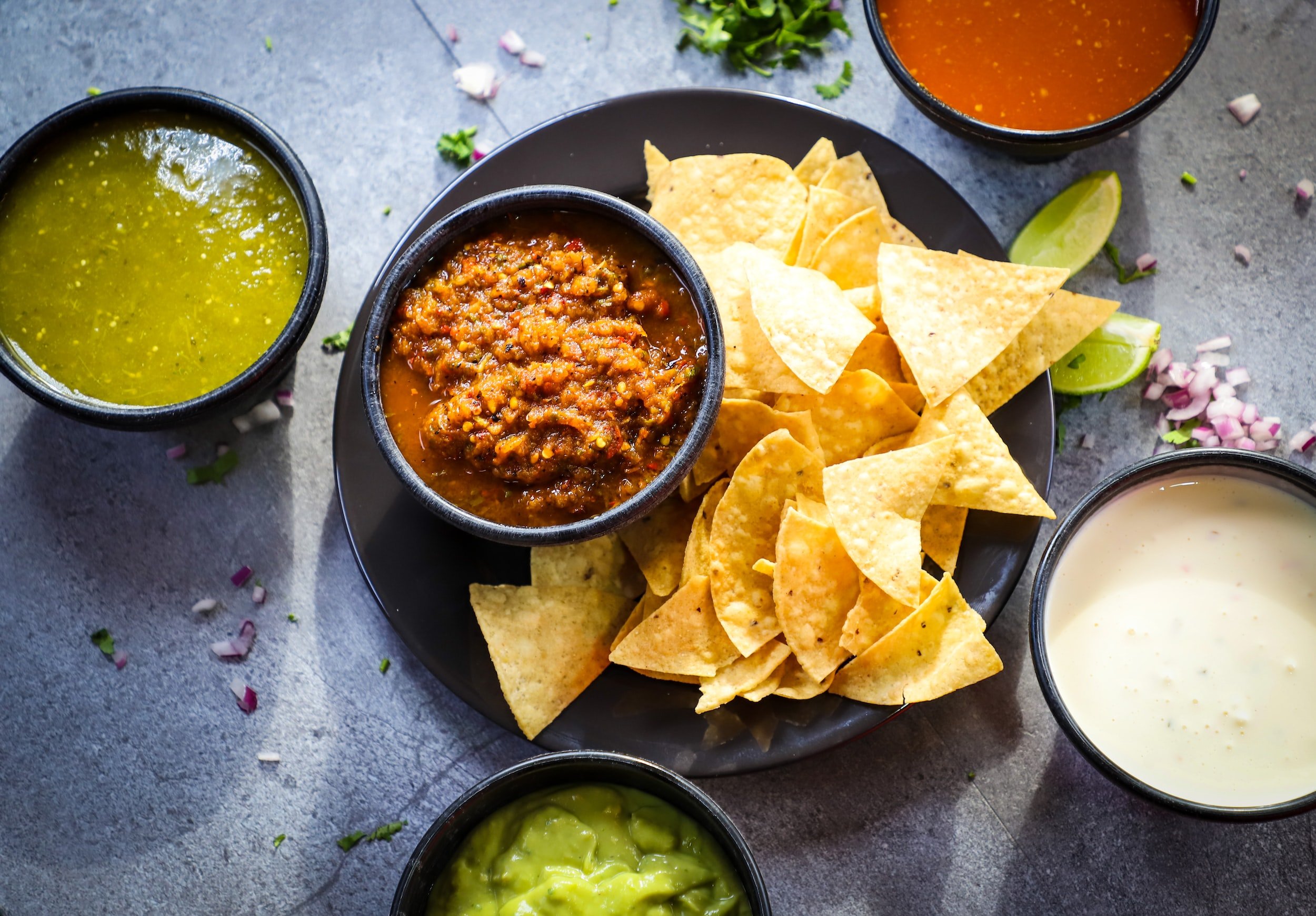 You know that spice works with Verdejo wines, so why not try some Mexican food
The avocado, cheese, lime, and salsa fresca flavors lend themselves to pairing well with Verdejo. 
Whip up a bowl of homemade guacamole or add some salsa fresca to your quesadilla.
Try a spicy mango salsa on grilled tilapia and a side of garlic-infused black refried beans for a winning combination.
Not interested in cooking? Grab some fish tacos, carnitas, or chicken enchiladas from your favorite Mexican restaurant or food truck and you're ready to eat!
Verdejo Wine Pairing #10 – Poultry
Marinate your chicken in an Italian herb dressing or roast it in an herb rub, and you're all set for your Verdejo and chicken pairing.
Verdejo will pair well with turkey – think beyond holiday meals to turkey sandwiches from your favorite local sandwich shop. Verdejo's zesty personality will liven up any chicken or turkey meal!
Verdejo Wine Pairing #11 – Pork
The other white meat that pairs with Verdejo wine is pork. Grilled pork chops and pork roasts bring a richness that compliments Verdejo's acidity.
Try Mediterranean or Middle Eastern spice rubs, herb rubs, or even a honey glaze for your chops and roast to compliment the Verdejo's fruit.
Verdejo Wine Pairing #12 – Quiche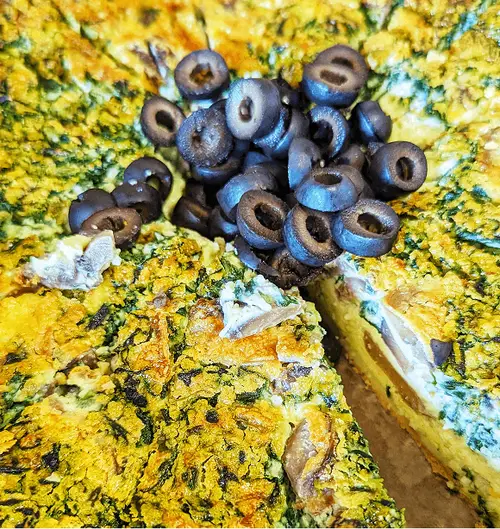 For the vegetarians out there, look no further than quiche as a perfect Verdejo wine pairing. Quiche has the richness of a pie crust, along with the fat from the cheese and the weight of the eggs.
Add mushrooms, sauteed onions, or asparagus to bring out more of the wine's mineral and green notes. The acid in your Verdejo wine will cut through the different layers of flavor in your quiche, lifting up the dish. 
Verdejo Food Pairing #13 – Fresh herbs 
You've probably noticed that herbs find their way into several of the Verdejo wine pairing recommendations above, and with good reason.
Herbs meld beautifully with Verdejo wine adding an earthy note to foods that naturally pair well with the wine, giving the flavor combinations depth. 
Find ways to add mint, basil, cilantro, parsley, fennel, chives, rosemary, or even dill to your dishes, and take your Verdejo wine pairing to the next level! 
It's time to serve up your perfect Verdejo food pairings!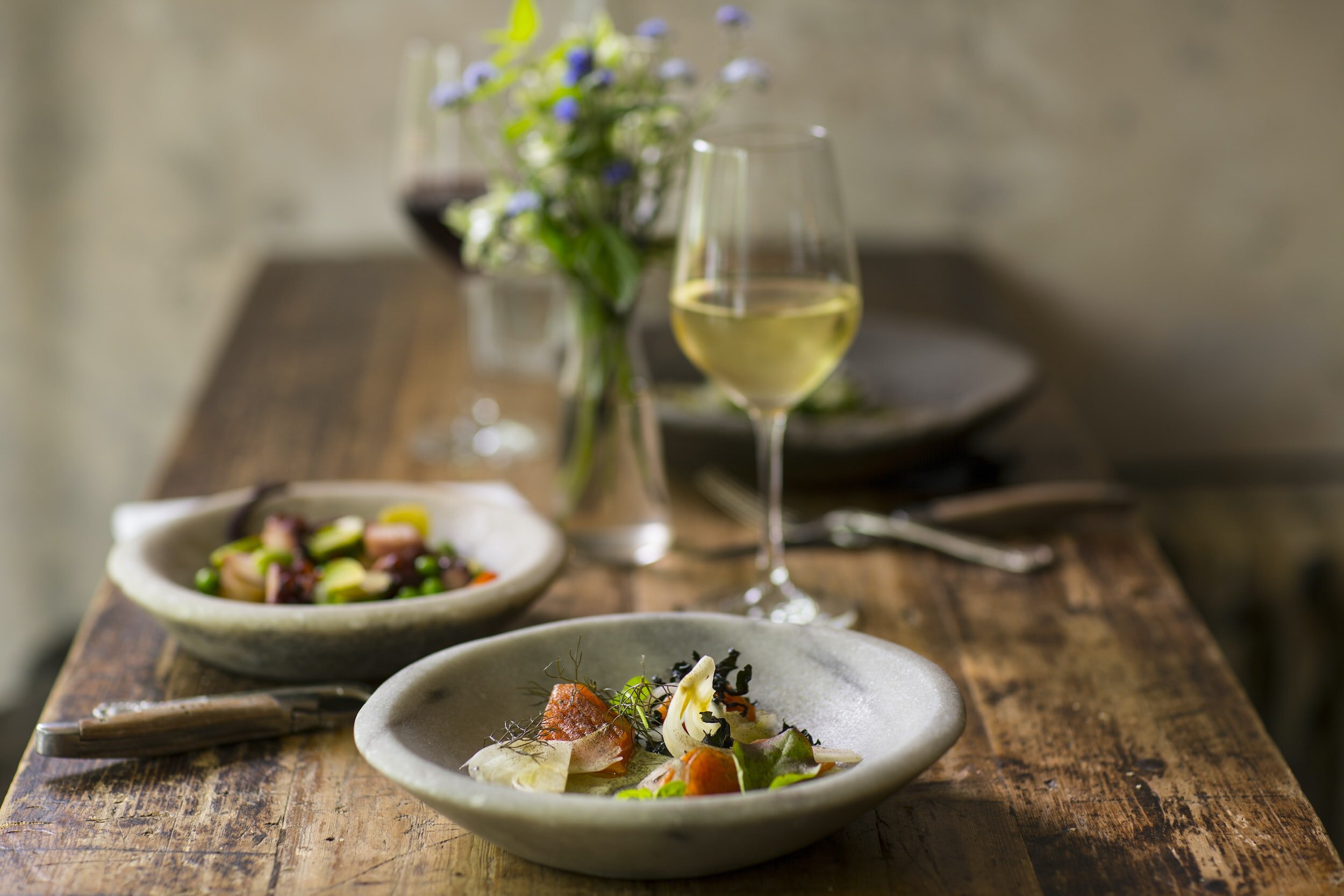 Now that you know what pairs well with Verdejo, are you ready to get going with your wine pairings?
You have a range of delicious Verdejo food pairing ideas, it's time to get to work! Whether you opt for a simple spring salad, some spicy Thai, your favorite Mexican take-out, or a simple cheese plate, there's a bottle of Rueda wine or Verdejo wine waiting for you that will perfectly balance out your meal. 
Try a vibrant Verdejo from Spain's Rueda DO, or look for a boutique Verdejo from California. Do a side-by-side tasting for a fun experiment.
Thirsty for More?
Now that you've explored Verdejo, take a peek at these other less-common white Spanish wines in this rundown post I wrote.
Personal opinion here, but Spain offers tremendous quality for value (their wines are so affordable), and there are so many unique grapes! I guarantee you'll find something worth pouring!