Nebbiolo is definitely a food wine and not a solo sipper. You need something – anything – and cheese can be an easy option.
Pair Nebbiolo wines with salty, creamy, and nutty cheeses, like Pecorino Toscano, Taleggio, and Manchego. These flavors will soften and enhance Nebbiolo's tannin and acid structure, bringing out the wine's red fruit profile.
Here's a list of cheeses to pair with Nebbiolo wines.
Nebbiolo Cheese Pairing Recommendations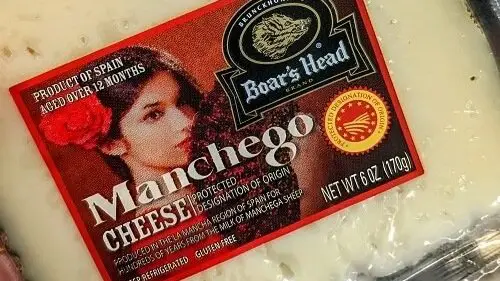 Taleggio – Creamy and Pungent: Originating in Lombardy, Italy, Taleggio is a semi-soft cheese with a history dating back to the 9th century. Its distinct aroma may seem pungent, but its smooth, buttery texture tempers the experience. Taleggio boasts earthy and tangy notes, making it an excellent choice to balance Nebbiolo's tannins.
Gouda – Nutty and Caramelized: Gouda, originally from the Netherlands, is a world-renowned cheese with a history spanning several centuries. Aged Gouda, in particular, is rich, nutty, and slightly caramelized, offering a contrast to Nebbiolo's fruit-forward profile. Try smoked Gouda (my personal favorite) to enjoy some of those smokey-char notes in the cheese paired with the tar flavor of Nebbiolo wines. Yummy.
Pecorino Toscano – Sharp and Salty: Tuscany's regional Pecorino Toscano is a sheep's milk cheese with a long tradition. It showcases a sharp, tangy flavor profile and a slightly salty kick that complements Nebbiolo's acidity and tannins. The combination of Pecorino Toscano's salty bite with the wine's dark cherry and floral nuances creates a harmonious contrast. Helpful Tip: You can always opt for Parmesan – Parmigiano Reggiano – if you can't find Pecorino.
Époisses – Rich and Creamy: Hailing from Burgundy, France, Époisses is a velvety soft cheese with a history tracing back to the 16th century. This indulgent cheese is known for its assertive, meaty flavors and unctuous texture. When paired with Nebbiolo's full-bodied structure, Époisses unfolds its richness, creating a luxurious taste sensation that lingers on the palate. This is a fabulous pairing. Helpful tip: Look for creamy brie or goat cheese (herbed will be delicious) if you can't find Époisses.
Manchego – Nutty and Grassy: Made from sheep's milk in La Mancha, Spain, Manchego is a time-honored cheese with a legacy that goes back to Roman times. With its nutty and grassy taste, Manchego is a natural partner for Nebbiolo. This is a personal favorite when I'm enjoying structured red wines like Barolo, Aged Rioja, and Brunello.
Roquefort – Tangy and Complex: Roquefort, a blue-veined cheese from France, has a tangy and sharp taste that pairs exceptionally well with Nebbiolo's bold character. As the wine's cherry and leather notes emerge, Roquefort's complex, savory profile takes center stage.
Robiola – Delicate and Milky: Hailing from Langhe, Italy, Robiola is a soft-ripened cheese with a heritage that goes back to ancient times. Its delicate, milky flavors work with Nebbiolo's cherry and licorice notes. This is a regional pairing, so if you're going for a themed experience, try to find Robiola.
Comté – Nutty and Fruity: From the Jura Mountains in France, Comté is a popular cheese known for its nutty and fruity characteristics. Its flavors will intermingle with Nebbiolo's red currant and spice notes. Comté's firm texture allows it to hold its own against Nebbiolo's robust nature.
Discover: Red Wine Pairing Guide (for all the other reds in your cellar).
Final Thoughts – Nebbiolo Cheese Pairing Ideas
Stick to salty, nutty, creamy, and earthy cheeses to help elevate your Nebbiolo wine.
A great way to get a sense of the interplay between cheese and wine is to do a cheese tasting (with wine, of course). Pick out 3-4 different cheeses and go through them one at a time while sipping your wine.
You'll quickly figure out how the different flavors work with Nebbiolo's acid, tannin, and fruit flavors. Easy!
Discover:
Nebbiolo vs Barbera
Complete Guide to Nebbiolo Food Pairing
How Much Does Nebbiolo Cost?
Goat Cheese and Wine Pairing Guide
Thirsty for More?
Check out this guide on everything you need to know about Nebbiolo wine.

Here's how to use the Italian wine classification system to pick out amazing wines.

Here's a quick guide on appetizers for your next red wine tasting.
---