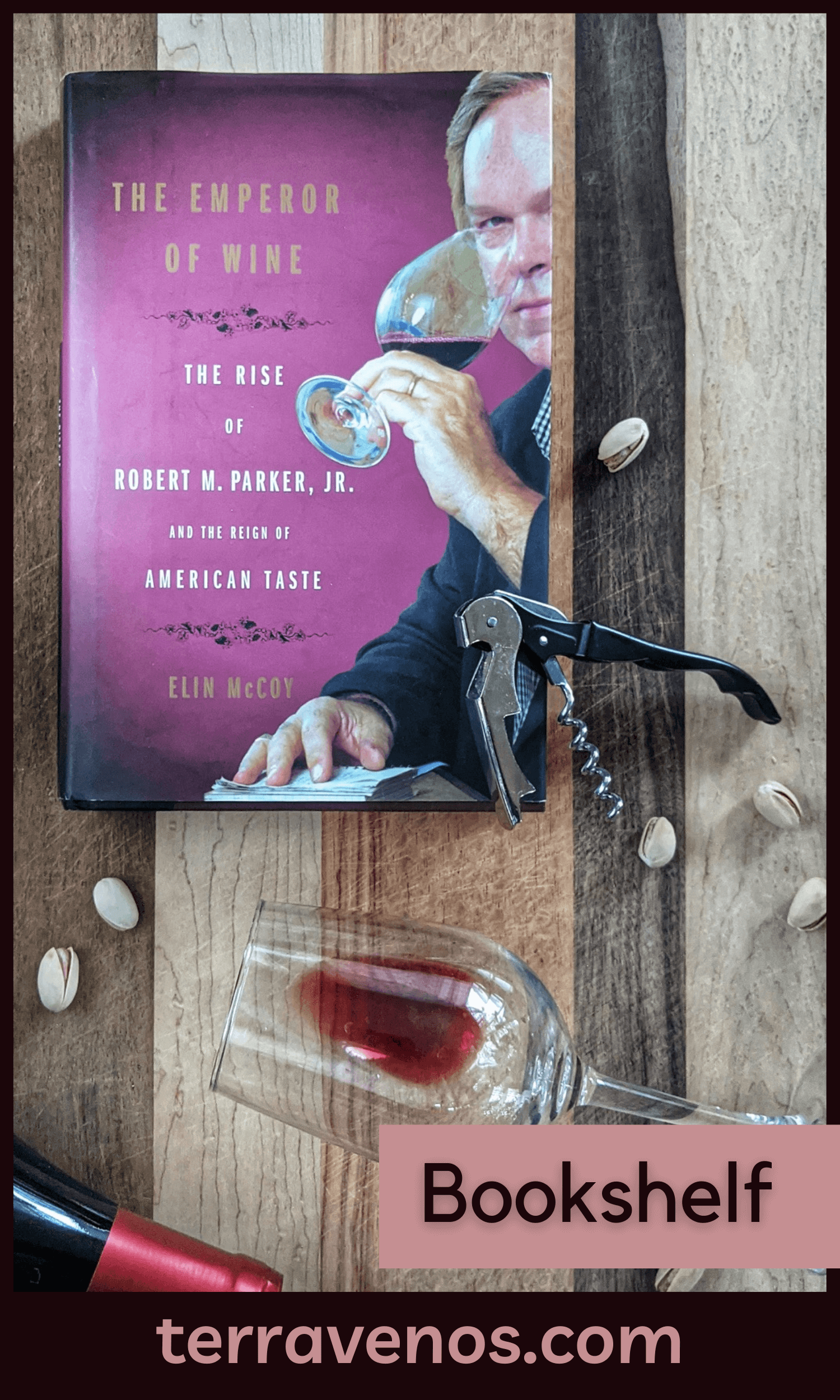 Book Review: The Emperor of Wine: The Rise of Robert M. Parker, Jr. and the Reign of American Taste
Author: Elin McCoy
An astonishing fact: In the US, 12% of the population drinks 88% of the wine.
I'm doing my part! Are you?
Who doesn't adore a bootstrap story of a man from a humble background who followed his passion and changed the world?
If you drink wine, you've been influenced by Robert Parker.
Elin McCoy's book, The Emperor of Wine, chronicles the life of American wine writer and wine critic Robert Parker.
Today, Parker's legacy spans the wine world. He introduced the now ubiquitous 100 point wine scale. His brilliant system allowed the young, but thirsty, American wine market to purchase wines with confidence in 1980s and 1990s.
He found a way to answer the same question we all ask when shopping for a bottle of wine at the store:
But is the wine in the bottle any good?
McCoy begins by taking the reader through Parker's early life.
If you've been bitten by the wine bug (as I have), you'll relate to Parker's revelatory experiences in France, where he 'discovers' wine on holiday with his girlfriend (future wife).
Parker dutifully begins a law career, only to have the vine calling to him. Passion drives him on his weekends and holidays as he visits wine regions, talks shop with store owners, and buys absurd quantities of wines for tastings.
I've never met Pat, Parker's wife, but she's a saint.
What follows is a story of one man's tenacious journey to learn about wine and to democratize wine for the average consumer.
Passion or Obsession?
So many excerpts in the book spoke to me, personally. During Parker's early days, his devotion overflows – an excerpt to illustrate:
Function, not fashion, dicated the decor of Parker's new office. Within few years, even that space was too small, and Parker added on two more rooms. No sleek laboratory look for his office and inner tasting sanctom, either. Instead, there was a desk soon strewn with papers, a sink, a rack of clean wineglasses, a messy overlay of boxes and filing cabinets, and shelving stacked with papers and books and few personal touches. … Clumps of bottles cluttered countertops and threatened to block the path through the room to the outer office where his secretary, Joan Passman, who had given up her own accounting and word processing business to work for Parker full time, fended off the outside world. (p. 114).
If you've seen my kitchen, dining table, garage, or closet – this is me.
Airing Dirty Laundry
If you enjoy a juicy telenovela or afternoon of gossip, then you'll get a kick out of 30 years of wine industry laundry tidily chronicled throughout the book.
McCoy describes the wave of pro- and anti-Parker sentiment that washed through the wine world.
Lengthy debates penned through letters to the editor in wine publications, defamation lawsuits, personal jabs, hurt feelings – events that shaped the wines in your local wine shop, and maybe even in your personal cellar.
You hear about industry spats and in-fighting. I wasn't around during Parker's rise to prominence, but it wasn't a smooth journey.
A 90+ point wine can make a producer's fortune. An unfavorable score means that producers have a hard time selling their wines.
Livelihoods are very much at stake.
My Reflections
Is the 100 Point Scale a Good Thing?
That's the crux of the debate around Robert Parker.
Parker's a likable guy – an individual who found his passion, went all-in, and shook up the wine industry.
A favorable score could guarantee a producer's financial success and bring great wines to your dinner table.
The counterargument woven throughout the narrative is that wine isn't a competition. A 100 point scale intimates that there are winners and losers.
Wine needs to be appreciated for its own story – its own context of terroir and being.
One of my wine professors once said,
"A Robert Parker score is important if you're having Robert Parker over for dinner."
I see the point but tend to disagree – but perhaps the context has changed from 30 years ago.
People are buying less wine. It's not a growth market and the industry's taking notice.
Anything that convinces a timid buyer to cross the threshold from looking at a bottle and contemplating whether or not to buy it, and putting it in their grocery cart or basket, is arguably a good thing at a time when consumers are buying less wine overall.
If a score helps the lay person make a choice, then that's okay.
What else?
Timing in a life that changes the world is everything.
As I read through the chapters, I couldn't help but wonder where Parker would fall today if he were just starting out?
McCoy captures Parker's winemaking philosophies throughout the book, chronicling his conversations with producers.
The book came out in 2005, and arguably much has happened since.
In the book, Parker extolls the virtues of unfiltered wines. Today, we'd call that minimal intervention. Or perhaps he'd be part of the natural wine movement? It's a curious question.
Conclusion
Target Audience: Serious wine enthusiasts or anyone in the industry.
You need to have some point of reference of where the Rhone Valley is located, and the differences between Bordeaux and Burgundy.
If you understand the basics of wine marketing and sales, then you'll flit through the pages with ease.
In fact, if you're coming up in the industry today and weren't of legal drinking age during Robert Parker's rise to fame, you'll definitely want to read this book.
The book offers essential background to understanding how the wine market and wine styles evolved through the 1970s, 1980s, and 1990s.
I give it a strong recommendation for anyone studying the WSET Diploma.
Not Suitable For: Wine lovers who know they like wine, but your eyes glaze over when someone mentions wine reviews, wine scores, or name dropping like André Tchelistcheff or Becky Wasserman.
In closing, I leave you with a famous Robert Parker quote:
Wine is a beverage of pleasure.
Highly recommend.