Spoiler Alert: This is a slightly more esoteric post focused on the Central Coast grape industry.
For the past few weeks, I've been playing with an application that analyzes the Central Coast's grape production trends over 10 years. 
Each year the California Department of Food and Agriculture publishes a massive dataset for the grape industry – both table grape and wine grape – broken down by region called the Crush Report. The dataset includes variety, average price, total tonnage, brix at harvest, etc. Anything a grower or producer may want to know about the California grape industry is freely accessible (Check out the 2020 Preliminary Crush Report Here).
The report gets divided by "district" using county lines. There are 17 districts in California. Napa County is District 4. District 3 includes the counties of Sonoma and Marin. 
District 7, home sweet home and the focus of this post, includes Monterey and San Benito Counties. Astute Monterey wine lovers may also recognize District 7 as a wine brand that crafts delicious regional wines. 
The district is known as a workhorse in California. Mid-tier and bulk producers source grapes throughout the Salinas Valley, including Wente and Gallo. Grapes, and by extension wines, from District 7 cannot command the astronomical prices of Napa. On the plus side, the district's many microclimates make it an ideal region to experiment with smaller holdings of more esoteric varieties.
District 7 Production At-a-Glance.
Take a look at the graph above. It includes the top 5 varieties in the district by tonnage: Cabernet Sauvignon, Chardonnay, Pinot Noir, Merlot, and Riesling.
Tons here refers to the total weight of the grapes harvested that season. The number can be reported by the vineyard or at a place called a sugar shack that weighs and samples trucks hauling grapes from the vineyard to the winery. 
You can see that Chardonnay is the workhorse for the district, far surpassing tonnage of the other varieties. Large quantities of Monterey's Chardonnay go to bulk wine production. 
The second most popular variety is Pinot Noir. Production has grown over the past 10 years, from being on par with Merlot, to really coming into its own around 2012. 
Both Chardonnay and Pinot Noir do well in District 7's moderate Mediterranean climate on the Central Coast. The Bay's afternoon fog and constant sea breezes offer ideal growing conditions for these much-loved Burgundian varieties. 
Another trend is the steady decline in Merlot, likely due to its fallout in popularity with consumers (I still love you, Merlot).
A Note about 2015.
In 2015 there was a steep drop in production. Overall tonnage for District 7 grapes declined 25% that year following overproduction in 2014. The grape market is highly sensitive to supply and demand. Overproduction one year leads to excess juice on the bulk wine market or sitting around a winery's warehouse. The winery always needs to consider last year's unsold wine when purchasing this year's grapes and will be hesitant to buy the same amount of fruit 2 years in a row if they cannot move what's already in their cellars. The winegrowers know this and are quick to realize that too many grapes in the vineyard will undercut pricing. The 2015 contraction allowed growers to maintain their price per ton. 
A lovely supply and demand example in action.
A Note about 2020. 
Most of California was on fire during the 2020 harvest, Monterey included with the River, Carmel and Dolan fires. Apocalyptic orange skies blanketed the region for weeks. In 2020 you see a significant drop in tonnage reflecting concerns about smoke taint. But 2016 also experienced a wildfire event, the Soberanes fire in Big Sur. Favorable coastal winds mostly spared the 2016 crop and don't seem to have affected production as significantly as the 2020 vintage. That's Mother Nature for you.
Let's look at a few varieties.
Chardonnay.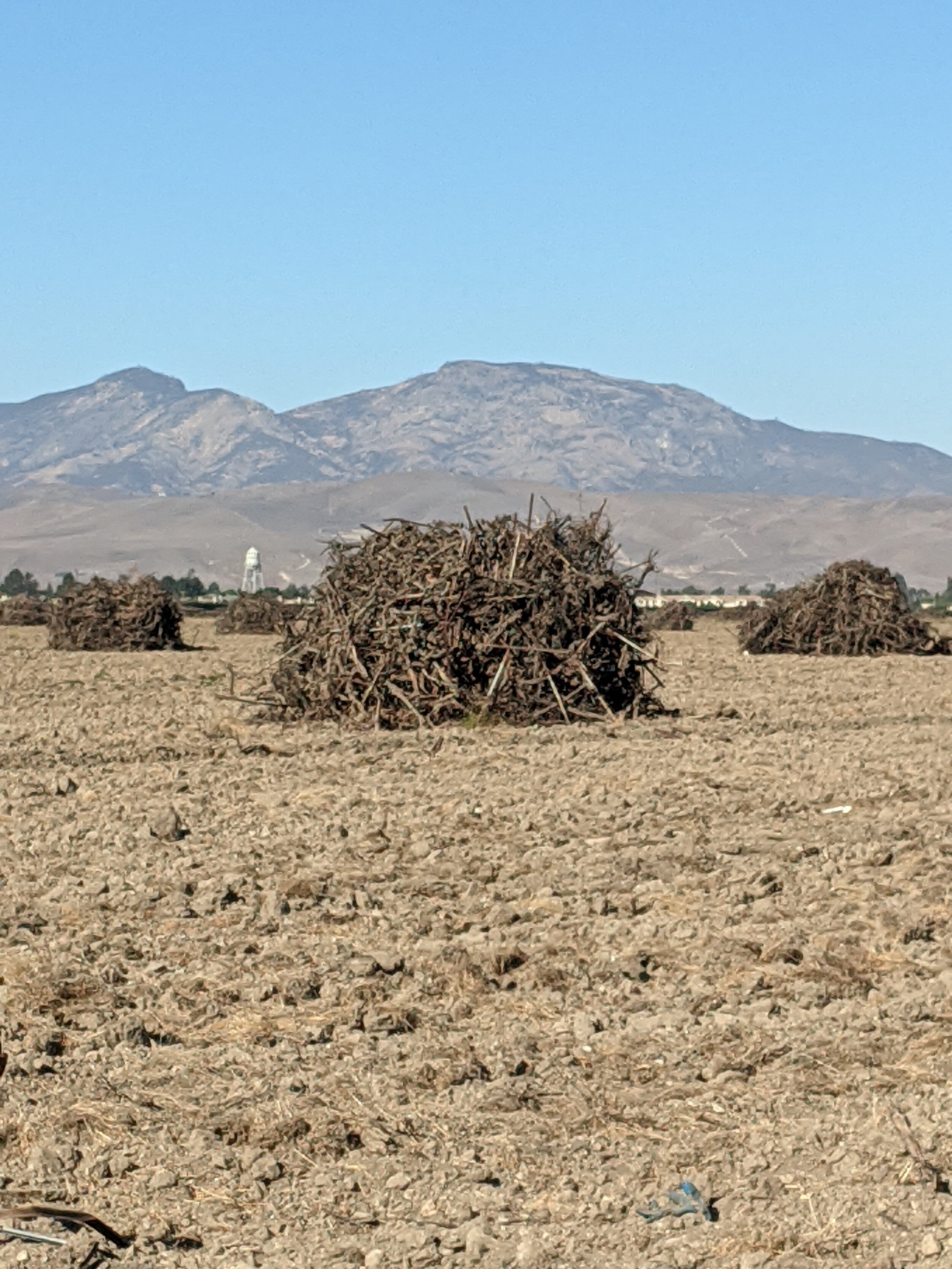 Of course, we must start with Chardonnay, District 7's signature grape. The most recent drop in tonnage was 2018-2019. Lower yields in 2019 (i.e., the vine doesn't produce as much fruit) caused Chardonnay to drop 23% from 2018 to 2019 (orange line). This trend continued in 2020. Grape broker Erica Moyer attributes the drop to market dynamics, where "growers are considering removing older, lower producing Chardonnay vineyards." 
Ripping out vineyards is standard practice.
At around 30-50 years of age, the vines produce less fruit. The day comes when the cost to farm the land surpasses any profit a grower could make on the crop, prompting vineyard replanting.
Here's a fantastic picture of a vineyard being ripped out in the Salinas Valley. All of the vines and the trellising are pulled out together. Vineyard managers will control burn the woody vines and then haul the trellising up to an industrial recycling center in the Bay Area.
Cabernet Sauvignon.
District 7 produces around 30,000 tons/year of Cabernet Sauvignon. You can see that in recent years it fetches around $1,300/ton (blue bars), about the same price/ton as District 7 Chardonnay. 
But let's draw a different point of comparison. 
California is renowned for Cabernet Sauvignon, and the state's flagship examples hail from Napa, the undisputed king of Cab. In 2019, the average price/ton for Napa Cabernet Sauvignon grapes was $7,900, a whopping difference of $6,600 above District 7's average price.
Obviously, Monterey and San Benito aren't producing cult wines for ridiculous sums like its northern neighbor, but knowing pricing details can help growers and producers make better business decisions about sourcing fruit guided by the wine style and price point they're targeting.
Pinot Noir.
No surprises in this graph. Pinot Noir remains steady at around 55,000 tons, with a stable price of around $1,800/ton. Pinot Noir has finicky, tight-bunched grapes susceptible to disease. Pinot's more challenging for growers and therefore more work goes into farming. But District 7 does Pinot proud. The Santa Lucia Highlands AVA remains a well-recognized appellation with wine lovers around the world, and new speculative plantings are expanding Pinot production.
Unfortunately, the 2020 fires badly affected Pinot Noir. It's a thin-skinned variety highly susceptible to smoke taint. 
Grenache.
Grenache (gruh-nah-sh) offers a glimpse at District 7's future. Grenache, widely believed to have originated from the Aragon region in Northern Spain, loves abuse. This hearty vine is drought tolerant, thrives in poor soils, and ripens late in the season. Grenache lends itself to assorted wine styles. While it's famed for a starring role in the powerful wines from Priorat and Chateauneuf-du-pape, Grenache also makes quaffable rosés perfect for summer picnics. 
Climate change may make Grenache an ideal variety for the Central Coast's sub-optimal growing conditions: limited water and a long season. The steady increase in tonnage (orange line) reflects more land under vine, but only time will tell. For now, its meager ~200 tons/year seriously lags behind Chardonnay's impressive ~80,000 tons/year. 
Albariño.
Ian Brand, local winemaking legend, gave a guest webinar the other day for the Monterey Chapter of the American Wine Society (if you're local, join us!). He emphasized how Monterey's strength is its terroir, responsible for producing racy, mineral, and acid-driven wines, but that the region hasn't really figured out what to plant where.
Keeping that in mind, you'd expect to see growth in varieties like Albariño (Alba-reen-yo), an acid-driven white that hails from the Northwestern Iberian Peninsula. The wine pairs seamlessly with seafood. Albariño production grew from 2010-2012, but after that it plateaued (2020 wildfires notwithstanding). Will keep an eye on this one.
Anyways, if you're interested in the application, please reach out and I'll shoot it over to you. You could substitute any of the districts or varieties in the Crush Report.