Hi there!
If you're visiting Monterey Bay Aquarium and the Cannery Row and want to finish off your day with a little wine tasting, here are local tips to make your next Cannery Row wine tasting adventure a success.
Where to Go Winetasting after the Monterey Bay Aquarium?
Most day trips to Monterey include a visit to the Monterey Bay Aquarium and shopping along Cannery Row. It should come as no surprise that you'll find several options for wine tasting just down the street from this historic cannery-turned-tourist attraction. 
If you love wine, be sure to check out A Taste of Monterey or Pierce Ranch Vineyards.
Local Tips
Tasting rooms usually open at 12:00 PM.
If you're using the parking meters and change, bring extra quarters. The local shops don't like giving quarters for meters.
If you're a local Monterey resident, you can park in the Cannery Row Public Parking Garage for free after 5 PM during the winter holidays. Just show them your driver's license.
If you don't mind walking about 1 mile, you'll find plenty of free on-street parking in the residential areas between Cannery Row and Lover's Point. Use the recreation/bike Coastal Trail for a scenic stroll along the coastline.
There's plenty to discover along the recreation trail! Take your time to explore.
#1 Cannery Row Winetasting Recommendation: A Taste of Monterey
No need to re-park the car. A Taste of Monterey is a winetasting bar located at the end of the mini-shopping mall right next to Bubba Gumps Restaurant.
Walk past the wax museum and candy shop and head upstairs and into their stunning establishment with breathtaking views of the bay. 
What wines do they have?
If you're looking to taste a range of wines from Monterey proper, then you won't want to miss A Taste of Monterey.
They only source wines made from Monterey grapes and Monterey producers and have around 90 different labels to choose from.
And if you're looking for a vinous gift to send home, then they'll happily ship Monterey wines to most states.
Small Bites
Enjoy a farm-to-table menu with small bites.
Local Tips
A Taste of Monterey closes regularly for special events. Call ahead to make sure they'll be open when you want to visit and make a reservation if possible for one of their sitting areas with a front-seat view of the ocean.
You will find a kid-friendly area if you're traveling with smaller children.
Check out Groupon for discounts on tasting fees for A Taste of Monterey.
If you have them, bring binoculars for otter, dolphin, and seal watching – maybe even a whale during migration season. Wow! 
Visit earlier in the afternoon in the winter before sunset if you want to enjoy the view.
Depending on where you parked, the Pierce Ranch Tasting Room is a little off the beaten tourist path and you may want to drive there.
Still, it's less than a half mile away from the Monterey Bay Aquarium and an easy, flat walk that will only take you about 10 minutes door-to-door.
The tasting room is one street up from the main Cannery Row street, on Wave Street.
This quaint clapboard establishment looks like a beach cottage. Enjoy your wine tasting outside in their intimate garden surrounded by flowers and honeybees. 
What wines do they have?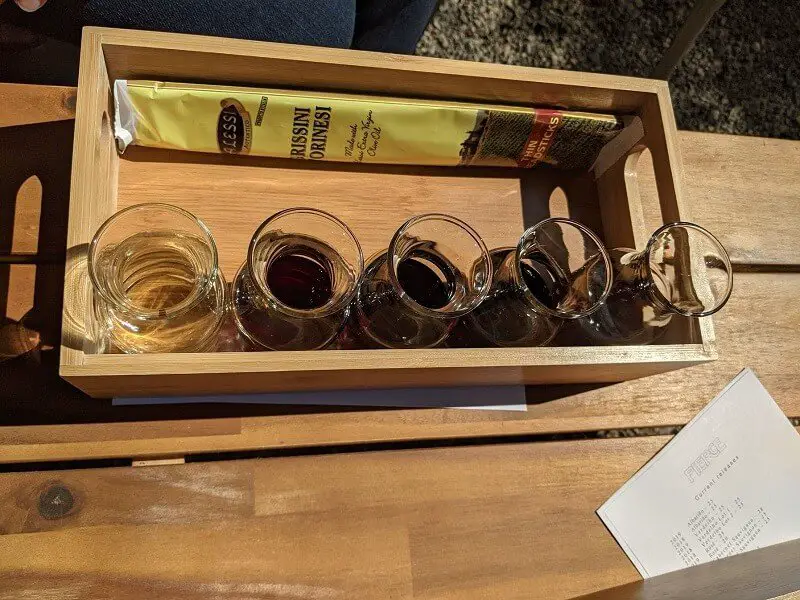 With vineyards deep in the San Antonio Valley AVA at the far southern ends of Monterey County and a stone's throw from Paso Robles, Pierce Ranch focuses on heat-loving grapes that translate into robust wines.
A winning combination.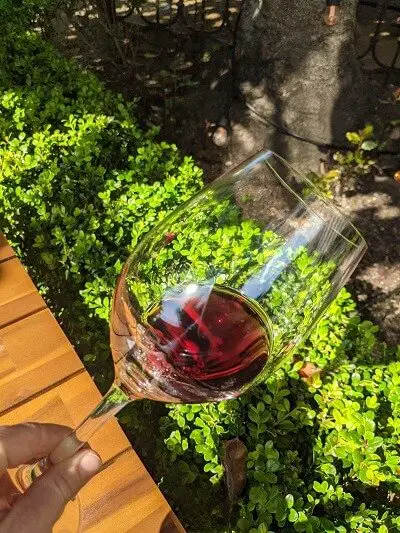 Pierce Ranch has an eclectic tasting lineup, specializing in wines from the Iberian Peninsula.
You'll find Albariño, Verdelho, Tempranillo, Graciano, Grenache, and Tinta Cão. 
But they also craft the more traditional Cabernet Sauvignon, Petit Syrah, and Zinfandel. Yummy!
Local Tips
Dress in layers if you plan to sip in the garden area. 
You can bring small bites to enjoy with your tasting.
A Taste of Monterey and Pierce Ranch are two of my favorite tasting rooms, and perfect for late afternoon sipping if you've enjoyed gazing into the deep at the aquarium and perusing the beach shops along Cannery Row.